Welcome to our ceramic tile flooring pros and cons and design guide to help you decide if this type of flooring is best for your interior design.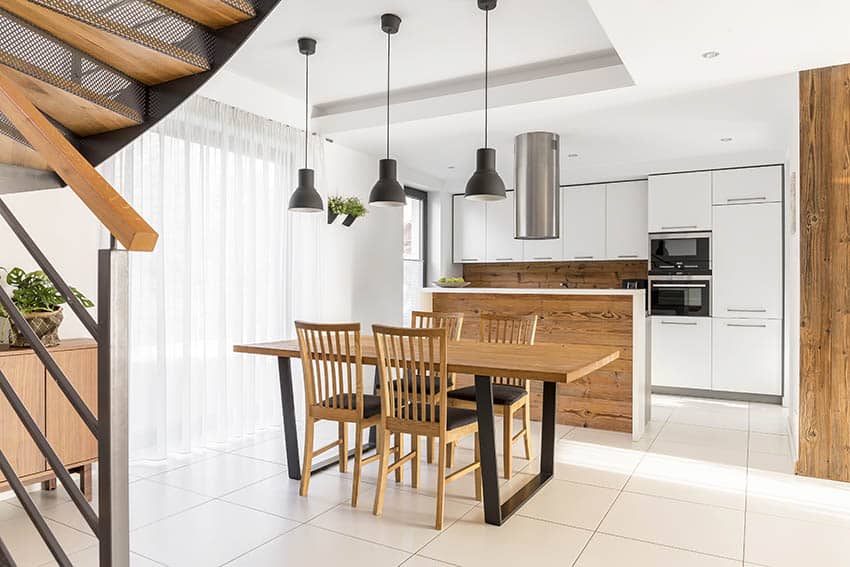 Ceramic tile flooring is very popular among many homeowners because it can be used in any room of your house. Most homeowners use it for their high-traffic areas, such as the kitchen and bathrooms because it is water and stain-resistant, which makes it very easy to clean.
Many homeowners, especially in the warm climates, use ceramic tiles to create an appealing ambiance in their living rooms and bedrooms. When considering what type of flooring to go for in your home, it's helpful to know that you can never go wrong with ceramic tile.
However, as much as ceramic tiles stand out in most houses and are very easy to clean, their hard surface makes them unsuitable for some uses. For this reason, here is a breakdown of the pros and cons of using ceramic tile as a flooring material.
Pros of Ceramic Tile Flooring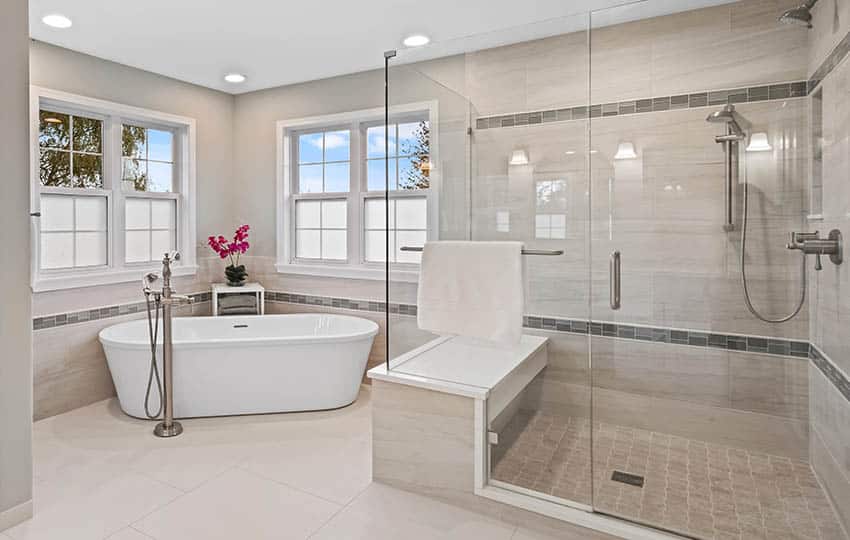 Design – One of the best things about ceramic tiles is that they have a very versatile design compared to other flooring materials. Modern manufacturing techniques have made it possible for ceramic producers to create materials that can be embossed or printed in different ways.
For this reason, you, as the homeowner, have the freedom to get custom designs or motifs for your ceramic tile flooring. You'll get any ceramic tile patterns, layouts or accents you want, something that isn't possible with the other flooring materials. See more types of bathroom tile floors on this page.
There are even wood look tiles constructed from ceramic that can closely replicate the look of real hardwood floors. Wood look ceramic tile floors are often used in places where using hardwood is not practical such as in the bathroom and kitchen areas.
Also, it might interest you to know that ceramic tiles can be reshaped and cut into different shapes such as triangles, planks, or rectangles, which makes them suitable for any corner of your house.
The versatility of ceramic tile flooring shapes and designs make them appropriate for almost any home style you can think of.
Cost – Ceramic tile flooring is undoubtedly one of the most affordable types of flooring you can get out there. In most cases, ceramic tiles usually cost as low as $5 per square foot. Based on the quality of ceramic tiles, this is very affordable for most homeowners.
Also, you'll find that the overall cost of having ceramic tile flooring in your home is much cheaper than some hardwood flooring options out there. However, it might interest you to know that there is no limit to the pricing of ceramic tiles.
Based on the overall customization and quality of the ceramic tiles, they can cost up to $60 per square foot. But based on the quality of the flooring you'll be getting with these customized ceramic tiles, they are worth every penny.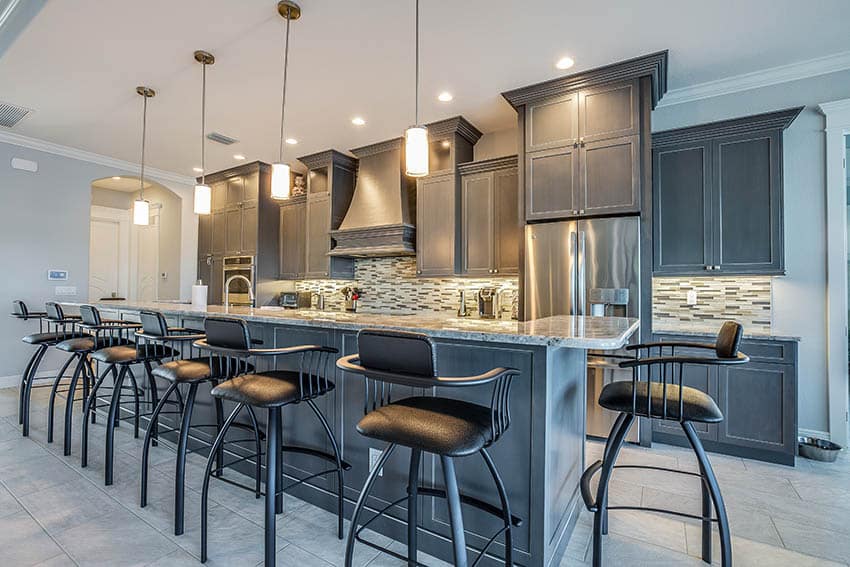 Maintenance – The ease of maintaining ceramic tile flooring is one of the major things that homeowners love about it. If you were ever worried about stains, liquids, and dirt affecting the appearance of your flooring material, this doesn't apply to ceramic tiles.
Glazed ceramic tiles are known to contain a protective layer that makes them resistant to water and stains. This is one of the main reasons you'll find most homeowners using ceramic tile flooring for wet areas in their homes, such as bathrooms, laundry rooms, and kitchens. See additional types of kitchen floor tiles here.
It's important to note that ceramic tiles do not absorb stains, liquids and dirt, which means that they all rest on top, making it easy for you to wipe them off using a dump cloth. It might interest you to know that you can use almost any type of cleaning agent you prefer, whether a detergent, bleach or even acid.
This is because, unlike other flooring materials, ceramic tile flooring is not easily affected by any cleaning, or chemical agents. Routine maintenance of this type of flooring involves sweeping or vacuuming using a soft brush to get rid of any dirt or loose debris.
If you happen to have any unglazed ceramic tiles, ensure that they're sealed to protect them from liquids and stains.
Durability – As mentioned earlier, ceramic tiles are very tough to crack. Compared to other types of flooring materials, ceramic tile flooring is very tough, firm, strong, and its material is of great quality.
It's important to note that ceramic tiles are not easily susceptible to physical damage unless you're not keen on taking care of them. To keep your ceramic tile flooring in the best shape possible, ensure that no heavy objects are dropped on it because they could leave some cracks.
The only remedy to a cracked or damaged ceramic tile is replacing it with a new one. However, the process of replacing a ceramic tile is fairly simple and cost-effective. If you're keen on maintaining your ceramic tile flooring, it can last for hundreds of years while still with its quality intact.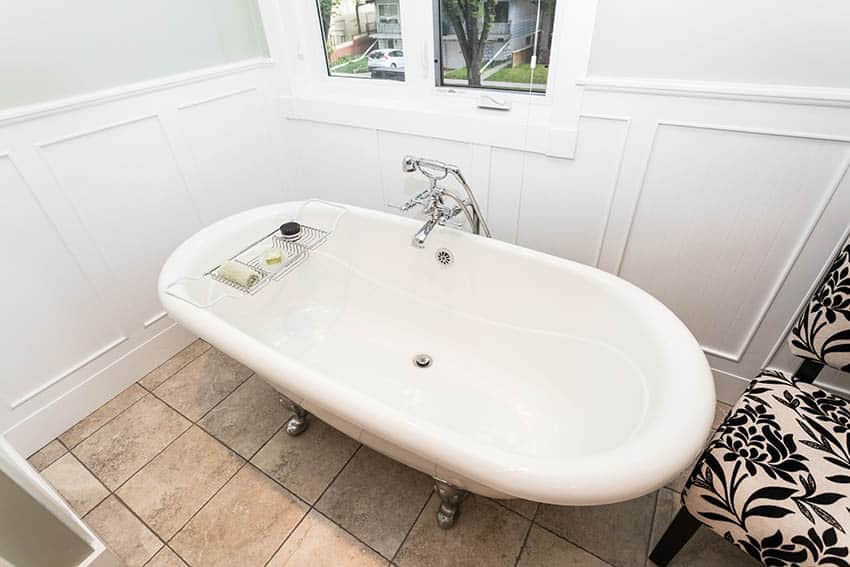 Cons of Ceramic Tile Flooring
Installation – One of the things that homeowners do not appreciate about ceramic tile flooring is that it is labor-intensive and somehow hard to install. If you're looking to put your DIY skills into good use, installing ceramic tiles is not the task you want to start with.
Compared to other flooring materials such as vinyl and laminate, which are very easy to install, you'll require a technician to help with the installation process of ceramic tile flooring.
This is because the process of installing ceramic tiles is a bit complex and requires specialized skills and experience if you want the final product to be as appealing.
Proper installation of ceramic tiles begins with a layer of cement known as the tile backer if you have wooden subfloors, which increase the cost, time, and labor spent on the flooring.
Messing up your ceramic tile flooring is very easy than you might think, which is why it's advisable to get a professional's services. However, if you think you're better off installing the flooring by yourself, you might want to start with the products that are easier to install.
It's best to avoid polished stone tiles, large tiles, and clay tiles because they require a higher level of expertise.
Slippery – As much as ceramic tiles are very easy to clean, they're not ideal for areas that get wet a lot. Since most ceramic tiles are made from hard and natural materials, they could pose a danger to your own safety.
This is because ceramic tiles' surfaces are very slippery when wet and could end up causing an injury to anyone who stands on them, walks, or runs across them without being careful enough.
For this reason, ceramic tiles are not a great choice for homes where there are small children, pets, older people, or very active children. If you want to avoid such accidents in your home, you might want to consider placing a carpet or a rug on top of your ceramic tile flooring.
Too cold – Another reason why some homeowners do not like ceramic tile flooring in their homes is that it can get extremely cold for their feet. This means that during the winter months, the flooring can be very uncomfortable to walk on, especially with bare feet.
This can be very inconvenient for people who experience foot cramps due to the coldness of the flooring. This means that you have to find a way to counteract this situation, which requires some details you might not have been prepared for after all.
To avoid cold ceramic tiles, you have to opt for in-floor heat, radiant heating, or placing rugs and carpets on top of the surface.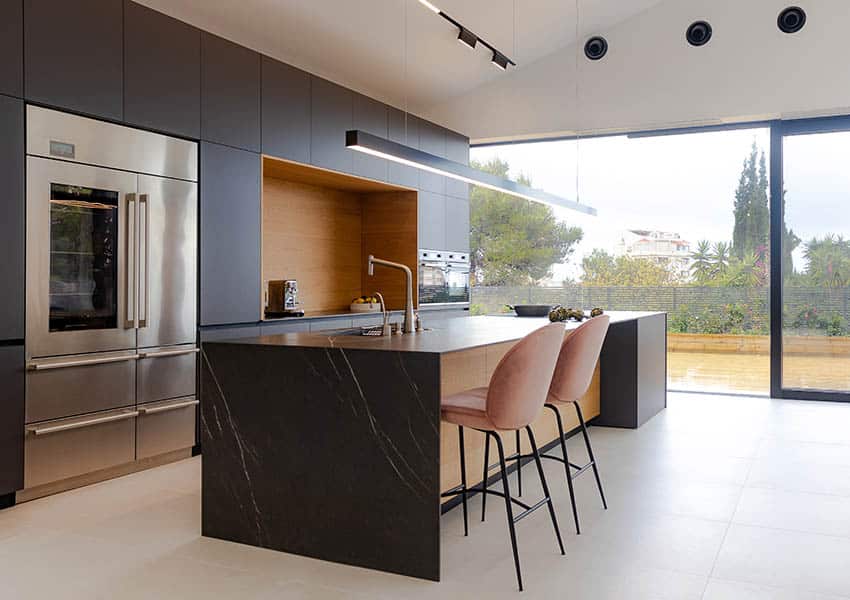 Top Ceramic Tile Brands
Even though you might have heard of numerous ceramic tile brands, very few manufacturers are out there. The following are some of the major ceramic tile manufacturers all over the United States;
• Armstrong.
• Shaw Floors.
• Marazzi tile.
• Mohawk Ceramic Tile.
• Daltile.
• Acme Brick Tile and Stone.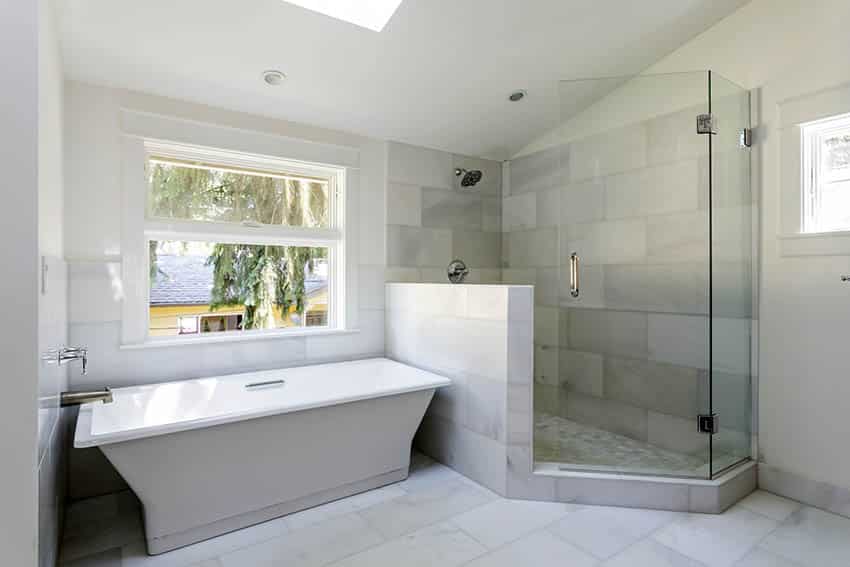 Conclusion
Before purchasing any flooring material, it's important to consider some important factors. You want to ensure that it is a flooring material you can afford without compromising your financial well-being and that it fits your interior design needs perfectly.
Are there any ceramic tile flooring pros and cons we've left out? Let us know your thoughts on using ceramic tile flooring in the comments section. For more content like this visit our page of porcelain vs ceramic tile.