Colors that go with teal design guide including some decorating ideas that match different shades of teal green, and other colors that go with gray and blue for your home interior.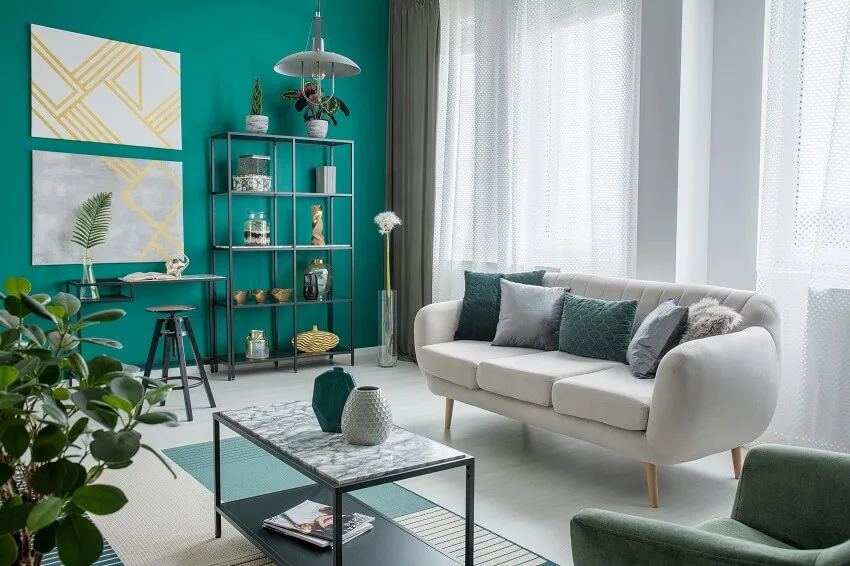 With many colors to choose from when it comes to the interior of your home, it can be quite dizzying and overwhelming. One of the colors guaranteed to spruce up your place is teal. And yes, you can match it with other colors too!
Teal is an elusive shade of blue and green, identifying itself to both colors without being exclusive to each one. This awesome color has a variety of shades you can choose from, some leaning more on the side of blue while others are more teal greens.
Dating this bold color from way back in Ancient Egypt, teal can clearly be seen in Egyptian artworks and masterpieces. It is a versatile color that soothes and calms you down. If you want to know more about the colors you can use along with teal, read along.
Colors That Match Teal
Here's a list of the primary colors to match with teal for interior design.
| Color Combinations | Description | Examples of Use |
| --- | --- | --- |
| Teal and White | Creates a clean and modern look | Use white for walls, ceilings, and furniture; add teal accents such as pillows, throws, and curtains |
| Teal and Gray | Gray balances the boldness of teal | Use gray for flooring, furniture, and curtains; add teal accents such as wall art, cushions, and rugs |
| Teal and Beige | Beige creates a calming and relaxing atmosphere | Use beige for walls and furniture; add teal accents such as lamps, vases, and rugs |
| Teal and Yellow | Yellow adds a bright and cheery pop of color | Use yellow for accents such as pillows, curtains, and wall art |
| Teal and Navy | Navy complements teal well | Use navy for furniture and curtains; add teal accents such as cushions, lamps, and wall art |
| Teal and Pink | Pink adds a touch of playfulness and balance | Use pink for accents such as pillows, curtains, and wall art. Go lighter for a calmer look. |
Teal is a combination of green and blue, and both of these colors are associated with nature, including oceans and forests. It showcases freshness and relaxation, which can be the perfect color for your bedroom and even the bathroom (with its nautical and coastal themes).
Teal also contributes to your balance and equilibrium, making it a good option for the wall colors of offices and libraries. Teal is a vivid color but if you don't want something too bright, a muted teal color works wonderfully. In fact, this is the characteristic of a mid-century modern style.
Colors That Go With Dark Teal
The simple addition of teal to a space (even just a splash of it) can change the mood of an entire room. Dark teal is an incredible color to match and experiment with.
The cool and solid color of dark teal gives way to a more relaxed ambiance. To introduce a bit of warmth, you can mix and match it with the following colors.
Cream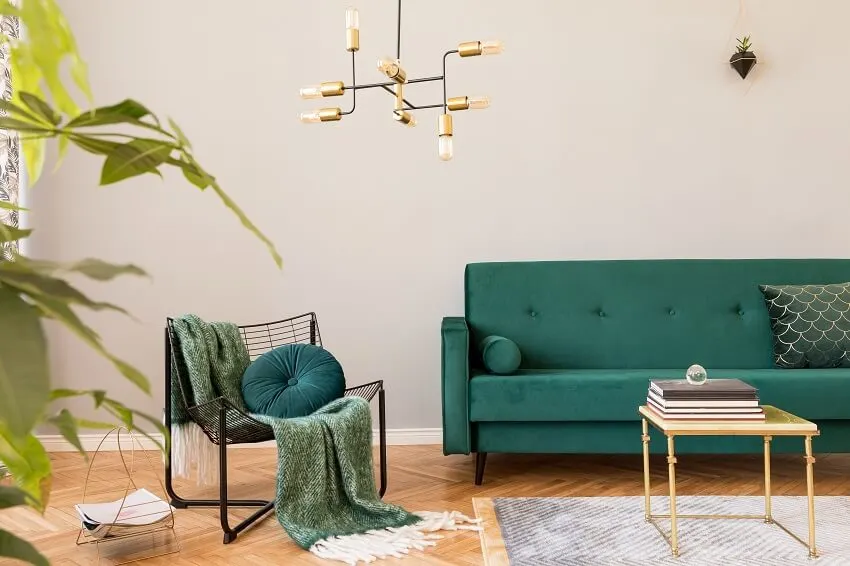 Cream's neutral nature balances the boldness that comes with teal. The combination of both colors offers a soft yet somehow boldly popping look, balancing each other depending on whether you want it leaning more on the softer side or the striking side.
It is popular to be used for a wall color and couch color combination. And since it can be a soothing combo, it is a good option for rooms with high traffic.
Beige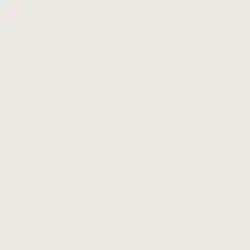 Beige is a good partner for teal when you are looking for a trendy yet comfortable look. Similar to cream in its neutrality, beige colors are easy to match with. It is also a great backdrop if you want teal to pop.
Beige adds warmth to teal while teal cools down beige. If you want the room to be cozier, use more teal. If you want it to have more balance, use more beige instead.
Tan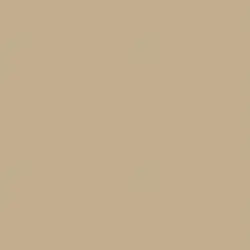 Tan offers a warm addition to teal and serves as a perfect match with teal. It gives emphasis to rich teal accents, which is a good time to use solid teal accessories and patterned decor.
Add teak curtains, vases, and even rugs but make sure not to forget a few touches of tan so that it will not be overwhelming.
Colors That Go With Teal Green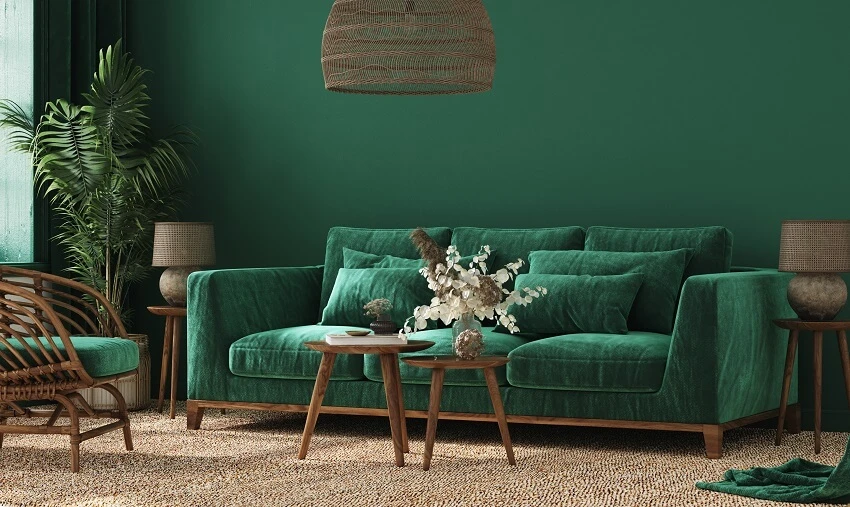 Teal green is another shade of color you can choose. Since it is both blue and green, shades can either lean more on the blue side or on the green side.
Teal is a bold statement to use. If you are thinking about it for your option, here are some colors that go with it.
Pink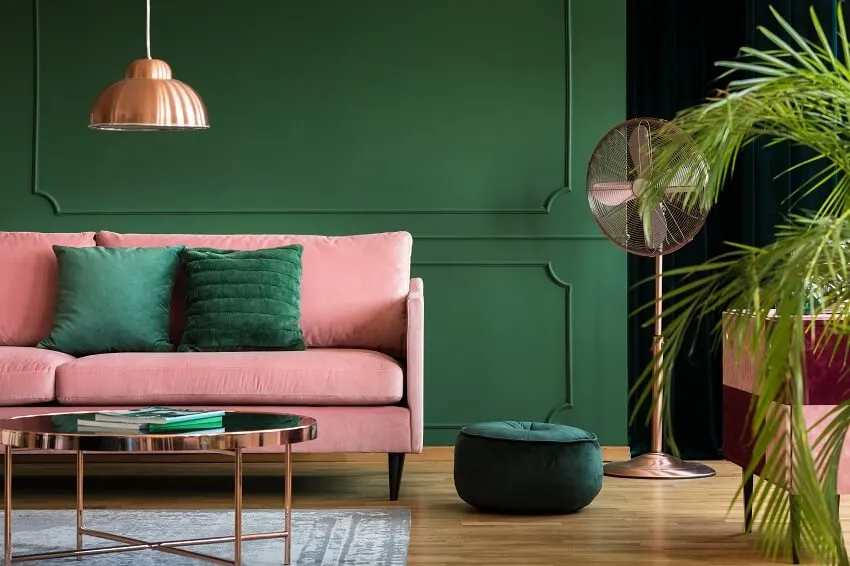 Pink and teal together make a pretty and bold combination. If you want a more feminine touch, this combination is the way to go.
Green teal and pink are perfect for a more textured and complex look for a bedroom. This combination even offers some sort of a vintage look when added with gold. See more pink color combinations here.

Gold
When you combine gold and teal, you get a cozy and luxurious look. You get the coziness from teal and the luxurious look comes from the gold color.
Yes, the addition of gold in the mix somehow adds class to the specific room so you can try it out! See more colors that go with gold here.

Rust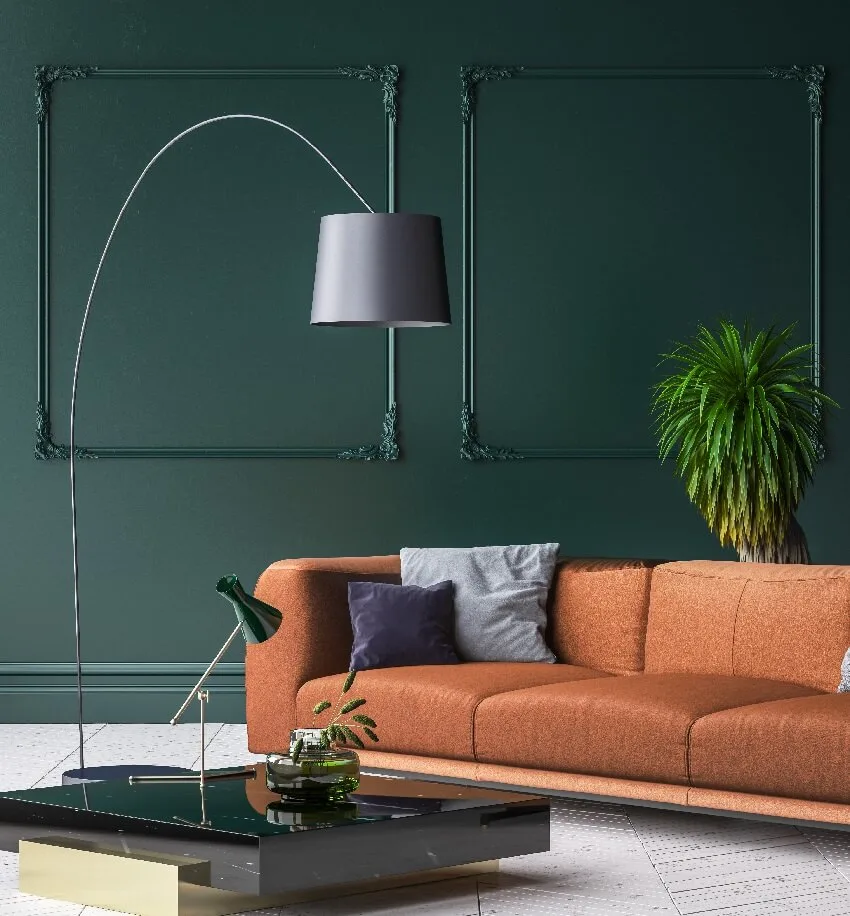 Rust and teal together are a good option if you are thinking of an autumn look. And you can bring this incredible look inside your room! You can have teal walls and rust-colored furniture and accessories.
Color Schemes To Go With Teal
Some of the top color schemes to consider using with teal are:
Teal with white, black and tan. This combination provides an understated yet sophisticated look when accented by teal furniture or walls.
Teal with bold colors such as red, yellow and orange. Choose this combination for a more dramatic look.
Teal with navy blue and white. Darker blues like navy blue also work well with teal, creating a calming atmosphere in any space. Add some white on the ceilings and walls to balance the bold teal accents.
Teal with metallics such as silver, gold and bronze. To add hints of glamour and femininity, combine these eye-grabbing reflective surfaces for a luxurious feel.
Teal is a great color to mix with and I don't mean just one color but also color schemes. There is just this gorgeous feel to these tones that you will want to include this option in your decoration process.
The important thing when choosing a particular color scheme is to understand the vibe and feel it's putting out there. Is it the same feel you want your room to have?
Colors That Go With Teal And Gray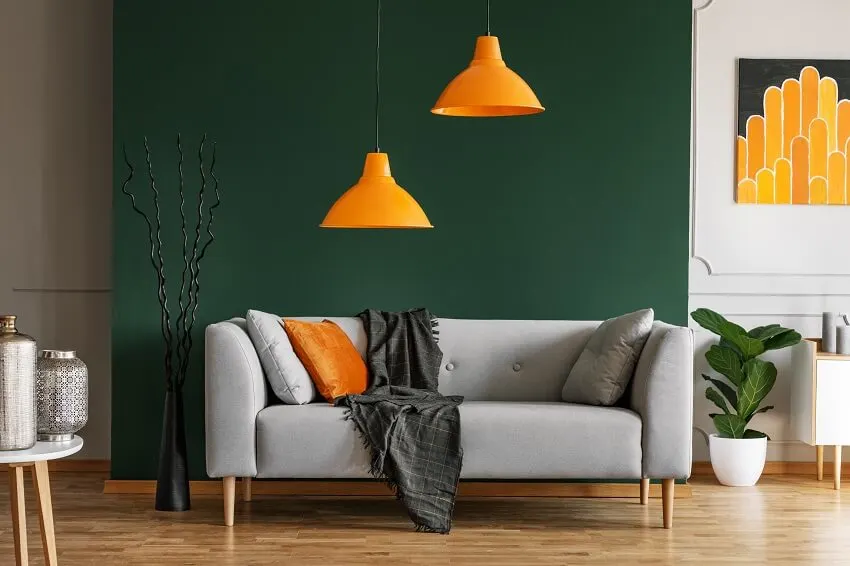 One of the color schemes that go nicely together is teal and gray. This combination has a soothing effect despite its bold contrast with each other considering gray is a soft color while teal is a vividly popping color.
If the teal color is leaning on the green side, it has more richness and boldness but it turns to a more calming tone once it's leaning to the blue shade.
Teal also has this regenerative effect that makes you feel at ease and somehow energized. And with a soft gray, the pair looks sophisticated in a beach house or somewhere with a similar vibe.
You don't have to stick with teal and gray though since you can also mix it up with other colors. Some of the colors that can match up this pair include red, black, brown, gold, and yellow.
Colors That Go With Teal And Blue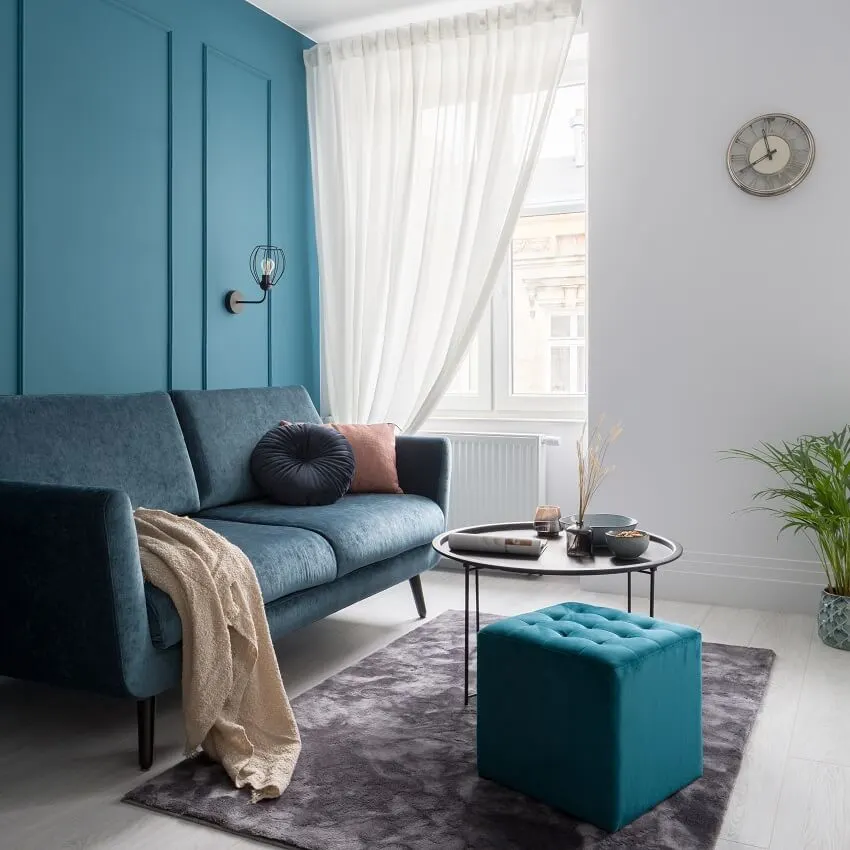 Teal and blue are colors that also match up well. This pair is great for topical feels, particularly when cobalt blue is used. With both undertones, these two colors are a great match.
And the colors that would complement this pair are gray, gold, and brown. You can try grey walls with golden brown flooring and pieces of teal and cobalt blue accessories all over the room.
For more related content, visit our teal bedroom ideas here.