Here's our top picks for wall colors for white furniture including room paint color ideas for your black and white furniture.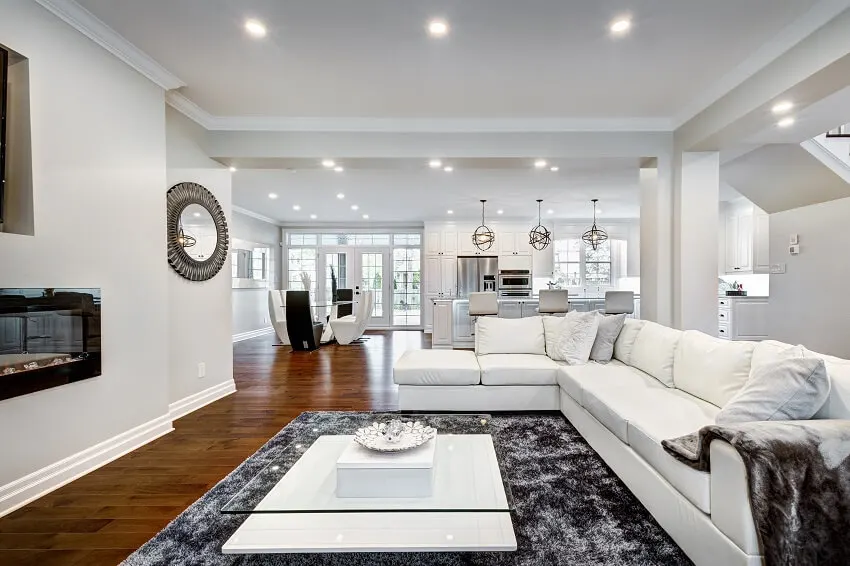 White furniture is known to deliver that clean and minimalist look. This is an ideal look for a room with either a contemporary or coastal style and design. More than that though, you can always go with whatever style you want using white furniture. Matching it with the right color and shade is the key to creating the right vibe in your room.
In creating the right vibe you want in a room with white furniture, the wall color will have a large impact on it. When you enter a room, the walls will immediately make you feel cozy, warm, cold, or even intimidated based on the colors and what they can make you feel.
Understanding the role that colors play in creating the vibe of a room is important. You should be able to tell a specific feeling right off the bat when you see the color. For example, white showcases freshness and calmness like most light colors and shades.
Use this characteristic of color to your advantage by choosing the most ideal one for your walls that exude the vibe you're going for.
What Color Should I Paint My Room With White Furniture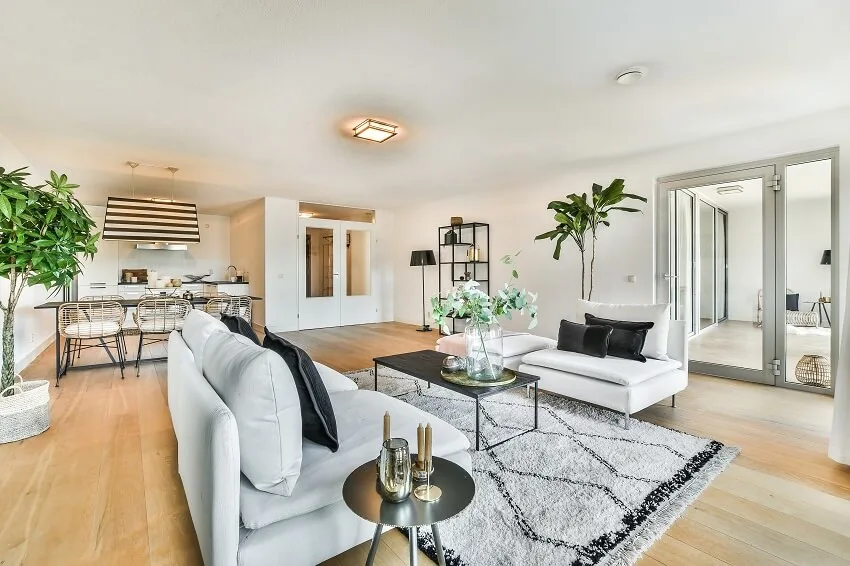 More than just a clean look, white furniture delivers a modern and sleek vibe popular with the minimalistic style.
If you prefer this ambiance in your room, it is important to select your pieces of furniture meticulously- focusing on their functionality and simplicity.
But you don't have to be limited to that. Here are some tips you can follow in choosing a color to paint your room. Read more on choosing paint colors that flow from room to room for more related content.
Go for Solid All-white
Some may find an all-white bedroom too clean and boring but guess what, that's not always the case! The trick to an amazing all-white bedroom is the combination of textures and tones.
With textures, you can combine glossy and matte surfaces, and also bring out cashmere and tufted fabric in the mix. When it comes to tones, you can mix and match pearl, vanilla, and eggshell white.
Choose Monochromatically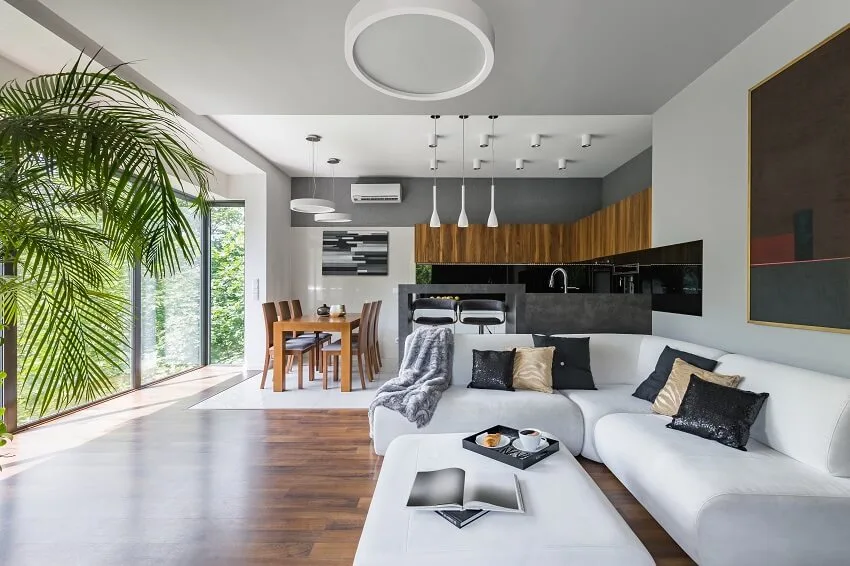 Another style you can go for is a chic monochromatic style. The combination of the colors black and white is a classic option, showcasing a timeless and chic look. And with white furniture, a black wall is simply bold, providing a dramatic flare if you are up for it.
If you don't want a black-colored wall though, you can choose a white toned wall with a black accent scattered all over the room, from decor and accessories to furniture.
Try out black lamps, a black bed frame, and a black and white striped rug. You can also liven up white bare walls by adding a white and black gallery wall!
Consider Wood Accents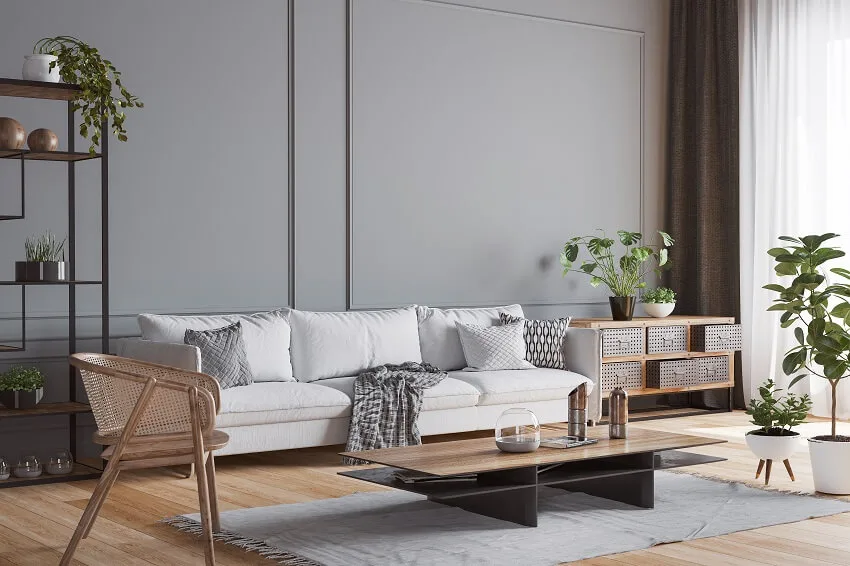 Wood accents come in different forms, including light oak accents and rich wood floors. White furniture combined with other wooden furniture and even wooden flooring has its own charm to it.
This combination offers a cozy ambiance to a room, with the wood accents adding warmth to white pieces of furniture like white textured rugs and white linen bedding.
Mix it Up with Bold Colors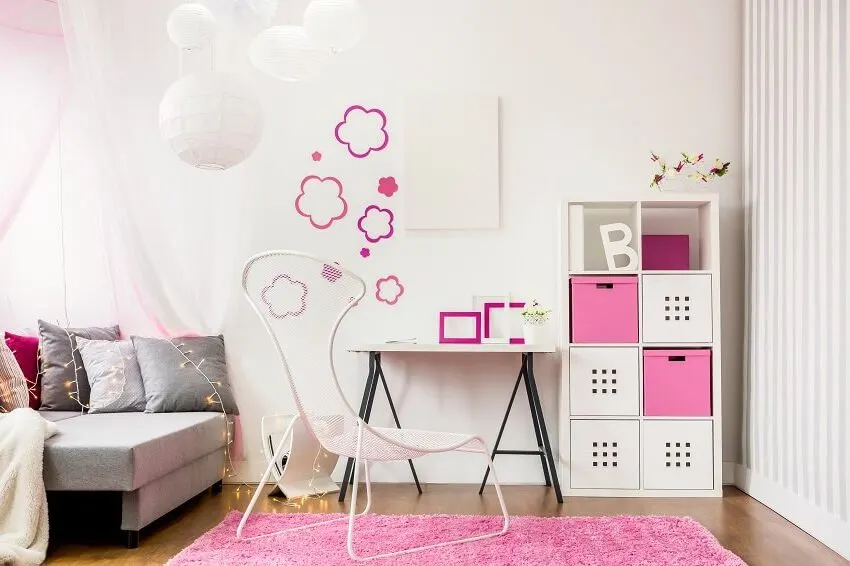 White is a neutral color that can be matched with everything. And bold colors are the ideal choices if you want a dramatic flair for your room.
White always seems like a backdrop and playful colors can pop right out of it. If you have white furniture, why not try out the different shades of pink?
Use it for your walls, rugs, decor, and other accessories you may have in mind. Learn more design ideas on our guide to the best colors that go with pink here.
What Color To Paint Bedroom With White Furniture
Now, if you are looking for specific colors to paint your walls that will match your white furniture, there are many options to consider.
Neutral Colors
Neutral colors effortlessly add coziness to white and they can also reinforce the traditional and modern design you may have in your room. Some of the best neutral colors to match your white furniture include the following.

SW 0055 Light French Gray
• Light Grey- adds sophistication and coziness to this minimalist style. Try out SW 0055 Light French Gray (Choose light grey velvet bed, a textured grey rug, or soft grey velvet linen cushions)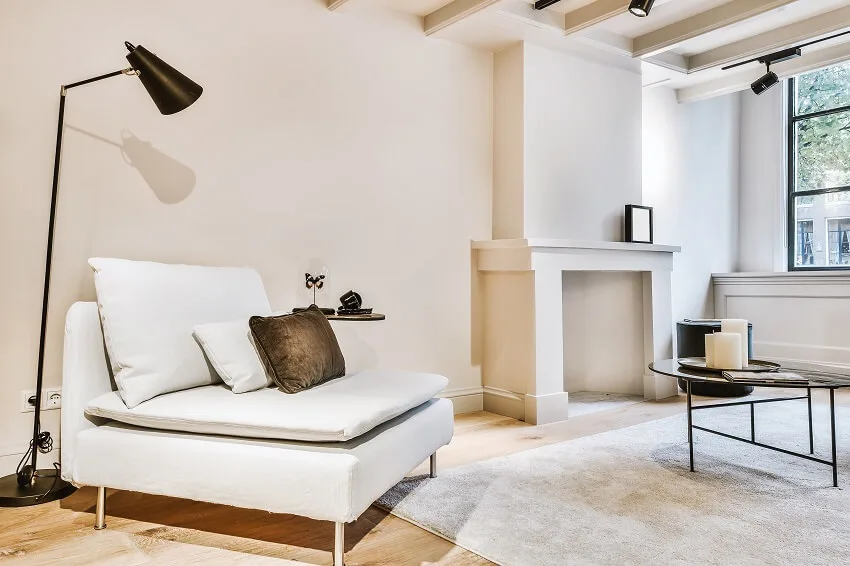 • Beige- helps to emphasize details in the room. Pittsburgh Paints Siesta Sands is a great sandy beige but if you're looking for a darker one then Sherwin Williams Accessible Beige may be the ideal one for you.
• Mellow Yellow (Almost cream)- adds warmth to the room. Benjamin Moore's Mellow Yellow 2020-50 is a good option.
Blue
White and blue create a coastal vibe, making you feel refreshed and at peace. It can also be perfect to induce creativity and focus in a room. This means that it can be the perfect choice for your office.
• Deep Blue- adds depth to your room with white furniture standing out. Benjamin Moore's New York State of Mind 805 or Farrow and Ball's Hague Blue No. 30 will look wonderful together with your white furniture.
• Light Blue- offers a light and airy vibe to your room. Check out Bluebird by Paint & Paper Library or Louie Blue by Donald Kaufman Color.
We've put a gallery together about what color curtains to use with blue walls on this page.
Green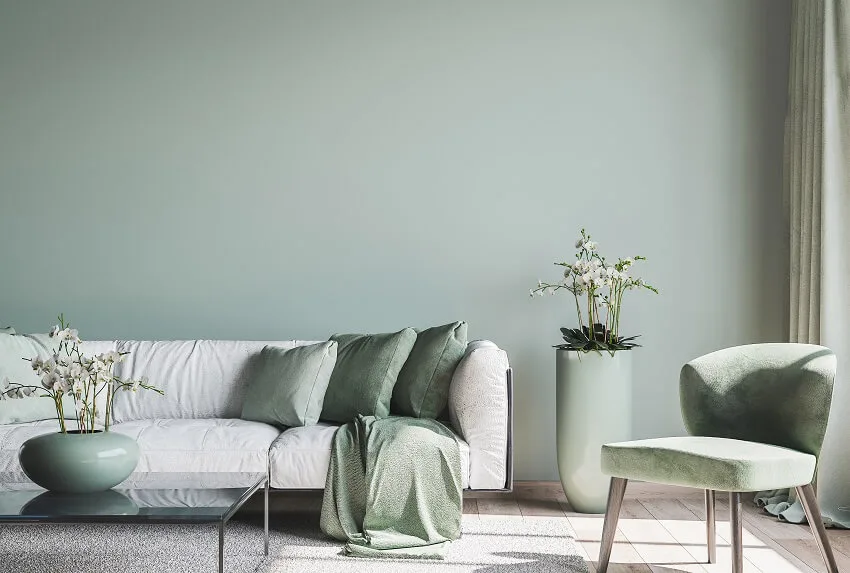 Another color you can match with your white furniture is green. You can go from lime green to mint and sage, depending on what shade and combo of shades you want to use.
Emerald green is one of the most popular green tones used along with white furniture. See more colors that go with green here.


Benjamin Moore's Ming Jade 2043-20
The dark green shade together with white furniture oozes traditional mid-century style you can enjoy. Benjamin Moore's Ming Jade 2043-20 and Ralph Lauren's Key West Green RLIB215 are both gorgeous shades you can try.

Ralph Lauren's Key West Green RLIB215
Wall Color For Black And White Furniture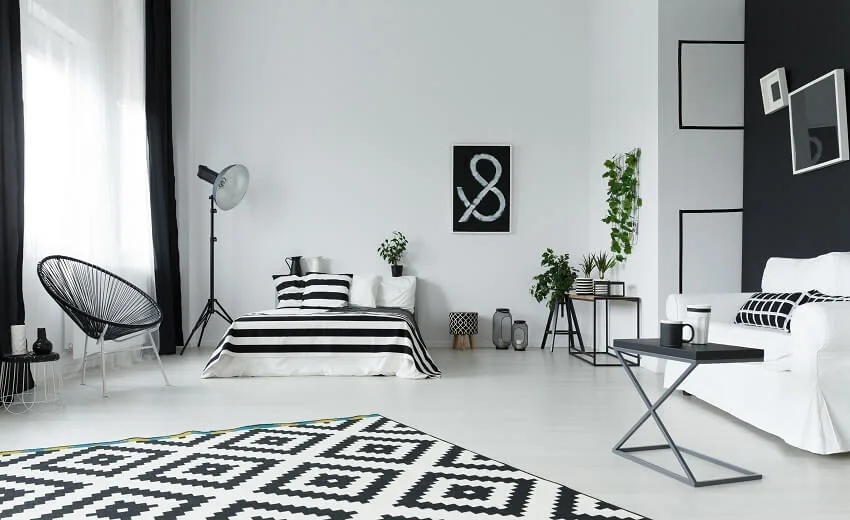 The black and white combo is a classic color scheme that you can take advantage of. If you choose black and white furniture, there are a lot of colors you can use for your walls. This timeless color scheme can be matched with the following wall colors and deliver a specific ambiance.
• Romantic- consider lime green, aqua, or peach
• Minimalist Modern- stick with black and white but use strong geometric patterns
• Eclectic and Unique- you can go for a boho look with emerald green and sapphire blue or a more retro look with brighter colors like pink and orange
Visit our guide on using accent wall colors for your home to match your furniture and decors.