The guide to what color curtains go with blue walls including popular choices like white, gray, pink and more to boost the overall look & feel of any room.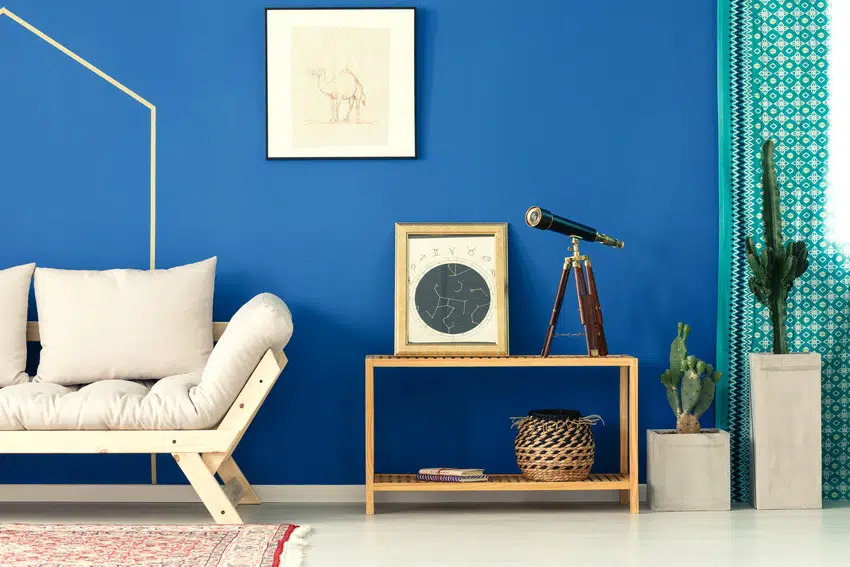 Choosing the right color of curtains for your home indoor space might seem easy at first, but in reality, it can be a quite challenging task. There are unlimited colors and color combinations options that might make it hard for you to pick out the best one.
Deciding on a curtain color can be very crucial as they could either make or break the design scheme of your living space. However, you don't have to worry anymore.
In this article, we've laid out the best curtain colors for various shades of blue walls.
Curtain Colors That Go Best With Navy Blue Walls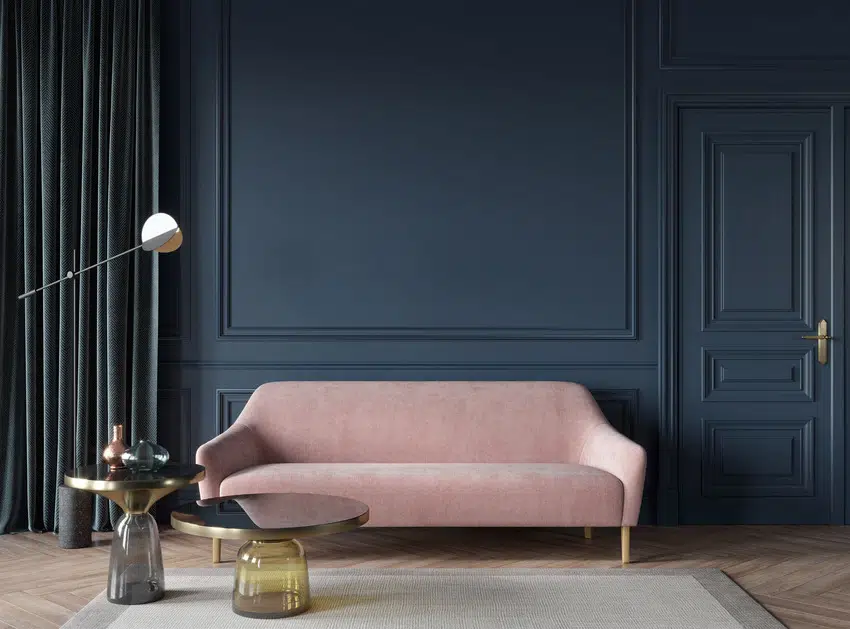 Here are the best curtain colors that pair well with navy blue walls.
White Curtains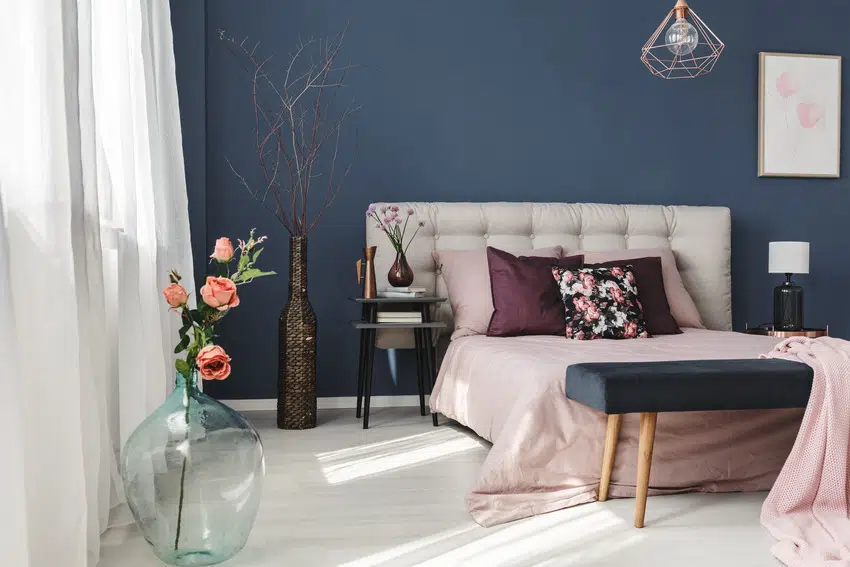 A white curtain is undoubtedly a popular choice for navy blue walls. As a neutral color, white can easily blend with other color choices, including blue.
In particular, white curtains coordinate seamlessly with navy blue walls, creating a classic and refined look, while elevating the elegance of the space at the same time.
This combination would be further enhanced if the window frames are also white, making the white curtains blend flawlessly with the white window frame. White curtains also make the room look cozy and neat.
Taupe Curtains
A taupe curtain is also an excellent option that complements navy blue walls very well. Incorporating taupe curtains into a room with navy blue walls also radiates a calm and relaxing ambiance.
It would also be best if the taupe curtains use thermal and heavy fabric to provide extra warmth and comfort especially in winter and extremely cold weather.
Curtain Colors That Go Best With Dark Blue Walls
Let's take a look at the popular curtain colors that blend well with dark blue walls.
Navy Blue Curtains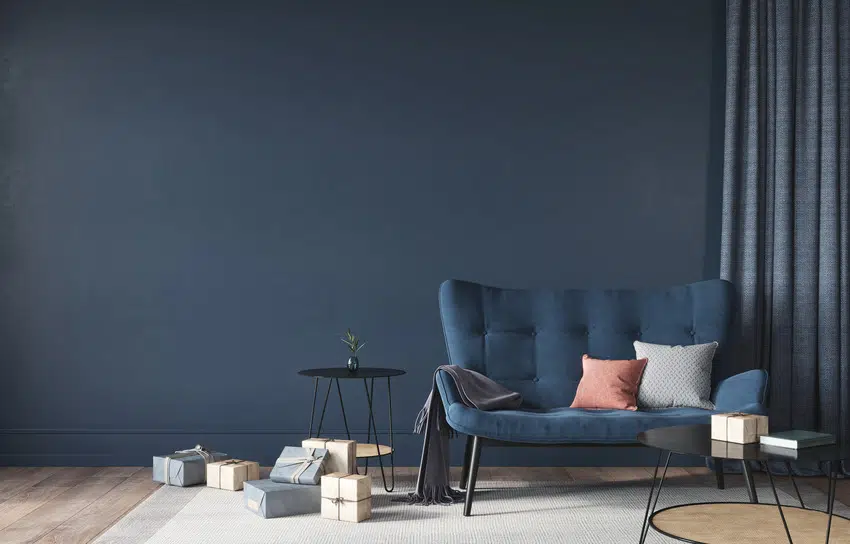 Pairing navy blue curtains with dark blue walls might seem like overkill but this is actually a remarkable color scheme.
To start with, navy blue curtains with dark blue walls can create a subtle yet exquisite effect.
However, take note that the color is not the only factor you have to consider, but the type of curtain fabric as well. In particular, velvet and silk fabrics will add a touch of elegance to your curtains and overall living space.
Natural Linen Curtains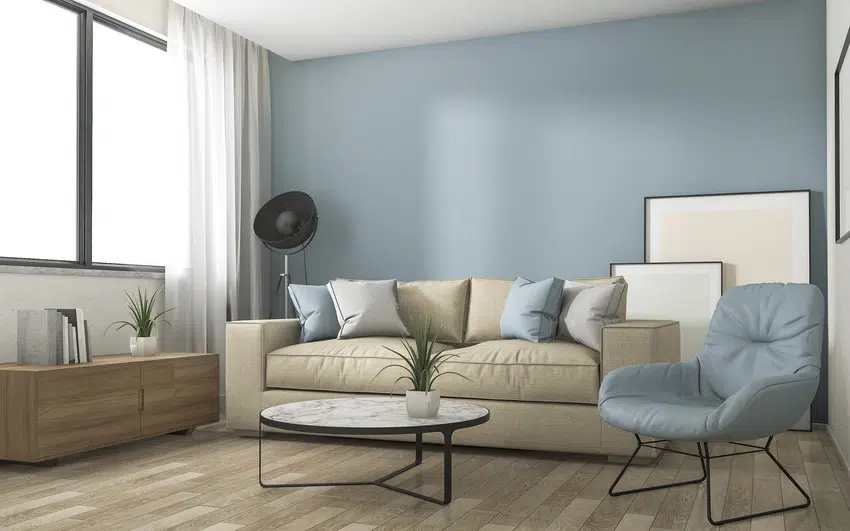 The secret to toning down the depth and intensity of dark blue walls would have to be pairing them with neutral colors. You can never go wrong with neutral and natural linen curtains, especially if you're matching them with dark blue walls.
Putting up white, beige, or any other neutral natural linen curtains will balance out the vividness of dark blue walls, create a contrasting effect.
If you have any wooden furniture in the room, a natural linen curtain would also be a perfect addition to brighten up a space and bring out a refreshing and inviting atmosphere.
Gray Curtains with Silver Design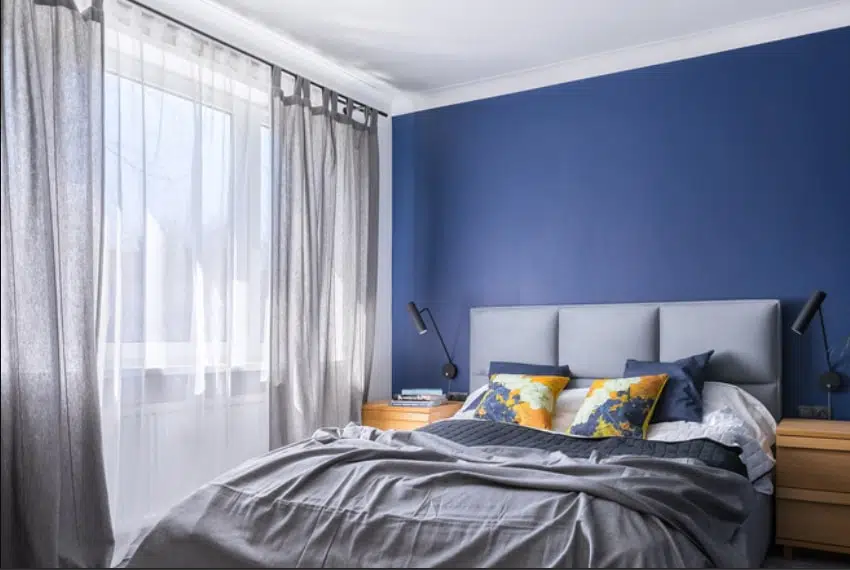 Silver and gray already make a perfect color combination. But, incorporating them into a dark blue room will produce a more eye-catching effect, making the space stand out.
Gray can appear very dull and muted. In this case, a gray curtain embellished with silver designs or patterns can make the colors pop, transforming the overall look and feel of the space.
Moreover, gray and silver curtains can completely block out sunlight and also provide maximum privacy. See our comparison guide to blackout curtains vs shades here.
Lemon Yellow Curtains
Since dark blue walls can somehow look sorrowful, integrating vibrant, lemon yellow curtains into the space is a sure way to brighten up the ambiance.
Yellow and blue are complementary colors; they are opposite to each other on the color wheel. Together, they can produce a lively, stimulating effect.
Desert Orange Curtains
Like yellow and blue, both orange and blue are also complementary colors that are in stark contrast with each other. Contrary to popular opinion, they won't clash at all.
In fact, desert orange curtains can complement dark blue walls quite effectively, creating an incredible and warm display of colors. See more colors that go with orange here.

Curtain Colors That Go Best With Pale Blue Walls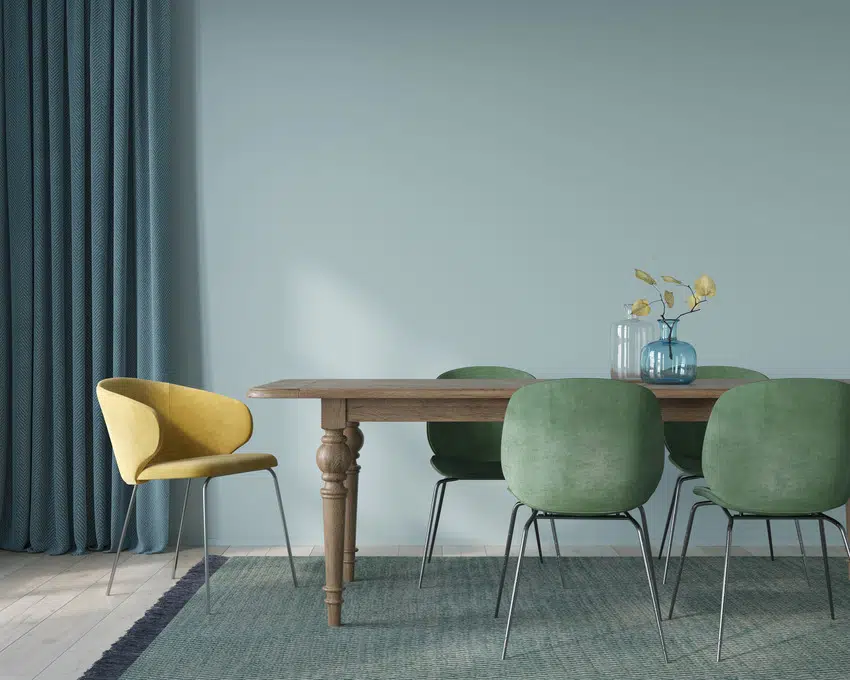 Below are some of the top curtain colors that you can incorporate into a room with pale blue walls. Read more about our article on what colors go with light blue walls here.
Dusty Pink Curtains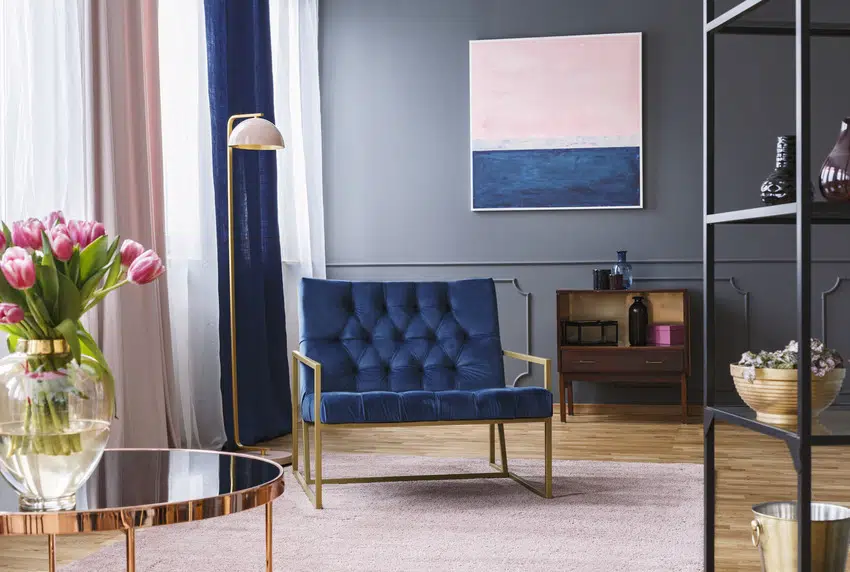 A dusty pink curtain will pair well with your pale blue walls, boosting the overall look and style of the space. See our guide to colors that go with pink here.
Pale blue walls could appear so light and subtle that they might as well look neutral. But incorporating a soft touch of dusty pink curtains into the room can balance out the effect.
Nonetheless, pale blue walls are also excellent to create a peaceful and calming mood, and decorating them with dusty pink curtains will give a more pleasant, eye-catching effect.
Rusty Red Curtains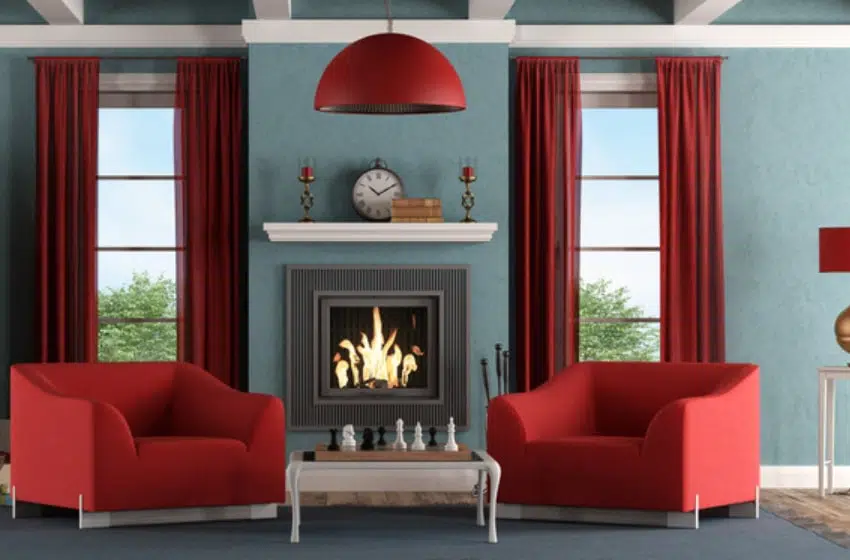 A room dominated by pale blue walls can be paired with rich-colored curtains such as rusty red to spice up the ambiance. The rusty red curtains make a sharp contrast with the faint blue walls, breaking up the dullness of the room.
You can also consider curtains with geometric patterns which can be the highlight of the room, making your interior space look more captivating.
Curtain Colors That Go Best With Sky Blue Walls
Check out some of the best curtain colors that you can integrate into a room with sky blue walls.
Gray Curtains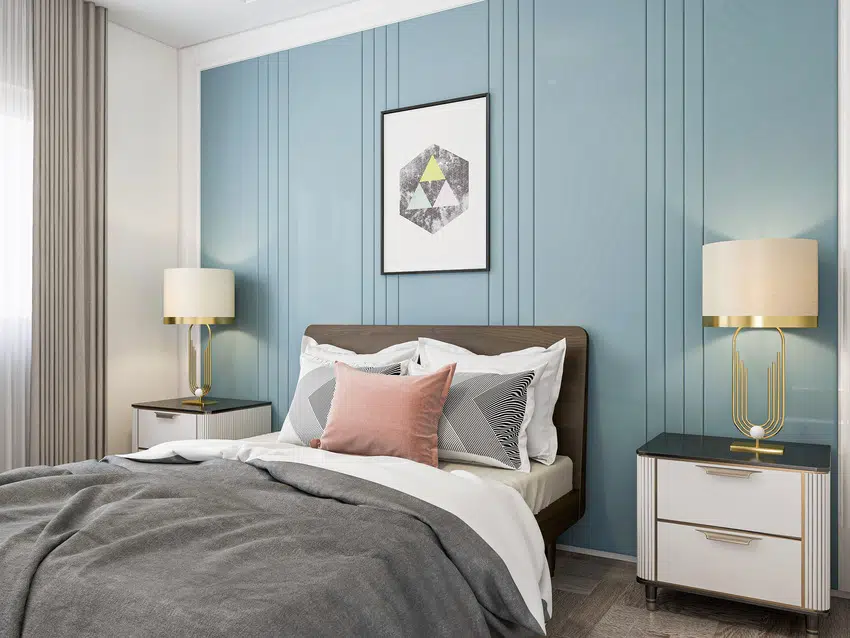 Without a doubt, gray is the best curtain color for a room with sky blue walls. Gray curtains look very stylish when paired with sky blue walls, making the living space very relaxing and elegant.
For a more stylish and stunning effect, consider gray curtains with streaked patterns. See more colors that go with gray here.

Blue Striped Curtains
Blue striped curtains can appear striking and eye-catching against sky blue walls. The blue stripes provide additional intensity and depth without giving an overly flamboyant effect.
Pairing blue with another shade of blue is one of the most effective ways to achieve a monochromatic look and a well-designed living space.
Curtain Colors That Go Best With Deep Blue Walls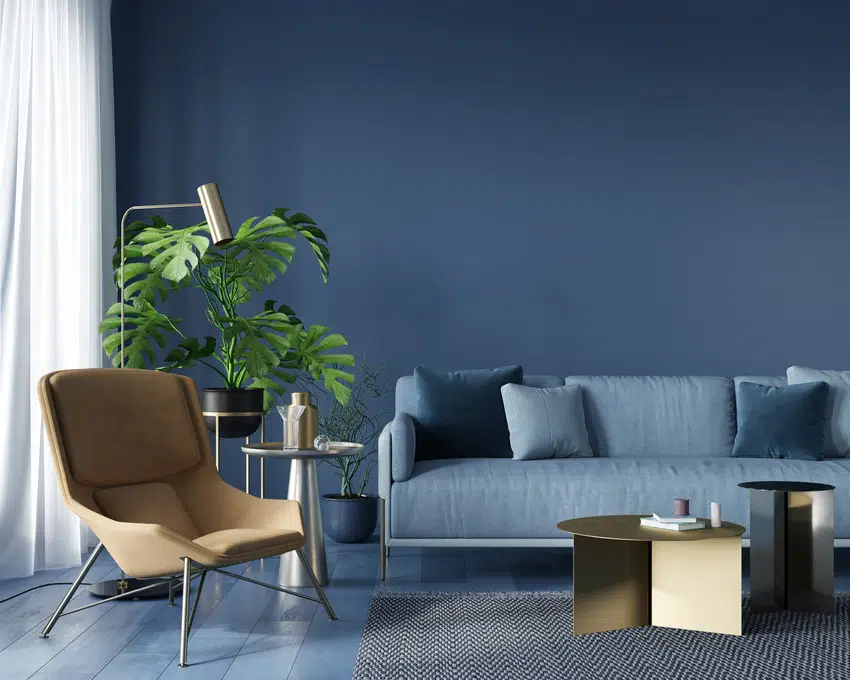 The following are popular curtain color choices that you can mix and match with deep blue walls.
White Curtains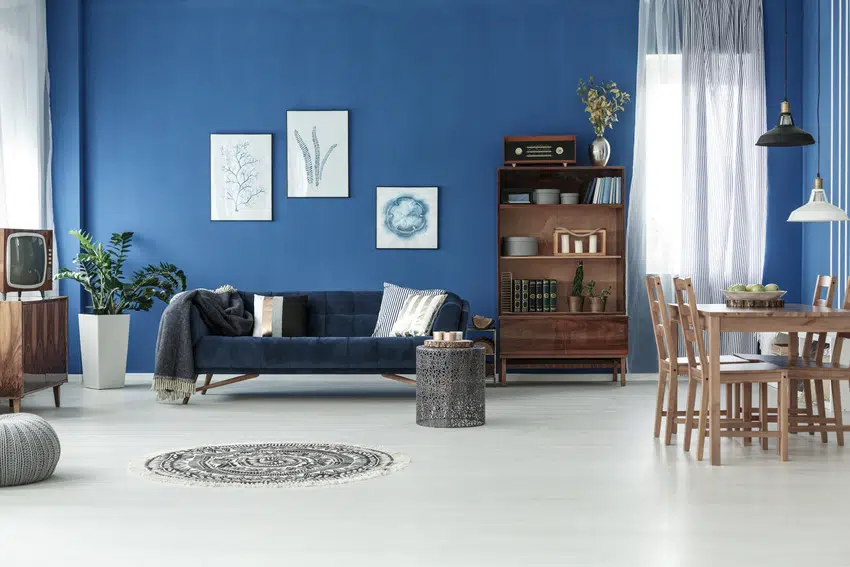 To even out the depth and intensity of deep blue walls, consider incorporating white curtains into the space. The contrasting colors of deep blue and white create a calm and alluring effect.
To add more flair to the décor, it is also a great idea to pick out white curtains with attractive styles or patterns like geometric patterns.
Blush Pink Curtains
Walls painted in deep blue can further stand out when paired with blush pink curtains. The soft and delicate look of blush pink curtains will mellow out the rich and bold hue of deep blue walls.
These curtains can also make your living space feel a lot more vibrant and playful. See more colors that go with pink on this page.

Gold Metallic Curtains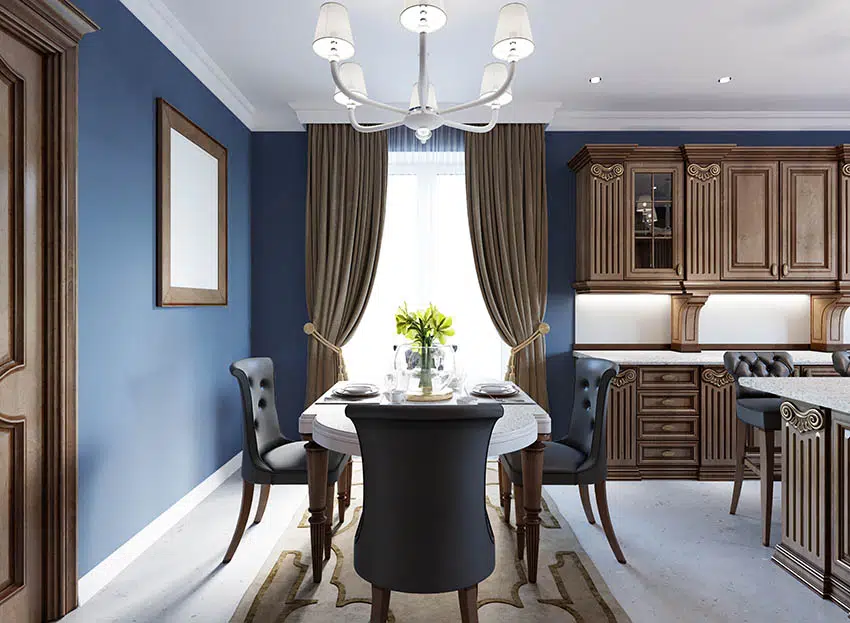 Gold might be a bold option, but its one that certainly makes a statement. Gold metallic curtains can truly enhance the luxury and elegance of your living space.
These gold curtains will truly draw and captivate the attention of anyone in the room.
For more related content about what color curtains go with blue walls, check out this choosing curtains for beige walls page.