Find out all about mahogany flooring including its different hardwood types, pros and cons, wood floor stain, durability, price, and tips on how to clean mahogany floors.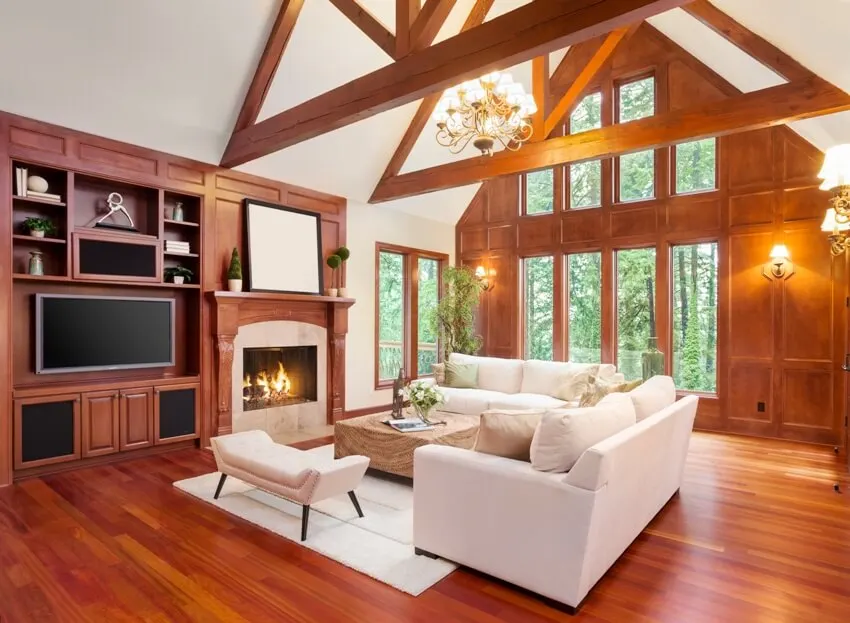 Mahogany floors are prized for their unique and sophisticated appearance as well as for its hardness, durability, and impressively lengthy life span. It's one of the most popular woods out there. It is best suited for interiors that have either modern, classic, or rustic designs. Here's everything you need to know about mahogany wood floors:
What Are Mahogany Hardwood Floors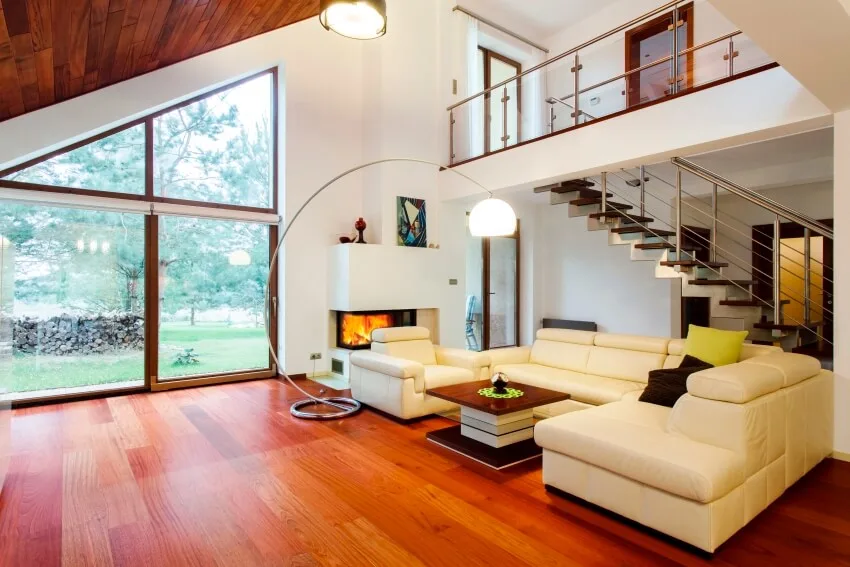 When you say mahogany hardwood floors, it usually refers to brown-red and richly colored striped wood. Mahogany is famed for its hardness as well as for its durability and life span. Mahogany can be very eye catching.
This is the main reason why it can be commonly seen as the main choice of material for guitar bodies as well as for high end boats and yachts. This wood is also the main material choice for doors as well as for other decorative elements and furniture pieces in the home.
It comes as no surprise why mahogany comes as a popular option for flooring choices. They're highly durable and has been known to last for an entire lifetime with the proper care and maintenance. With mahogany hardwood floors, your home can easily achieve an aesthetic that's both classic and rustic. Find more about the types of hardwood floors here.
Is Mahogany A Hardwood?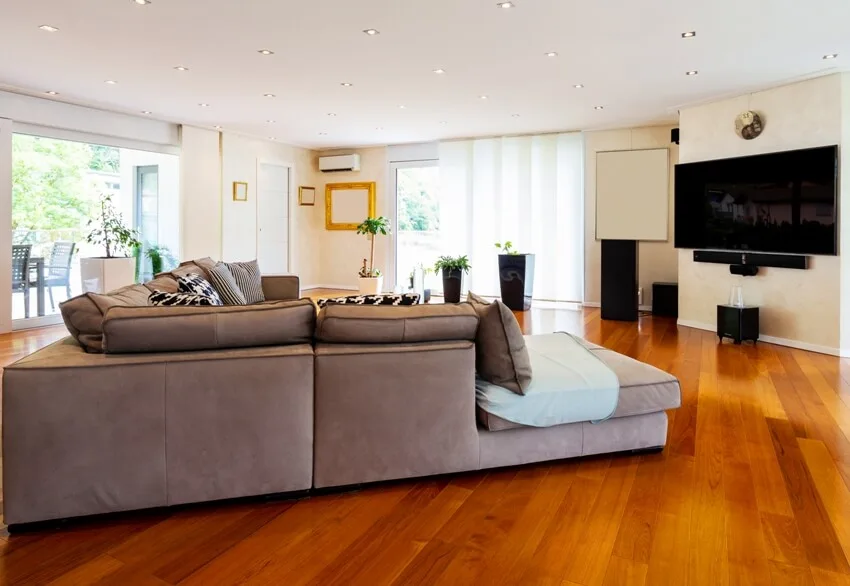 Mahogany is essentially categorized as a hardwood. It's a wood species that grown mainly in the Central and North American regions.
True and genuine mahogany hardwood is rare and can turn out to be a little hard to find not because it's not readily available but because it's something that's being heavily sought after so demand is quite high and the supply oftentimes doesn't catch up to that demand.
The reason why it's a highly recommended hardwood is because of the fact that it's made up of wood material that can turn out to be impressively strong.
Mahogany has a much higher compressive strength. This results to a very high resistance against bending and warping compared to most of the wood species available in the market right now. In how hardwoods are classified these days, actual hardness isn't actually the main criteria.
Woods that are classified as hardwoods come from deciduous trees. These are trees that lose their leaves annually or as the seasons change.
Softwoods usually come from tree species that are coniferous or trees that stay green all throughout the year, no matter what the season is. Luckily, for mahogany, it's both a deciduous tree species and it's actually really hard or dense so it ticks off all of the boxes.
Mahogany Solid Wood Flooring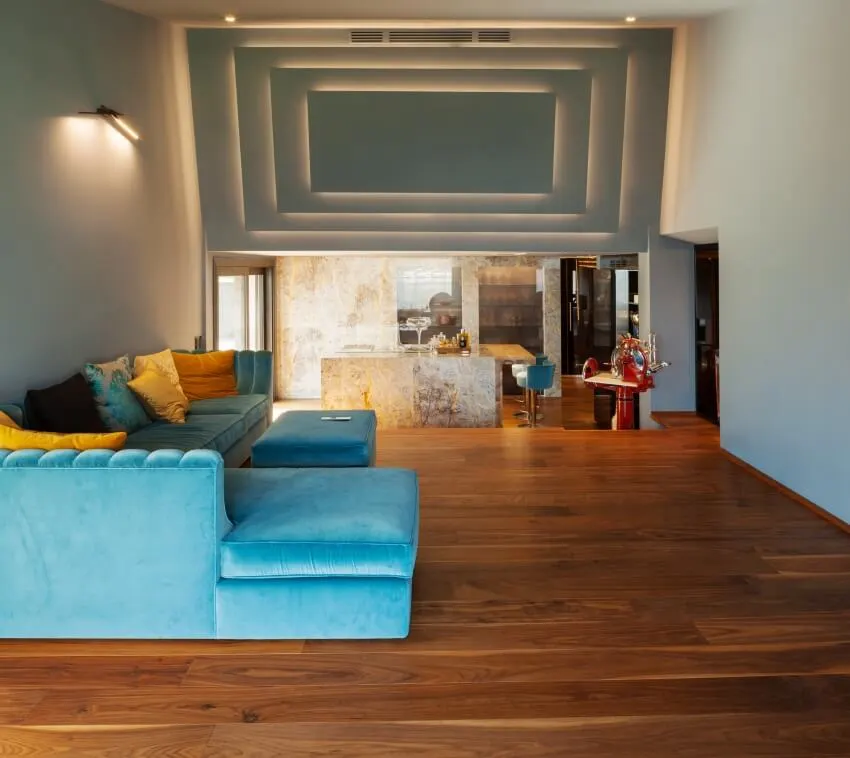 Solid mahogany wood is the crown jewel compared to all of the other mahogany-based wood flooring types. It's comprised of genuine planks cut from a solid mahogany log and is quite prized not just for its great aesthetics but for its durability as well.
When milled or manufactured right, it's known to showcase a uniform or straight grain, resulting to striped look, and a deep red-brown color that it's famous for.
Mahogany Engineered Wood Flooring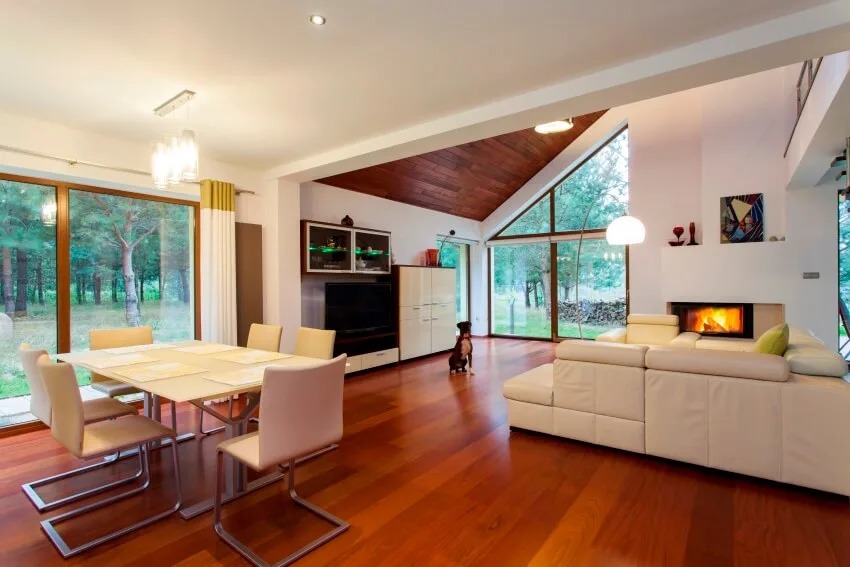 Engineered mahogany wood flooring is comprised of multiple layers of wood beneath the surface. This is usually plywood. And the top or finishing part is a layer of mahogany veneer. Engineered wood floors provide the same aesthetics as with solid mahogany wood but actually costs just a fraction of its price and is surprisingly more durable.
It's compatible with radiant heating so if you're keen on getting great looking floors without sacrificing the comforts of climate control, engineered mahogany is a great candidate to have.
It's also easier to install and is almost impossible to tell apart from actual solid mahogany wood. See our gallery of reclaimed engineered wood flooring for more design ideas.
Mahogany Tile Flooring
There are two variations to this. You can go for actual mahogany wood tiles or you can go for ceramic or porcelain tiles that are designed to look like mahogany.
However, if you want to keep it authentic, you can stay true to the actual wood tiles. They're much cheaper compared to wood planks as they come in smaller pieces but there is extra cost on the installation, which depends on the running rate of the area you're located in.
Mahogany Pros and Cons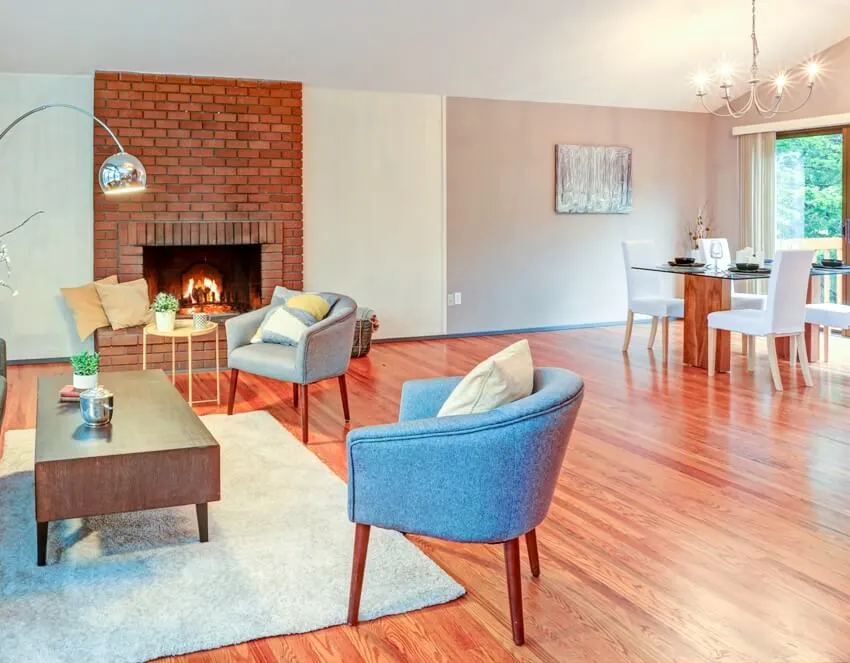 Pros
Mahogany is classified as something harder or with a higher density compared to other common woods such as pine, oak, and so on. Wood experts would claim that mahogany is roughly around 75% harder and more stable than other types of wood used as flooring material.
It has no air pockets or grooves which means that not only is it scratch-proof, it is also quite water resistant; making your floors immune from spillages and water damage.
Mahogany wood is made out of planks that are usually made out of logs that have been quartered. This approach in the manufacturing process means that these planks will not be prone to bending or warping even if it's exposed to extreme conditions related to heat, moisture, or cold.
One of the biggest pros of opting for mahogany wood floors is that they look great. They can easily match up with any type of décor or furniture you might want to include in the space that you're installing it in. It has gorgeous looking wood patterns that are textured and easily compatible as a flooring option.
Despite its rich red color, mahogany doesn't fade even when exposed to UV light. This means that it can be used as porch decking or outdoor space flooring as well.
Mahogany is a type of hardwood that's reasonably priced compared to other more exotic hardwoods in the market so if you're looking into upping the real estate value of your home without burning a hole in your budget, it's the wood material to opt for.
Because of its dark and rich color, mahogany looks clean most of the time and it also means that your floors aren't as laborious to maintain as they don't easily show signs of dust.
Cons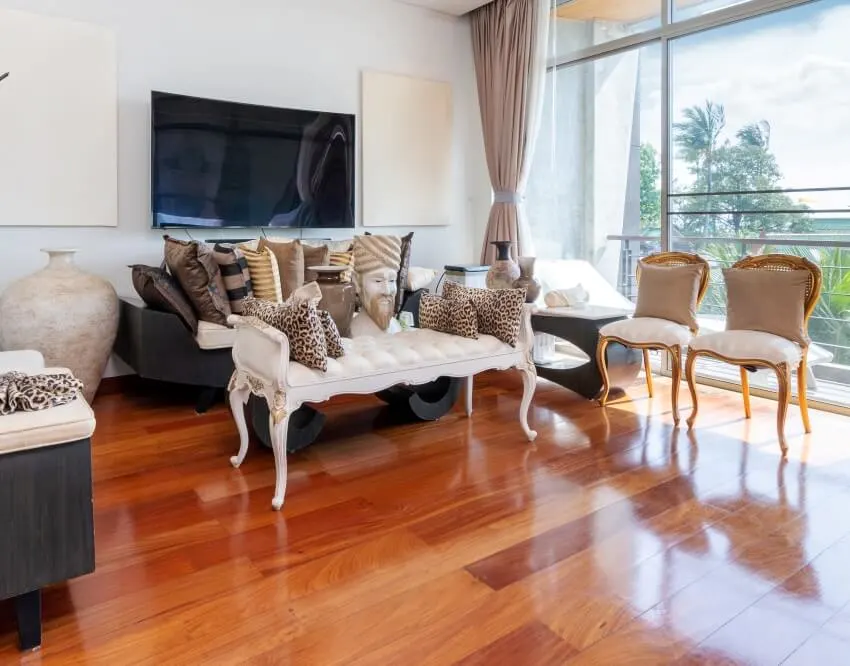 Due to its unusual hardness, mahogany can also turn out to be quite difficult to cut. If you would like to go for something that's a little more patterned or artsy, the manufacturing and the installation process can be a tad bit tedious. It's a major workability issue for most flooring experts which is why its cost is also affected by its difficulty in terms of craftsmanship.
Mahogany is dark colored and although it doesn't fade out over time, the fact that it does the opposite can be an issue to some. Dark colored mahogany has the tendency to get darker over time and due to sunlight exposure. This is why most would opt for lighter colored mahogany so that they can preempt its darker tinge as it ages.
Because of the fact that it's so durable and a bit rare, it can tack on to a much higher price tag and this can slightly affect the costs you incur when you install it as a flooring material.
There are a lot of tree species that classify as mahogany so if you aren't that keen on identifying the specific wood quality you're looking for, you can easily end up buying a cheaper variant or a dupe if you aren't careful.
Is Mahogany Durable?
Yes. Mahogany wood is a material that is exceptionally durable. This is the main reason why it's an excellent wood choice to consider for your flooring needs in case you happen to be renovating. It has a Janka hardness rating of 800 to 900 LBF.
This is extremely hard compared to how some other less durable woods fare in this hardness rating system. It's so durable that it's been said to be able to withstand hits, heavy weights, and even the accidental drop here and there without any actual repercussions to its overall appearance and physical characteristics.
Mahogany can also be quite deceptive. It looks very polished and refined that most people would initially look at it and think that it's a type of wood material that would require special handling but that is definitely not the case.
It's a wood species that can withstand rough handling with little to no maintenance, even. As a flooring material, you can be rest assured of the fact that mahogany is something that can go through a lot of daily wear and tear without taking on any dings or scratches at the end of the day.
Because of its durability, mahogany is actually a recommended flooring option for high traffic areas in the home such as kitchens, living rooms, play areas, or areas that are frequented by pets, kids, and the constant to and fro of visitors and other people in and around the house. See more pictures of living rooms with hardwood floors here.

Mahogany Flooring Price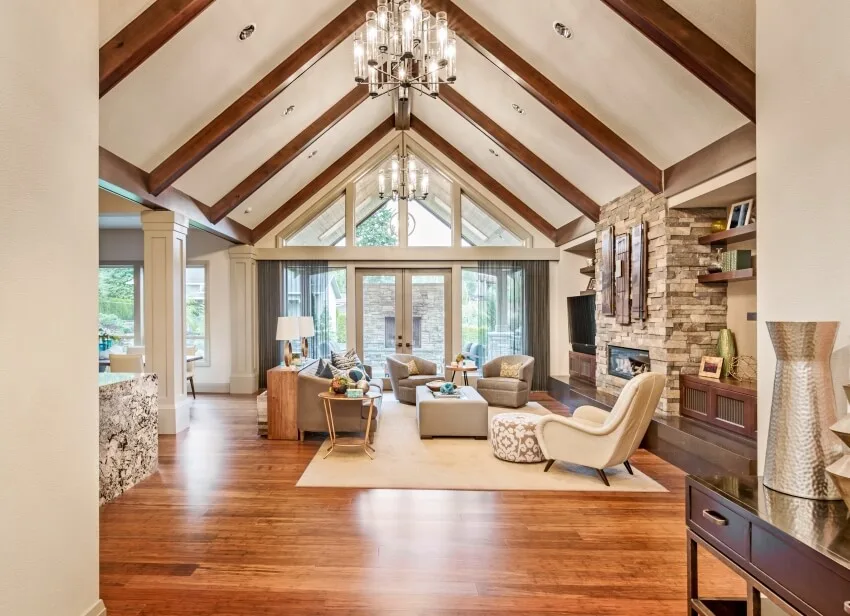 Although it isn't technically categorized as cheap, mahogany wood isn't also considered as something that's extremely expensive. We would say it ranges on the moderately priced category. Mahogany wood planks range at a cost of $14 to $35 per board foot.
The prices may vary depending on the actual mahogany species that you're buying, how the board has been cut, and what its original board foot measurement is per plank. The bigger the pieces are, the higher the costs turn out to be.
When compared to other wood varieties in the market that are also used for flooring options, mahogany wood is something that costs so much less compared to teak and walnut flooring, but is considerably more expensive compared to maple or oak.
Its mid-range pricing is ideal for people who would like to go with higher range wood flooring options without going too overboard with the budget.
Mahogany Floor Stain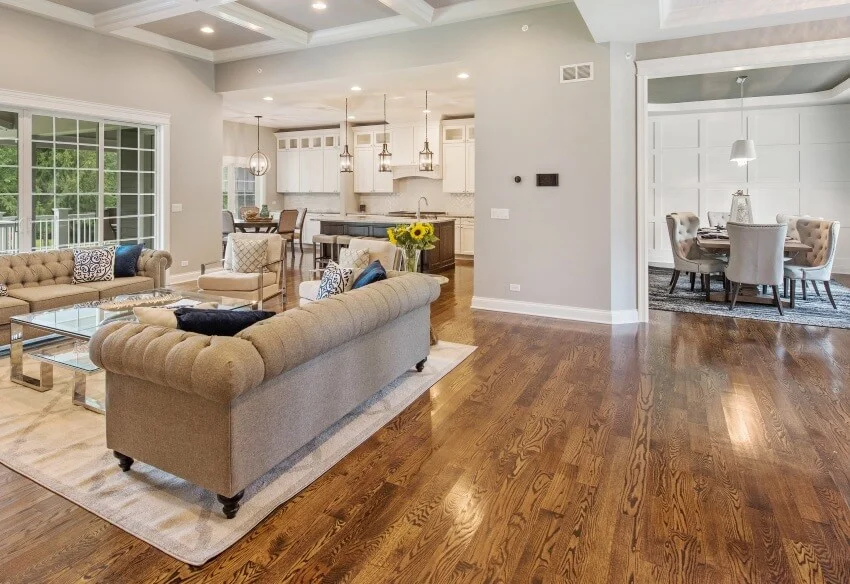 Mahogany wood intrinsically has a great color profile so if you want to go au naturel, you totally can. You can just opt for a clear stain to keep it natural and authentic looking. If you want to experiment with stains though, there's a wide variety of stains you can choose from.
The great thing with mahogany wood is that it can look great in almost any stain color. This wood has an open grain structure which means that it takes staining pretty well since the grains allow for easy absorption of the wood stain. The pigments will be able to easily penetrate the wood's pores and allow the stain to distribute evenly.
Water based stains work best for mahogany wood floors, especially if the wood surface you want is slightly textured as the stain could raise the grain. This results to a slightly raised and textured surface.
If you want it smoother though, that can also work. You only need to sand the surface. You can take it to the next step and pair it with a water based grain filler as well.
How to Clean Mahogany Floors
Mahogany wood floors can be a great investment. They add warmth and character to your home's design. These floors don't come cheap and are considered as pricier options considering that there are other cheaper options available in the market so if you do go for them, it's important for you to make sure that you actually go out of your way to protect your investment.
Knowing how to clean and maintain them is key to not only maintaining their deep red hue but to also prolonging their life span overall. Preventive maintenance is key to achieving this. Try to veer away from using too much water or from using harsh cleaning products as well as this can damage the surface of your mahogany wood floors.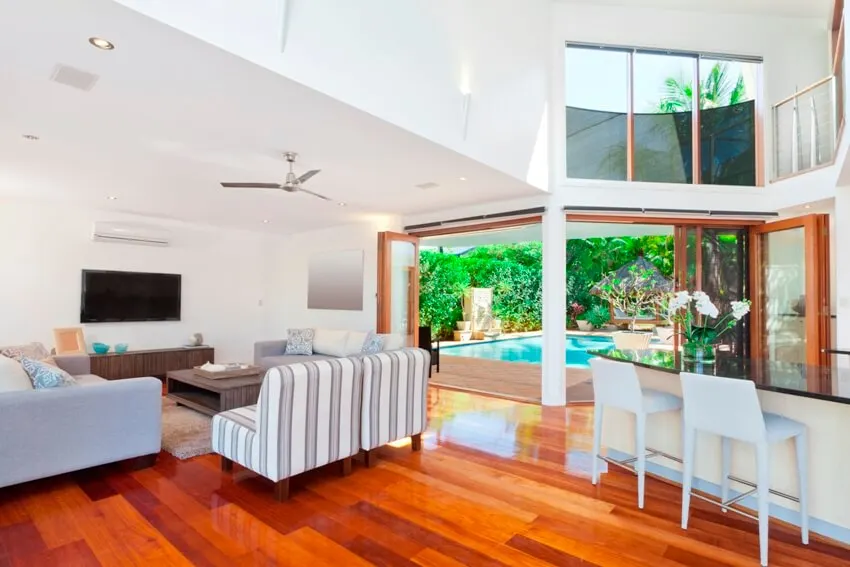 Here are some general rules for cleaning and proper care for your mahogany floors:
Install mats, rugs, or carpets near doors or entryways. This will help you keep dirt and other forms of debris from entering your home.
These might end up damaging your mahogany floors. Also make it a point to take your shoes off hardwood when entering your home, this way you are limiting outside dirt from accumulating inside your home.
Sweep your mahogany floors clean with the use of either a dust mop or with a broom with gentle bristles. Do this as frequently as you can or as the need arises. If you aren't that fond of sweeping, you can opt for vacuuming. What's important is that you are constantly removing dirt and debris from your floor surfaces.
In the event of stains and dirt or debris that are hard to remove, make use of a slightly damp microfiber cloth. You can use a special wood floor cleaner for this or just water. Once you've wiped it down with a damp cloth, make sure that you follow through with a dry rag or towel immediately.
If your mahogany floors have a wax finish, you can actually use an electric buffer to make it shiny. If that doesn't work, it's recommended that you remove the old wax coating so that you can replace it with a new one.
Use liquid wax that's solvent based to remove any wax buildup on your mahogany floors. Use a soft and clean cloth to apply it so that you can wipe away the old wax finish. Let it dry out for 20 minutes or more before buffing it with an electric buffer
If you have mahogany floors that are outdoors, you can maintain this with regular sweeping or if that isn't enough, you can actually hose it down or even occasionally hose it down with a water sprayer. Make sure that you reapply a water resistant deck sealer about twice a year to keep it resistant to moisture.
See more related content in our article about mahogany kitchen cabinets on this page.