Here's our bar dimensions guide including standard measurements for a counter, table, overhang height and bar foot rail sizes.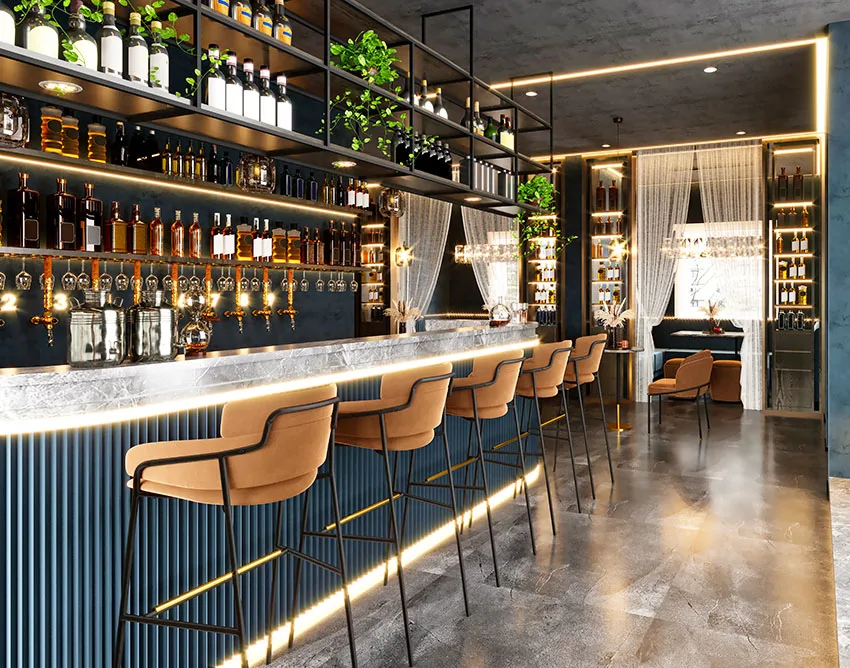 A bar can be a worthy addition to a business as it essentially provides a person with space for conversations and community. It is a meeting spot where people hang out, not to mention the vibrancy it provides to the local economy through hiring servers and bartenders and stocking up on bar supplies. If you are planning to own a bar, here are some dimensions to consider!
Bar Layout Dimensions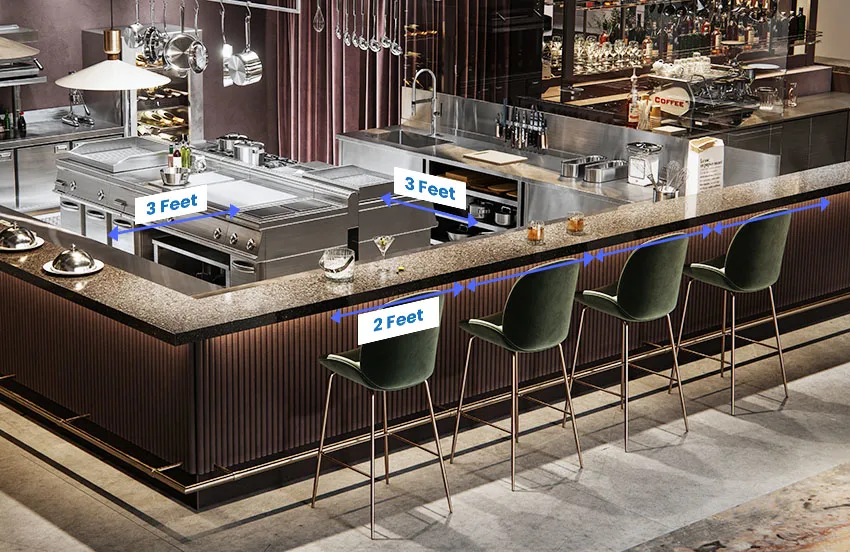 One of the most integral factors to consider in bar layout planning is a guest, customer or patron's comfort. That could be implemented by figuring out and planning for definite bars, stools, and even table dimensions.
Accounting for ease of movement will result in a booming business brought about by repeat customers. So what are the dimensions to remember in order to plan for an effective bar layout?
A space of 3 feet or 36 inches should be allowed behind the bar for aisle space, so the bartender and the lightning-fast barback could operate the bar efficiently and comfortably.
A customer activity space of 18 to 24 inches or 45.72 to 60.96 centimeters for the customers to sit and move around should be allotted. This space is given to both customers who will be sitting by the bar and at bar stools. Two feet of space should be allocated for each bar stool.
A clearance space of 36 inches or 91.44 centimeters shall be cleared for servers and at the same time for people with disabilities.
Not only is it the standard mandated in the Americans with Disabilities Act, but it will also make your bars accessible for everyone looking to have a chill night with friends over drinks, no matter if they have a disability or not.
How Much Space is Needed for a Bar?
How big or small your bar will depend on you but keeping in mind the minimum 36 inches for the bartender and the bar back to make drinks is essential.
Standard Bar Dimensions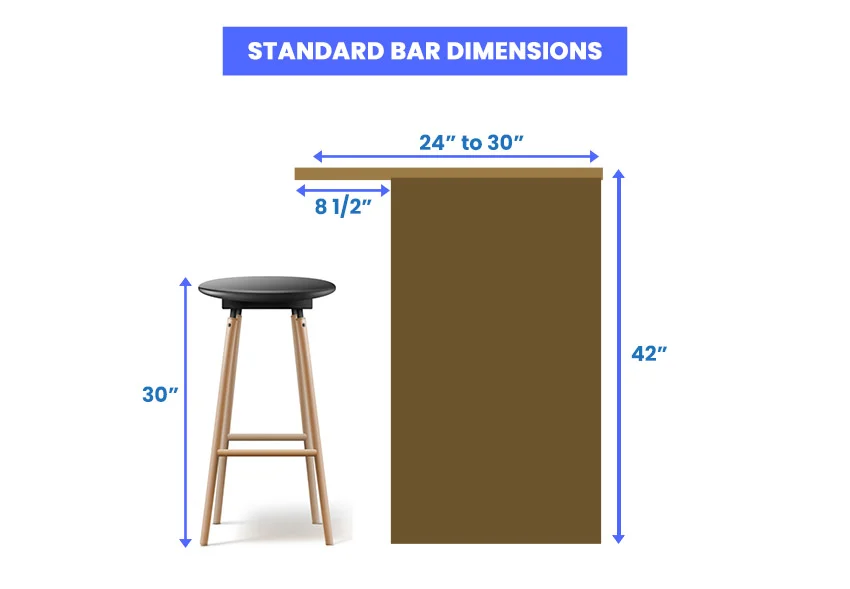 Bars come in different sizes and dimensions, but standard 42 inches or 106.68 centimeters bar heights would fit a 30 inches or 76.2 centimeters stool to be used for seating a patron easily and comfortably.
The 12 inches or 30.48 centimeters difference is standard for not just bar to bar stools measurement but also breakfast bars or even desks and chairs. See more about dining chair sizes here.

Bar Counter Dimensions
The bar counter is just as important in the whole bar layout because this is where you will be serving your drinks. You have a variety of materials to utilize for this purpose, from ceramic to wood to granite to marble and even stainless steel or whatever compliments your whole bar scheme.
Aside from the quality of your drinks and the ambiance in your bar, aesthetics is one of the factors that would keep the customers coming back.
So what should the size of the bar counters be? The standard depth of a bar counter is 24 to 30 inches or 60.69 to 76.2 centimeters.
This space will be enough for you to serve the drinks and enough room for each of your customers to get comfortable in. This dimension is much smaller for home bars at 12 to 20 inches or 30.48 to 50.8 centimeters—enough space to entertain your guest and room for you and your loved ones to have a nightcap.
Bar Overhang Dimensions
The bar top overhang is there so that your knees will fit comfortably under the bar without your knees bumping the bar front. The minimum length for such is 8 1/2 inches or 21.59, although you can extend it to 10 inches or 25.4 centimeters to account for taller patrons or bar customers' legroom.
Bar Height Dimensions
The standard bar height, on average, is 42 inches or 106.68 centimeters high, and either a 24 inches counter stool or, better yet, a typical bar stool that could go up to 32 inches would work perfectly for this height. The depth of a 42 inches high bar is 16 to 20 inches or 40.64 to 50.8 centimeters.
There is also the underbar dimension to account for that is usually 30 inches or 76.2 centimeters high from the floor. This height is the working area for both and either the bartender or the bar back.
Bar Height Table Dimensions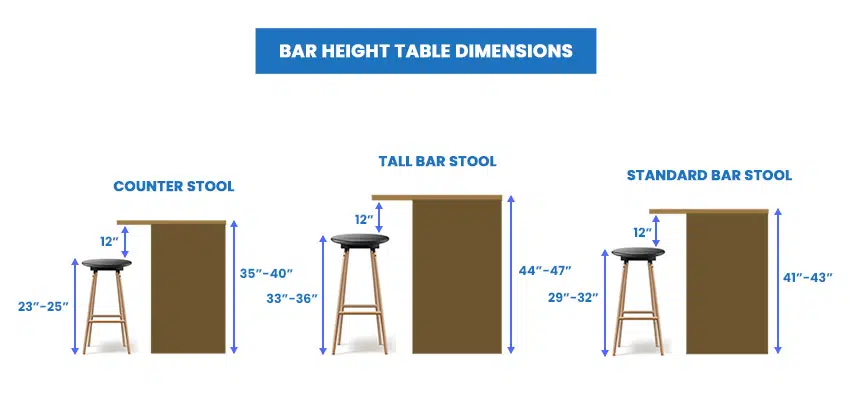 People come to a bar in order to have a few drinks and a great time hanging out with their friends and loved ones, and one of the factors that would account for comfort is making sure that you have the right bar stools and table height from materials to height ratio.
Whether you are going for the industrial-looking bar stools and table combo or the more traditional upholstered leather, the right height can make or break your seating.
There are three standard stool heights that bar owners utilize for their business: counter stools, tall bar stools, and bar stools.
Counter stools have a height that ranges from 23 to 25 inches or 58.42 to 63.5.
Tall bar stools have a measurement from the floor to the seat of 33 to 36 inches or 83.82 to 91.44.
The typical standard bar stool has a height of 29 to 32 inches or 73.66 to 81.28 centimeters. Go to bar stool height for more in depth guide.
There is a standing rule that 12 inches or 30.48 centimeters should be left between the top of your stools and the bottom of your table. This will ensure that going in and out would be a breeze and that your customers are comfortable enough to stay and order for hours.
A bar table for a counter stool of 35 to 40 inches or 88.9 to 101.6 centimeters would be perfect; a table height for taller bar stools is 44 to 47 inches or 111.76 to 119.38 centimeters, while for a standard bar stool, a table of 41 to 43 inches will leave a 10-inch allowance. Visit standard height for counter, bar and table here.
Bar Foot Rail Dimensions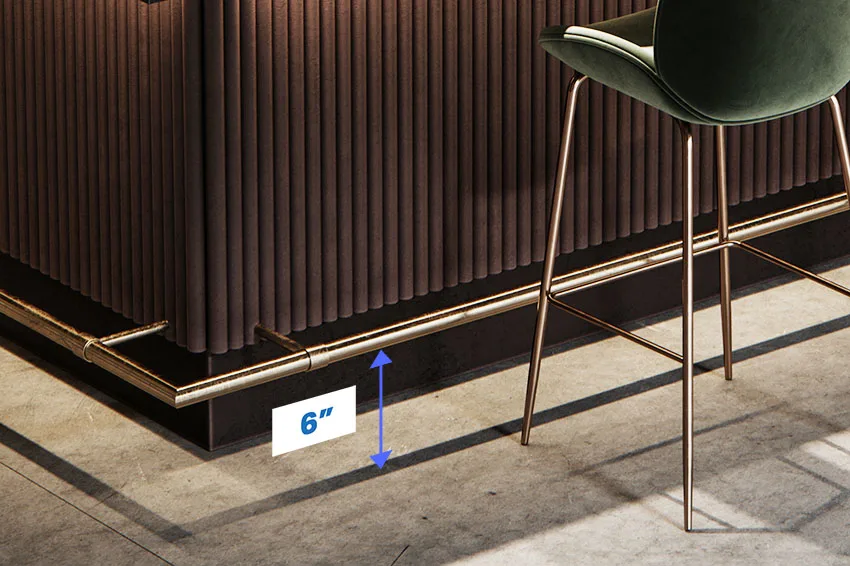 The ideal foot rail height for a bar is 6 inches or 15.24 centimeters from the ground. They are essentially a footrest that would run the length of your bar. They are tubular and made of brass.
For more related content, visit our custom home bars design gallery here.