These bar countertop ideas share the different types, the best bar top finish, suggested options for outdoor home bars, and the ideal counter height.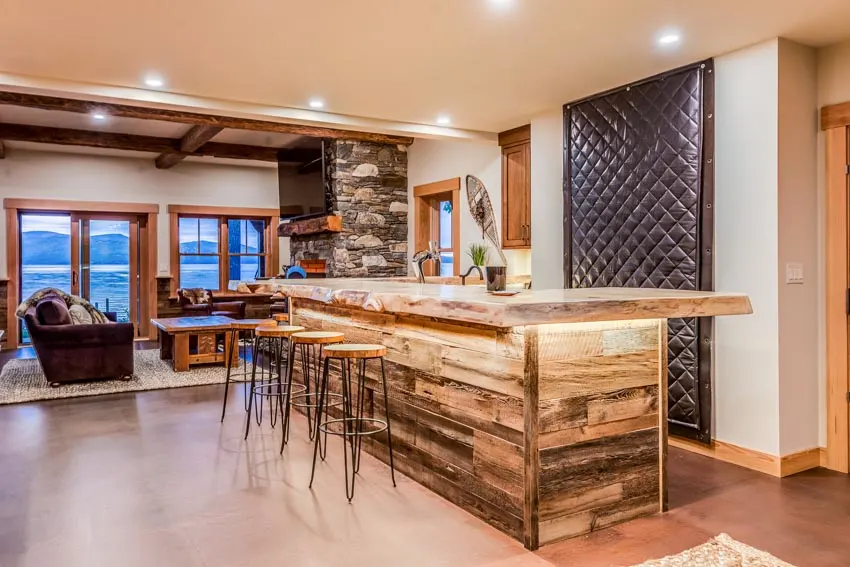 From space-starved homes to grand mansions, bar countertops remain a sought-after element in many households adding functional and decorative space to entertain family and guests. Does a bar countertop increase your home's value? On average, new professionally installed countertops will add about three times as much value to your property.
However, factors such as materials, size, and design should be considered when determining if a bar countertop is worth investing in. The many construction techniques and materials available today provide many options for homeowners.
Picking countertop material opens you to a variety of options. Starting from ceramics, granite, marble, and stainless steel. These are wonderful materials that come with their own pros and cons. Issues concerning resisting heat, mold, stains, and scratches are the most common.
But despite this, they return unmatched aesthetics that are hard to beat. We've curated some practical bar countertop ideas that help your living space stand out.
Types Of Bar Countertops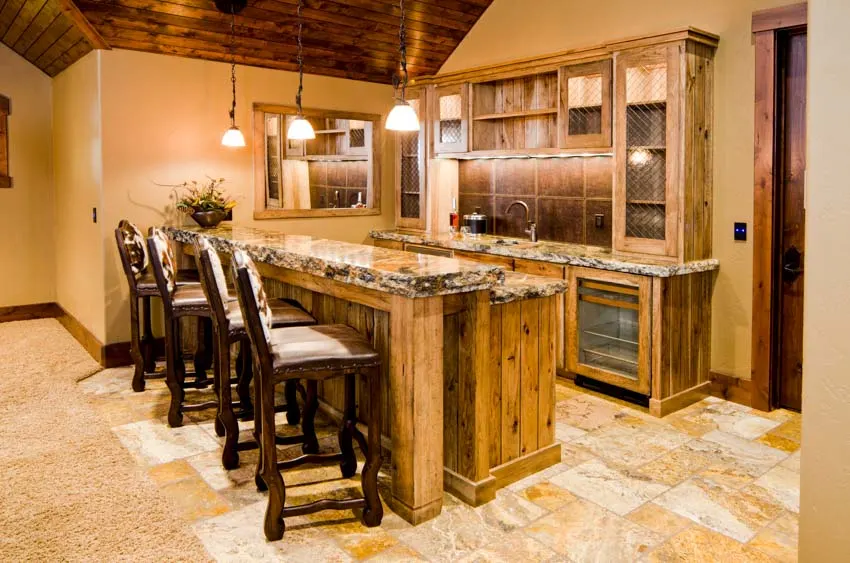 Here we share the different types of bar countertop ideas you can consider.
Wood Counters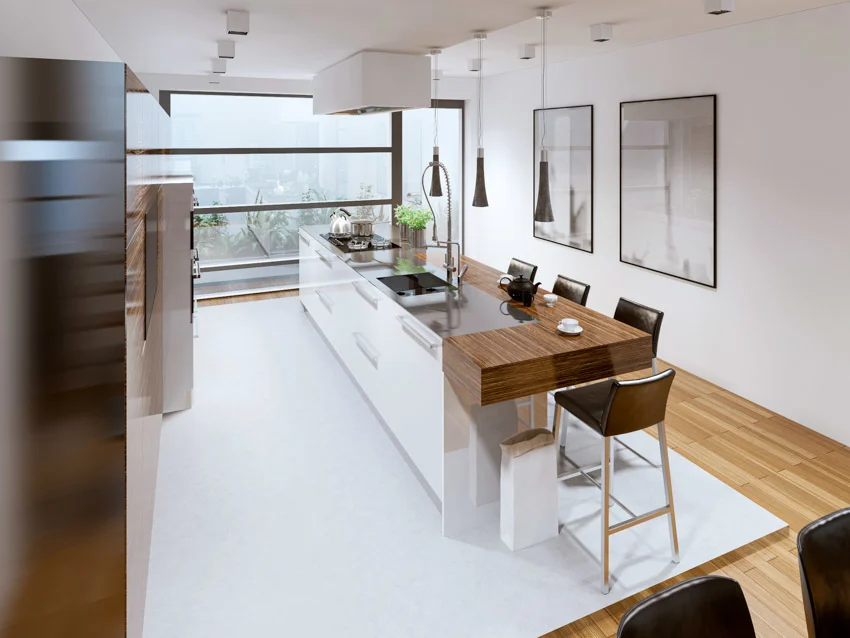 Lends that warm and familiar look to any room, wood is among the bar countertop ideas that remain one of the most popular options for both traditional and contemporary interiors. The timeless appeal comes from the organic material's unmatched aesthetic and ability to be forgiving with common damages such as dents and scratches.
When sealed properly, wood countertops can prove to be durable working surfaces. Maple is a popular wood specie for countertops as it has a good balance of quality and cost with various shades.
The wide range of cost and the chance to have a relatively easy DIY project for wood bar countertops are other reasons to opt for organic material. You can also have a skilled craftsman provide intricate or elaborate designs for your wooden counter, making it a custom-made project.
Slab or butcher block wood countertops are common options as the installation is pretty straightforward, and you can reseal the surface every couple of years. Reclaimed wood countertops are trending in many home bars, and you'll find a good deal in thrift shops.
A reclaimed wood countertop, on average, costs $115 to $300 per square foot. For wood species, Brazilian cherry, oak, teak, walnut, and wenge are durable options.
Central and South America are growing IPE. This is a thick material that barely floats, made from Brazilian walnut and ironwood. It sounds tough, but that's because they are. These hardwoods are said to last as long as 40 years as long as they are maintained.
Wood tends to suffer from warping, rotting, cracking, or denting. But not these. The catch with this is it takes time to grow the source lumber, and it can sometimes be difficult to obtain.
Granite Counters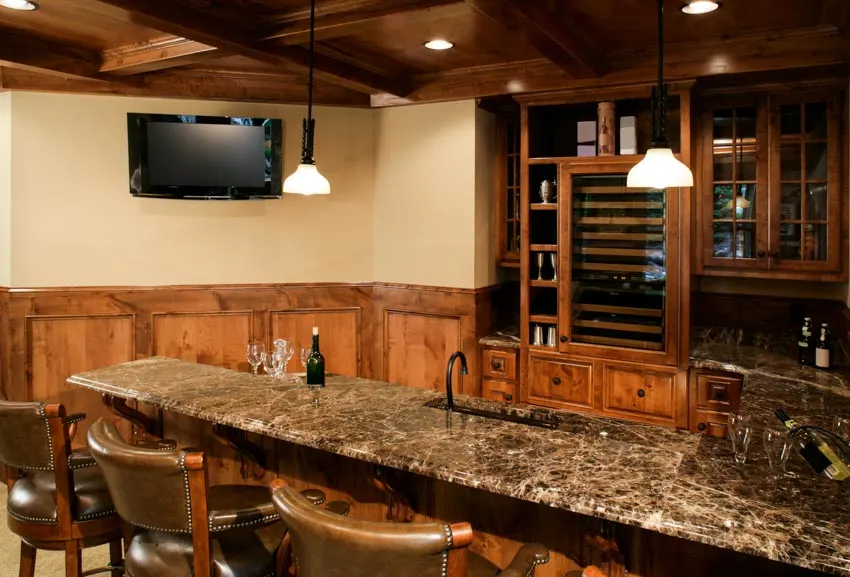 If you're on a generous budget, granite bar countertops should be a top choice. The quarried stone not only showcases gorgeous natural stone veining, patterns, and coloring, granite is a highly durable material that is harder than marble but softer than quartzite.
Remember, though, that granite is a porous material, so proper sealing of the surface is needed. When properly sealed, this is among the bar countertop ideas that can resist moisture and stain.
Granite tile is a practical alternative to your slabs as it is easier to transport, and damaged tiles can be easily replaced without the need to remove the entire bar counter. The average cost for a granite countertop ranges from $45 to $200 per square foot.
Generally, granite stone comes with three surface patterns: speckled, marble, or solid. The versatility of the quarried stone comes from its ability to simulate the look of your contemporary materials.
For instance, honed gray granite can look like a concrete surface, or its black-honed version can mimic a soapstone surface. This makes the matte finish a great option for large and spacious interiors. The glossy finish of granite provides a luxurious surface fitting for small areas as it helps brighten up tight interiors as the light bounces off the surface.
As beautiful as granite can be, it requires sealing to keep it from being damaged, especially by stains. This requirement is even more so when the kitchen is located outdoors. Having a granite kitchen outdoors is sure to be an eye-catcher. This is an attractive trend nowadays. Therefore, it is important to keep it protected, as we've said.
There are solutions available on the market for the job. Homeowners tend to think this is a tedious job that requires even a professional. Of course, this entails more financing. But fortunately, the sealing process for granite countertops can be done easily with simple tools and patience. Applying a sealing solution only takes minutes and a few hours to wait for curing.
Quartz Counters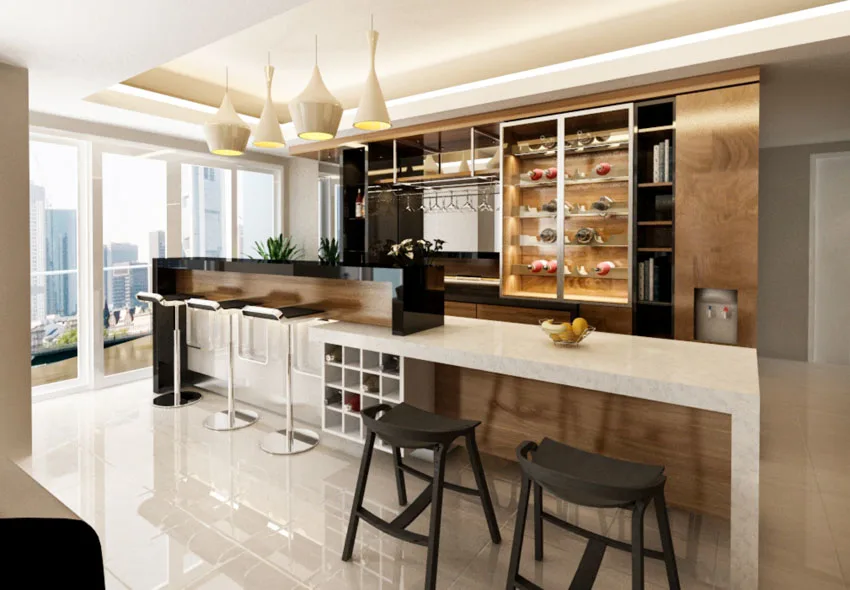 Busy bar countertop ideas benefit much from a quartz material due to its extremely durable surface. Among the engineered stones, quartz is the strongest and does not stain or absorb water making it virtually stain and dent-resistant. Aside from easily wiping off spills, the quartz bar countertop won't harbor mold or mildew within its material as it is non-porous, so there's no need for resealing.
Quartz countertops come in many options since engineered stone pigments are used to create the colors and patterns for the surface. Another great advantage of quartz over your long-standing bar countertop materials is that granite is generally cheaper than granite and marble.
One advantage of marble over quartz is that it is not very heat-resistant. Placing hot pots or pans on the surface can discolor or create scorch marks on your bar counter. Avoid placing objects with temperatures over 300-degree Fahrenheit on your quartz bar counter.
Expect to pay around $55 to $155 per square foot for your quartz bar countertop. The labor cost can take 20% to 50% of the total cost. Experienced DIYers may opt to install it themselves, especially if no multiple seams or cutouts are needed from your quartz slab. However, professional installation is still recommended in installing quartz bar countertops to prevent more costly repairs.
Countertops are expected to collect all sorts of stains. Persistent use over the years will also accumulate scratches on the surface. Therefore, Caesarstone quartz is the optimal choice for this application. The surface offers a workable surface that is easy to maintain due to its resistance to stains and scratches.
So having drinks spill on the surface by accident is no longer an issue with permanent consequences. Caesarstone mimics natural stone, so there's no loss in aesthetics, and homeowners can obtain it at a fraction of the cost.
When it comes to aesthetics, it is available in many patterns, colors, finishes, and looks, so homeowners are bound to find something that will match their desired appearance.
Laminate Counters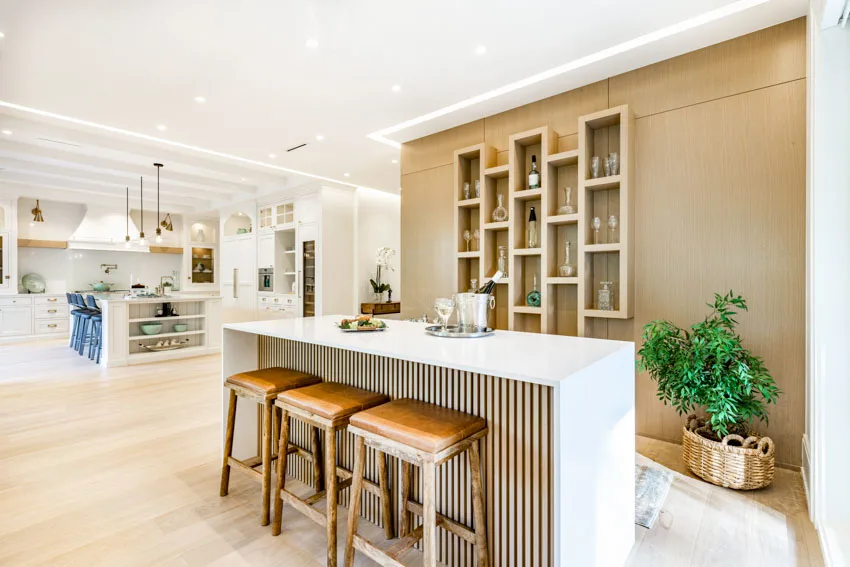 Suppose you're looking for sturdy, affordable, and versatile bar countertop ideas that are located in a room and not exposed to water or moisture. In that case, laminate bar countertops is a great option. The laminate material is basically made from compressed layers of paper or plastic fused to a particleboard base.
This makes it lighter than most common countertop materials such as solid wood, quarried stone, or quartz which can be an advantage if you need a light material on a slender bar wall or base. Installation of laminate bar countertops is relatively easy in general and even more DIY friendly with its pre-fabricated versions.
These post-form laminate countertop sections are easy to assemble and offer thousands of designs simulating the look of wood, marble, concrete, or any other material. A higher-end of laminate material is the design laminate which is made of quality materials and tasteful designs.
While it is non-porous, where you can easily wipe off spilled liquid or food, laminated bar countertops can warp or get damaged when water or moisture is able to seep through damaged ends or edges.
For this reason, laminated bar surfaces are not recommended for heavy use or outdoor use. Aside from denting, chipping, and warping, the material can burn or get damaged from hot surfaces.
You can have a bar countertop as low as $15 to $40 per square foot. To save more, you can source stock and special-order laminate counters from home improvement shops while installing them yourself to save more on labor costs.
Solid Surface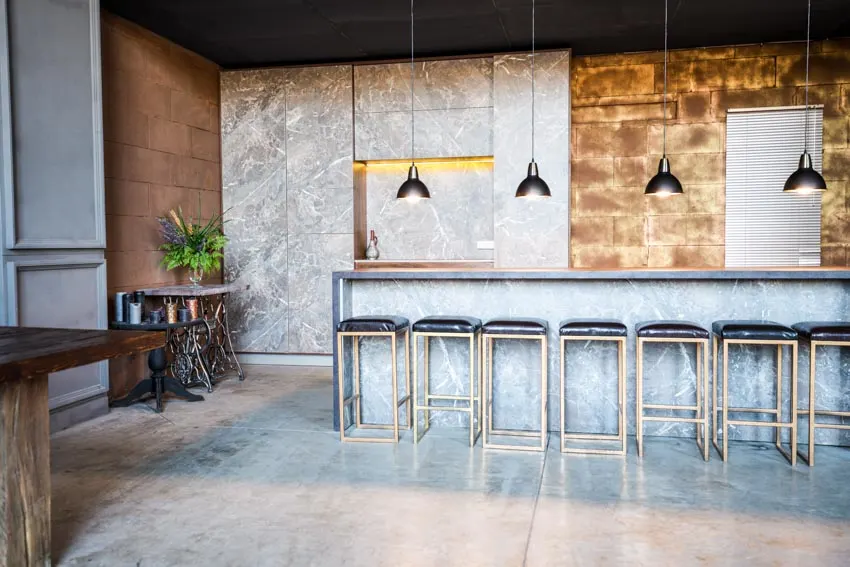 Solid surface countertops are a great option if you're looking for a bar countertop material that can withstand moisture with low to medium use. Cost slightly more than laminate, which costs around $35 to $85 per square foot, it's a reasonably priced bar counter surface. You can save more with standard-grade versions rather than opting for the premium grade.
Solid surface bar countertops are made either of polyester or acrylic-based material, and you'll also find a combination of the two. The main difference is that polyester material provides more depth and vibrant colors than acrylic. Still, you may want to go for the latter if you plan to do thermoforming or any other fabrication work.
The homogenous material is also composed of mineral dust, such as marble, mixed with the resins and pigments. Like laminates, it's easy to wipe off clean without worrying about staining due to its non-porous surface. The disadvantage of solid surface countertops is their softer makeup making it easier to scratch or dent the surface. Light scratches can be honed or sanded down.
The popular solid surface material is Corian. Corian by DuPont has been around since the 1970s and is still used today as countertops and benches. The material is extremely durable and is resistant to heat, sunlight, and stain.
Marble Counters

Exquisite and the epitome of luxury, marble remains a popular choice for bar countertops for interiors that require an impactful aesthetic. Home bars that use the counters for special occasions only, benefit from marble countertops as they can stain and wear without proper maintenance.

Acidic beverages such as wine can seep through the porous surface, and removing it can be difficult. The Marble Institute recommends removing stains with 12% hydrogen peroxide and a few drops of ammonia.
Marble bar countertops, especially white-colored versions such as Carrara or Calacatta marble, will need regular maintenance and a quality sealant to protect your bar counter surface.
Despite the maintenance requirements, many homeowners opt for the stunning quarried stone. The subtle, veining and soothing shades of colors will certainly transform your interior, aside from high maintenance and easy damage such as chipping and dents.
The high price of the natural stone should also be considered. Marble bar countertops can cost $75 to $250 per square foot, that's around $20 to $50 more expensive than granite material. You can cut costs by choosing marble tiles instead of the slab versions.
However, the seamless look can have disadvantages in terms of cleaning the crevices, but the look is not necessarily less appealing than your continuous surface.
Soapstone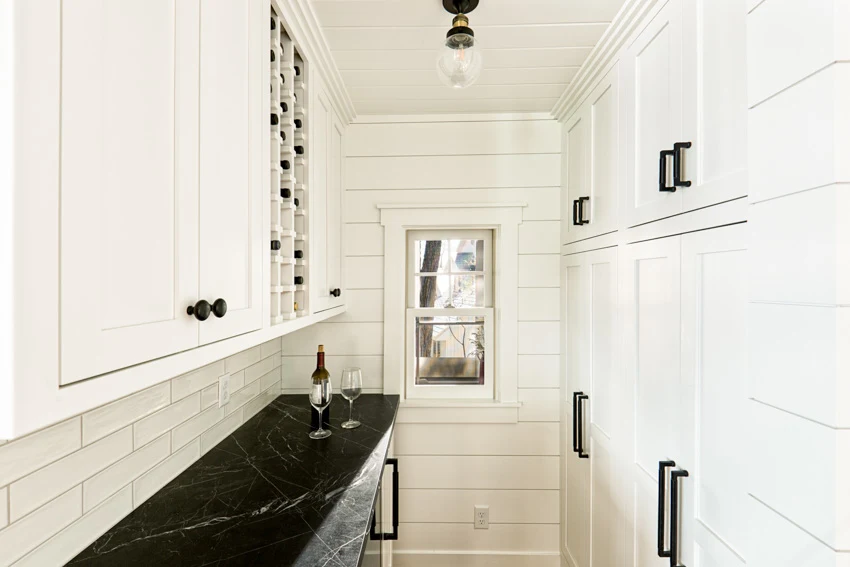 Soapstone is among the best bar countertop ideas if you love the look of natural stone but are worried about the staining and high maintenance that goes along with having quarried stone bar countertops.
Soapstone is composed mainly of steatite stone, including dolomite, magnesite, and chlorite. Since it's a naturally occurring material, you may need to find a reputable supplier that can source in your area as it may not be readily available.
Despite the limited colors and patterns, which are primarily gray, black, and blue in colors, soapstone provides an interesting aesthetic to an interior. Depending on the design, it generally provides a rustic or urban element to the space, similar to a granite or slate stone.
One challenge is bringing together two large pieces of slab together with the exacting look to create a seamless surface such as a waterfall countertop. However, soapstone is a great option to explore for your bar countertop. Unlike your other quarried stones, soapstone is non-porous, making it possible for heavy use. This means less worry about spilling wine or food on your bar surface.
Another great thing about soapstone countertops are they won't dent or scratch easily, which is close to, or as tough as granite and quartz. Moreover, you get a heat-resistant surface, so you also don't have to worry about damaging your soapstone surface.
You can use your soapstone bar countertop without any sealant. Expect to enjoy your soapstone bar countertop for an average of 20 years. Soapstone costs around $60-$185 per square foot; it is more costly than most other countertop materials.
Doing away with the resealing and high maintenance makes it a cost-effective option, especially if you've got a generous budget at hand. On average, you get a 50% return on your investment from a soapstone bar countertop installation.
Epoxy Countertop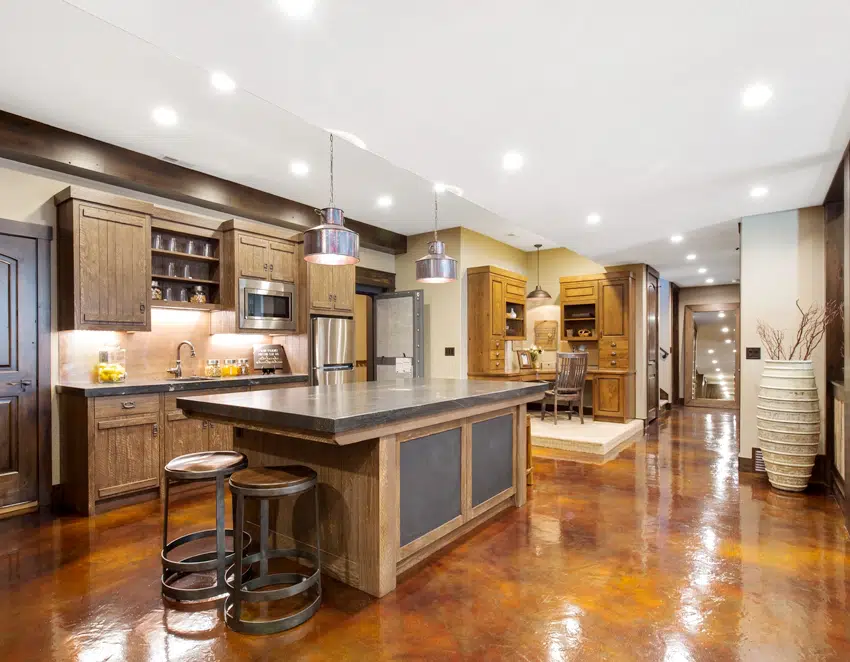 Epoxy countertops are made with a mixture of resin and a hardener that become a solid surface when mixed together. many epoxy resin countertops are poured over a concrete surface to create a durable and glossy finish. Since epoxy is a versatile material you can get a variety of colors and patterns to match your design style.
Since an epoxy surface is heat resistant it can accommodate a hot coffee carafe or dish without creating any damage. Another benefit is that once cured many epoxy countertops are food safe and easy to clean. Read more about epoxy outdoor countertops on this page.
What Is the Best Bar Counter Finish?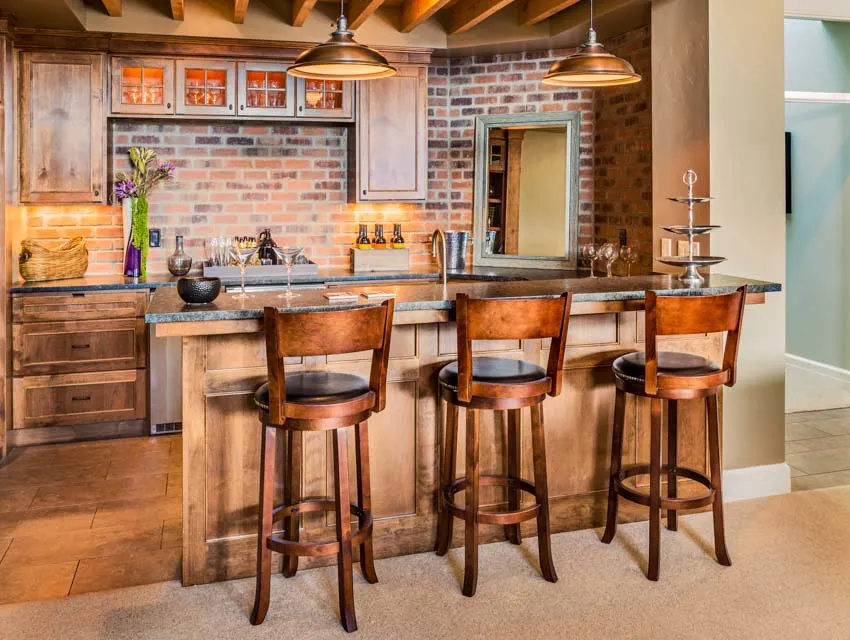 The short answer is it depends on how you intend to apply it. Since it is situational, you have several options to pick from. The first is epoxy resin. This is a durable method that is applied via pouring. The epoxy resin comes in two fluid parts that are mixed equally and poured onto the surface on which it is to be applied.
Another type of finish is applied via spraying. The fluid comes in two parts, mixed equally and then sprayed. This process is called conversion varnish. After this, a catalyzed lacquer is applied.
This is a chemical that comes in on-part and two parts. If you want to brush the finish manually, oil-based polyurethane is going to be your option. This is still the best option if you expect to deal with harsh chemicals.
Alternatively, there is a water-based option, but this won't last as long due to chemicals like alcohol and bleaches used for cleaning surfaces. When sourcing the task to a professional service, they are going to take the furniture to be restored to their shop and are likely to use conversation varnish.
If you are creating a home bar on a budget an epoxy resin countertop is a good choice because the materials are inexpensive and it can be done as a DIY project.
Best Material for an Outdoor Countertop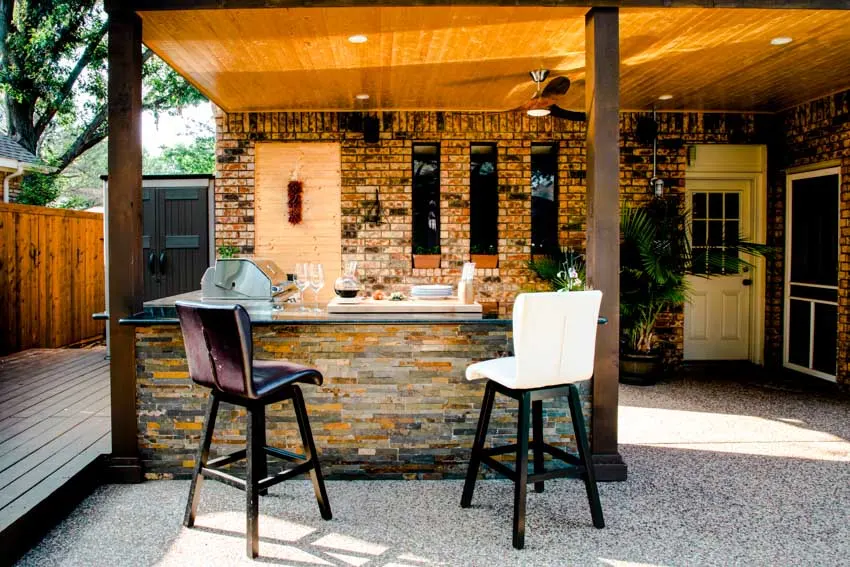 Among the outdoor kitchen must haves is a bar countertop with an organic material to match the natural setting. Quarried stone granite is considered one of the best materials to use.
Granite is stable and won't fluctuate in varying temperatures or climate conditions. It is resilient as it is gorgeous-looking and blends beautifully with both traditional and contemporary styles. You'll only need annual sealing to protect your outdoor bar countertop further.
Quartz is also a great option outdoors since you can easily maintain and clean the non-porous surface. Grease from a barbecue can be removed from your quartz bar countertop by using soap and water.
If you insist on having wood material for your outdoor cocktail nook, pressure-treated wood is recommended, so your bar will be able to maintain its strength even under tough environments. Cedar, cypress, pine, redwood, and oak are great options for wood species as they are dimensionally stable and rot-resistant.
How High Should a Countertop Be?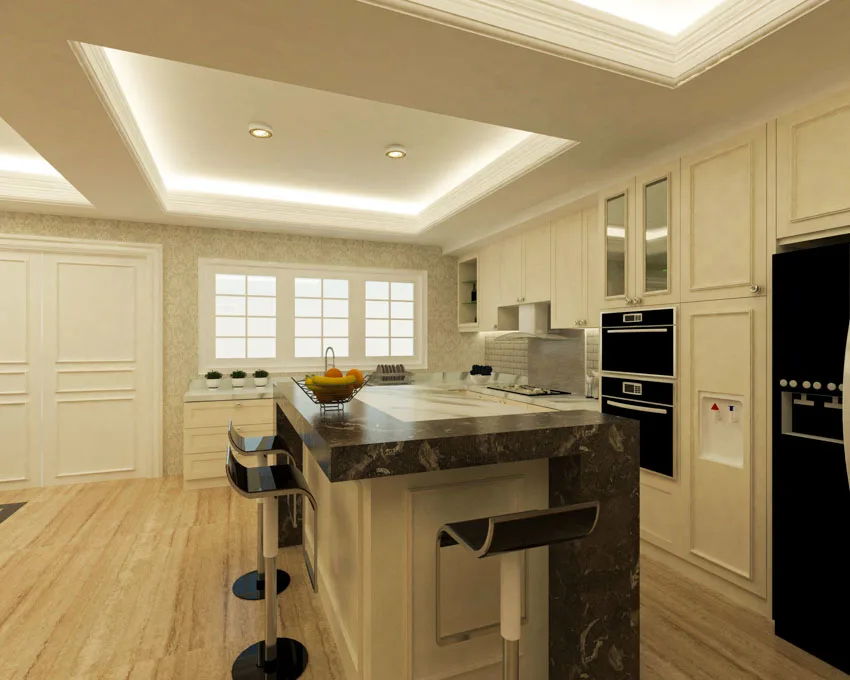 The standard height of the bar top is 42 inches from the finished floor to the surface of the wine station counter. There are bars that are as high as regular types of kitchen countertops which is 36 inches. This makes cleaning up easy and quick.
If you plan for a wet bar, that is a wine station that has a sink and running water, 42 inches is a standard regardless of the area. If you want an ergonomic bar top that fits with the user's height, consider the average heights of the person or persons who intend to use the area often. Read more about standard bar dimensions here.

How Wide Should a Bar Top Be?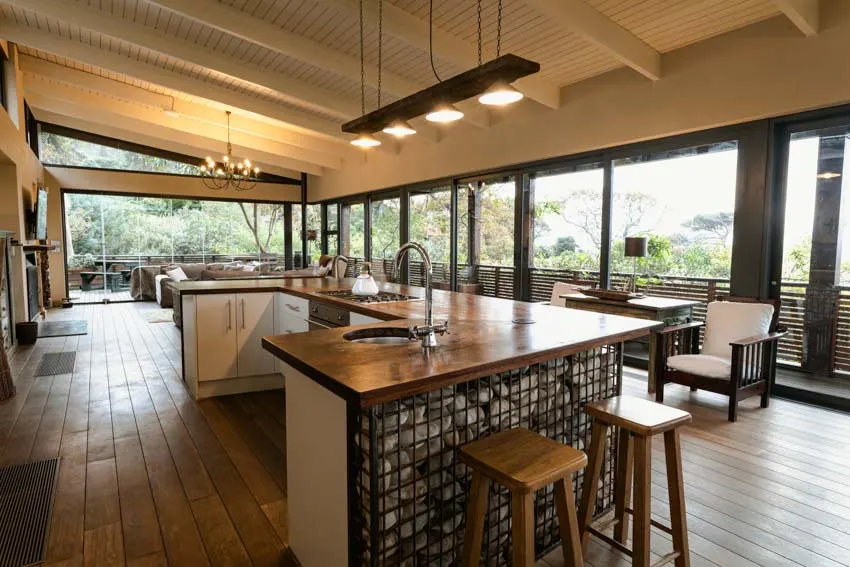 For home bars, the bar top's width is typically 12 to 16 inches wide, where the drink rails can be ¾ inch deep and 4 inches wide, and the bar top thickness is usually one ¾ inch minimum. You'll find commercial bar tops 20 to 28 inches in width.
See more related content in our article about the best built-in bar ideas on this page.