See the best shutter colors on white house designs including modern shutter paint options, color for shutters & doors, and ideas for white brick houses.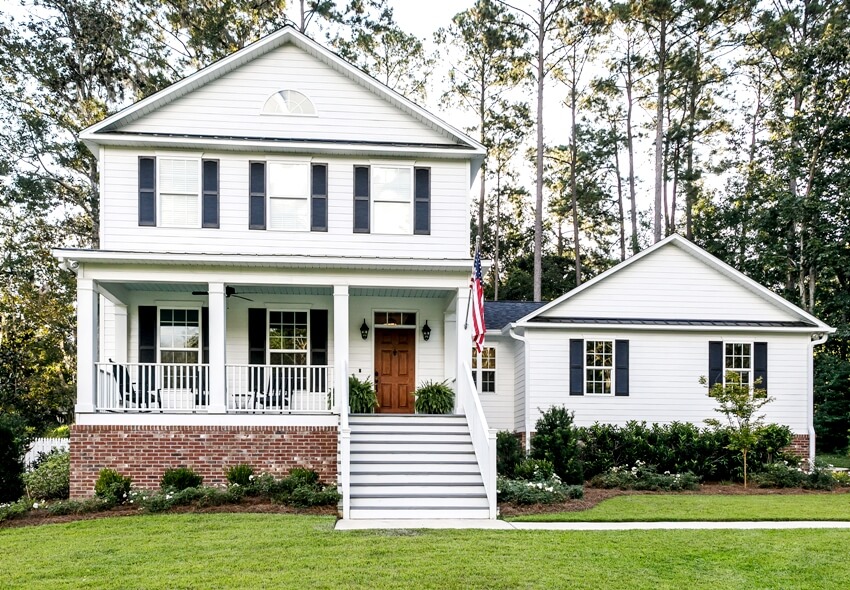 Is your house unappealing from the outside? Or do you think your home's white exterior is monotonous but are not sure what to do about it? Well, simply put, painting or installing new shutters definitely adds character.
If you live in a white house and wish to bring some color into it, among the smartest things you can do is choose appropriate shutter colors.
Exterior shutters look great as highlights on a traditional white house. In general, all shutter colors can look good on white homes. However, it all boils down to a matter of preference.
What Color Shutters For a White House?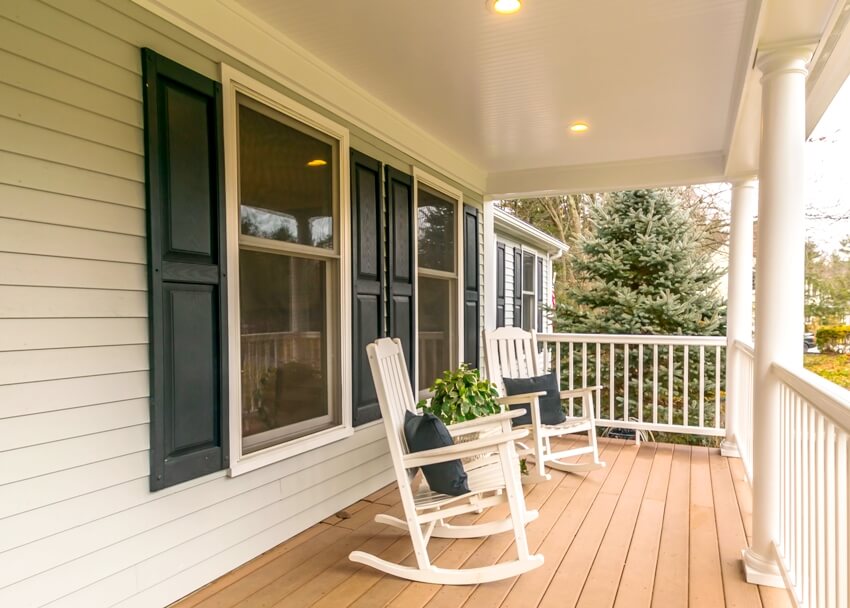 Based on numerous homeowners and designers, the following are the best color shutters you can use to accentuate your white house:
Black Shutters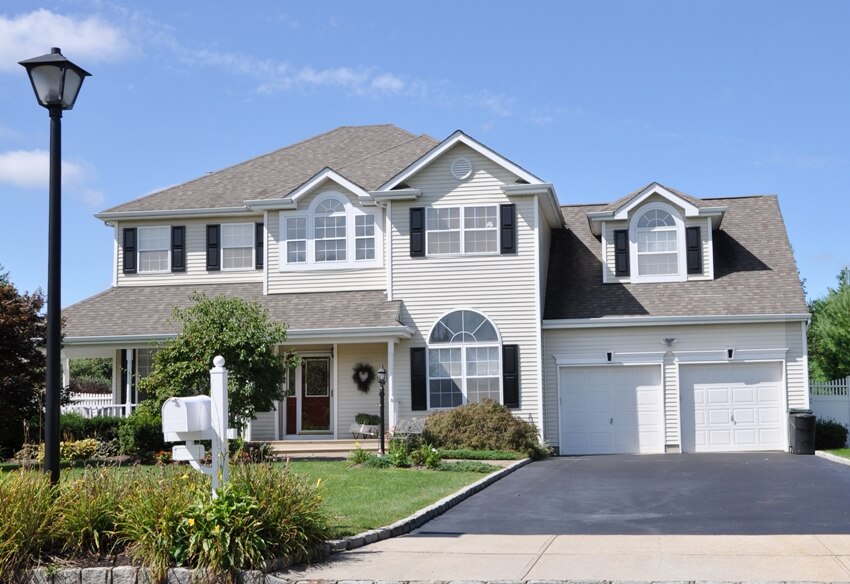 When coupled with a white home exterior, black shutters do appear extremely elegant. Due to its versatility and refinement, this color combination will never be wrong. If you want to establish a bold and modern design, black shutters would be the ideal option for you.
Gray Shutters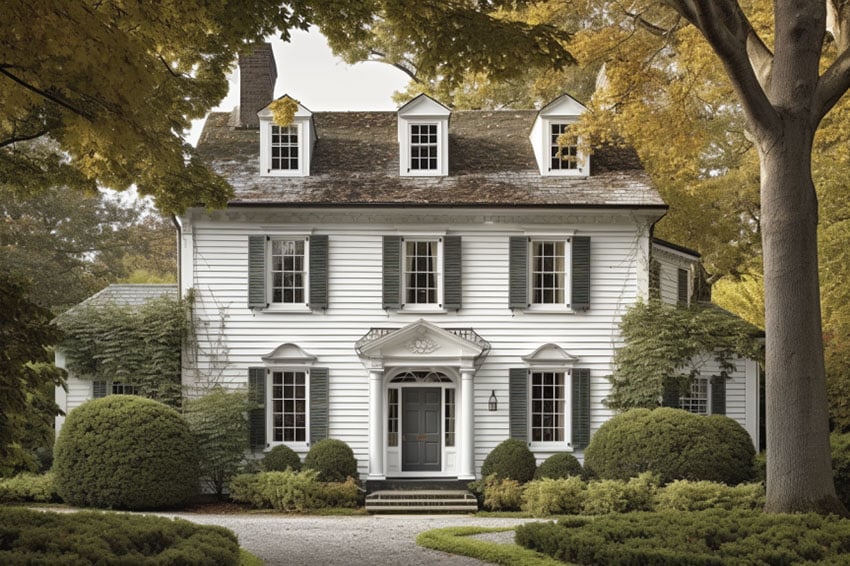 Gray is similar to black but less intense. The white and gray color combination is popular because it is both classic and modern without being overly flashy. However, light gray shutters may just merge with white, thus use dark gray shutters to add contrast.
Navy Blue Shutters
Navy blue shutters contrast beautifully with white siding. It adds a little more character than gray or black shutters. You can go with this option for a pristine and nautical exterior aesthetic. You cannot go wrong with the dynamic duo of navy blue and white.
Brown Shutters
Brown shutters are an excellent option for anyone looking for a more traditional design. It is a neutral color, making it a decent choice for individuals who are not sure what color to pair with white siding. If you choose a darker brown, it may appear black in the daylight, hence acquire a sample shade before you buy.
Green Shutters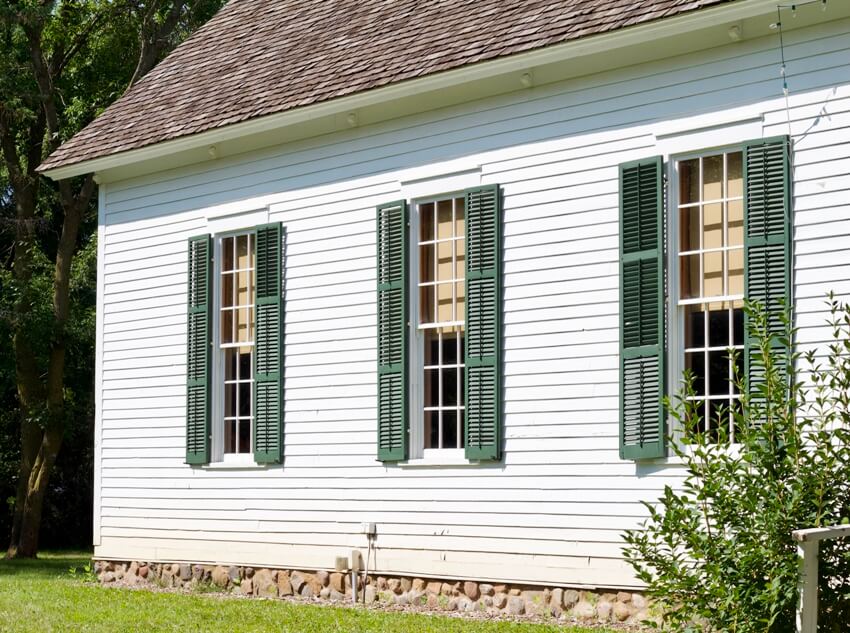 Green shutters will provide a splash of color to your white house. Its welcoming and comforting earthy hues are likely to attract your eye. To produce a relaxing exterior, eschew lime green tones and instead choose a darker shade of green.
Red Shutters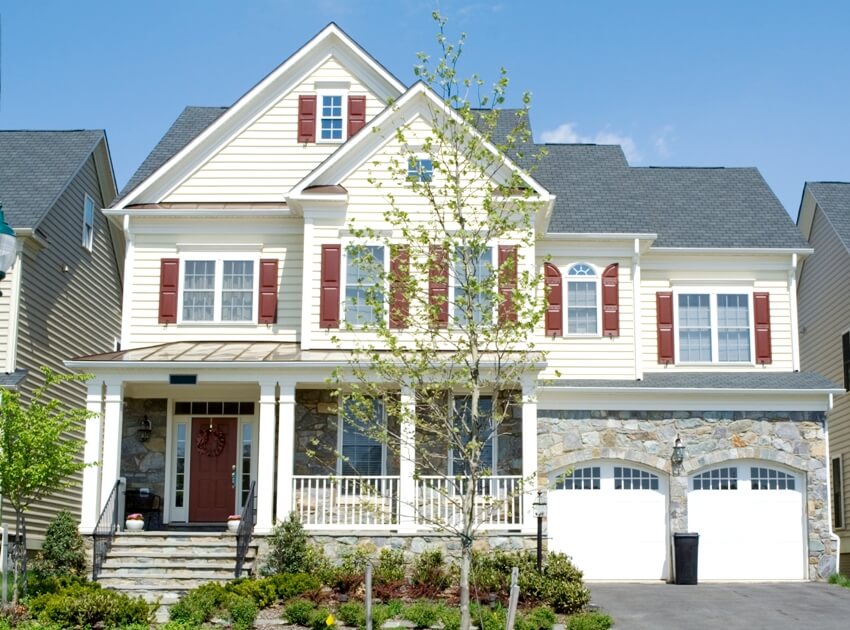 The first thing that comes to mind whenever we see red shutters is rustic elegance. Although it is a less common option when compared to more neutral colors, that does not mean you cannot have red shutters installed in your white house. In fact, this shutter color is perfect for homeowners who want a white house with a feminine touch.
Modern Shutter Colors For White House
Here are the shutter colors that you can use for your white house and make it look more modernized:
Gray Shutters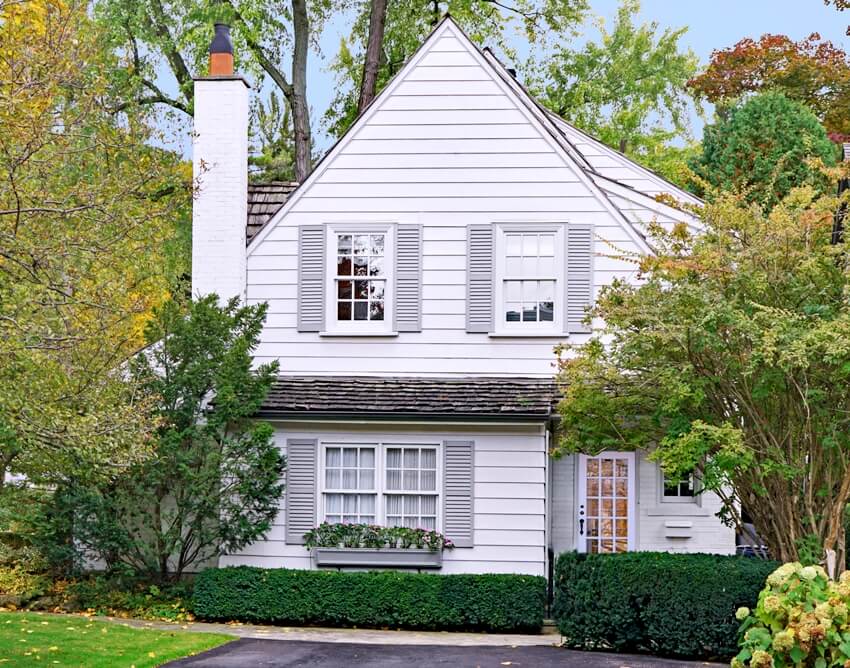 A small white house with gray shutters adds a touch of sophistication to any design and complement the room window treatments.
Many homeowners currently choose gray and white pairings because they are both timeless and contemporary without being overly ostentatious.
Gray shutters, crafted from materials such as wood or vinyl, are a modern option for white houses, providing a minimalist exterior design that is popular in most homes today. With various styles and types to choose from, gray shutters can fit any decor and space.

Emerald Green Shutters

If you want a shutter color that is both modern and helps you to express your style, emerald green may be the hue for you. This shade of green is an organic, inviting, and friendly color that comes in a variety of intensities to suit your personal style.
Moreover, the options of materials and types of window treatments make emerald green a versatile choice. Emerald green is indeed a brilliant option for highlights on a white home.
Black Shutters
Black is one of the finest and most common shutter colors for a white house. Black shutters look great on homes with white siding as they genuinely bring out the pristine white of the home exterior, giving it a modern feel. Aside from that, black shutters on a white house are low-maintenance.
Shutter Colors For White Brick House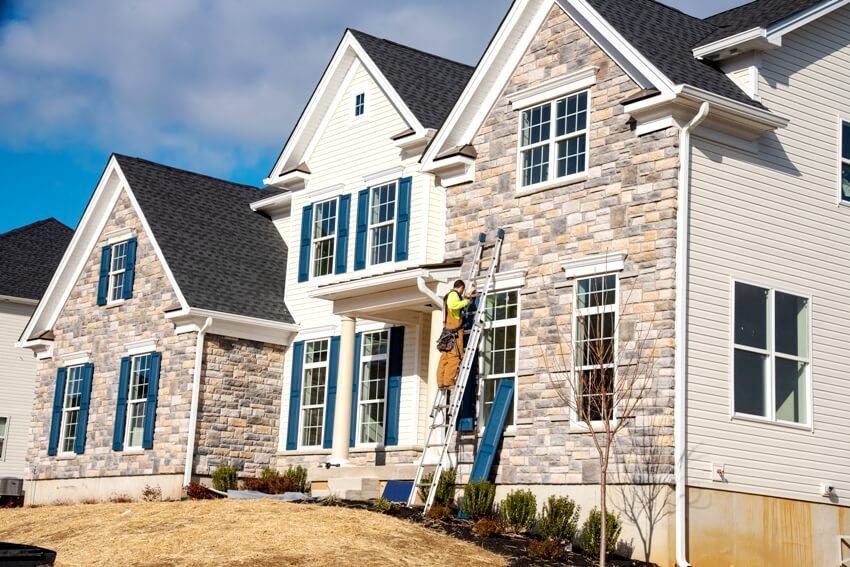 Blue Shutters (Any Shade)
If your home's exterior is made of white brick or another form of white construction material, blue shutters would be a great way to entirely transform the look of your property. A white house with blue shutters exudes a bright, modern feel that will catch someone's attention and make your property look vibrant and creative.
Whether you choose a light blue or a darker hue like navy, blue is indeed a reliable choice for creating a completely fresh appearance for your white home.
Brown Shutters (Preferably Lighter Shades)
Various shades of brown can also look great on white brick homes. If you intend to draw attention to the brown color of your shutters, you have to choose a lighter shade. Anyhow, all shades of brown are a safe, neutral color that will look lovely and natural on white brick houses.
Red Shutters (Any Shade)
Red is a lively, modern, and vibrant hue that works well for shutters. Although rustic reds are ideal for creating a rustic impression, bright reds can also be a lot of fun to experiment with in white homes.
However, red exterior shutters, particularly the lighter ones, take some maintenance, but if you would not mind spending the time to ensure your red stays true to its shade, red would be a wonderful choice for white brick houses. See more ideas in our guide to the best paint colors that go with brick here.
Can You Put White Shutters On A White House?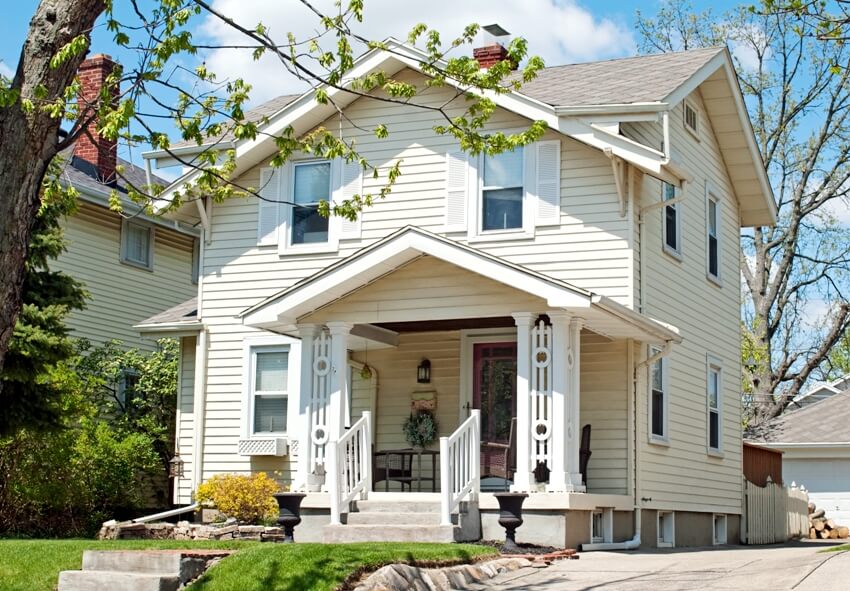 Darker colors are typically recommended by designers for a house with a white exterior. However, if you insist on white shutters, then you are free to use them on your white house.
Having said that, white on white has long been a thing of beauty. It also gives the property a smooth, airy appearance. If you do not want any contrast, white shutters can be a terrific option.
Hence, there will not be any problems choosing white shutters. As previously mentioned, choosing the best shutter color for your white house boils down to your personal preferences.
If you have a house with off white colors such as cream it may be perfectly fine to match with white shutters. Read more about the best color shutters for a cream house here.

Best Shutter Color For White House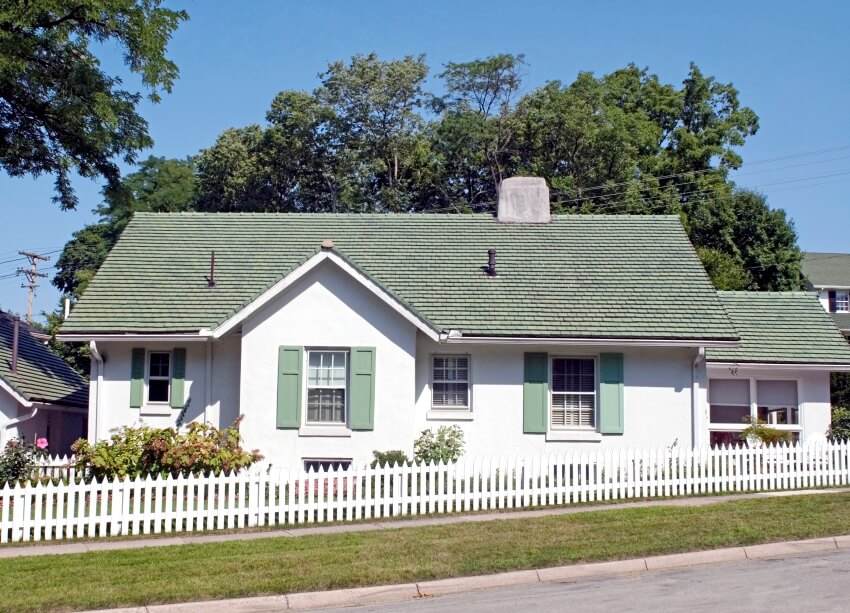 Although black is one of the best shutter colors to associate with a white house, there is an old saying that goes, 'beauty is in the eye of the beholder". This implies that the best shutter color option for white houses can vary if you are going to ask several homeowners or designers.
When it comes to picking shutter colors for white houses, the sky is indeed the limit; any shade will practically work. You may go dramatic with red shutters or pick something softer like midnight blue shutters or emerald green shutters.
If you are not sure what shutter color to match with your white house, you can use neutral colors like gray or brown. To sum it up, any color can be the best shutter color for white houses.
Best Shutter And Door Colors For White House
Usually, your types of shutters and doors should be accompanying and complementing one another rather than clashing. If you want, you can match the color of your door and shutters. However, most individuals coordinate colors by selecting a lighter or darker hue from the same color family.
Here are some of the best shutter and door color combinations you can try on your white house:
Color Combinations that are in the Same Color Family:
• Bright Red Shutters with Dark Red Doors
• Dark Green Shutters with Light Green Doors
• Dark Brown Shutters with Tan Doors (See more shutter colors for a tan house ideas here)

• Dark Gray Shutters with Light Gray Doors
• Navy Blue Shutters with Sky Blue Doors
Other Ideal Color Combinations:
• Blue Shutters with Gray Doors
• Green Shutters with Brown Doors
• Red Shutters with Brown Doors
• Dark Brown Shutters with Light Green Doors
• Black Shutters with Gray Doors
Additionally, you could also include stylish curtains or blinds to complement your window shutters and further enhance your home's curb appeal.
See more related content in our article about shutter dimensions standard sizes & measurements on this page.