Here are shutter colors for tan house designs, including the ideal paint shades for brick homes, those with brown roofs, and the best shutter color options available.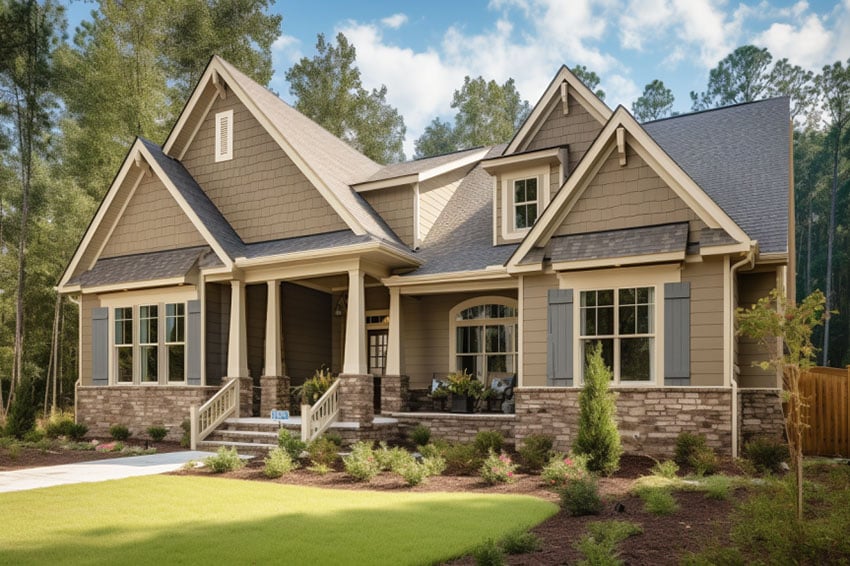 Shutters are among the most cost-efficient ways to improve the aesthetic appeal of your house. Shutters, like the gorgeous frosting on a delectable dessert, enhance any exterior makeover. Besides the fact that shutters accentuate the appearance of your home, they also give significant advantages in terms of weather protection as well as energy conservation.
After deciding on the style of shutters you want, you must select the shutter colors that would coordinate best with your tan home. Most likely, your goal in coming here is to choose the ideal shade to accompany your tan home.
Fortunately, having a tan home allows you to employ different color accents that truly make your house stand out. In this article, we will discuss all the necessary information that will help you find the best shutter colors for your tan house.
What Color Shutters For a Tan House?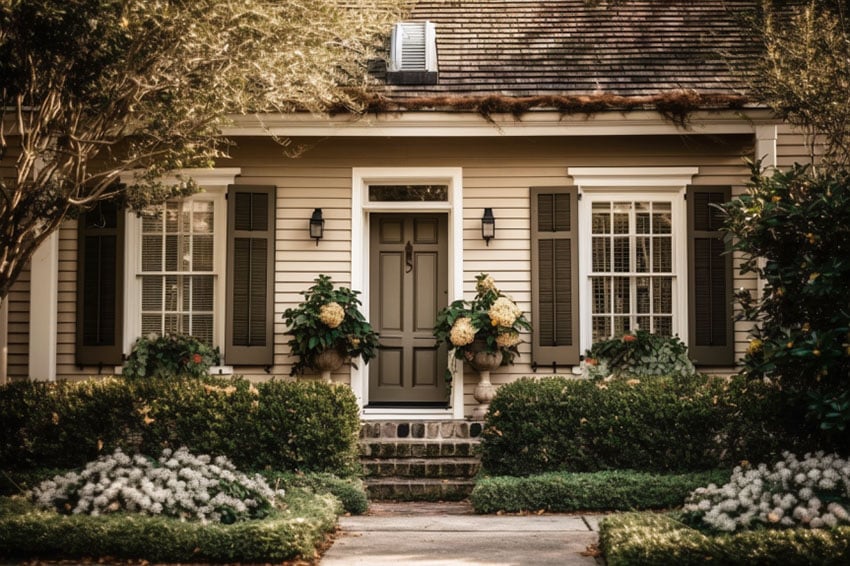 There are a variety of fairly simple ways to integrate new colors to entirely modify the entire appearance of your tan home, whether you have tan siding or tan stucco. Without further ado, here are some of the best shutter color options for tan homes:
White Shutters: Many homeowners choose the timeless combination of a tan home with white shutters, and for very good reason as well. White paint colors are minimalistic, inexpensive, and easy to coordinate when quick touch-ups are necessary.
There are numerous options, whether you want a pure white or an eggshell-toned white. Practically all types of white shutters can match tan houses as these colors look good together.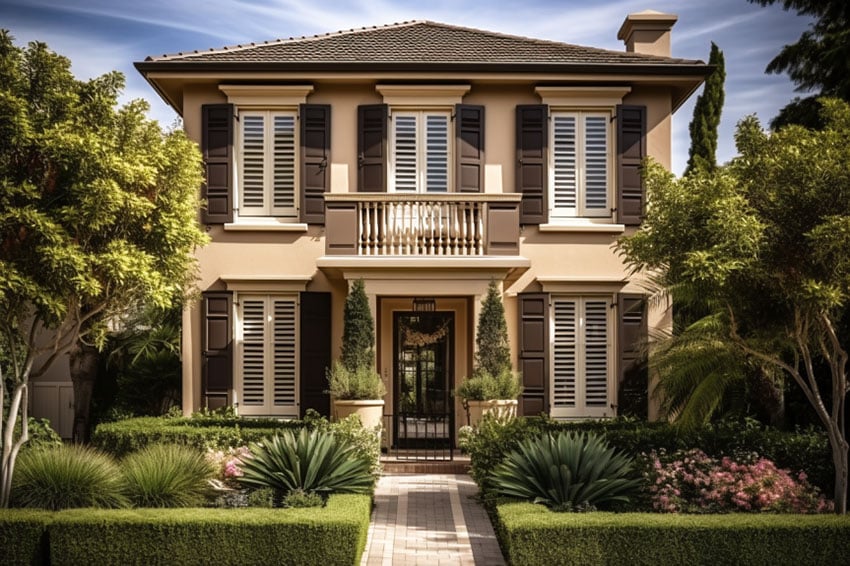 Black Shutters: It might seem daring to install black shutters on a tan house. Nevertheless, black is one of the best ways to make your house shine while being sleek and elegant.
Homeowners are increasingly choosing black hues to paint their shutters merely because homes with tan siding appear incredibly stunning with black shutters.
Moreover, black is a low-maintenance shutter color since it conceals a great deal of filth and grime as the seasons change. If you're going for a modern home design for your tan home, black shutters would be an excellent option.
Blue Shutters: A tan house featuring blue shutters gives you a beach-vibe appeal that is extremely calming. The great thing about selecting blue shutters to complement your tan house is that there are so many distinct blue shades to pick from.
Whether you want a brighter or deeper shade of blue, blue shutters for your tan house will completely enhance the aesthetic.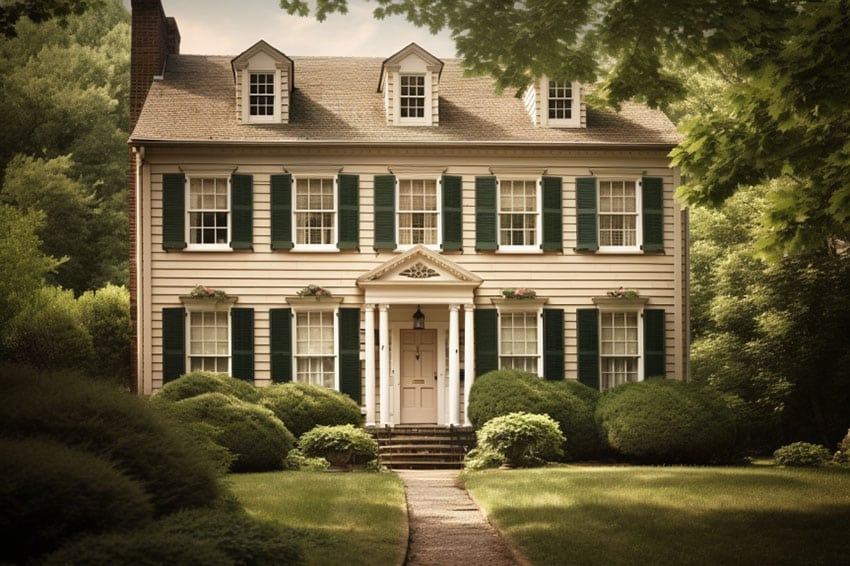 Green Shutters: Installing green-toned shutters is also a fun way to make your tan home stand out. There are countless options for what color will perfectly match the hue of tan in your home.
In addition to that, green is a terrific method to show your personality and, without a doubt, bring the exterior of your home to light. Green shutters are always a great pick!
If you have a lighter shade of tan or beige on your house you may want to see our article about the best color shutters for a cream house.
Shutter Colors For Tan Brick House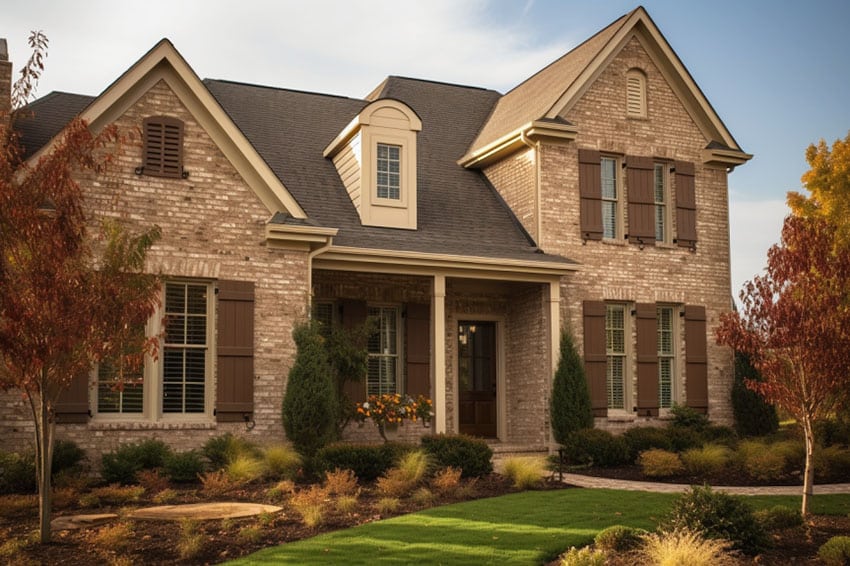 Dark Brown Shutters: Tan brick houses look great with dark brown types of shutters. Brown on tan will be acceptable as long as the shutter color is two or three tones darker than the brick. It is indeed critical that the colors contrast sharply enough to keep the shutters and trim from dissolving against the brick.
Dark Purple: Purple shutters are ideal for people who desire a striking color but still complement their external palette. Lighter colors of purple shutters are less versatile than dark purple shutters. As a result, darker purple shutters look much better with tan brick homes.
Dark Blue Shutters: Dark blue shutters are a phenomenal way to add definition and deviate from the standard black shutter while yet maintaining a conventional style with a bit more uniqueness. Midnight blue shutters truly stand out against a tan brick house.
Dark Green Shutters: Tan brick houses offer great curb appeal with dark green outside shutters. These green tones have been widely known since medieval days and provide you with another alternative for a traditional aesthetic.
Shutter Colors For Tan House with Brown Roof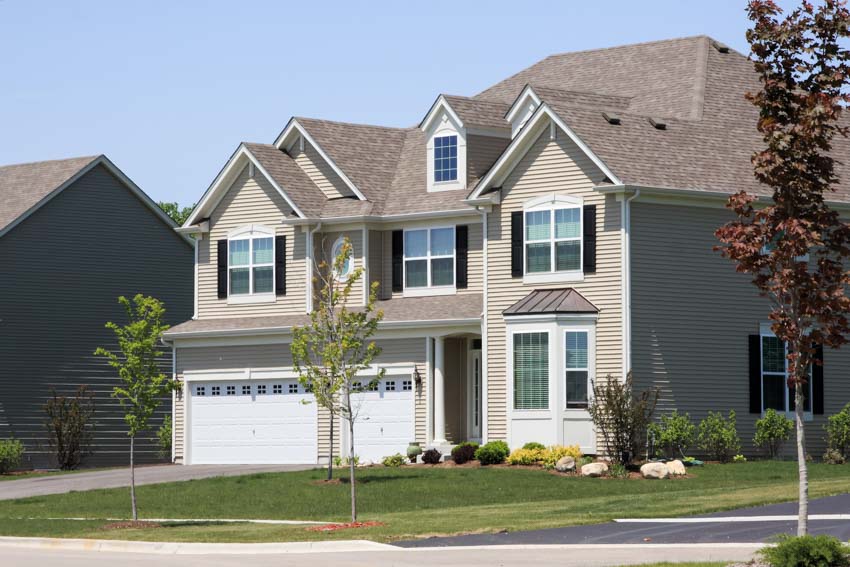 Medium Blue Shutters: Blue shutters are also very popular for tan houses. Many homeowners prefer a rich cornflower blue that is lovely and calming but not as dramatic as navy.
Medium blue shutters look wonderful on a range of home exteriors, especially tan houses with brown roof types.
Red Shutters: Red shutters are yet another popular option that makes a splash while maintaining a classic appearance.

Red doors are widely known, and many homeowners prefer their shutters to harmonize with the other elements of exterior decor. Most red shutters can accompany tan homes with brown roofs, from light to dark red.
Door And Shutter Colors For Tan House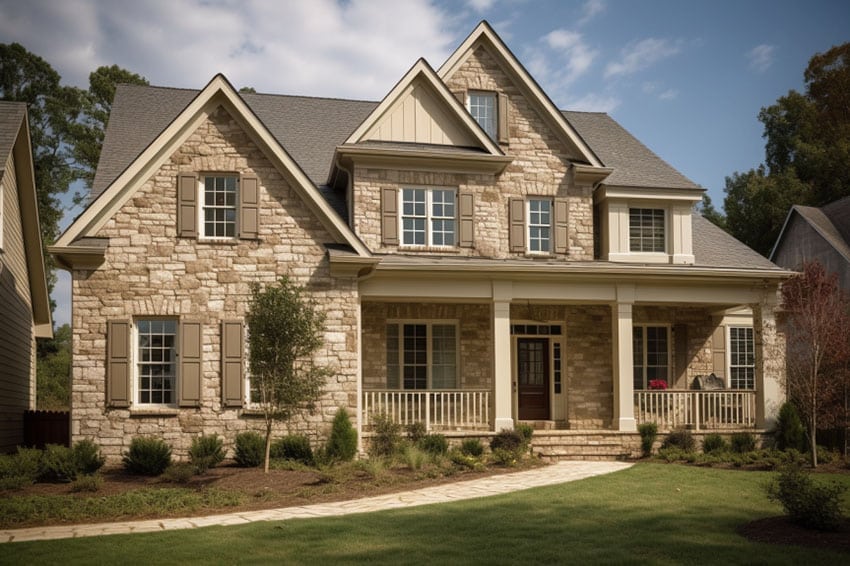 Dark Brown Doors and Shutters: Dark brown doors and shutters are exquisite. Dark brown shutters are also popular, especially in tan homes that highlight neutral tones.
Furthermore, dark brown doors and shutters are an excellent alternative for those who want an exterior scheme of natural colors and patterns to appear chic and sophisticated while still being natural.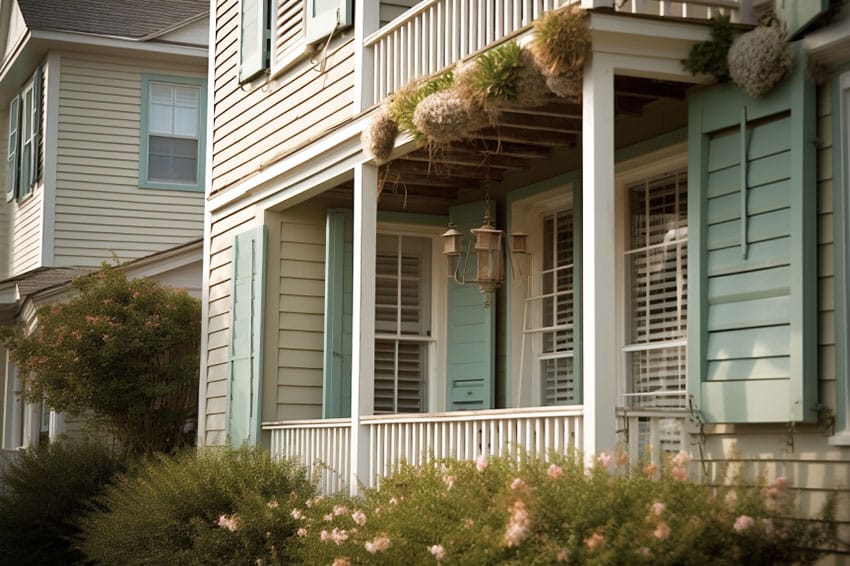 Teal Doors and Shutters: Teal doors and shutters are an unusual choice for tan houses, but they have a stunning impact. Colors that are on the cooler side of the spectral range will help you and your home feel and appear peaceful and welcoming.
White Doors and Shutters: White is a timeless color for front doors and shutters. Neutrals are always a safe option around the windows because they will not conflict with any of your outdoor décor or landscaping.
Yellow Doors and Shutters: Warmer colors, such as yellow, can make you and your home appear more welcoming and lively. Yellow doors and shutters can make your tan home look less drab yet more cheerful and energizing.
Best Shutter Color For Tan House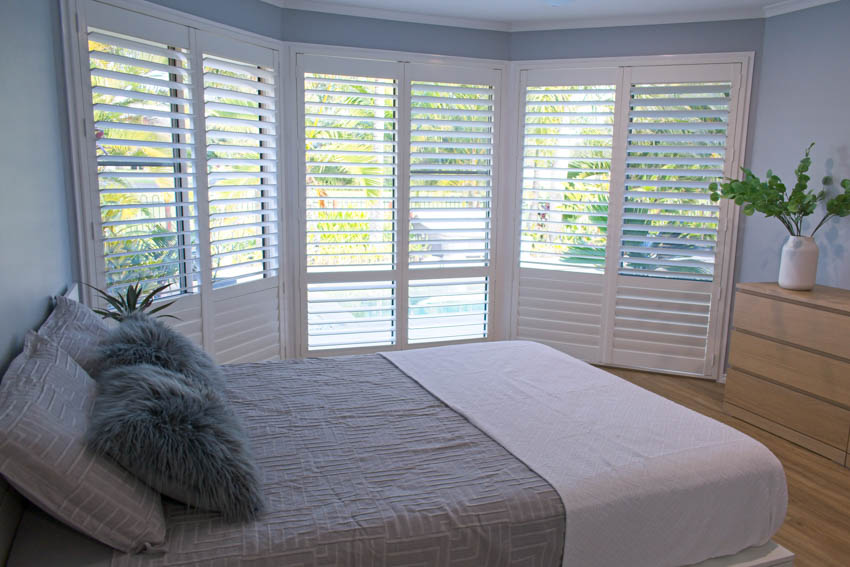 When it comes to home exterior design, white is arguably the best shutter color option for tan houses. The same concept applies if you are unsure about the shutter color to suit your tan house.

White, is an extremely popular neutral color and goes excellent with tan homes. White signifies cleanliness and purity, enhancing your tan home exterior and making it look more modern and minimalist.
See more related content in our article about shutters vs blinds on this page.