Discover different shutter colors for a yellow house including the best options, shades for light, pale, and yellow brick, and ideal combinations with doors.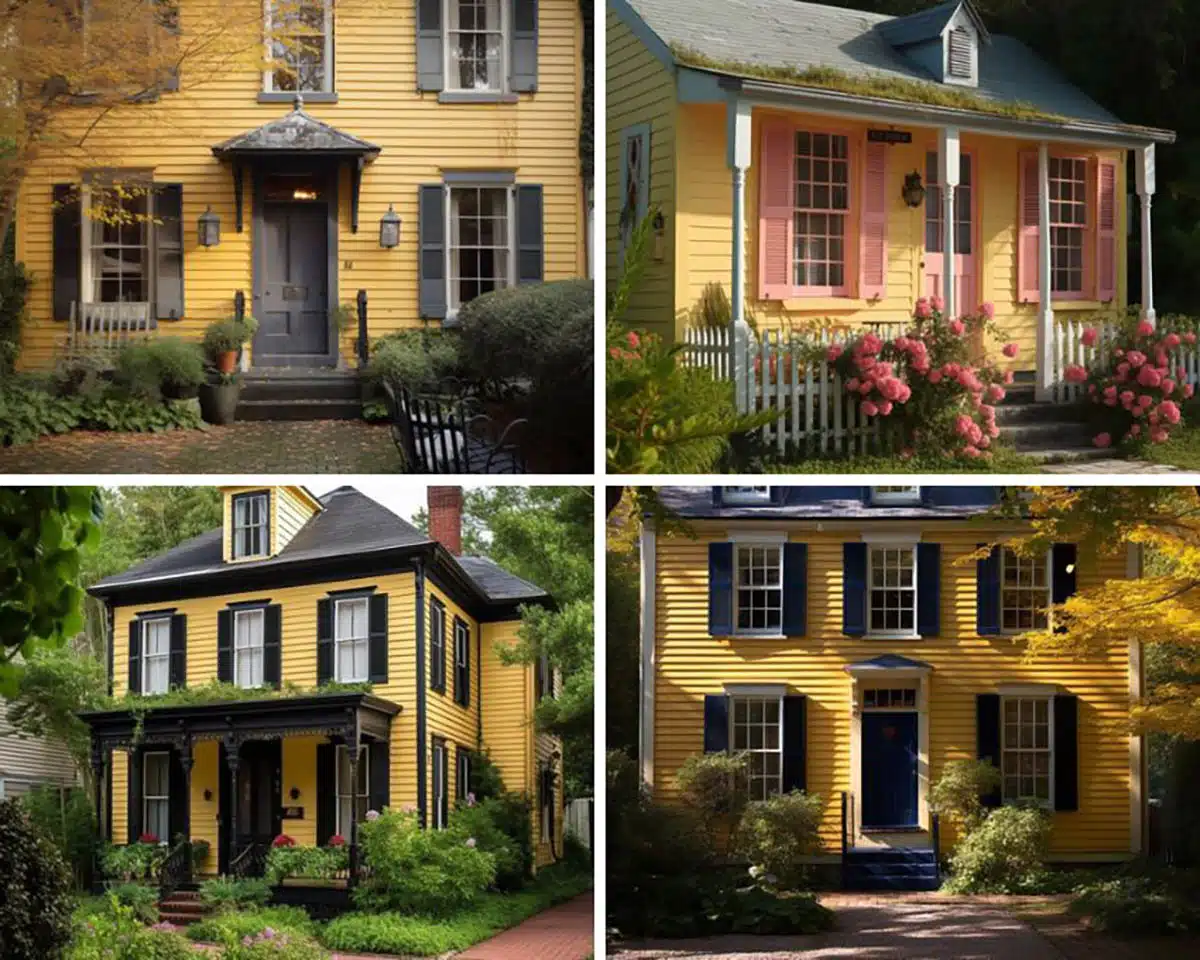 From the sun-kissed colors of the Mediterranean chalets to the invigorating mellow yellows of an oceanfront home, yellow is truly a captivating hue that exudes positivity and comfort.
Window shutters are one of the more common exterior elements that can affect a home's overall look and mood, enhancing the curb appeal of an already cheerful house exterior. Here's some photos with a variety of color scheme ideas to make the neighbors jealous.
Best Color Shutters for a Yellow House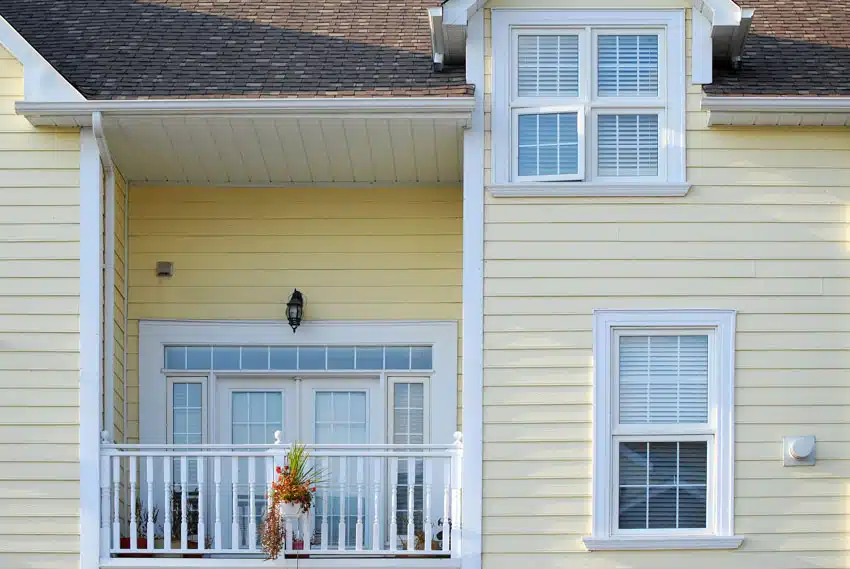 The best shutter colors for a yellow house are neutrals, as they can carry beautiful tones, emphasize the window shutters, and complement the primary color. But there are a million versions of neutrals, and the most favored hues that work well with the bright hue include classic whites, blacks, beiges, and grays.
Purple, a mix of blue and red, is the complementary color of yellow, making it among the types of shutters suitable for a yellow house. Pastels such as lavender, lilac, mauve, periwinkle, and wisteria are a few examples of pale violets that can look amazing in a yellow-toned house.
Blues is also an official complementary color of yellow, and like purple, it soothes the warm temperature of yellow with its cool quality. Navy blue, mint, true blue, and dark blue are only a few of the best shutter colors possible for a yellow house.
The bright quality of yellow makes it possible to match with any color, but the material, amount of fenestrations, number of shutters, and style of a home can influence the overall effect.
Black – For Vibrant Yellows: It is quite a challenge to match a house that has a vibrant exterior. Match it with beige, and it can be washed out with a bright hue. Blues such as mint or cyan meanwhile can make the exterior too overbearing.
With its absence of color, the bright backdrop contrasts well with the absence color allowing the black shutters to be emphasized. Black shutters with black trim can leave a bold contrast between the colors, but if aiming for a more toned-down version, bridge the two colors with white or off-white instead. If you find that black is too much you can go a few shades lighter and use a dark gray shade as a replacement.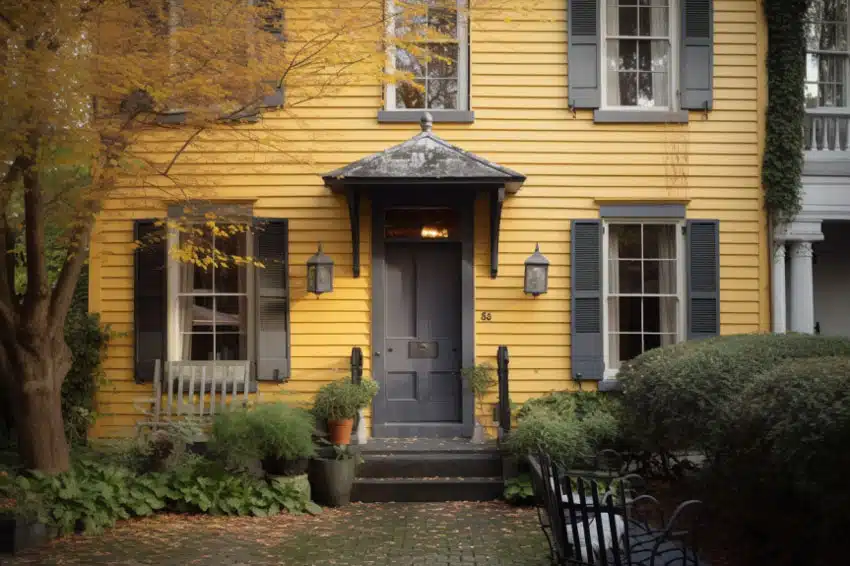 Cyan – For Mellow Yellows: A soft yellow exterior is an opportunity for a brighter shutter color, such as cyan. The blue and greens of cyan and a small amount of titanium white make a primary cyan.
The cool tinges complement the warm quality of yellow, balancing the look. This makes the color a great choice for yellow homes with many window shutters, but choosing the tone considers the level of the vibrancy of your yellow color. Some coastal exterior paint colors love the combination.
White – For all Yellow Shades: The classic white never falls out from the list of the best shutter colors for a yellow house as the neutral can work with any shade of yellow, making it the safest choice if unsure of what color to choose. However, consider the location of the home. A busy street with lots of vehicles will likely have the shutters covered in debris and dirt over time.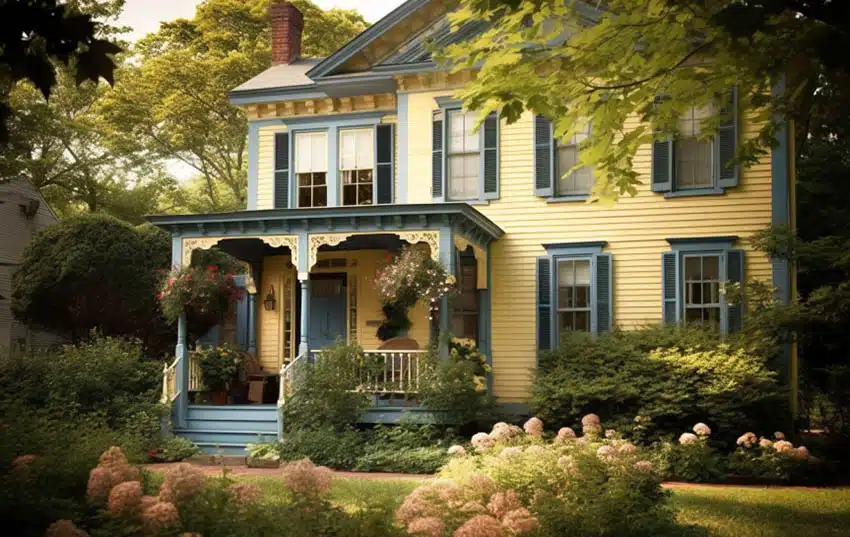 Blue Gray
For Soft Yellows: Blue-gray window shutters are a great choice when finding a more contemporary look for your yellow home. Blue as a complementary color of yellow means each color can enhance the quality and intensity.
The gray mixture, on the other hand, plays as the transition between the colors. So, whatever yellow shade is combined, the neutral balances off the two colors creating a harmonious quality. A darker blue-gray can be an alternative to a black color if one finds the dark color too bold.
Shutters for a House that is Light Yellow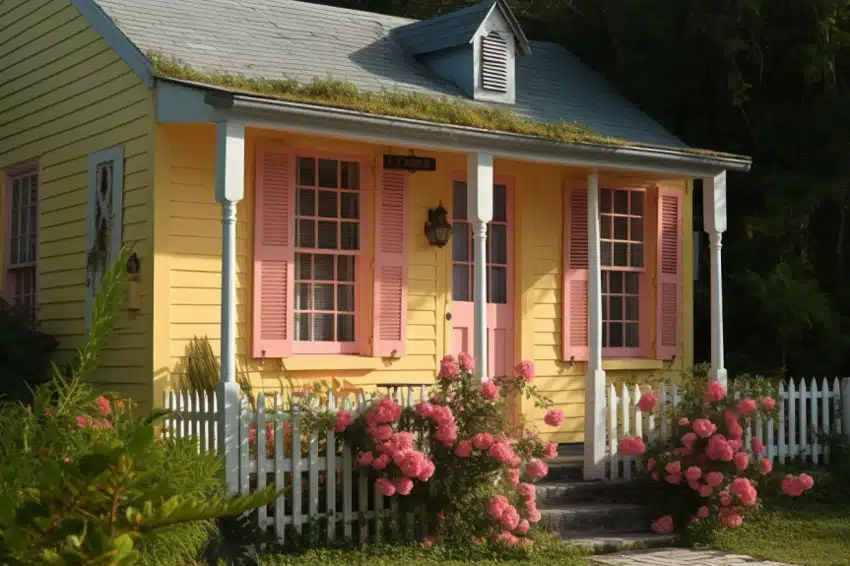 Light yellow houses such as paint shades of hex codes: #FFFFE0, which includes cream; #F0368C, which includes colors with brown such as khaki or beige; and #FFFACD, which includes vibrant light yellows such as lemony yellow.
Charcoal Gray: The color that resembles the color of burned wood or charcoal, charcoal gray is an opportunity to work with undertones making it a versatile choice for many yellow home styles.
Earthy charcoal grays can have brown undertones that work well with traditional light-yellow homes. A reddish undertone meanwhile allows liven up the light backdrop.
Bright Pink: Coastal homes love adding blue shades for their window shutters, but a more exciting alternative is to use bright pink as a pop of color to balance off the light color. White or gray can be the transitional color to bridge the two colors.
Robin Egg Blue: Inspired by nature, the robin egg blue complements a light-yellow house with a striking yet cool tone. Also great for coastal homes but works well with a modern house design adding a positive atmosphere even with the lightest of yellows.
Shutters for a Pale Yellow Home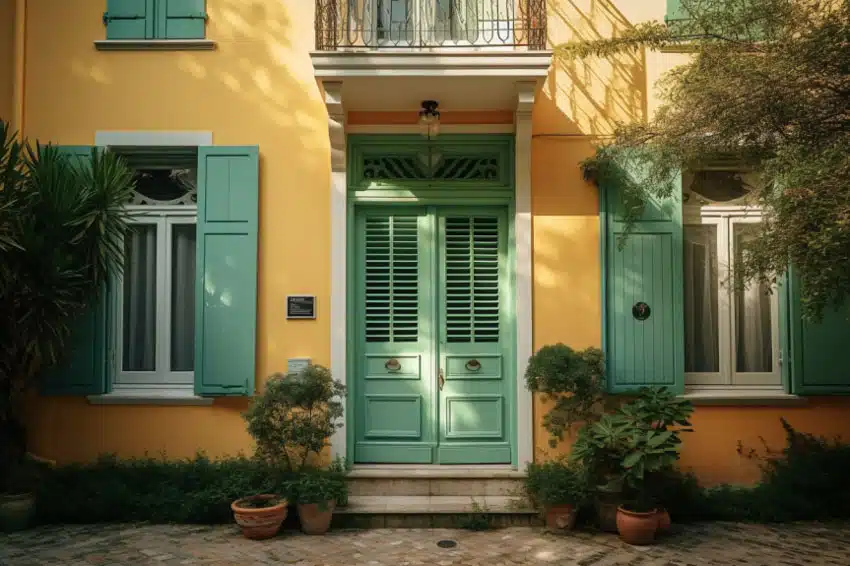 The muted version of yellow is a perfect yellow house shade as it doesn't overwhelm the look. Pale yellows include lemon chiffon, vanilla, mustard, and cornsilk.
Mint Green: The refreshing tone works well with a pale-yellow house as it is more vibrant and cooler. It complements the warmness and muted quality of a pale-yellow color. An alternative to mint is to use haint blue, which is a mixture of blue and green as shown on Southern Living.

Pale Pink: When aiming for a soft and welcoming exterior, pale pink is the perfect color to match a pale-yellow house. The red color mix adds an energetic quality but is muted with the white mixture. Pale pink with pale yellow house exudes a gentle and soothing atmosphere.
White: A classic and timeless combination that goes with everything, white can help to highlight the softness and freshness of pale yellow. Choose a true white or pure white to complement the pale yellow siding color. The shutter material can also affect how bright a white shutter can be.
Shutters for a Brick House in Yellow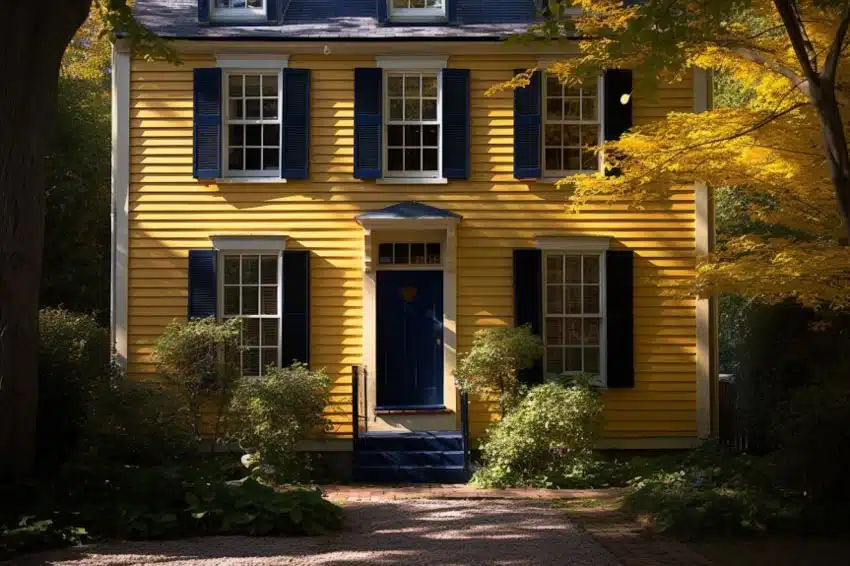 There's a certain charm about a yellow brick house, and the historical context of bricks makes it an even more interesting building material matched with vibrant color. Here are the best shutter colors for a brick house with an exterior yellow look.
Burgundy: With its rich and elegant look, burgundy window shutters balance the rustic quality of yellow bricks. The combination creates depth and dimension to the exterior as well. Match the two colors with a dark gray or charcoal gray trim to bridge the two colors while adding visual richness.
Forest Green: Forest green shutters can create a natural and earthy look that complements the warmth of yellow brick. Forest green has a dark shade that can be paired with mustard yellow, olive yellow, and lemon yellow, yellows that are inspired by nature.
Navy Blue: Aside from being complementary colors, the navy blue and yellow combination has been a classic pairing for centuries, and we see this with nautical or tailored styles that look bold yet sophisticated at the same time. Navy blue window shutters are also a great alternative to black shutters and add character and personality to the front porch.
Colors of Doors and Shutters That Go with a Yellow Painted House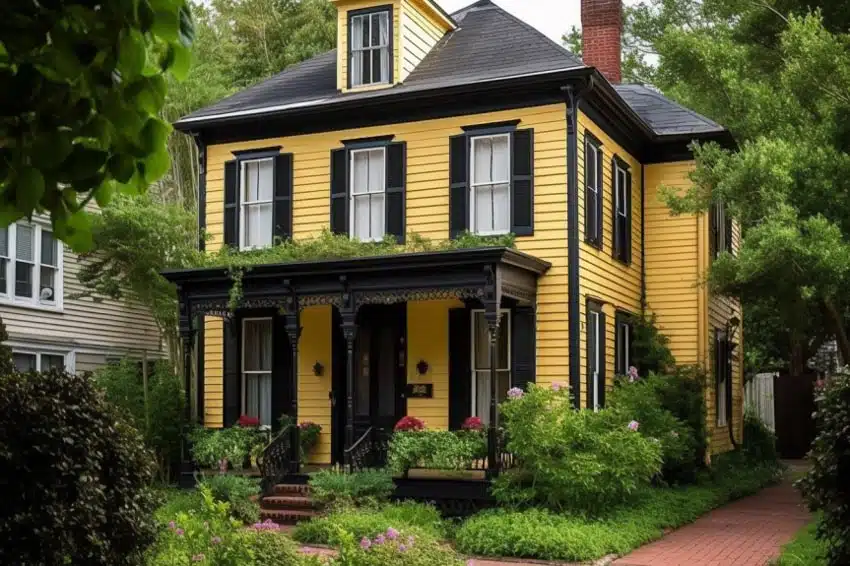 When planning for an accent color for a yellow house, the window shutters, trims, and doors should go together to achieve a harmonious and pleasing aesthetic.
Red: Whatever red shade you have in mind, this energetic hue can easily stand out from a yellow backdrop. A red door can also be inviting; throughout many cultures, a red door symbolizes good luck, health, and prosperity.
Red is the color of love and of all passions. – Language and Meaning of Flowers, 2012
In American history, homeowners painted front doors red if they wanted to welcome travelers to spend the night as guests. Pair a bright red door with the same decorative shade for window shutters, or choose a more earthy color, such as burgundy.
White: The classic white is a favorite door color as it has that clean and crisp look and can be easily noticeable with a yellow backdrop. This combination can also create a more traditional or cottage-style feel.
Black: While black may need be for everyone, black is gaining popularity for modern homes as it can create a striking contrast against a yellow exterior. With black window shutters, it exudes a sophisticated and bold aesthetic and can match with a wide range of accents and property styles.
Do you have experience using any of these paint color combinations to enhance the appearance of your home. Please share your experience, tips, painting results, or questions in the comments located below. See more related content in our article about the best shutter colors on white house on this page.