Are you considering buying a tract home? Below we share the pros and cons of tract homes with their differences from custom houses, the time it takes to build one, and how to make it unique.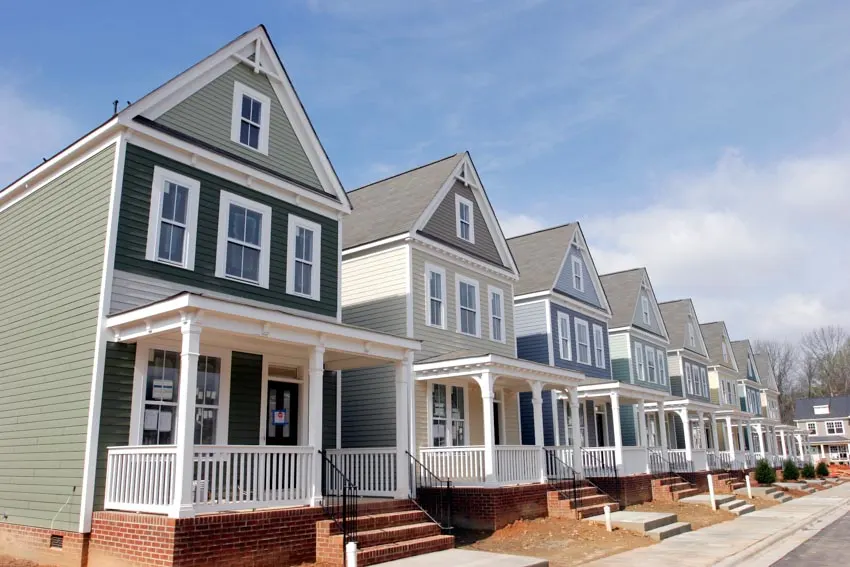 Since contractors purchase supplies in large quantities and construct all of the properties to the same standards, tract homes are far less costly than conventional choices.
Purchasing a tract home is easier than purchasing a custom home as there are fewer decisions to consider because the homes are already built.
Tract houses are sold in big groupings and there is plenty of stock available. On the other hand, tract homes are known for sacrificing construction quality, having limited customizing opportunities, and having a poor resale value.
Major construction firms purchase large areas of land and partition them into smaller lots with ready-to-sell residences. When a tract house development is created, it expands the number of housing alternatives available in a given community.
Read on to discover more about the construction process, as well as the pros and cons of tract houses so you will be prepared if you decide to buy one.
What Is A Tract Home?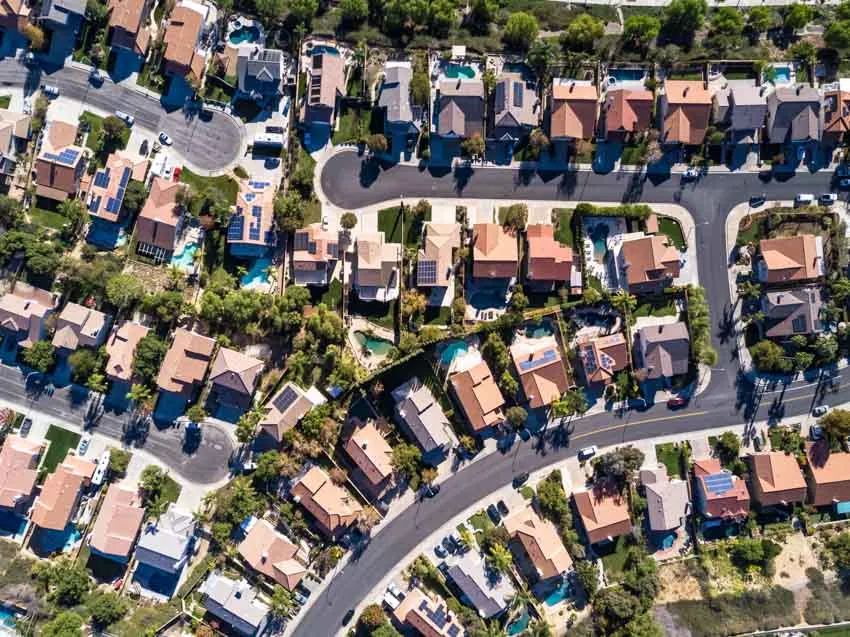 A tract home neighborhood is an area of home construction in which the property is split into smaller portions where many comparable residences are built.

Once the request for low-cost housing increased in the 1940s, tract homes were established. To meet the greater demand, scale economies allowed enormous numbers of similar residences to be produced faster and more inexpensively.
The contractors would acquire a dozen or more nearby properties and construct the buildings in an assembly-line manner.
Tract housing building employs a limited number of architectural styles, lowering labor costs by requiring employees to master just the skills and techniques required to produce those styles rather than repeating the development cycles.
Furthermore, because all of the residences in the complex will be built at the same time, economies of scale may lower the cost of procuring and delivering construction materials.
Roof trusses, plumbing, and many different types of stairs, for instance, are typically constructed in facilities and assembled on-site. This permits developers to charge reduced costs, making homes more accessible to a greater part of the population.
Tract House Advantages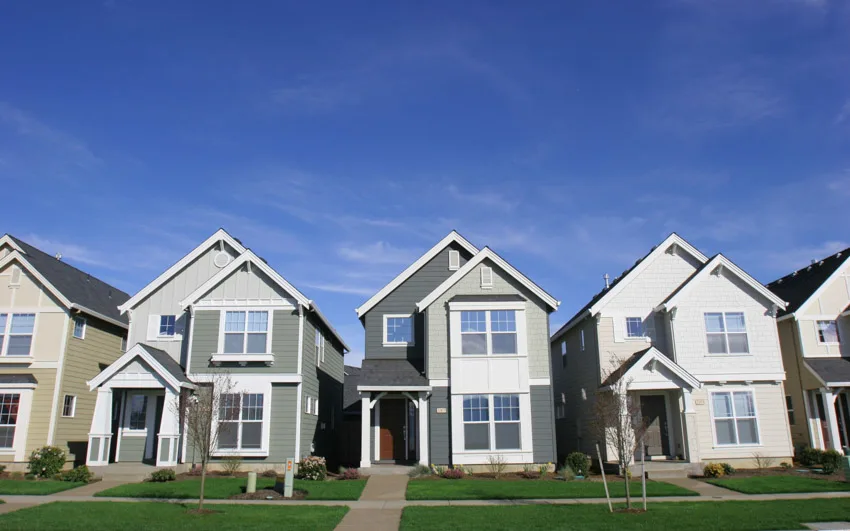 Here we share the pros of a tract house design.
Affordability
The main benefit of tract homes for numerous people is that they are inexpensive. This is accomplished by the planning, design, and construction of transported residences.
The property will be bought from the developer and divided into equal-sized sections. Upon every lot, an identical home will be constructed with no possibility for buyers to make changes or enhancements.
By acquiring supplies in bulk, a developer may save a lot of money. For instance, you can purchase all of your drywall tiles, all of your timber, and even popular drywall alternatives from the same source.
The Quality of Tract Home is Standardized
Within the community, everybody has the same general amount of home curb appeal. This additionally implies that property prices are straightforward to predict for resale in the future and that all of the residences keep the same worth throughout time.
The value of tract houses could be determined by their proximity to one another rather than the larger area encompassing the development.
The developer has prepared customary design updates for all of these houses in one established zone.
The Majority of Tract Home Projects Are Built in High-Demand Locations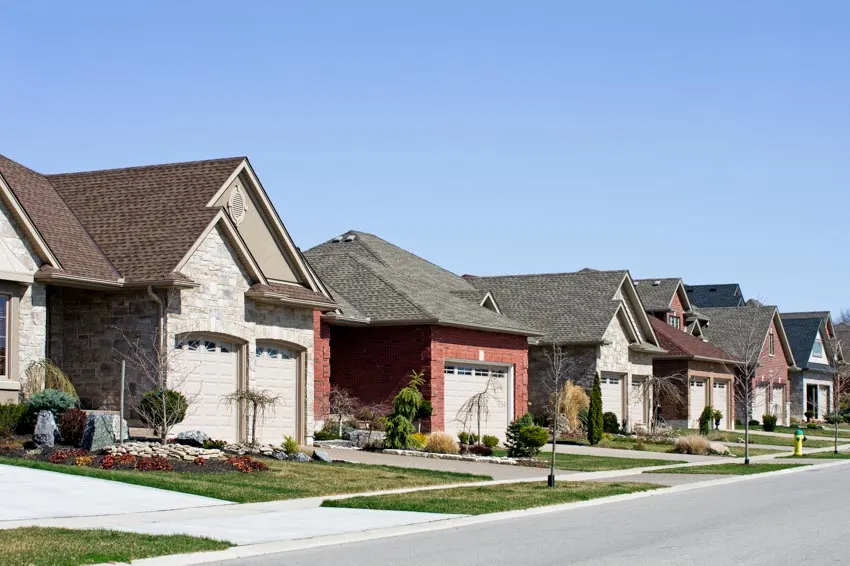 This benefit makes the cost of living in suitable spots to be more affordable. If you explore tract houses, you might be able to acquire a home that is closer to work, family, or your preferred areas very easily.
Numerous features of tract homes are designed to entice first-time homeowners or those seeking temporary accommodation.
They are less expensive, strategically situated in popular communities, value-creating equity, and make excellent starter homes.
Construction is Completed Quite Quickly
The construction of tract homes moves at a breakneck pace. Tract houses are practical if the homeowner who is planning to reside in them just started a new career or is expecting a new baby.
You may settle into a new townhouse in as short as 4 to 6 months after signing a contract, but a customized home takes an average of 9 months to 1 year to complete.
There is Equality in Tract Homes
The consistency that tract houses offer might spark an interest in you if you're unhappy with a conflict between various homes on the same road or if you are not interested in competing with your neighbors.
Because all of the houses in the development are identical, you will never feel either superior or inferior to your neighbors. Your home will also fit in with the rest of the neighborhood, making it less likely to be targeted by burglars.
Tract House Disadvantages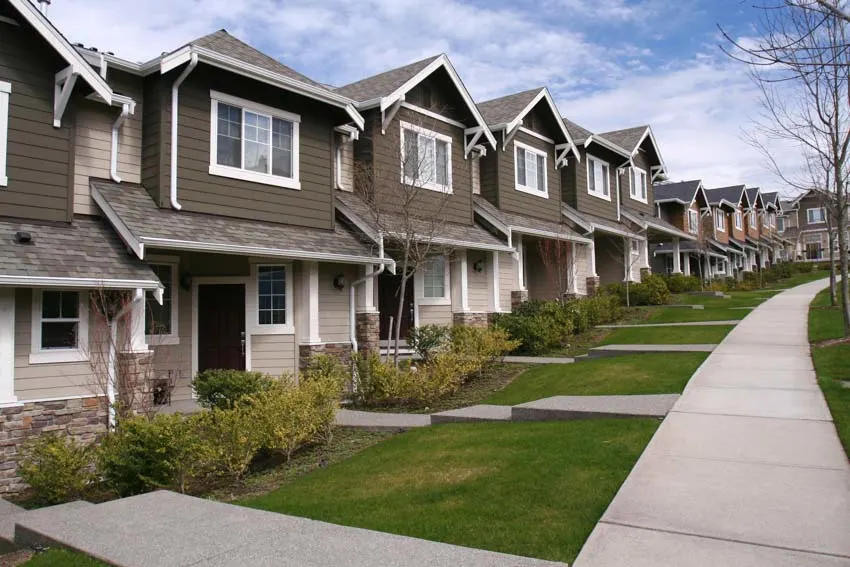 Here we share the cons of a tract house design.
The Workmanship and Materials are Normally Poor-Quality
These are some of the most noticeable drawbacks of tract homes. Because the components are ordered in bulk by the builder, the lowest-priced materials and ordinary finishes are often used.
The materials used to construct town homes are of inferior quality so they hardly survive long. And purchasers frequently encounter malfunctions and issues with the house within several years. Tract homes are designed for efficiency and cost-cutting, not for long-term conservation.
Tract houses are meant to be built promptly, and contractors are under pressure to finish their job on schedule to stay within the budget. When a development job is completed in a hurry, it becomes more prone to defects and bad conditions.
Tract houses might be an excellent short alternative for purchasers wishing to get their foot on the rental market and establish equity before transferring to a higher-quality home.
Market Value Is Stagnant
The value of tract houses is also linked to the value of other tract houses. Because no two homes will possess the exact primary characteristics, they will always be valued the same at reselling.
If the overall tract home value begins to depreciate, there is little you can do to differentiate your house apart if you want to market it eventually.
As previously said, tract homes are created for first-time homeowners or short-term residents who aim to sell once they have accumulated some money on building a custom home.
The Decisions You Can Make with your House are Quite Limited
Townhouse company laws frequently contain guidelines that you are contractually required to obey. Since developers like to maintain the appearance of the tract homes they have designed, it is restricted to update or add features outside the domain.
If you wish to modify the look of your house, this might be an issue. It can also restrict you from making exterior modifications and changes, which severely restricts your capacity to boost the value or aesthetic of your house.
---
Before Buying a Tract Home Checklist
We asked architect Ellen Siloy, her advise for those seeking to potential purchase a new tract home and here is her response:
When looking for the best tract home to purchase, it helps to know these considerations when you are looking at options with your qualified real estate agent or any other professional.
What to look for when checking the structural integrity of a tract housing development? For the foundation, check for any cracks or uneven floors. Walls and framing should not have any signs of bending or unevenness.
Roofing systems should be in good condition without any cracks or leaks. Try visiting the site more than once and during a rainy day. Also, check windows and doors.
It can be tedious to try opening the doors and windows during different times of the day, but this will ensure that an expansion or contraction in any given temperature is addressed immediately.
Note: Know the home builders home building warranties before signing up. Check their online reviews and sort by negative to find complaints and questions that may bring up valuable considerations. Check with the Better Business Bureau (https://www.bbb.org/) to see what complaints have been lodged against the company.
What are quality finishes in a tract home?
Quality finishes will vary on the builder and budget of the development. However, there are certain finishes that are generally considered to be of good quality and can add value and appeal to a tract home.
Signs that you have a good quality tract home are that engineered hardwood flooring is used with natural stone countertops and ceramic tiles, especially in critical areas such as the kitchen and bathroom.
What are the signs of a good location for a tract home?
Aside from accessibility and proximity to work, school, and amenities, be sure to check on the area's crime rate. Additionally, determine if the home is in close proximity to high voltage power lines which may adversely impact health and future resale value.
Risks from natural disasters such as floods or earthquakes should also be researched. Furthermore, know the future developments that may happen in your neighborhood.
Are there energy-efficient features of the tract home?
Insulation is a crucial building system that can affect a tract home's comfort and energy costs. A quality tract housing home should have energy-efficient features such as well-insulated walls and attics, windows, and heating and cooling systems.
Check the home's energy efficiency rating and look for signs of good insulation and efficient heating and cooling systems.
Is there a potential to build an outer living space? Adding an outdoor living space, such as a patio or deck, can greatly extend your home's living space and create a comfortable area for outdoor entertaining and relaxation.
But knowing your needs will help you determine if you need that extra space. Maintenance should also be considered when choosing a large lawn.
How to know if you have an efficient HVAC system?While equipment efficiency is a significant factor for a good heating and air conditioning system, don't forget to check the distribution of your HVAC system. You may need to get a third-party verifier for your HVAC efficiency.
Are there types of equipment that should not be installed in an air-conditioned space? Unvented combustion appliances such as generators, heaters, and engines; Powered attic ventilators and refrigeration equipment produce additional heat as well as overload the HVAC system, causing the aircon to work harder.
Note that powered attic ventilators are banned from some states.
What are the recommended roof types?A strong roof makes for a safer home, and with this reminder, it is essential to examine the roofing material and build a tract home. Recommended roof types are metal or tile roofs.
Distributors of solar roofing tiles have also attracted builders, specifically tract housing developers, to specify their products. The built-in solar cells leave a more conventional look with the potential to store energy for use.
Note: Tile roofs should have an average of 30 years of service life when builders follow manufacturer recommendations. There are many issues with tile roofs built in tract housing. Be sure to check the builder and developer's reputation.
For instance, the underlayment from the building code is at an absolute minimum, which can easily crack and break.
---
Custom Home vs Tract Home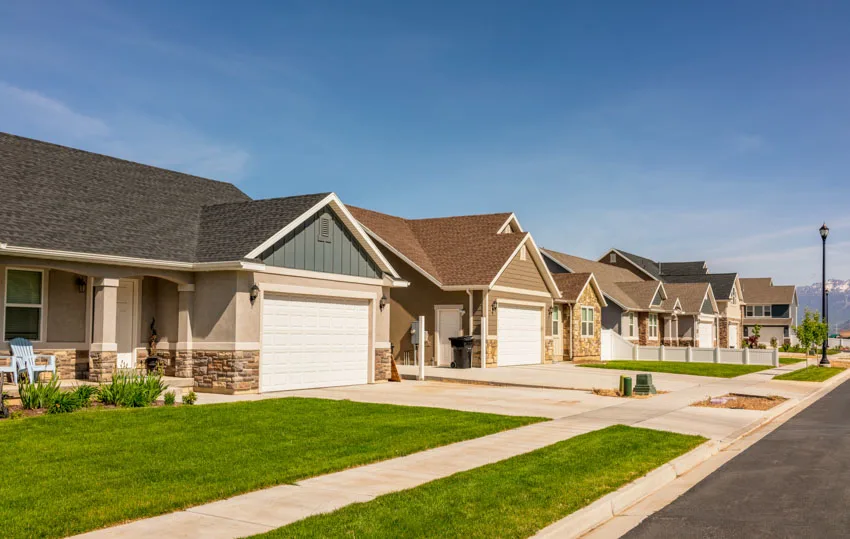 Dealing with a seamstress to create unique clothing is comparable to buying a custom home. For every stage of the procedure, you and your family have a variety of options, ensuring that your custom home is a perfect match for your family's needs and preferences.
Purchasing a property, employing an architect to design your home, and working with a contractor throughout the building project are all common steps in the procedure of building a custom home.
You must observe your county's teardown rules if you want to construct a new home on land containing an existing house that you intend to bulldoze.
These rules specify specifics such as the optimum height of your new home and the allowable construction noise degree. Your municipality might have preliminary design teams to check if your house design complies with the town's forestry regulations and other laws.
Tract houses, on the other hand, are known for being off-the-shelf, same-style housing since the builder builds them in large quantities and often gives Design A, B, and C options.
The major advantage of tract houses is their cheaper cost, which is achieved by the builder purchasing materials in bulk and passing the benefits on to the residents.
In comparison to custom homes, tract homes rely more on factory-made materials rather than on-site construction. Builders of tract homes provide typical facilities in their houses as part of the pricing.
Homeowners who want to improve might, however, raise the price of their homes. Some localities compel builders to distinguish themselves by restricting modifications, such as the color of nearby buildings being different.
How Long Do Tract Homes Vs Custom Homes Take To Build?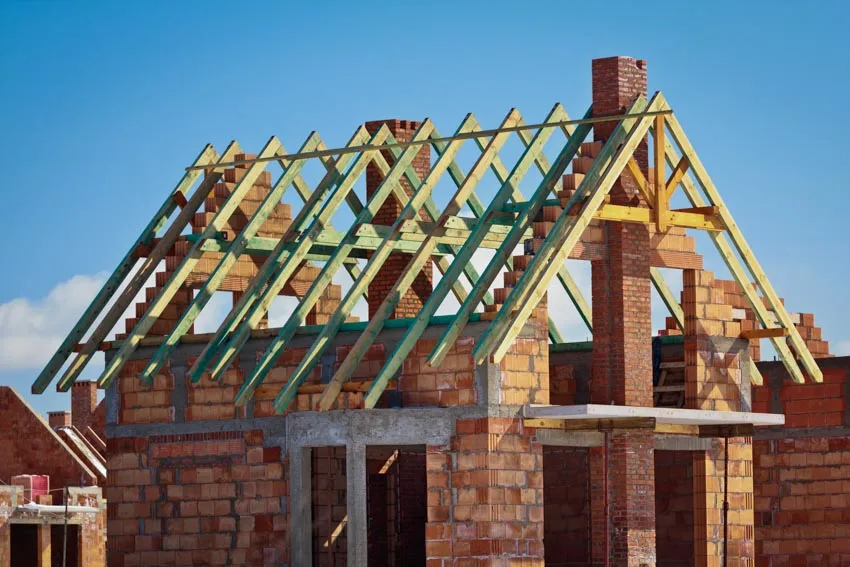 In as short as 4 to 6 months, tract houses can be constructed. A custom modern home, on the other hand, can take 9 months or more to complete.
Builders of tract houses can save even more time on each home by conveniently shifting construction workers between residences since they are all designed the same way.
How to Make A Tract Home Unique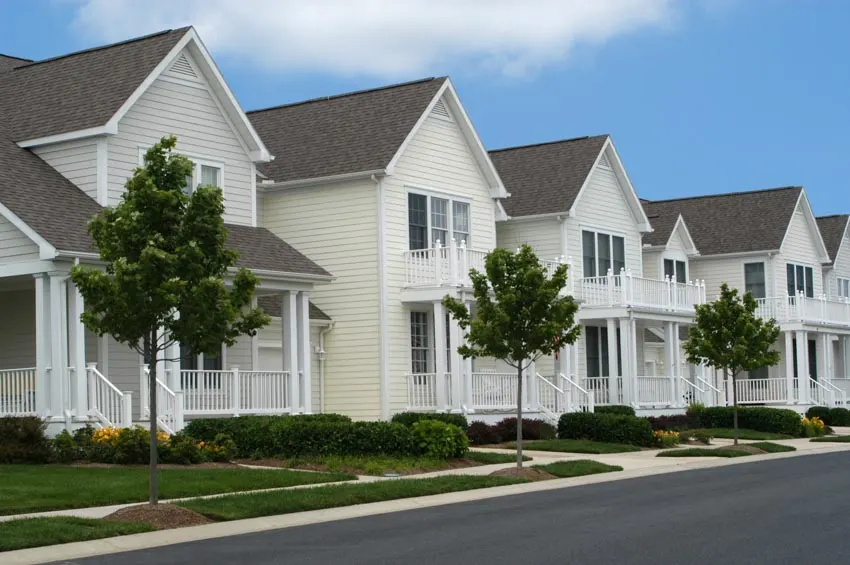 Adding Personality to Your Doorway: Your doorway is the first thing people see about you. You wish to make it appear unique among the other houses in the town.
If you aim to set your front door apart from the others there are attractive ways to do so. See our article about the best front door colors for more ideas.

On this inside you can make your entry stand apart with a welcome, snug seat, and mirror combination, you can add illumination and a little flair to our doorway facade.
Try Replacing Your Hardware and Lighting: Customize your light fixtures and hardware to provide your home with a distinct look.
It may be expensive to add a distinctive light fixture to your house, but it will be something you and your visitors will appreciate every time you enter into a particular space. It might be a captivating finishing touch to your décor.
Consider Painting or Replacing your Entrance Door. If you wish to improve your aesthetic appeal while also increasing the value of your property, consider purchasing a new entrance door or painting your current one.
Paint the Exterior. If the neighborhood you're i allows it you can paint your home a different color to help it stand out. You will first need to make sure that your home owners association or local zoning allows it. If you're looking to sell your tract home, read more about exterior house colors that sell here.
Maintain a Tidy and Minimalistic Tract House. Lastly, keep your home clean and its décor minimal. Several homeowners try to attempt too much, which results in a messy appearance.
You may show off the beauty of your house while saving money by simplifying and taking a more minimalist style.
See more related content in our article about tiny house designs on this page.