Below we discuss exterior house colors that sell including color combinations and ideas.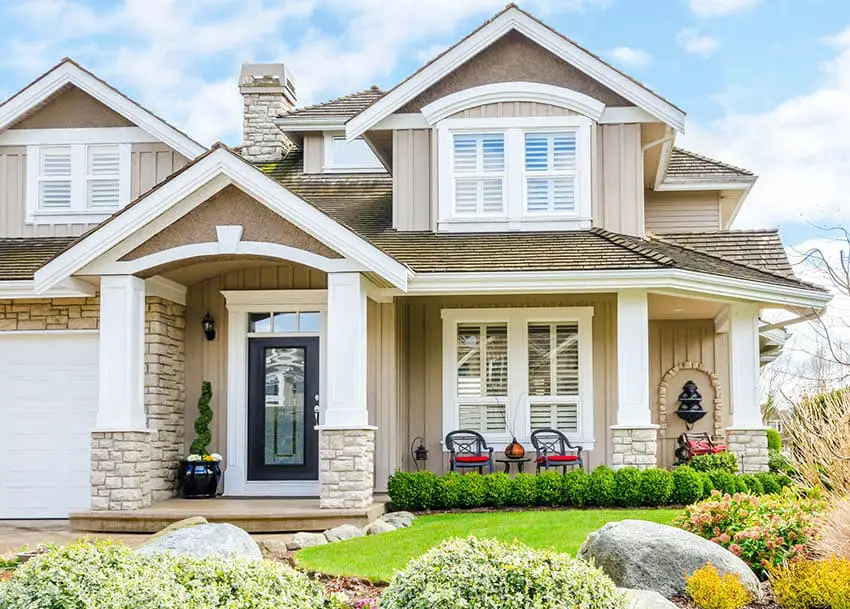 The first thing that a potential home buyer sees is the exterior of the house. As much curb appeal as you can create with trees, shrubs, flowers and walkways, nothing beats the color of the house when it comes time to put it up for sale. Here are some of the best exterior house paint colors to help you sell your home fast.
Neutral House Colors
Neutrals are some of the best colors to choose for something as large as the entire exterior of a house. This gives the new home buyer the chance to select their own accent color, where they could change out shutters, paint the doors, or windows.
This just opens the options to everyone, instead of selecting a bright purple house that one person loves, but could be a breaking point for most buyers. Some neutral options are described below.
Whites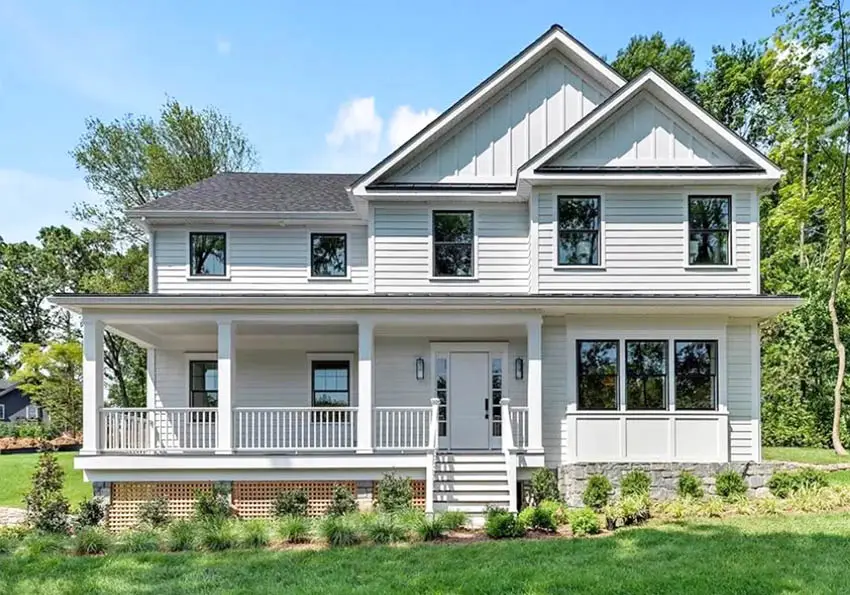 White is an absolutely timeless color option. This can give either a rustic farmhouse appeal or an upscale presidential look.
White is extremely appealing on a variety of different materials. If you want more contrast you can try different color trim to get a more dramatic design. – interior designer Savannah
Suggestion (off-white): White Heron by Benjamin Moore
For a warm white try: Simply White by Benjamin Moore
For a mix between white and beige with a light pink hue try: First Light by Benjamin Moore
Browns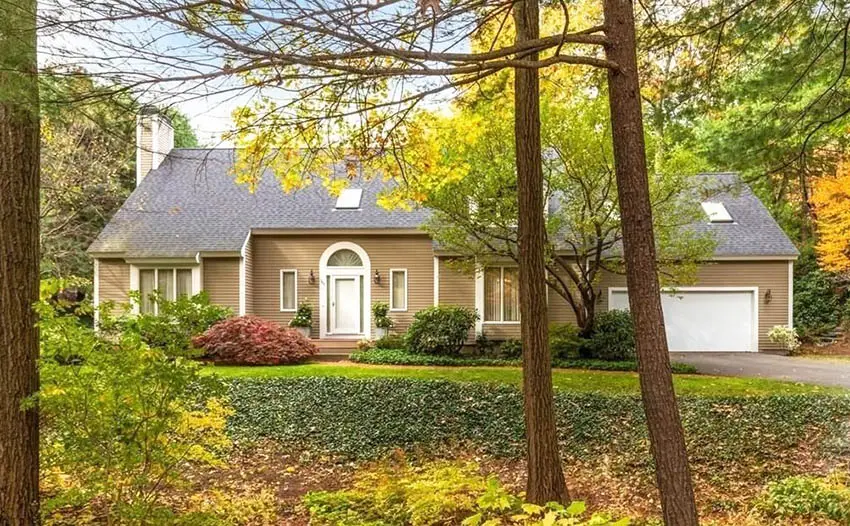 A warmer, darker look of brown on the exterior of a home can give the illusion of a larger home. Brown can be a good stabilizer as well as promote calming earth tones that coordinate with mulches, trees and landscaping.
Suggestion:Light Autumn Brown by PPG
For a reddish tint try: Cavern Clay by Sherwin Williams
Beiges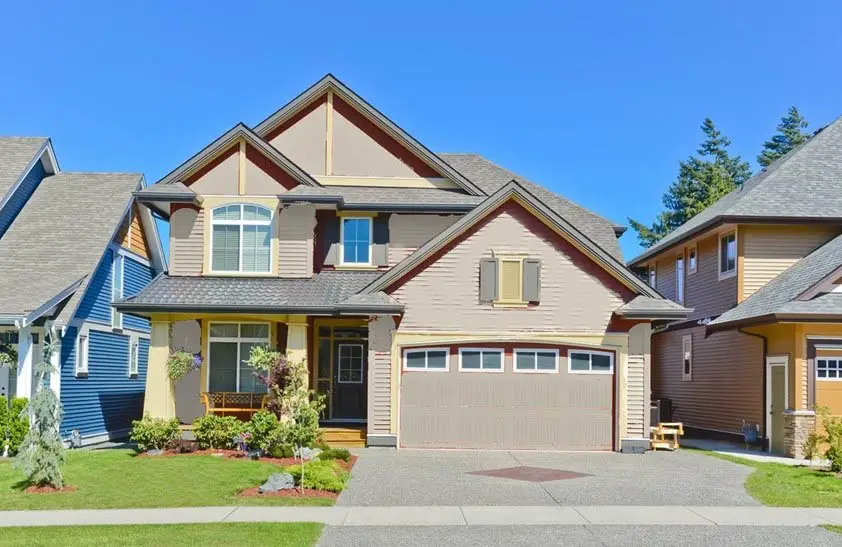 Beige, putty, taupe, wheat, any name variation of a pale brown color can give a lighter feeling than the browns. These colors still give a warm feeling to the home, and can be accented with a nice dark brown on the doors, shutters and even the garage. Read more about garage door paint colors here.
Suggestion: Creamy Mushroom by Behr
For a contrasting wall and trim exterior paint combination try using: Revere Pewter exterior house paint with trim in Simply White by Benjamin Moore
For a more modern take on beige paint try: Cider Spice by Behr
Grays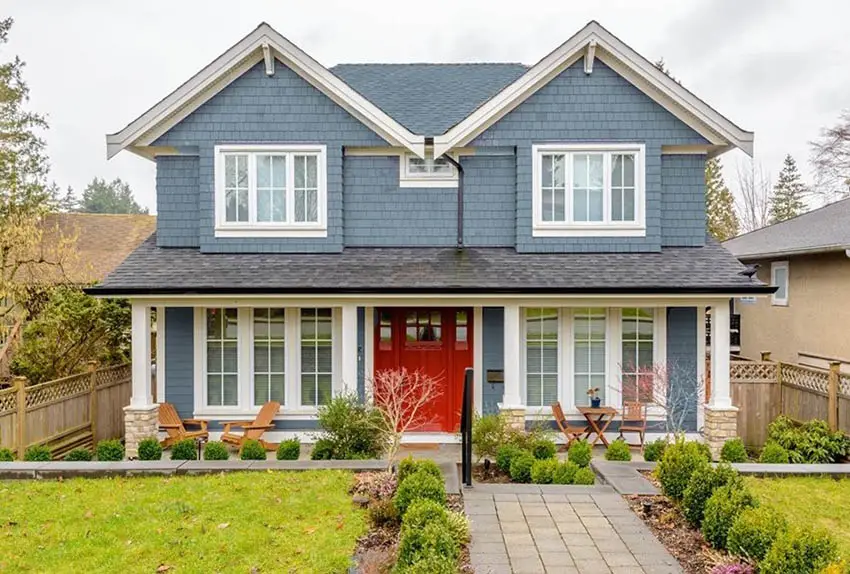 Grays can be dark or light, and can mix into a greige tone or even a blue gray tone. These give off a calmer, cooler vibe. This is common in a lot of areas with surrounding water, as the colors coordinate with each other nicely.
Suggestion (gray and blue mix): Oxford Gray by Benjamin Moore
For an attractive light gray try using: Misty by Sherwin Williams
For a warmer gray with a touch of brown try: Talavera by PPG Paints
For a dark gray try: Graphic Charcoal by Behr
Popular Exterior House Paint Colors
While it was mentioned above that neutrals are typically recommended when getting ready to sell a house, but colors are not always a bad thing. Some buyers adore the idea of being "the yellow house with the apple tree in front" instead of 18 elm street.
There are some great options to pick from, even without overpowering the street. It is also important to not pick anything too bright as it could distract people driving on the street, or it could be so noticeable that a burglar could pick that house first. In addition many home owner associations have rules regarding the types of paint color you can have on your home. Those that are too bright may be forbidden. Some good ways to add color without causing an issue are below.
Light Blue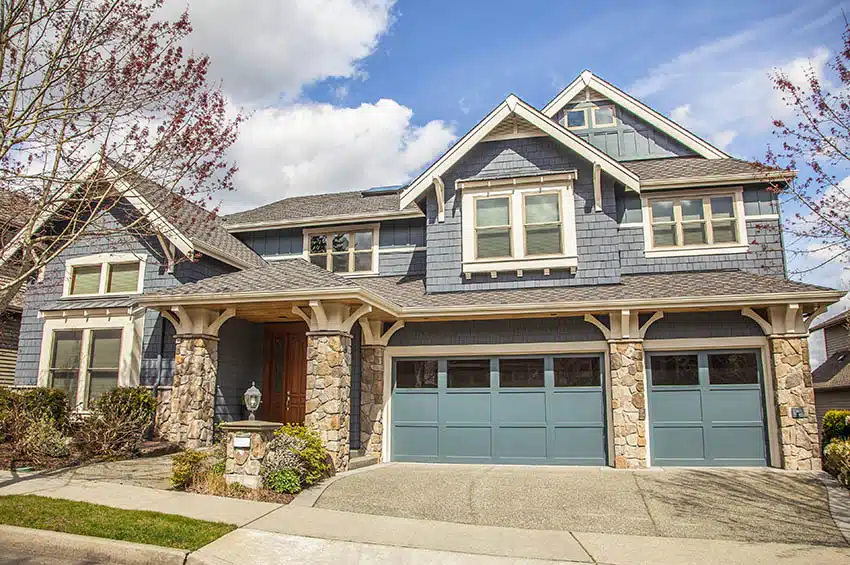 Similar to the grays that are mentioned in the neutrals above, blue looks fantastic in coastal locations as it give a cool, beachy or rainy aesthetic to the entire exterior. Picking a watery light blue pairs great with gray on any stones used for the driveway, sidewalks, or even other positions on the building. Playing with the shutter and door colors with variations of grays and blues can elevate the appeal even further.
For a medium blue with rich color try: Oceanside by Sherwin Williams
For a dark blue suggestion try: Naval by Sherwin Williams
Pale Green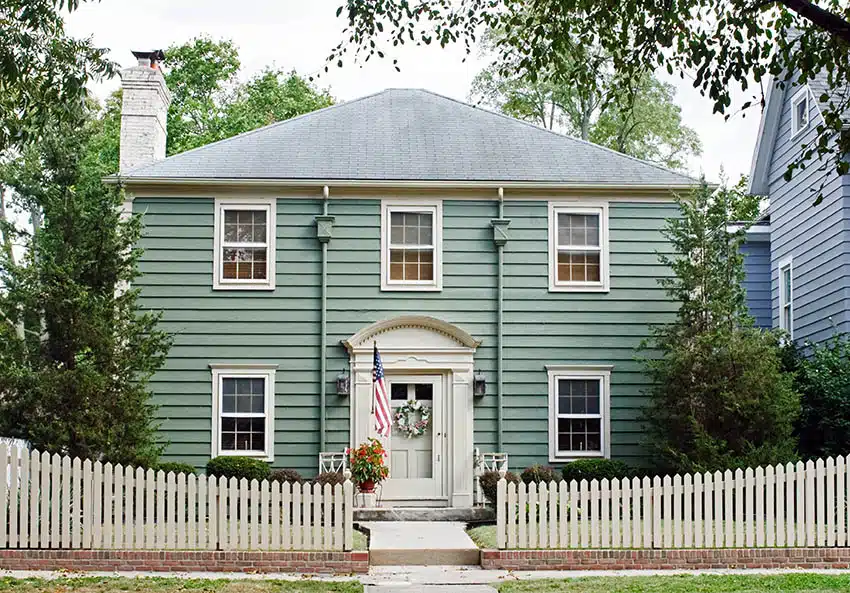 For a more forestry aesthetic choose a pale olive green, or cypress green can bring that out. These types of green colors often pair well with whites or light beige colors. The white accent with the pale greens makes the color pop more instead of losing the green in two light colors. Sometimes the beige and the green blend together and cause the house to fade in the background.
Green is great when coordinated with the shrubbery and other flowers that are planted in the area around the home.
Paint suggestion: Back to Nature by Behr
For an earthy green color try: Acacia Haze by Sherwin Williams
Yellow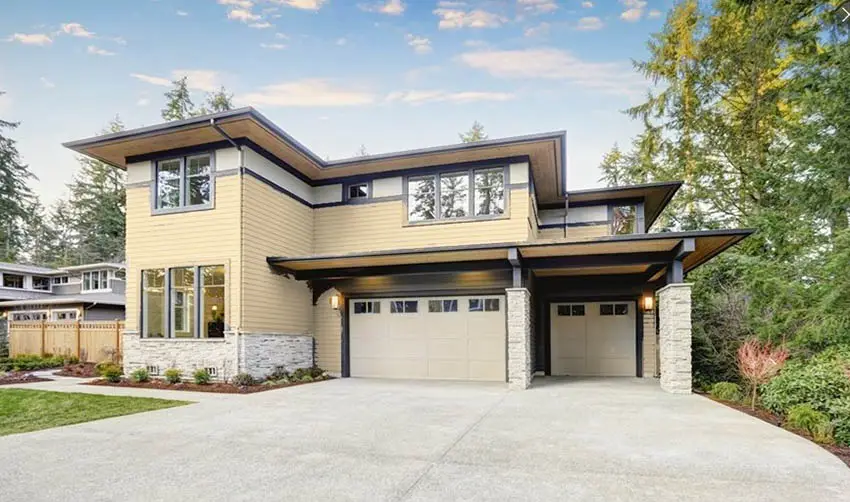 Yellow homes give a very traditional feel, often expressing simple times and happiness. This needs to be more of a dull yellow versus and in your face neon yellow to attract buyers. Creating a cheerful and bright atmosphere is the objective not making your home stand out over all of the neighbors.
Yellow pairs best with white trim, and occasional splashes of black. When I say occasional, I mean it, it should be used very sparingly or the entire house will end up looking like a giant bumble bee. Beiges often clash as they are close, but not the same and grays typically hold a cooler tone.
Suggestion (light yellow): Golden Straw by Benjamin Moore
Red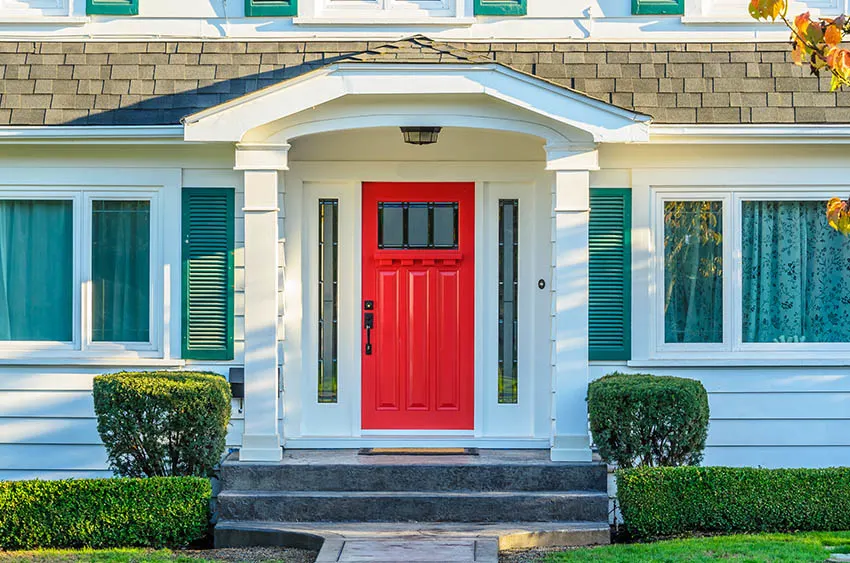 For those who want to really stand out, red can make a large impression. However, sometimes a touch of red is all you need to get the desired effect. By painting your home's front door red, or another color you can get attention and help your home stand out from the crowd.
On occasions where the house is a ways off the road, and you really want it to be noticed, a vibrant red can be the best choice. This color is pretty iconic for old farmhouses, and even when in disrepair the colors lasts! A farmhouse red can be paired with white, or gray tones. Farmhouse red exterior siding, with white trim and a dark gray roof is one of the most popular looks, and if in the right location is very popular among buyers.
For a less shocking shade of red, there are many different hues that can stand out without being too overbearing.
For a bold red paint try: Farmhouse Red by Behr
For a toned down version of red try using: Red Pepper by Behr
For a mix between red and purple try using: Juneberry by Sherwin Williams
All that being said, there are a wide variety of different colors that sell, and in the end if the buyer really loves the house they can always paint over it. Having something workable is helpful though, as a buyer can imagine themselves and their friends and family in and around the home. For more help selecting colors for your home, check out our article about paint color apps.