Here, we answer the question of what is a mansion, with its size, the number of rooms it has, and the comparison of an estate to a house.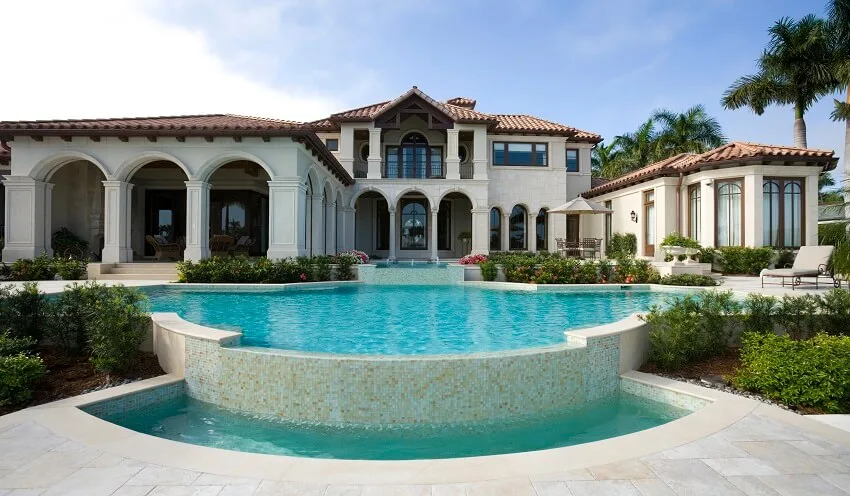 The term mansion has changed over time, and these grand residences are a lifestyle thing from a past period. Yet, when we hear the word "mansion," we can still picture what it is, at least on our terms.
Let's admit it, there are big houses, and there are mansions, but it is all about the interior design concept and the exterior grounds that separate one from simply being a big house. Of course, the size and the number of rooms play an integral factor in an authentic mansion.

A house is considered a mansion if it has luxurious and impressive amenities. Older palatial homes would have a library, billiard room, lounge, ballroom, greenhouses, conservatories, and live-in quarters assigned for staff, cooks, and butlers.
Nowadays, newer and modern luxury residences have entertainment facilities such as a ballroom or event space, salons, formal living rooms, or massive great rooms.

Modern mansions also have a state-of-the-art recreation/game room, a formal dining room and a casual dining area, a specialty bar, a wine cellar, a gourmet kitchen, a cabana, an indoor pool, and an entertaining sauna guest.
New homes feature master suites with roomy closets, extensive spa facilities, a fitness room or gym, high-tech media rooms, home theaters, and offices with automated safe rooms for leisure spaces.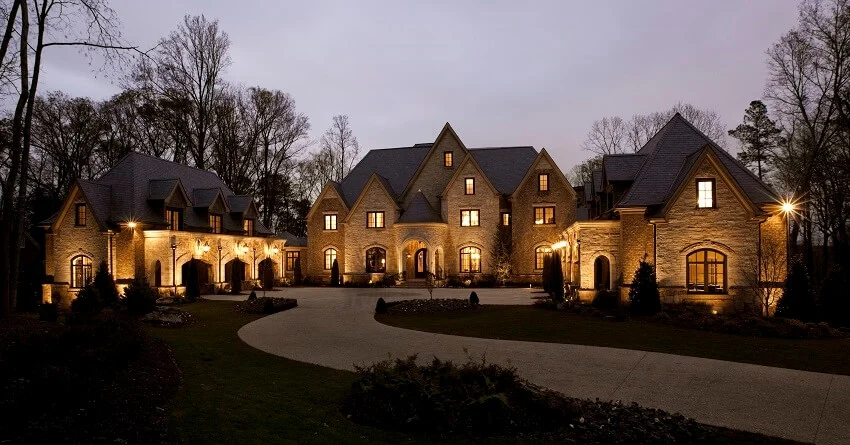 The exterior features lavish grounds with formal gardens and guesthouses. They even have sports facilities such as a tennis court and basketball court, putting green, children's playground, ponds or water features, motor courts, climate-control garages, fire pits, outdoor kitchen, a patio with an infinity pool, and hiking trails.
No matter the architectural style or location, an authentic mansion with its opulent furnishings and lavish amenities will always be the hallmark of luxury real estate.

What Makes A House A Mansion?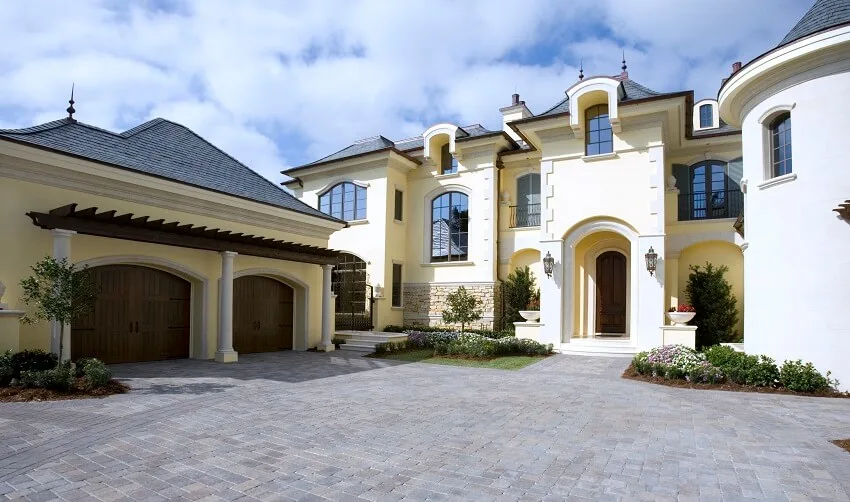 An actual mansion is distinguished by a bespoke, custom house personalized for its wealthy homeowners who have carefully considered the quality of the building materials.
Mansions are not just showpieces, but they should be built of premium materials and use only finishes that are the highest of high end. Nowadays, they are designed and built using sustainable materials that include smart and energy-efficient technologies.
The home's true essence lies in the materials that give it its structure and substance. The materials used in building the property denote its quality, sustainability, and durability.
These luxury homes are built of top-quality materials such as finest woods, fine stonework, customized fabrics and furnishings, marble flooring, granite countertops, ornate mantelpieces, top-of-the-line appliances, slate swimming pool areas, and garden paths.
High-grade wood includes ash, oak, teak, and walnut framework, cladding, and interiors crafted from exotic hardwoods, such as ebony and lignum vitae.
Stonework includes the most popular types of natural stone for luxury homes, such as marble, granite, slate, flagstone, travertine, quartzite, and limestone, which provide natural textures for both the home's interior and exterior decorative construction.
Modern estates will also incorporate high-end appliances, smart home features, and elaborate security systems to highlight popular amenities that characterize a luxurious property.
How Many Square Feet Is A Mansion?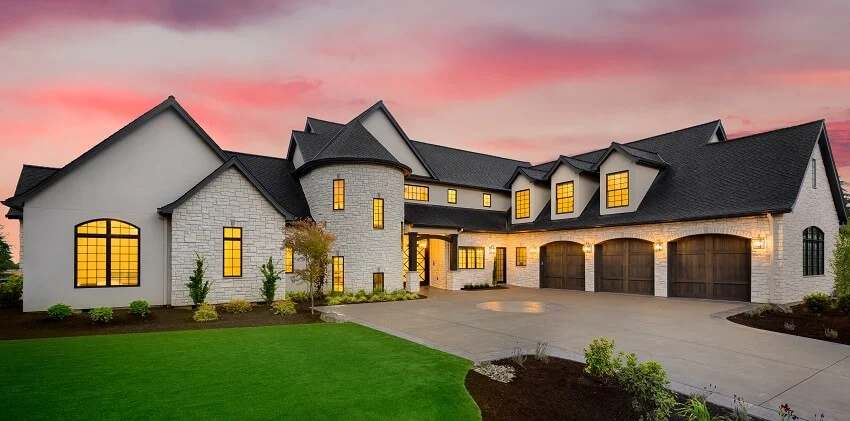 The dictionary defines a mansion as "a large, expensive house," but how extensive is the term 'large" for a property to be called this? There is no strict definition of the number of square feet; because it depends on the region where the house is located.
A house in New York City, where lots are smaller, can already be called a mansion, while in Los Angeles, it would be around 20,000 square feet. Often, the square footage is just the tip of the iceberg when referring to these homes.
Technically, realtors today claim these are a house with a minimum of 8,000 square feet of floor space.
Some famous residences considered "true mansions" include the White House in Washington, DC, which has 132 rooms, 55,000 square feet.
The Rockefeller Estate located in Mount Pleasant, NY, has 40 rooms and is a 36,000 square feet property. Graceland, in Memphis, TN has 23 rooms and has 17,552 square footage. The last example is the Breakers' estate in Newport, RI with its 70 rooms and sits on a 62,482 square feet of land.
Mansion Living Room Size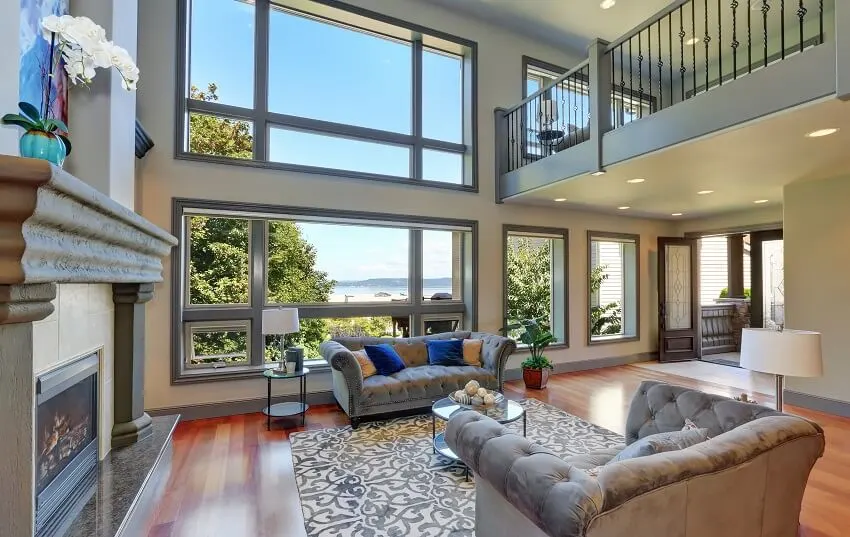 These residences usually have grand ballrooms, huge living spaces, and entertainment areas. Mansion living rooms have ample floor spaces, which often can separate the formal and informal areas of the house that are used to accommodate guests and visitors.
Designed to be a room dedicated to family gatherings, the property's living room size is anything over 370 square feet.
These formal living rooms are lavishly furnished with luxurious sofas, elegant side tables, heavy draperies and curtains, large windows or French doors that view the beautiful garden or landscape outside, and walls adorned with expensive artworks.
Mansion Bedroom Size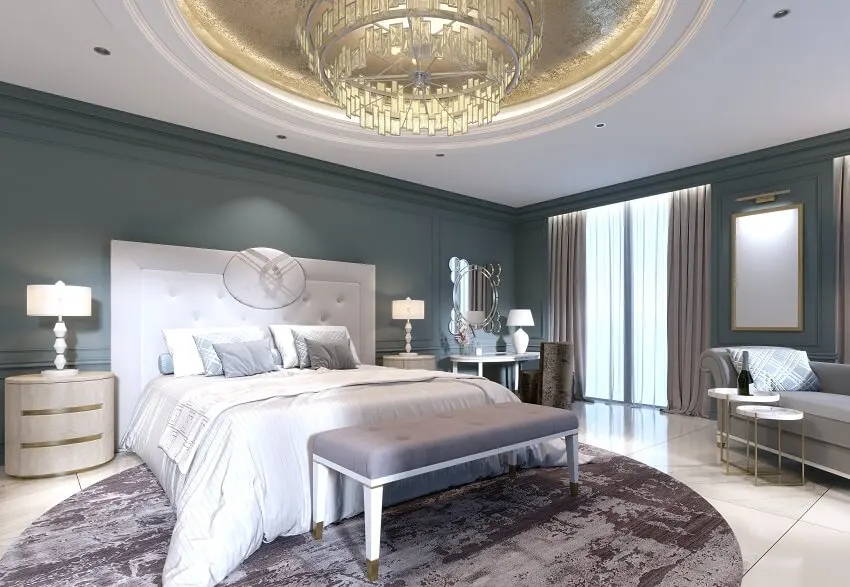 On average, a mansion's bedroom size is between 300 and 350 square feet. However, the size of a bedroom designed for these homes can vary to match the style and size of the property. Typically, the size of a master bedroom tends to be the largest room, more so than any other bedroom in the home.
Additional features include a master walk-in closet and a master bath with a separate tub and shower, great countertop space, a private toilet, and other personalized amenities such as a small seating area.
Rich estate owners would rather spend money on bedrooms, their conveniences, and comfort since it is the part of the house where they can relax and rejuvenate themselves. Bedrooms are the place where they find solace and utmost peace. Read more about what is a bedroom suite.

How Many Rooms Does A Mansion Usually Have?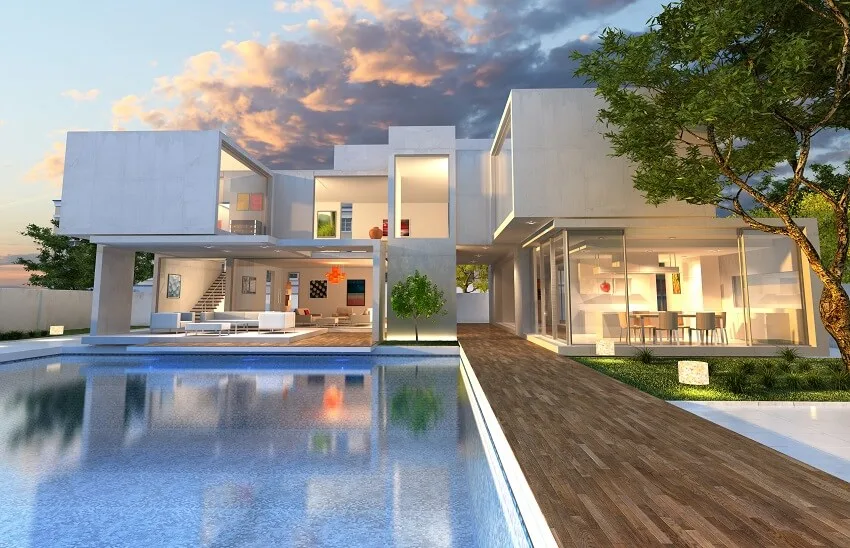 The number of rooms in a mansion often goes over the number of rooms in an average home. Most have as many as ten rooms, and luxury estates would have even three full kitchens.
Palatial home bedrooms have their own bathroom and shower area, and lavish, open, informal and formal living rooms with luxurious seating areas with different seating areas, entertainment areas, and other high-end amenities.
One of the largest, grand, and impressive private residences is the Biltmore Estate. It is located in Asheville, North Carolina, United States, and is considered one of the most oversized residences in the world.
Built-in 1889, this luxury home is a 175,000 square feet French Renaissance design style with 250 rooms, set on 8,000 acres of land and valued at $157 million. There are 43 bathrooms, 34 bedrooms, three full kitchens, 65 fireplaces, and even claims to have several secret rooms.
The breakfast room of this property has a hidden door that leads to the butler's pantry. The library has a secret room called the Den with an underground tunnel. The property also features a winery, banquet hall, bowling alley, and an indoor pool, among many other amenities.
How Many Bedrooms Does A Mansion Have?
There is no rule here; the rooms in a mansion are no different than the rooms of a regular house. The only thing about the rooms of these homes is that they are bigger and more luxurious.
The bedrooms are a sleep oasis and often come with multiple amenities such as walk-in closets, sitting area, and bathrooms. The bedrooms may also include servant's quarters and guest rooms.
Modern-day luxury properties can have a minimum of 6 bedrooms but can have as many as ten bedrooms. The master bedroom highlights large floor-to-ceiling windows, innovative home features, luxurious furniture, a lounge area, walk-in closets, and impressive bathrooms. Visit our gallery of luxurious mansion bathrooms for a more related article.
Mini Mansion Size?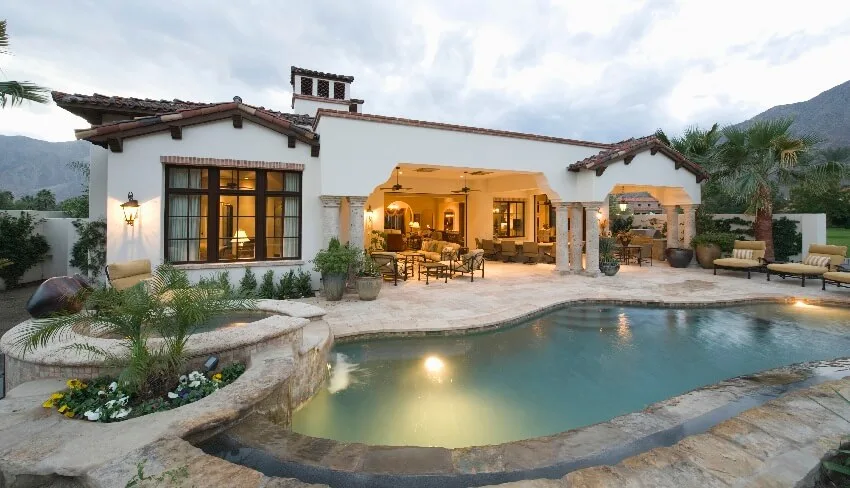 In the US during the 1980s and until the early 2000s, a trend started about the building of mini-mansion or what is sometimes known as McMansion, which is a step down in size from the traditional design.
Mini mansions are exquisite houses at least 4,000 square feet and built looking luxurious but with less expensive materials and more like a cookie-cutter in design and a mass-produced home built on packed neighborhoods with tiny lawns.
Most are rarely designed with energy-efficient features; sustainability, maintainability, and longevity are often not prioritized.
The purpose of these types of homes is to build a home with more living areas with open floor plans. The kitchen is more extensive; each bedroom is sizable and features amenities such as an office space, playrooms, and TV rooms.
Mini-mansions are luxury houses with luxurious interior features, efficient, comfortable, and intimate spaces. They are designed to fill the gap between a modest home and an upscale custom house.
How Many Rooms Does a Mini Mansion Have?
These residences usually have a maid's room, laundry rooms, library, breakfast and formal dining room, great rooms, a gourmet kitchen with walk-in pantries, media rooms and home office.
They have at least three big, spacious bedrooms with bathrooms and a master suite with walk-in closets with whirlpool tubs and separate showers. Rooms are designed to have great comfort and exclusive sophistication. See our guides to types of rooms in a house for more details on the different room functions.

Mansion Vs. House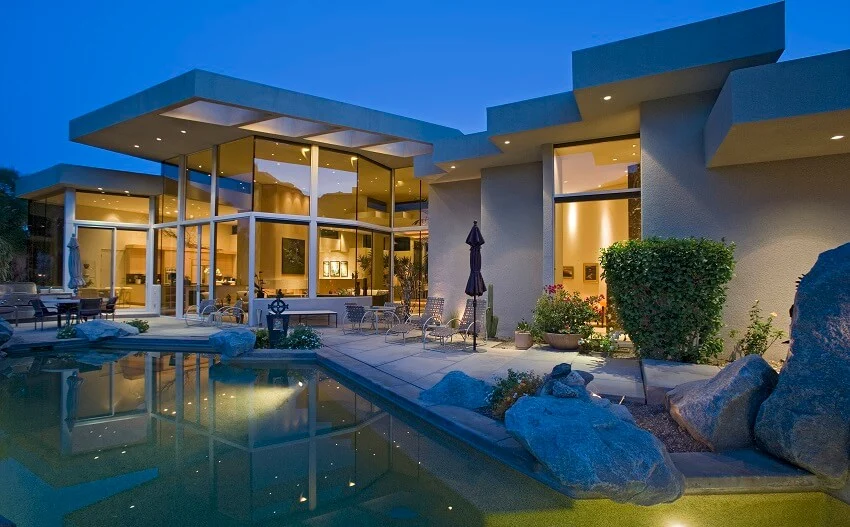 A mansion is a massive house between 5,000 and 8,000 square feet, while a house is any residential structure below 3,500 square feet.
Unlike mansions, there are several types of houses, such as a single-family home, multi-family home, apartment, condominium, co-op housing, duplex, twin home, townhouse, row house, prefab, modular home, manufactured home, motorhome, mobile home, houseboat, and tiny home to name a few.
Mansion Vs. Estate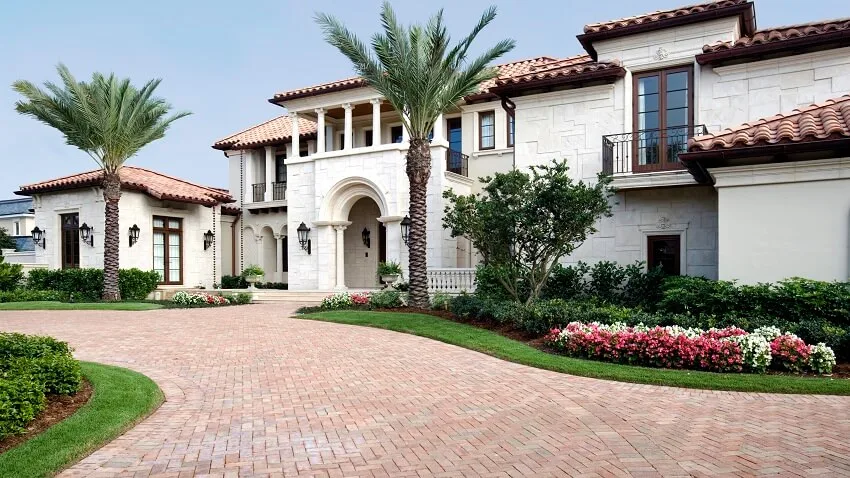 A mansion and an estate are impressive and luxurious homes with extensive grounds. The only difference between a mansion and an estate is the size of the land on which these houses are built.
A mansion is not technically limited to a specific amount of land. However, an estate is often used interchangeably with the other and has more designated land.
On the other hand, an estate is a large parcel of land estimated to be at least ten times bigger, may comprise farmland or pastures, and would have hundreds of rooms with guest houses attached to the property, tennis courts, an outdoor pool with pool house, water features such as ponds and horse stables.
An estate is generally considered to have at least 5 acres of land and up, with the main house having at least 15 rooms or more.
Did we cover all of your questions about mansion architecture and luxury properties? Let us know if there was any information we missed in the comments. Visit our parts of a house exterior guide for more related content.