Here we share our gallery of the different types of stairs including the pros & cons, popular questions and design ideas.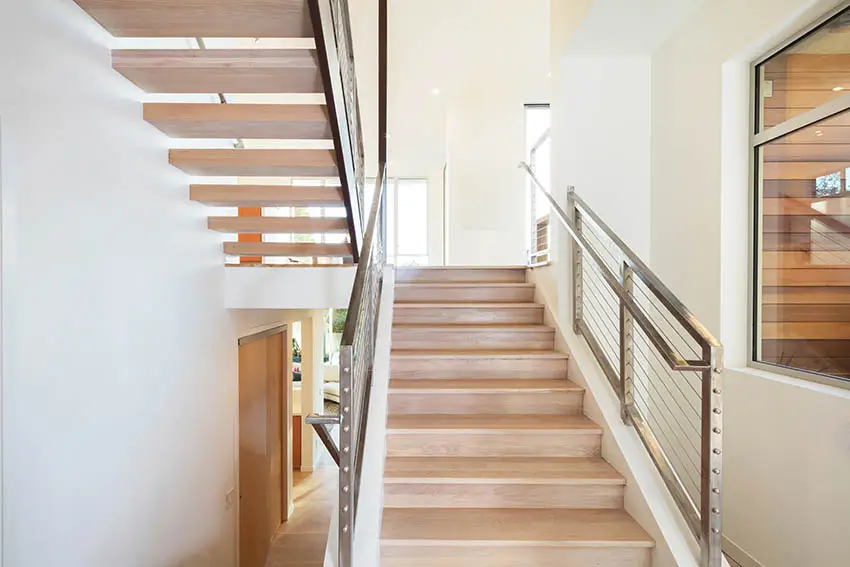 Whether you are remodeling or designing a home there are a variety of different types of staircases to choose from.
Since the stairs in your house is often a focal point and one of the first things one see upon entering, it makes sense to carefully consider their designs as a part of your architecture, including how it coordinates with your furniture and other elements.
Stairs Design Styles
Since stairs are both a structural and design element, you will likely consult an architect when deciding on what stairs to include in your renovation or construction project.
Before that consultation, it makes sense to familiarize yourself with the different options and styles of stairs available, such as spiral staircases with winders or a central supporting pole. The architect can then make recommendations based on the style of your home and your budget.
House Staircase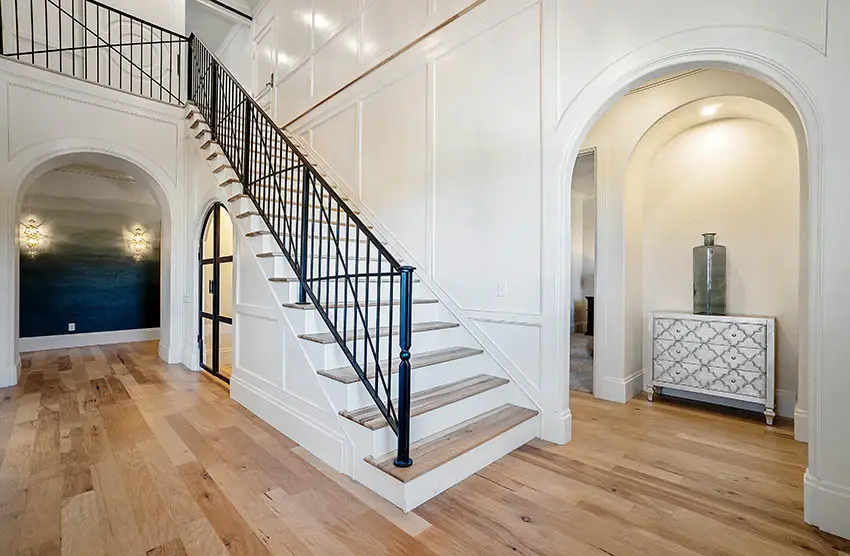 A traditional house staircase is a straight set of stairs without any changes in direction. They are straightforward to design, build, carpet, and use, and are the most common choice for stairs. They are also the easiest to build.
Traditional house staircases usually have a tread with a small overhang called a nosing. A nosing is the part of the step that hangs over the edge. The stair riser is the vertical height of each step.
Double Staircase
If many people will be circulating through an area, such as the central hall or entrance of a large home during a party, it can be beneficial to have a double staircase.
A double staircase is nothing more than two sets of stairs in the same room, that lead to the same location. They are usually symmetrical.
Spiral Staircase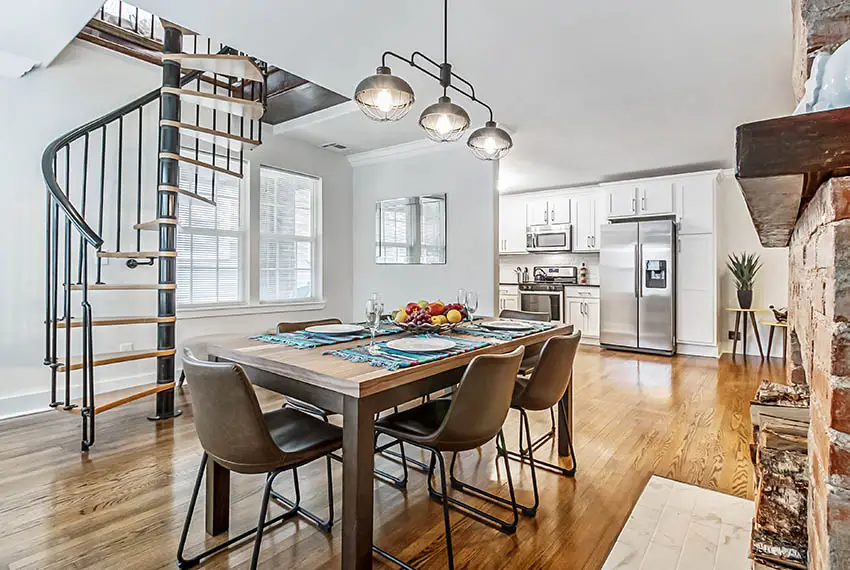 While most staircases are built using right angles, that isn't the only option. A spiral staircase also referred to as a spiral, circle, arced or curved design is often used to make an entryway more dramatic or aesthetically pleasing.
These circular stairs have a winding form and a space saving design that is also helpful for adding on to the construction of the home with an additional level.
A spiral staircase has a much smaller footprint than a traditional set of stairs and can avoid having to construct stairs outside of the home to access the higher floor.
Floating Stairs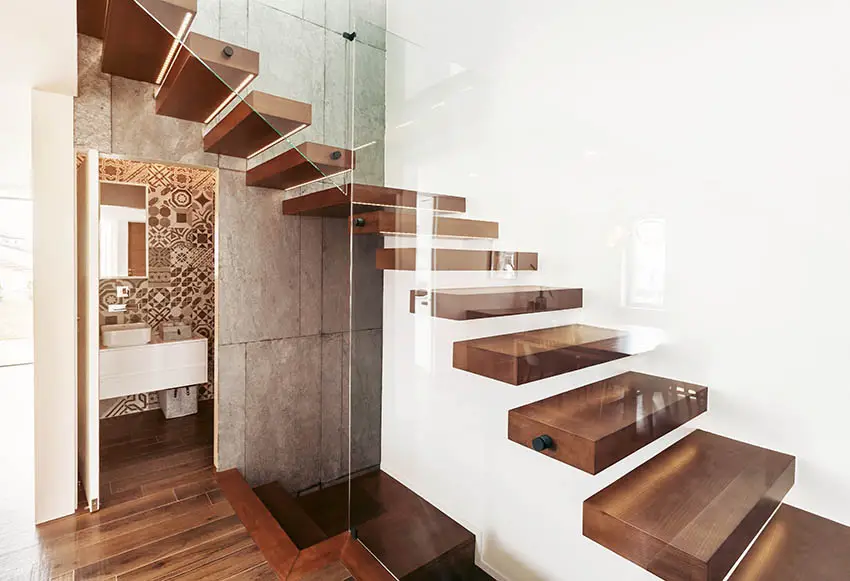 Also called 'cantilever stairs', this type of staircase has been engineered to look as if the stairs are floating in space without support.
In actuality, a strong steel beam provides the structural base for these stairs. Sometimes the beam is located in the center of the steps, but more often it is embedded in the wall.
There are no risers connecting one tread to the next, and no stringer on the outside of the staircase. They are visually sleek and stunning. However, they can be unnerving to walk on, and take special skill to design and install. They cost more than traditional stairs, as well.
See examples of types of floating stairs here.
Switchback Stairs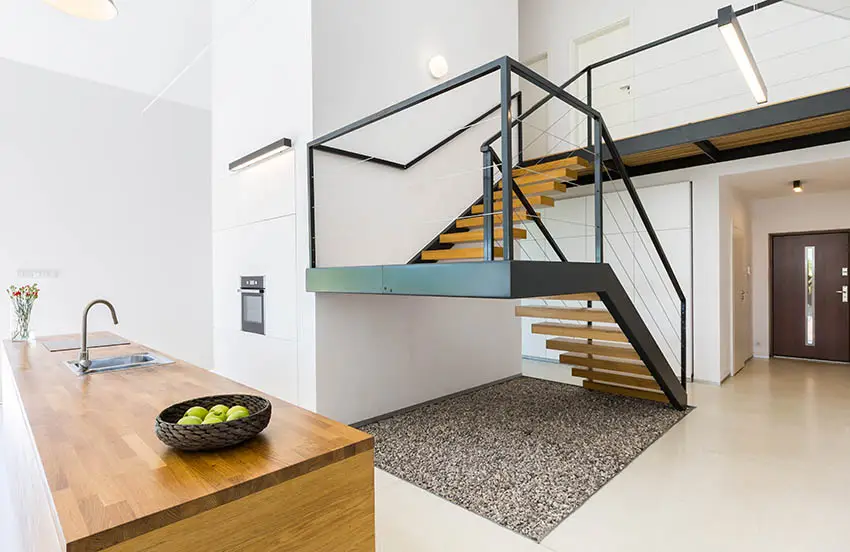 Switchback stairs have a minimum of two flights.The user ascends the first flight of the straight stairs, makes a 180-degree turn on a landing, also known as winder, then ascends up the second, parallel flight.
When installed in a private home rather than contained in an industrial stairwell, they add architectural interest to the dwelling.
They are slightly more complicated to build than a straight staircase due to the increased amount of material needed and having a landing, a significant portion of which can be utilized for storage.
U Shaped Stairs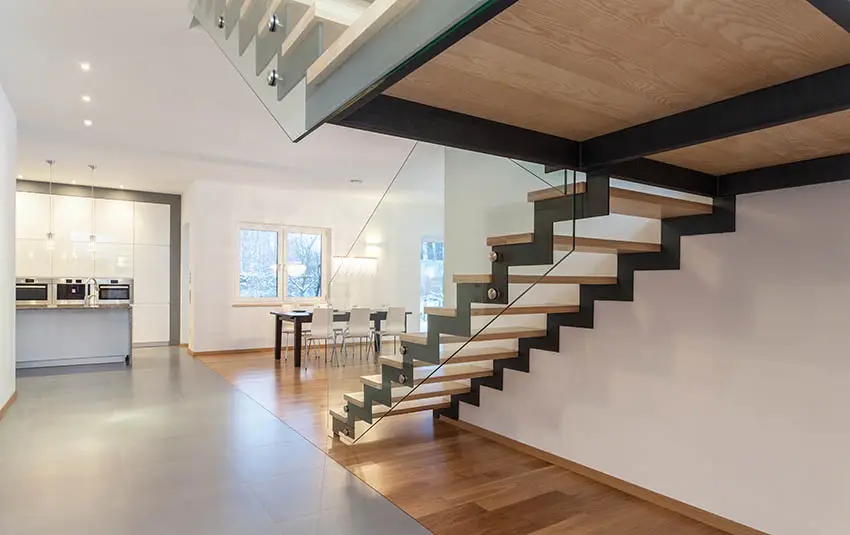 Another name for switchback stairs is u-shaped. Fire stairs in tall buildings are usually constructed in this U-shape. A switchback design is equipped with a banister to help prevent falling onto the lower flight. A glass partition can be used to allow for a view inside or outside a dwelling.
L Shaped Stairs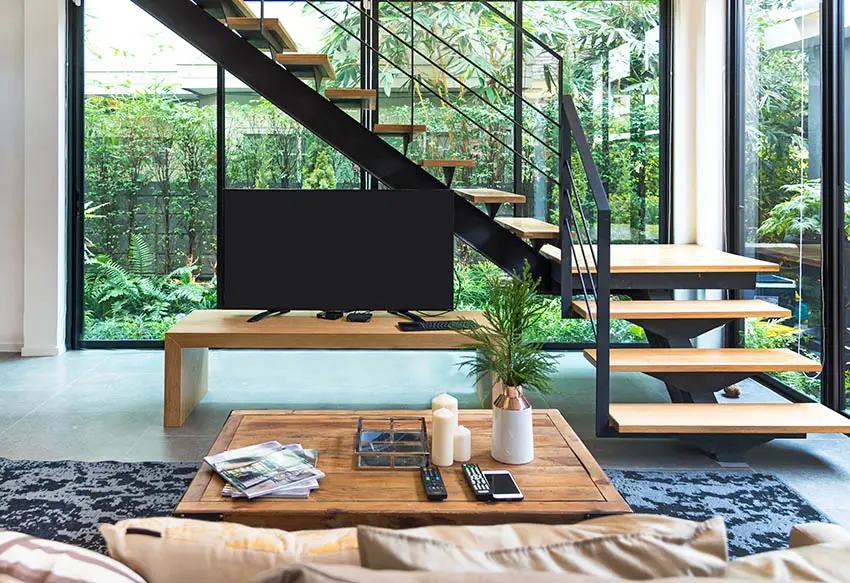 Rather than the 180-degree turn of a switchback staircase, the L-shaped staircase has a 90-degree turn. The landing where the turn takes place could be situated near the top, bottom, or in the middle of the staircase, depending on the desired visual effect and the constraints of the space.
Based on the intention of the architect, L shaped stairs can hug the corner of a room, or descend into the middle of it.
Space-saving Staircase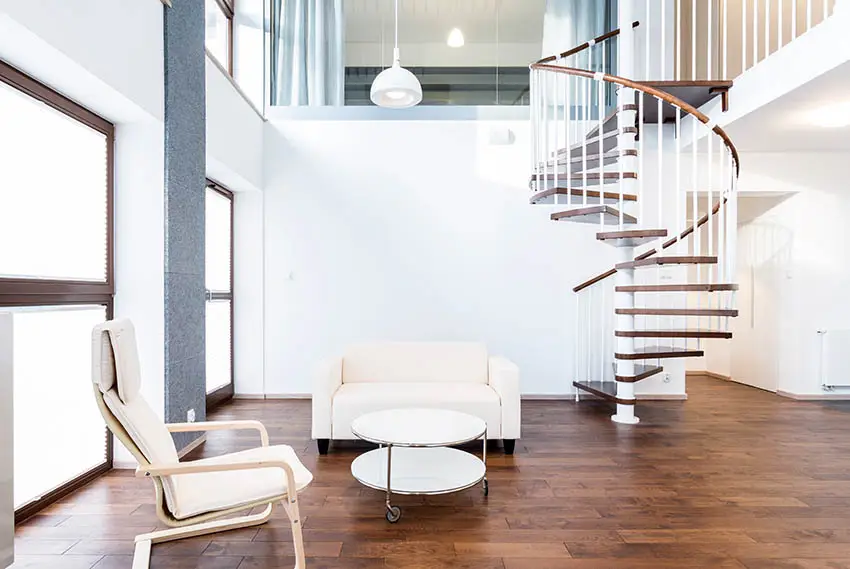 The best way to save space with a staircase is to install a spiral staircase. However, they must not be the only way to access a full level of the home, because they are not acceptable as a fire escape.
Stairs for Small Spaces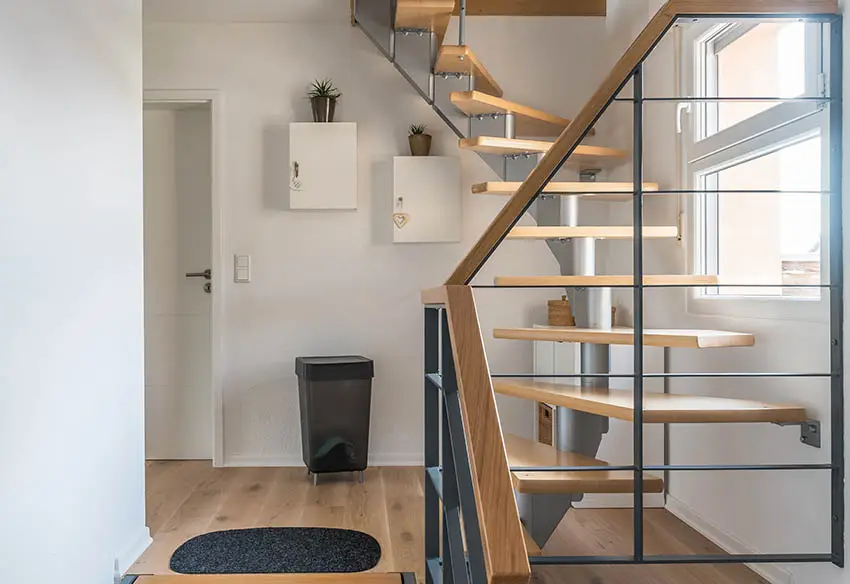 A spiral staircase is the most common solution when stairs are needed in a small space. They are usually easy to construct since the support radiates from a central beam. The downside of a spiral staircase is that it can only be used by one person at a time. They can also be difficult to navigate.
Fancy Staircase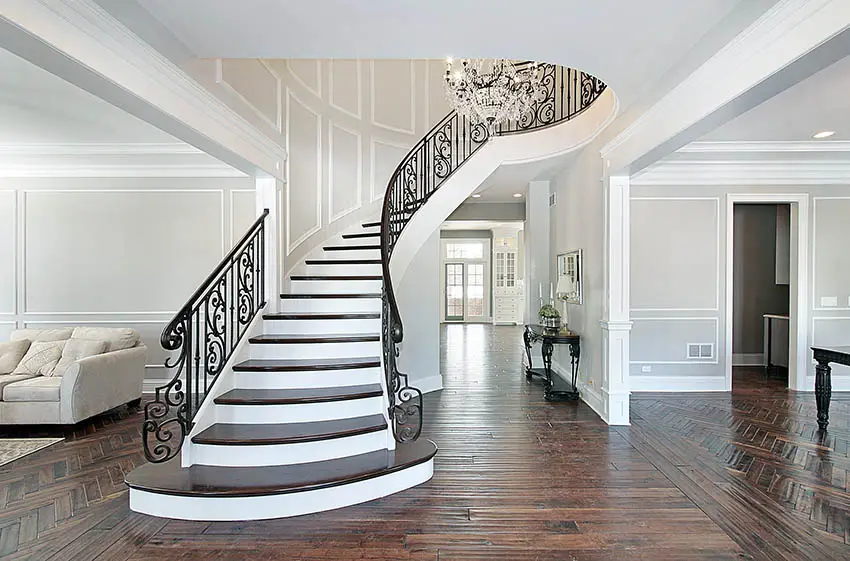 For that 'debutante ball' effect, something fancier than a straight staircase is called for. Imperial or split staircases definitely qualify as 'fancy', as do curved or helical staircases.
Stairs can be custom-built to curve gently or zig and zag around a room — consult with an imaginative architect for more ideas.
Small Staircase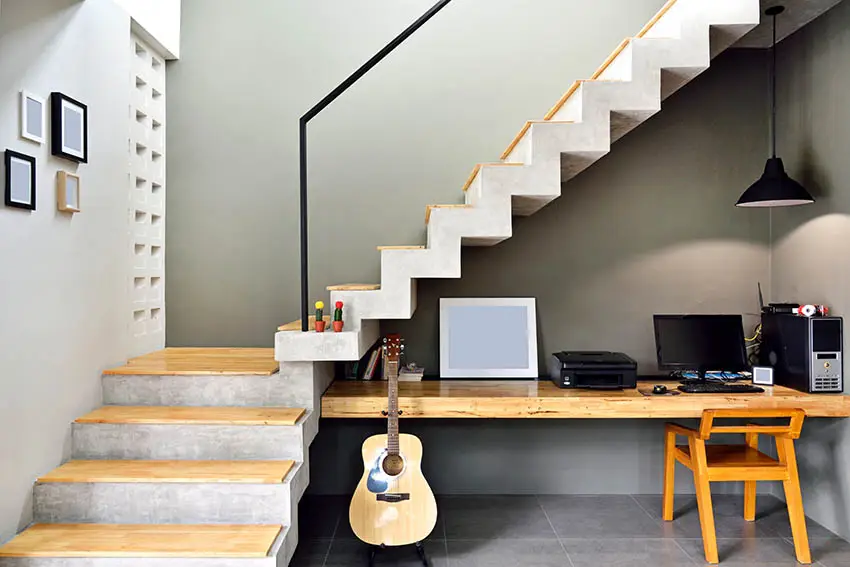 L-shaped or spiral stairs are the best choices if the size of the staircase is an issue.
Box Stairs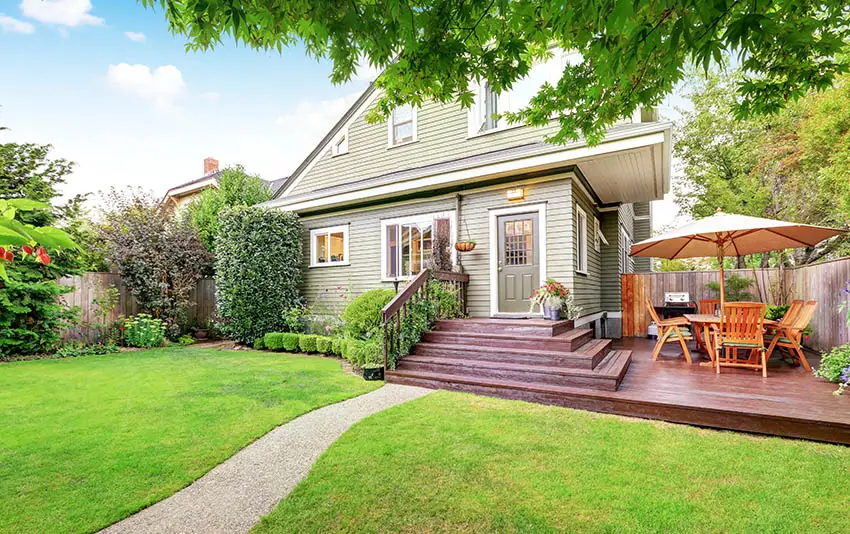 Box stairs are a great solution when you need three or fewer steps. To create these stairs, three boxes are stacked on top of each other, each box smaller than the one beneath it. They're very simple and stable.
Corner Stairs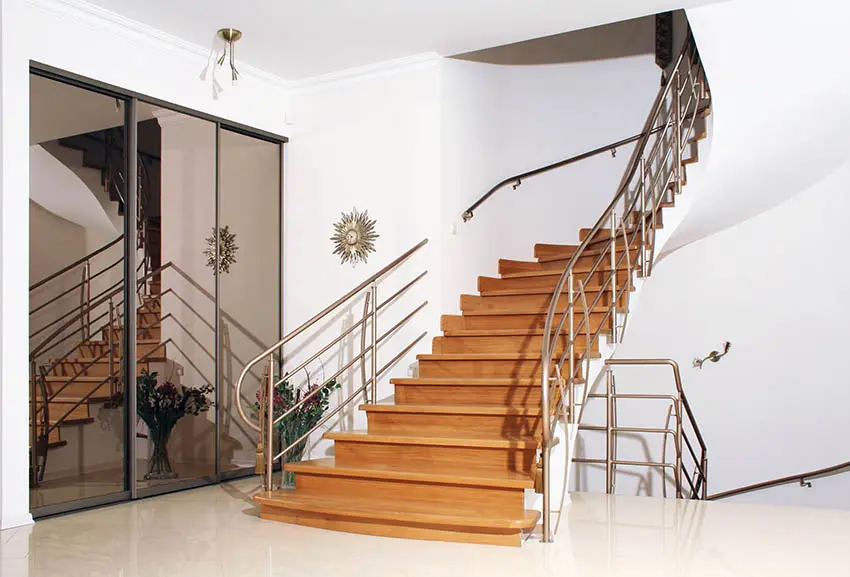 Also called 'winder' stairs, these are very similar to L-shaped stairs, but do not have a landing. Instead, the width and depth of the stairs accommodate the curve of the corner.
They do not provide a place to rest, and people with mobility challenges might find the turn of the stairs difficult to navigate.
Split Staircase
A split staircase is one of the most dramatic effects architects can achieve and includes at least three flights of stairs meeting at one landing.
One popular design is to have two flights of stairs at opposite ends of the room, which meet at a central landing and then continue as one flight of stairs. This style of staircase is also called 'imperial stairs'.
Cascading Staircase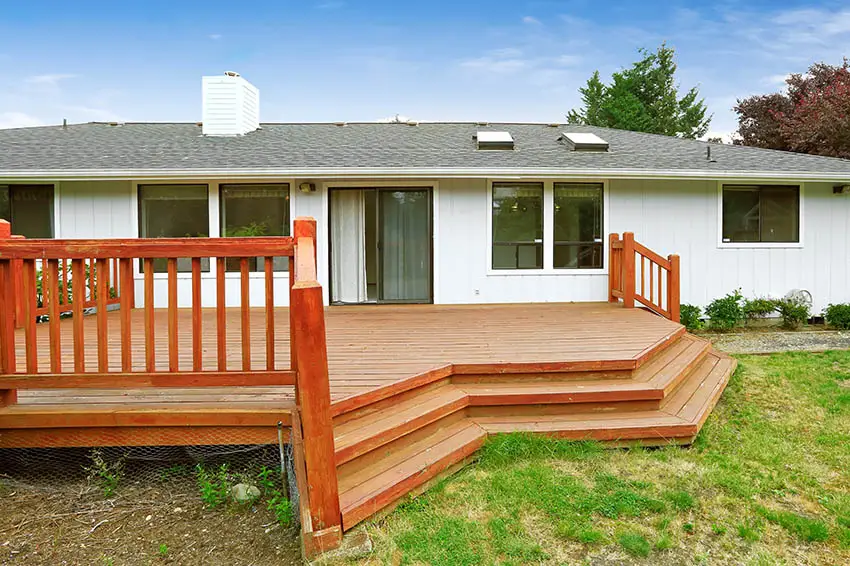 Most often seen outdoors, cascading staircases cover 270 degrees. The steps can be squared or rounded, surrounded by a fence with plants for added beauty. They are best used to allow easy and high-volume access from the corner of a large deck or patio.
Stairs without Railing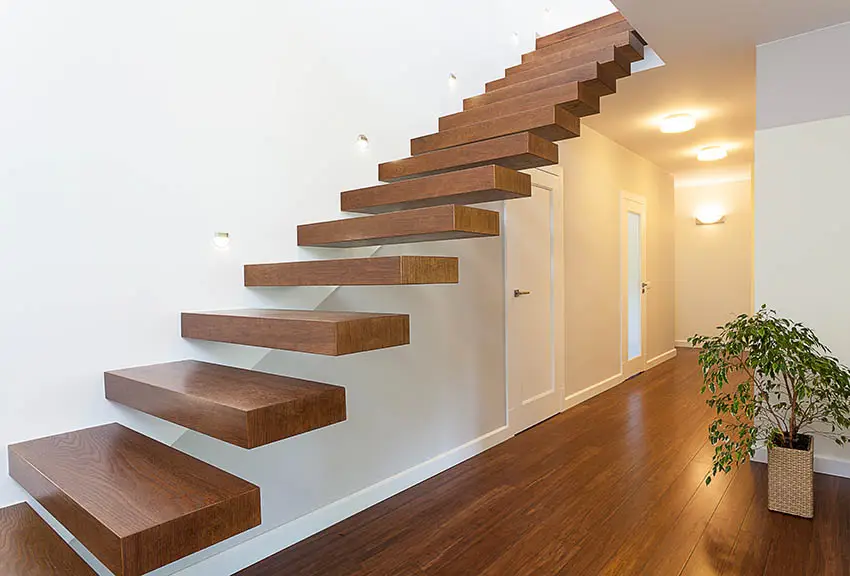 In most regions, staircases are required to have railings for safety purposes. However, some short flights of stairs do not require handrails.
This style is also referred to as ladder stairs, which can be quite steep and are often used to access loft spaces without a lot of room clearance. A typical set of stairs has a 30 to 50 degree angle, while ladder stairs can span from a 60 to 90 degree angle.
The benefit of stairs without railings is the feeling of openness that they provide. However, the risk of fall, injury, and potential liability looms large.
Suspended Staircase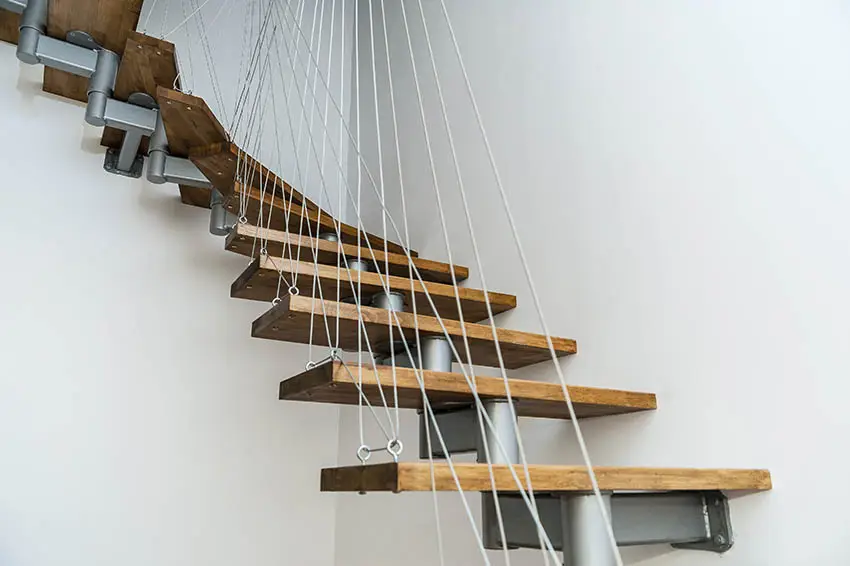 A suspended staircase is similar to a floating staircase in that the stairs do not attach to the floor. Instead, cables, balustrades, or other supports attach the treads to the ceiling. The other side of each tread is usually supported by a beam hidden behind the wall.
These eye-catching marvels aren't very common, so they are a great way to make a statement. However, they require expert design to be both beautiful and structurally sound.
Closed Staircase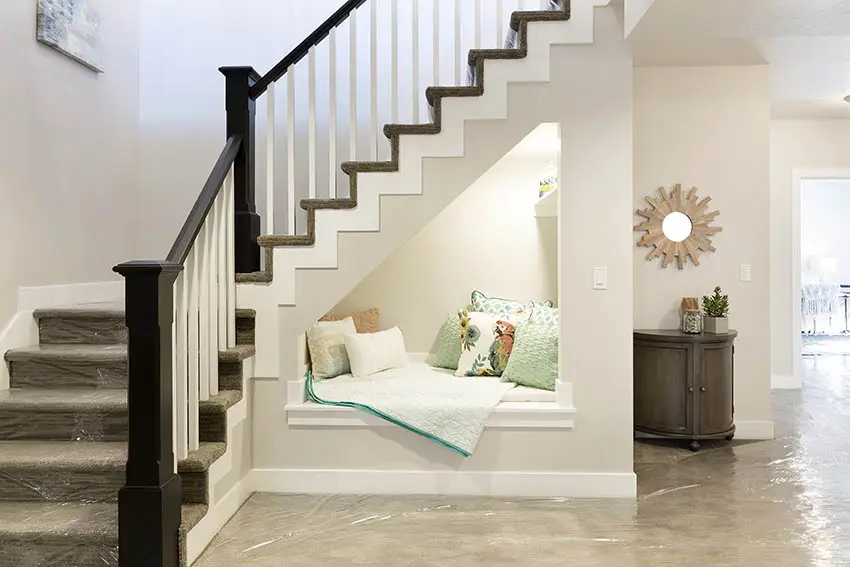 In a closed staircase, you cannot see behind or underneath the stairs. Sometimes they conceal a small bathroom or a closet.
This design is great for turning the under-stair space into something usable. See more under stairs ideas here.
Glass-walled Staircase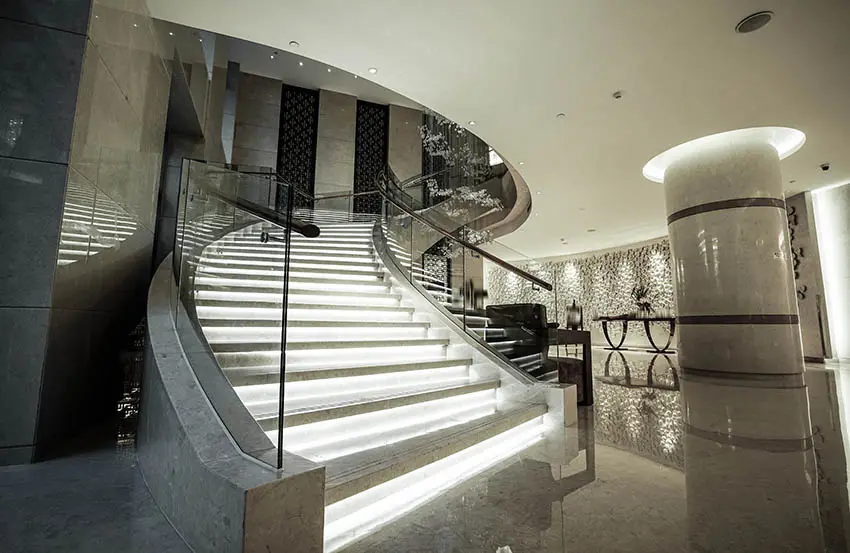 Instead of spindles or a balustrade, sheets of glass can be used to enclose the staircase. This is a very beautiful choice but is not recommended for homes with small children or pets, as sticky fingers and wet noses tend to spoil the clear glass effect.
Modern Stairs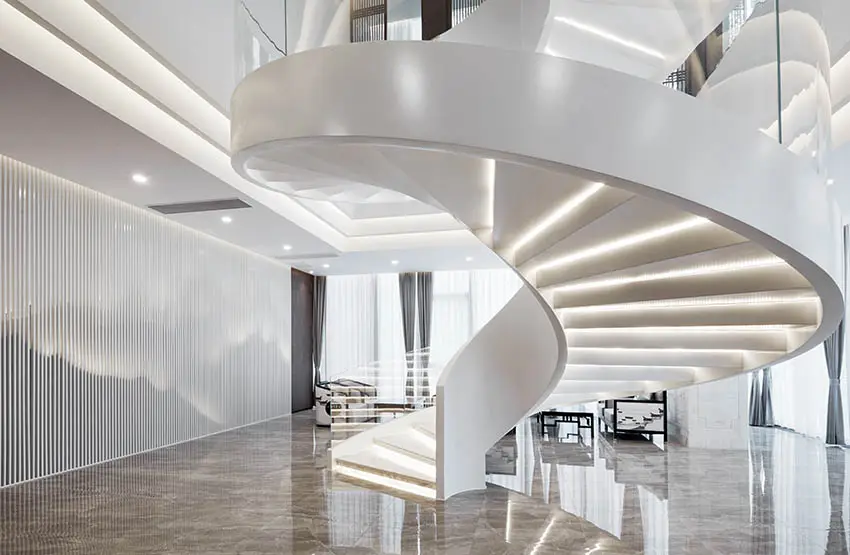 To modernize stairs, consider replacing the balustrade, spindles, and/or newel posts. You can also change the handrail to reflect more modern sensibilities without incurring high construction costs.
Wide Stairs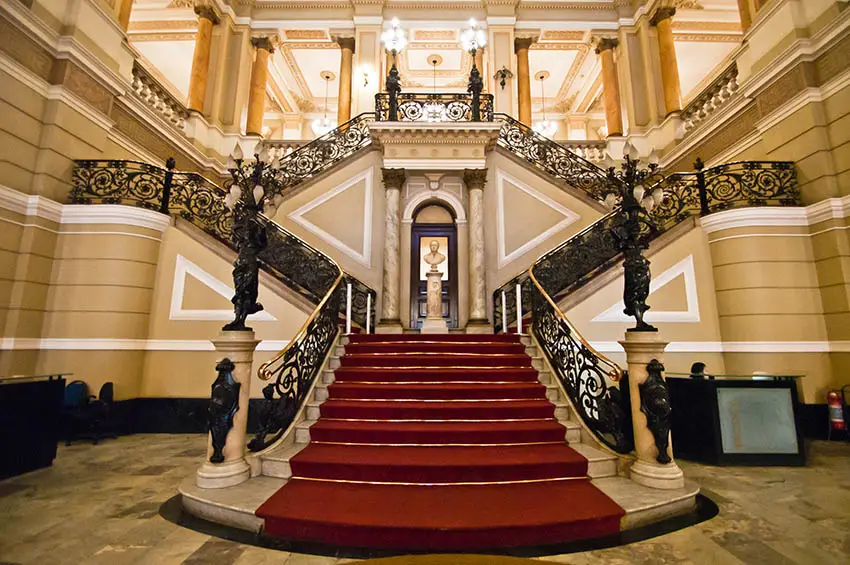 Wide stairs can be a lifesaver in homes with large families. In the morning when everyone is rushing to get ready to go, wide stairs avoid collisions and decrease the likelihood of falls by giving everyone in the household room to navigate safely.
A wide stair design is useful for places moving a lot of materials or bulky items to avoid damage to walls. They are also used for luxury homes to create a grand foyer entrance.
Ladder/Loft Stairs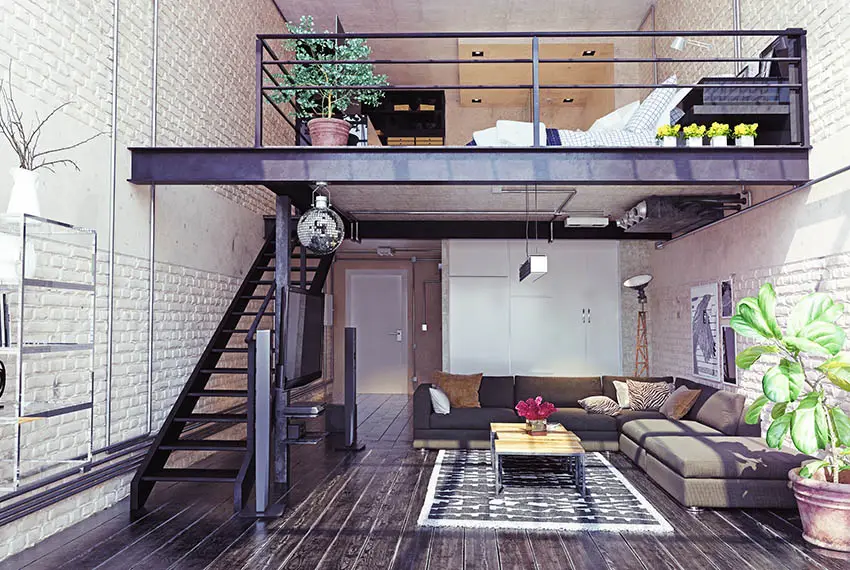 A loft staircase or ladder staircase is a cross between stairs and a ladder. They're usually much steeper than a traditional staircase. They have open risers, like a ladder, but instead of rungs, there are actual treads.
Unlike a ladder, they are permanently installed, and it is usually possible to climb them without using your hands for support. Local regulations dictate how steep the pitch of the stairs can be, so it is vital to gather all the necessary information and tips before installing your loft stairs.
What Are the Parts of a Staircase Called?
A staircase has three essential design and structural elements. The first is called the tread. The tread of the stair is where a person puts the sole of their foot when climbing or descending. The treads run parallel to the floor and ceiling.
The second element is called the riser. This is the vertical space between treads. An open riser is one that you can see through. A closed riser provides additional support to the staircase.
The third element in a staircase is the stringers. Stringers are sometimes also called 'carriages'. They are diagonal support boards that run the length of the staircase and provide additional support.
A newel is a large post that supports the staircase at key junctures, such as where it meets the floor, or at a landing. A decorative piece that sits atop the newel is called a 'newel cap'. Sometimes landings have a shorter or smaller post, which is called a 'half newel post'.
The handrail runs diagonally between two newel posts. While handrails can contribute to the structural integrity of the staircase, their primary purpose is to provide stability and safety for someone using the stairs.
Handrails are usually placed at a standard height, according to building codes. See stair railing ideas on this page. Ensuring the right materials are used for the handrails, treads, stringers and risers is crucial to the safety of the staircase. Proper care must be taken when installing each part to enhance the staircase's longevity.
The space between the handrail and the stringers can be left open, or can be supplemented by spindles. Spindles are small columns (can be round, carved, or square) that vertically connect the handrail with the tread or stringer. Spindles are also sometimes called balusters. A group of balusters is a balustrade.
Landings are larger, flat areas that provide staircase users an opportunity to rest. Their frequency and minimum size is also dictated by building codes. A 'landing return' is a landing that connects two pieces of staircase that run in different directions.
Stairs Q and A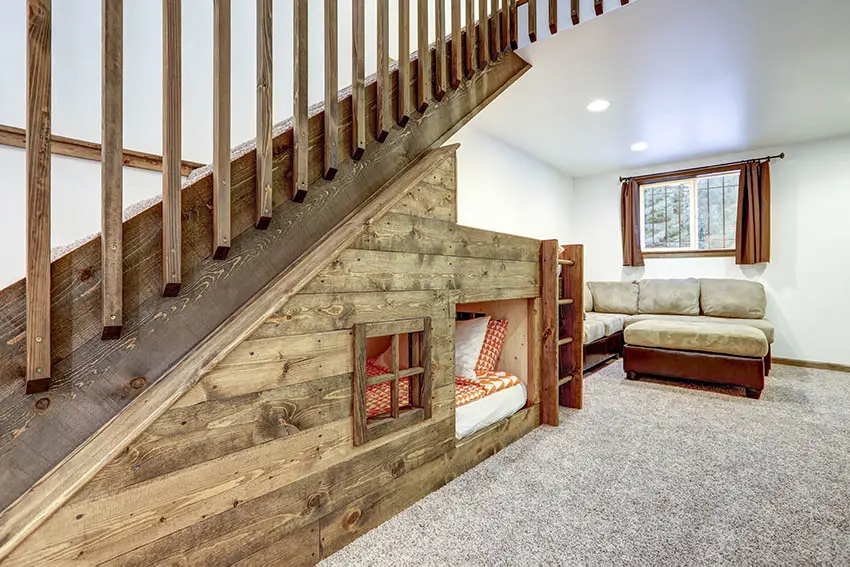 Here are some of the most commonly asked questions regarding the different types of stairs.
What is a Flight of Stairs?
A 'flight' of stairs refers to an uninterrupted series of steps. A landing is considered an 'interruption'.
What is the height and depth of a single step called?
'Rise' refers to the distance between the top of one tread and the next. In other words, the rise is how high you have to lift your leg in order to place your foot on the next tread.
'Run' is a technical term that refers to the depth of the tread — how much room is there for your foot?
Steps vs Stairs
We commonly say 'stairs' when they go from one floor of a building to another. If they connect two areas on the same floor, but at different levels, it would be usual to call them 'steps'.
The most common example of this is 'front steps', which connect the ground floor of a house to the literal ground.
How Many Stairs in a Floor
Building codes, both city, county, and even state, dictate how tall stairs can be depending on their installation location and purpose.
For example, fire stairs usually cannot have more than twelve stairs before reaching a landing. Private dwellings have the most leeway when it comes to the number of stairs per floor.
Best Type of Carpet for Stairs
Carpet is a good way to protect your stairs, as it is much cheaper and easier to replace than resurfacing or even rebuilding a staircase. The first quality to look for when you're shopping for stair carpeting is durability.
Because the carpet has to wrap around a three-dimensional shape, it is recommended that you choose a low-pile carpet. 'Pile' refers to the height of the fibers in the carpet. A low pile carpet is also easier to clean by vacuuming. You can read more about cleaning carpet on stairs on this page.