Here we share our guide to knobs or pulls on cabinets including the differences, cost, and mixing designs.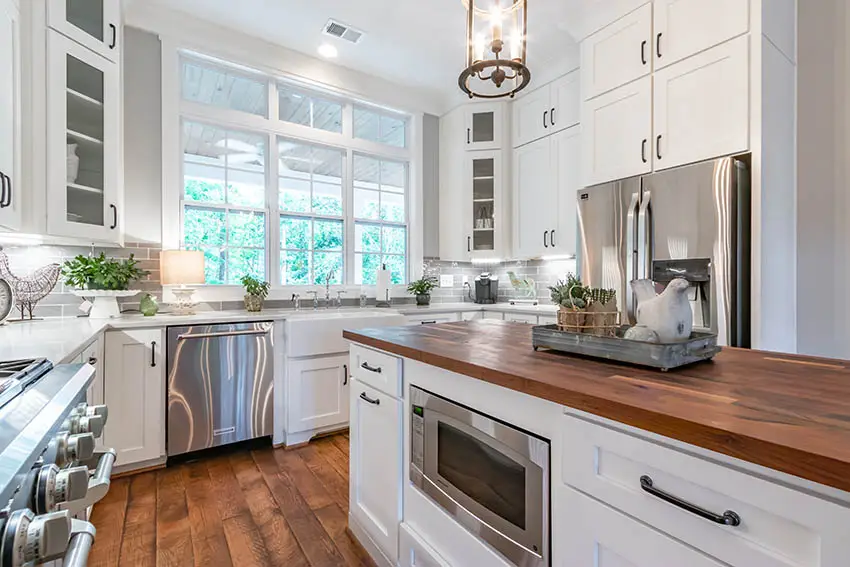 One of the easiest ways to give a kitchen a fresh look without spending a fortune is replacing the cabinet doors. For an even easier, cheaper updated kitchen, try swapping out your old hardware and trying something new.
'Hardware' is a catch-all term that refers to all the metal bits on a cabinet or drawer — sliders, hinges, knobs, and pulls. Here, we're going to focus on knobs and pulls — the hardware you use to open a drawer or the door of a cabinet.
Any home improvement store will have a large selection of knobs and pulls. For vintage knobs, thrift stores are a good bet. If you're looking for a statement piece, consider a site like Etsy, where you can get customized and one-of-a-kind designs.
Cabinet Knobs vs Pulls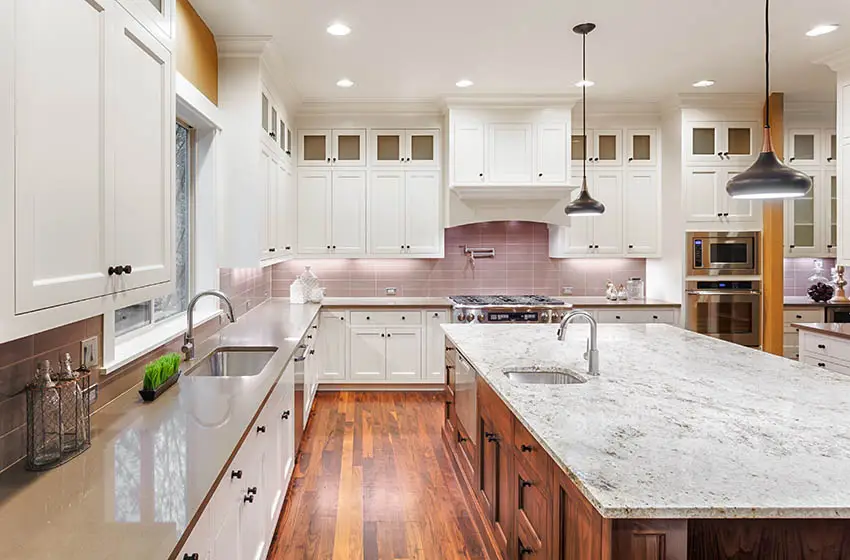 A knob refers to a single-screw mounted piece of cabinet hardware. A 'pull' looks more like a handle and is mounted with two screws.
Check your kitchen to see what's currently in place. If you're building a new kitchen or remodeling your old one, double-check the cabinet doors — they may have pre-drilled holes for attaching hardware.
One word of caution: drawer pulls come in a mind-boggling number of sizes. The size of a drawer pull is called the 'center-to-center' measurement. To find this number, you will need to remove a drawer pull (using a screwdriver) and precisely measure from the center of one screw hole to the other.
Be aware that some drawer pulls are measured in millimeters, while others are measured in inches. Bring the removed drawer pull with you when you go shopping for comparison.
If you fall in love with a pull that has a different center-to-center measurement than your current set up, you might be able to fill in the old holes with wood filler and drill new ones. This depends on the material of your cabinet and the size and placement of your new pulls.
Since the measurements have to be so exact and the screw holes must be perfectly straight, you should use a drill guide or hire a professional.
Consider installing one long pull handle on the upper rail if you have a large pull-out drawer. You can also use two drawer pulls on one drawer, but keep in mind that people tend to only use one hand to complete this task.
One of the easiest and least expensive ways to add sparkle to kitchen cabinets is to replace the hardware. – Nancy Berry, Architectural Hardware
Knob vs. Pull Costs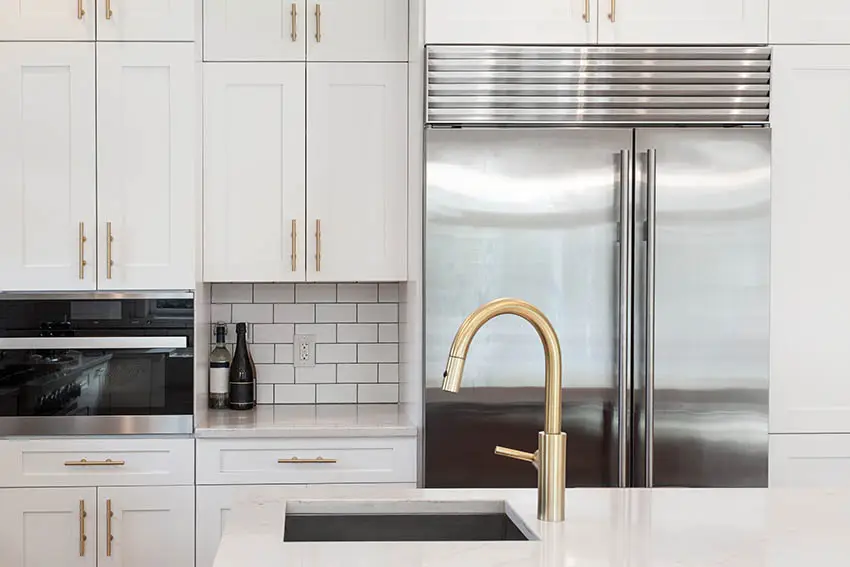 The cost of knobs and pulls can vary widely. At the low end, a basic, utilitarian knob or pull will cost around $2 each, while a custom-designed or specialty-material knob or pull could set you back up to $20 each.
A mid-sized kitchen (150 square feet) usually has about 30 cabinets and drawers. Thus, the materials to replace every knob and pull in a mid-sized kitchen would cost between $60 and $600.
You can have a handyman or other professional install the knobs and pulls for between $35-80/hr. Many contractors have a 2-hour minimum, and this isn't a big job, so you might wind up paying for more time than you use.
If you have other little jobs around the house that could use attention, this might be your chance to get things spruced up!
However, installing knobs and pulls yourself is one of the easiest home improvement jobs, so you may be able to save yourself labor costs by doing it yourself.
Should I Use Knobs or Pulls On Kitchen Cabinets?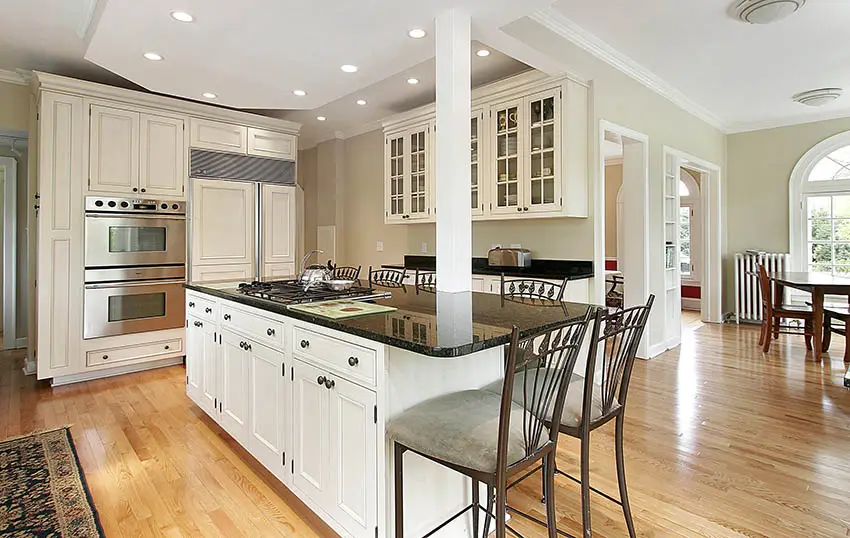 If making the cabinets accessible to folks with mobility challenges is important to you, you'll want to search for ADA-compliant pulls. Knobs are a less accessible choice.
Beyond those logistics, choosing knobs or pulls is a purely aesthetic decision. If you're finishing up new construction or a remodel, don't rush to make the decision about hardware — wait until you can visualize the finished product.
One thing to keep in mind as you're imagining your dream cabinets: pulls should be installed in the horizontal orientation if they are for use on drawers or pull-outs, and installed vertically on cabinet doors.
Where you mount knobs and pulls on doors depends on your personal preference. Some people like knobs and pulls to be centered on the door stile, others prefer them on the upper and lower corners of the door. – Udo Schmidt, Building Kitchen Cabinets
If you're replacing the kitchen cabinet hardware, there are already screw holes drilled into your cabinet doors at precise measurements. It's easiest to use the existing screw holes, replacing knobs with knobs and pulls with pulls. We have more ideas to update kitchen cabinets here.
Knobs or Pulls on Shaker Cabinets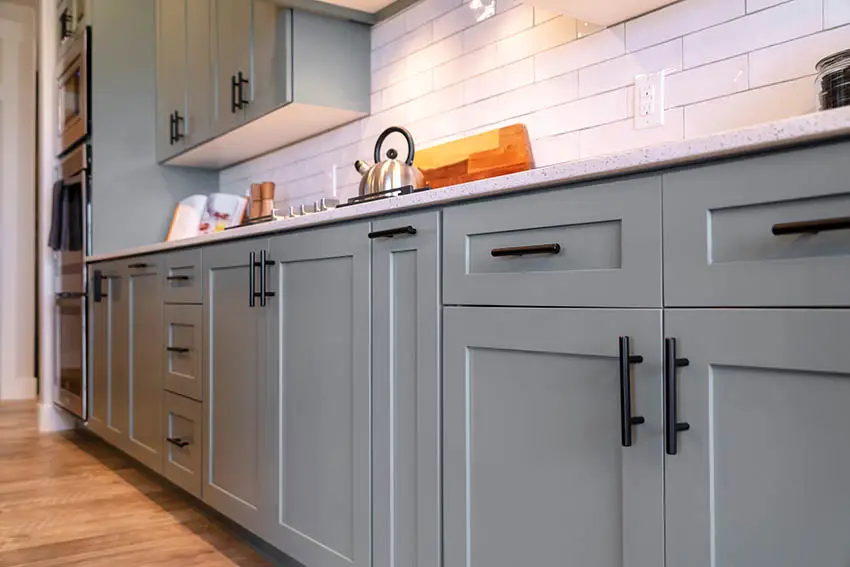 Shaker-style cabinet doors are simply but beautifully constructed. They are also called 'frame and panel' or 'rail and stile' cabinets. In this construction method, A flat inset panel is attached to a frame. The vertical sides of the frame are called 'stiles'. The horizontal sides of the frame are called 'rails'.
The traditional choice is to mount knobs in the center of the inset panel, but this style is so simple and understated, it can support almost any style of knob or pull.
If you have Shaker cabinets, experiment with different knob and pull placement before making a final decision. A few words of advice: mount drawer pulls in the center of the inset panels for a traditional look.
A Shaker cabinet pull can be mounted in the middle of the stile, as long as you can still reach it to open the door. Taller cabinets will need hardware mounted in one of the bottom corners, where the stile and rail meet. See more kitchen cabinet styles on this page.
Mixing Knobs and Pulls on Kitchen Cabinets?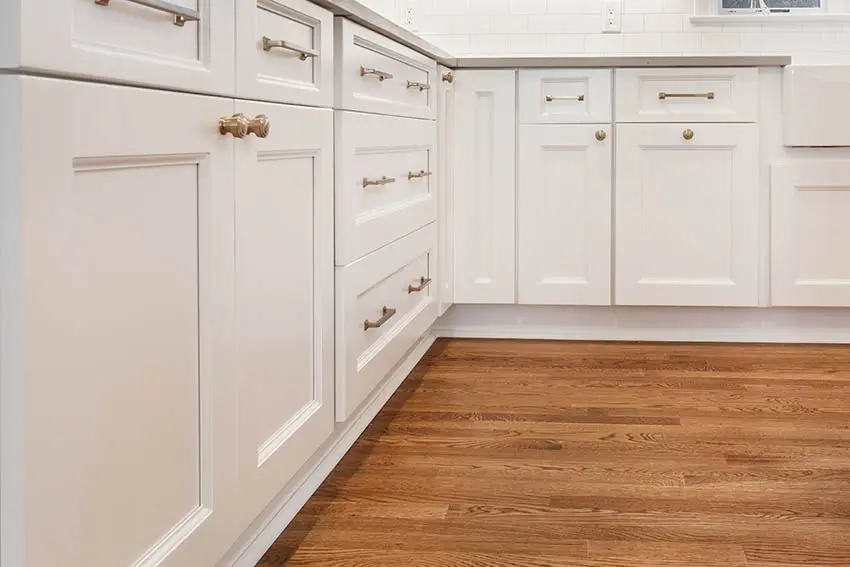 You don't have to choose between knobs or pulls! Since knobs pre-date pulls, an all-knob kitchen will have a cozier, vintage vibe. You'll get a sleeker, more contemporary look if you use all pulls. For something in the middle, go with a reliable standard: knobs for cabinets and pulls for drawers.
Don't mix and match within categories unless you're going for a truly eclectic look. In other words, all the knobs in your kitchen should match each other, as should all the pulls.
The set of knobs and the set of pulls don't have to be from the same catalog, but to keep the look cohesive, follow a few simple rules.
First, if your kitchen cabinets have soft, rounded edges and lines, look for knobs and pulls with a soft, rounded profile. If your cabinets have a flat, squared-off look, choose knobs and pulls with a square profile shape.
A common rule of thumb is to match the finish of the hardware to the finish of your faucet. You could also match it to the finish of other appliances in the kitchen.
You'll want to match both the material (copper, steel, etc.) and the treatment (brushed, polished, matte, etc.) to achieve that pulled-together, coordinated look.
If you want to create the look of different hardware for your own kitchen plan you can use a kitchen cabinet design software program. Many of these will enable you to try out different types of cabinet hardware to see which configuration and finishes you like best before purchasing and installing anything.