Here we showcase square tile backsplash including different kitchen designs, types, materials, features, sizes, how much they cost, and installation of square tiles.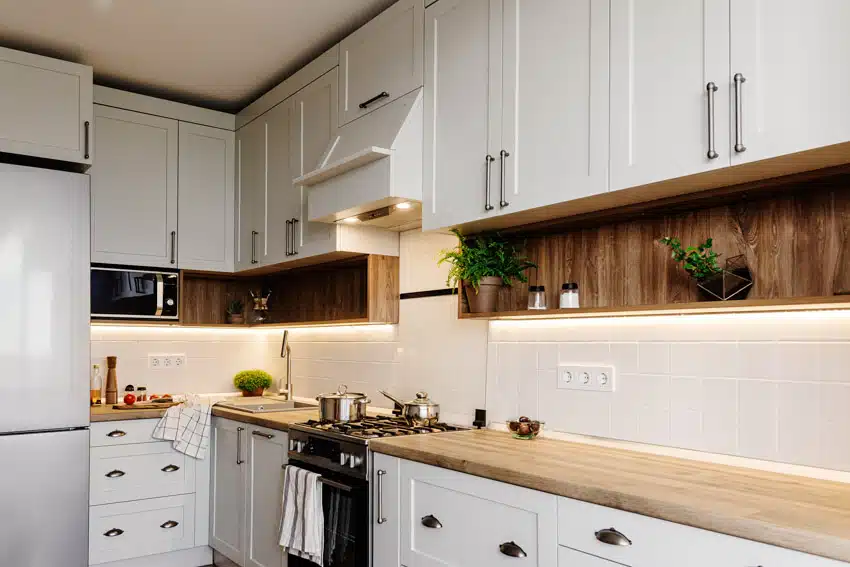 Tiling can be a bit overwhelming, not just in terms of the laborious work it requires but also in choosing the materials to use for your backsplash. Square tiles are one of the popular tiling materials to be used because of the easy predictability of using them and the endless options you get with them.
Square tiles backsplash offers your kitchen texture, as well as movement (when you use glazed tiles). But the best thing about square tiles is the endless patterns and designs you have in store for your kitchen backsplash.
They can come in different shades, colors, and textures too so you have many choices to explore, from the trendy geometric patterns to the classic subway tiles.
Types Of Square Backsplash Tile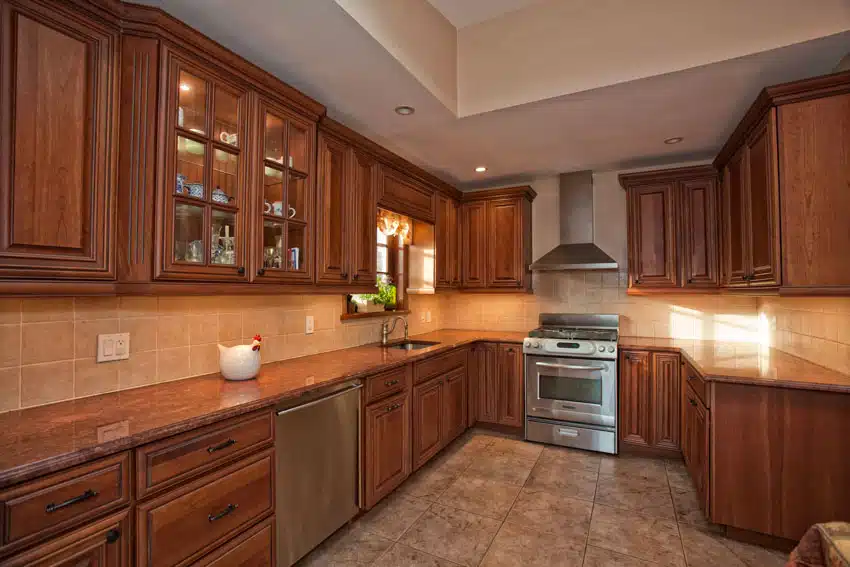 Square backsplash tile comes in different types based on the materials they are made of and even the styles that they follow. When it comes to materials, the most common ones for square backsplash tiles are ceramic and porcelain tiles but they can also come with stone tiles, metal tiles, glass tiles, and cement tiles.
Whether you're working on a complicated and unique design or you choose to lay the tiles simply as they are for your backsplash, you need to choose the type of square backsplash you always want to look at and can deliver what you're envisioning for it.
Installing tiles for backsplash can be more difficult compared to when using them for flooring because of gravity. So make sure you are dealing with the tiles you can handle well.
Square Ceramic Tile Backsplash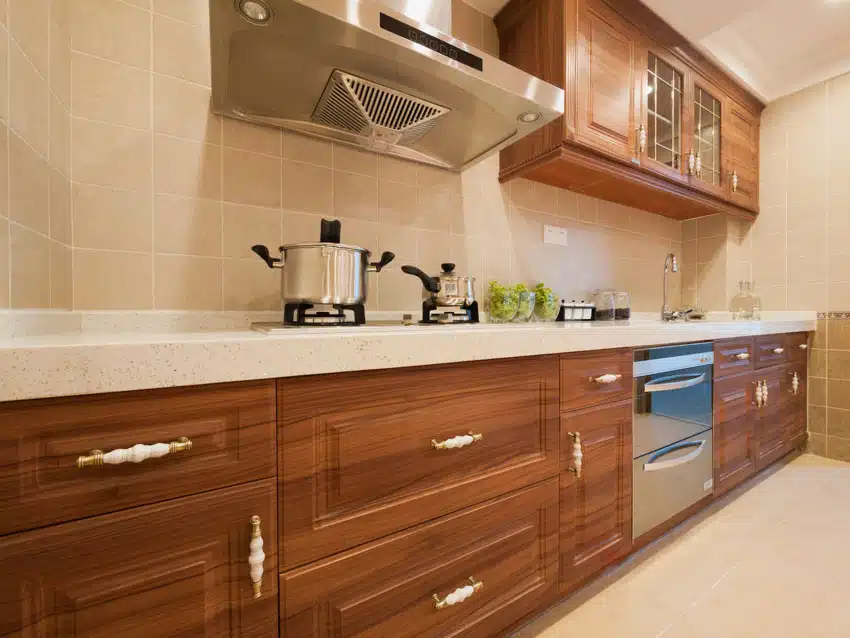 Considered to be the most common type of tile, ceramic tile can be found in square shape and is also suitable for many applications. The material is incredibly durable and can resist daily wear and tear even when used in a common area with high foot traffic.
Another benefit of ceramic square tiles is that besides hundreds of styles compatible with many designs, they are also easy to install and clean. And finally, these square tiles are also affordable so you won't have to worry about working on a budget.
One thing you need to make sure though is that you know the difference between glazed and unglazed tiles so that you know what you're dealing with.
Square Subway Tile Backsplash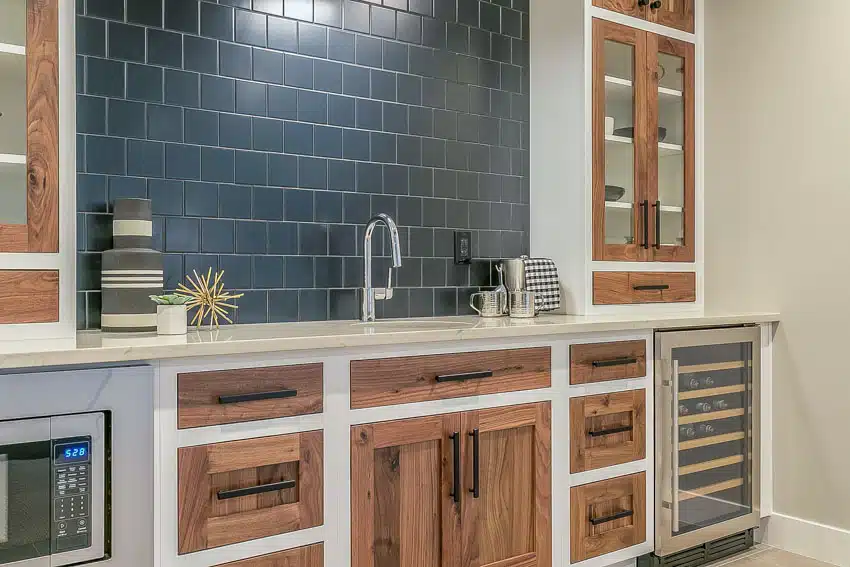 While traditional rectangular Subway style is a classic and trendy pattern, you can easily use square tiles to create a similar style design for your kitchen backsplash. The style offers a classic look for your kitchen.
Despite rectangular tiles and bricks being the standard material for it because of the 1:2 aspect ratio from height to width, you can also go for square tiles, especially with how flexible they are.
The square subway tile kitchen backsplash looks more uniform and even on all sides. Because of this difference in look though, some may refer to the style and confuse it with mosaic tiles.
But the good thing about this style is you have the freedom to choose the type of materials for the tiles, whether it is stainless steel tiles or even glass tiles.
White Square Backsplash Tile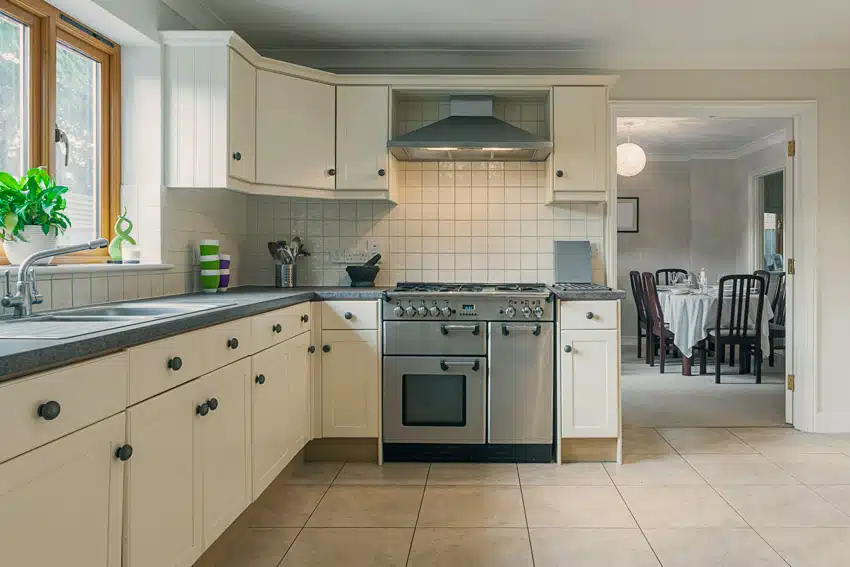 White is a classic color option for many areas in the home, especially the kitchen where cleanliness and hygiene are valued. This is the reason why having a white square tile backsplash is not that surprising and is even a favorite among homeowners.
White square backsplash tile offers a clean look that will also be a great background where you can match different elements of your kitchen.
Whether it's with gray and black countertops, stainless steel dishwasher, displayed wooden kitchen utensils, or floating white cabinets with black knobs on them, this design works well in most spaces. These kitchen elements will stand out stunningly over your white backsplash.
Small Square Tile Backsplash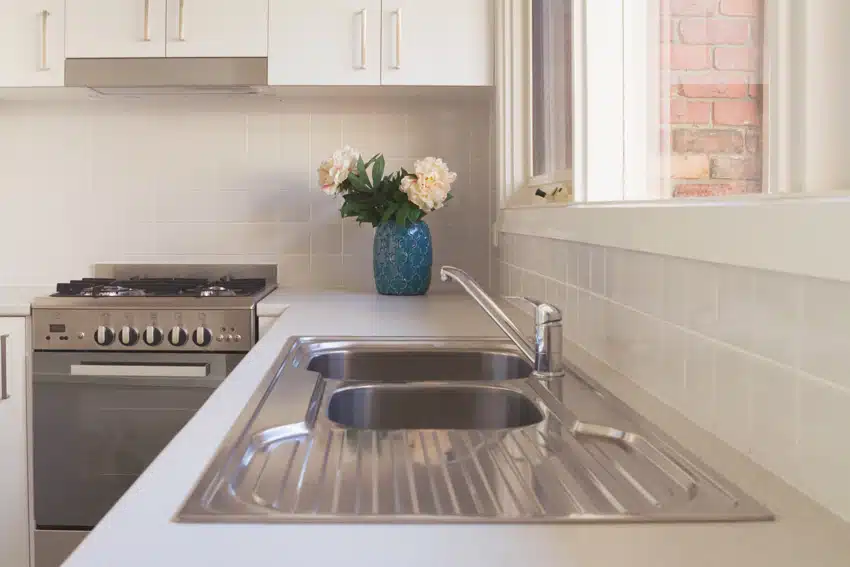 Choosing a small square tile backsplash means that you are going for tiles that measure less than 2 inches in size.
While providing you with incredible freedom to create patterns and unique designs like how lego block works, this choice comes with the understanding that the job will be laborious at best.
When it comes to aesthetics though, make sure that your kitchen does not have much movement since small square tiles for your backsplash will pretty much offer a lot of texture. Installing it in a kitchen that provides more layers too can lead the space look too busy and cluttered.
Square Mosaic Tile Backsplash
Mosaic style is a classic and bold choice to consider, not just because of the hard work it requires but also because of the many possibilities when considering a design.
It is commonly used for both bathroom and kitchen backsplashes though and uses ceramic, porcelain, glass, and metal tiles.
A 1-inch square mosaic tile kitchen backsplash is one of the most common options considered by homeowners (which involves using 1×1 inch square tiles), followed by the 2-inch square mosaic tile backsplash (using 2×2 inch square tiles).
The smaller the square tiles are, the better flexibility and versatility you have in creating your patterns and designs.
Textured Square Tile Backsplash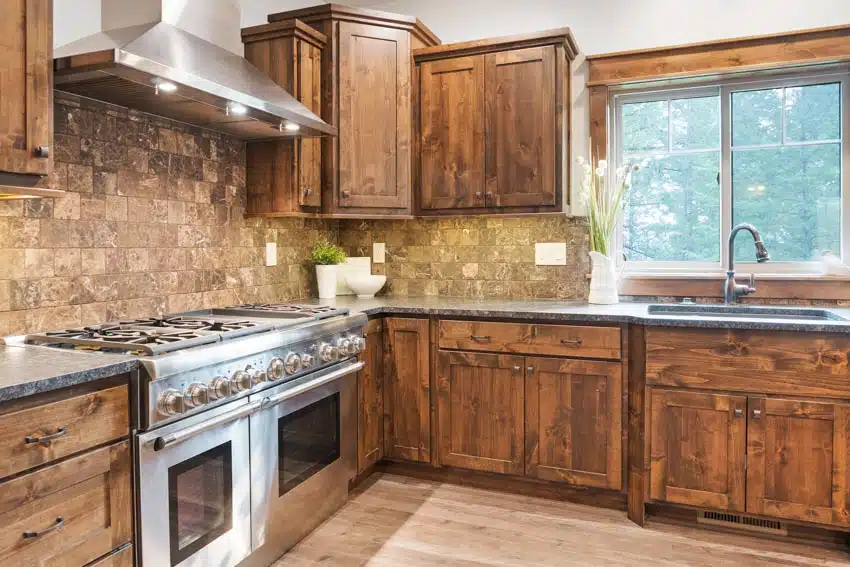 Square tiles can provide a textured surface that you can consider for your backsplash (and would be great for the flooring too if you want more friction and help avoid slipping on it).
There is a wide selection of types of textured tiles to consider, adding dimension to either your bathroom or kitchen.
While square tiles add enough texture to the mix, there are pre-made tiles that offer texture themselves. A textured square tile backsplash will work excellently with a sleek countertop and balance each other in terms of layers so make sure you look into it.
Square Tile Diamond Pattern Backsplash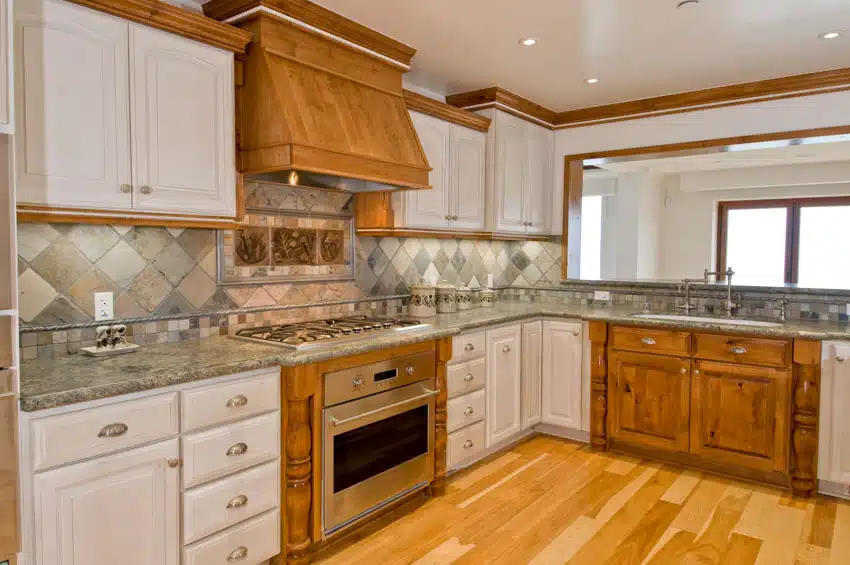 Square tiles can be positioned differently in order to form a diamond shape rather than the standard square one. If you're going for something unique, a square tile diamond pattern backsplash may be a great choice for your home.
The diamond pattern backsplash easily adds a spark to the room and creates visual interest in your kitchen or bathroom. It is also a good option if you have a smaller space to work on since the pattern offers an optical illusion that the room is more expansive.
The downside in choosing square tile diamond pattern backsplash though is that you have to make sure that the tiles are all perfectly lined up so that the tiles will be positioned correctly as a diamond instead of a square. This can be quite an endeavor, especially if you're dealing with small tiles.
Square Tile Backsplash Size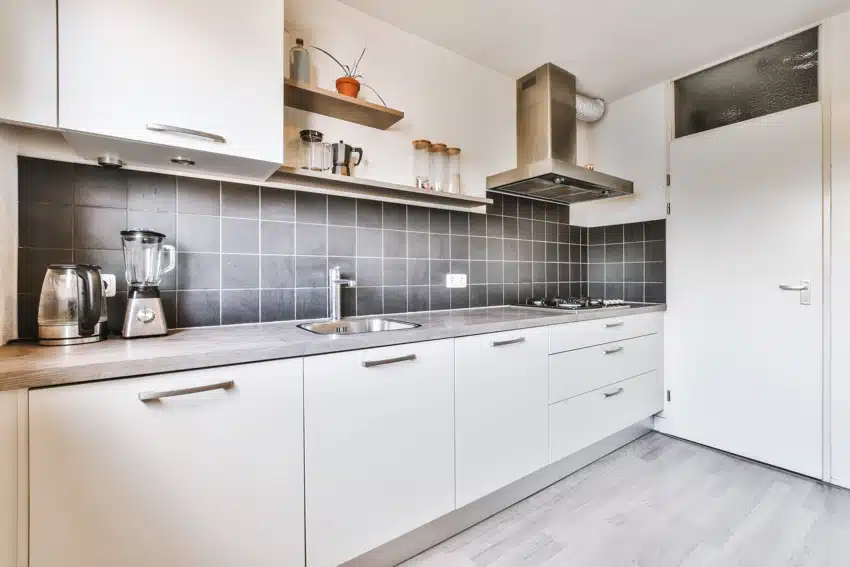 Many homeowners and designers are fond of square tiles because of the contemporary versatility that the material offers. And more than just the patterns and designs you can consider for a square tile backsplash, you also have to make a choice about what specific size to use.
Square tiles are widely varied in terms of sizes from the smallest ones to very large square tile blocks. There are standard sizes but many manufacturers produce non-standard ones.
The most common sizes though are the following:
Small Square Tiles: Also known as mosaic tiles, small square tiles measure less than 2 inches small. The popular sizes under this group are ¼ x ¼, ½ x ½, 1×1, and 2×2 inches.
The advantage of using small square tiles is the easier possibility of creating designs from the squares but the installation can be laborious and if you choose to DIY your backsplash, you will need to allot some time to do it.
Medium Square Tiles: Medium-sized square tiles are the common favorite for DIYers and it's a good starting place to start for beginners. The most common sizes under this size group are 3×3, 4×4, and 5×5 inches.
They are easy to install but you won't have to carry heavy materials at the same time. They are also easy to maintain since you can replace the tiles in case of some stains or chips on the tiles.
Large Square Tiles: If you choose large square tiles, this means you're going for tiles that measure above 6 inches. The common sizes under this group are 6×6, 8×8, 12×12, 16×16, and 24×24. The choice for this size comes with the fact that large square tiles can make a room look larger and more expansive.
Installing large square tiles can be challenging though since a room can look off once they are placed incorrectly. They are also heavy to handle and so either you might need a hand in installing it or you can just rely on experts to do it for you.
4 inch Square Tile Backsplash: 4-inch square tiles are considered medium-sized square tiles and a standard size that you might want to consider if you're DIYing your kitchen backsplash. This size of the tile is an excellent middle ground, especially if you want to create a unique pattern for the kitchen backsplash.
You won't have to work so hard in installing it compared to when you use large tiles. And this standard size also offers a more even look for a space, whether you're dealing with a small kitchen or a big one.
Tile Backsplash Cost Per Square Foot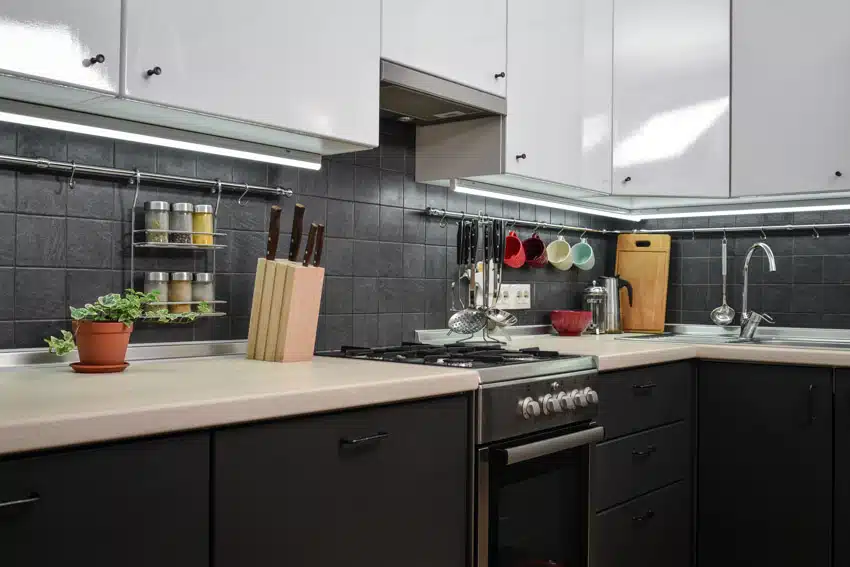 When building your square tile backsplash, you will have to take into account the cost that comes with it. There are many factors that can affect the cost of the backsplash project and some of which include the following:
• Type of tiles: You need to make a decision whether you will choose expensive authentic stone tiles, like those used in a ceramic and porcelain backsplash, or affordable vinyl ones. You can even choose stainless steel tiles if you want them.
• Size of tiles: Large tiles cover more area than smaller tiles but they are more expensive to consider and can be difficult to install.
• Backsplash size: The bigger the size of the backsplash to work on, the more expensive it is since there are more supplies to purchase and areas to work on.
• The complexity of the design: More complex designs are more expensive to work on, especially if you're hiring pros to do the job for you.
• Installation: Hiring professionals will cost you money but doing the project yourself will demand time and effort from you so you need to choose what you're willing to give up.
To give you a guide on the materials and supplies you might need to pay for, here are some you might need and their corresponding costs.
| | |
| --- | --- |
| Materials/Supplies for Backsplash | Cost |
| Ceramic Tiles | $3.25 to $7.50 per square foot |
| Porcelain Tiles | $5.95 to $10.15 per square foot |
| Mold-resistant Drywall (32 square feet each) | $10 to $12.50 per 4×8 sheet |
| Thinset Tile Mortar (50 lb bag) | $15 to $22 per bag |
| Accessories (Drywall screws, caulk, tile space, etc.) | $2 to $3.25 per square foot |
| Miscellaneous Safety Gear & Hand Tools | $50 to $150 |
| Drill & Mixing Paddle for Thinset Mortar & Grout (Can be rented) | Over $55 |
| Powered Tile Saw with Tile Blade (Saw can be rented but not the blade) | Over $185 |
Tile Backsplash Installation And Labor Cost Per Square Foot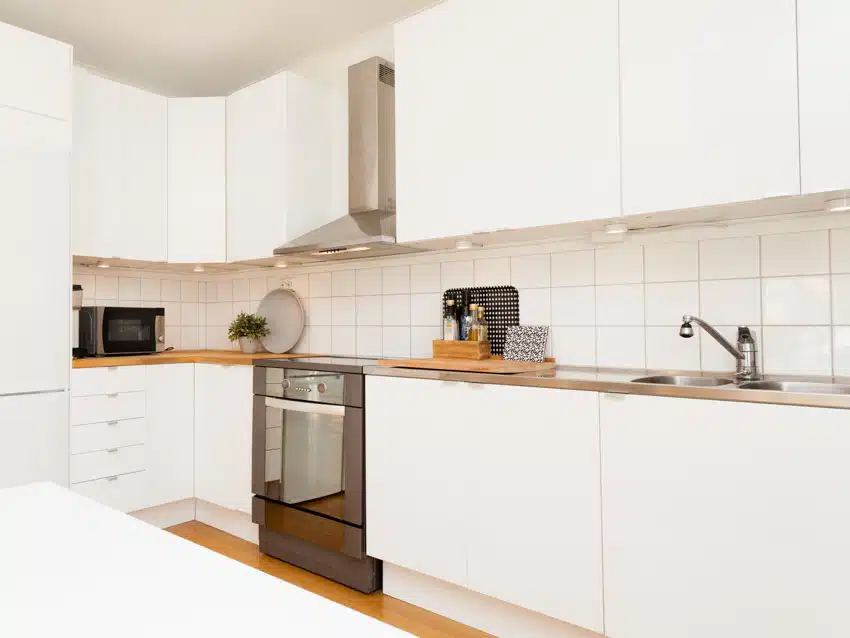 If you choose to get the help of professionals for the installation of your square tile backsplash, you will need to pay for their labor and other services that might be needed along the way (which is what you can save once you decide to DIY the entire thing).
Some of the services you have to pay for and their respective costs include the following:
| | |
| --- | --- |
| Services Needed for Square Tile Backsplash | Costs |
| Backsplash tile installation | $8.75 to $20 per square foot |
| Old backsplash removal | $3 to $5 per square foot |
| Drywall replacement or repair | $1 to $2.25 per square foot |
| Artistic work (Like mosaic & other designs) | $30 per hour |
How To Calculate Square Feet For Tile Backsplash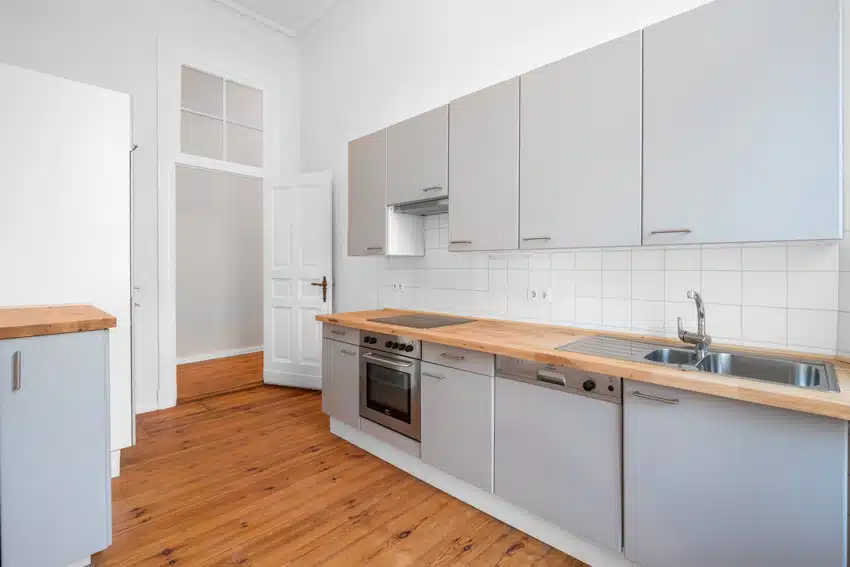 In working with your square tile backsplash, one of the tasks you will have to work on is calculating the size of your backsplash. You will need some materials for this task, including a measuring tape, pencil or pen, paper, and a calculator just to make sure you get the measurements right.
Whether you will entrust this project to the professionals or work on it yourself, you will need to know how big the backsplash is to work on. To help you with this task, here are simple steps to follow as a start:
1. Get the total area of your backsplash: Grab your measure tape and measure the width and height of your backsplash in square inches. Write the measurements down so that you won't lose or forget them.
2. Calculate the square inches: Get your calculator and multiply the height by the width to get a final number on the area.
3. Get the total square foot of the backsplash: Since tiles are sold by the square foot, you need to divide the total square inches by 144.
See more related content in our article about different types of kitchen backsplash on this page.