Here's our rug size for nursery guide including dimensions for different room sizes, how to choose a rug size, sizing chart, and how to place a rug in a nursery.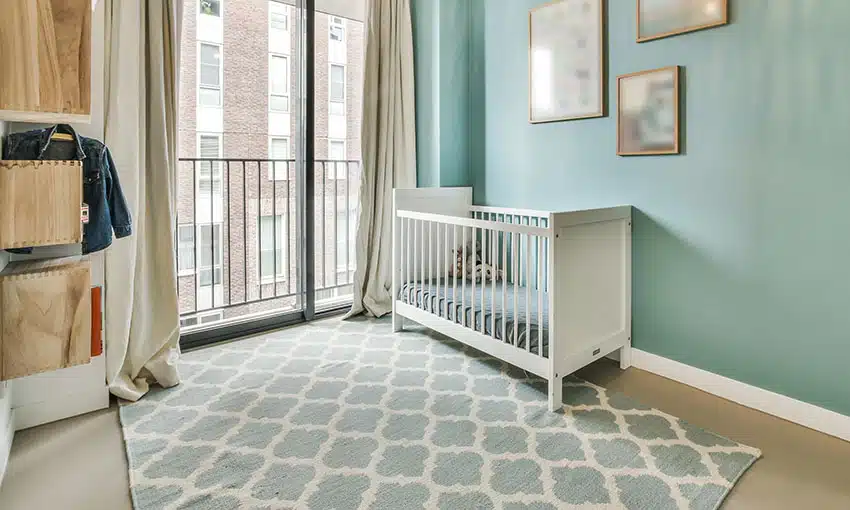 A nursery is integral to homes expecting a bun in the oven, and there are many ways to decorate. But one thing could tie the whole look of a nursery together: a rug.
There are different room sizes for nurseries, but the most common is the smaller rooms where only the crib is the focal area accented by a small sitting space with a changing table.
An easy thing to add personality to this room is a rug. There are a lot of rugs that will fit every size of nursery, and the best thing to figure out what will work is to knowing the size of the bedroom itself.
What Size Rug For Nursery?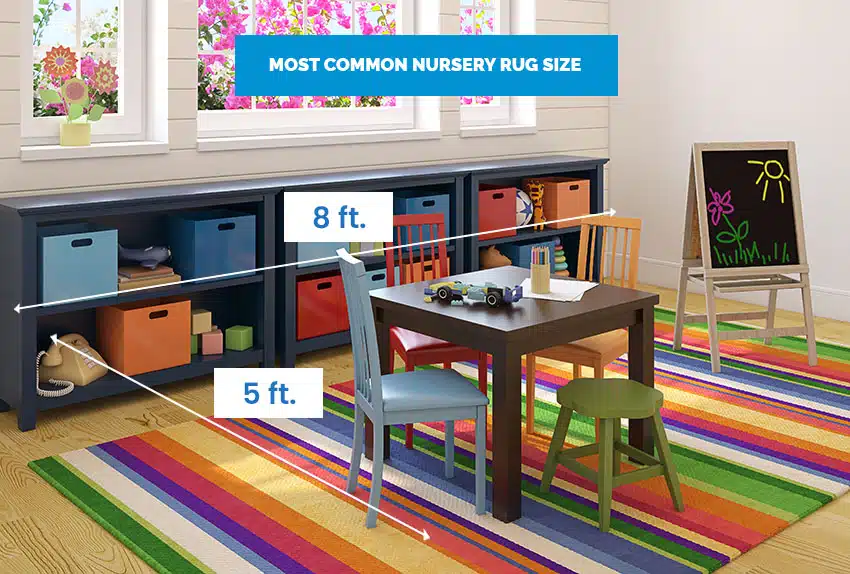 Making sure that any homeowner will get the perfect rug size is essential because going small will make the space seem smaller while going big will overwhelm the space and make it look cramped.
One of the most common rug sizes utilized for nurseries has a length of 8 feet or about 96 inches and a rug width from side to side of around 5 feet or 60 inches. Although this is the most common size, for larger nurseries, this will be too small.
To be extra safe, getting a rug pad almost the same size as the rug is the most efficient thing to do. For carpeted nurseries, adding smaller rugs will add dimensions to the space.
What Size Rug For 10×10 Nursery?
A great rule of thumb for choosing a rug for a nursery is to choose one big enough so that the entire carpet is big enough that furniture around it can sit on the mat. If this is not possible, allow at least half of the depth of each piece of furniture to overlap with the carpet. This is the same guideline for every room that each homeowner can take into account.
The best carpet size for a room around 10 by 10 feet in size is 6 by 9 feet or 72 by 108 inches, whether rectangular or oval-shaped. In contrast, the best circular rug to be used for this space size is 7 to 8 feet or 84 by 96 inches in diameter.
What Size Rug For 10×12 Nursery?
Another standard size for nurseries is the 12 by 10 square feet rooms, and the perfect rug for this space will vary with what the homeowners are looking to achieve with the area.
The perfect rug for this space is a rug 8 by 10 feet. It will be 8 feet in width or 96 inches with a length of 10 feet or 120 inches. This rug size will balance the room out and connect almost all pieces of furniture inside the nursery.
Another excellent option for this room size is layered rugs, and combining a 4 by 6 feet or 48 by 72 inches or a 5 by 7 feet or about 60 by 84 inches will achieve that look.
What Size Rug For 11×11 Nursery?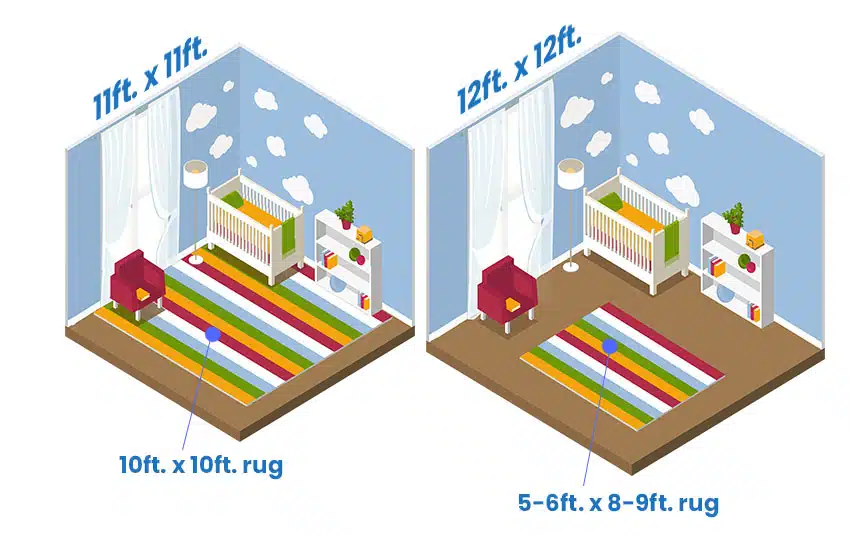 Although there is no set nursery rug for an 11 by 11 square feet room, the best option to get a rug for this space is by following a standard rule for regular mats. That is making sure there is at least a foot border on all sides of the room. This will ensure that all furniture in the room will have all or half of it over the rug.
So, for a room 11 by 11 square feet, subtract around a foot or two from the room size, and you get the perfect rug at around 10 by 10 or 9 by 9 feet.
What Size Rug For 12×12 Nursery?
A 12 by 12 square feet nursery is a perfectly square space meaning that it will be easy to figure out what best rug size will work with the room. It can be symmetrical by choosing a square or circular rug, or it can be layered by opting for different size rugs.
For accent rugs, rugs with a width from side to side of 5 to 6 feet or 60 to 72 inches and a length of 8 to 9 feet or 96 to 108 inches are best. At the same time, square or circular rugs with a size of 9 to 10 feet will also go great.
Nursery Rug Size Guide
Here is a cheat sheet for every standard nursery size and the ideal rug that will go with them.
| | |
| --- | --- |
| Rome Size | Ideal Rug Size for Nursery Size (in feet) |
| 8 by 10 square feet | 5 by 8, 6 by 9, and 7 by 9 square feet |
| 10 by 10 square feet | 6 by 9 for rectangular and oval; 7 by 7 to 8 by 8 square diameter |
| 10 by 11 square feet | 6 by 9 and 8 by 10 square feet |
| 12 by 10 square feet | 8 by 10 feet |
How To Choose Rug Size For A Nursery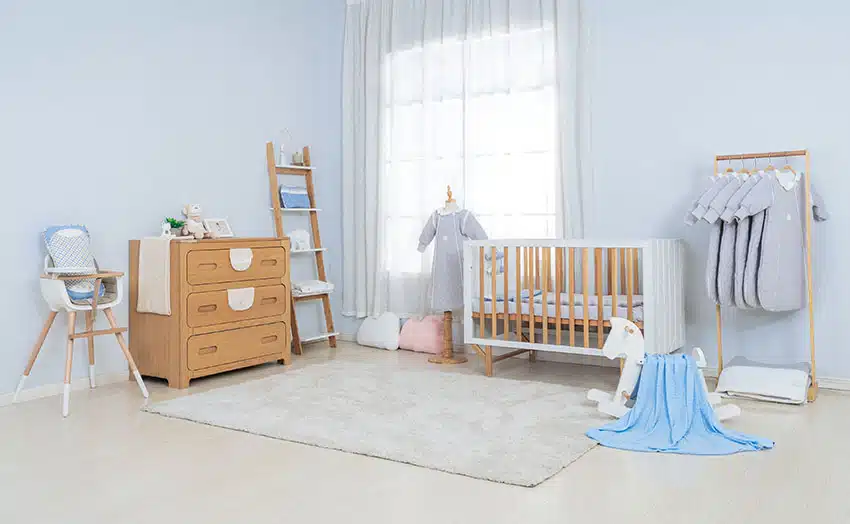 Many things need to be considered before buying a nursery rug. Still, the most integral rule is making sure that it is large enough to ensure that the more oversized furniture, like the crib or the nursing chair, anchors with the chosen rug. These few overhang inches will ensure that everything is tied together.
If a homeowner wants to utilize a smaller rug that is not proportionate to the room size, it is best to highlight one piece of furniture for example putting the rug under the nursing chair or in the middle of the room under the crib.
How To Place A Rug In A Nursery
To make the room look cohesive and also for it to be easier to clean, placing a rug in a nursery will follow the living room rule of making sure that the carpet is large enough that part of the more oversized furniture, like the front legs of the crib or wardrobe, is over the rug.
This is also useful because if the children grow older into toddlers, they can use the rug as a little play area.
Visit our bedroom rug placement guide for more related content.