Here's our gallery of Carrara marble countertops featuring different types, finishes, pros & cons, cost, care tips, and Carrara marble kitchen countertop design ideas.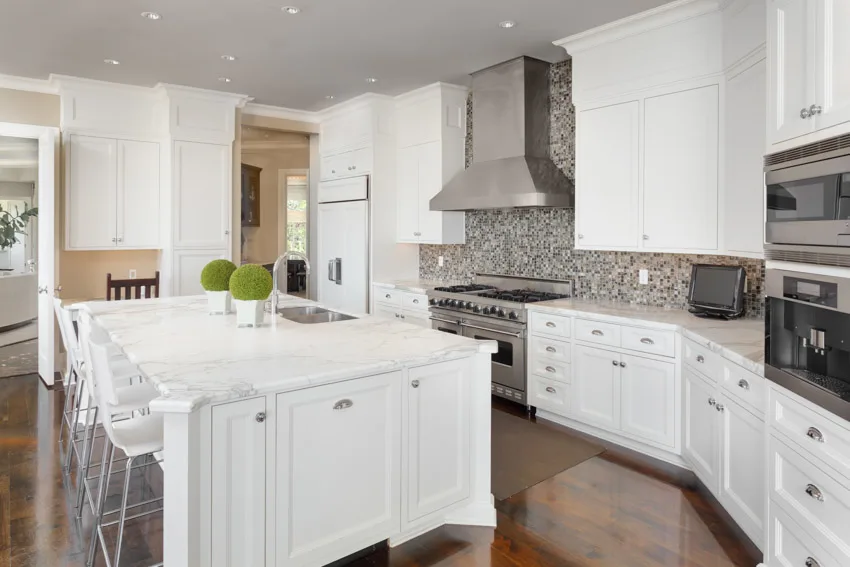 Many types of marble are found worldwide but Carrara marble is quite different because it can only be quarried in the mountains found in Carrara, Italy. And this little bit of fact makes this type of marble a more pleasing and interesting choice to consider.
Despite only being quarried in Italy, Carrara marble is one of the most popular and common options to consider. It is one of the iconic and luxurious Italian types of marble famous in homes and the best thing about this is that it's also the least expensive.
This Italian marble has this distinctive white to light gray background with a thin, feathery, and gray linear vein pattern that's unique in every slab.
Carrara marble is said first used in the Roman civilization, specifically in monuments, buildings, and sculptures, but the definite proof of its start is when the material was used to build the Ducal Palace of Massa and the Basilica of Massa in 1564.
Today, it is popularly used in construction and interior decoration, both for residential and commercial spaces. It is commonly installed as flooring, walls, and countertops, especially in kitchens.
If you are thinking about using Carrara marble at home, explore everything about the material and what options you can consider. Carrara marble countertops are very popular and you can install them either in your kitchen or bathroom.
Types Of Carrara Marble Countertops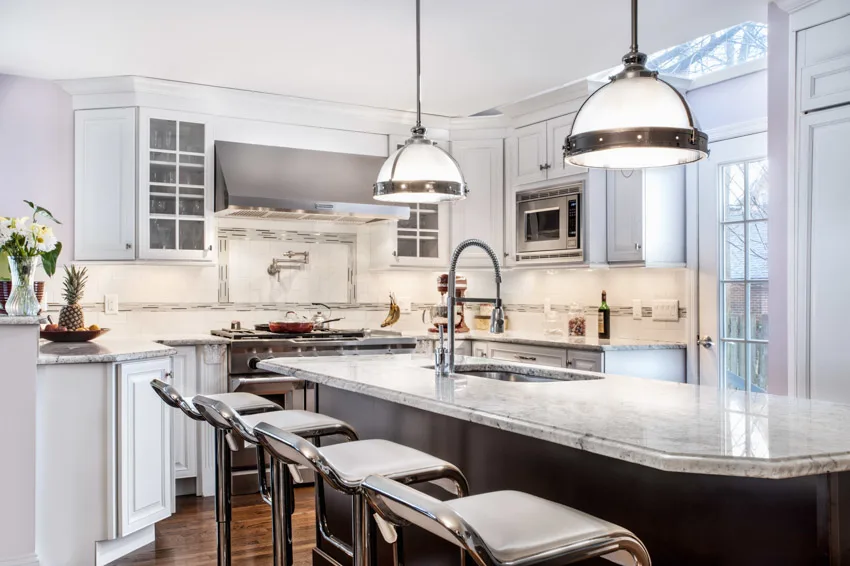 Carrara marble comes in different forms, shapes, and textures so you have many options you can skim through. The material is a magnificent material you can use for your countertops and some of the forms you can get include slabs, tiles, and pavers.
Carrara marble slabs make stunning traditional countertops and backsplashes for your kitchen. Large in size, these slabs are easier to install since they cover a larger area. There is also less grouting you need to maintain and worry bout.
Carrara marble tiles are more popular for flooring but they also work wonderfully on your walls. Smaller than slabs, you will have to spend more time in their installation and more grout to concern yourself with.
And finally, Carrara marble types of pavers are ideal for exterior decor, from garden stepping stones to deck pathways. Focusing on Carrara marble countertops, here are some of the most common options you can take a look at.
White Carrara Marble Countertop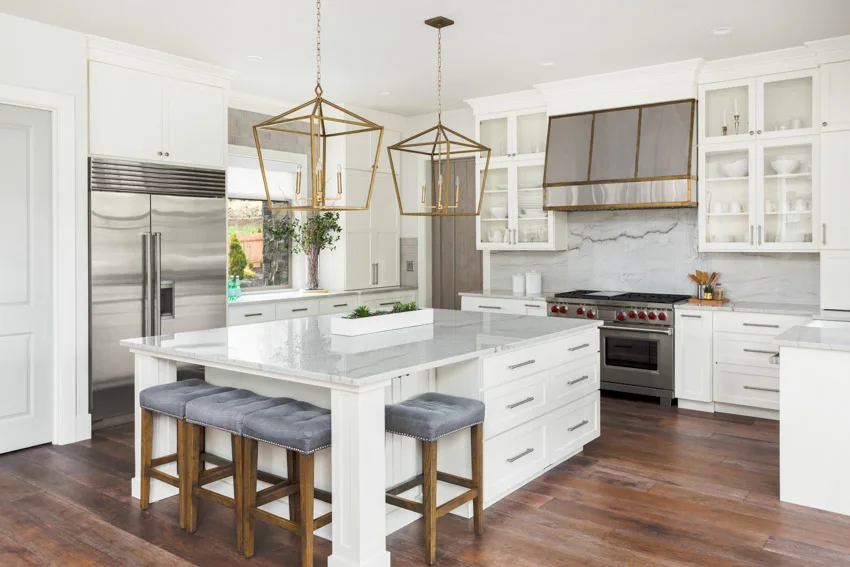 White is a safe and neutral color that works well with many colors, patterns, and designs. Since the standard color of Carrara marble is white, going for a white countertop is practical and to be expected. This is one of the reasons why this marble is a favorite among homeowners.
With a white Carrara marble countertop, you add a level of high-end elegance to your kitchen and home to the point that you can even increase your home's value. So, if you ever think of re-selling your home, you will surely get a higher price for it.
When pairing elements in the kitchen with your white Carrara marble countertop, you can go for dark colors for these elements to complement each. Check out dark blue or black kitchen cabinets and even curtains and walls. Your white countertop will definitely stand out surrounded by these bold colors.
Bianco Carrara Marble Countertop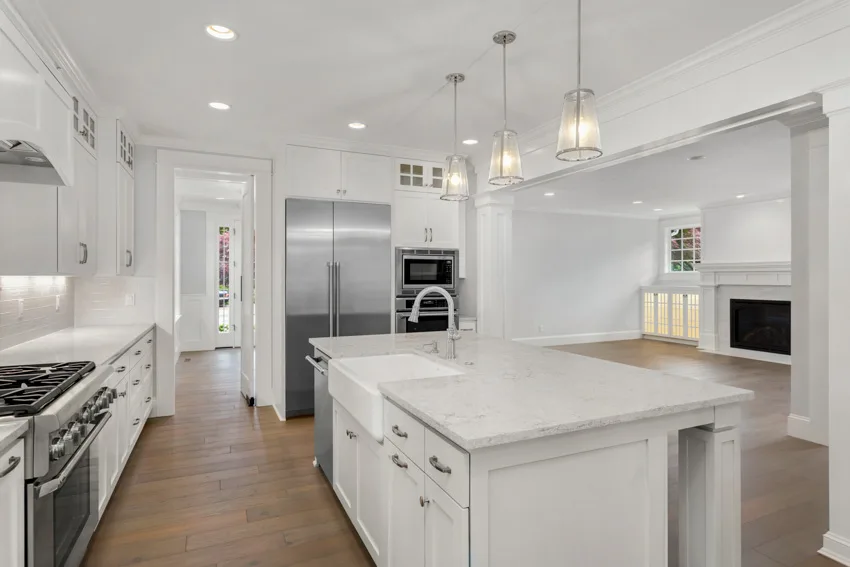 Another type of Carrara marble you can go for is Bianco Carrara marble, which started its usage in Ancient Rome and was even highly regarded due to its sturdiness and beauty. Today, the material is still being used in upscale residential and construction projects.
Bianco Carrara marble countertops feature stunning and timeless aesthetics with their signature gray and black streaks over a cloudy white surface as the background. The combination of the off-white color will be easy to match with both light and dark colors for the cabinetry and paints.
Compared to other natural stones, Bianco Carrara marble countertops are softer and tend to be more susceptible to scratching and staining, especially when not properly sealed and maintained.
This particular Carrara marble is also highly workable since it's easy to shape and trim them. You can also choose either honed or polished finishes for your countertop.
Arabescus Carrara Marble Countertops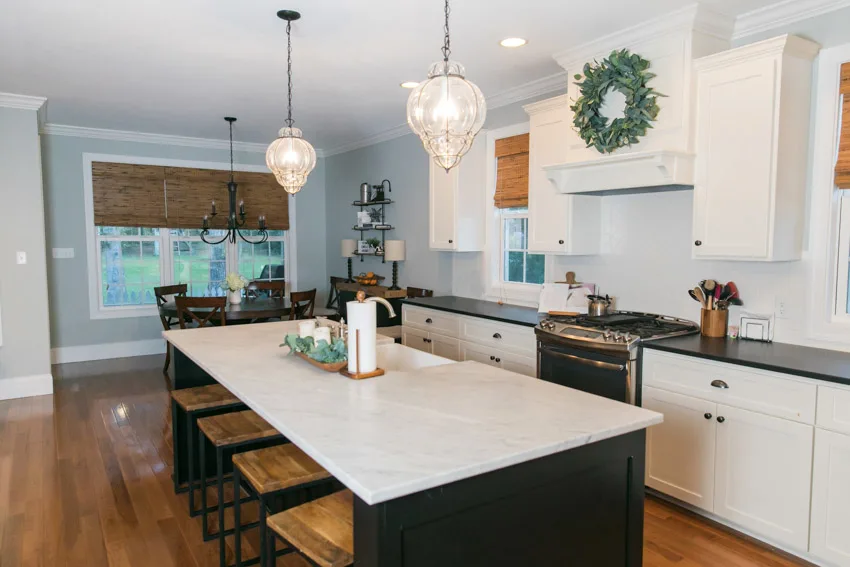 Arabescus Carrara marble countertops are notable for their milky white background and gray and charcoal veins and swirls scattered on the surface. This type of Carrara marble offers a different look compared to the traditional gray streaks and veins.
Similar to all other Italian marble options though, it is stunning to look at and highly compatible with different styles, from traditional to contemporary.
Carrara Marble Kitchen Countertop Finishes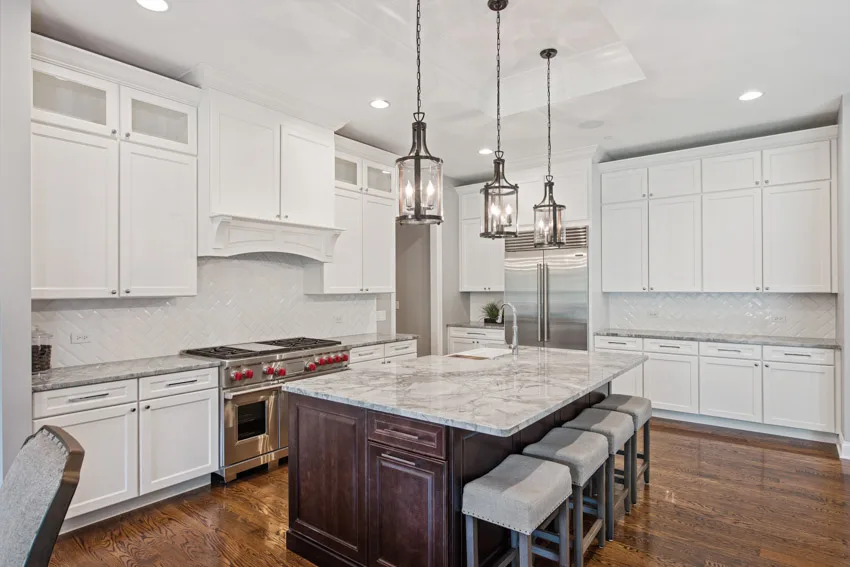 More than the different types of Carrara marble kitchen countertops based on patterns and materials, you also need to take into account the marble finishes you can apply.
The finishes will offer a complete look to your countertop and at the same time give you another opportunity to contribute to the style and vibe you want for your kitchen besides adding a layer of protection to the surface of your countertops.
Two of the most popular marble finishes to consider are polished and honed. They feature different aesthetics, feel, and maintenance that you need to know about before you make a decision on which to use for your countertops.
Honed Carrara Marble Countertops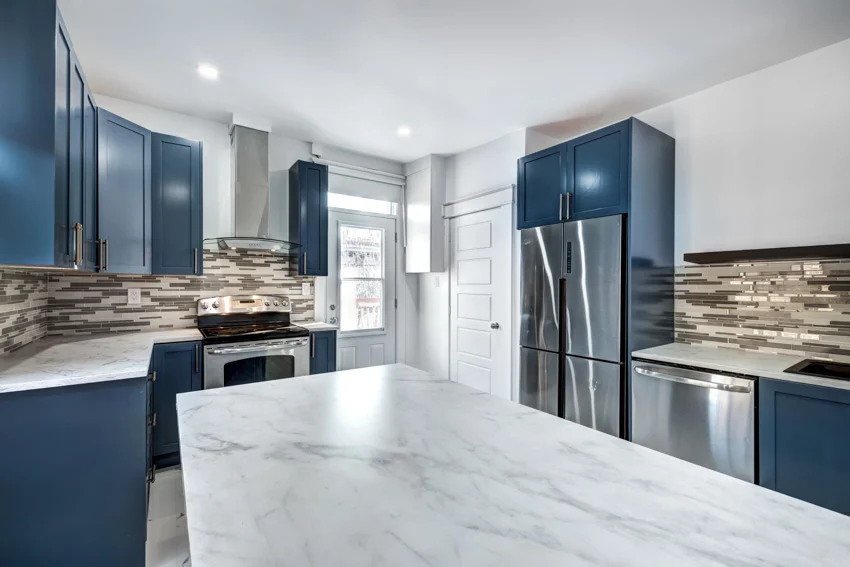 Delivering a matte appearance for the surface, honed Carrara marble countertops are created by sanding the material until it carries this glossy look with a bit of satin or velvet feel to it.
The major advantage to these finished countertops is the fact that scratches won't be evident on the surface, especially since the light will reflect on it and they will become less noticeable.
On the other side of the coin, the major disadvantage is the fact that sanding opens up the pores of the material, making it more vulnerable to staining.
If you choose a countertop with this finish, make sure to wipe off spills as soon as they happen. Clean honed marble countertops daily using water and soap. And make sure to re-seal every year to guarantee its protection.
Polished Carrara Marble Countertops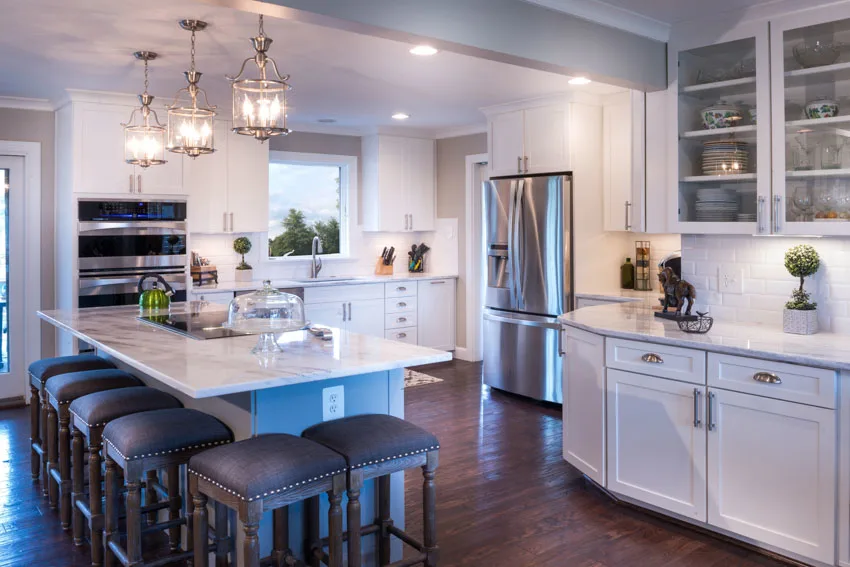 Polished Carrara marble countertops feature a shiny and glossy look that many found appealing, making it one of the most popular finish options to use. This shiny look from having the material undergo a grinding and buffing process, which is also how it got its smooth feel on the surface.
When it comes to durability, it is exactly the opposite of what you get from a honed Carrara marble countertop. With a polished Carrara marble countertop, you won't have to worry too much about stains.
However, you will have issues with scratches primarily because of the shine that many people choose it for. A highly reflective surface leads to scratches becoming more visible. Read more about honed vs polished marble countertops here.

Pros And Cons Of Carrara Marble Countertops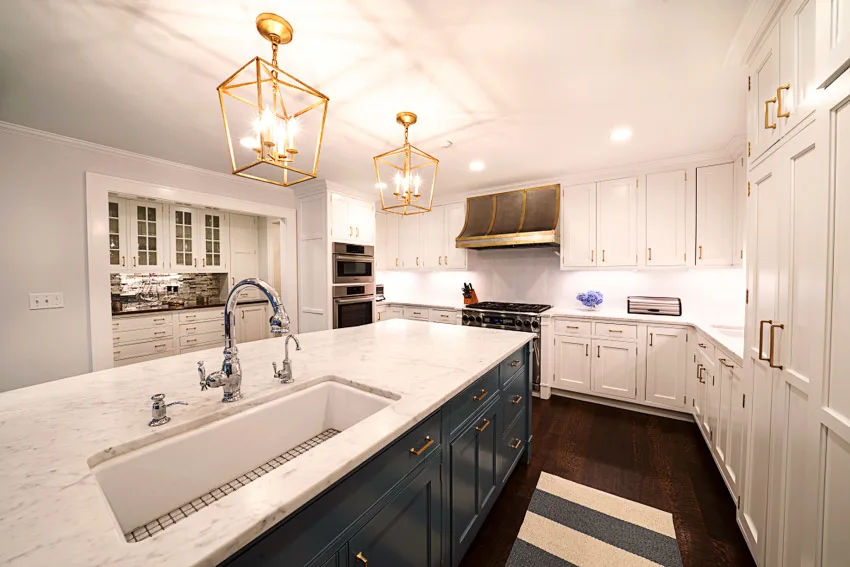 Carrara marble has become a classic choice for many homeowners when it comes to countertops. This choice is because of the different benefits you are guaranteed to enjoy from these countertops. Make sure to also consider the disadvantages you will have to experience too in order to know everything you need to expect.
Pros of Carrara Marble Countertops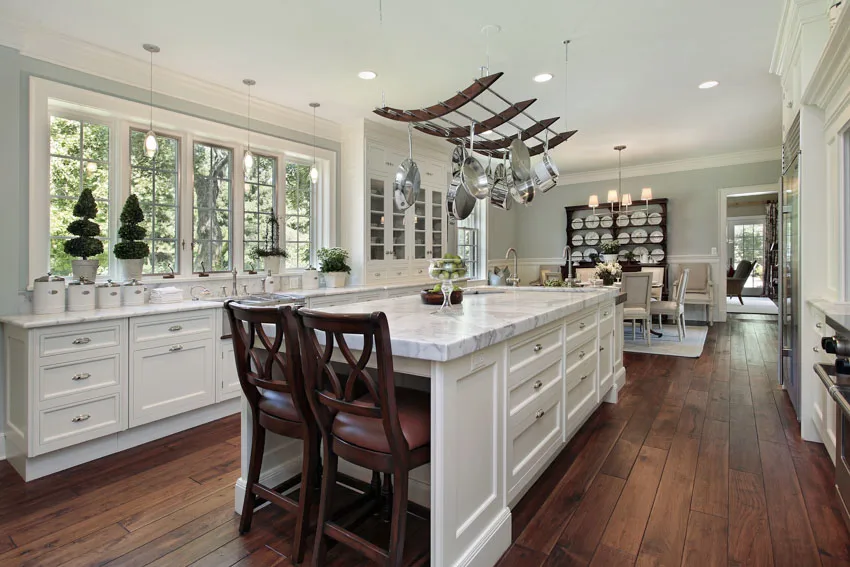 Carrara marble countertops have become popular for many homeowners because they offer the following advantages you can make the most of.
• Stunning look: Like all other Italian marble, Carrara marble countertops have this elegant and timeless aesthetic and can elevate the visual value of your kitchen. Bookmatched marble slabs can be paired together to create a seamless look.

The marble's vein pattern adds texture to the space and pleasing to look at. When paired with Carrara marble backsplash the design can look cohesive and elegant.

• More budget-friendly: Italian marble is more expensive than other types of marble found worldwide but Carrara is the least expensive of them all. If you're going for high-end countertops but you have a limited budget to spend, this is the ideal option to consider.
• Increase home value: Adding a Carrara marble countertop in your kitchen, considering it is something many homeowners desire to have, can increase the value of your home in the event of resale. This countertop can make it more tempting for potential buyers.
• Heat-friendly: While not entirely resistant to heat, Carrara marble countertops stay cool and can resist for up to 350 degrees Fahrenheit without having to worry about the material. Avoid putting a hot pan or pot on the countertop so you won't have to risk damage from the heat, as well as scratches.
Cons Carrara Marble Countertops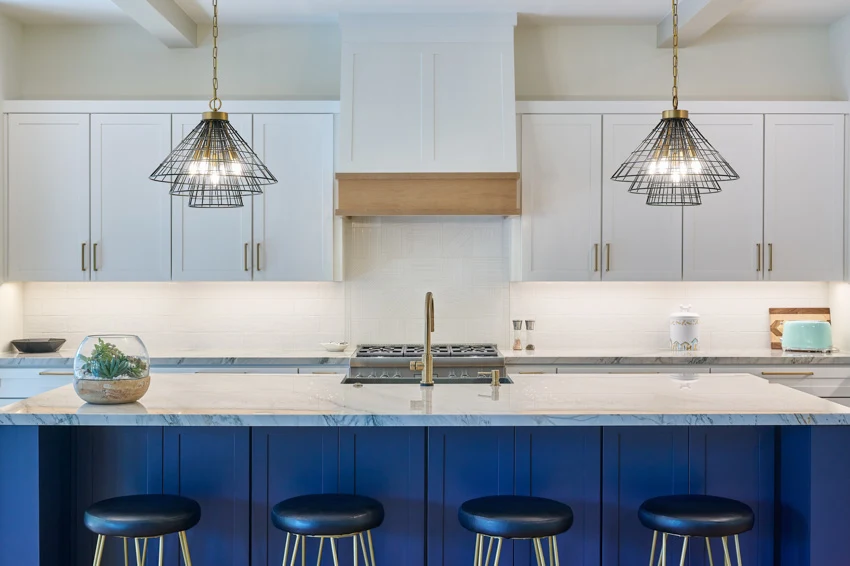 While it's very exciting to enjoy the benefits you can get from having these Carrara marble countertops, make sure that you also know about the following drawbacks to be ready for all circumstances.
• Easily chips and dents: Your Carrara marble countertop can be chipped and dented if you drop something from a considerable height. So if you're taking out something from the upper cabinets, be careful that you don't drop anything.
• Gets dull: Acidic items, including tomato juice, wine, and citrus fruits, can leave a dull mark on your marble countertop so if you spill these, make sure to immediately clean and wipe them off before they create irreparable damage.
• Stains easily: You will need to wipe on the surface immediately if you spill anything dark before you risk having a stain on the countertop.
• Susceptible to scratches and etches: Meal preparation needs to be careful especially if you're handling a knife since Carrara marble is porous and a bit soft and scratches can easily form and appear on the countertops.
• Cost: While it is the most affordable among all Italian marble, it is still more expensive when you compare them to other materials like quartz, wood, and plastic.
• Maintenance: Carrara marble countertops are not low maintenance and you will need to re-seal the material every now and then to ensure their protection and possibly lengthen their lifespan.
Carrara Marble Countertop Cost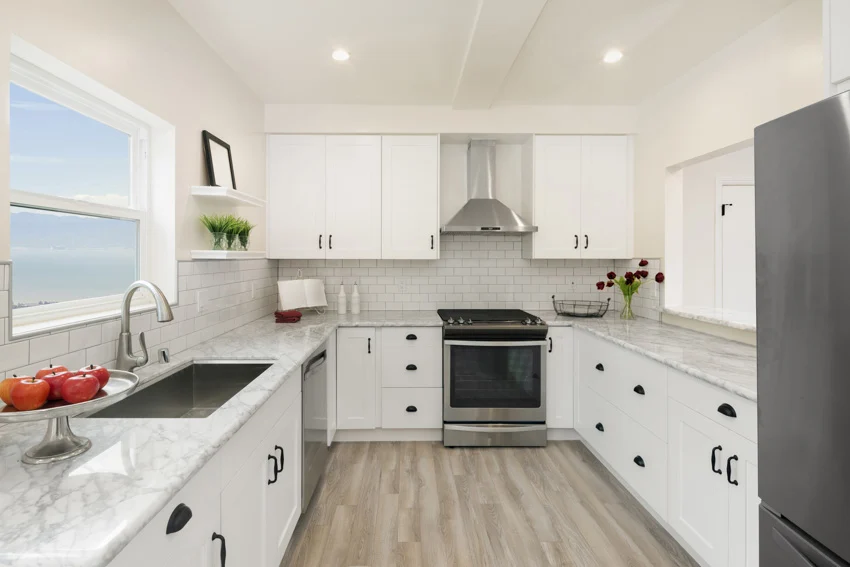 Italian marble countertops can be very expensive, especially if you have a large area to cover. The good news though is that among all the types of Italian marble, Carrara marble is the most affordable of them all. When you choose an Italian marble, it will cost more because of the shipping fee, on top of the material itself and the installation.
Carrara Marble Countertop Cost Per Square Foot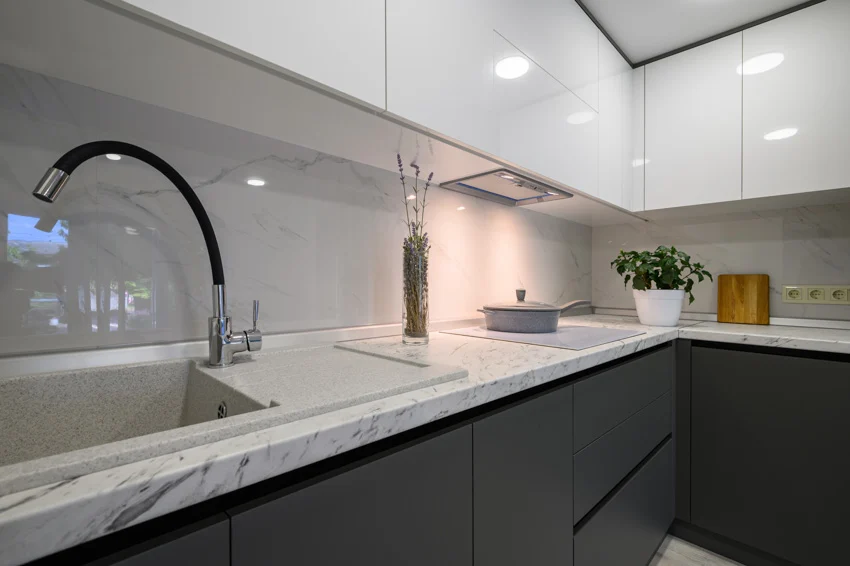 To be more precise, Carrara marble countertops can cost around $40 per square foot, which is way more affordable than the expensive Calacatta marble countertops that cost $180 per square foot. On top of this, you will also need to take into account the installation and prepare an average of $3,000 (with the range of $1,000 to $10,000).
Carrara Marble Countertops Care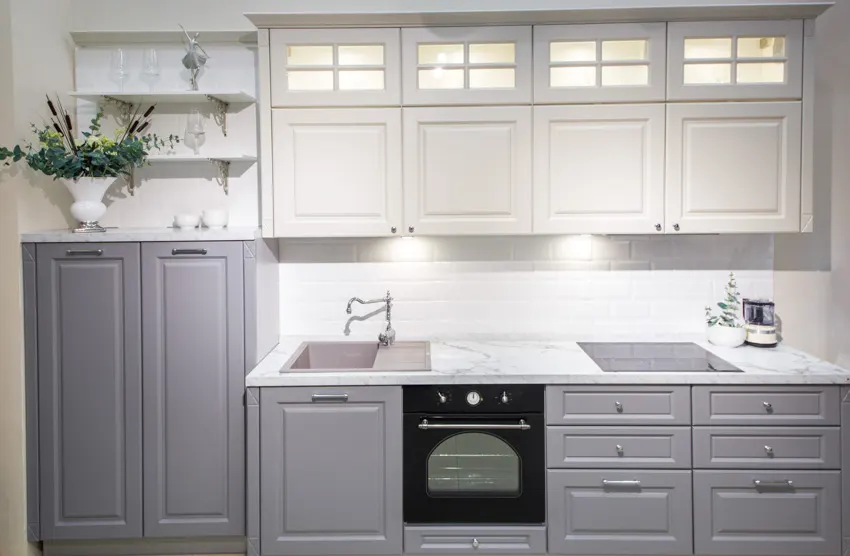 Taking care of your Carrara marble countertops is something you should know and learn about. Proper maintenance can lead to lengthening the lifespan of your Carrara marble countertops. This is not just to enjoy them as much as possible but also to make the most of your investment since these countertops are not cheap in the first place.
There are three tasks you will need to conduct for your countertops, including the following:
• Sealing: This refers to applying a strong and good quality sealant on the surface of the material to prevent stains and moisture from settling on the surface, protecting the material and at the same time extending its lifespan. Seal your Carrara marble countertops 3 to 5 times annually for maximum protection.
• Polishing: Similar to sealing, polishing offers an additional layer of protection to your countertop but it also preserves that smoothness and luster that the marble has.
This needs to be professionally handled if you don't know how to polish your countertop, especially considering the fact that it takes a bit of time and can require more manual work with marble powder and a buffing pad. Polish or have your Carrara marble countertops polished 2 to 3 times annually.
• Repairing (if applicable and necessary): In the event that your countertops need repairing, it is better to rely on the experts for this task, especially since marble repairing is quite meticulous since doing it wrong can make the problem worse. This is important since Carrara marble is not a cheap material and will require a careful touch.
In working on the maintenance of Carrara marble types of kitchen countertops, make sure you also know about the following facts in caring for them:
• Avoid any items with acid on your marble countertops to take out the risk of spilling it and dulling it (Some of these acidic items are vinegar, ammonia, hydrogen peroxide, citrus fruits, and acidic cleaners)
• Keep the countertops clean as much as possible and keep them dry
• If you wrongly used aggressive cleaner for stains, consider resealing the area to be sure (Try the cleaner on a small area first and wait for at least 24 hours for the possible effect)
• Know how to care for your countertops based on their finishes (Honed Carrara marble needs to be sealed at all times while you have the option of not sealing polished Carrara marble)
• Learn to live with possible imperfections that can be inflicted on your countertops over time
How To Clean Carrara Marble Countertops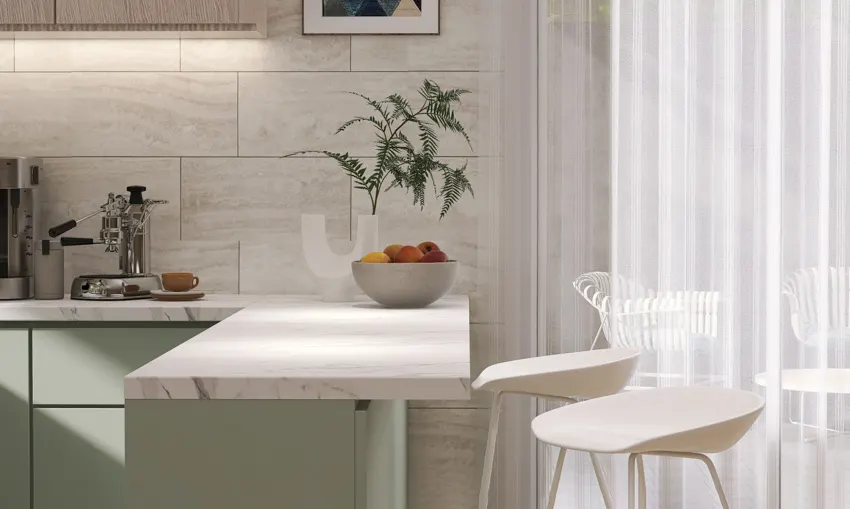 In cleaning Carrara marble countertops, the best option is to wipe the surface as soon as you see spills or dirt. But this may be a difficult task to accomplish since you won't always be home and at that moment when the spills happen. You can make sure though to conduct daily cleaning and schedule a more thorough cleaning.
Daily Cleaning: If you want to keep the quality of your Carrara marble countertops, cleaning regularly is a must. Most of the time, you only need warm water and a microfiber cloth to wipe the surface of the countertops.
If you believe the countertops need deeper cleaning, make a cleaning solution using water and dish soap. Apply the cleaning solution on the surface, wipe them down using a microfiber cloth, and then use a damp cloth to get rid of soap residue.
Stain Removal: To remove the stains on your marble countertops, you can use poultice products to draw out moisture and dirt from the material. Apply the poultice on a clean and dry surface using a spatula or putty knife, protect it with plastic wrap, and then let it sit for at most 2 days.
Get your putty knife and remove the poultice then use a damp cloth (drench in warm water and soap mixture) to remove the residual poultice on the surface. Read more about cleaning marble countertops here.

Backsplash Ideas With Carrara Marble Countertops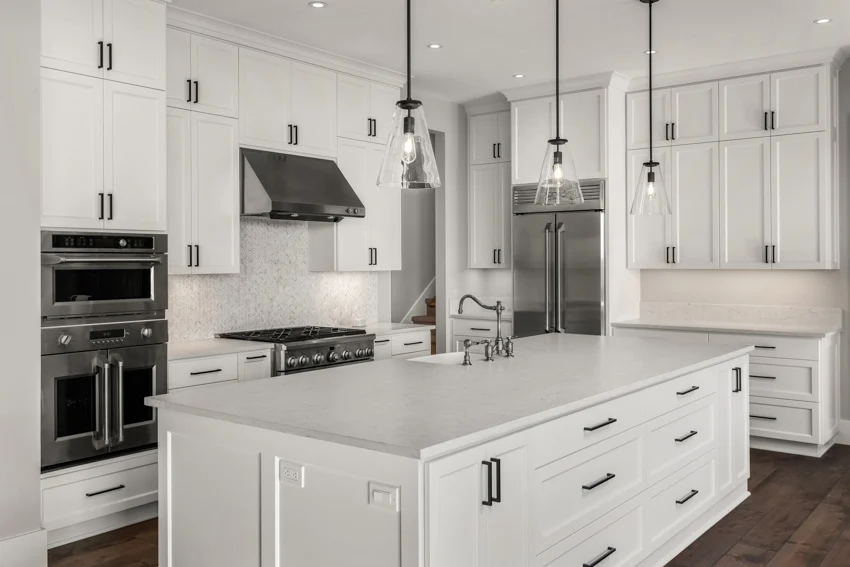 Pairing a backsplash with your Carrara marble countertop is easier because of how flexible its style is. You can easily pair it with other styles, colors, and patterns.
And while having a Carrara marble countertop is a luxurious addition enough on its own, you will need to match it with the backsplash that supports the look you're envisioning.
Consider the following elements when pairing Carrara countertops with different types of backsplash:
• Highly decorative backsplash and warm-colored wooden floors: Match the classic look of Carrara marble with something bold that can act as an accent to the space.
• Neutral-colored backsplash and cabinets with earthy tones: Choose to go for nature's color to add a refreshing feel to the kitchen.
• Marble-marble pair: Make it simple and match your Carrara marble countertops with a marble backsplash too.
Quartz Countertops That Look Like Carrara Marble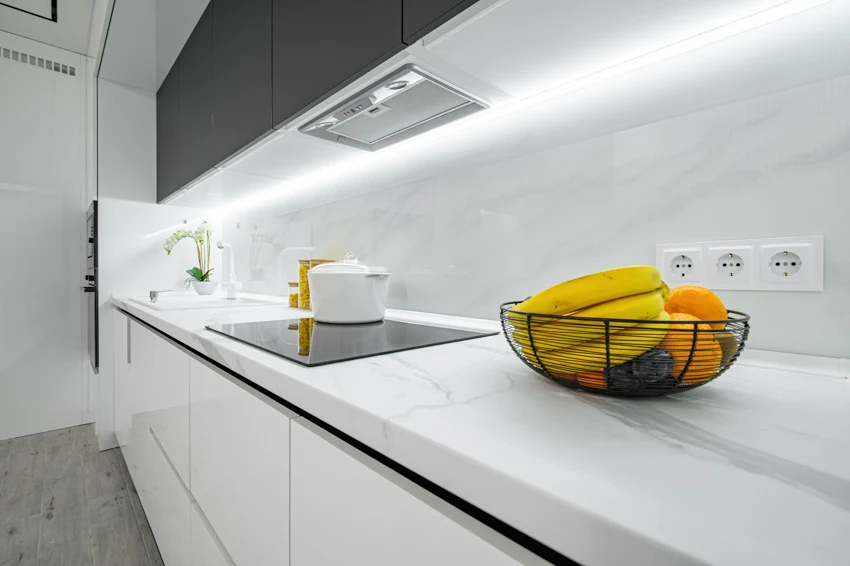 There are specific quartz countertops that look about like Carrara marble, not just because of the white background but the general feel of it. Some of these include Vena Carrara quartz, frosty Carina Caesarstone quartz, and Carrara pental quartz.
See more related content in our article about Carrara marble bathroom designs on this page.