See tips for choosing backsplash for busy granite, including using subway tile backsplash and how to choose the best backsplash for your kitchen designs.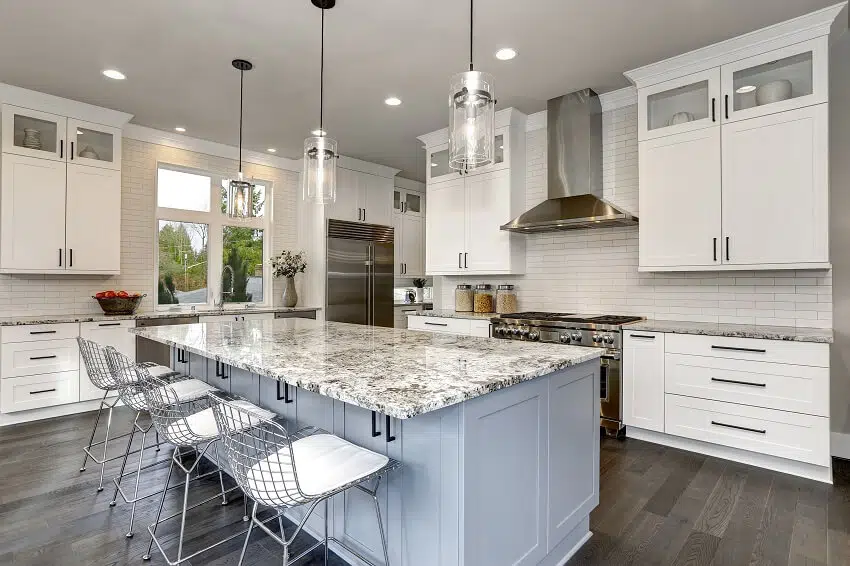 It's hard to go wrong with a good granite countertop. After all, this beautiful stone offers a wide variety of benefits. This includes incredible durability including resistance to chips, scratches, heat, moisture, and even stains. Even better, it's an affordable option that can actually increase your home's value.
However, it can seem intimidating to choose a backsplash when you have particularly busy granite countertops. After all, how do you compliment something so busy without it becoming overpowering?
Don't worry – we're here to help! Keep reading to learn how to choose the perfect backsplash for busy granite countertops.
How To Choose A Backsplash For Busy Granite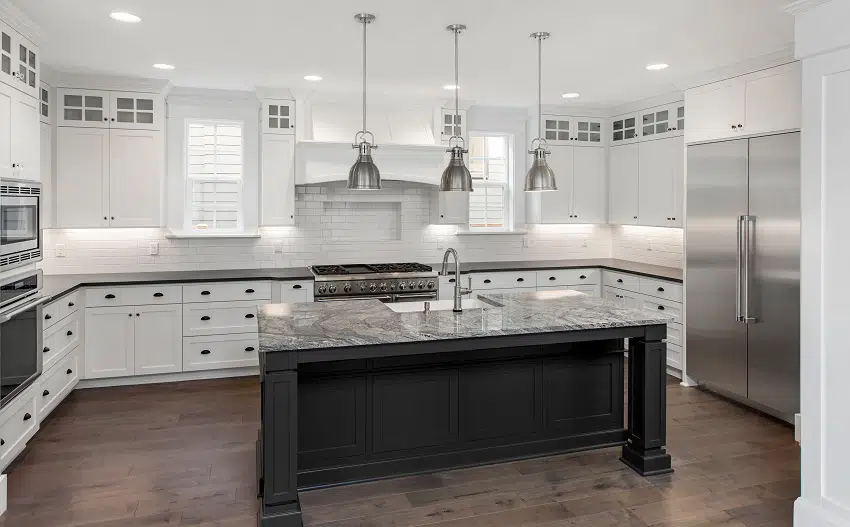 When you're choosing a backsplash for busy granite, you want to make sure that you complement rather than compete with the natural beauty of your granite countertops. So, here are a few options you might want to consider.
It can help to start by taking a closer look at your granite. Do you notice anything that stands out, such as a dominant color or prevailing pattern?
You can use your backsplash to help bring out some of these details. Even further, you could make a bold choice and go for granite all around and match your granite countertops to granite backsplashes.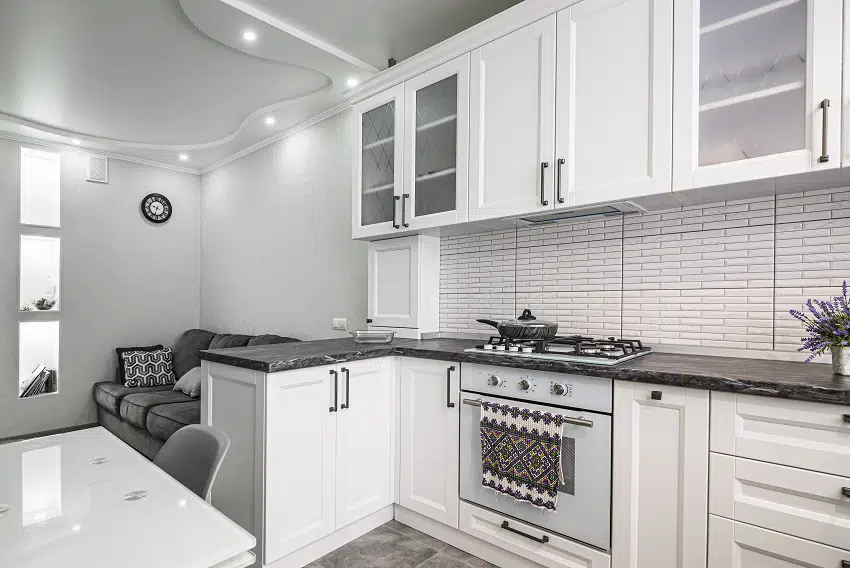 If you want to match a feature like a dominant color in your granite, ceramic backsplashes can help out a lot. A solid ceramic tile that matches a strong color in your granite countertops will complement one another well in a more traditional approach. Check out more granite colors here.
You could try out glass tiles as a backsplash for a more neutral and modern look. These can even have a transparent look which offers a lot of neutrality to balance out a busy granite counter.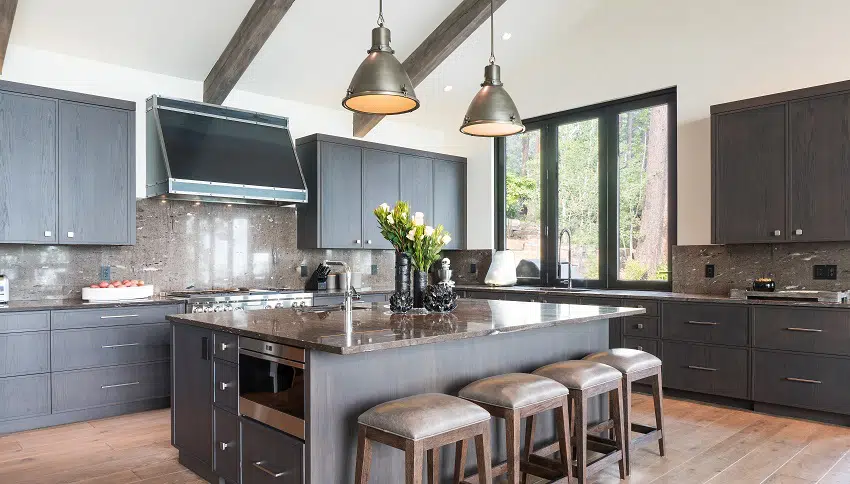 On the other hand, maybe you want to add a sense of luxury and elegance to your kitchen. In this case, you'll want to consider a marble backsplash to boost your kitchen.
Even if you stay rather neutral with your backsplash shades, you can shake things up to help your backsplash remain memorable. For one, you could play around with the positioning and size of the tiles.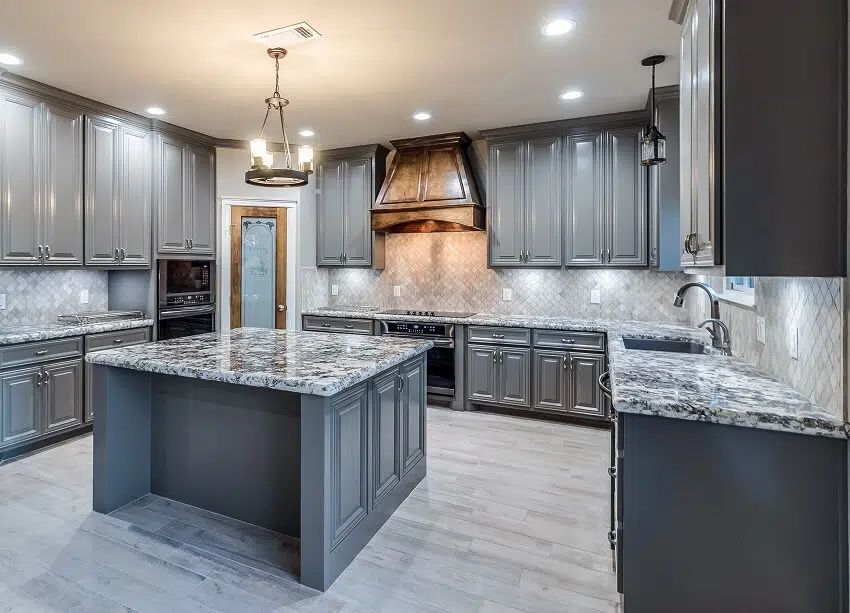 You might be surprised to see exactly how different a backsplash with large tiles may look from the same option with smaller tiles.
Not to mention, the shape of the tiles and the way they're set in the wall can also have a huge effect.
Subway Tile Backsplash With Busy Granite Countertops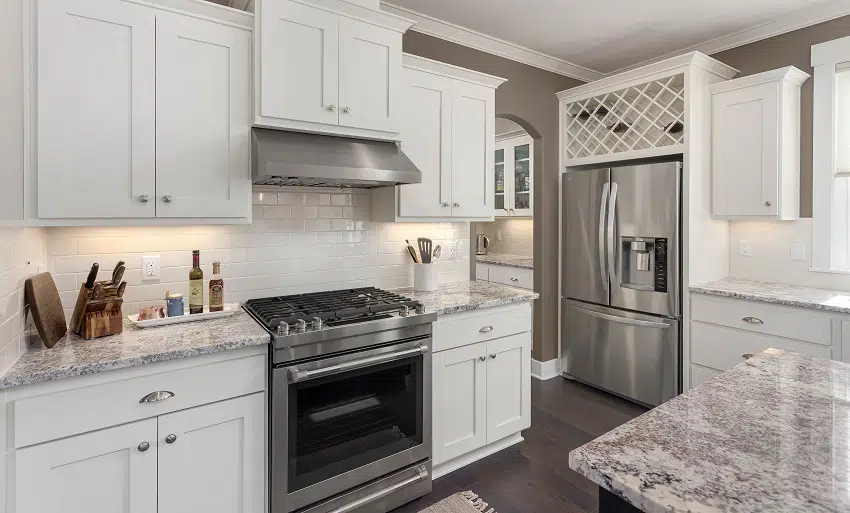 Subway tiles have a particularly recognizable pattern that can work well in almost any kitchen – including those with busy granite countertops.
The name "subway tile" doesn't refer to the pattern of each individual tile as the one they create together when they're laid out on the wall.
The pattern of subway tile is straight rows that are slightly offset from the rows above and below it. See more subway tile kitchen backsplash here.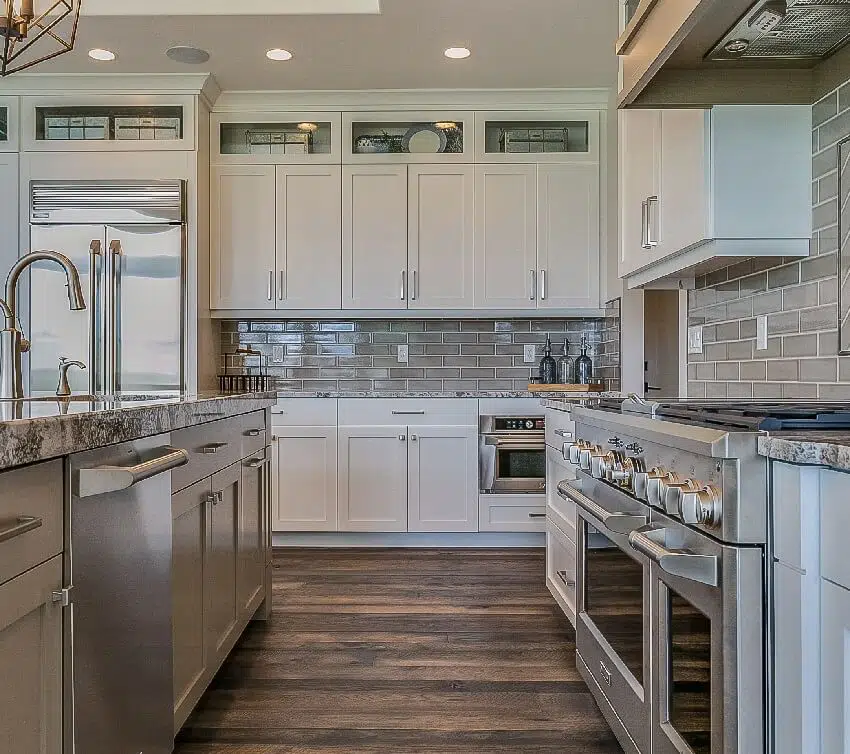 If the pattern looks familiar outside of the home, it's because the pattern got its name from the popular pattern of tiles used on the walls of the New York subway system.
Traditionally, each tile in a subway tile pattern is three inches by six inches. While, as we said, subway tile refers more heavily to the pattern, it is a pattern that's most often created with the use of glazed ceramic tiles.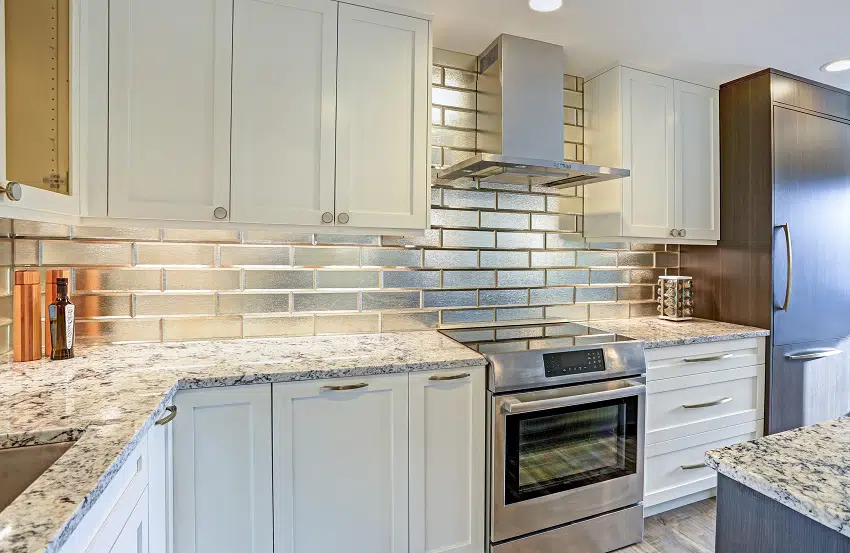 The appearance of subway tiles is, all in all, relatively neutral. Since it's often done with solid-toned tiles, you can use it to really help a busy granite countertop to shine.
Like we said before, you can use a strong tone in your countertop or opt for a neutral color that will help the granite countertop stand out.
The good news is that subway tile options are rather inexpensive as well. With the typical use of ceramic tiles for this type of backsplash, you can expect a cost, on average, between $7 and $13 per square foot.
The cost of your tile will vary on a few factors, including the cost of labor, the grade of subway tile you get, and where you get it.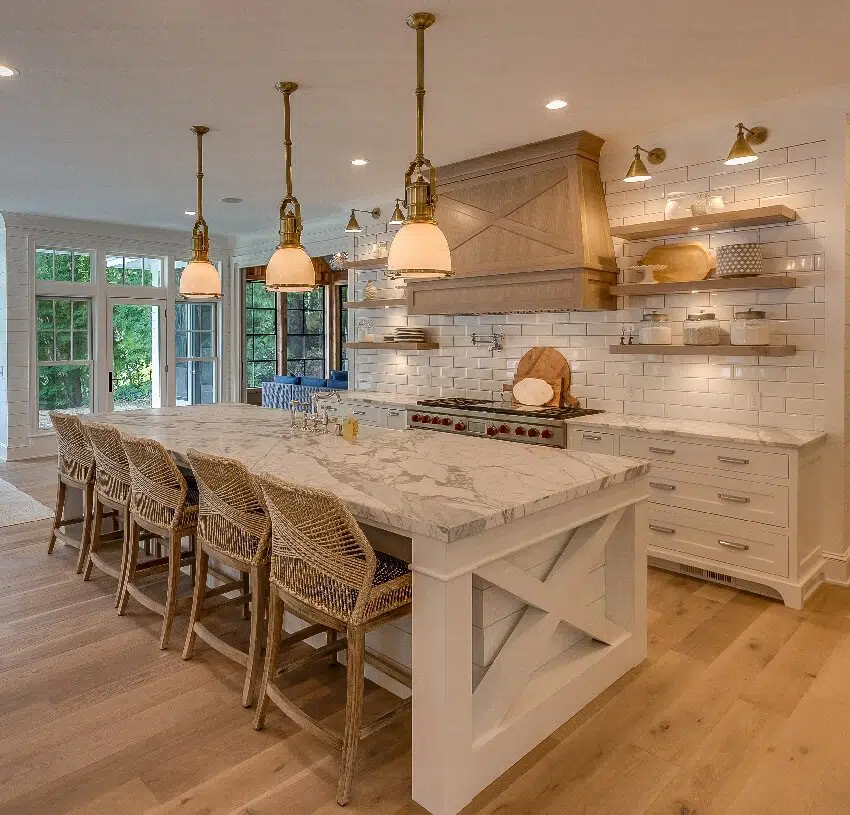 However, it would help if you also remembered that you'll want to consider additional materials in your budget. For instance, you can expect sealant and grout to run about $1.50 per square foot.
Best Backsplash For Busy Granite Counters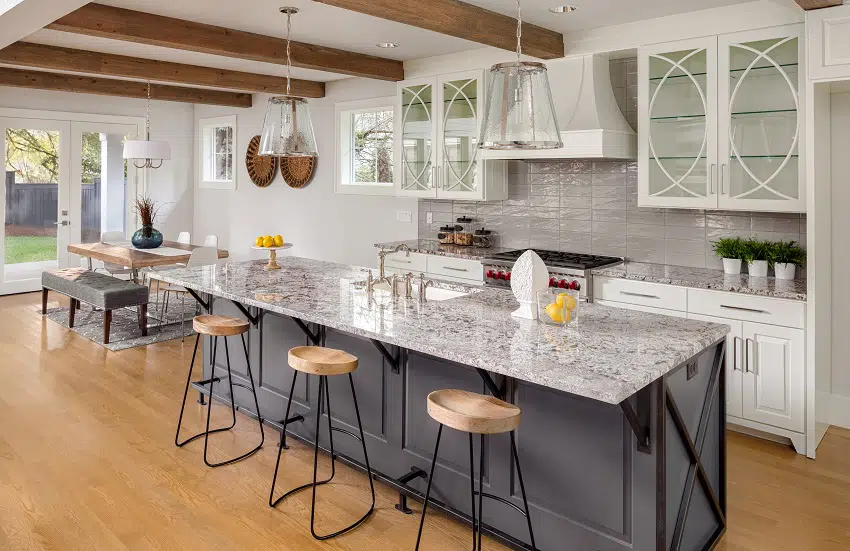 At the end of the day, though, you can only choose one material option out of these choices. After all, you only have one backsplash in your kitchen, right? So, this prompts the question: what's the best option when choosing the perfect backsplash for your kitchen?

First, let's consider the color of the tile you should use. Given that your backsplash is already busy, the best choice here is to choose a solid-colored tile that isn't too busy in and of itself.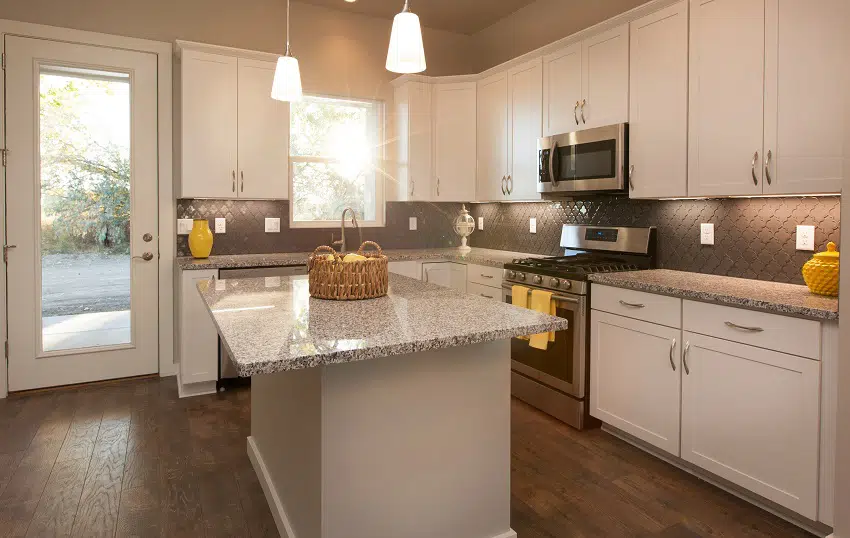 Still, that doesn't necessarily mean you must stick to a completely neutral color. Rather, choosing a color that complements the granite you're using on your countertop is better.
Then, it's onto the pattern of the tile for your backsplash. As we discussed earlier, a subway tile is one of the best tile patterns you can use.
This way, the pattern isn't so busy that it competes with your busy granite countertop but it offers a more visually dynamic design than tiles that all line up perfectly on the wall.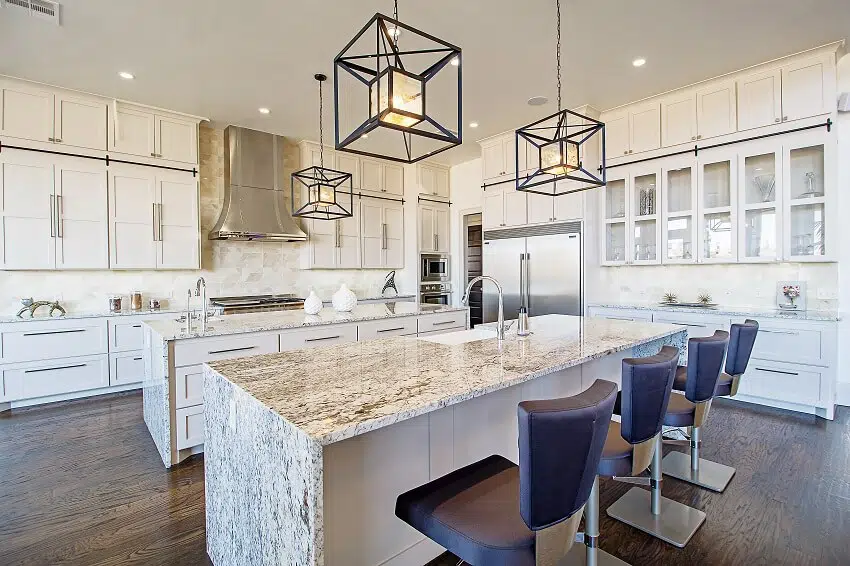 All in all, having a granite countertop doesn't mean that you have to sacrifice finding a backsplash that matches.
Just like matching any other decor features in your home, the goal here is to make sure that these materials go with each other cohesively and tie the whole room together.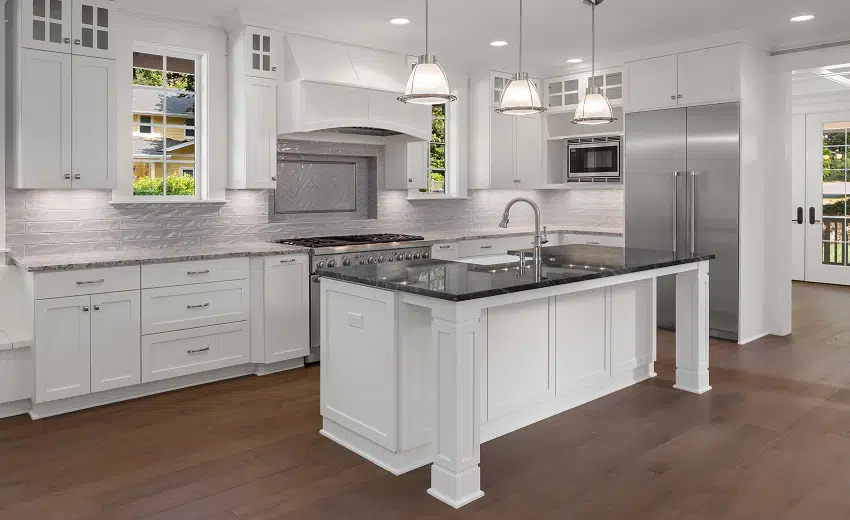 Busy granite can be a beautiful addition to any home, so it's essential to make sure you choose a backsplash that complements it without trying to compete with it.
With the tips that we've looked at here, you know what to look for when you're considering backsplashes for your busy granite countertops to help their natural beauty shine!
For more related content, visit our ultimate guide to the different types of kitchen backsplash.