Discover if an oak countertop is right for your kitchen including the different types to consider, the advantages of a butcher block variant, and how to maintain this wood material.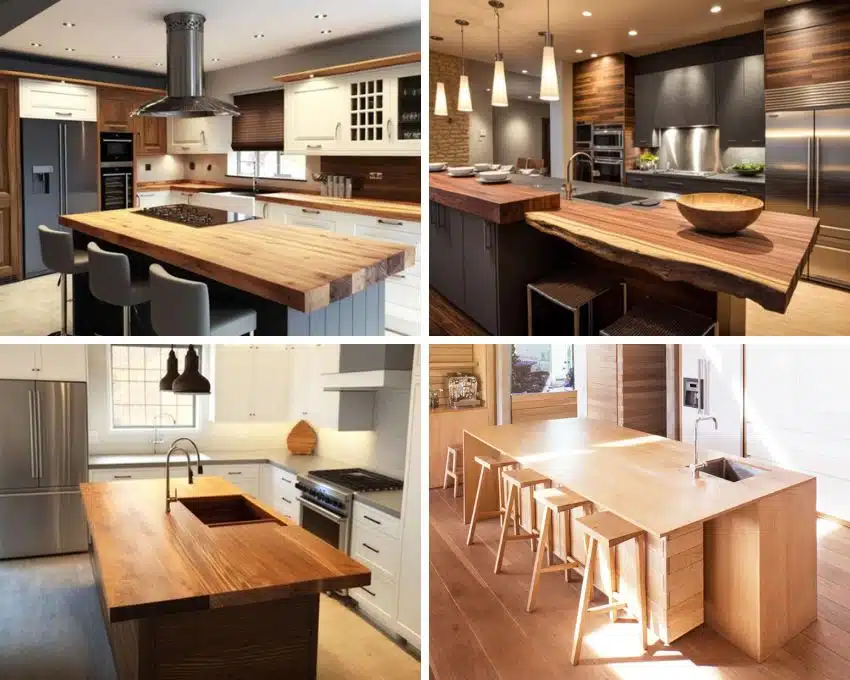 Oak countertops may not be the hardest wood lumber in the market, but it is a serious contender for a long-lasting and beautiful wood countertop for the residential kitchen.
With a Janka rating of 1290 for red oak and 1360 for white oak, it's a sensible alternative to the more expensive hardwood options, such as the maple with a Janka hardness of 1450.
Aside from their relative hardness, oak countertops are resistant to insects and fungi due to their high tannin content, making them less likely to rot.
The gorgeous wood can also be sanded down and refinished from 5 to 20 years. It depends on whether the wood slab has been cut from red or white oak specie, the two major oak categories.
Learn more about red and white oak and their darker counterparts, black oak. We've also included the difference between an oak butcher block countertop and an oak countertop and tips about having an oak countertop.
Quicklook: Different Oak Countertop Types
• White oak
• Red oak
• Black oak
• Live edge
• Butcher block
Types Of Oak Wood for Countertops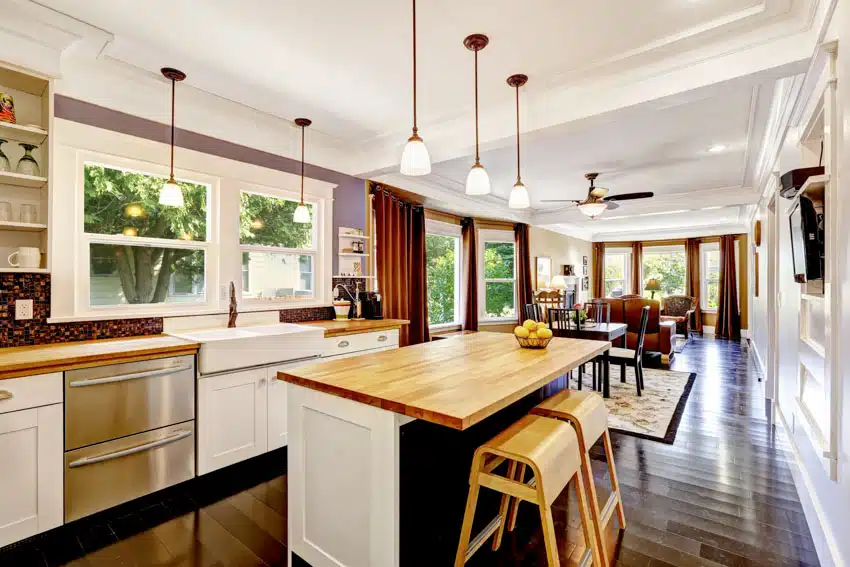 Here we share the different oak wood countertop types with their benefits, and varieties.
White Oak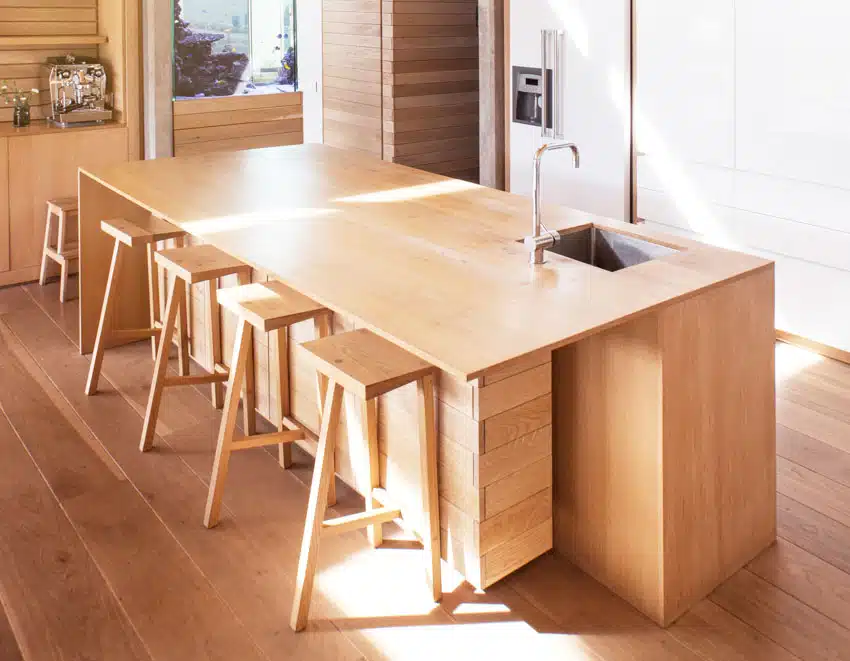 When you're concerned about moisture or water seeping through your wood countertop or needing a worktop for an outdoor kitchen, the white oak's nonporous lumber is the perfect option. Looking through a sectional cut or at an end grain, you'll notice the pores are filled with tyloses.
The white oak pores will have pores that look like it was plugged with resin cover, which means is virtually water-tight. Oak was usually used as wine barrels or ship vessels.
While it's called a white oak, the wood lumber does not actually appear white but a lighter tone with medium brown color. The name is likely derived from the pale-colored bark and lighter coloring of the oak leaves' underside.
A white oak countertop will have subtle graining with blue or gray undertones or graining. When sourced from heartwood, it can produce a deep brown coloring. When quarter-sawn, it can show medullary rays providing a unique and dimensional wood surface.
The lightness and subtle undertones make it a suitable countertop for contemporary kitchen designs with the right hardware and profile, but it is a favorite option for traditional and transitional interiors. Craftsmen love to work with oak wood as lumber wood can be easily formed with hand and machine tools.
Popular types of white oak:
• Quercus Alba
• Oregon White Oak (Quercus Garryana)
• Overcup Oak (Quercus Lyrata)
• English Oak (Quercus Robur)
• Bur Oak (Quercus Macrocarpa)
Red Oak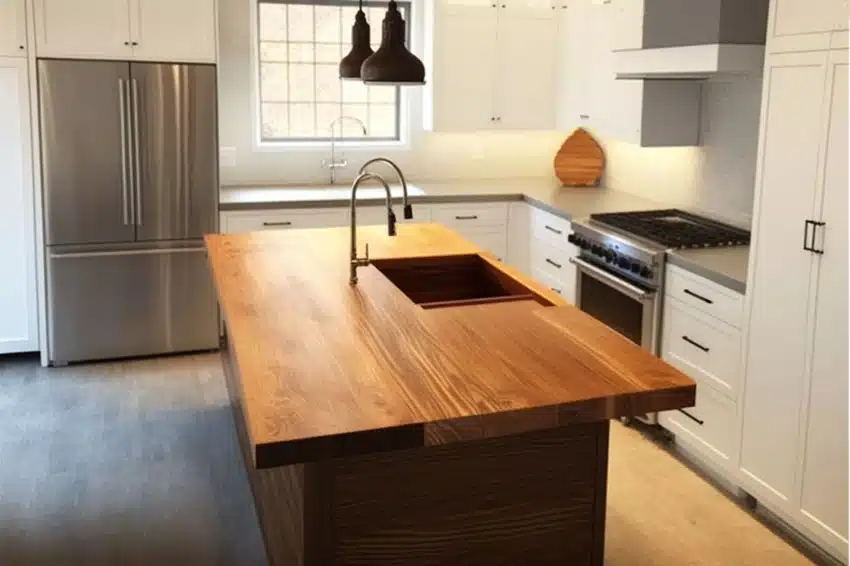 Displaying a beautiful reddish-brown color with noticeable grain patterns, the red oak countertop makes the perfect element for traditional kitchens designs. Red and white oak are sometimes can look similar due to the subtle color differences.
To positively distinguish the two, look at the end grain. The cross-section of a red oak's pores looks like tiny straws compared to white oaks' smaller and plugged pores. This means red oak is likely to absorb water compared to white oak countertops.
For this reason, it is not advisable to be used it as a chopping counter or has it near a sink; instead, a red oak countertop can be used mainly as a kitchen table. Sealing the surface can help protect the wood or use pore fillers and pair it with a good varnish, though it can wear down over time, and periodic application is needed.
One of the advantages of a more porous wood is that it accepts stains better and evenly than white oak and other hardwood species. Also, red oak is more readily available and less expensive than white oak.
Two types of Red Oak:
• Northern Red Oak (Quercus rubra): Mainly sourced from the eastern United States. The wood surface showcases a coarse texture with straight graining and has reddish-brown coloring.
• Southern Red Oak (Quercus falcata): This species is native to the southeastern United States and, compared to the northern variation, has a lighter color with a coarser texture and displays an irregular grain pattern.
Black Oak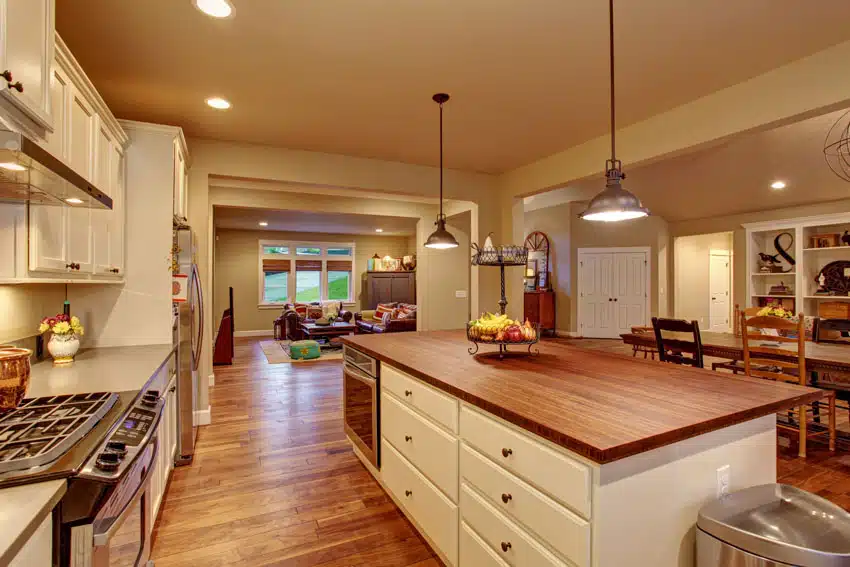 Similar to white and red oak countertops, black oak is named based on the color of its bark which appears to have dark grayish-black color. It is also termed an eastern black oak. Black oak is categorized under the red oak family.
A black oak countertop will appear to have a slightly reddish or yellowish coloring. This oak variation is usually less valuable than white oak due to its availability. It is open-grown and tends to have more branches than its white and red variations.
Like any species from the red oak group, black oak is seldom used for countertops that are exposed to or near water due to the possibility of water staining.
At the same time, it also receives stain color well. Black oak countertops can be stained with black or with other darker tones and paired with quarried stone or concrete to produce a modern countertop kitchen.
Black oak is most available in Eastern North America and is often used for cabinetry, floors, trim, veneer and furniture according to the Wood Database.
Live Edge Oak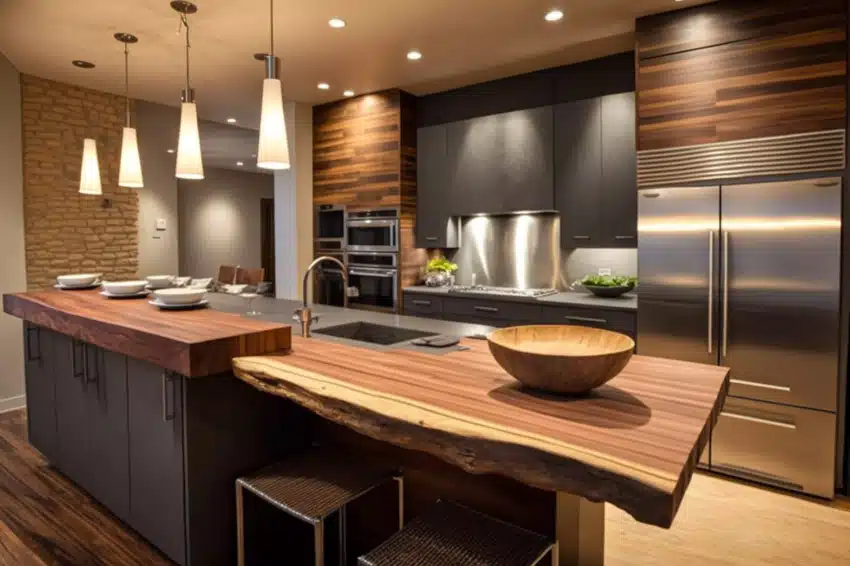 A sudden diversion from the contemporary's usual horizontal and vertical lines breaks the interior's monotonous look. Adding organic forms into a modern interior setting can level up the look by adding interest and character, such as opting for a live edge oak countertop.
A live-edge oak countertop is made from a slab of oak wood that is carefully cut to preserve the natural edge formation of the wood. The cut will include the bark, knots, and other irregularities of the tree.
As every live edge is naturally occurring and never duplicated, you get a countertop design that's uniquely your own. Moreover, the durability of oak makes live edge wood countertops a valuable upgrade for any kitchen worktop.
Leftover live edge oaks can be used for a variety of projects, such as floating shelves, stools, or wall décor. Installing a live edge oak countertop can be an attractive DIY project, and it's not difficult to install. By using a circular saw and mounting screws, a live edge oak countertop can be installed immediately.
Oak Butcher Block Countertop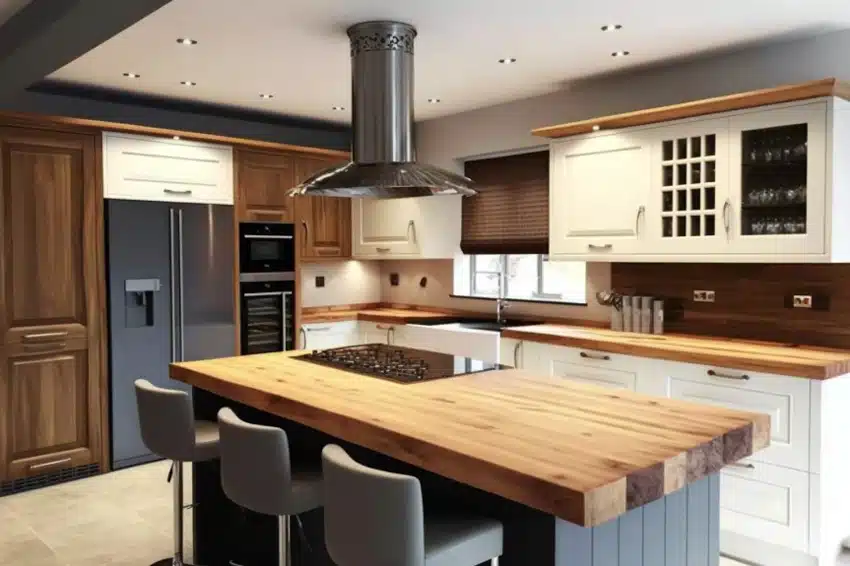 The oak butcher block countertop can be a striking worktop that displays the natural graining and color of oak. A more affordable alternative to your quarried stone countertops that can last from 15 to 20 years with the proper maintenance. Since oak wood is a dense hardwood, it is less likely to dent or warp in the next few years.
Butcher block slabs come in a variety of woods or— since they are made up of small pieces of wood glued together— a combination of different woods They're available most commonly in maple or oak in end grain, which is composed of vertical pieces of wood, or edge grain and face grain, made up long strips of wood – Black & Decker The Complete Guide to Dream Kitchens, Sarah Lynch
A white oak butcher block can last longer with its impervious surface, which can be easily resurfaced every five years. A butcher block can cost around $30 to $40 per square foot, and a labor and installation cost of $50 to $70 per square foot. To save on costs, it can be an easy DIY project.
Maintaining the wood countertop does not require special cleaning agents. Wipe the surface with dish soap and warm water solution for regular cleaning, and add a few drops of vinegar to disinfect the oak surface.
Butcher Block Vs Oak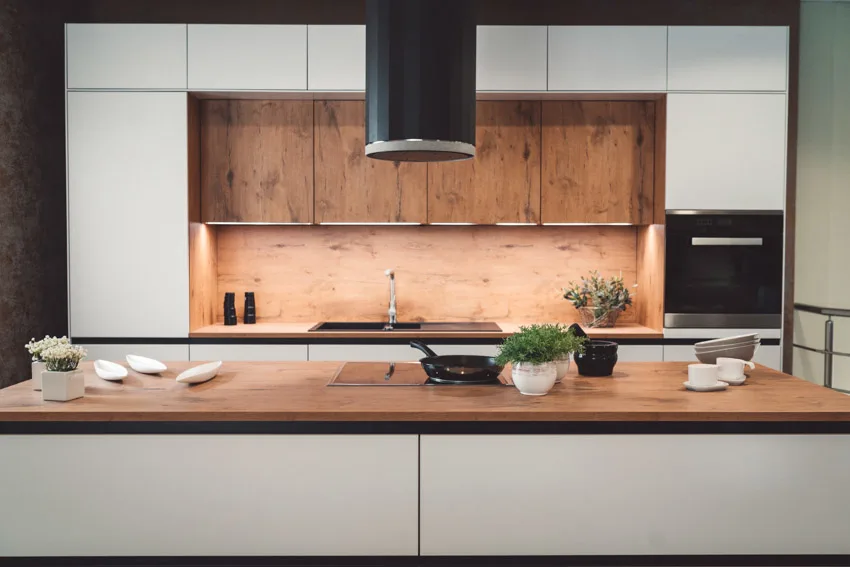 Both types of countertops can be used in a kitchen, but oak butcher block countertops are often preferred for cutting and chopping, while oak countertops are better suited for general use.
Oak butcher block countertops and oak countertops are made from the same wood specie but are distinguished by their function as a kitchen worktop surface.
An oak butcher block countertop is mainly used for cutting and chopping hence the term "butcher," and is thicker than an oak countertop.
An oak butcher block countertop has a thickness ranging from 2 inches to 12 inches, while an oak countertop comes in ¾ inch to 6 inches thick. Oak countertops are mostly used for general purposes, and the extent of their function depends on the thickness.
Most oak butcher block countertops are treated with food-grade surface protection. The wax or oil treatment seals water and food from seeping through the grains as it can encourage mold and bacteria growth though the white oak species are preferred for butcher block countertops.
When it comes to style, oak butcher block countertops exude a warm and rustic appearance most suitable for traditional kitchens such as farmhouse interiors.
Meanwhile, an oak countertop has a sleeker appearance that works well with contemporary interiors. However, oak butcher block countertops with metal framed base cabinets can also work with industrial kitchens.
Oak Surface Kitchen Tips

• Be sure to clean up spills immediately from your oak countertops as they can absorb liquid, even water, especially for red oak countertops.
• It is recommended to use cutting boards above the oak countertop and avoid cutting directly on the wood surface to prevent dents and scratches from developing.
• Don't place a hot serving plate or pot on the surface; use trivets or hot pads on top of the oak countertop. Aside from the possibility of melting or eroding the wood treatment, the heat can leave scorch marks on your oak countertop.
• When selecting oakwood lumber for your kitchen countertop, be sure to choose a free, high-quality wood with fewer defects, such as knots, cracks, and warping.
Check for any signs of damage, such as scratches or dents, before making a purchase. Imperfections such as knots can create an uneven surface and can cause further damage due to irregular graining.
• Allow the wood finish to cure before using the surface for chopping food; this also applies to food-grade finishes. The curing time will depend on your manufacturer's recommendation, but the typical curing time is 30 days at room temperature.
• A protective finish, such as a natural oil or a water-based sealer, can help to protect the oak countertop from stains and scratches.
• Keeping the oak countertop dry is essential, as excess moisture can cause the wood to expand and contract causing warping or cracking.
• Over time, the wood surface in your countertop may show signs of wear or damage. Sanding and refinishing the surface can help to restore its appearance and protect it from further damage. The typical refinishing interval for wood countertops is every five years.
See more related content in our article about the different wood countertop pros and cons on this page.