Welcome to our guide to wood countertops pros and cons including their durability, construction, maintenance, cost and whether they're worth it for your kitchen design.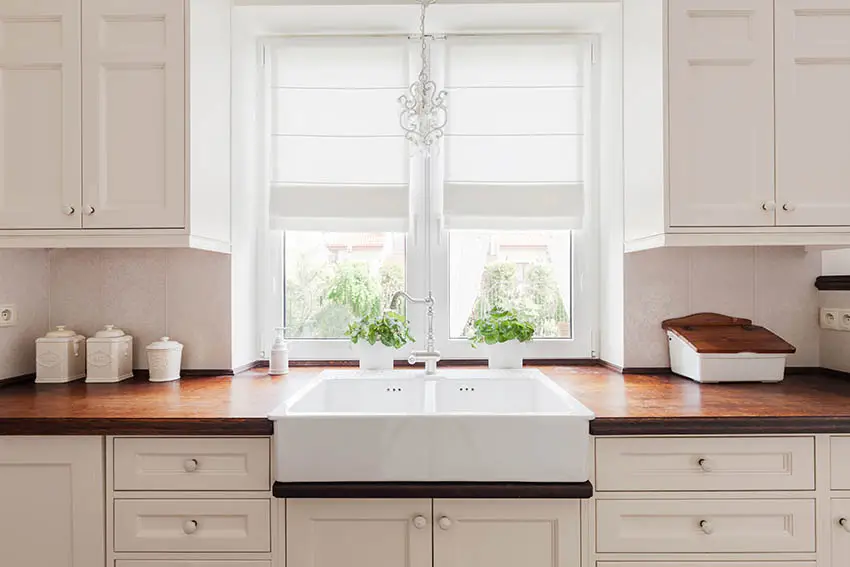 When you're considering renovating your kitchen, choosing the right countertops can transform the space. You have plenty of options to choose from too! The first thing to decide is what kind of material suits your kitchen best. For a touch of warmth or to appeal to rustic decor preferences.
Aside from appearances, though, it's important to consider all the pros and cons that wood countertops have to offer. Here, we'll break down everything that you need to know about wood countertops when considering renovations.
Quicklist – Wood Countertop Pros and Cons
| Pros | Cons |
| --- | --- |
| Beautiful countertop material | Sensitive to heat |
| Many options to choose from | Temperatures extremes can damage wood surfaces |
| Eco-friendly | Sensitive to moisture |
| Long lasting | Requires extra care |
| Naturally antibacterial | |
| Affordable countertop | |
Pros of Wood Countertops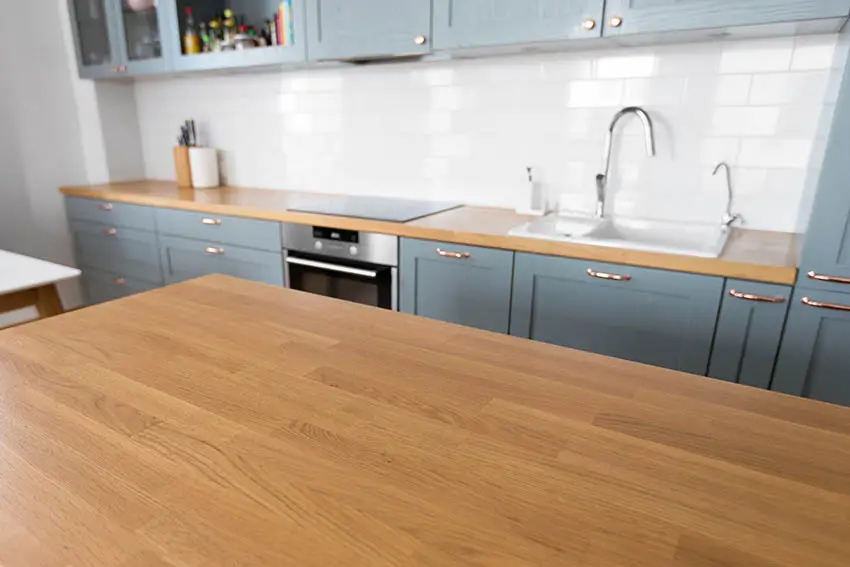 Beautiful countertop material – First, let's take a look at some of the benefits that wood countertops can bring to your home. Obviously, aesthetic beauty is usually among the first ones mentioned.
Many options to choose from – Given that you have plenty of types of wood and grain patterns to choose from, you'll rarely run out of options. This means it can fit a variety of design schemes from rustic to luxury.
Eco-friendly – Since wood is a renewable resource and takes less energy to produce than quartz or granite countertops its a great option as an eco-friendly choice. You can even find reclaimed wood countertops made from repurposed wood for a one of a kind design.
Long lasting – On top of that, wood lasts a long time. When a wood countertop is properly taken care of, it can last quite a while. The ability to sand and resurface your countertops helps stave off a replacement as well.
Naturally antibacterial – Wood is also a great choice since it doesn't grow and retain bacteria as much since it tends to absorb water. So, it's a hygienic choice as well.
Affordable countertop – Perhaps best of all, wood falls on the more affordable side of things when it comes to countertop materials. We'll take a deeper look at specific costs later on. Since it's easy to install as well, you can even consider a DIY installation if you want to try something yourself or save a little further.
Cons of Wood Countertops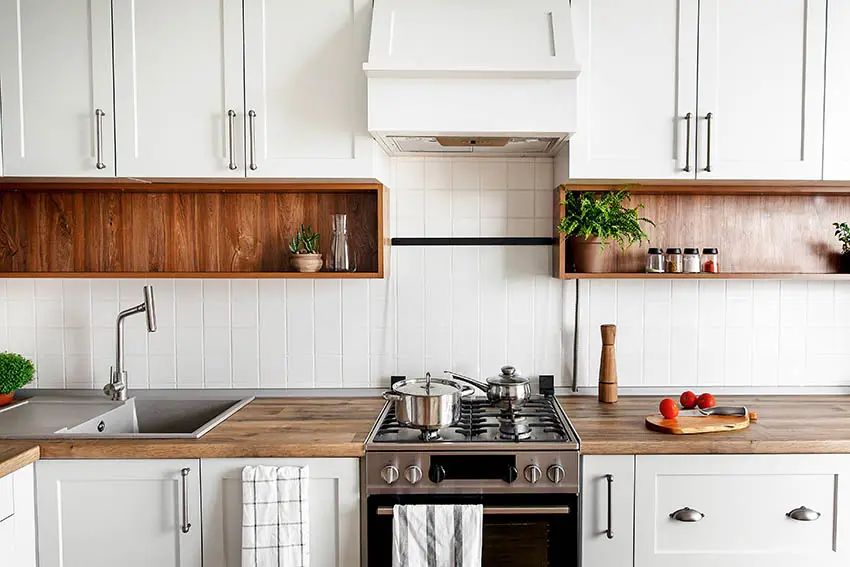 Just like any other decision about renovations, not everything is positive. To make sure you know everything you need to about wood countertops, let's take a moment to consider the cons of wood countertops.
Sensitive to heat – In the kitchen especially, you'll need to be careful with the heat sensitivities of wood. For example, if you put a hot pot down on a wood countertop, you're likely to singe it. For higher use areas you may want to consider butcher block countertops made from strips of wood bonded together.
Temperatures extremes can damage wood surfaces – On top of that, extremely low temperatures can damage the wood as well. This means that extreme climates can be particularly unfortunate for wood countertops as well, including severe humidity and incredibly dry air.
Sensitive to moisture – You'll also want to be careful when it comes to moisture. We'll take a look at the exact effects of moisture on wood later on. In all, wood has a few caveats to its durability that we'll delve more into in a moment.
Requires extra care – When cleaning wood, you also have to be careful what cleaners you use. Not every household cleaner is safe for use on wood. Luckily, you can use homemade solutions including vinegar as well as find wood-friendly cleaners to help reduce this con.
Wood Countertops Durability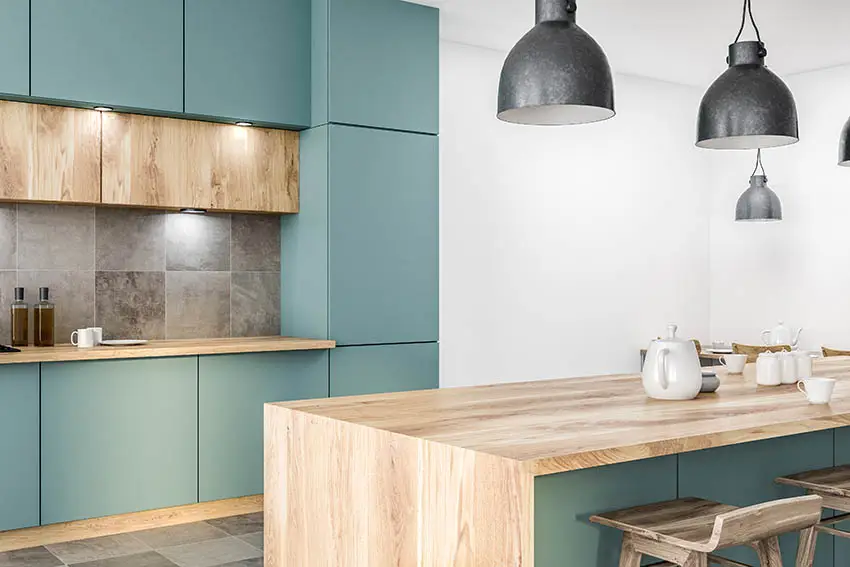 We've mentioned that wood countertops can last you quite a while. Generally, if you take care of them, your new wood countertops should last you the next decade or two. Unfortunately, that comes with some footnotes.
While wood is durable, it's easily damaged if you aren't careful. For example, wood is easy to dent, scratch, or nick since it's a soft material. What makes this worse is that these scratches and dings can harbor bacteria in a way that unblemished wood usually doesn't. The good news is that you can treat these spots for a better, safer countertop.
Another concept that we already mentioned is that wood, naturally, burns easily. This can cause a problem if you put your pots and pans directly on the countertop, especially compared to materials like stone.
You can avoid this by not placing hot objects directly on the wood, using a pot holder or rack to create a barrier between the hot item and the wood countertop.
Wood Countertops Construction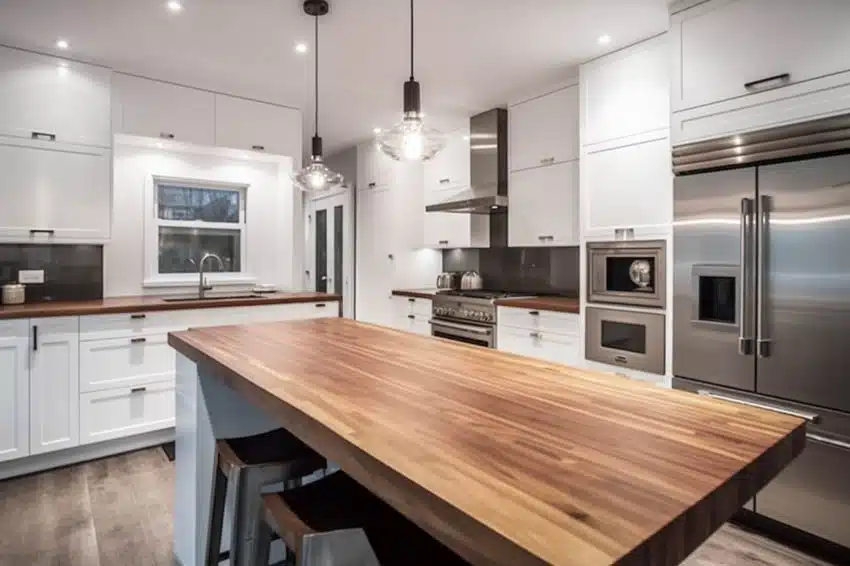 You might not give much thought to the construction process before a material like wood arrives at your home. When considering wood countertops, on the other hand, you'll want to pay attention to the construction of the specific wood you're considering buying.
Specifically, you'll want to ask the company or manufacturer that you're buying the wood from how the wood is joined together. There are a few different ways to do this.
The cheapest option is also the weakest. These are called finger-jointed tops and they aren't usually desired because these joints are sometimes visible.
This is a particular problem when it comes to areas where the counter features a cut out like the one for the sink. For a better, more durable option, you'll want to invest a little extra in full-length strips over finger-joint tops.
Moisture and Wood Countertops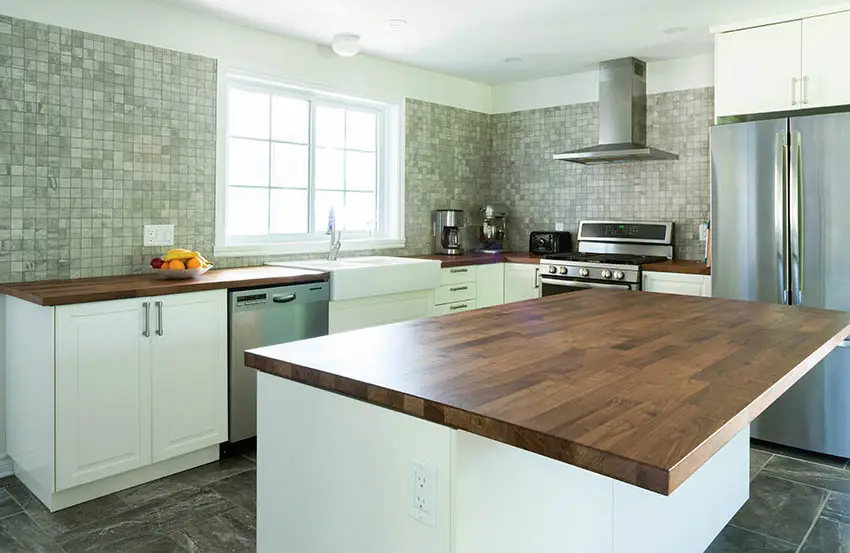 Another complaint against wood countertops is that they aren't naturally resistant to moisture. As mentioned earlier, wood is apt to soak up as much water as possible when there's a spill or splash. While this helps antibacterial properties, it also leaves wood open to water damage.
The most common results of water damage to wood countertops are discoloration spots. This could come in the form of a spilled drink that soaked into the wood, leaving a dark spot or those pesky rings you get when you forget to use a coaster.
The best way to avoid this is to try to make sure you keep your eye on any moisture that falls on your wood. In all likelihood, splashing a glass of water and immediately wiping it up isn't quite as harmful as forgetting a damp cloth on the counter all afternoon.
Put another way, while you need to watch out for water damage, you don't need to live in fear of it either.
Wood Countertops Maintenance
The best way to protect your wood countertops and reduce damage to them is to add a finish. You can use a clear finish if you don't want to cover the original coloring or grain pattern of the wood.
You can use mineral oil finishes if you want something undetectable but you'll need to reapply them every month compared to the much less frequent option of a food-safe finish made with tung oil. You'd only need to reapply this finish every six months, so only twice a year.
It's a good idea to reduce the harmful elements introduced directly to your wood countertops too. As an example, use a cutting board to cut anything and avoid items of extreme temperatures sitting directly on your counter.
Cost of Wood Countertops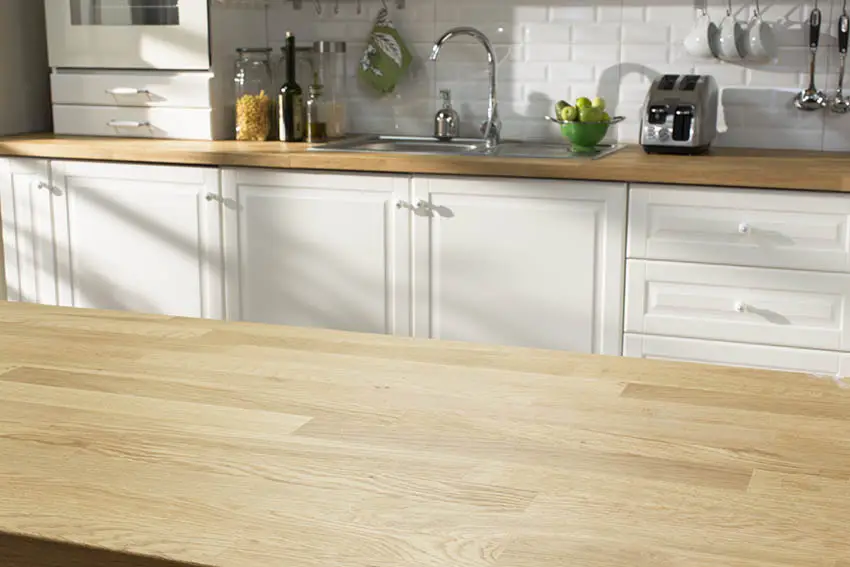 As mentioned earlier, one of the biggest benefits of wood countertops is that they're one of the more affordable options for countertop materials. Yet, when you're considering the budget for your project, you need to know a more detailed breakdown of pricing.
As a general rule, if you want to purchase the materials for your wood countertops and hire an expert to install the countertops, you can expect to spend $60 to $100 per square foot of countertop installed. Of course, taking this on as a DIY project can save you some of this cost.
Yet, there are a few concepts that affect this price range such as the type of wood you use, whether it's decorated, how intricate the details are, whether the wood is local or imported and more.
You'll also have the option between the more expensive solid-wood or, if you want to save some money, an option with a wood-topped counter. These are usually made with a top layer of wood and a particleboard core.
Eco-Friendly Countertops
More and more now, home owners are increasingly concerned about how their decisions affect the world around them. Because of this, it's a good idea to consider whether the materials you're considering are eco-friendly or not. The good news is that wood is comparatively an eco-friendly option.
This might seem counterintuitive given that wood is a natural material. However, it takes less energy to harvest compared to a material such as quartz or laminate. This makes the overall carbon footprint of the wood countertop smaller than many other options that you have.
All in all, there are pros and cons to adding wood countertops to your home. Still, wood countertops have a lot to offer homeowners, especially if they want to add a bit of warmth to their home with a lasting material.
Are Wood Countertops Worth It?
As with any other option that you have to renovate your countertops, there are pros and cons to the decision of installing wood countertops. When you're considering a list of pros vs. cons, though, a question often arises: are wood countertops really worth their cons?
Well, this question can change based on what you want and need. Yet, if you're interested in wood countertops, the odds are that they are worth it!
Sure, wood countertops have a list of pros and cons to consider before purchasing but as long as they're looked after well, they're often worth it. After all, all that maintenance and careful use helps to add a warm look to your home.
On the contrary, environments with extreme temperatures and temperature changes can't guarantee that wood kitchen countertops will always be the best option. With wood you will need to take extra precautions regarding temperatures in the home and clean up any spills as soon as they happen.
For more ideas check out our live edge wood countertops gallery.