Welcome to our gallery of plunge pool ideas including what it is, different types, average pool size, and cost.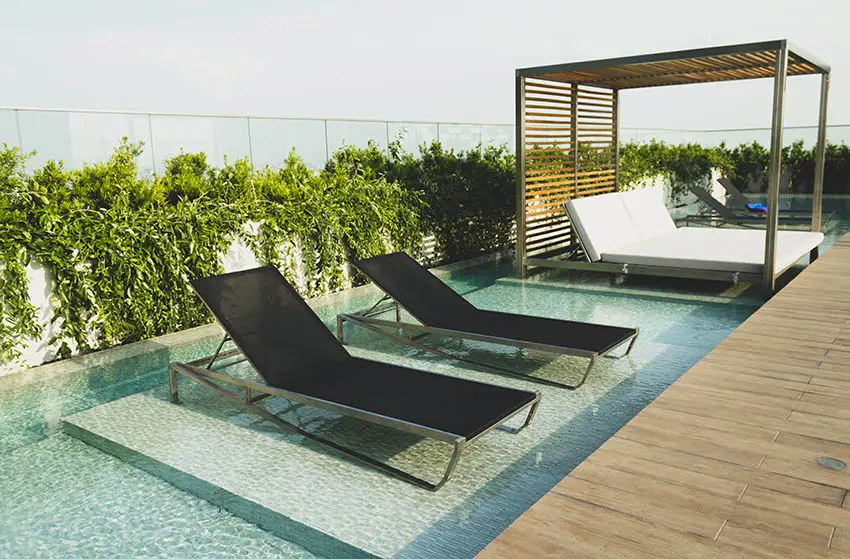 If you are thinking of putting in a contemporary-style swimming pool but have limited space on your property, consider installing a plunge pool instead.
This type of small pool is a unique way to save money and patio space, but you'll still experience the fun and luxury of a standard swimming pool!
What Is a Plunge Style Pool?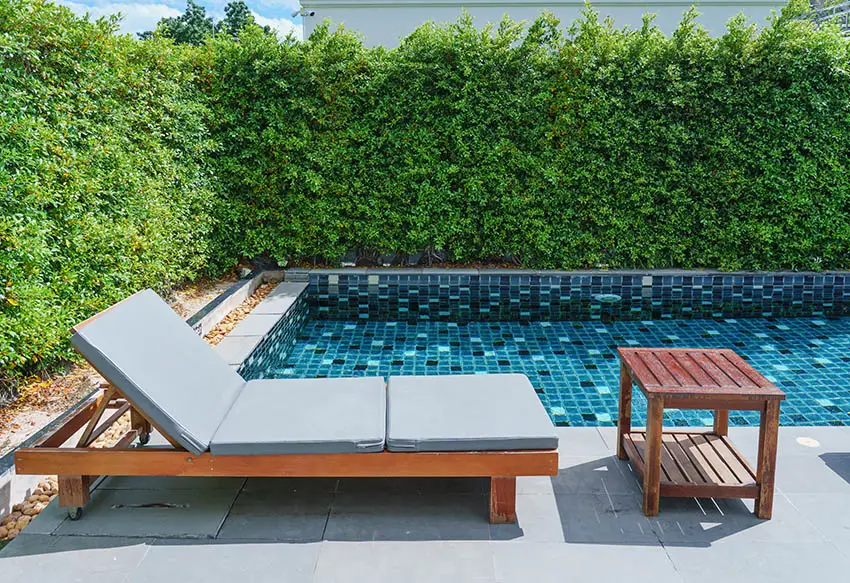 A plunge pool is generally a more compact swimming pool. It is slightly larger than a hot tub but smaller than a traditional pool. It is also referred to as a dipping, immersion, or splash pool.
You won't be able to swim laps in a plunge pool, but it is ideal for more relaxing water activities, such as hydrotherapy, aquatic exercise, or simply soaking in to unwind after a long day.
The plunge pool's smaller size allows it to be installed in smaller lots – including your own backyard. Since it's basically a small version of a traditional pool, it pretty much works the same way.
What's more, its compact size means it uses 80% less water and chemicals, has lower running costs and is much easier to clean and maintain.
Plunge pools were developed for the need of a smaller backyard pool. From there, you have a lot of options of how you'll enjoy them, such as these ideas:
A plunge pool will be the highlight of your backyard. Upgrade it with quality decking to give your space a relaxed vibe.
Add a safety feature around your pool to give you peace of mind, especially if you have children at home. Choose gates or railings that blend with your landscaping.
Trees and plants add character to your whole backyard, and it provides shade over your pool as well. But avoid placing trees where they shed in the direction of your pool, or you'll have to constantly clean them up.
Types of Plunge Swimming Pools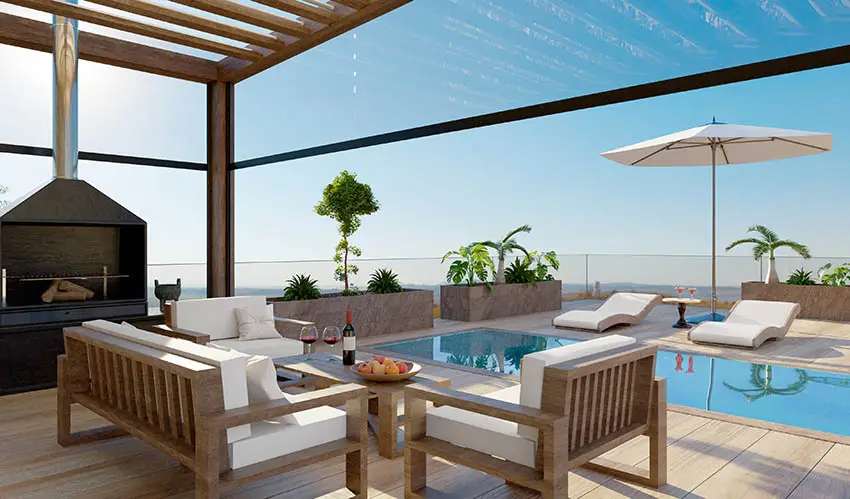 Plunge pools can be designed in a variety of shapes and using different materials. They can be made with fiberglass or with concrete and can be installed "above ground" or "in-gound", depending on what best suits your outdoor retreat.
Prefab Pool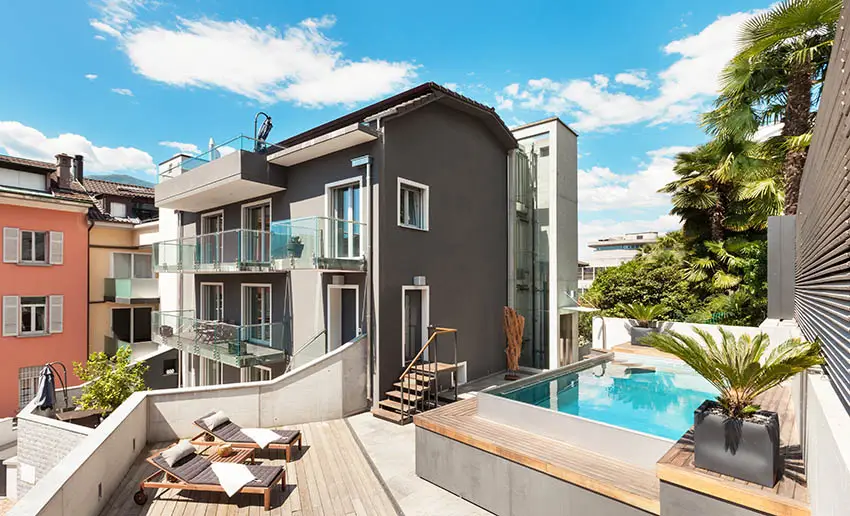 A prefab plunge pool is when the pool is fully manufactured in a separate facility and then transported and installed in your home.
This is the more popular type of plunge pool installation because it's quicker to build and has less disruption to your home.
While prefab pools are common, there are still plunge pool types built traditionally. The following are the different types of plunge pools in terms of installation, material, upgrades, and modifications you can try.
Above Ground Pool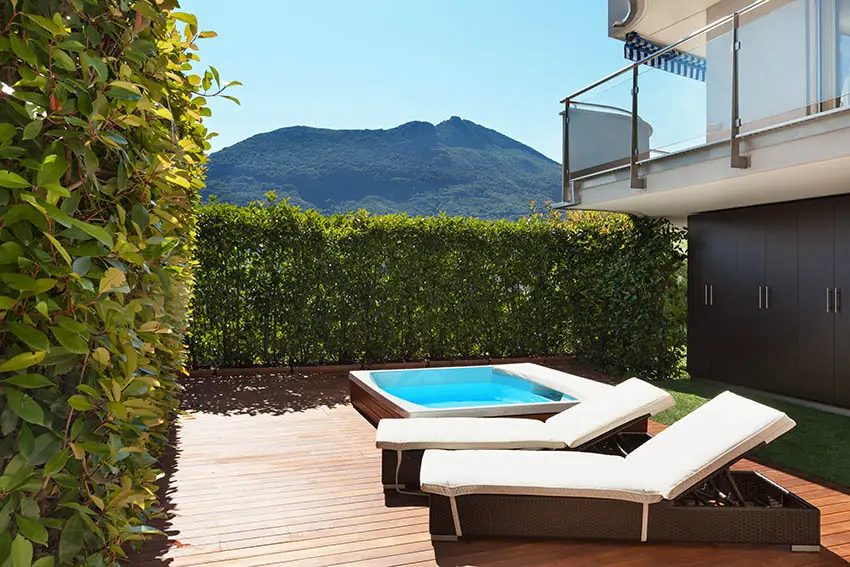 Above-ground pools are just what their name suggests – that they are built above ground level. They are most suitable for varying terrain, which tends to be a common problem in pool installations. So if your lot is uneven, sloppy, or even rocky, it can still accommodate an above-ground pool.
Since they are elevated, you have to access the pool through a series of steps. This higher entry point makes it safer, especially if there are children around, since they can't accidentally fall into the pool.
Another reason that this type of plunge pool is popular is that it is easier to install. Since its elevation adds a degree of flexibility, most designs are modular.
These modular pools are also prefabricated, so they will be easier to configure when they arrive in your backyard.
In-Ground Pool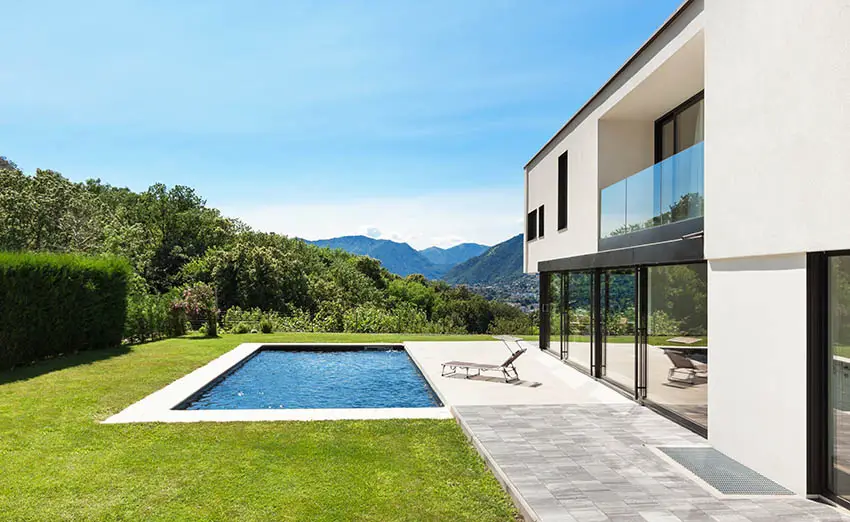 In-ground pools are the type of plunge pools that are built into the ground, meaning it involves excavation work. Though it sounds more meticulous, many homeowners prefer in-ground pools because they look more professional.
If you're getting an in-ground pool, you have to consider the landscape of your whole backyard and plan them holistically.
In-ground pools are usually made from fiberglass or concrete. Unlike modular pools, these pool types are designed to conform to your property, up to whatever shape and size it can accommodate.
An in-ground pool is usually more durable because fewer of its elements are exposed. However, once there is an issue, it can be more expensive to deal with.
Concrete Pool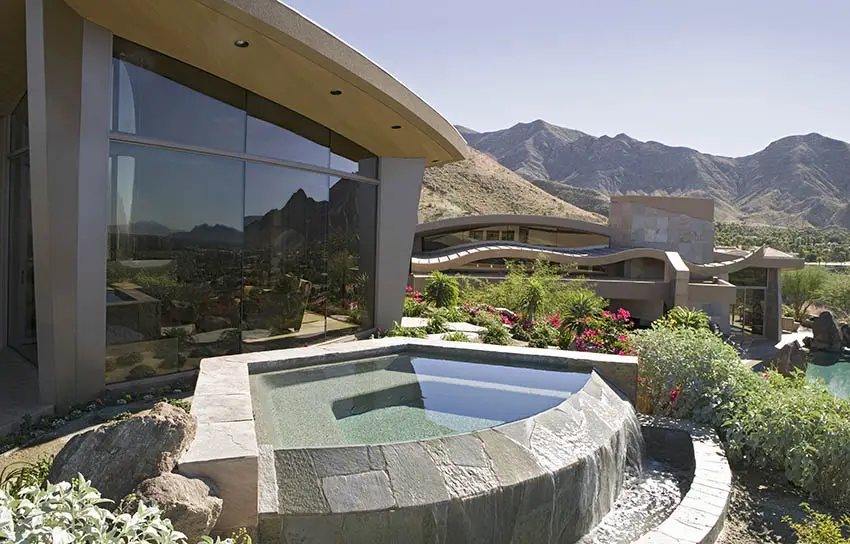 Plunge pools are often made of concrete – either delivered in one piece or constructed on-site. They can be installed partially above-ground or in-ground.
Precast concrete plunge pools are made in a different site, lifted and transported, and craned to a prepared area. It can, however, encounter limited access depending on the size and ingress of your property.
Custom plunge pools, on the other hand, are built on-site. They can accommodate tighter spaces and allow more personalization of the plunge pool's design.
Concrete plunge pools are heat and energy-efficient, and, subsequently, cost-effective as well. However, they can be prone to algae because of their porous nature. It would be best to properly tailor your concrete pools with tiles and a painted finish. See more types of pool finishes here.
Fiberglass Pool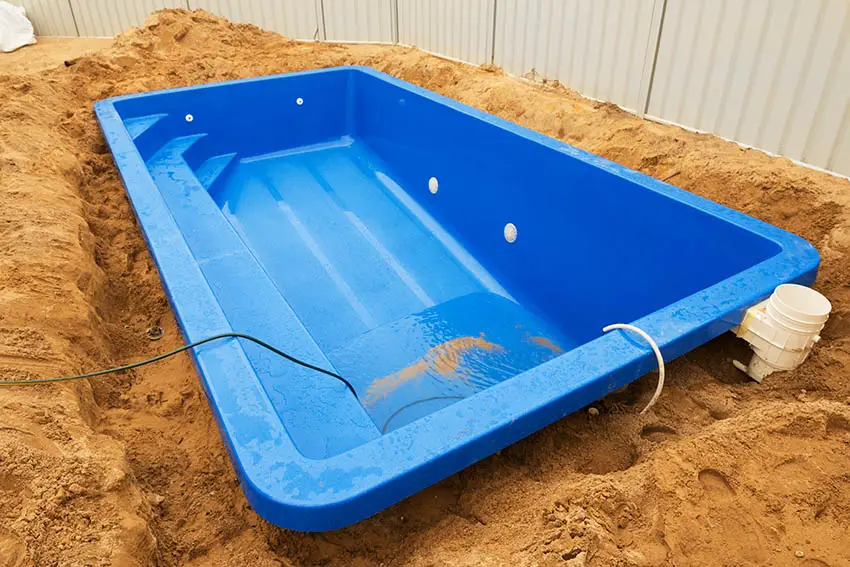 If you're looking for a different aesthetic than concrete, you can opt for plunge pools with fiberglass shells. Fiberglass is the same long-lasting material used in regular pools, so it is generally low-maintenance and specifically made to be algae and bacteria-resistant.
It has a smooth finish because of its gel coating but remains sturdy enough to withstand cleaning chemicals.
Fiberglass plunge pools are pre-made from factories before they are transported to your home. They are then settled upon a prepared ground (or excavation, if in-ground), connected to filtration and heating systems, and finished up with landscaping work if any.
This type of plunge pool takes only a few days to install, while concrete pools may take a month.
Splash Pool and Hot Tub Combo
One advantage of the splash pool over the regular swimming pool is that you can turn it into a hot tub. Homeowners no longer need to compromise between a pool for the summer months or a hot tub for the winter.
Many plunge pool manufacturers incorporate insulation systems that give you temperature control over your pool (up to 85 degrees Fahrenheit). You can add massaging jets and instantly have a therapeutic pool.
Hot water in pool spas can relieve your stress and help with sleep disorders. It increases your overall body temperature and slows heart rate – two known factors to contribute to a good night's sleep.
It works efficiently with heating and cooling systems, unlike traditional pools where it's too large – and therefore, expensive – to keep warm.
Pool Water Features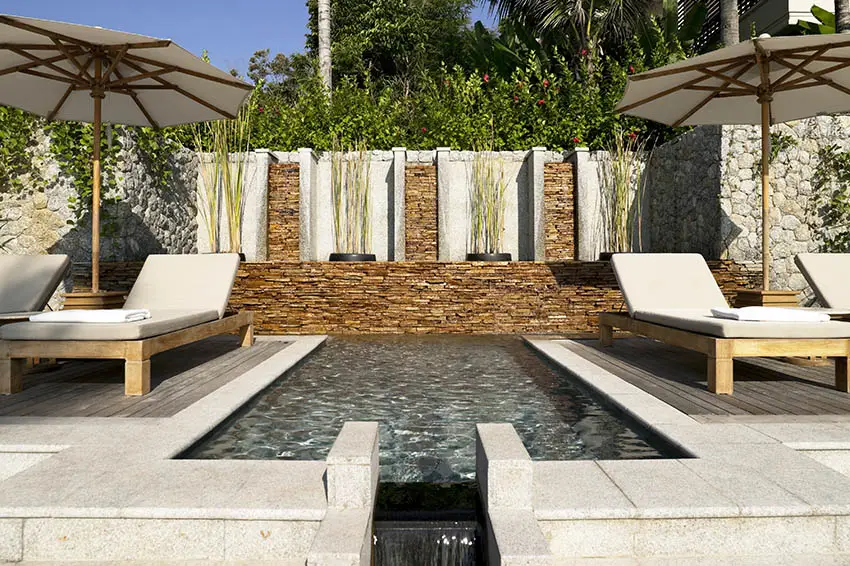 As mentioned above, properly installed heaters and pumps can make plunge pools remain at a comfortable, warm temperature. It only makes sense to use them as spa pools for relaxation and self-care as well by installing soothing water features.
There are many different types of water features, such as pool waterfalls, bubblers and fountains.
Cold Pool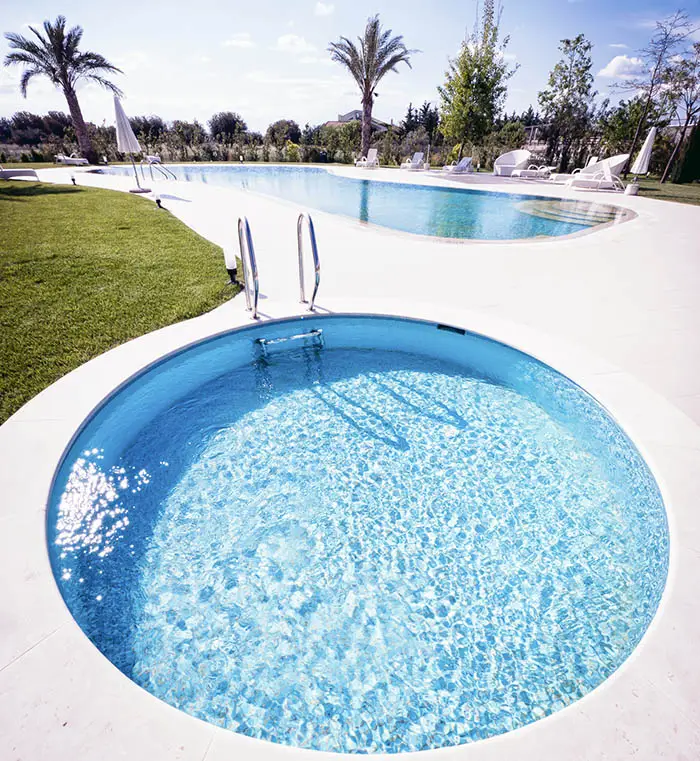 If you can turn plunge pools into hot tubs, you can also modify them to have a colder water temperature.
Cold plunge pools use chillers to maintain a water temperature between 45 to 55 degrees Fahrenheit and are ideal for physical and sports therapy.
By submerging the body in cold water, the blood flow in the body increases which speeds up recovery from injuries. It relieves swollen muscles and releases endorphins, too.
DIY Pool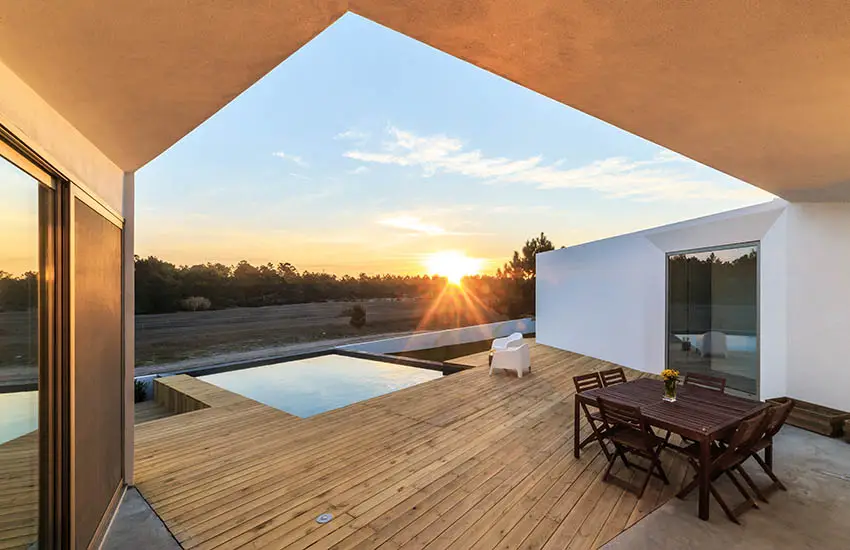 DIY plunge pools are usually above-ground pools where you don't need a professional for installation, although you still need a certain amount of building skills. Otherwise, it is best to hire an experienced builder.
A DIY pool only needs a level surface – preferably concrete, and be located near an electricity connection for the pump and filtration system to work.
This is ideal for handy homeowners who want a pool in their backyard at an affordable price. However, make sure to comply with any building codes in your area.
Plunge-Pool Kit
A DIY plunge pool is sometimes referred to as a plunge pool kit. It comes in a complete package comprising a pool shell, filter, and pump.
Some models have separate plumbing kits, while others come pre-plumbed. One advantage of a DIY pool is that you can take it with you. They are designed to be portable, so you can transport them with you when you move houses.
Infinity Edge Pool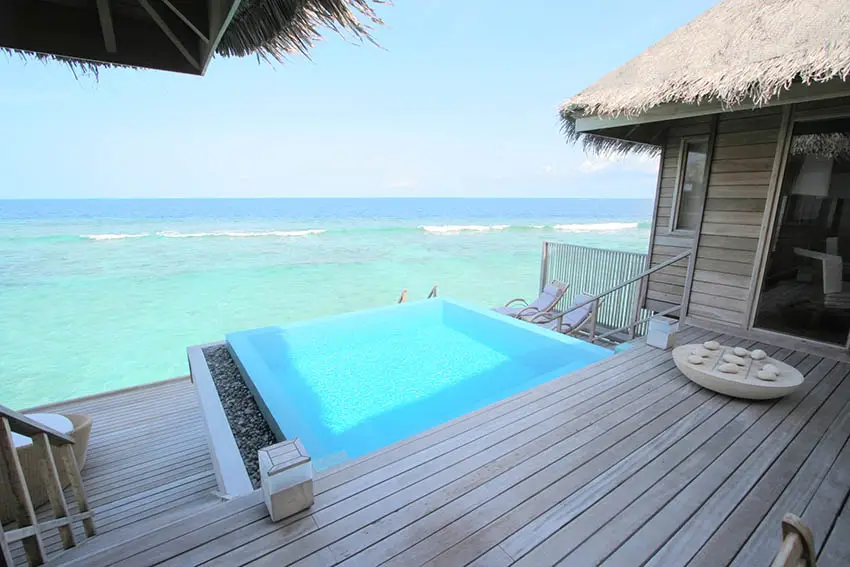 Infinity pools give the impression of merging the water into the landscape. The water flows over the edge of the pool, making it look boundless.
This type of plunge pool is usually built on a sloping site since looking down from an elevated place creates the illusion of infinity. It can be constructed partially or fully above ground and can be made from either fiberglass or concrete.
Average Dipping Pool Sizes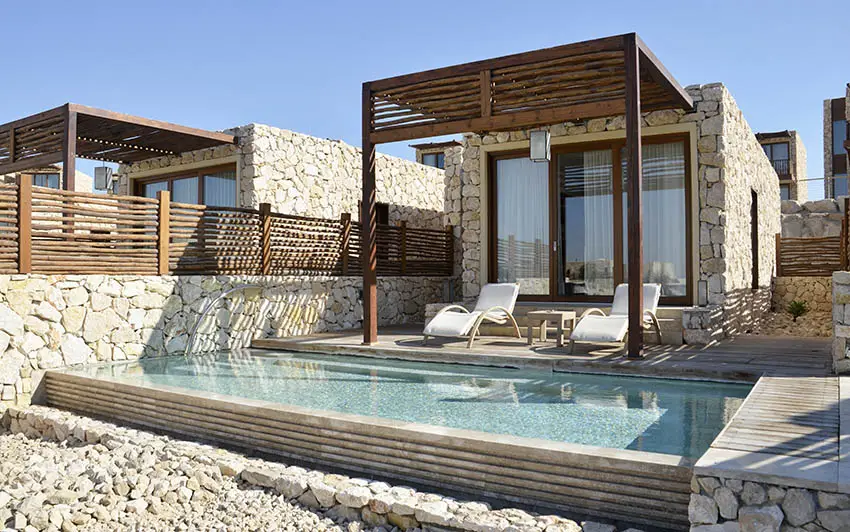 Plunge pool sizes range between 9.3′ to 23′ (2.85 and 7 meters long) and between 6.5′ to 11.5′ (2 and 3 ½ meters wide).
Some prefabricated pools are a quick 8-foot radius to fit most backyards as well. This size can accommodate many water activities and even seating areas for relaxation. Read more about pool sizes here.
How Deep is a Plunge Design Pool?
In terms of depth, plunge pools are often 4 to 6 feet deep, although this dimension varies greatly depending on the homeowner's needs. Leisure Pools, a popular swimming pool manufacturer, states that their small pools are typically less than 5 feet deep.
Average Cost of this Type of Pool
The average cost of a plunge pool is about half of the standard-size pools. Of course, the size, style, and modifications can significantly affect the price. Don't forget fencing, decking, or tiling around the pool, too.
Fiberglass plunge pools cost between $10,000 and $22,000, while concrete plunge pools average $20,000 to $35,000. These figures include labor and materials.
How Much Will a Small Soaking Pool Cost?
A small plunge pool costs somewhere between $10,000 and $15,000. This will be around a six feet basin diameter or large enough to fit two or three people.
Endless Pools put the cost of their average pool design between $20,000 to $25,000.
When it comes to maintenance, it is generally very easy to clean a plunge pool yourself. But if you don't have the time, professional maintenance starts at $75 per hour.
You can create your own plunge pool by using one of the available pool design software programs. These will allow you to choose your layout and dimensions, then visualize your design.