In this guide to epoxy pool deck designs you'll see what it is, the different types of epoxy coatings, cost, and the best tips for pool deck resurfacing, and sealing.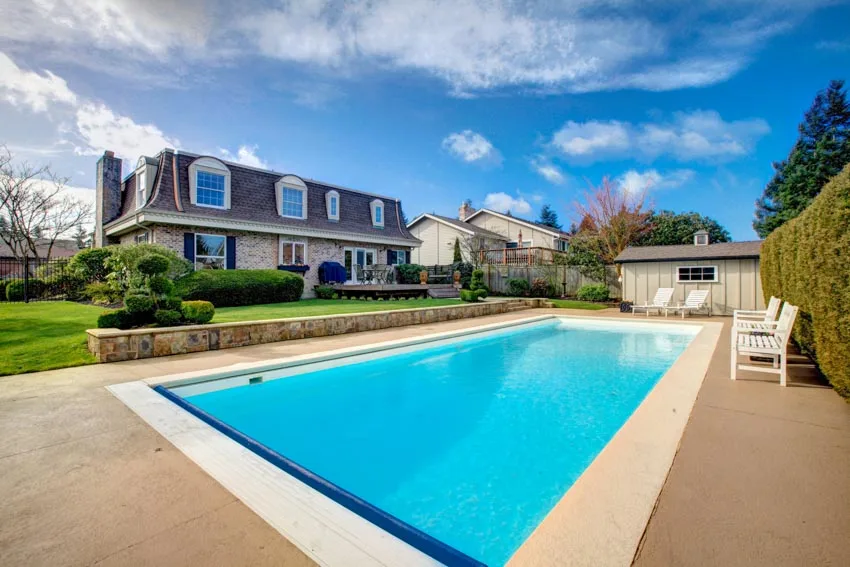 Swimming pools and their surrounding concrete decks need regular upkeep to appear and perform at their best. The surrounding pool deck, which you should coat for safety and longevity, is vital as the internal pool coating.
From cleaning to maintenance, pool care may be time-consuming and expensive, mainly if high-quality coatings do not protect the pool and surrounding pool deck areas.
What Is An Epoxy Pool Deck?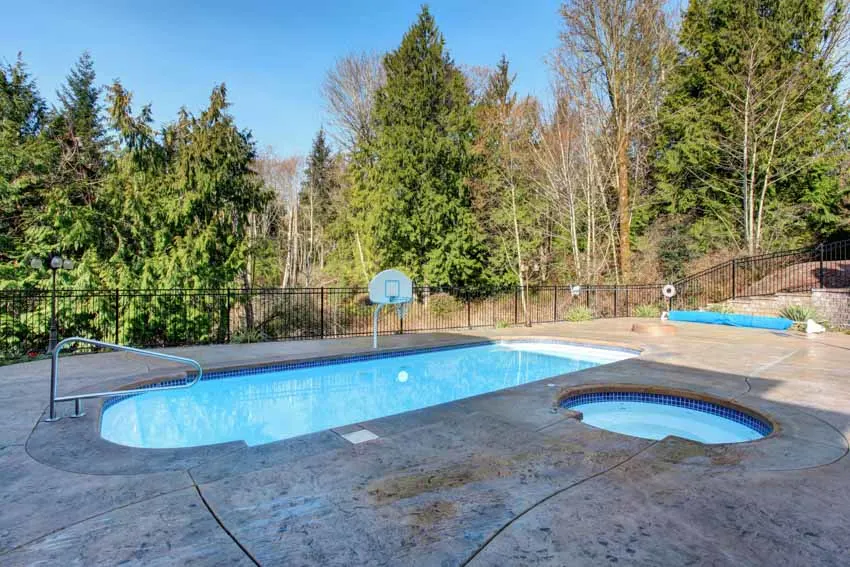 Your new pool deck should do more than keep your feet safe from the blistering heat of the concrete. It should also look decent. Resurfacing your pool deck with high-quality materials may increase your home's value and aesthetic appeal.
One of the most common methods to recoat the concrete surrounding of your swimming pool is using epoxy pool deck treatments. In the long run, this saves you both time and money since your pool deck coating will not fracture as quickly. Its UV stability and reflection will be up to 15 degrees cooler than concrete following installation.
Epoxy is also a less expensive option than elastomer. It will give your pool deck covering a gleaming finish. However, exposure to sunshine and weather may cause it to yellow and chip.
People splash water out of the pool or carry water when they depart, soaking the pool decks. This instance poses a safety issue since sliding near the pool involves landing on hard concrete and the hazards of falling into the pool after perhaps striking one's head.
A non-slip epoxy floor may help with this. Instead of ordinary, slippery concrete, you can add four to five layers of protection to your pool deck, which will keep it looking fantastic while also providing slide resistance that most regular pool decks lack.
Epoxy Pool Deck Coatings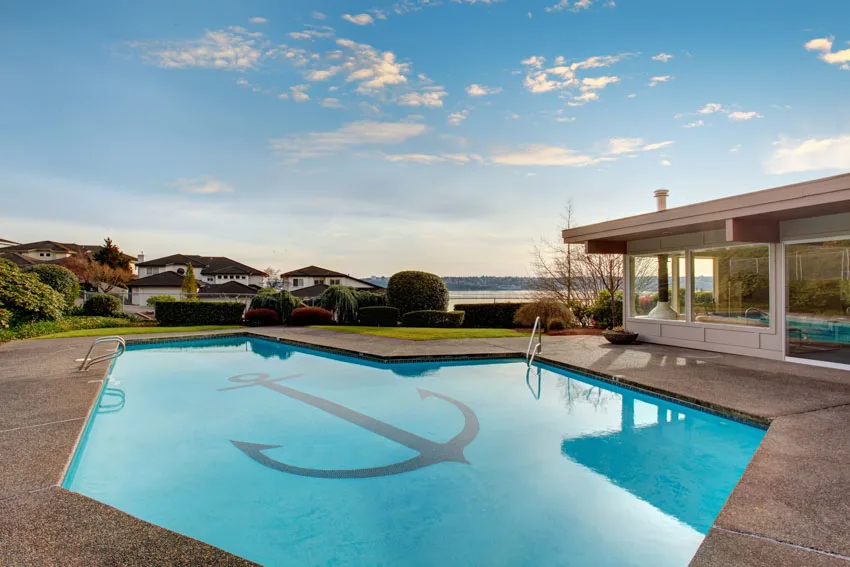 One of the most excellent solutions for refinishing a pool deck is epoxy. They provide a long-lasting, rigid, water-resistant, and chemical-resistant finish. You may use it on various pool surfaces, including concrete and fiberglass. It generates a homogeneous and complete surface since it is a solvent-based pool paint.
You can also apply a liquid or semi-liquid pool deck coating to existing concrete to create a new surface. These coatings are available in various colors, textures, and patterns, and they have a fantastic look. They conceal defects and irregularities on the surface of the concrete. They also help to prolong the life of the pool deck surface.
Pebble Epoxy Pool Deck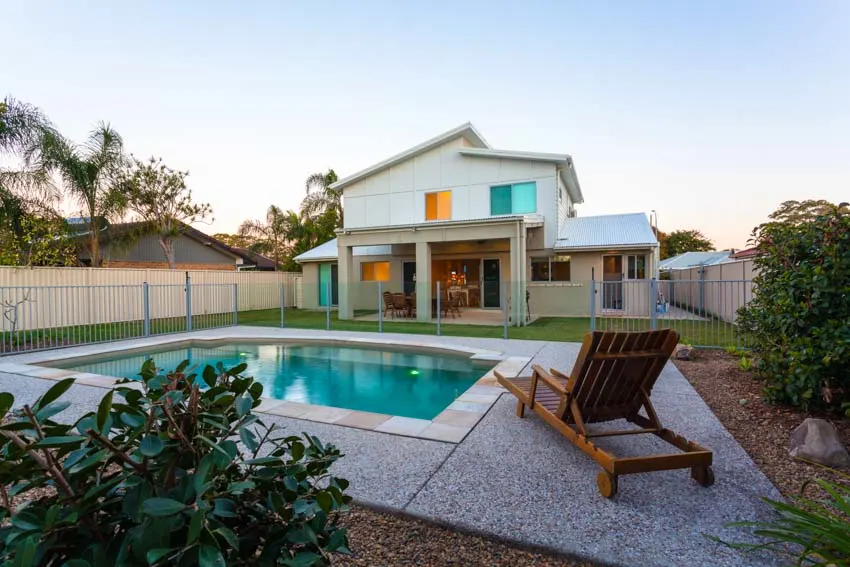 Epoxy pebbles are suitable for use both inside and outdoors and are tough enough to offer consistent covering in even high-traffic areas such as pool decks. The installation is rapid, and the decks are ready to use after roughly a week of drying time.
Because it is a floor covering of tiny, loose stones, you may lay it down on any subsurface, even with dips or rises, as long as you prepare it properly. Epoxy coatings protect the concrete underneath them by forming a moisture barrier. As a result, the liquid remains on top rather than soaking through.
The ornamental stones are blended in with the pebble finish, giving it an intriguing feel. Furthermore, vibrant color combinations are conceivable. On the other hand, wear and tear might cause the stones to pop out.
Epoxy Concrete Pool Deck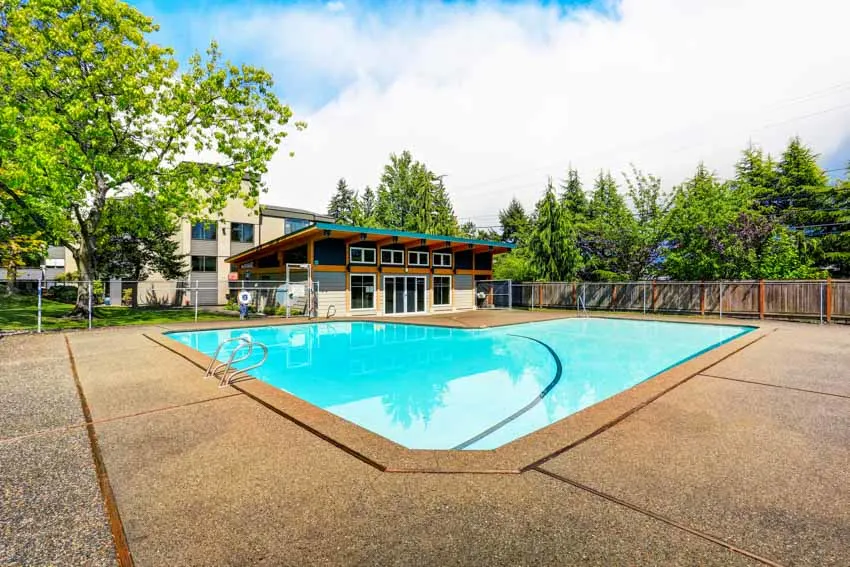 A long-lasting and one-of-a-kind approach to resurfacing a pool deck with spectacular effects is to use specialized epoxy resin. There are specialty epoxy coatings suitable for concrete types of patios and pool decks.
These epoxy products are epoxy resin and powdered stone combinations or an epoxy-fortified acrylic finish. Thanks to the skid-resistant additives, the surface is slip-resistant, even when wet.
Epoxy coatings are ideal for high-duty applications such as logistic centers, industrial buildings, and other exposed locations. Its hardness, durability, and impact resistance are well recognized.
Epoxy is also known for its chemical resistance to bleach, oils, greases, cleaners, and other chemicals. Because of their chemical resistance, they are a popular option in automobile garages and pool decks.
Concrete Pool Deck With Epoxy Paint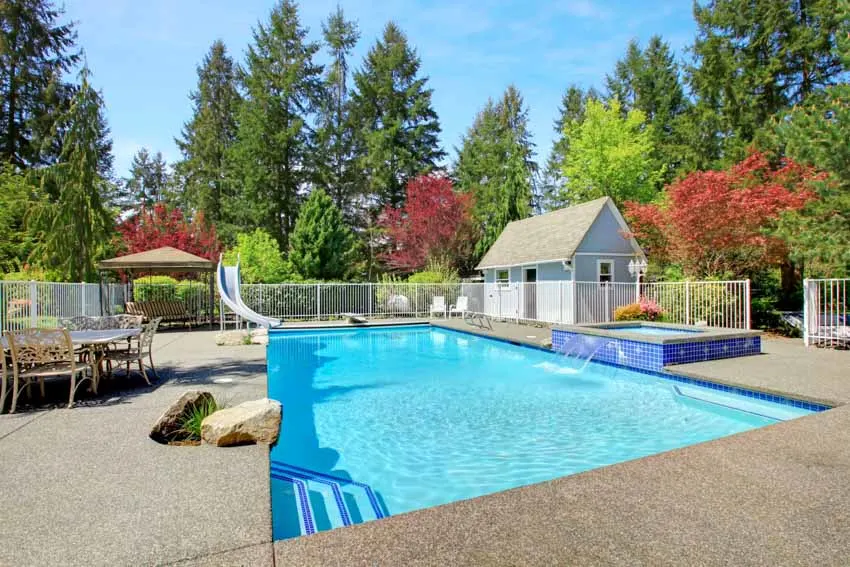 Epoxy paint is one of the most robust and long-lasting paints now available. It is also an excellent option to give your flooring a little additional shine. You may use epoxy paint to seal cement floors often used in garages and basements.
Epoxy paint is a latex acrylic product with a tiny quantity of epoxy in the mix used for flooring applications. It gives a robust, long-lasting, and easy-to-maintain protective layer.
Epoxy paint is corrosion-resistant, chemical-resistant, and simple to clean, making it perfect for garages and warehouses, among other applications. The critical difference between epoxy and regular paint is that it adheres better to the concrete surface when epoxy is present, making it more durable.
Regular acrylic paint will peel and flake without epoxy, particularly in high-traffic areas. Pool deck paints are one of the most affordable solutions available. It does, however, have to be redone every year, unlike stamped concrete.
Consequently, it requires a lot of upkeep and may be costly in the long run. Unless it is a coating, painting is seldom the most important choice for resurfacing a concrete pool deck. It might also be a particular material on a pool deck.
Acrylic, stamped concrete, or a natural stone pool deck, for example. Even if you paint, you will need a surface in good shape to function. Acrylic pool deck surfaces, on the other hand, should not be painted.
Epoxy Pebble Pool Deck Cost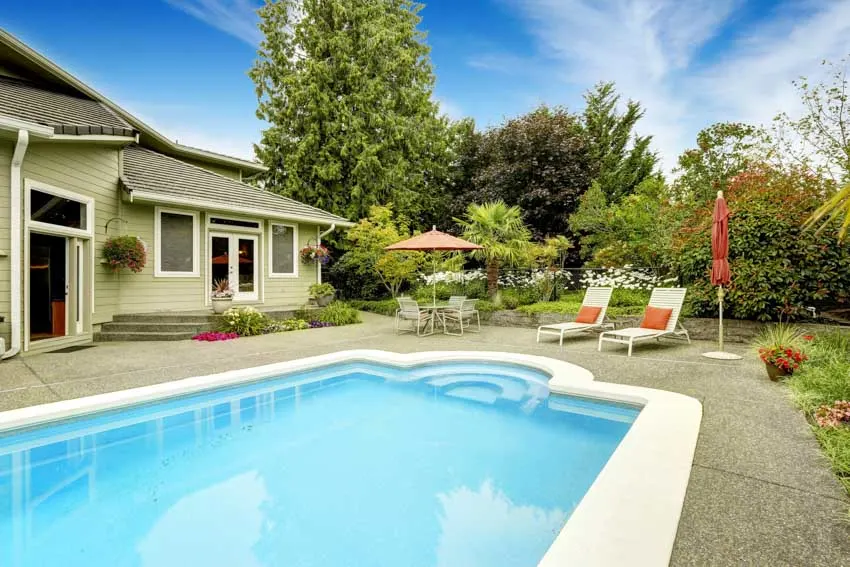 The underlying foundation must be adequately prepared and leveled before various sorts of "epoxy stone flooring" may be put in. Even with the promised low price, the preparatory labor adds up, making epoxy stone flooring possibilities between $9.00 and $14.00 per square foot.
A 6-gallon pebble paving epoxy package costs $450 and covers around 250 square feet. The smooth stones will set you back about $150 for enough to cover a 250-square-foot area.
Epoxy Concrete Pool Deck Cost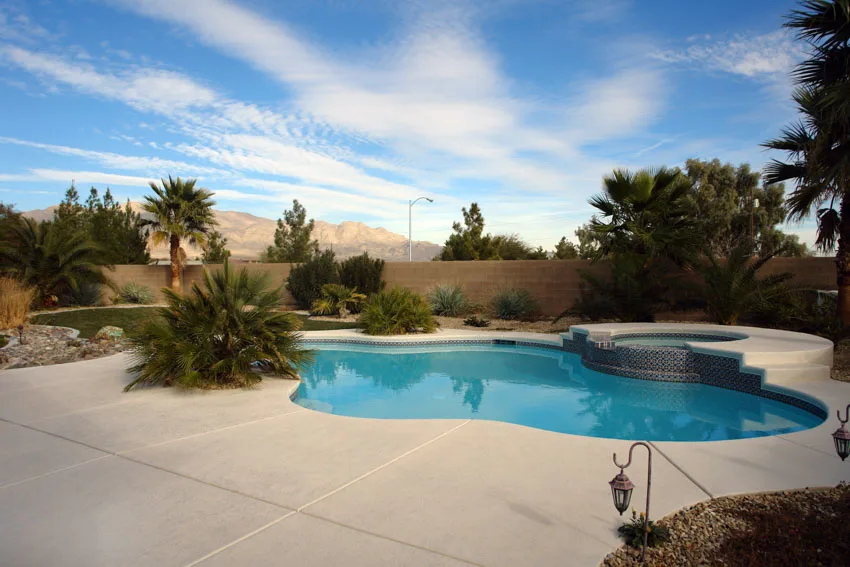 Epoxying a concrete floor costs anything from $3 to $12 per square foot. The average cost of completing a job is $2,293, with most owners spending between $1,475 and $3,130. The size of any project and the quality of epoxy would be the most crucial pricing variables.
Is it worth it? Epoxy flooring protects the underlying concrete against moisture, stains, grease, and cracks. By removing the need to clean, you may save a lot of money on cleaning and upkeep in the long term. It is also incredibly affordable for the length of time and degree of security.
Can You Put Epoxy On A Pool Deck?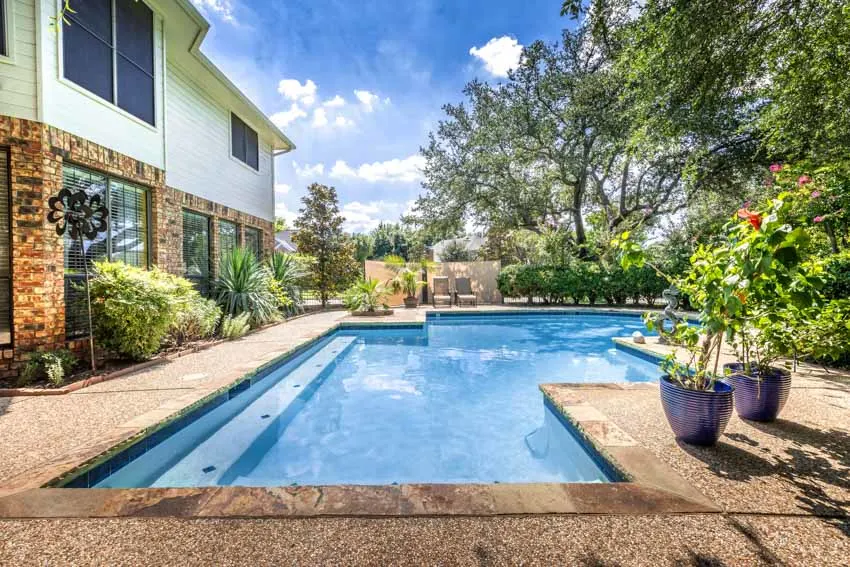 Yes! Epoxying a pool deck is recommended by experts because of its high-quality look. Aside from that, it also helps prevent future damage and rough spots. They also have anti-slip coatings, which are necessary around swimming pools.
There are various kinds of pool deck sealers that you can use: acrylic and water repellent sealers. On concrete, acrylic sealers will leave a visible surface film. Because of the film, when water splashes up onto the coating, it just rests on the surface.
While the coat itself is not slippery, the water on the surface certainly is. For youngsters and the elderly, this may be dangerous. If you use an acrylic sealer, add a non-slip ingredient to the topcoat to help with traction.
Unlike acrylic coatings, water-resistant sealers do not leave a visible surface film. They operate inside the concrete slab's pores. This kind of sealer interacts chemically with the concrete surface, reducing water absorption by 95%. It produces a hydrophobic barrier in the poured concrete's small gaps.
On the other hand, you can best seal pool decks using an epoxy concrete sealer. Decks with a rough surface or areas that need repair due to cracks or pits are especially vulnerable. The epoxy fills in gaps and minor holes in the pool deck. It also provides an easy-to-clean surface that will not fade from pool chemicals or UV rays, among other things.
A basic gray concrete pool deck is unappealing, but it may also be dangerous. Hot concrete baked by sunlight pouring in through windows may rapidly burn bare feet, and concrete is a somewhat slippery surface due to its smoothness.
Epoxy coatings give any pool deck a professional look while protecting it from harm. Rough spots may be painful to bare feet; thus, anti-slip coatings are necessary for swimmers' and sunbathers' safety.
Epoxy Pool Deck Resurfacing
Resurfacing a concrete pool deck may help bring an outdated deck back to life and give it a new lease of life. The procedure strengthens and repairs damaged concrete surfaces. The contractor then applies an overlay product made up of sand, cement, and polymer resins in combination with additives.
The cost of resurfacing a pool deck is less than rebuilding the complete structure. The cost of a simple resurfacing is between $3 and $5 per square foot. However, the price tends to rise when you add changes and additions.
While it is possible to conduct the resurfacing yourself, it is preferable to engage a professional—their years of expertise aid in navigating the pitfalls and ensuring that you met your expectations.
Other surfaces are more challenging to maintain than a pool deck. It forms a non-penetrable barrier that protects the concrete underneath. Furthermore, in and around pools, bare feet are the norm.
As a result, the material you choose should not be slick when wet. It should be comfortable to walk on and not absorb too much heat. Your contractor can assist you in selecting the appropriate pool resurfacing material.
How Long Does An Epoxy Pool Deck Last?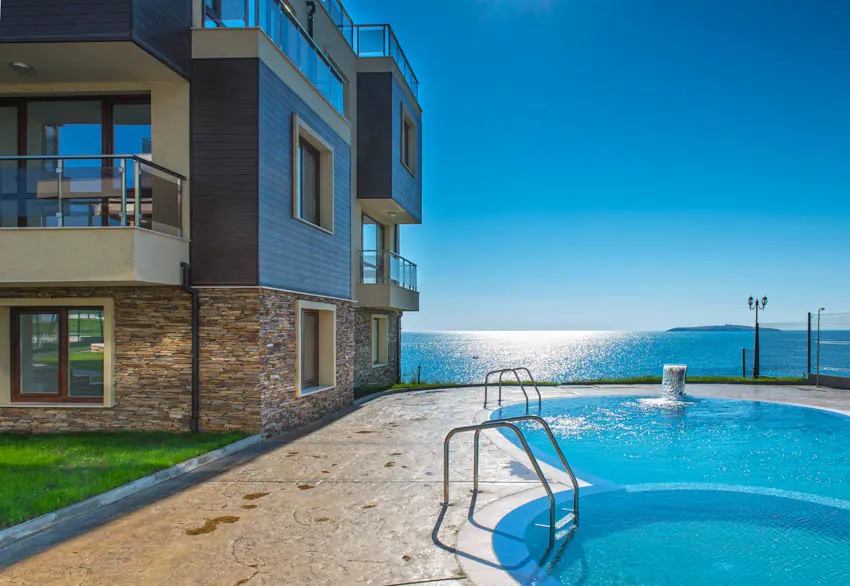 Coatings must have crossed your thoughts if you intend to create a new concrete pool deck or resurface an old one. Epoxy coating over a concrete pool deck is a cost-effective and practical solution. On the other hand, how long does an epoxy pool deck last?
Epoxy coatings have a 10- to 15-year lifespan. There have also been instances when the coating has lasted for more than 25 years. It requires maintenance and frequent cleaning for a long-lasting coating. However, experts advise that you can reapply the coating every ten years.
Here are some advantages to consider before making your decision:
• When compared to aggregate or plaster, epoxy produces a significantly smoother surface.
• It fills in all of the surface's minor fractures and flaws
• It protects the pool's surface from harm
• It aids in the prevention of algae formation
• It comes in a variety of colors
Do You Seal An Epoxy Pool Deck?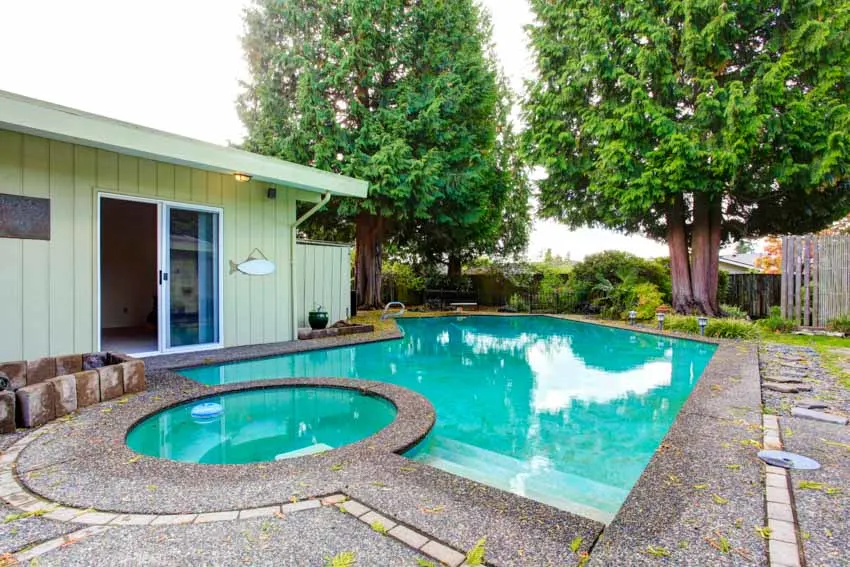 A decent epoxy concrete sealer may help preserve and extend the life of your newly resurfaced deck. It also aids in the rejuvenation of pre-existing surfaces.
The following are qualities of an excellent sealer:
• UV resistant
• Protect from the dangers of pool chemicals
• Enhance the appearance
Depending on the material and foot usage, they may endure 5–10 years after installation. Here's how to keep your concrete pool deck sealed.
• Remove any debris, dust, and filth from the whole surface. When compared to hand washing, pressure washing provides a more thorough clean.
• Apply a thin layer of concrete sealer to the pool surface. Then, using a roller, apply a thin coating to the pool deck area.
• Ensure that the overlaps are feathered to prevent strange stripes. Allow for 24-48 hours of drying time or as directed by the product.
Epoxy is an excellent way to protect your pool deck, particularly if it needs repairing. It is a dependable, long-lasting, and cost-effective solution to update the aesthetic of your concrete deck.
Epoxy also creates a smooth pool finish by filling up cracks and gaps. It is also simple to clean and does not fade when exposed to UV radiation or dangerous chemicals. Plus, it is also available in a variety of textures and colors.
Your possibilities are endless, ranging from natural hues like brown and gray to dramatic colors like blue, black, and white. Your best bet is to hire a contractor to renovate your beautiful pool deck.
See more related content in our article about salt finish concrete pool deck on this page.