See limestone pool deck designs including the different types, pros and cons, cost, and the differences between limestone pool decks compared to travertine.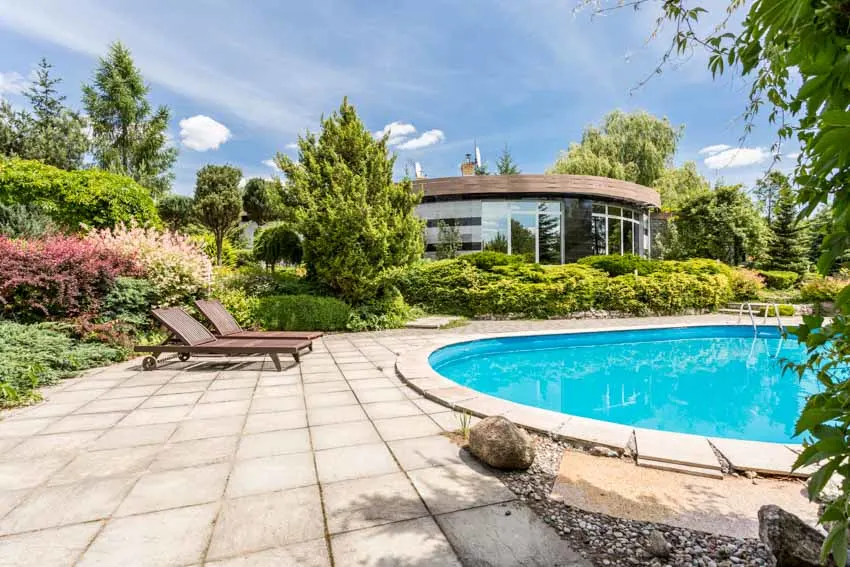 One of the most important parts of your swimming pool's landscape would have to be the area around it. For starters, it's the location where everyone congregates by the side of the pool.
But apart from its social functionality, it is also the main contributor to your pool's overall design and style. It adds character and personality. There are a lot of materials you can use for your pool deck but one of the most popular ones is limestone. It's a great material choice for your pool decking.
For starters, it isn't slippery even when it's wet. This is crucial because slippery pool decks can be a real health hazard. It also doesn't get too hot despite getting exposed to the sun for prolonged periods of time.
When properly maintained and sealed, you can be assured that it won't stain so you don't have to worry about spilling your drinks on it. It can definitely withstand a lot of wear and tear. Apart from the occasional sealing, it doesn't really require much by way of maintenance.
Limestone can provide your pool deck with a classic weathered look that can fit in well with a natural-looking landscape. And the best part in all of this is that it's cost-efficient so if you're working on a tight budget, this is definitely something that will be right up your alley.
Types Of Limestone Pool Decks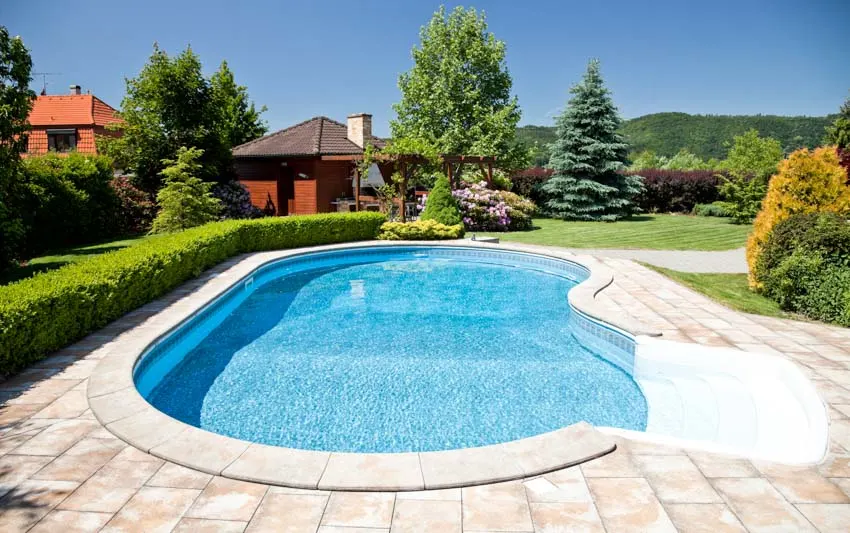 There are different types of limestone to choose from and we'll help you sift through those options so that you can make the right decision.
White Limestone Pool Deck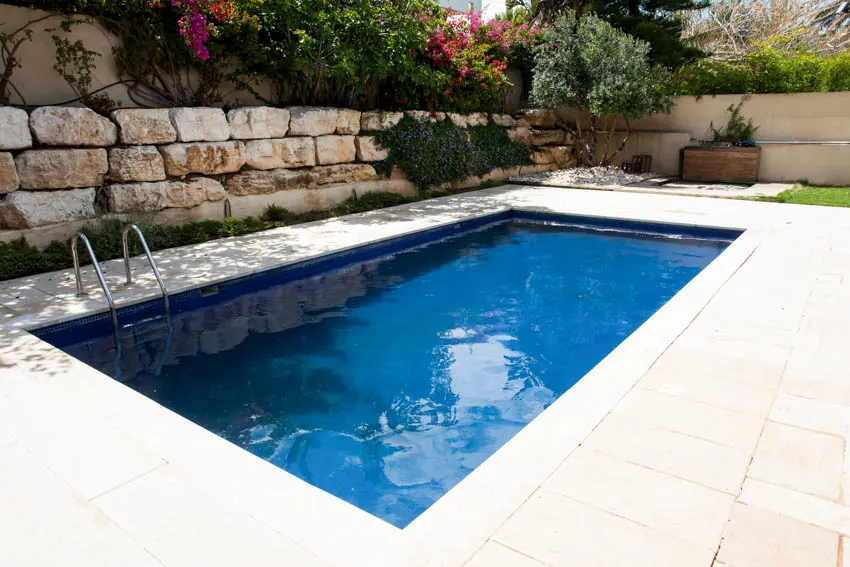 White limestone is highly prized because of the homogeny in its light tones. It is also highly luminous and can come off looking pristine right by the pool. It's pretty straightforward and the white is fairly uniform.
One main example of white limestone is Bianco Perlino. It's creamy white and tends to be quite compact and dense. This is mainly because of the high amount of fossils in its composition. There's the occasional furrowing on its surface coming from the small veins on the surface.
Grey Limestone Pool Deck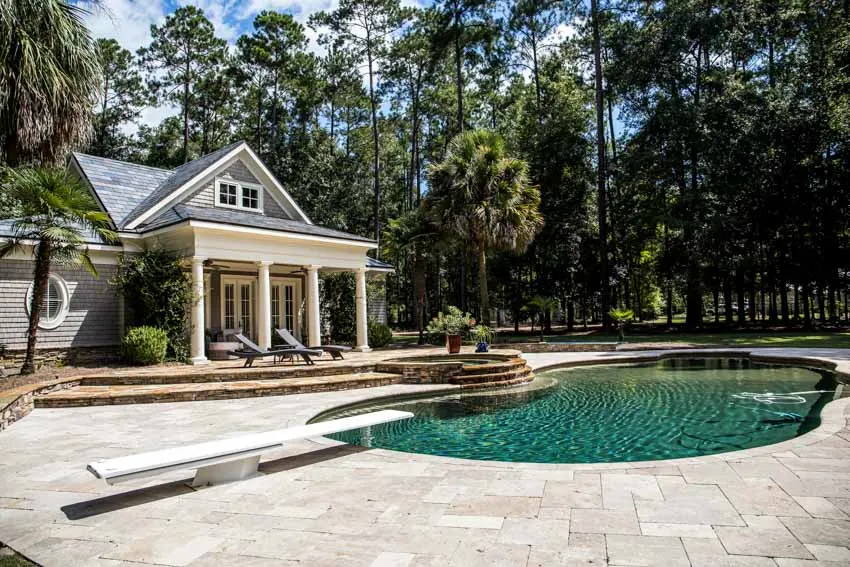 Grey limestone comes in a lot of different types. Interestingly, there's more than just the plain grey to it. Grey limestone pool decks are great because they have bluish hints to them. This pairs attractively well with the blue color of the water in the pool.
• Alboran grey limestone closely resembles what concrete or cement looks like. It's a predominantly grey base that has some flecks of black particles in it. The black grains can come in different sizes and in different sections. Some parts are smoother while some aren't as smooth. This textural difference makes it an interesting pool deck feature.
• Twilight grey limestone is a type of grey limestone that has smoke tones to it that is fairly homogenous. This is because it has fossils in some spots. It also includes other interesting particles in it such as pearl, lead, and other similar particles that are whitish in color. This is an elegant limestone type that highly mimics the look and feel of a cement and natural stone pool deck.
• Osiris grey limestone also contains certain fossils in its composition. It has a mole base that is speckled with creamy sparkling particles. It has marine fossils in it and usually has swirling patterns.
• Grey navy limestone is another type of grey limestone. It has a bluish hue to it dotted with silver and ochre-colored particles that can pair up very well with the water in your swimming pool.
Limestone Pavers For Pool Deck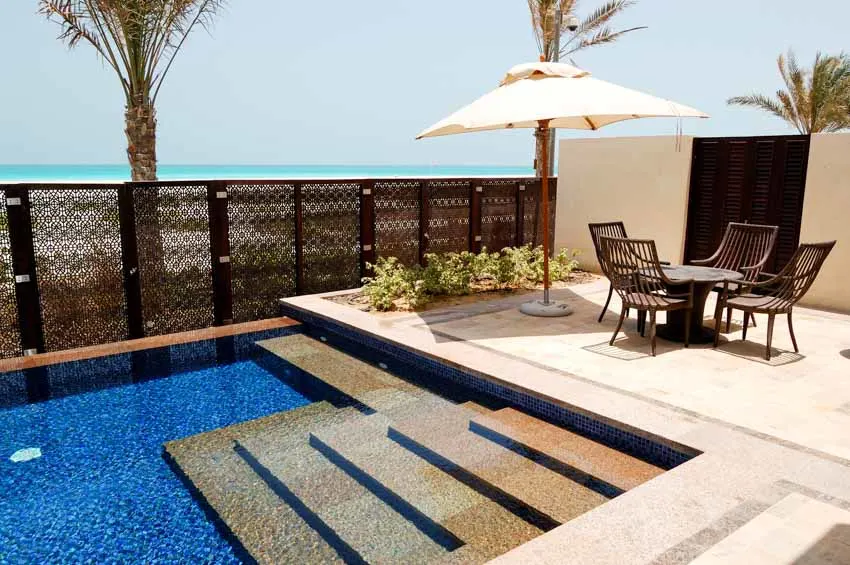 Limestone pavers make for really great hardscaping materials but they make for even better pool decks. Limestone is a naturally occurring material as it's mainly a sedimentary rock that's made out of a calcium bicarbonate composition. It is durable and impressively strong and the best part of it all is that they offer non-slip properties that make them perfect as pool decking materials.
Limestone Tile Pool Deck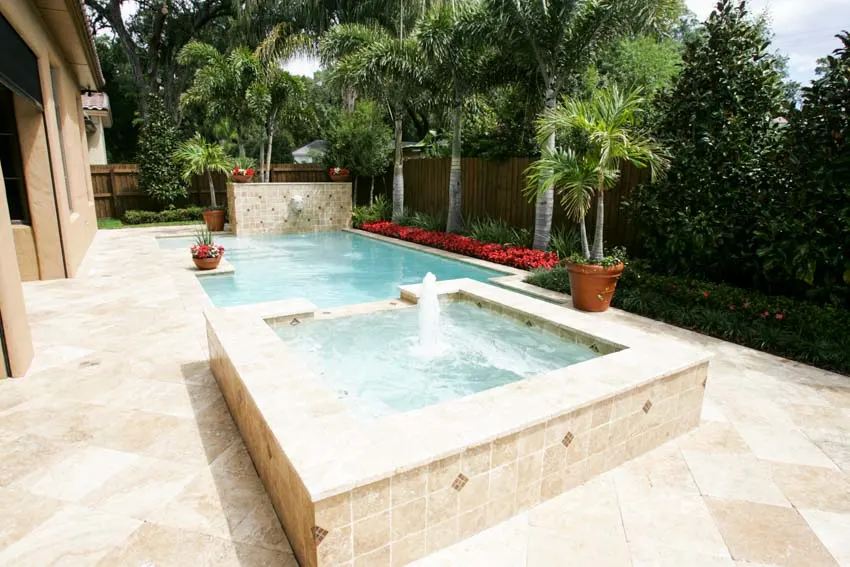 Limestone tiles are extremely durable. They look great and fabulous as a pool deck. They feel soft underfoot and are fairly easy to install. Limestone tiles can be sealed. This will protect its surface, prolong its life span, and take better care of it in terms of keeping it resistant to stains.
This will also make your pool deck so much easier to clean. Take note though that pool quality or installation may lead to cracking so make sure that you get this done professionally and that you choose only the highest quality of limestone tiles.
Limestone Pool Deck Pros And Cons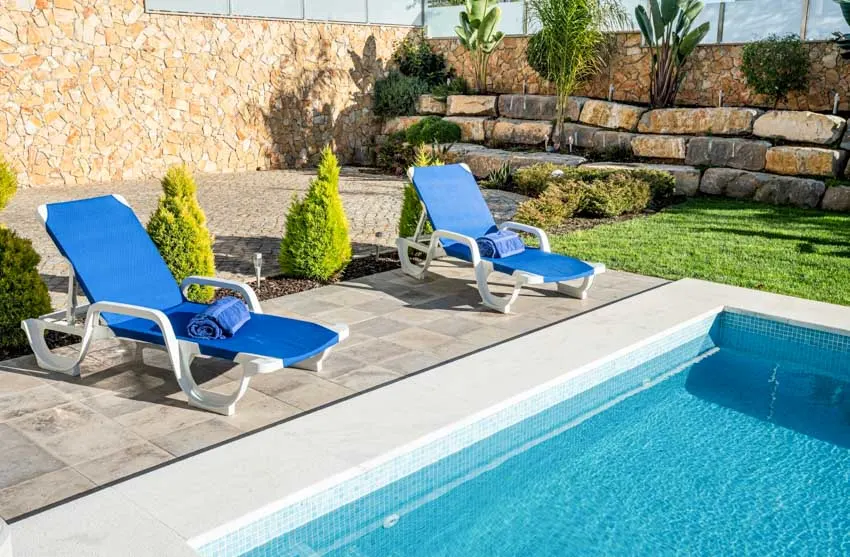 Here we share the advantages and disadvantages of limestone pool decks.
Pros of Limestone Pool Decks

It blends nicely with the natural outdoor environment. Pools are of course almost always found outdoors with gardens or greenery surrounding them. Limestone can help your pool deck blend in easily with the rest of the environment so you have a pool-scape design that's seamless and cohesive.
It's durable but shapeable. If you're going for unique swimming pool shapes, which means your pool deck would have to follow the shape, limestone is shapeable enough to follow whatever unique design you may have.
Environmentally friendly. As this is a naturally occurring material and mining it doesn't impact the environment negatively, this is great for environmentally conscious homeowners.
Surprisingly comes in a wide variety of colors. If you want to go beyond just the basic white, limestone has a lot of color varieties and types for you to choose from.
Limestone pool decks are very low maintenance. You only need to seal them and sweep or power spray the surface every now and then and you're done. It doesn't require extensive maintenance and cleaning at all.
Cons of Limestone Pool Decks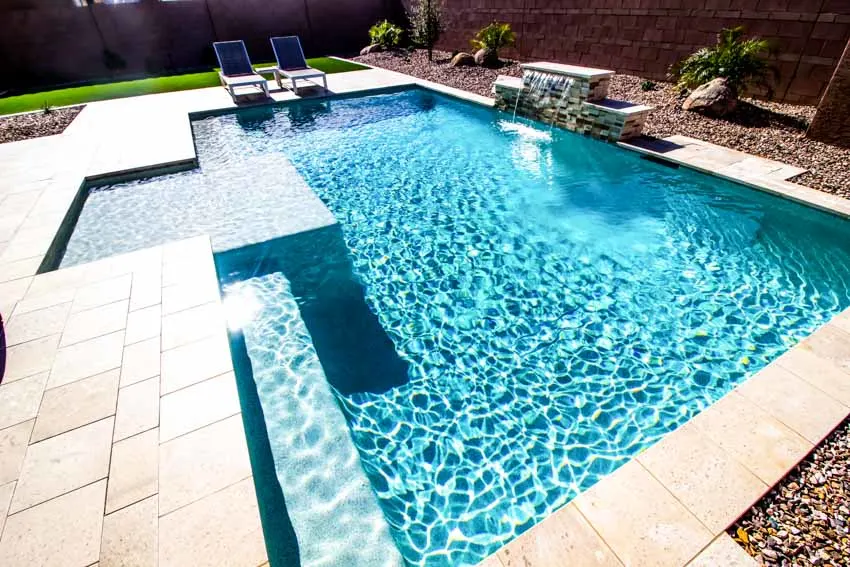 Limestone may be in limited supply in certain locations. It all depends on the area that you're in. if you're in an area wherein limestone isn't readily available, there may be added costs from either importation or from freight costs.
May require periodic sealing. You can't have it as is. You need to make sure that your limestone pool deck has this extra layer of protection. If not properly sealed, limestone can wear down and chip and if left unattended may require replacement.
Limestone Pool Deck Cost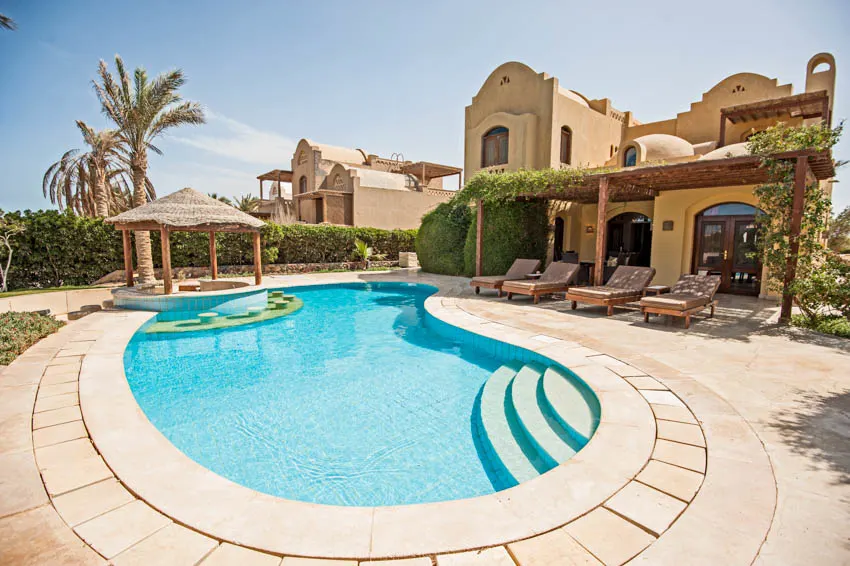 A limestone pool deck can't really be calculated as a whole cost as swimming pool sizes vary greatly. The pricing of the material can range anywhere from $65 to $230 per square meter. There may also be a lot of factors that can greatly influence how much the total cost will turn out to be.
For starters, the maintained density of the limestone material. The color selection, cut, and type of limestone used can also heavily weigh on the overall cost of your limestone pool deck.
The cost of limestone may vary from one area to the other as supply availability may fluctuate. Some types of limestones are also more specialized than others and that's another thing that might factor in on the cost as well.
Limestone Vs Travertine Pool Deck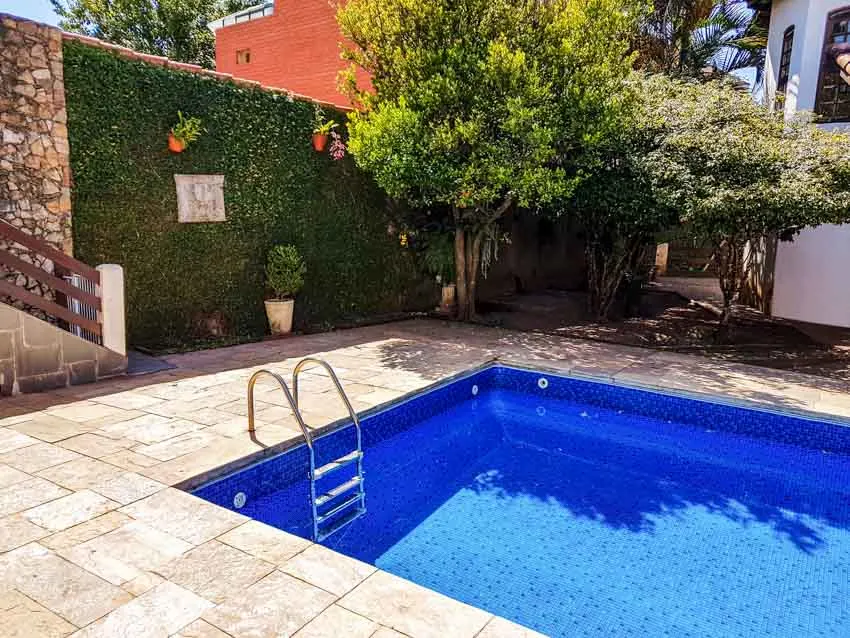 Limestone and travertine have very similar traits. They are both considered mainstay building materials and they are also both types of natural stones that are ecologically friendly.
On a more specific note, travertine is technically considered a type of limestone as it falls under that category in terms of stone traits and qualities. Both are great for pool decks as well. As a matter of fact, they are so similar to each other that it can at times be difficult to choose between them.
They do have subtle differences from each other though. Although both have crushed shells and other similar fossilized marine exoskeleton in their composition, a major differentiator is that limestone is a much denser material compared to travertine. This is because limestone was formed under far more heat and pressure before it was developed.
How they were formed: Limestone was formed by sediments and calcium carbonate, usually common to marine fossils and similar exoskeleton. This is usually used either around the oceans or in them.
Travertine is also comprised mainly of calcium carbonate but mainly from the process of precipitation and they are usually in natural bodies of freshwater such as natural springs, rivers, lakes, and the like. Travertine was formed under less heat and pressure. This is why travertine is at times called pre-stage limestone.
Surface and texture traits: Limestone was formed out of extreme heat and pressure. This is why air bubbles are released and there are no significant holes on the surfaces. It has a far smoother surface because of this and it doesn't usually require any type of filling.
Travertine has a lot of holes on the surface. These holes are caused by having air bubbles trapped inside the material during its formation process. For a smoother appearance, it is usually advised to fill these gaps in the travertine, especially when used as a pool deck. This will keep moss and dirt from getting inside them which may affect how a travertine pool deck looks.
Durability and material strength: Limestone is stronger. It is less prone to breaking or cracking because of its generally dense material consistency. This makes limestone a great pool deck because it can take the weight of being in a high-traffic area.
Travertine is prone to breaking and is known to be far more brittle. This material is valued as a great pool deck though because it has an elegant appearance that can really elevate the look of your pool deck area.
Appearance and color: Limestone has a uniform appearance. It offers visual continuity to your pool deck. It is also much lighter or brighter in color and can come in various shades such as grey, white, beige, and black.
Travertine has veining visible on the surface and it can come in a wide variety of colors. It can go anywhere from yellow to silver and everything else in between that spectrum. Travertine is a material that's much darker in color compared to limestone.
Maintenance: Limestone isn't high maintenance but it does require sealing to get it there. Once sealed, it doesn't need anything more than mild cleaning, simple power spraying, or basic cleaning. Because it has a much lighter color, the dirt tends to be more visible so a more regular cleaning routine is required.
Travertine requires a little more compared to limestone in terms of maintenance. Because there are holes in the surface, they need to be filled in with resin, and then the entire surface needs to be sealed. Travertine pool decks need to be sealed at least 3 to 4 times a year to preserve their appearance and prolong their life span.
Heat resistance: Limestone has qualities that allow it to deflect light. It has tiny pores that allow the heat to sift through underground which means that its surface stays cool even when exposed to extreme heat during the hot summer days.
Travertine also stays cool and has much larger pores or holes so, like limestone, it has the ability to withstand extreme heat temperatures that pool decks are usually exposed to.
It boils down to preferences. Both limestone and travertine make for great pool deck materials. It really depends on whether you like a light-colored pool deck or a dark-colored one. They are both great for the outdoors. They both stay cool under extreme heat. They are also great to be walked barefoot, which is usually the case for pool decks.
Is Limestone Good For Pool Decking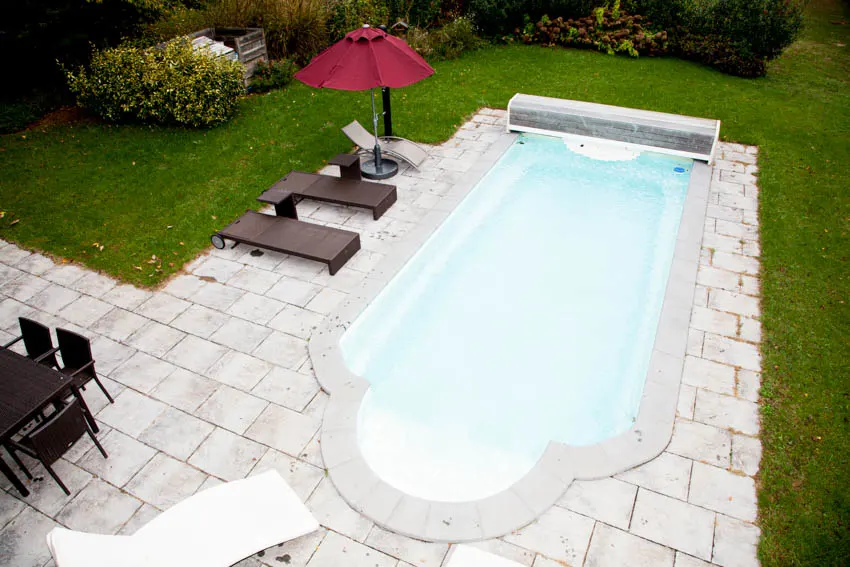 Limestone is definitely great for pool decking. It looks and feels elegant and luxurious. It can really transform how your pool deck looks. There is also a wide range of limestone styles to choose from.
As a matter of fact, there's even a new variety that will be able to withstand extreme conditions, such as staying under freezing weather, and retaining the material quality even when it thaws out. It is highly resistant to bacteria and mold and for an area that gets wet all the time, this is definitely a huge plus.
Having a limestone pool deck is a great investment to add. It requires little to no maintenance at all as long as it is properly sealed and power sprayed with water from time to time.
And even if limestone has a fairly honed finish, its surface is not slippery at all. Instead, it has a somewhat matte effect that's smooth and provides major anti-skid properties.
Poolside slipping is fairly common, especially with poorly chosen materials but this isn't an issue with a limestone pool deck so it's safe for family and friends, and most especially if you happen to have kids and pets around.
See more related content in our article about gunite pool on this page.