Here is our gallery of swimming pool shapes including the most popular design styles & ideas.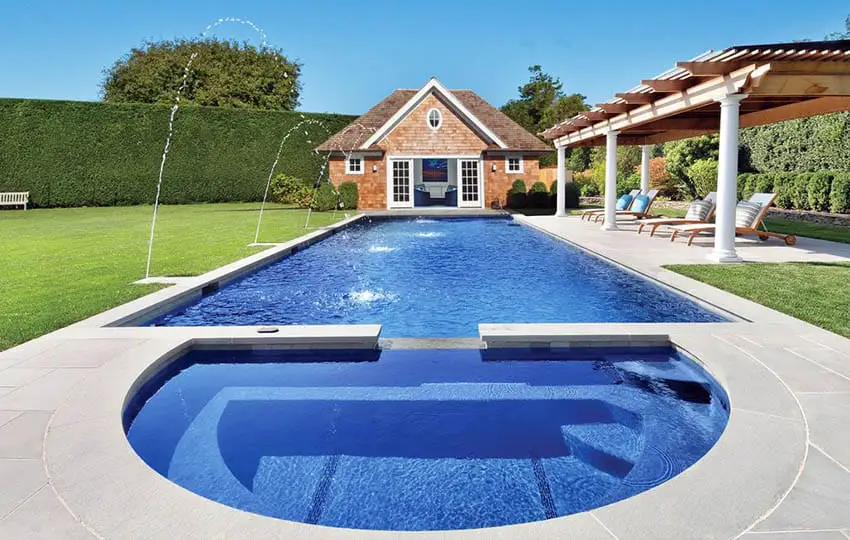 Swimming pools add extra value and enjoyment to a home. Even in ancient times, pools were found in luxurious homes by royal and wealthy families. Bigger pools were built for sports and exercise purposes.
In Britain, indoor pools became popular in the mid-19th century. Swimming clubs were formed to hold races, competitions and water polo events. In 1896, the modern Olympic Games started including swimming as a competitive sport. This prompted the term "Olympic-size pool" for its grandeur and majestic size to hold competitions.
In the United States, the first freeform pool was built in California during the 20th century. Philip Ilsley built the first "people's pool" in West Los Angeles for less than $1700.
This was achieved by spraying instead of pouring concrete into the steel-mesh forms. After the second World War, the number of residential pools increased from 2,500 to 57,000 due to this affordable option. Most swimming pools were in kidney or freeform shapes.
In 1948, the "Donnell Pool" was popularized as a result of the design from Thomas Church and Lawrence Halprin. They built a kidney-shaped pool for the Donnell family. Soon, designers followed this design and these can still be found in older homes in California.
Freeform Pools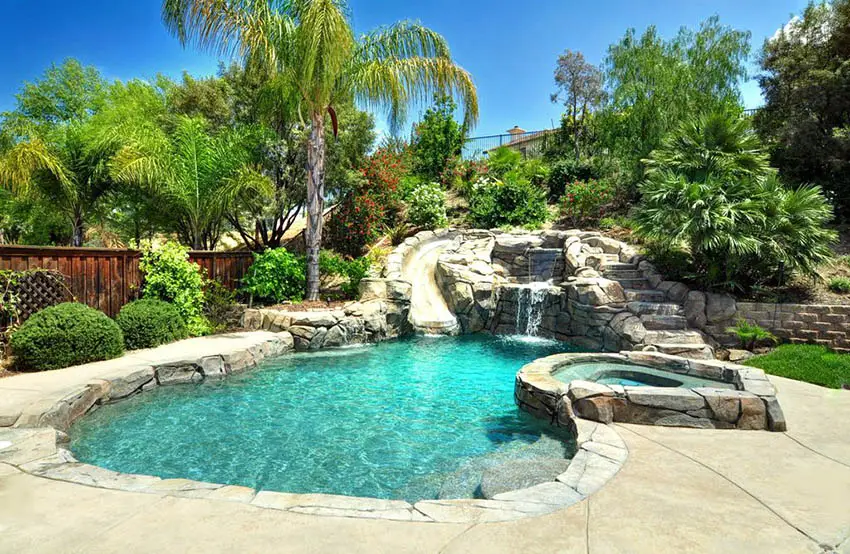 Freeform pools are naturalistic and have irregular styles and shapes. These pools have curves and flowing lines. They are made to look like a natural form of water like a pond, lake or oasis.
Most freeform pools are surrounded by lush landscape such as rocks, waterfalls, and trees. Thus, they are also dubbed as naturalistic pools.
These pools are built using concrete or vinyl. A hole is dug on the ground and then concrete is poured into the shape designed for the pool.
The best thing about freeform pools is that it can be any shape and size to specially made for the space allocated to it. This is great for backyards that have irregular shapes, or for small backyards where the designer still wants to keep some space for landscaping and outdoor furniture.
Circular Pools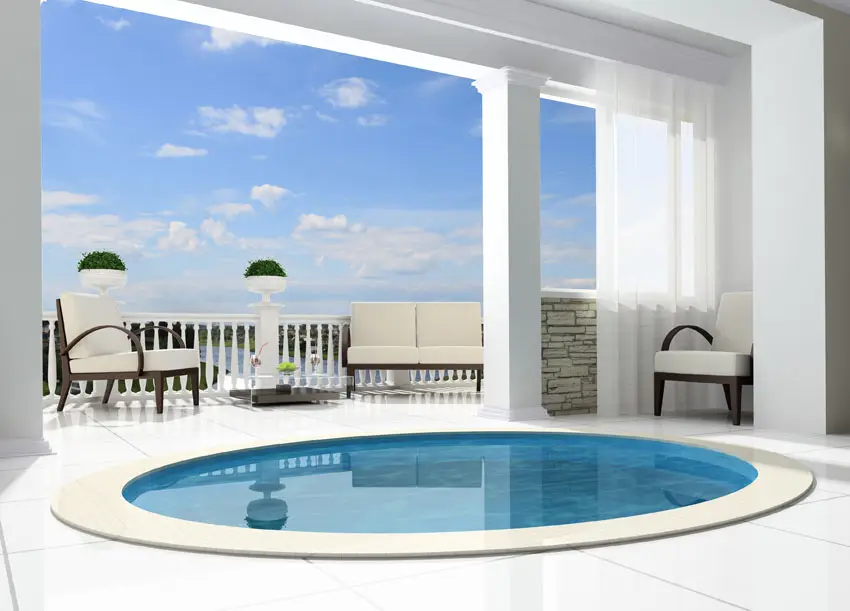 Circular pools are popular for small backyards or built in to patios. They can also be found as kiddie pools or as a dipping pool/plunge pool.
A round pool is great for lounging with friends because everyone can face each other while resting on the edges. These types of swimming pool shapes are great for those who just want to cool off instead of exercising or swimming.
Oval Pools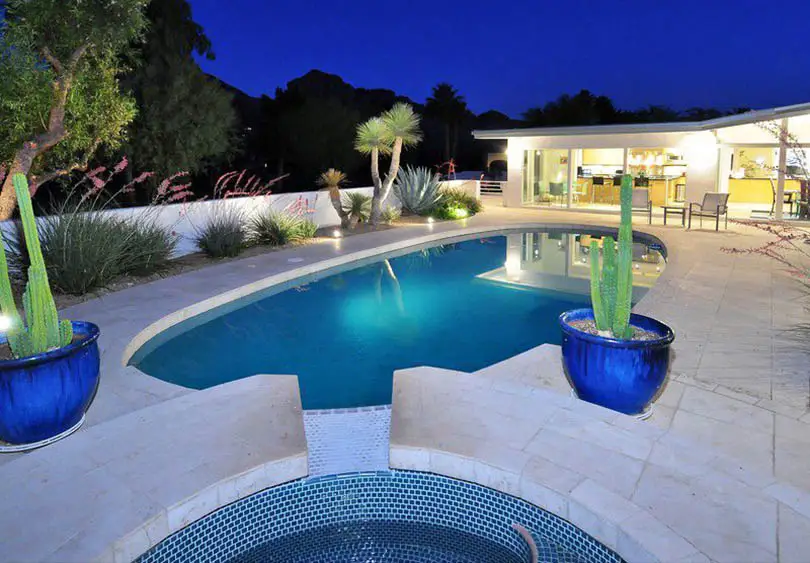 In ground oval shaped swimming pool design.
This type of pool was popularized by Philip Ilsley in the 1930s. After his first design, the rest of Hollywood followed suit. Oval pools are a variation from rectangular pools. They are basically rectangular pools with rounded edges which gives it a softer look. It looks less formal.
Oval pools are perfect for water sports. Sports equipment can be setup around the perimeter of the pool. It can also be used as a lap pool because the rectangular portion of it is long enough to do so.
This type of pool is popular among families because the rounded edge can be made into a more shallow end which is great for kids.
This eliminates the need for a separate kiddie pool, but children should not be left unsupervised in case they drift off to the deeper end of the pool. Another variation is to put a small barrier as a precaution for kids from going to the deeper end of the pool.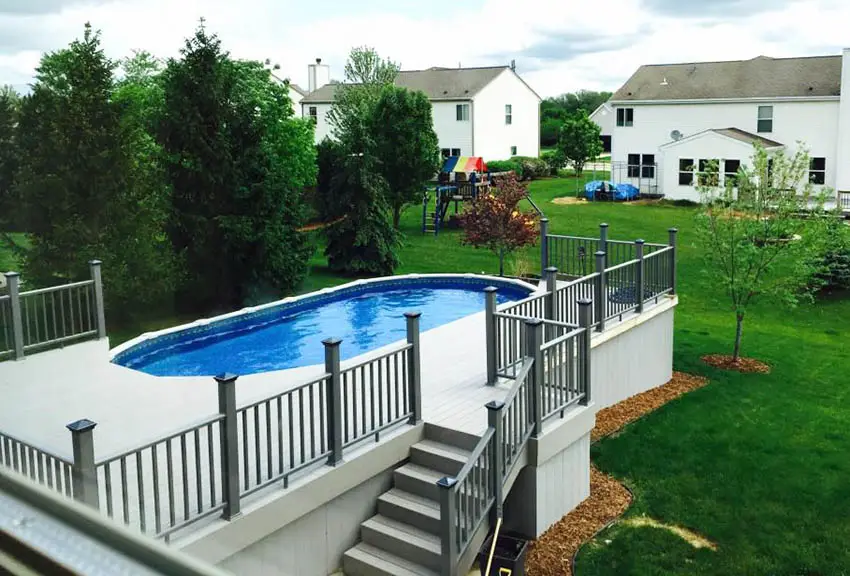 Above ground oval shaped pool.
Oasis Pool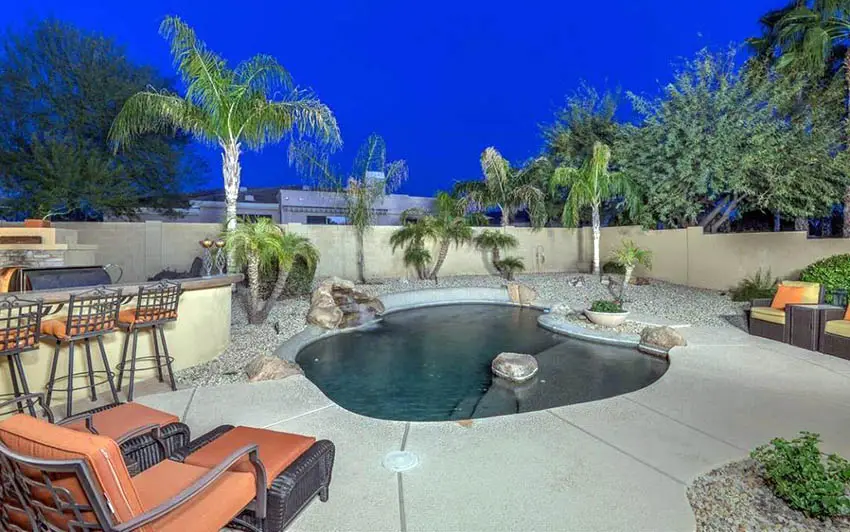 The oasis pool is usually rounded in shape. What sets it apart from other pools is the way it is designed. Lush landscape surround the pool giving it that feel of being an oasis.
Desert landscape such as palm trees, coconut trees, rocks, and dessert plants provide a natural-looking oasis pool. A small DIY pool waterfall is a great way to bring the flow of water to your backyard to help create an inviting ambiance.
Lagoon Pool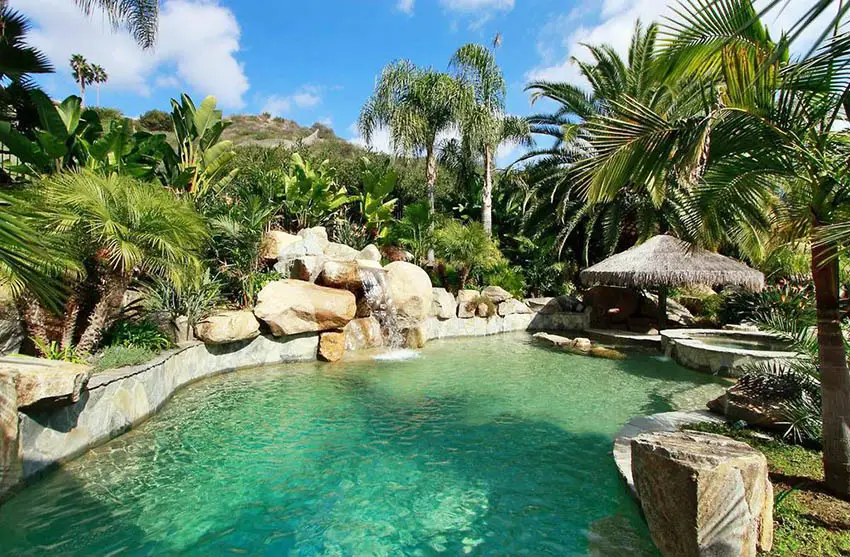 A lagoon swimming pool is a type of freeform pool that is designed with rock waterfalls, cave-like grottos, lush landscaping and beautiful lighting. These pools transform the backyard into an enchanted lagoon environment that is luxurious, sophisticated, and relaxing.
The landscaping usually consist of tropical trees and plants. Designers use natural rocks made into cascading waterfalls which provide a calming effect.
The lighting is soft and colorful making the space look intimate and calm. Lagoon pools give that feeling that you are on a vacation on a tropical island.
Mountain Pond Pool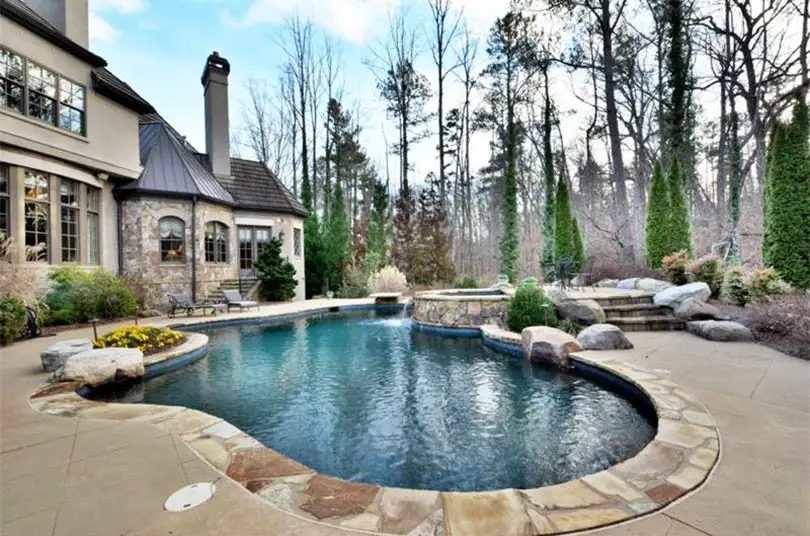 As the name suggests, the mountain pond style is usually found on mountain retreats. These pools are surrounded by mountain and forest views.
The pool is designed to look like it is part of the mountain, usually copying the same trees, plants, and rocks surrounding the property. Mountain pond pools are usually small in size and perfect for intimate pool sessions with the family.
Kidney Pool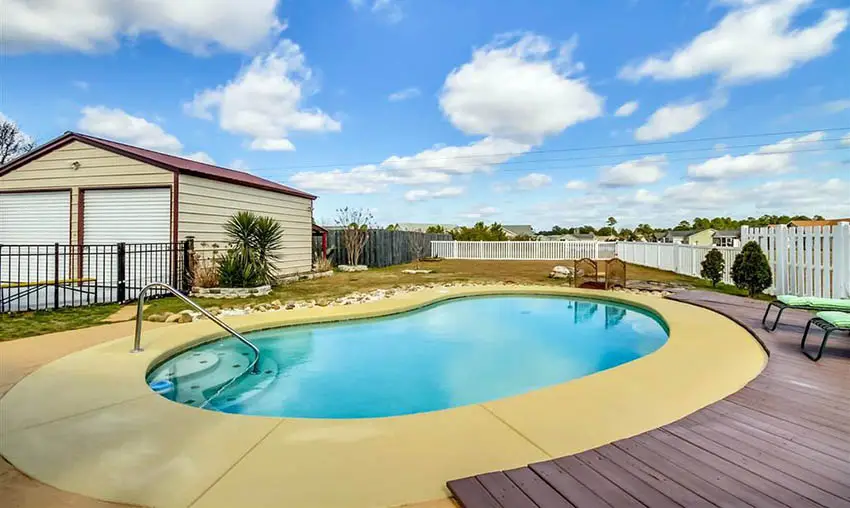 The kidney shaped pool is the most popular type of freeform pool. Designed by Thomas Church in 1948 for a California-based family, the kidney pool is shaped like the organ for which it is named.
It is similar to the oval pool but with an indentation on one side. What makes this pool so popular is that it can be built in any backyard size. Most homeowners add a spa in the indented area of the pool.
The kidney pool is very flexible. It can be customized to fit any type of architectural design. It can be designed and landscaped in any way depending on the owner's preference.
Geometric Pools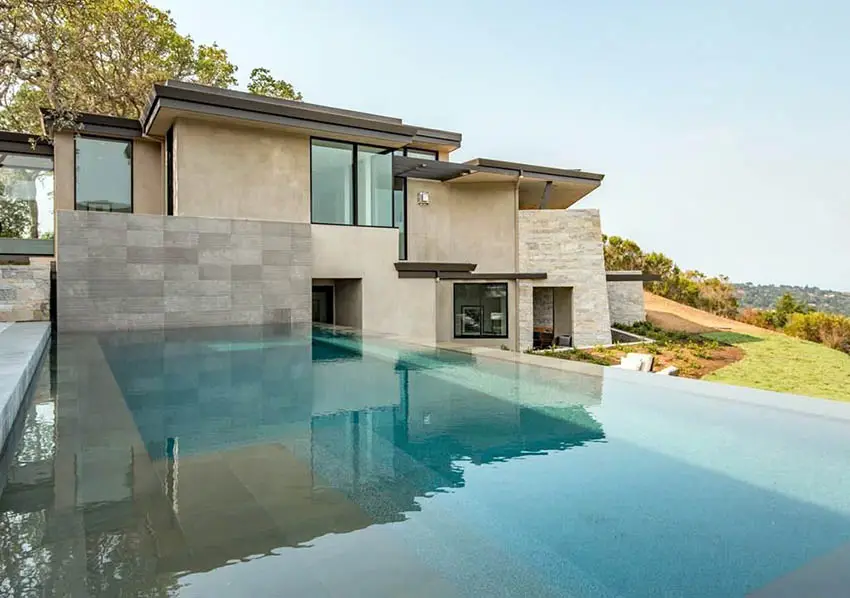 Geometric pools consist of rectangles, squares, and L-shapes. They have hard edges and fit best with modern and contemporary structures.
These pools are perfect for desert or Spartan environments. They often have water features such as infinity edge design to highlight their modern style.
Infinity Edge Pools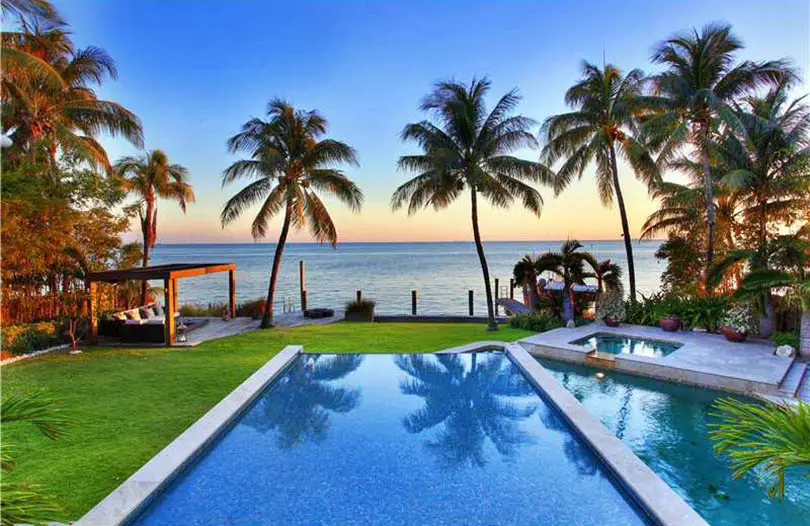 The infinity edge pool is also called the vanishing edge or the negative-edge pool. This type of pool is a great fit for homes with scenery like mountain, river, ocean, or lake.
The infinity pool gives the illusion that the pool is connected to the body of water it is facing towards like the ocean. This is the perfect pool for backyards with natural lush environment.
Rectangular pools are best for bigger backyards. With their unique custom design also comes with a much higher price tag.
Lap Pool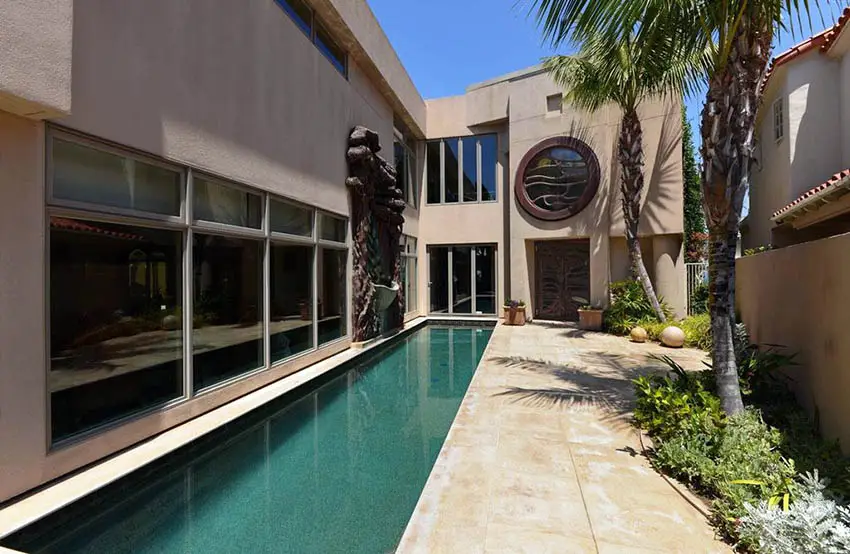 The lap pool is recommended for traditional and luxurious homes. As the name implies, it is great for doing laps so it fits perfectly with active swimmers.
It has a sophisticated look that never goes out of style. The best thing about this pool is that it does not overpower the property. It can be any length and width as preferred by the owner.
Lazy L-Shaped Pool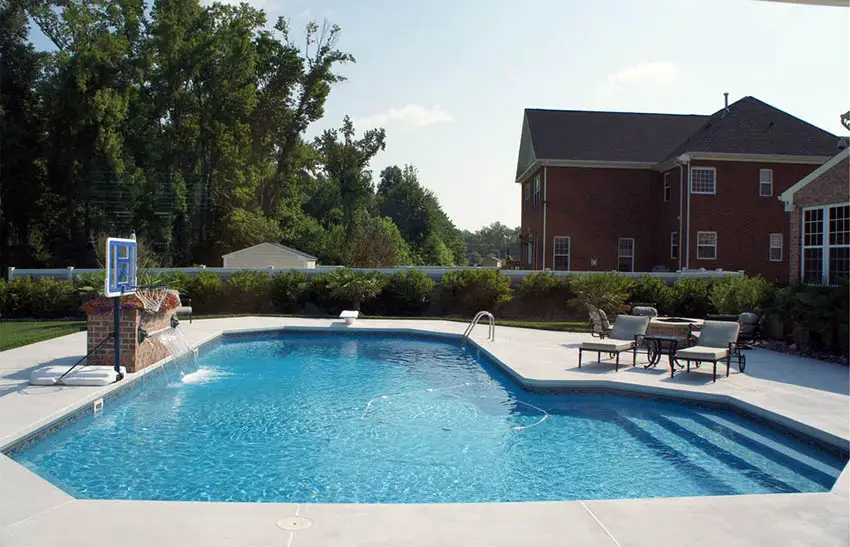 The lazy L-shaped pool is a hybrid of the L-shaped pool. It has a diagonal shorter leg that provides a more aesthetic appeal.
The longer part of the pool can be used as a lap pool. The indentation is considered a natural "entrance" to the pool. Compared to the true L-shaped pool, the shorter part of the pool is bended at an angle.
True L-Shaped Pool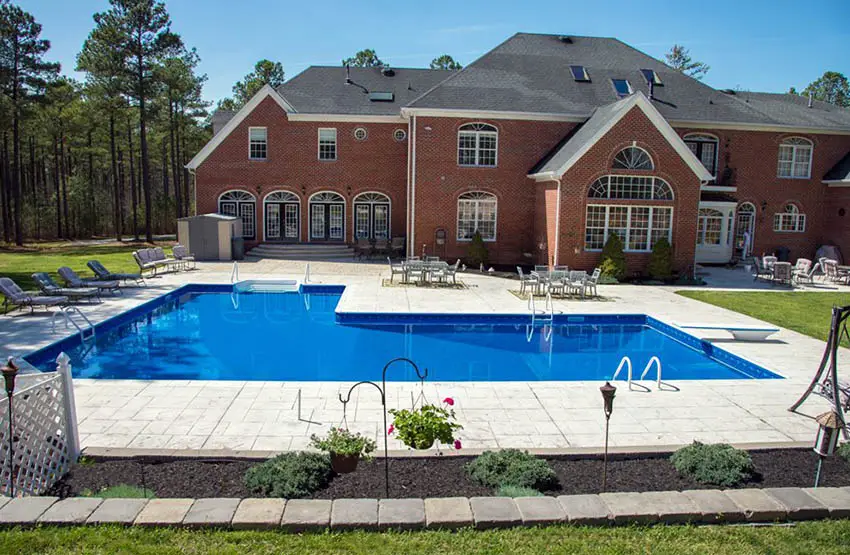 The true L-shaped pool is actually an extension of the rectangular pool. It has straight sides compared to the lazy L-shaped pool.
The longer end also doubles as a lap pool. The shorter end is usually more shallow and used as a play area or as a kiddie pool.
Roman and Grecian Pools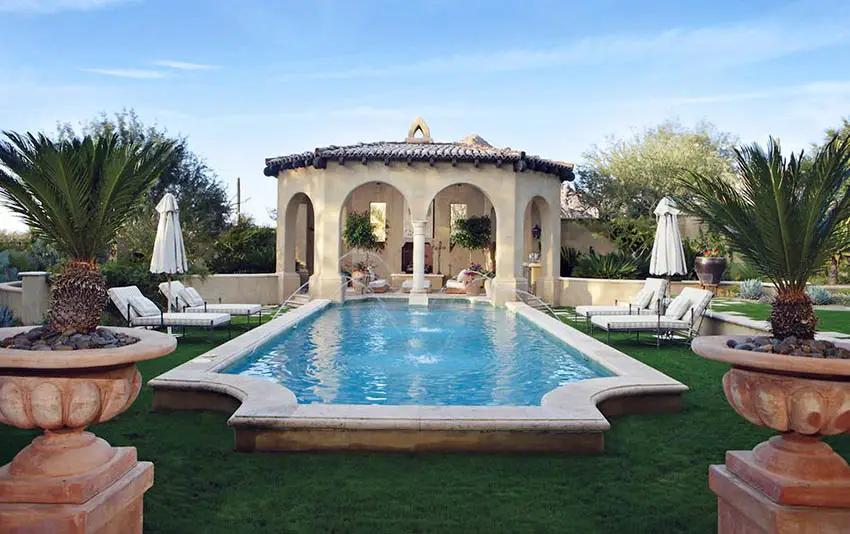 A Roman and Grecian style are variations of the classic rectangular pool. The Grecian pool has cut corners that forms an octagon. The Roman pool has stylized corners and rounded ends.
These pools are perfect for Tuscan or Aegean homes. They are sophisticated and luxurious to the eyes. The Roman and Grecian pools appear more like an art extension of the home, using beautiful tiles and columns around them.
In the picture above this Roman style pool has a lovely pool cabana with outdoor fireplace and sitting area. Water fountains provide a luxurious ambiance and gentle patter of water to create excitement.
Custom Indoor Swimming Pool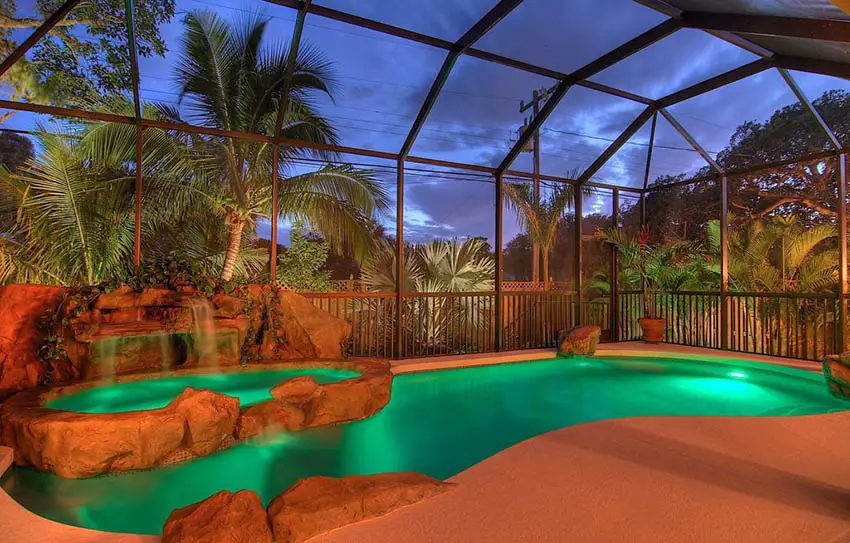 Indoor swimming pools allow one to enjoy year round use regardless of the weather. They also do a great job keeping out bugs and debris that can crawl or blow in.
However, there are some disadvantages such as a higher cost to build, more expense to heat the pool, as well as no direct sunlight for those who like to sunbathe.
Custom Pools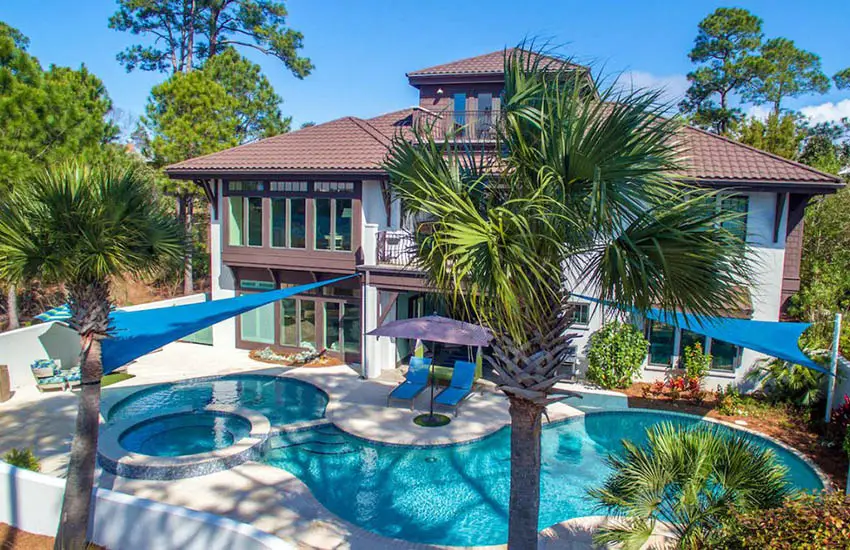 The majority of custom pools are made from concrete because this material can accommodate any size and shape of pool imaginable.
Homeowners who love a more personal touch to their pools pattern them to their passions. Popular custom swimming pool shapes are guitar-shaped, animal-shape and shape of their home state. A more luxury option is a lazy river pool design which is created to replicate the look of a real river that flows in a circular pattern.
The best thing about custom pools is they are personalized and customized based on what the homeowner wants. Nobody else has that same pool. It is unique and one-of-a-kind.
The backyard size is not an issue, because the designer can adjust the measurements based on what he has to work with. These are great for people who do not like cookie-cutter designs.
To create your own you can use pool design software, purchase a premade pool template that a builder can use, or hire an architect to draw up plans to your own specifications.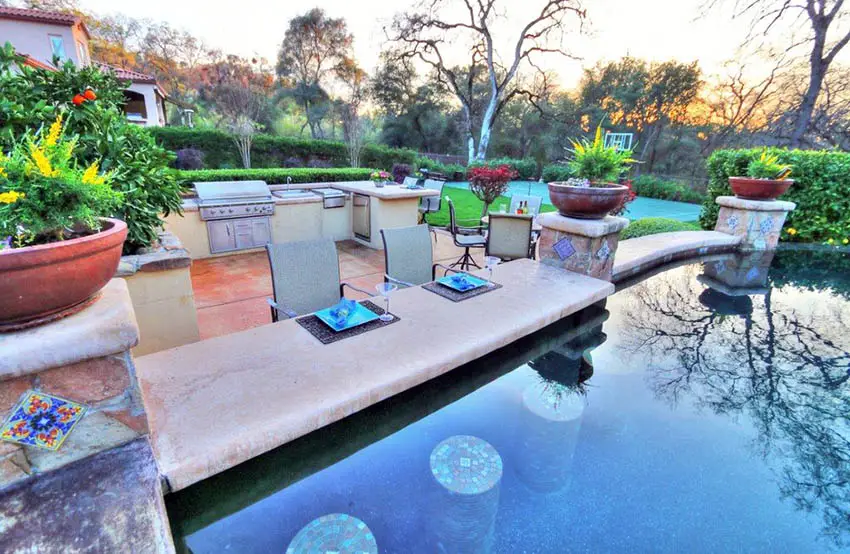 A custom pool with swim up bar stools.
Custom Pool with Water Features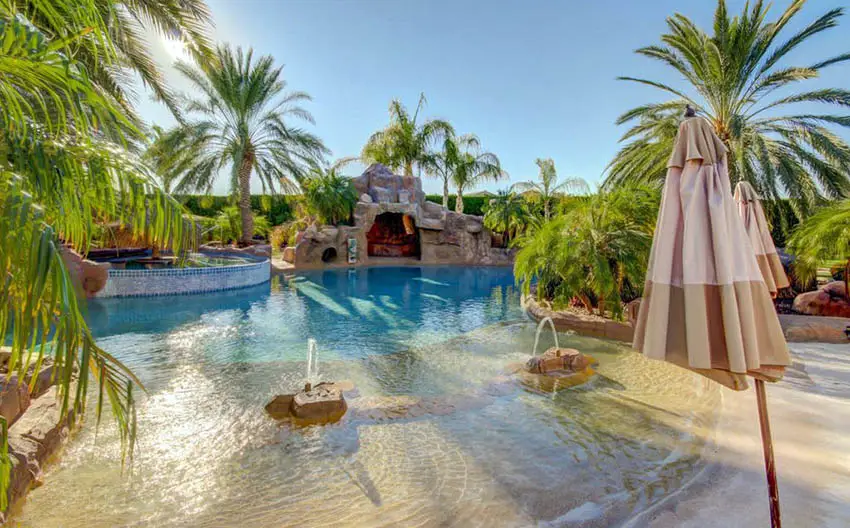 Custom swimming pool with sand beach entry, water feature jets and sitting grotto.
A water feature can really enhance the ambiance and beauty of your swimming pool design. There's a variety of pool water features to choose from. Popular designs include waterfalls, bubblers, sheet-falls, fountains and underwater lighting.
What is your favorite of all the different swimming pool shapes? Let us know in the comments.