Welcome to our gallery of modern swimming pool designs featuring in-ground, above-ground, infinity pools and water features.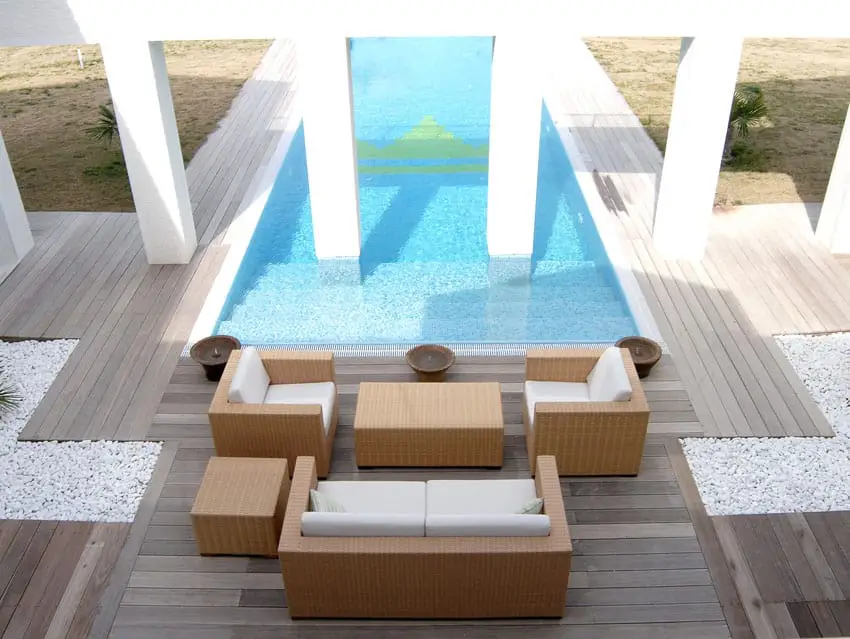 What can be more relaxing than your very own personal retreat right at the backyard of your home? Swimming pools do not only enhance the aesthetics of your home, but they bring in a calming atmosphere while offering the perfect spot for rest and relaxation. Whether it may be for personal recreation or for spending some quality time with family and friends, a swimming pool caters to both functional requirements and visual appeal in the home.
The stunning contemporary deck design featured above showcases a sleek luxury pool that is highlighted with gorgeous mosaic tile flooring and all white concrete pillars. The pool steps lead to a seating area that is furnished with modern rattan arm chairs with white cushioned seats and matching side and center tables. Its strategic placement allows the users to enjoy the refreshing view of cool blue waters. Light colored wooden deck flooring gives the space a more expansive look, while white river stones add a natural coziness to the setting.
With years backing up their origin, the design of swimming pools have changed as they adapted to the prevailing style and trends in architecture. From the traditional kidney shaped form, their design have become simpler, more elegant and streamlined. Modern swimming pools became known for their sleek design and clean lines. It is generally characterized by reflecting the home's architectural style, working as a complement rather than contrasting with the design.
The word "modern" does not necessarily mean that something has to be built using state of the art features, high tech parts and high end materials. The real challenge of designing a modern pool is to blend it seamlessly with the indoors and outdoors while keeping the aesthetics clean and minimal. Simplicity is key and less is more.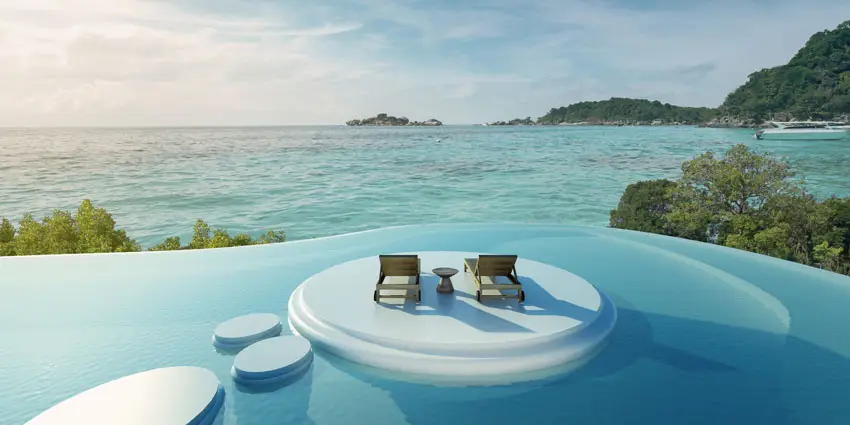 The flawless design of this modern luxury infinity pool creates a very smooth transition that it appears like it is flowing openly to the surrounding environment. Its free form shape looks very organic and is naturally fitting to the ocean view setting. The raised concrete steps lead to a circular island that is set on to the center of the pool which is furnished with sleek lounge chairs, giving the users a place to enjoy some quiet relaxing time while basking in the breath taking view of turquoise waters and the flourishing nature. This modern pool design is truly an urban retreat.
Modern Pool Design Features

• In-ground, Above ground or Infinity Pool – The type of pool is the biggest decision you have to make in planning your modern pool. A modern pool can be one of the 3 types of pool, namely: the in-ground pool, the above ground pool and the infinity pool.
In ground pools are permanently installed pools which are commonly made up of vinyl, fiberglass or concrete. Vinyl in-ground pools are made up of reinforced steel beams which are covered with vinyl lining. Concrete pools, as the name suggests are made up of cement and concrete. They offer the best durability and is flexible when it comes to design. Fiberglass pools are constructed from a factory molded fiberglass shell which is then installed to a yard or property. In ground pools are known for their highly customizable size and shape.
Above ground pools are temporary and usually have limited sizes, but are cheaper to install. Unlike in-ground pools which can me made into different free form shapes, above ground pools usually come in circular and rectangular forms. Read on to know more about modern above ground pools.
Infinity pools, on the other hand, are pools which give the illusion of water merging with a surrounding ocean or landscape. They provide a unique vision of natural aesthetics. This type of swimming pool usually has a "vanishing edge" which creates an effect of a continuous horizon. Infinity pools are prevalent in modern settings because of their sleek look.
No matter what you choose between the following types, make sure that it harmoniously blends with the existing architectural style of your house.
• Geometric Shape – Modern design is characterized by streamlined shapes, clean lines and angular forms. Although there is no limitation as to how you choose your swimming pool's shape, rectangular forms are more prominently used in modern pool designs. This is because, angular forms usually mirror the architectural components of a contemporary home, however if you want to display dynamics, a flowing curved shape can also be used. Rectangular pools are also considered a classic, giving a sleek and clean feel. With the right surrounding pool elements, a geometric shaped pool will never go out of style.
• Minimal Pool Features – A simple minimalist style can be achieved by using a "no frills" design for your pool. Limit your decor and motifs, but instead stick with smooth surfaces and subtle design features. Save the large water slides, rock grottos and spouting statues for the more classic look. Modern pools rarely feature ornaments but instead it showcases a few number of elegant furniture pieces on the deck and some warm ambient lighting.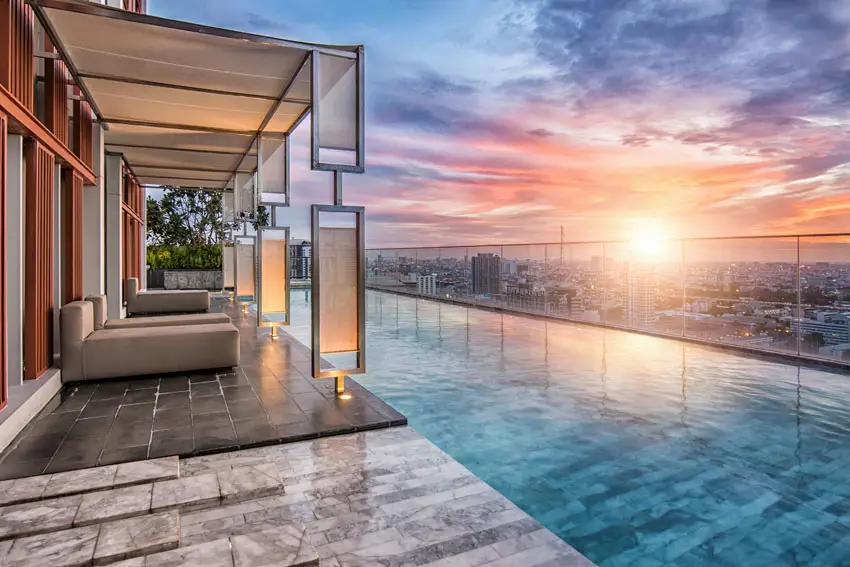 This stunning luxury modern swimming pool is located atop a penthouse which encompassed by bold cityscapes and the perfect view of the skyline. White marble with exquisite gray veining are used for the flooring to add a dramatic effect while black natural stone tiles are used in the seating area to create some contrast to the design. The addition of a metal and fabric canopy does not only give shade but also offers a stunning visual element which ties up the overall look of the space. Contemporary upholstered day beds serve as seating while the use of high glass railings suggest continuity and openness making this rooftop appear bigger.
• Alluring Water Features – Water features may also be added to your pool to enhance both the aesthetics and the experience of swimming. Aside from that, they entice not only the sense of sight, but the sense of touch as well. Water features also offer therapeutic benefits. They create a sound of flowing water which gives a calming effect. They create ripples, small waves and movements which are soothing for the eyes. They function as hydro massages and give temporarily relief from sore muscles.
In choosing the right water feature for your modern pool, choose simple designs and limit its number. A single stream fountain or small water flows create a striking point of interest without overwhelming the space. Avoid using large flowing rock waterfalls or lion head fountains. Some other types of water features for a modern pool are jets, spillover spas, sheer waterfalls and scuppers.
• Subtle, Warm Pool Lighting – When choosing the right lighting for your sleek modern pool, look for classic lighting choices which have a understated look. Fixtures with well defined lines and contemporary styles are perfect for this setting. Simple torch lights and symmetrical fire pits can also be considered. For underwater lighting, choose ambient lights that are warm white in color to create a cozy and inviting atmosphere.
• Simple Modern Furniture – Furniture pieces are usually added on pool decks and patios to provide for seating and to create a space for rest and relaxation. When choosing the right furniture pieces for your modern pool, consider both aesthetics and functionality. It is also important to put premium on comfort as the pool area must also promote peace and convenience. Stick with modern furniture pieces that are elegant and minimal. Choose contemporary chairs which are made of wicker, rattan and water resistant fabrics. Incorporate lounge chairs to allow the users to take breaks while swimming, use sofas and armchairs with large and comfortable cushions, employ wooden center tables to match deck flooring or stick with glass tables to add a subtle contrast in texture. Accent pillows may also be used to add a splash of color. Folding umbrellas and portable canopies may also be included to provide shade and protection from the sun.
• Sleek Surfaces – To conform to modern aesthetics and minimalist appeal, opt for sleek surfaces whether they may be for the pool finish or the surrounding elements in the space. Go for unornamented finishes and avoid using overpowering ones as it has the tendency to clash with the existing design of the home, rather than blending with it harmoniously.
• Modern Decking – Decking materials are also integral to the design of your modern pool. They connect the spaces and act as added visual elements for a space. Make sure that your decking material is well coordinated with the house's architectural components and the surrounding landscapes as well. This ensures that your modern pool blends cohesively with the prevailing design style.
Wooden decking is one of the most common materials used in modern pool settings. It gives off a natural coziness and elegance to the space. In addition to that, it comes with practical benefits because it is durable, slip resistant and can last for year. Another option is natural stone. Natural stone flooring add warmth and makes spaces more welcoming. Its advantages includes durability and resilience even when exposed to moisture.
When choosing the right decking material for you pool, make sure to stick with neutral colors such as white, gray and earth colors. If you want to add drama to the design, opt or natural stone finishes which have veining and color variations.
• Smart landscaping – To create a unified design, the swimming pool must be well incorporated with the surrounding landscapes in the space. Plants and trees are important for pool settings because they soften architectural elements and provide a refreshing vibe.
Look for plants which are easy to maintain and safe to use. In terms of aesthetics, opt for plants which have well sculpted forms like succulents or foliages. Add flowering plants if you want a touch of color and add trees along the pool's perimeter to get shade or to create privacy. Palm trees are perfect f you want to create a tropical feel. Ornamental grasses may also be used because these are low maintenance and visually striking.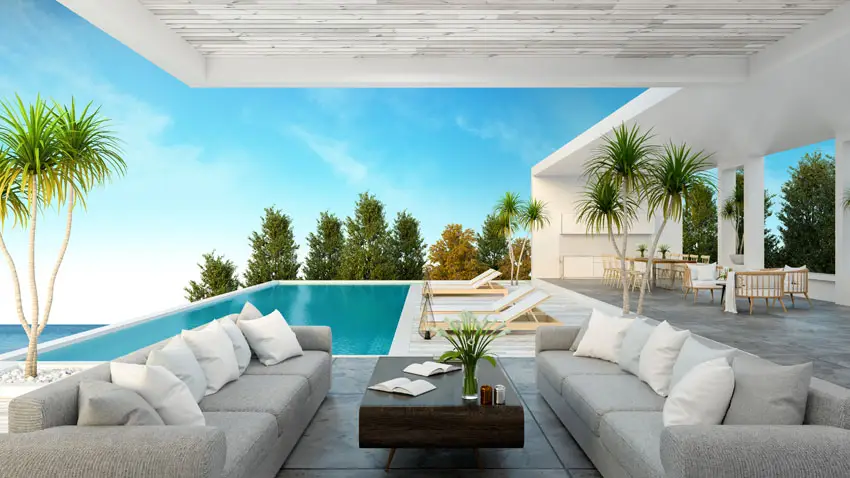 This elegant covered patio leads to a luxury modern pool which is set at the edge of the house to take advantage of the nature and views. The rectangular form of the pool mirrors the angular shapes of the structural components of this house's architecture – from the simple rectangular roofing to the streamlined furniture pieces. Gray natural stone flooring lends a quiet strength to the space while creating a subtle contrast to the dominant white color palette. The seating area for this patio and pool setting is designed like an indoor living room, with contemporary sofas, soft white pillows and a wooden coffee table. The addition of plants ties the design cohesively to the surrounding environment.
Modern Above Ground Pools
An above ground pool is the right option for homeowners who want to spend less money, effort and time in building a swimming pool. It usually comes in a kit with complete components and is formed to fit in your yard. Compared to other pool types, above ground pools are easier to install and faster to build. The setup and installation process takes a fewer number of days compared to other pool types and is usually undertaken by a professional team of installers.
This type of swimming pool is considered to be a temporary structure. It can be easily removed from your home if ever the need rises. Above ground pools usually come in round, oval or rectangular shapes and its sizes varies. Typically, its depth is usually 48 inches to 52 inches deep or 4 feet to 4 ½ feet deep. It can be integrated into an existing decking, set up near an outdoor living space or incorporated into the home's surrounding landscape and environment.
High end above ground pools are a good alternative for in ground pools since some of the designs come with additional visual and functional elements. Railings, decking, built in fencing and a gate are some of the available add-ons for above ground pools. It can also be heated so that the users can stay on it longer and more comfortably. (See more swimming pool fence ideas here)

The standard shapes it is available in can sometimes be a imitation in design, but with proper planning and installation, it can be integrated well into your home's landscape. Also some homeowners find this an advantage as they can start with something small if they have a tight budget, then eventually change into a larger pool once their budget increases and their family grows.
One of the drawbacks of an above ground pool is that despite being temporary, you still need to invest time and money in setting one up to blend with your home's landscape. Also, an above grove pool generally adds no value to your home. In the event of a resale of the home, some homeowners may find above ground pools to be drawing away from the overall aesthetics of the yard. However, this problem can be addressed if your above ground pool if planned properly and designed well to fit within your home's landscape. Maintenance issues are also one of the negative attributes of above ground pools.
To make them work for a modern setting, go with a rectangular above ground pool because its angular shape conforms to the streamlined design of contemporary homes. Rectangular above ground pools are usually surrounded by a wrap around deck to give them an added structural support.
Also, it is possible to design an above ground pool in such a way that it looks like an in ground pool. It can be made into a permanent feature of the home. Using the right finishing touches to furnish an above ground pool can make a big difference. By adding natural stone, concrete or wood to the exterior of your above ground pool, it can look more visually interesting. Stone steps and sleek wood decking gives a natural coziness to the pool setting. Additional visual components like elegant outdoor furniture pieces can instantly transform your above ground pool into something more modern and contemporary.
Cost : For those on a tight budget, a modern above ground pool is the least expensive option you can take to build your very own pool in your backyard. Building an above ground pool usually involves two price factors, the "kit" price and the installation cost. It can set you back between $1500 to $4500, depending on the material and quality of the pool. Pools which have more resin content and less metal components are more expensive but they also last longer. Oval pools are also more expensive than round ones, both kit and installation wise. Rectangular pools with wrap around decks are the most expensive ones and can amount to $10,000 once installed. Installation can cost anywhere from $1000 to $3000, depending on the type and size of the pool.
Lifespan: Temporary above ground pools usually come with a warranty form their suppliers. On the average, it can last anywhere from 7 to 15 years. On the other hand, the liners for above ground pool need to be replaced every 5 to 9 years.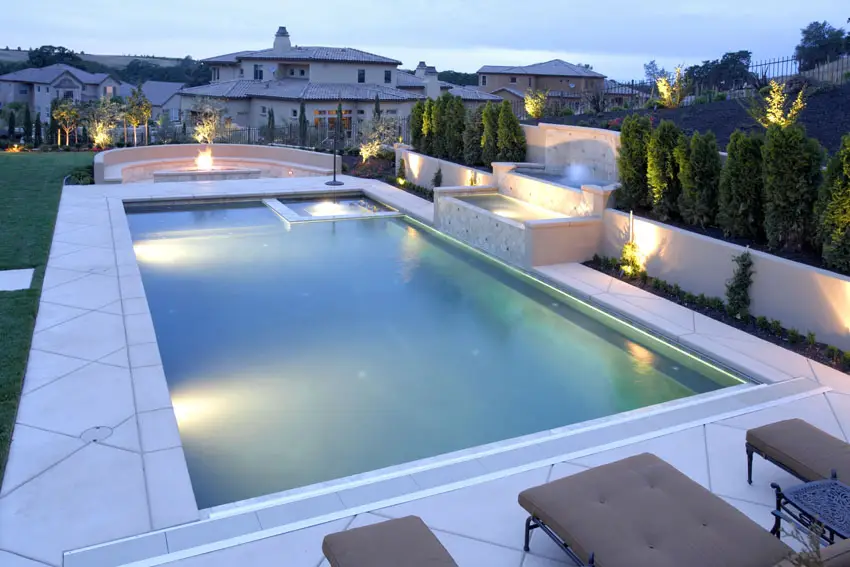 The massive area of this yard allows for a complete outdoor living space setup. Exhibiting elegance, luxury and sophistication, this modern in ground pool and spa makes use of tile flooring and warm underwater lights which make the space extra cozy and inviting. A small spa tub is set into the corner, providing a place for personal relaxation. An elevated water feature that is accentuated with natural stone and ambient lighting gives an added visual interest while providing a dynamic element to the space. Stone benches are incorporated in the built in fire pit offering homeowners and guests a place to catch warmth.
Modern Pool and Spa
For those who have the luxury of budget and space, a spa is usually added to swimming pools to increase the experience and to provide a place for relaxation. Its primary purpose is socialization and aquatic therapy, unlike a regular standard pool which has enough room for swimming.
What makes a spa different from a pool? The term "spa" is commonly interchanged with the word "hot tub" as both have the same purpose and characteristics. In terms of size, a spa is smaller than a swimming pool. It generally works as an appendage which is directly attached to an in ground pool or in some cases adjacent from the main pool. By definition, a spa is a large tub, a small pool or a single piece of plastic tub that is filled with heated water generally used for relaxation purposes. It is also utilized for entertaining, warmth, soaking and for hydrotherapy. Spas are usually equipped with built in water jets that are used for massage purposes, as they target the user's muscles. It is also designed in a such a way that the user can take a break from the cool water of the main swimming pool and relax in the warm water of the spa.
The typical size for a spa is 8 feet wide by 15 feet long and can usually accommodate two to eleven adults. Smaller spas are usually 3 to 4 feet high and 5 feet wide or in diameter. These models can hold up to 500 gallons of the water. The bigger ones, on the other hand, are designed to hold 1100 gallons of water and is usually 4 to 5 feet high by 6 feet to 8 feet wide or in diameter. On the average, a small spa can accommodate two to three users at the same time, while bigger spas can accommodate up to eleven users at once.
Spas usually come in two types, the portable spa and the built in or in ground spa. Portable spas are usually made up of latex, vinyl, acrylic, fiberglass, polyethylene or other plastic resins. Built in or custom made spas usually make use of wood, concrete, fiberglass, gunite, tiles, metal and other natural materials. Stand alone models can also be set in the ground to make them look like an inground spa. These can be placed on a raised platform or enhanced with a pergola or gazebo. In other designs, spas are placed inside the pool itself.
The more modern approach for a "pool and spa" combo is to combine both into a single structure, resulting to a much smaller inground swimming pool, but twice the length of an average spa. This hybrid is commonly known as a "spool" and works best for homeowners who have limited spaces but want to enjoy both the combined features of a pool and a spa.
Spas feature a heated water system. This usually use an electric heater, a natural gas heater, or in some cases, solar heating systems. Its water is usually heated for up to 90 degrees to provide a relaxing feel which eases muscle pains and tension. It also employs powerful water jets which are perfect for relaxing water massages. Spas which are mainly designed for hydrotherapy usually include six to twelve water jets, which are dedicating to targeting specific muscles of the body. It is also usually powered using jet propulsion, propellers or a rotating pad wheel which aids in water flow and current. The current can be adjusted to a specific amount of resistance to make the "spa experience" more pleasurable and relaxing.
For modern pools and spas, these are typically designed in such a way that they have a smooth transition between them. Although there is no limitation as to how they are supposed to look like, the seamless blending of these two structures can give your backyard a more sleek and elegant feel. Also, try to keep the finishes subdued and neutral to conform with the existing color scheme of your contemporary home's architecture.
Maintenance wise, a spa requires regular upkeep and chemical treatment. Proper sanitation is also very significant as organisms can thrive in moisture rich environments. Make sure to include an efficient purification system, whether it may be a filter type system or ultraviolet purifying system.
Cost: Swim spas can cost as much as half of a standard swimming pool. On the average, its costs can run anywhere from $8,900 to $23,000 per project. Small spas which are 10 to 16 foot in size usually cost $8900 to $12,000. Its operational cost is cheap, as it can only take an average of $2 to $3 per day or $80 to $100 per month.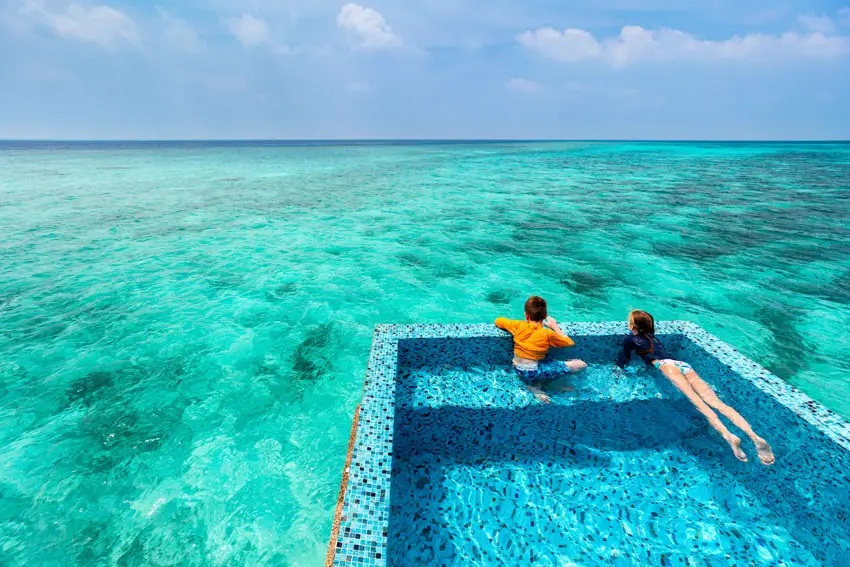 This amazing modern swimming pool appears like it is floating into the ocean. Continuity and smooth transition are evident in the design of this outdoor pool as the unique blend of cool blue hues for the mosaic tiles give a visual effect of refreshing waters which are almost similar to the color of the surrounding ocean. This above ground swimming pool is set over a raised platform using concrete.
Modern Pool Tiles
Pool tiles can either make or break the look of your whole swimming pool. Because it comprises the whole area of your pool, tiles are the most dominant visual features you see. The right also needs
Pool tiles are necessary not only for aesthetic reasons but for practical uses as well. Tile, in general, is easy to clean and requires less upkeep -compared to concrete based finishes such as pebblecrete and natural stone. Tiles also provide a very smooth surface which allows the users to comfortably spend hours standing in the water without feeling tired. It also helps in keeping swimmers buoyant during their stay in the water.
Tiles used for swimming pools fall under a specific type of category. Since swimming pool tiles are constantly exposed to chemically treated and chlorine treated water, a regular ceramic tile won't be able to alst in it. Swimming pool tiles are also subjected to freezing temperatures and the heat of the sun, so it requires materials which are specially designed for such purpose.
There are several types of tiles which can be used in designing a modern swimming pools. Selection is very important because tiles can greatly affect the aesthetic value of your modern pool by instantly transforming even the most ordinary looking pool to a visually interesting feature for your home. To help you decide which ones is the best for your modern pool, we have gathered a list of some of the most common types of tiles, together with an overview of their characteristics and their positive and negative attributes.
Glass Tiles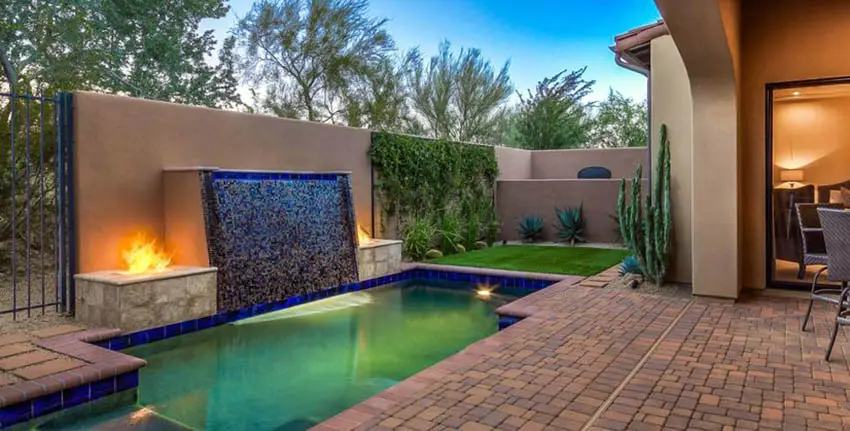 Also known as mosaic tiles, this type of pool tiles are small square pieces that are made of silicate glass materials. They are generally smaller than regular ceramic tiles or natural stone tiles and typically have a measurement of two inches or less. Its standard sizes can range anywhere from 15 x 15 mm, 20 x 20 mm, 3/4 x 3/4 inch, 1 x 1 inch to 2 x 2 inches. Its form is not only restricted to a square shape but it can also be in rectangular form. It also comes in a variety of textures, transparency and finish, and is available in an endless spectrum of colors. Glass tiles also come in clear glass variant, opaque, rough glass and glass with white backing.
Glass tiles are considered to be the current tile trend in most modern swimming pools. It is well loved not only for their clean, lustrous looks but for their practical benefits too. Primarily, glass tiles are known for contributing a lustrous finish to modern pools. Most homeowners are drawn to it because it is elegant and can be used in various applications. Glass tiles are usually applied as a main finishing material or to produce mosaics. It can also be used for just the walls, the pool bottom, the borders, step, raised walls, benches, in shallow ledges or if the budget permits, the whole pool itself as a primary interior finish. It can also be utilized to create stunning focal points and water features. Overall, the design possibilities it offers are endless as it can be applied in a uniform color or mixed in endless combinations – from the subtlest colors to the most lively hues. The exquisite design and striking visual aesthetics that it achieves cannot be matched by other swimming pool finish.
Also, glass tiles have a sparkling finish that changes depending on the distance it is viewed. The individual colors of the tiles are distinct up close, but once submerged in water, it changes creating a stunning blend of colors. The effect it has is similar to that of a mosaic, where each piece has a different color, but when combined creates a well composed picture. Also, another distinct attribute it possesses is that it reflects and refracts light well. When combined with water, the result is a dynamic color effect and shift of visual movement that is incomparable to any other material. Overall, glass tiles give swimming pools a constantly changing appearance that in turn produces a continually refreshed look.
Glass tiles are considered to be one of the most durable swimming pool surfaces. These are perfect for both warm and cold climates and can resist chemical corrosion. With proper installation, glass tiles can last longer than a porcelain or ceramic pool tile which typically have a 15 to 25 year lifespan.
Cost : Glass tiles are considered to be a premium finishing material for swimming pools. Its typical cost is $75 to $100 per square foot, but it may cost most depending on the type of glass tile and the complexity of the project. The price of glass tiles also varies greatly because of certain factors such as location, shipping and quality.
Labor costs are also higher because glass tiles are more difficult to install compared to ceramic tiles and porcelain tiles. Unlike regular tiles, glass mosaic tiles need to be individually cut by hand in order for them to properly fit in pool corners and other challenging areas of the swimming pool. Also, it requires even grout lines to ensure its clean look. It is also advisable that the installation of glass tiles for swimming pools is left to the experts rather than undertaking it as a DIY project.
Disadvantages of Glass Pool Tiles : Using glass tiles may still present a number of negative attributes. Although considered to be one of the most durable swimming pool material, it still has the tendency to crack and chip. However, this is more prevalent in substandard materials. Also, some glass tiles have rough edges. This can either be a result of the manufacturing process or the trimming of the tile. Rough edges can be addressed by careful cutting during installation and by buffing the edges properly.
Ceramic and Porcelain Tiles
Porcelain and ceramic tiles are the most conventional finishing material for swimming pools. Porcelain tile are known for blending harmoniously with landscapes. Design wise, this type of swimming pool finish is perfect for a mixed material" approach as it can be integrated well with glass or stone. It also comes in a variety of finishes (glaze or textured) and a wide array of color and designs.
Ceramic tiles are also known for being the most reliable material for modern pools. It is widely available in the market, easy to cut and easier to install compared to glass tiles. Ceramic tiles are also scratch and chemical resistant and impervious to water. It is also long lasting and requires little effort to maintain. Porcelain tiles, on the other hand, are also efficient finishing materials for modern swimming pools because of their high density and their resistance to water absorption. It is resistant to frost and other harsh weather elements and are designed to be slip resistant. Porcelain tiles also do not absorb heat are less brittle and is harder compared to natural stone. In terms of handling, both ceramic and porcelain tiles are easy to move around.
Cost: Ceramic and porcelain tiles are the most affordable pool finishing materials. These are perfect for homeowners who want to produce a custom look for their modern swimming pool without breaking their budget. Typically, it takes an average of $6000 to $10,000 to tile an average sized swimming pool.
Disadvantages of ceramic and porcelain tiles : One issue that ceramic and porcelain pool tiles present is that it does not hold in heat well, so the pool flooring has the tendency to become too cold for the feet. But in effect this also makes the pool floor warm enough during hot summer days.
Natural Stone Tiles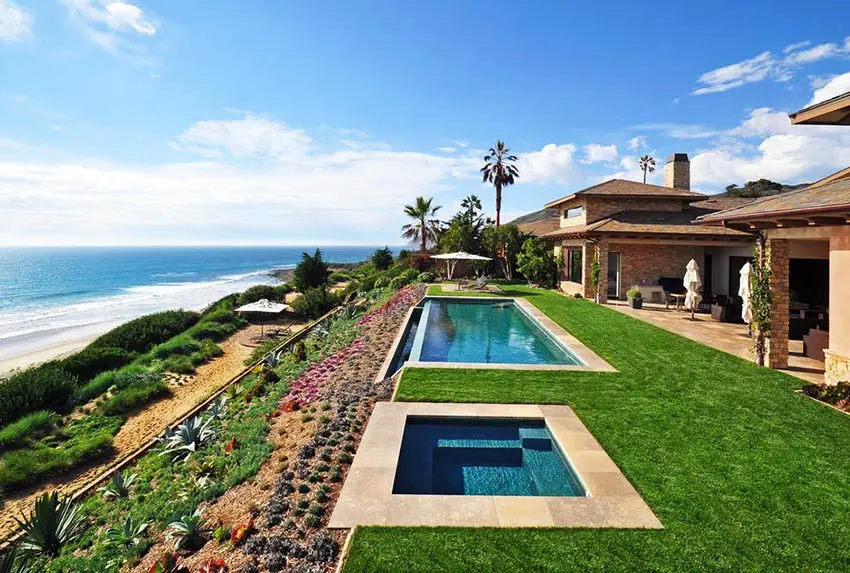 Stone tiles are perfect if you want to achieve a natural and organic look for your swimming pool. It provides a natural coziness and warmth to pool settings. And comes in a variety of textures, color and finishes. The most common types of natural stone finishes used for swimming pools are sandstone, limestone, blue stone and semi polished granite tiles.
Although more commonly found for Mediterranean and classic inspired designs, natural stone tiles also work well with modern pool designs. Its texture is perfect if you want incorporate your swimming pool seamlessly into the surrounding landscape. The practical benefits of natural stone tiles includes slip resistance and the ability to maintain warmth when exposed to the sun.
Cost : The price of natural stone tiles can go lower if used for large projects. It is considered to be one of the most expensive pool finishing materials with its price amounting to $10 to $30 per square foot.
Disadvantages of natural stone tiles: Since natural stones have the ability to maintain warmth when they are exposed to the sun, this type of pool finishing material can get quite hot if place around swimming pools. Slate, in particular, can get very hot. In terms of installation, natural stone tiles can get quite heavy and would require the assistance of an extra person to move or to set each piece in place.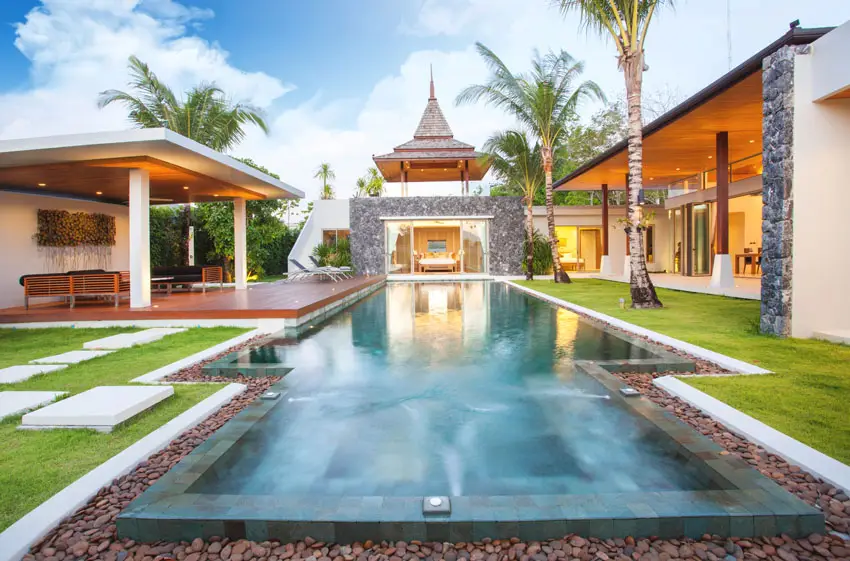 This modern swimming pool has a contemporary Asian inspired look and a tropical feel to it. The modern pool's tile work features colors of blue, green and browns to give the appearance of a jungle lagoon. The unique form of this pool is encompassed with a raised slate border and brown river stones. The warm earth colors of the natural stones provide a striking visual contrast to green grass. Water jets are added to the pool to create dynamics in the water, producing a calming effect that is soothing to look at and therapeutic to the touch. Adjacent to the pool is a raised wood deck that is covered by a canopy. Modern sofa and lounge chairs are set above it to provide for an area for entertaining guests. At the end of the pool is a guest house, where the guests can enjoy a direct view of the luxury modern pool.
Modern Pool Ideas
Below we share with you some of the most beautiful modern pool design ideas to help you gain inspiration in building your very own swimming pool.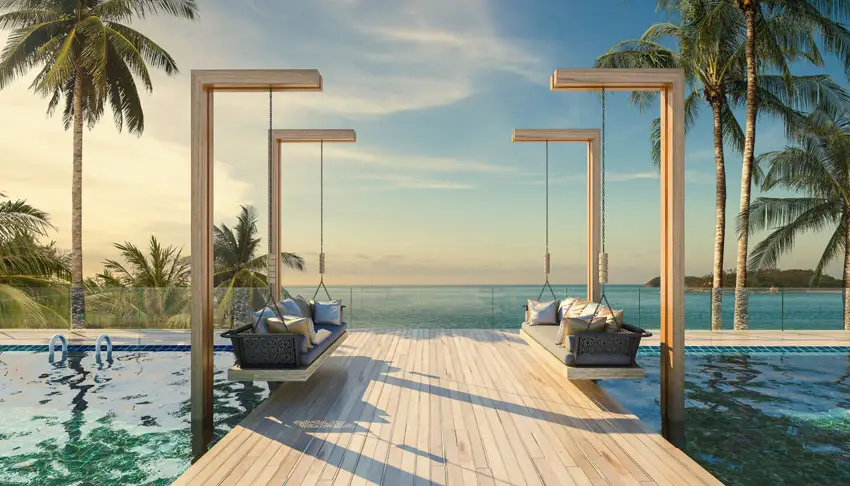 The epitome of a tropical oasis, this modern in ground swimming pool offers a unique relaxation spot to its users. Situated at the center of natural wood decking are contemporary wooden benches which are hang from posts using metal chains – providing a "swing type" seating which is accentuated with beautiful metallic accent pillows and carved floral details. Green and blue ceramic tiles are used for the swimming pool, contributing to the visual effect of refreshing blue green waters. The whole perimeter of the area is bordered by glass railings which gives an unobstructed view of the surrounding ocean.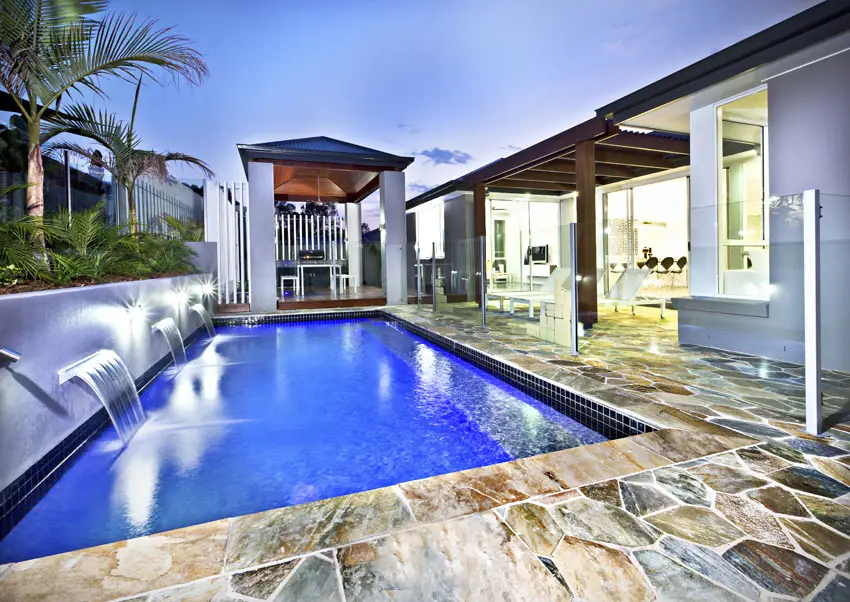 Large irregularly shaped natural stone flooring give this luxury modern pool natural coziness and a warm, inviting feel. The earthy hues of brown and gray from the flooring provide a rich dramatic contrast to the dominant crisp white color of architectural components in the space. The pool area is fenced with glass railings that are almost invisible. Multiple pool waterfalls are found along the wall, providing a dynamic design element and at the same time, enhancing the pool experience. This pool also leads to an open canopy which houses the seating area and outdoor grill station which is perfect for entertaining friends.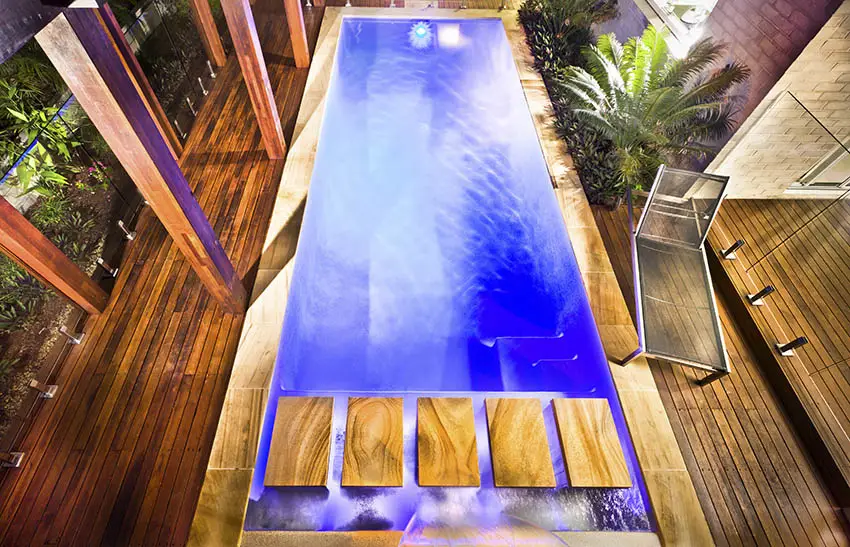 This beautiful modern swimming pool features a dark blue bottom with water feature islands. A large wooden deck offers space for lounging poolside while a waterfall creates an inviting ambiance and a tropical feel.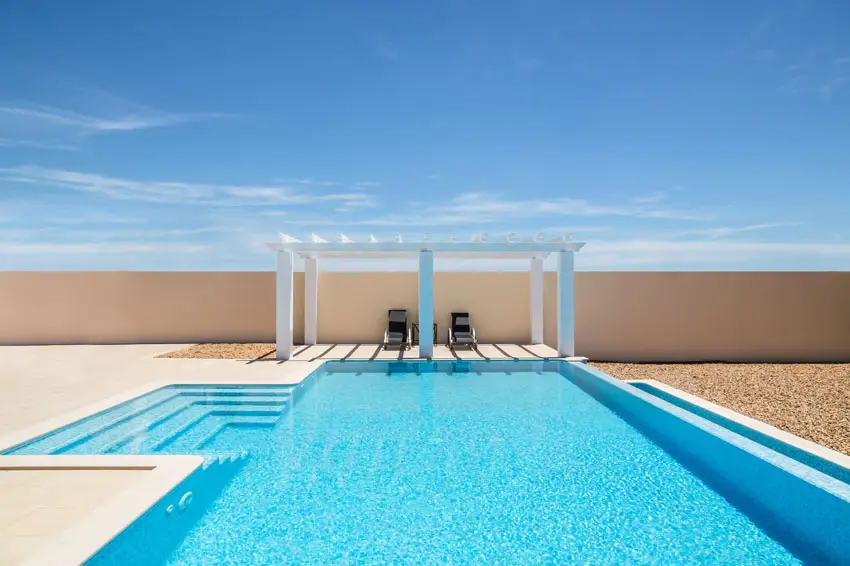 This sleek modern pool displays elegance and minimalism. Conforming to very simple aesthetics, this swimming pool has a streamlined rectangular form which is encompassed by an all neutral color palette. The cool blue hue of the tiles give it a refreshing look, which pops out in this outdoor space. Natural gravel borders give a variation in texture and warmth while keeping the color light produce an illusion on space, making the area appear larger and brighter. At the end, you can see two modern lounge chairs which are placed under a white pergola. There is also very little decor, but it does not compromise the beauty of the design.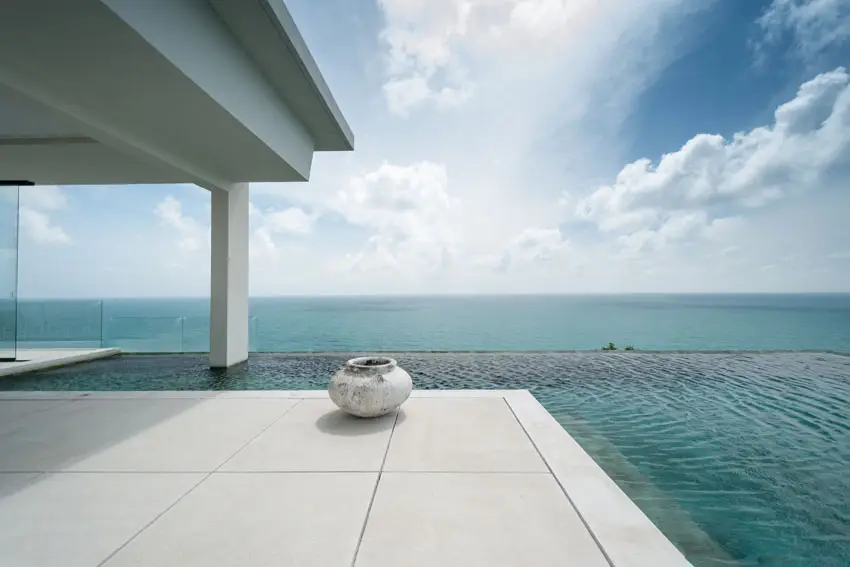 This infinity pool gives an illusion of water merging with surrounding ocean. The continuity of the design is achieved by not putting raised borders along the edges of the pool, but instead allowing it to flow freely to the brim. Large white natural stone flooring make the patio more spacious while providing a subtle contrast to the cool color of the water. The L shaped layout of the pool also makes use of the space more efficiently as it allows more users to enter the pool, but at the same time, it produces an interesting visual element that encompasses the house.
This modern infinity pool is situated at the edge of a covered contemporary patio. The calm blue water provides a refreshing contrast to warm earth toned natural stone flooring. Matching stone pillars give a subtle accent and contrast in texture to the space, but at the same time, blends harmoniously with the floor finish. At the end of the patio is an outdoor kitchen with grilling station – perfect for dining outdoors and small parties. Contemporary woven outdoor furniture pieces are set up at the pool side to provide a place to lounge and rest. The cool hue of light blue upholstered cushions and navy blue pillows matches the color of the pool, resulting into a harmonious look.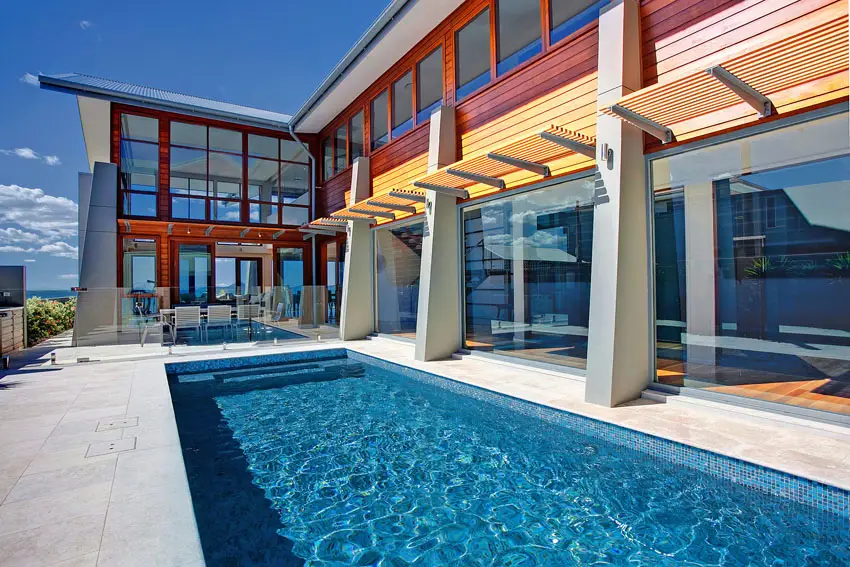 This beautiful modern home opens up to a natural stone patio and an invigorating swimming pool. A mixture of mosaic tiles give the pool an overall blue color which has depth and dimension. When placed against gray ceramic tiles patio flooring, the swimming pool stands out, serving as a striking focal point for this stunning outdoor living area. Large glass windows give an illusion of added space, and at the same time gives the homeowners a full view of the pool. An eight seatr dining table is set up at the end to provide a place for casual dining and small group gatherings with family and friends.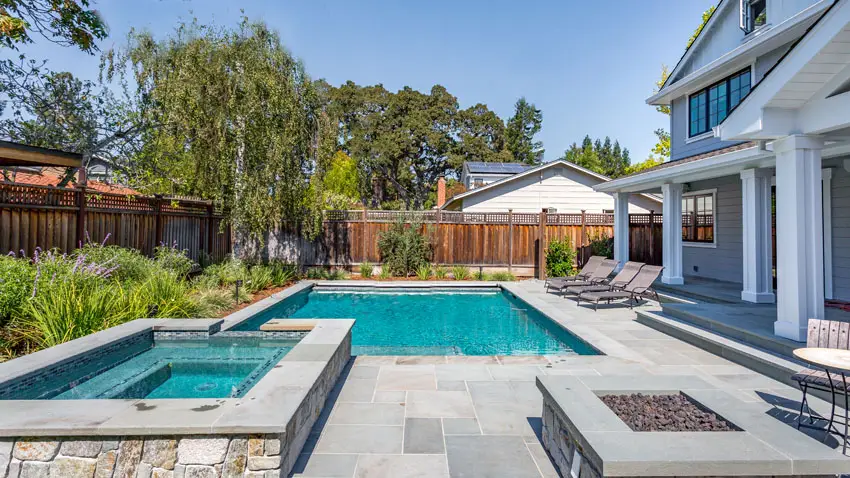 This elegant contemporary patio features a ceramic tile in ground pool, with an elevated spa tub and a built in fire pit. The cool gray color of stone flooring add a natural coziness, while the cobble stones used in the spa tub provide a rustic texture which contrasts with the smooth finishes of the space. The spa tub which is located adjacent to the main pool provides a place for relaxation, allowing the users to take breaks while swimming. The gas fire pit, on the other hand, provides warmth if ever the weather gets cold. This modern pool and outdoor living space is perfect for afternoon parties and casual evening gatherings.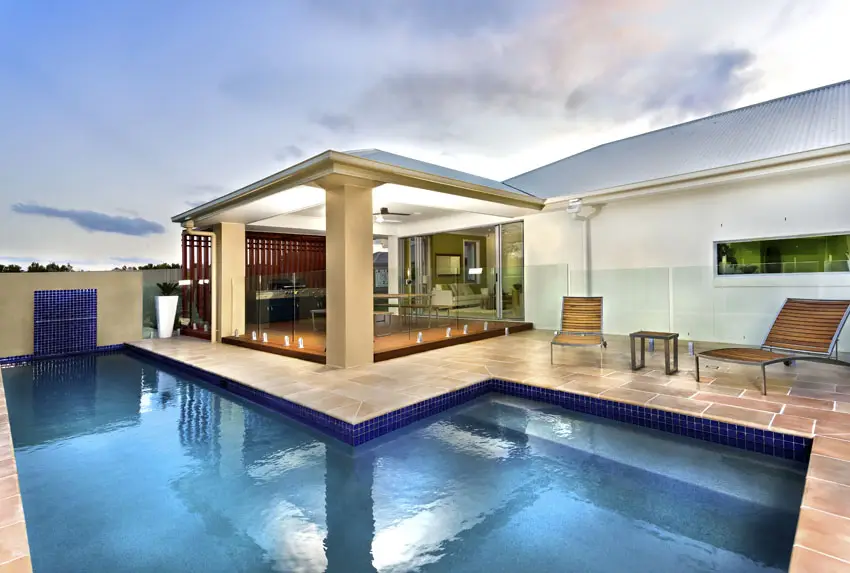 This refreshing blue swimming pool is bordered by warm natural stone pavers in this gorgeous contemporary home. Beside it is a covered patio dining area with an outdoor kitchen which allows the users to enjoy the view of the pool as they lounge on elegant modern furniture pieces. The canopy used for this is a continuation of the existing roof of the main house, making the design more continuous. Two wooden lounge chair are set up just beside the pool to provide for a place to relax while clear glass railings cover its perimeter without obstructing the pool views.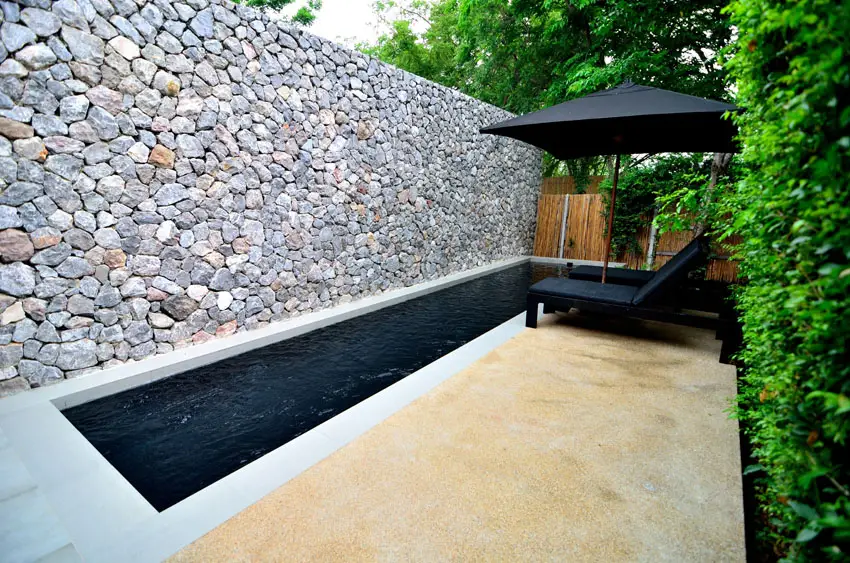 Long narrow swimming pools are the perfect solution to take advantage of lots which have limited space. This private villa features a long slim pool that also serves as an interesting water feature. A towering fence which is made up of coarse rocks gives the design a variation in texture while functioning as a privacy wall. To conform to the house's neutral scheme, dark pool tiles are used making the water appear as a dark bluish black color. Lounge chair and a portable canopy are also fashioned in the same color to tie the entire palette together. This modern pool is a true reflection of elegance and beauty in a minimalist approach.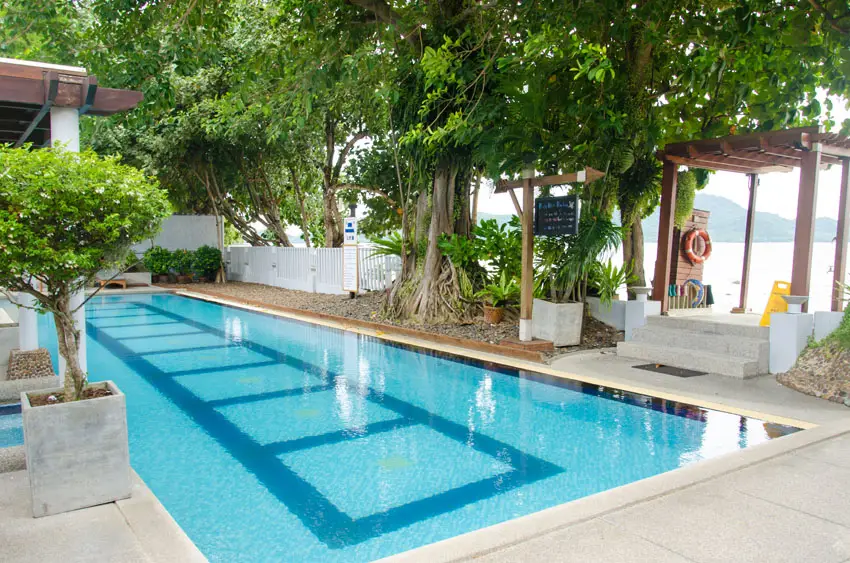 This beach front resort offers its guests a stunning view of the ocean as they enjoy their afternoon dip in the pool. Mosaic tiles were used to create the geometric pattern on the pool's floor, resulting to a simple yet interesting detail to the design. Beside the modern pool is a canopy while at the end are comfortable lounge chairs which allows the guests to relax . This design also uses concrete for the pathway which leads to a trellised doorway that directs to the beach. Flourishing trees and abundant greenery complete the refreshing look of this tropical oasis.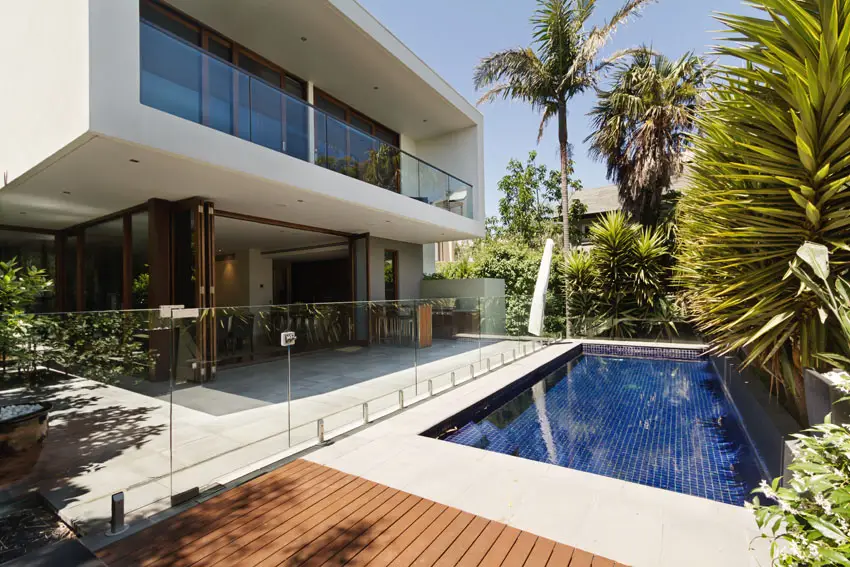 This modern home opens up to a modern swimming pool in its backyard. Large glass sliding doors which fully unfold to the end of the walls connect the indoor living spaces to the outdoors, while at the same time creating an airy and inviting feel. The streamlined architectural style of the house is reflected through other design elements by keeping them sleek and minimal. Dark blue porcelain tiles are used for the pool, rendering a refreshing look which is relaxing to the eyes, while at the same time bringing a cool splash of color to the space. The combination of wood decking and white ceramic tiles provide added visual interest through contrast.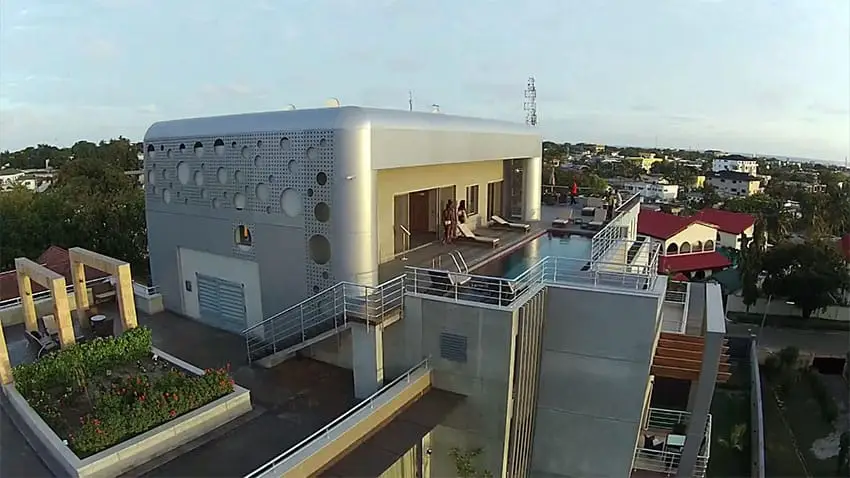 Set above this modern apartment's rooftop is a long narrow pool with stunning views of the surrounding city. Rooftops are the perfect way to take advantage of premium space as it allows you to utilize it in so many ways, be it for entertaining guests or for some personal time . Beside the pool are contemporary lounge chairs which provides a seating area for the users, while an outdoor living area is set up just a level below, near the lush rooftop garden. This rooftop pool looks more enjoyable at night at it allows the users to gaze upon the stars while taking a dip in the pool.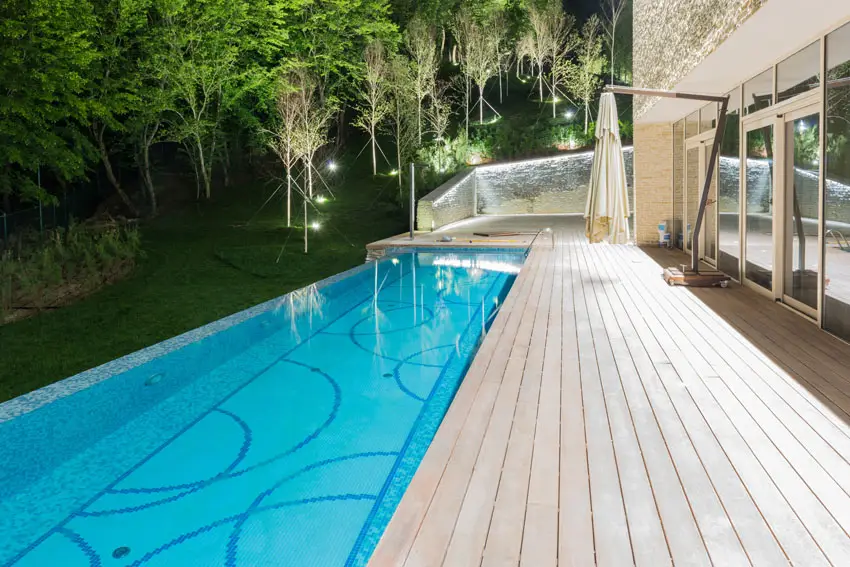 This modern rectangular swimming pool sparkles against a background of wood deck flooring and lush green plants. The interesting design found in the pool's flooring is made by using small mosaic tiles which are arranged in a curved pattern. While the blending of white and shades of blue produces a refreshing overall color for the pool. Another interesting feature that this type of pool displays is that the colors shift and render a sparkling effect depending on their exposure to the light. Sleek wood deck flooring give contrast and provide a spacious area for setting up outdoor furniture.
An elevated pool sits at the second level of this elegant modern home. The dark blue tiles which are used for the pool give the water a cool color, which is soothing to the eyes. It stands out against a neutral background, creating a stunning focus of attention for the home. Above the pool is a wooden trellis which gives partial shade and an added visual interest to the design. Natural tones which are interlocking with each other were used to finish the elevated pool's exterior, while glass railings were employed to create an open and airy feel for the home.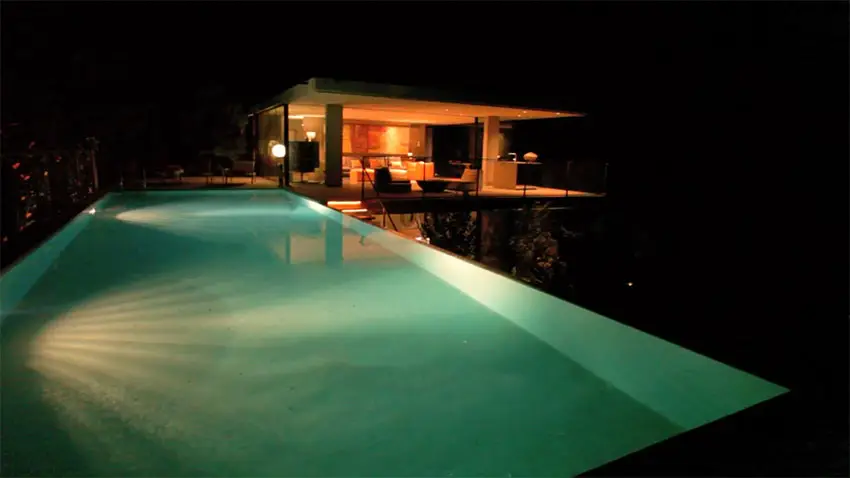 This is a stunning night time view of a modern swimming pool with a pavilion. To make swimming pool more visually interesting, warm underwater lights were added to the walls of the pool. As light is reflected and refracted through the water and the pool tiles, a luminous effect is formed, resulting to the formation of mesmerizing sparkling colors. At the foot of the pool is a pavilion which is furnished with contemporary upholstered sofas – perfect for bonding with family and enjoying a chat with friends. Warm lights which illuminate the pavilion also contribute to the welcoming atmosphere of the space.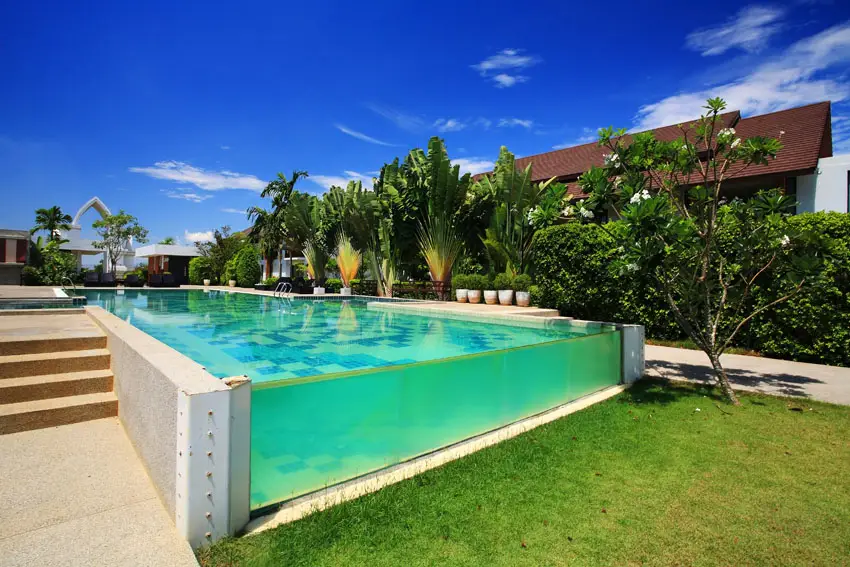 Glass pools offer a more modern look for the regular swimming pool. The use of glass for the edge creates an illusion of infinity and a continuous design which connects the perimeters of both the inside and outside of the pool. Also, the clear glass gives a view of the calming water, including the swimmers inside it. Glass is also more prevalent in above ground designs, where the full walls of the pool are visible and raised above ground level. This design also look more interesting with the use of patterned tiles for the pool floor. Smart landscaping gives a modern tropical ambiance while acting as perimeter walls for the house.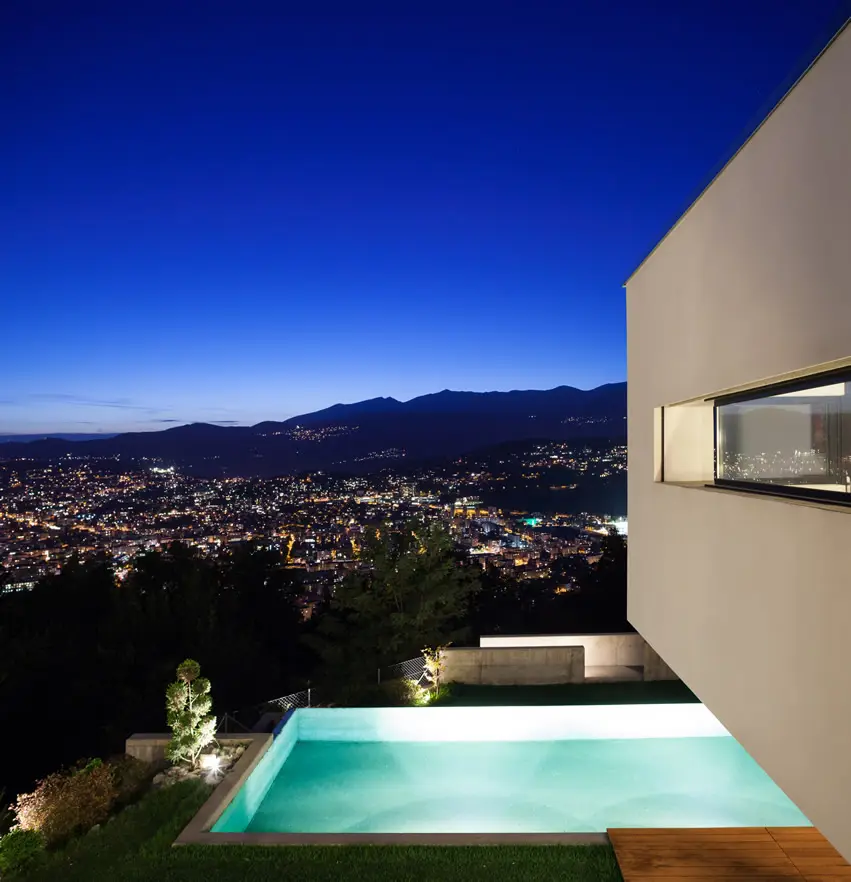 Built at the edge of this mountain side home, this swimming pool offers exquisite views of the city lights at night, and the breath taking nature in morning. Radiating elegance through its minimalist design, this modern pool instantly illuminates this house's backyard despite having no decor at all. Ambient underwater lights aid in producing a warm, cozy atmosphere which is perfect for both personal relaxation and family bonding. A wooden deck which connects the pool to the main house creates a stark contrast with the white finishes and the lush green grass.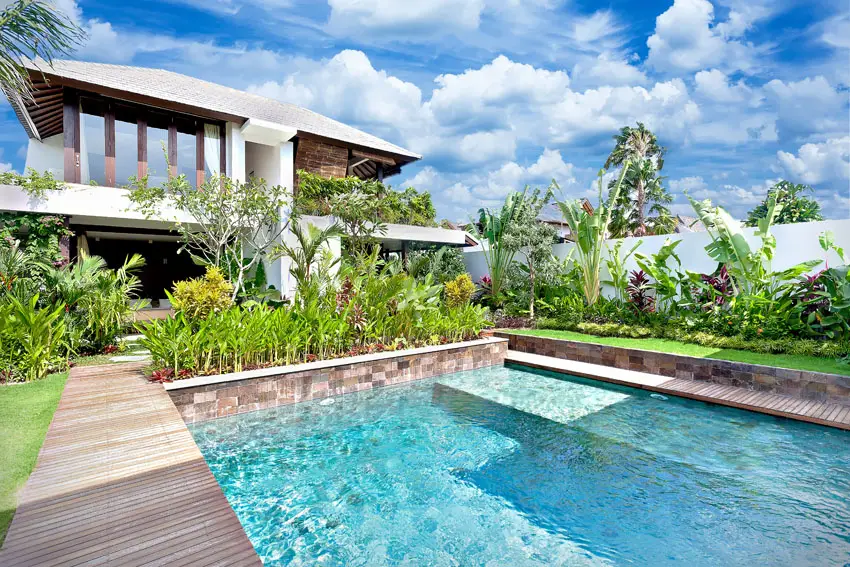 This contemporary tropical home provides a place of tranquility and relaxation with its exquisite modern swimming pool. The raised platform at the edge of pool serves as a seating and the perfect spot to enjoy the soothing water current. Natural stones which border the pool walls render a natural coziness to the space while visually tying the earthy color palette of the space. Natural wood decking serves as the connecting walkway to the main house. To top off the tropical feel of this home, lush landscaping with colorful elements are used.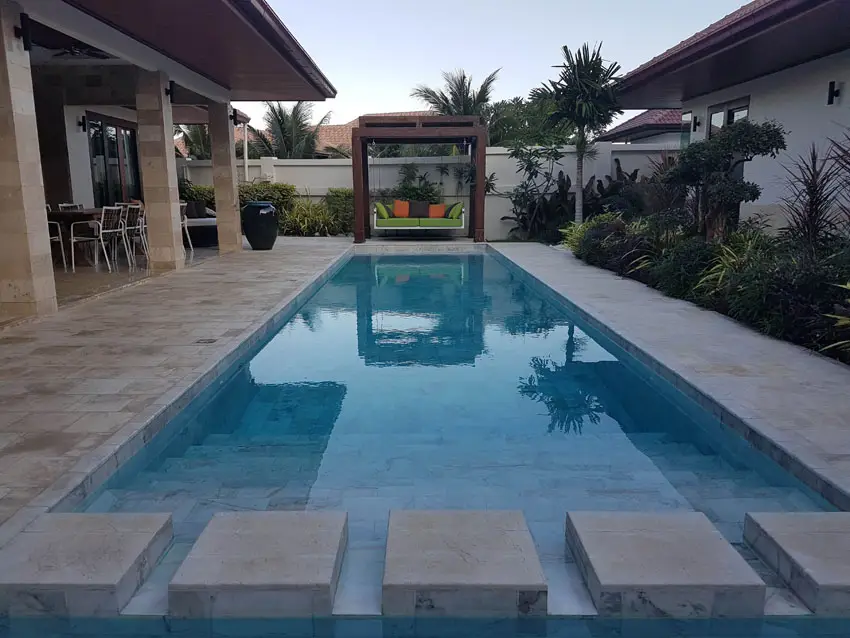 The canopy at the foot of this modern pool is the perfect relaxation spot to read a book or simply enjoy the calming view of the water. Suspended on wooden pillars are lime green benches with tangerine and black accent pillows which bring a pop of color to the space. Beige marble is carried all throughout the floor finish fr the patio, the stone pillars and the swimming pool to create a unified and continuous look. The steps which connect the sides of the pool do not only function as a bridge but also provides an added interest to the space.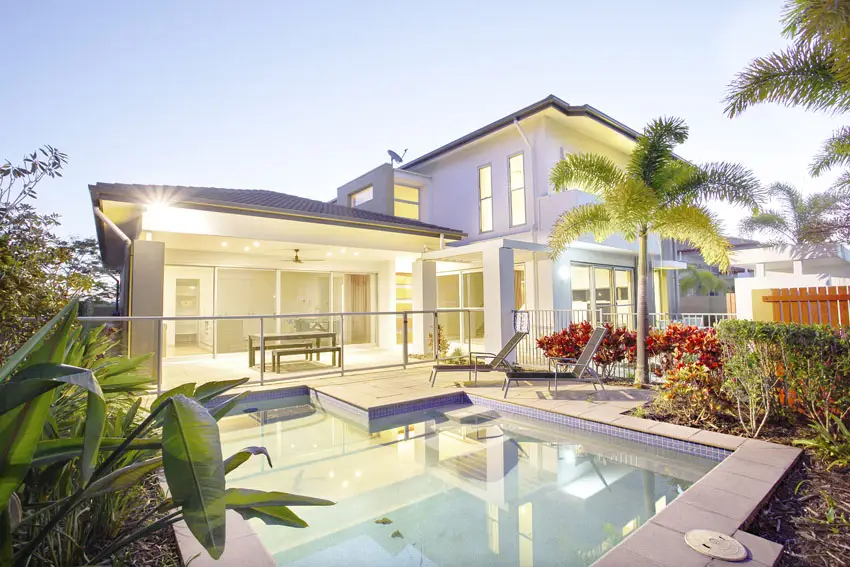 This modern home connects the indoor and outdoor spaces by using a consistent color scheme. Large glass windows and sliding doors create a more open look, while the all white color scheme makes the house appear more bright, clean and airy. The continuity of this design element is reflected though the use of glass railings which borders the pool. The light colored tiles which are used for the pool gives an illusion of added space. Beautiful tropical landscapes which combines lush foliage and red plants add life to the minimalist look of this pool setting.
The bird's eye view of this tropical resort show its relaxing amenities and stunning visual aesthetics. The irregularly shaped pool makes use of blue tiles to create a flowing floor pattern which blends with the pool's form. A geometric bridge adds an interesting design component while connecting the spaces around the pool. The unique mixture of cool and warm gray shades from the natural stone flooring give depth to the overall design of this modern pool. A pool bar with seating is set directly on the pool, enhancing the guests experience of casual dining and personal relaxation.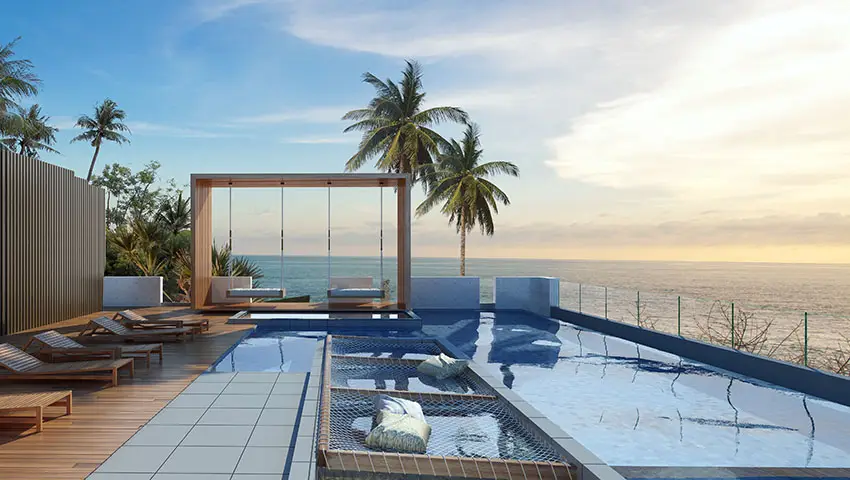 The picturesque view of this modern swimming pool against the breath taking ocean and palm trees create a tropical oasis that is a true haven for relaxation and recreation. The modern pool exudes tranquility as invigorating blue waters fill the pool up to the brim. By not putting raised borders along the pools edges, a smooth transition is formed. Contemporary wooden lounge chairs are set up on a natural wooden deck flooring while unique net seating with accent pillows are placed on top of the pool. another interesting feature for this design are the swinging benches which are suspended on a sleek wooden pillar.
Related Swimming Pool Design Galleries You May Like:
Lagoon Pool Designs – Pool Cabana Ideas – Swimming Pools with Water Features – Luxury Swimming Pools