In this gallery of hot tub privacy wall ideas you'll find pictures for the pergola, gazebo, bamboo walls, privacy panels, fencing, and faux stone walls to create privacy around hot tubs.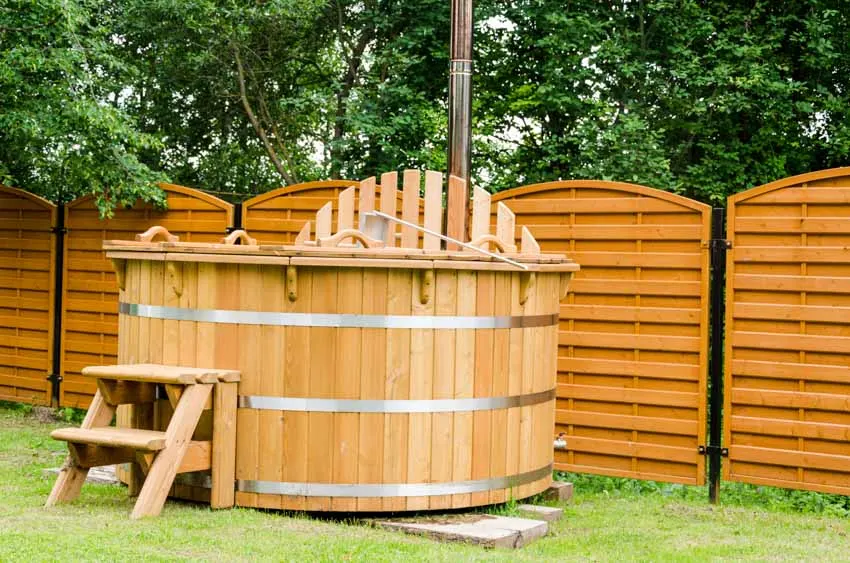 Turning your garden into one of the ultimate spa and relaxation zones is one of the main goals of having a backyard and a hot tub in the first place. This will allow you to enjoy your hot tub bubbles in total peace without feeling exposed to your neighbors and the rest of the world.
It is always wise to ensure that your hot tub area is tucked somewhere private, or even in a specific room or area meant for relaxation. It would help if you had an area separate from the hubbub of daily life.
There are tons of privacy wall ideas that can satisfy not just your hot tub privacy needs but your aesthetic needs. There are many ways to get this stylistically done, and we'll go over some of the most inspiring options to consider below.
How To Add Privacy To A Hot Tub?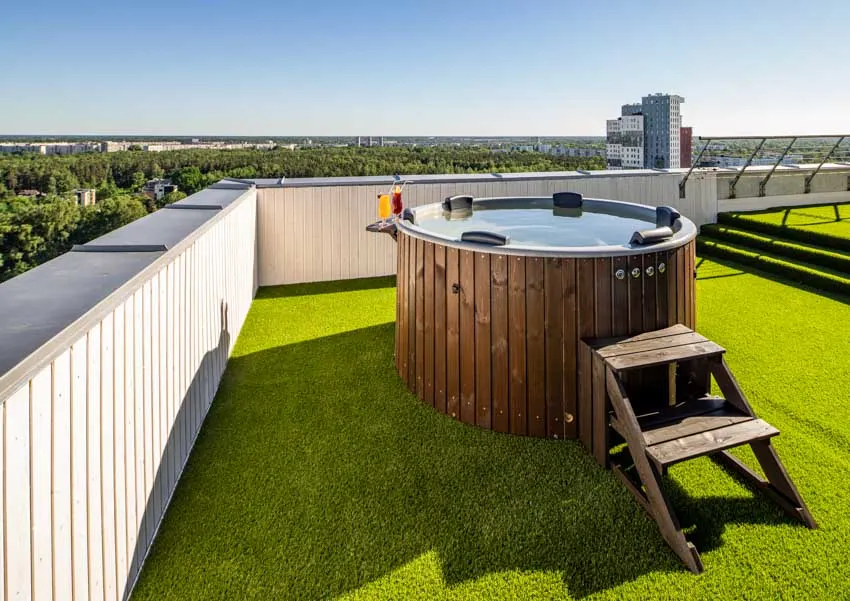 While a few of the first ideas that comes to mind for privacy is to add a fence, hang curtains, or plant hedges, there are actually many more to choose from. Here we share the different ideas that give more privacy to your hot tub.
Install Your Hot Tub In A Pergola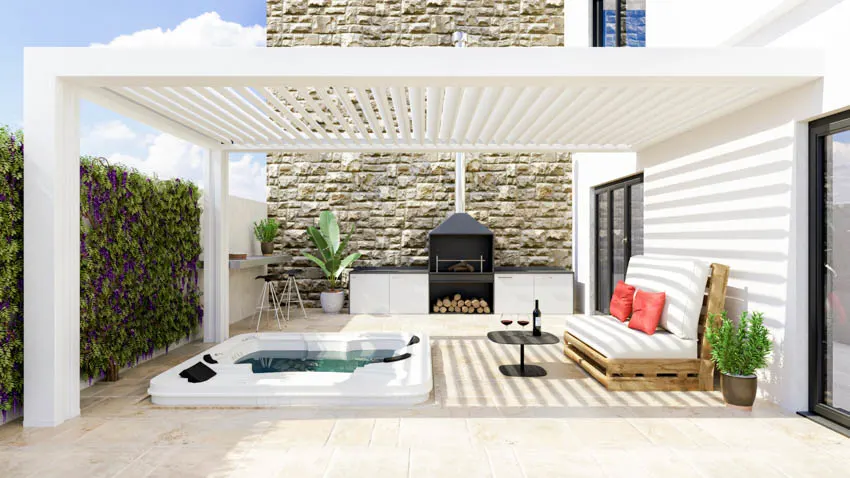 A hot tub is an expensive investment. It is no surprise because it's considered a luxury item or appliance compared to the rest of the other usual appliances you get at home. It would make sense to ensure that a sleek-looking pergola with privacy wall protects your hot tub investment.
Aside from the fact that it can contribute immensely to the aesthetics, you are guaranteed that it will grant you more privacy. You can also opt to use your hot tub whatever the weather may be, because you have extra shelter from the pergola.
Slat walls usually surround pergola designs. These are slats that you can easily adjust to control how much light, view, or airflow you will be getting while you're inside your hot tub and within the pergola enclosure. You can even add in thermal types of sliding doors to keep the area temperature controlled for when the winter months kick in.
It isn't as artsy or as extravagant as the rest of the other ideas. however, for a contemporary backyard design, installing your hot tub inside your pergola can be a pretty good option to consider at the end of the day.
Put Your Hot Tub In A Gazebo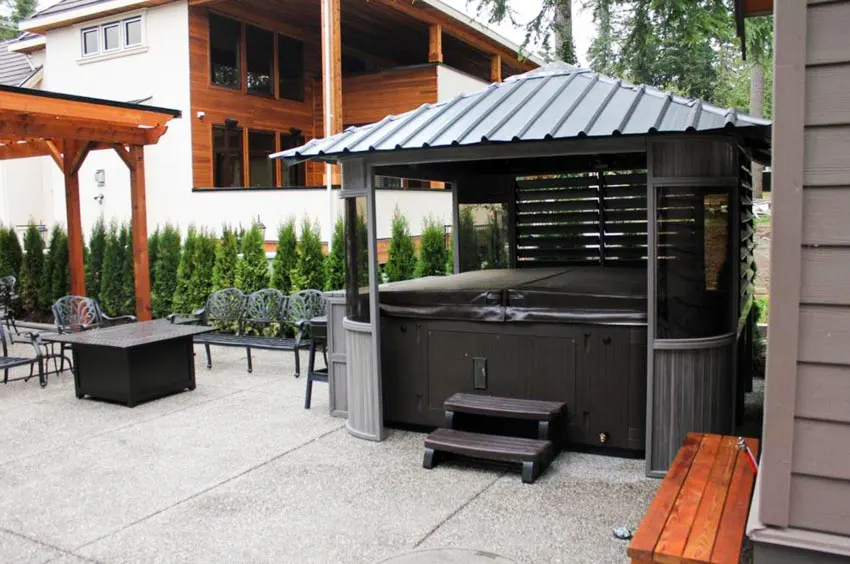 See this gazebo set at Home Depot [sponsored link]
Another great idea to help screen your hot tub area is by putting it inside a gazebo structure. A gazebo design is a fantastic addition to your yard and can even add some curb appeal.
You are guaranteed that you will be able to enjoy outdoor living and utilize that outdoor space all year round, regardless of the weather. You can keep your hot tub and the space surrounding it sheltered against the elements.
If you have neighbors nearby and are worried about prying eyes, a gazebo is excellent at keeping that issue at bay. One of the easiest ways to add privacy to a gazebo is by adding curtains or roll down screens.

You can even use the posts in your gazebo's structure to support any additional panels you might want to add so that you have added privacy from the sides and not just from overhead.
Use A Bamboo Screen Privacy Wall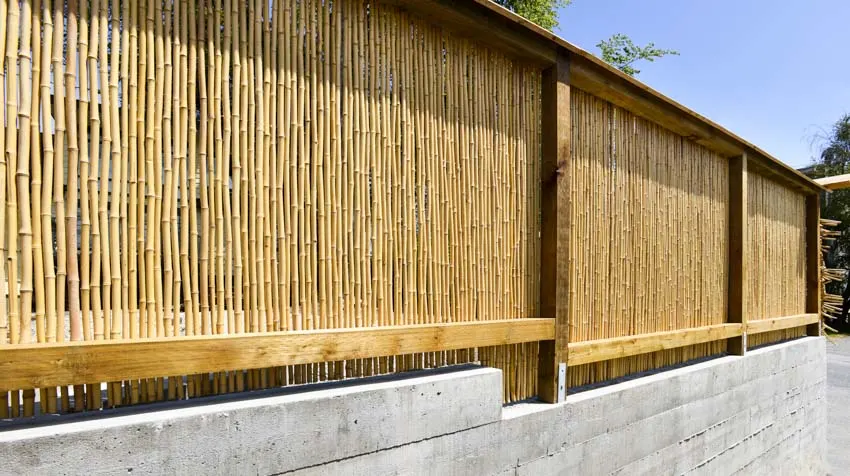 When it comes to getting privacy walls, one thing you should never overlook would have to be the concept of using plants in the process. Using a bamboo screen around the perimeter of your hot tub area will provide you with a screening solution that's green and all-natural.
As opposed to an otherwise man-made structure, it's a more subtle and delicate-looking solution. It can also help a lot when it comes to boosting the greenery in your area.
Tall bamboo plants can serve as a modern but natural container for your hot tub. It's excellent for effortlessly dividing your lawn and your hot tub area. At the same time, it will provide you with a green and leafy view while you're relaxing inside the tub. It makes for a great scene and ambiance.
Use Privacy Panels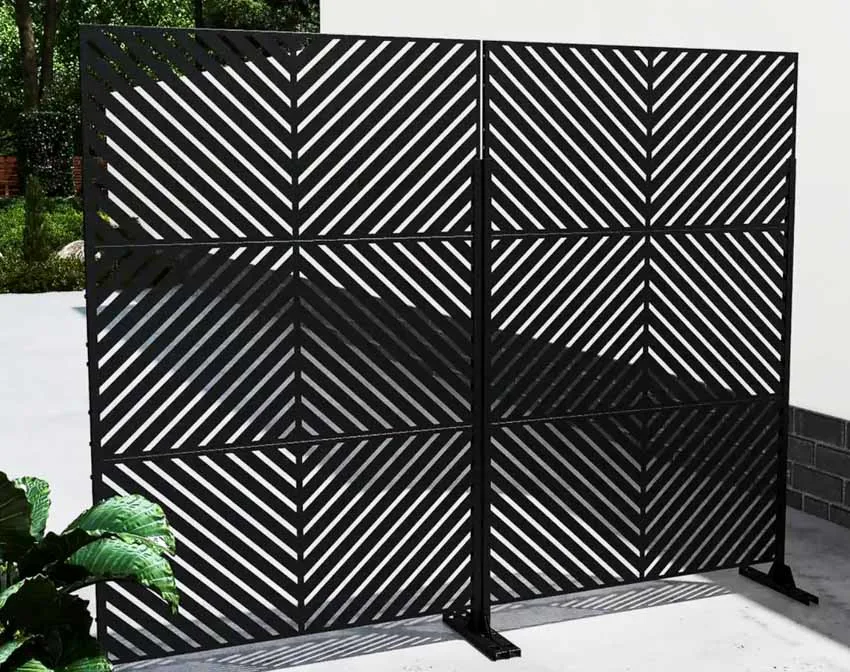 See this outdoor privacy panel set at Home Depot [sponsored link]
Privacy panels such as corner screens and the like might be all it takes to give your hot tub area the much-needed privacy it needs while you're lounging out inside it. It can boost your privacy without making it feel too cramped and enclosed.
A slatted design, for example, can give you some added height next to your lawn fence if you have one. It will still allow some breeze to blow through. Slatted privacy fence panels are also slim-lined, which would mean that they won't take up way too much space at the end of the day.
You have the option to match up your privacy panel with your tub's color scheme and design. If you want to look for a denser privacy screen, you can add in the element of climbing vines or similar plants that can cover it up.
You can play around with flowers such as jasmine and roses for a scented and spa-like vibe. There are many gardening options that you can pair up with whatever privacy panels you choose.
Add Fencing Around Your Hot Tub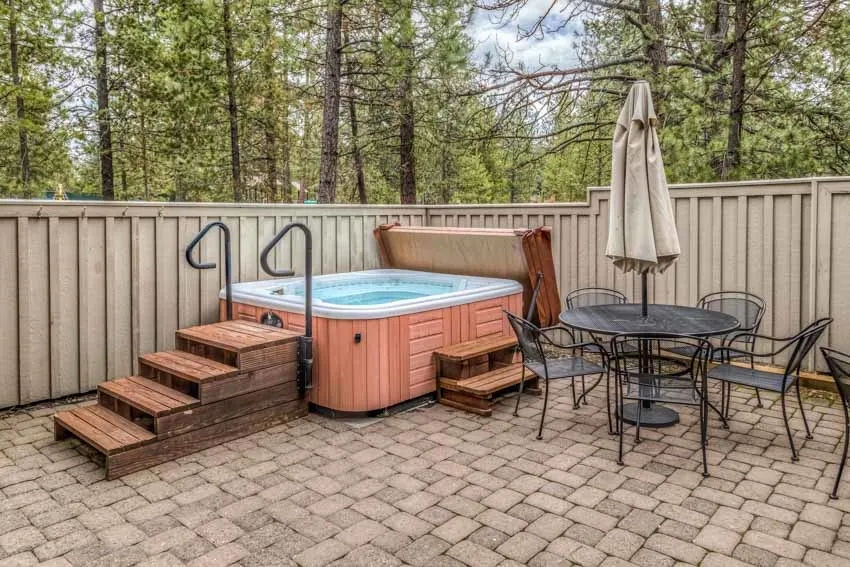 Another smart way to provide privacy for your hot tub area is by adding fencing. You can even opt to extend any preexisting fences you may already have. You can build some fencing from scratch or extend whatever you may already have horizontally.
This is great for coming up with a look or aesthetic that's remarkably cohesive while at the same time, effectively dividing your areas up into separate zones. A slatted privacy fence design, for example, can keep your lawn area separate from the site where your hot tub is.
Added fencing will also allow you the leeway to string up some fairy lights or even get sconces installed. This way, you will be able to continue to enjoy using your hot tub even at night because you will be leaving the area well-lit.
Use Faux Stone Walls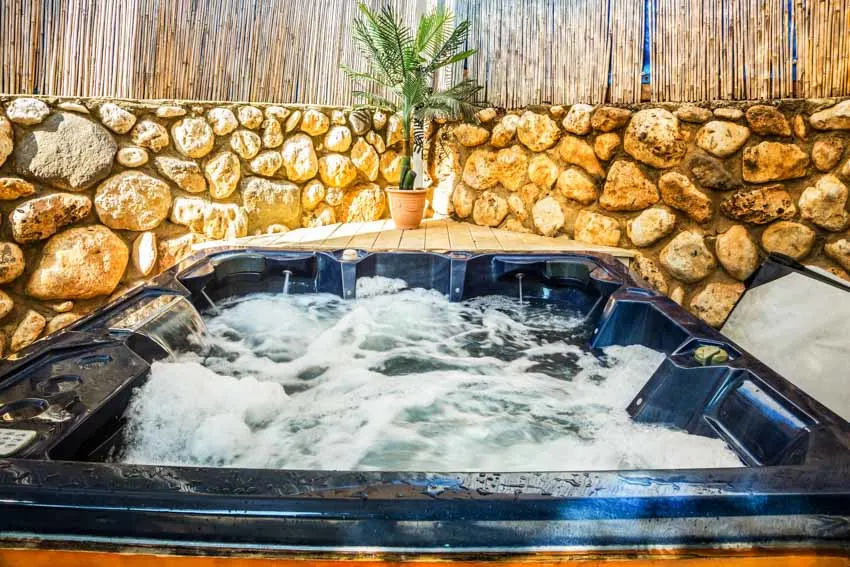 Stone walls, or even faux stone ones, can turn your hot tub area into a show-stopping scene. It looks bold but at the same time cultured and traditional. It makes for a unique look and aesthetic. If you're a fan of a somewhat European style or décor, this is a go-to privacy structure you can use.
Stone or faux stone features will not only provide you with the privacy you need for your hot tub, it can also convert the area into something that looks a bit more romantic.
You can use different types of outdoor lighting fixtures and other embellishments installed. And of course, given that the area is mainly outdoors, you can add in some greenery to make it lush and appear fresh looking too.
Use Frosted Glass Walls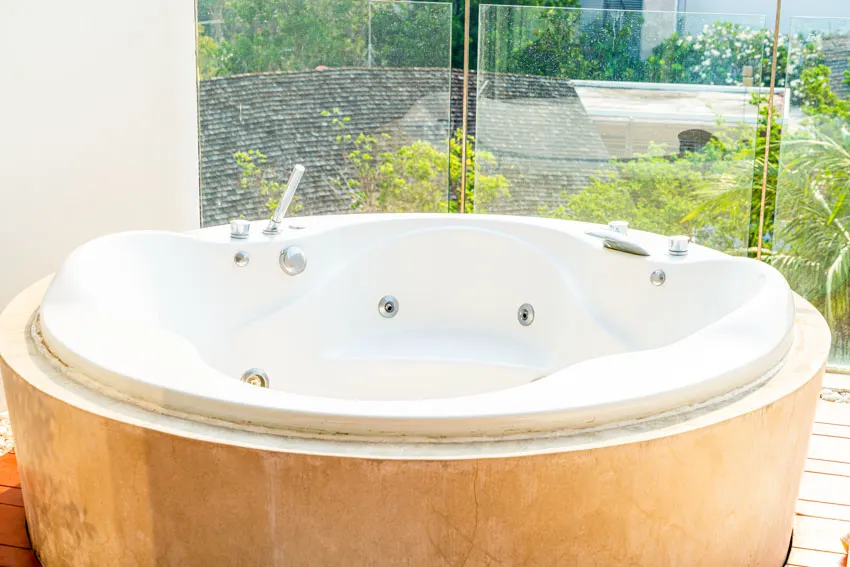 If your hot tub area is positioned somewhere high such as on a terrace, the roof deck, or something similar; you can opt to use frosted glass walls as an added measure of privacy. You need to ensure that you have some way to screen people from down below so that you can't be seen lounging around in your hot tub.
This will make your area feel more private and more secure. Fences are always an option, of course, but this can make an area already high up feel a little too closed off and cramped. Go for something airier and brighter instead. This is where frosted glass walls can come in.
Frosted glass walls will be able to provide you with the barrier wall you need to screen prying eyes out, but at the same time, you get to come up with something stylish that effectively blocks out the light as well.
Moreover, you can rest assured of the fact that glass is easy to clean and maintain as well. It won't require anything more than the occasional wipe-down, and you're pretty much good to go. It's very low maintenance.
Add Privacy Hedges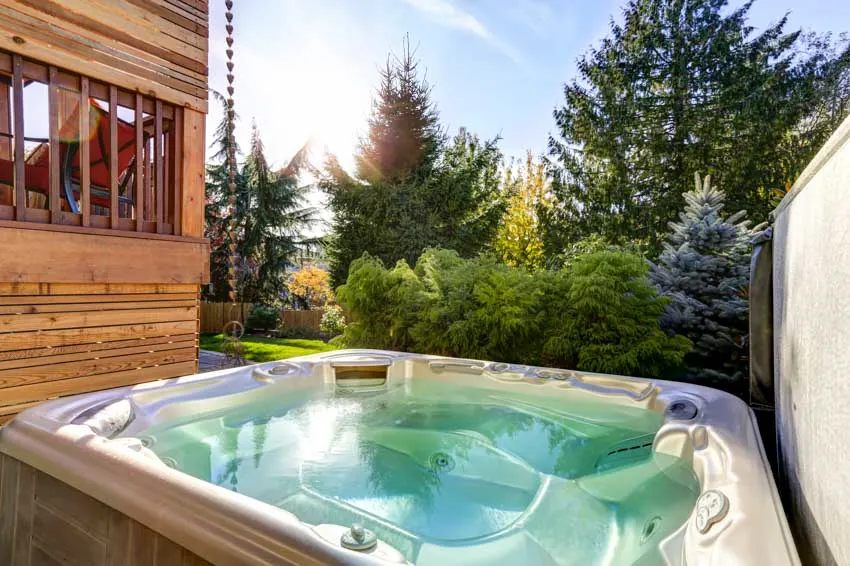 Privacy hedges are considered as "living screens" for your hot tub area. You can use plant shrubs or small trees to help protect your property and the surrounding area from any unwanted attention coming from the outside.
You can play around with small trees, shrubbery, or hedges. Plant these right alongside your property line right where your hot tub is situated, or you can even opt to get them planted right around the hot tub itself.
Privacy hedges are highly beneficial. There are a lot of benefits when it comes to growing them. Although the effects may not be as instantaneous as you would like them to be because you must wait for them to grow out, they can come along quite nicely once they are fully grown.
They aren't as solid nor as cramped as a solid fence. They're a little more fluid and versatile than that because they can eventually be part of your actual landscape on the lawn.
Even the smallest backyards can appear larger and more luxurious with privacy hedges. Popular privacy hedges for around hot tubs and pools are arborvitae, boxwoods, ligustrum, cherry laurel, and trellis with climbing vines.

Add A Louvered Slat Wall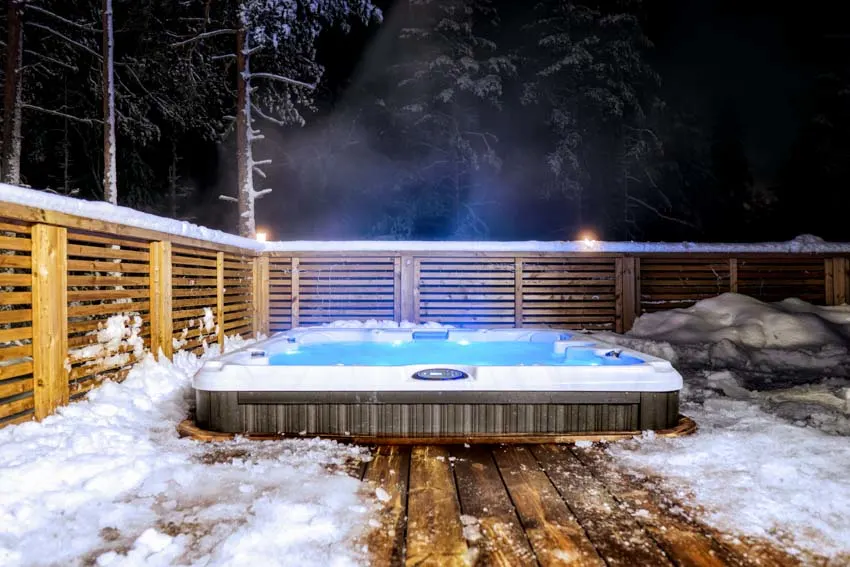 Louvers are metallic slats or blades that are arranged parallel against each other, usually horizontally. They typically have either metal, wood, or glass panels as connectors. These slat walls work well as privacy screens for your hot tub patio enclosures.
Because they have gaps in between the slats, they allow a certain amount of air and sunlight to penetrate through the area while at the same time preventing the outside from looking in. louvered slat walls can be fixed or movable. It's all up to your preferences.
There are fixed or manual ones but also high-end options that are motorized. They will allow you to completely shut them off, providing total and complete privacy for your hot tub area, or open them for partial privacy.
Louvered slat walls are highly versatile. You certainly have a lot of elbow room to play around with the design and the function and the degree of privacy you get out of using them.
Install Corrugated Panels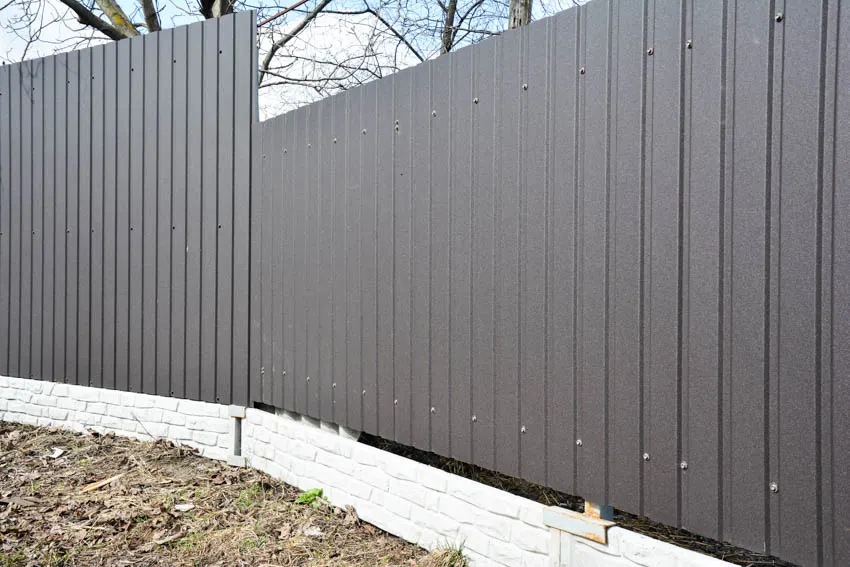 Corrugated metal panels were originally meant for roofing purposes, but they can also be used as wall panels for your hot tub area. It's one of the most commercially available materials around. They're highly durable and cost-effective.
The installation for corrugated fencing panels is also relatively simple that you can even opt to do it yourself with nothing more than a few basic tools you have at home.
Take note, though that although this is one of the options, it isn't one of the most visually pleasing ones. Still, it's an option nonetheless and this is something you can use, especially if you happen to be a bit short on budget and finances.
You can be a little more creative with your corrugated panels. You can get them painted, and embellish them with hanging plants, string lights, and so on. It all depends on what you decide for your hot tub area design.
Use Wood Lattice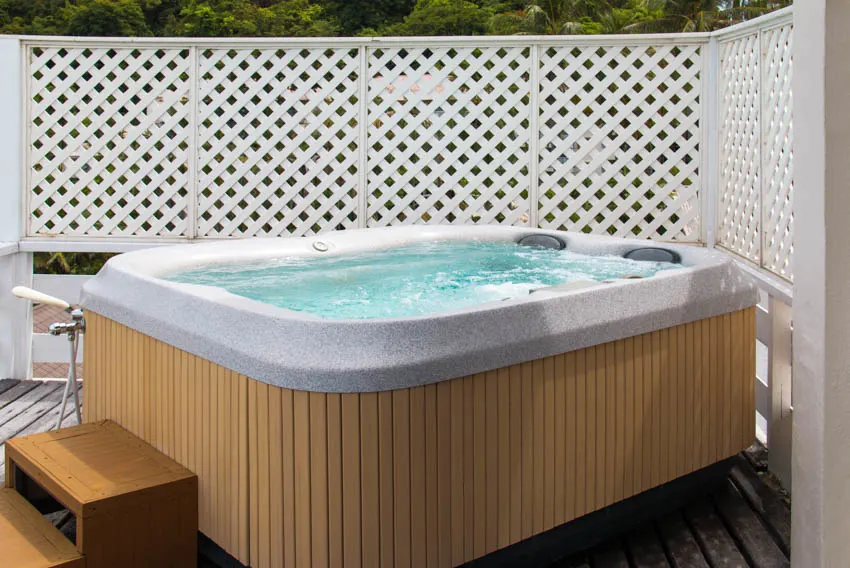 Wood lattice is lightweight and made of various materials from real wood slats, bamboo, wicker, jute, or rattan, composite wood materials and fibers, and more. There are so many materials that you can play around with and you can even mix and match.
Some home stores come with pre-made wood lattice panels so you can utilize those options if you want quick and easy solutions. They introduce texture and dimensionality into the space where your hot tub is. These extra textures and shapes look great, especially with the sunlight cast against them. It can make your hot tub area appear homey and nostalgic.
Lattices are also great when it comes to providing support for climbing vines and greenery. Although there are parts where you can see through them, they're great as a privacy option because they still allow some breeze to pass through, allowing you to keep the area cool.
Add Curtains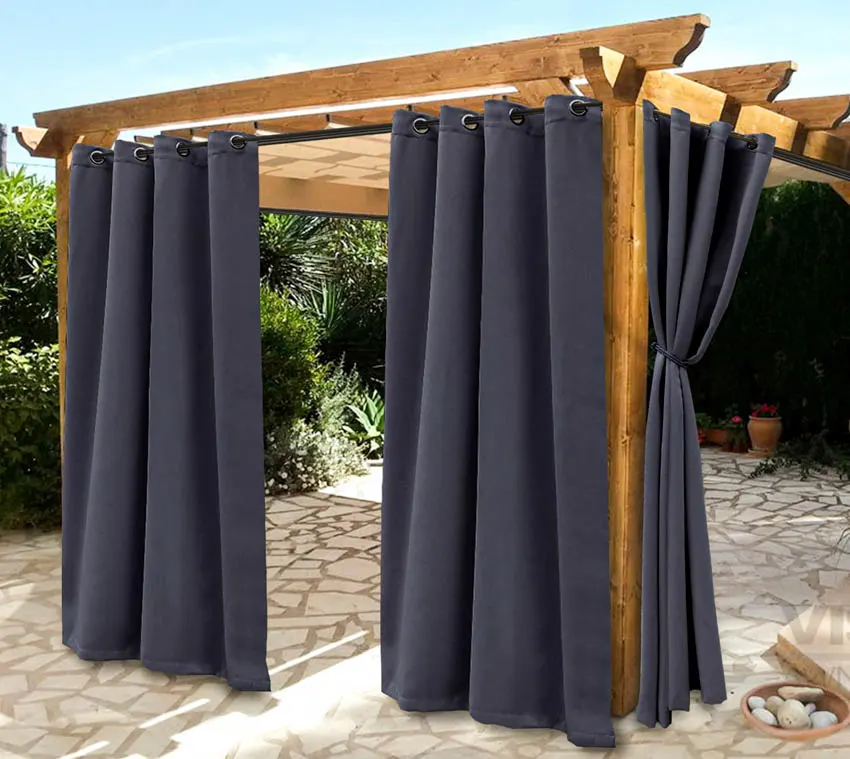 See this outdoor curtain set at Amazon [sponsored link]
If you would like to add in some privacy for your hot tub but don't really have a lot of budget to burn in the process, a cost-effective way of getting this done is by adding certain types of curtains to your hot tub area instead.
This is one of the most straightforward ideas or methods to block out not just excess sunlight but unwanted attention. It's just a matter of hanging up a drop of cloth. You can play around with many curtain materials, from basic canvass to sheer outdoor curtains, or even PVC ones.
While you're at it, make sure that you get them out with some tie-backs for the curtains so that you can sweep the material over to the side to allow some breeze to blow through or for the times wherein you want to keep the area a little more open. It makes for a very practical yet versatile solution and you can even pair this up with other privacy solutions as an embellishment.
Grow Climbing Vines On A Trellis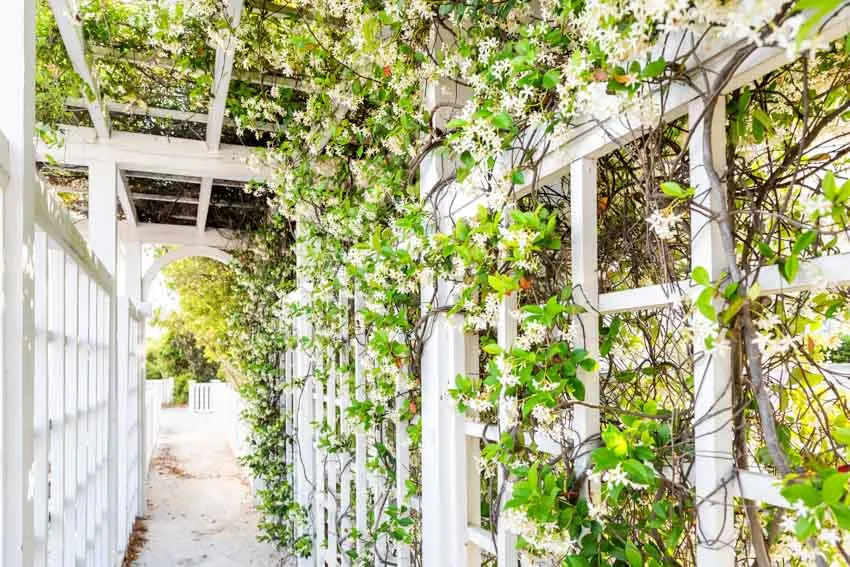 Growing climbing vines on a trellis is another nifty and easy way to get some privacy for your hot tub area. Trellises can be made out of different materials. More often than not, they can be DIY. There are also a lot of trellis panels and materials that can be bought as is from the home depot stores, and you just need to work on getting them assembled in your hot tub area.
The thing about climbing vines is that it doesn't take a lot to grow them out. You can have them planted in small pots right at the foot of your trellis, and they can climb up and give you your much-needed privacy screen. It can be very aesthetic as well.
Another option is for you to get your vines planted directly on the ground if that happens to be available or possible. They're hardy plants and thrive with little care and sunlight.
You get to limit the amount of sun exposure you get while you're in the hot tub, and you also get to keep unwanted attention out – all this while enjoying a great view of the greenery. Many of these climbing vibes can also come with flowers that grow all year round, so that's definitely an added bonus.
Use Freestanding Privacy Screens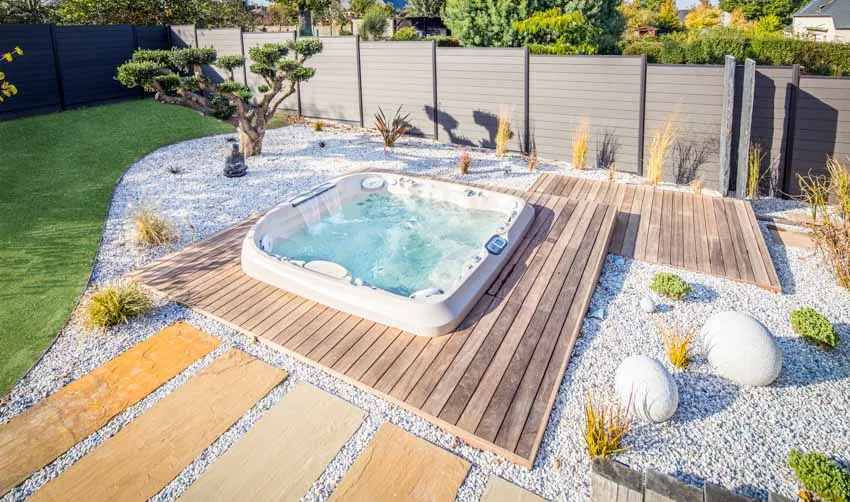 It would be best if you also considered getting your hands on some freestanding privacy screens for your hot tub area. If you aren't all that fond of fencing options, privacy screens will prove to be more viable options. These freestanding privacy screens are much smaller and lighter than traditional fences and fence materials.
Depending on your preferences, it can be portable and folded up or fixed. When choosing the materials for your privacy screens, make sure you go with those that reflect your style and aesthetic for the space.
These freestanding privacy screens are made from fabric. Bamboo is another lightweight material, especially if you want to be able to create a space that is a little more textured and tropical. You can play around with organic elements, such as rattan or wicker.
These materials are excellent, especially if you want to create visual interest in your hot tub area. You can feel free to mix and match some materials for dimensionality and added texture.
See more related content in our article about hot tub sizes on this page.