Here's the different types of outdoor lighting including the popular styles, tips on choosing light fixtures, power options, and the best bulb choices.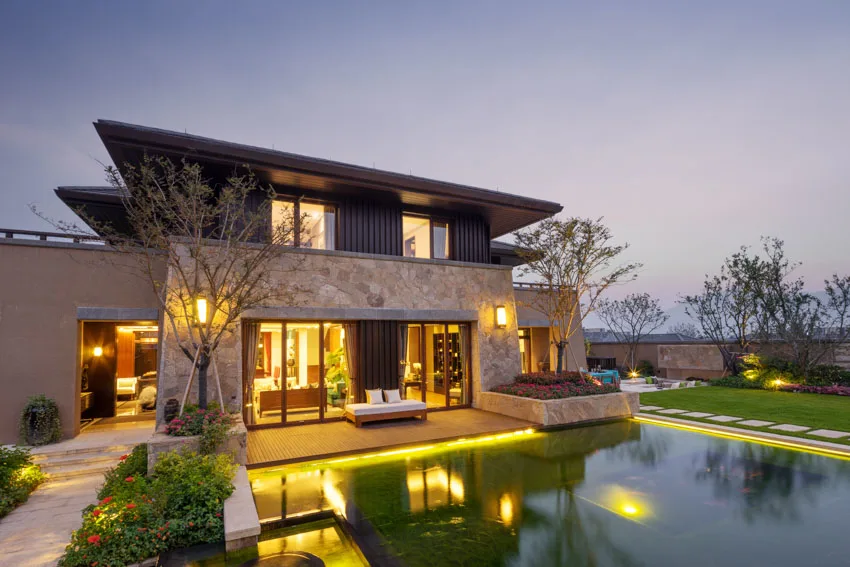 Outdoor lighting is one investment that pays off splendidly, from increased safety and security to better aesthetic appeal. There are many different kinds of outdoor lighting fixtures to pick from, depending on the aims you want to accomplish with your lighting.
It is essential to take all necessary safety measures before dealing with electricity or executing any lighting installation operation.
Before installing any new lighting system, you should check with a certified electrician. Learn more about various outdoor lighting systems used and some basic installation standards in this outdoor lighting guide.
Up & Downlights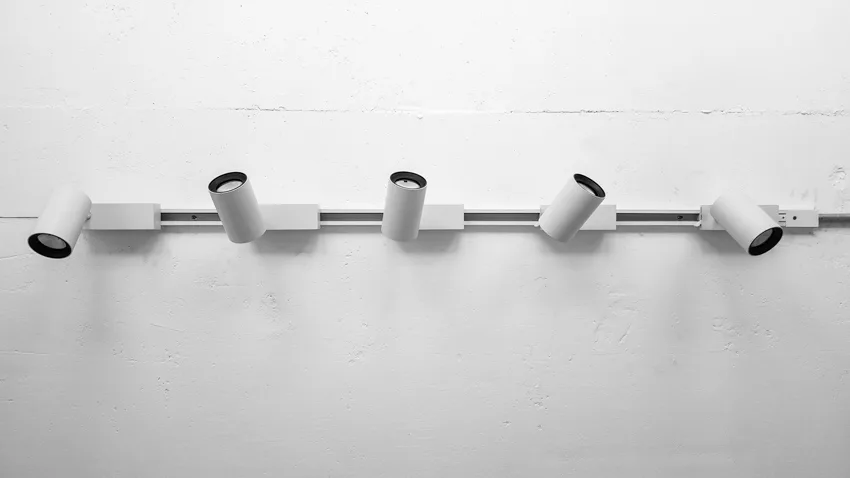 What is the difference between "downlighting" and "uplighting"? Downlighting is ideal for outdoor dining. We often utilize it to produce gentle illumination down paths and patios by placing it beneath seats and sitting walls.
It not only casts a pleasant pool of light, but it also provides a sense of security to anyone passing by. Downlighting is sometimes the most practical option. The brighter the light, the larger the area it illuminates.
Certain spots outside your house are ideal for uplighting effects. Lighting a lovely tree from the ground up, such as a Japanese Maple, reveals its unique bark, branch structure, and delicate leaves.
Uplighting is also an excellent option for garden features. Uplighting may be used to draw attention to a gorgeous fountain, a statue, or a plant. It instantly gives your yard a sense of drama.
It is essential to distinguish between uplighting with light fixtures set flush with the ground, and directed uplighting, which has lamps positioned above the ground atop temporary supports.
Spotlights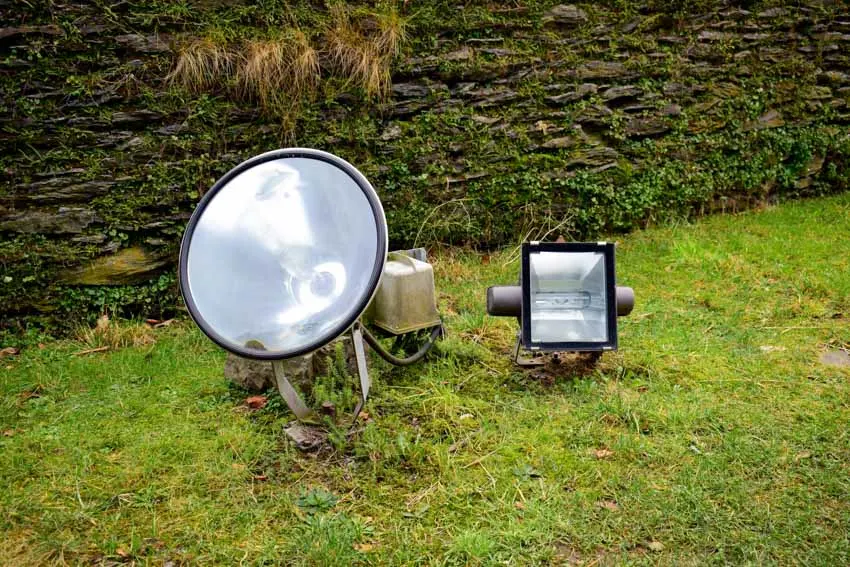 Spotlights emit a narrow, focused beam of light at 45°. A spotlight is the most excellent solution to emphasize certain display spots, such as architectural details or landscape aspects, since it is easy to target and control.
LED spotlights are used in outdoor lighting to similarly draw attention to certain architectural or landscape aspects. Unlike LED floodlights, which cast light over a large area, spotlights feature smaller beams that allow them to concentrate on a single object at a time.
Use spotlights to draw attention to trees, plants, and vegetation. Install them in the ground and aim their movable heads to provide light where it is required. You can also use these lights to create a moonlighting effect in trees.
The ground below may seem to be lighted by the moon instead of an evident light source when installed at a suitable height (typically between 15-30 feet) and directed correctly.
This is ideal for use on most types of patios or in sitting areas. These fixtures are available individually as complete kits with transformers and wiring or add-on kits.
Flood Lights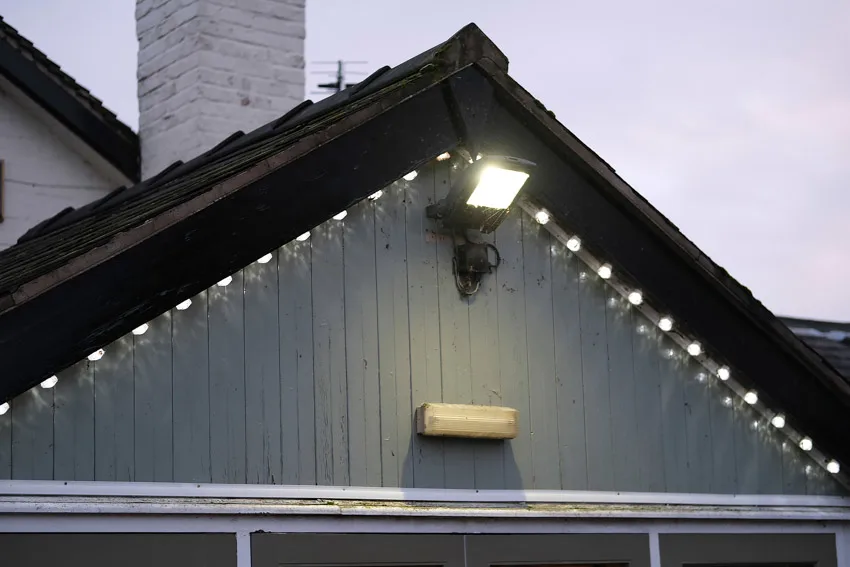 Floodlights feature a rotating beam with an adjustable angle focused on a particular location. Outdoor flood lights illuminate broad areas, such as sports fields, parks, playgrounds, and parking lots, or direct light on a permanent object, such as a monument or flagpole.
Floodlights may help increase safety by making it more straightforward for people to detect possible dangers that might cause slips, trips, and falls by flooding dark regions with light.
Floodlights can also help deter property damage, crime, and vandalism. It is ideal for parking lots, roads, pathways, outdoor places, stadiums, arenas, sports fields, venues for outdoor performances, signage, and billboards.
Decide which kind of floodlight is suitable for you by assessing the brightness level you want before spending it on outdoor lighting and installation. Floodlights come in a variety of brightness and color temperature settings.
The best solution is determined by how you will utilize the fixtures. Choose LED floodlights over halogens or CFLs for cost-effective operation. LEDs are more resistant to temperature changes and need less maintenance since they last longer.
Step Lights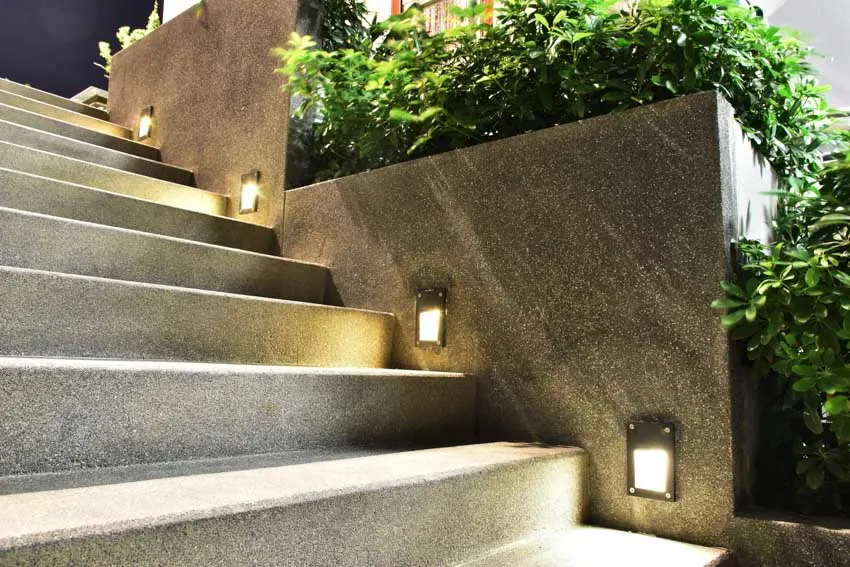 Step lights, which brighten stairwells, walkways, and corridors in indoor and outdoor settings, are elegant and practical. Although step lights are generally dazzling, there are many different types of step lights to sort through for your house, garden, or other location.
LED step lights are becoming more popular because they consume very little power and produce just the right amount of light for stairways and corridors at night. They produce less heat than other sources and are usable indoors and outdoors.
While LED is the most common option, incandescent, halogen, xenon, and even fluorescent step lights are also available. Knowing which light source you like can help you make a more informed selection.
You will determine the kind of step lights you purchase by the type of installation you wish to do. If you only want to plug a step lightly into a hallway power outlet, for example, your options are restricted to wall-mounted step lights.
If you need recessed step lights where none previously existed, numerous options are available, both inside and outdoors. If you want to install outdoor step lights with no effort, battery-operated and solar choices are simple to set up and need no wiring.
The brick-sized stair light is another popular design. These are ubiquitous outside but also function indoors. Small, circular step lights, LED tape or rope (frequently used to run under railings), and staked-in path lights are some more fascinating choices. You may even use solar LED party lights to illuminate outdoor stairs if you want to get creative!
String Lights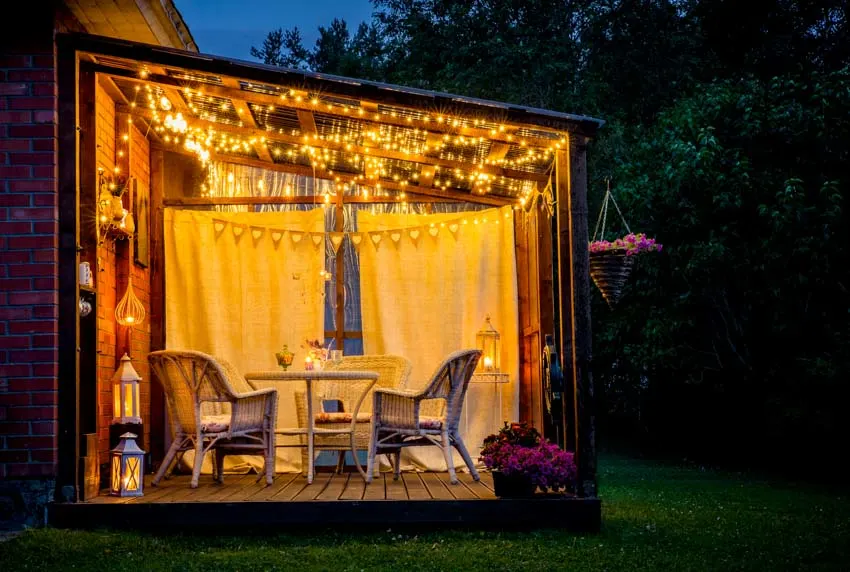 To transform your backyard into a dazzling destination, all you need is a good set of string lights. String lights are adaptable, simple to put up, and cost-effective, in addition to boosting the beauty of your outdoor area with their warm, glittering illumination. However, selecting the best outdoor string lights takes careful research.
Size is a vital consideration, which you may establish after you have decided where you will place your new lights. String lights are available in various lengths, with the longer strands often having more lights. Decide whether you want incandescent or LED lights next.
The main difference is their brightness and energy consumption: LED lights are brighter and have less electricity. Dimmers, weather-resistant materials, colors, good functionalities, and the ability to link with other strands are all aspects to consider.
It is also a good idea to make sure you have access to a power source before purchasing a set of string lights. A solar-powered outdoor string light set may be a better fit if you do not have access to an outside outlet or do not want to spend the money on an extension cable.
You may use these multi-purpose sparkle strands to define boundaries and borders, wrap columns, railings, and even trees, and hang suspended over a place like sparkling stars to give a wonderful and romantic light.
The most straightforward approach to figure out how much twine you will need is to use it as a stand-in and extend it from point to point where your string lights would go. (Make sure you have enough to reach the outlet.)
Measure once around a column or tree and multiply by the number of times you will wrap your light around. Once you have calculated the overall length, divide it by the length of a single strand to get the number of strands you will need. Suspend rows of lights above to get the star-like effect of string lights.
String lights are particularly charming beneath a covered patio or over an outdoor dining area (if the ceiling is high enough). Install thin guide wires first, then connect your lights to them using twist ties the same color as the wires for string lights that span more than 10 feet. Read more about hanging string lights here.

Garden Lights
Garden lighting uses outdoor illumination of public landscapes and private gardens. They are the next great thing in energy-efficient lighting and are readily fuelled by solar energy since they use less energy.
These lights may be connected to sensors and triggered as soon as daylight diminishes. Such lights might be arranged in a grid or linked directly to a battery through a solar panel, depending on the application. Some garden lights rely on power, such as stake mount, tree mount, in-grade, hanging, fixed post, moveable, and stationary fixtures.
Garden lighting comes in a variety of styles. Ones that you may hook into the home's electrical system or units powered by solar power are also options. Simultaneously, there are various lighting options to pick from, including pond lights, spotlights, and pathway lights.
The majority of garden lights come in colored or white bulbs, which you may use to create various effects in the garden. Garden lights have several advantages in the garden, including lower temperature, which means that they will not harm the vegetation.
Additionally, the risk of burn harm to children or adults has decreased. LED garden lighting comes in various decorative alternatives to help you brighten up your garden.
Bollard Lights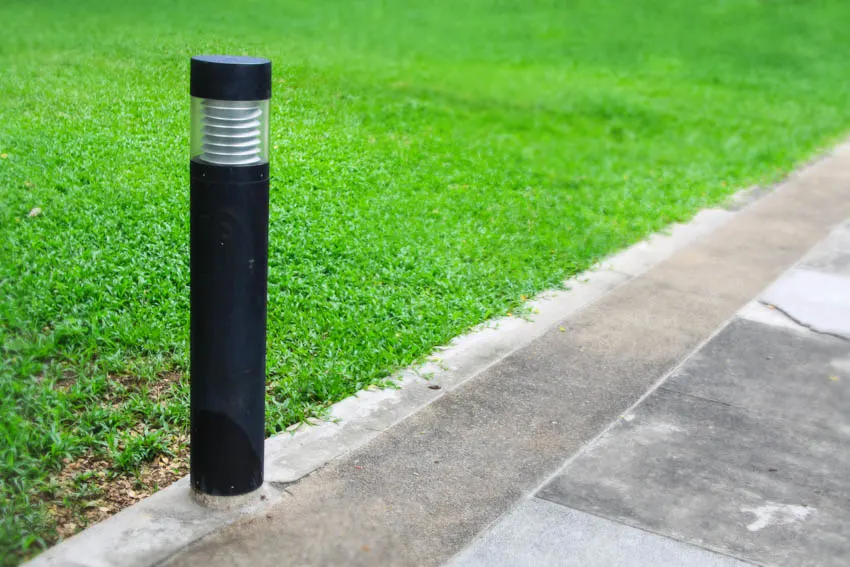 Bollard lights are a form of lighting fixture that you can use to brighten paths, driveways and landscapes for the convenience and safety of pedestrians. These pathway lights are generally two to 4-foot high round or square post design fixtures that throw horizontally or downward to provide sufficient pedestrian illumination.
Outdoor lighting applications, such as pathways and roadways, are often illuminated by bollard lights. Bollard lights seem to be similar to street lights. Bollard lights, unlike street lights, are smaller and do not need tall poles.
Furthermore, street lights improve human visibility, while bollard lights provide direction and guidance with lesser luminescence. As a result, considerations for bollard lights vary from those for street lights.
Bollards come in various shapes and sizes, including cylindrical, round, and square. Bollards' top and lower housings are from cast aluminum or stainless steel. A concrete-based bollard light is another immovable bollard light.
A typical sight on the roadway is a concrete bollard light. In general, the lighting distribution of bollard lights is Type V. Bollard lights, with their gentle lights, are ideal for creating a calm atmosphere and emphasizing plants.
Bollard lights serve as both a source of lighting and a decorative element. Furthermore, bollard lights deter criminals and looters from wreaking damage to some degree. See more types of driveway lights here.

Motion Sensor Lights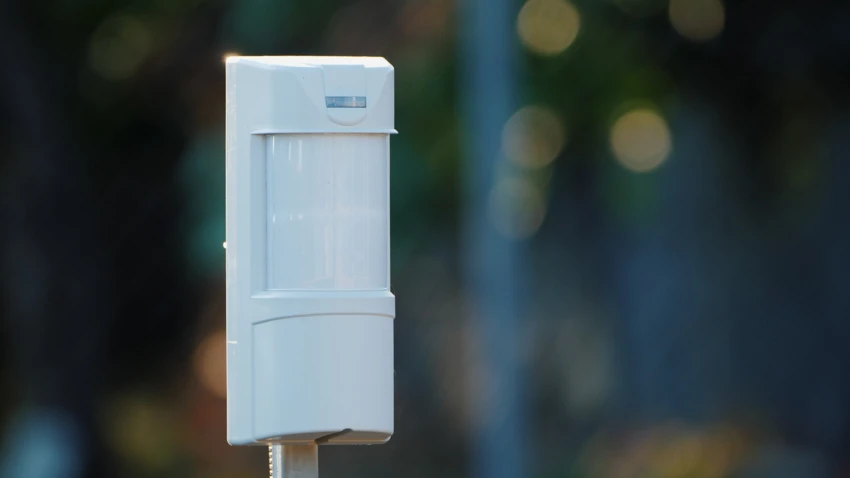 More and more families and businesses seem to be adopting a motion sensor lighting system as technology gets more elegant.
The drive to do more with less has spilled over into security systems, where gadgets like motion light sensors offer high levels of protection while taking up less space and utilizing less energy than traditional security systems.
However, the technology is not new—the detection of infrared radiation, which is the primary mechanism in a light sensor, has been utilized in various applications before being employed in security devices and in-home lighting systems.
When motion is detected, a motion sensor light activates a reaction. These lights can be inside and out, on walls, ceilings, entrances, and outside buildings and residences. Occupancy sensors, a kind of motion sensor light, work by shutting off lights in empty rooms and areas.
The sensor turns on the light when motion is detected and turns it off when motion is no longer detected. One low-maintenance option for reducing power bill costs from lights left on while no one is home or in a room is occupancy sensors.
External applications, such as on the exterior of houses and buildings, may employ motion light sensors to sound an alarm or switch on an outdoor light to indicate a person's presence.
A passive infrared detector is a light motion sensor that detects motion and initiates a reaction (PIR or PID). The term "passive" refers to a sensor that receives rather than emits infrared data—a PID detects infrared radiation (light) produced by an object, such as a human. The critical ingredient in initiating a reaction is a temperature differential.
How To Choose The Best Lighting for Outdoors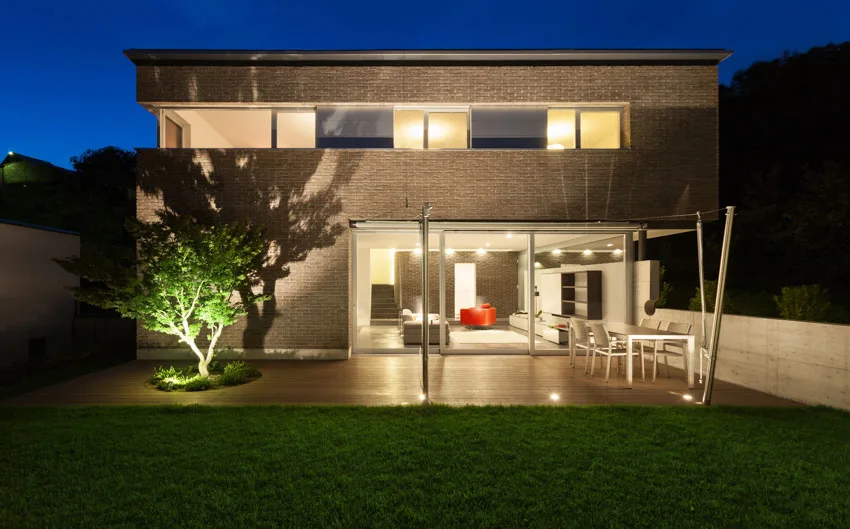 With summer in full flow, you may be spending the majority of your time outside, whether it is lounging in your garden or entertaining friends for a meal outdoors.
1. Do not let the enjoyment end when the sun sets because your outside lighting is ineffective or non-existent. Outdoor lighting is not all created equal, and it needs more than just hanging a wall lamp or string lights and calling it a day.
2. You will need to determine how much illumination you will need before purchasing. An easy formula to establish how much light a room needs is to multiply the square footage of the area you wish to illuminate by 1.5 to obtain a ballpark idea of the total watts necessary.
3. When selecting fixtures, think ahead. Examine your room and collect measurements to avoid selecting large-scale fixtures.
The size of the outdoor wall light for either the front porch or the rear patio should be around one-third the height of the entrance. You will also want to ensure that the lighting you choose is high-quality and weather-resistant.
4. Make use of LEDs. LEDs utilize significantly less energy than halogen or incandescent lamps. Plus, you will not have to replace bulbs since they are nearly maintenance-free.
5. Think about how your patio areas, gardens, and paths seem from inside your house. Lighting gardens or shrubs visible from the living room or dining room provide a room-expanding vista to the outdoors at night. Consider path lighting for garden areas or solar outdoor lighting for a fast and straightforward style change.
6. When entertaining, use subdued lighting. Instead of shining a solid spotlight on your dinner guests as they enjoy their outside meal, use lighting that emits a subtle glow.
7. Consider the issue of safety. Outdoor lighting not only adds to the ambiance of your property but may also help to safeguard it. Make sure the lights illuminate all of the home's access points.
Inside the garage, place a single lamp overhead or a wall lantern on either side of the garage door. For increased protection, place spotlights on your eaves or utilize wall lanterns at side doors, windows, and garages to highlight any side of the home in the shadows.
Ambient Lighting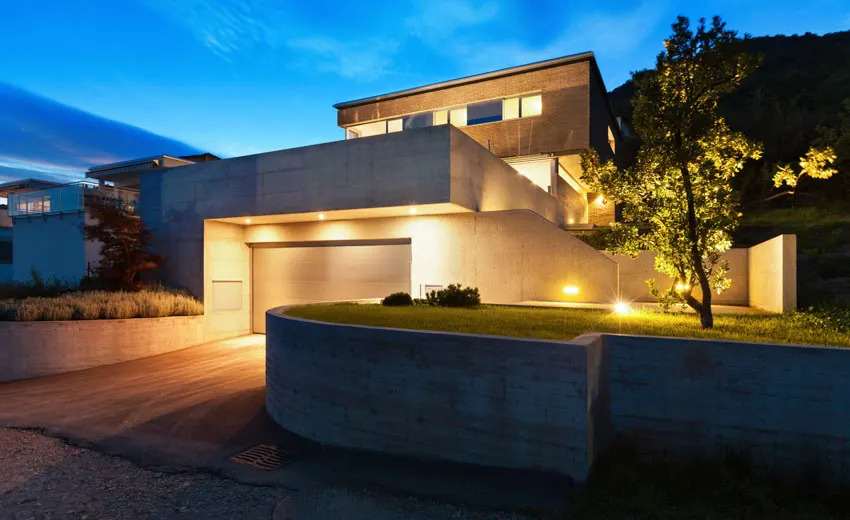 Using color, temperature, and brightness to generate a pleasant and equal amount of light across a place is known as ambient lighting (also known as mood lighting).
Your ambient lighting will typically originate from your room's primary light source at home. Ambient light is often mutated in restaurants and bars to offer warmth and depth to a place and encourage customers to relax.
Ambient light, when utilized appropriately, offers a beautiful atmosphere in which to unwind after a long day. To apply ambient light, we propose the following lamps:
• Chandeliers: These light fixtures are ideal for rooms with high ceilings. You may choose the height that best suits your lighting requirements. Chandeliers are timeless items that look well in foyers, over bathtubs, and huge dining room tables.
• Pendant lights: These fixtures are fantastic because they can be used in various settings and hang directly over work areas. You may use them for the ambient, task, or accent lighting, depending on the type and location of the pendant light.
• Recessed: You can utilize recessed lighting for accent and general room lighting. You can place them in your ceiling or next to the wall to spotlight a magnificent brick texture, a bright paint pattern, or a large bay window to produce a wall-washing effect.
• Track: Track lights are fantastic for the same reason, with the added benefit of covering a bit more ground. Use a sequence of these in different parts of your house, such as your main bedroom, den, kitchen, and living room.
• Ceiling: Flush and semi-flush ceiling lighting is so adaptable and discreet that you may use it practically anyplace. Use these with caution.
Hallways, bedrooms, kitchens, and outside areas such as patios and porches all have ceiling lighting. Consider incorporating ceiling-mounted lights with wall-mounted switches into your home's design.
Task Lighting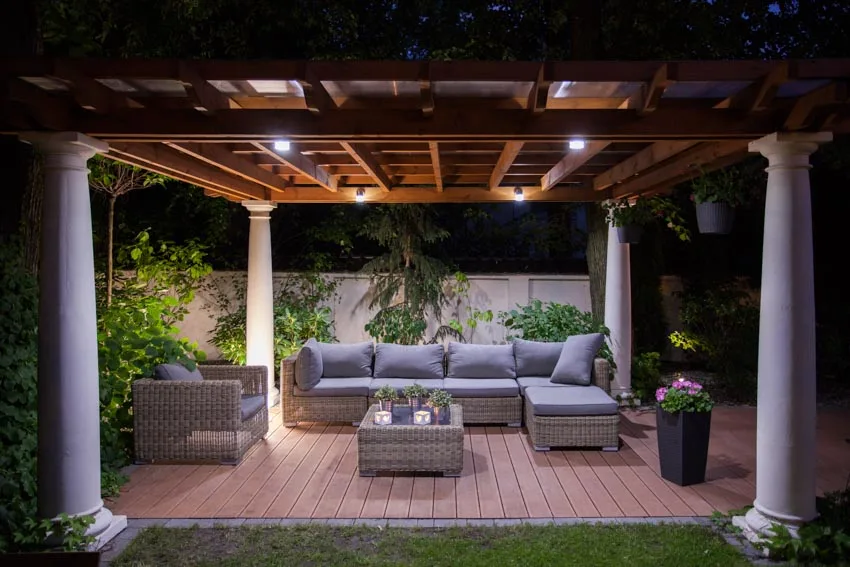 Task lighting illuminates a specific region and makes the execution of a task more straightforward. Task lighting is crucial in software and hi-tech sectors and other industries where workers spend long periods in front of a computer. Because it decreases eye strain, focused lighting is essential for an ergonomic desk.
Too bright or dim lights strain your eyes. Lamp location, lamp intensity, and the relationship between task lighting and ambient lighting are all elements that affect contrast.
Extreme contrasts between ambient and task illumination, on the other hand, cause eye tiredness and strain by generating repeated contraction and dilatation of the pupils.
LED (light-emitting diodes) bulbs are ideal for task lighting gentler on our retinas. Most task lights, like other ergonomic items, are usually adjustable. They enable users to alter or place lights according to their preferences and requirements.
Accent Lighting
Accent lighting is a kind of lighting that highlights essential things and focal points in the house or surrounding environment. Many individuals, for example, like displaying certain pieces of artwork or other collectible artifacts in their homes.
Others may choose to accentuate the garden's water features or flora. When you add light to a particular item, you may also aid in establishing or building a mood in the space.
The most prevalent accent lighting fixtures are track, recessed, and wall-mounted lights. The most adaptable kind of lighting is undoubtedly track lighting. Fixtures are set as required along the track and maybe pointed in any direction.
Other light sources, such as sconces or lamps, may also be utilized with them. There are different types of recessed lighting fixtures that come in various forms and are ideal to use in ceilings, beneath cabinets, or under bookcases.
Submersible accent lighting products are also available, adding drama to ponds and other water features. Backlights generate shadows or outlines behind things. With varied strategies, you can employ any of these sorts of accent lighting to generate various effects.
Silhouetting, for example, is used to emphasize an object's contour. As previously indicated, this is accomplished by positioning backlights behind the item and directing them upwards. Using a dimmable toggle switch you can adjust the brightness levels to your liking.

The spotlighting of an item is directing the lights precisely towards the desired feature. This famous technique is most often employed to draw attention to critical features in a landscape.
Decorative Lighting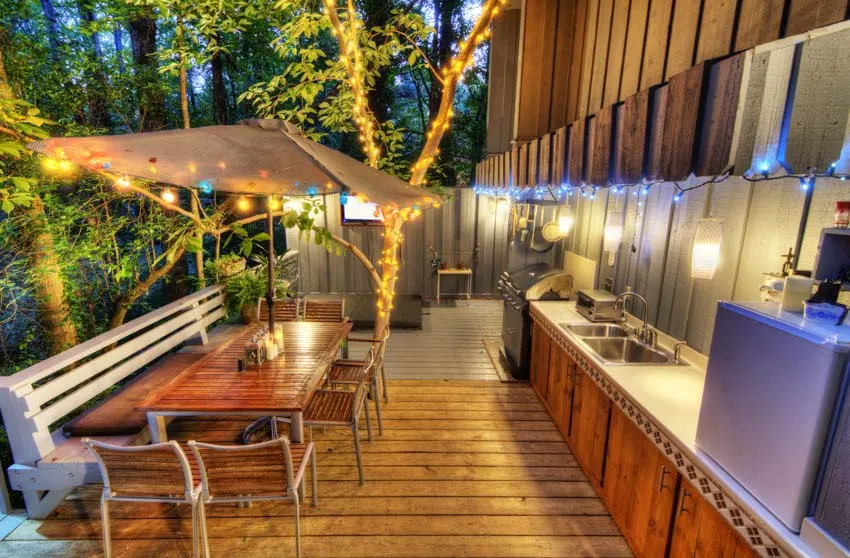 Decorative lighting refers to all conventional light fixtures (such as the different types of floor lamps, pendants, and chandeliers) instead of technical or architectural lighting (e.g., downlighters).
Decorative lighting is available in every style conceivable, so whether you want to match modern, mid-century, industrial, classic, or contemporary décor, there's a style to suit you.
Decorative lighting illuminates the whole space, concentrates on a specific region, or adds to the mood. It also comes in various strange forms, styles, colors, and patterns. These lights are hardwired, hooked into an outlet, or powered by batteries.
How To Power Outdoor Lights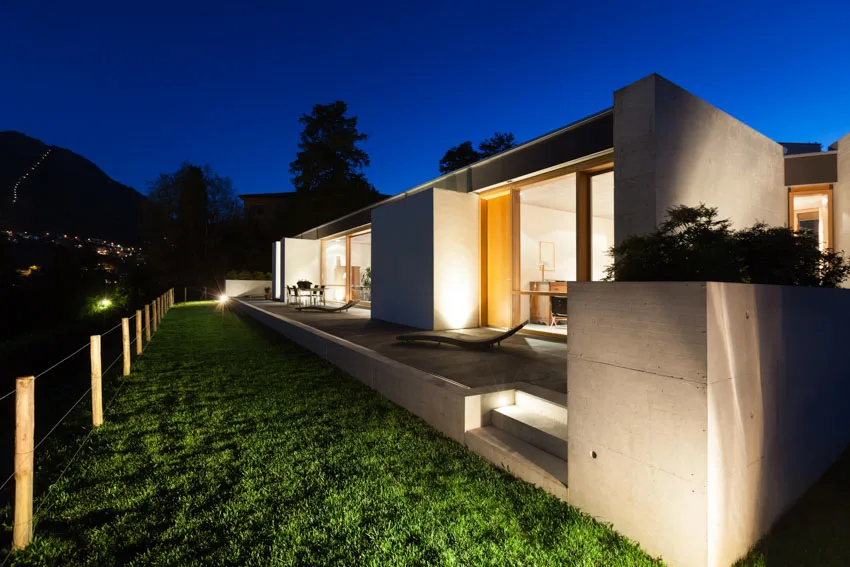 Outdoor lights may be powered from a spur off a ring circuit using a 5 amp fused connection equipment. For safety, you should power outdoor lights with a 1.5mm2 three-core steel-wire-armored cable (SWA), and the lights themselves should be waterproof, and RCD protected.
For SWA cable – brown, black, and gray are the three cores. SWA should be buried between 450mm and 750mm underground to avoid accidentally severed, which might be deadly. If you want to be extra cautious, place a 150mm deep electrical route marker table over the cable.
Secure an SWA to your home's wall using cable clips, which may be plugged and screwed into any brickwork. If you need to cut through the SWA, use a junior hacksaw and pliers to remove the armoring back as needed.
Connect the SWA's cores to a 1.5mm2 two-core-and-earth wire mounted to your house's wall in a weatherproof adjustable box. The SWA should enter the box via a weatherproof gland shielded by a plastic gland shroud – this is critical in avoiding corrosion of the cable armoring.
To guarantee weatherproofing, connect the wire to your lights, paying particular attention to any earth connections and waterproof seals. Read more about power cables here.

If any of the above alternatives seem too complicated, you may want to check into low-voltage outdoor lighting. Low-voltage outdoor lights are the simplest and safest to install.
Low-voltage outdoor lighting employs a two-core cable to get electricity from a transformer instead of complex and hazardous wiring. Connect your 12-volt transformer to an indoor outlet that is weatherproof.
The cable size may vary depending on the circuit length and load. Drill a hole in the wall (or door, or window frame) large enough for the cable to pass through, then line it with a conduit.
To guard against moisture, plug the opening with a silicone sealant. Because of the low voltage, you may lay the cable on or just below the surface; make sure it isn't a trip hazard!
But of course, installing solar-powered outdoor lighting is an even easier option. Solar-powered outdoor lights are a popular alternative for ornamental outdoor lighting that does not need mains electricity since they are environmentally beneficial and may operate at no expense to you.
You can also connect a timer or dusk to dawn light sensor so your landscape lights come on automatically without any hassle. You can also have these power down when you know you won't be using them to prevent light pollution to enjoy the dark sky and stars.
Exterior Light Bulb Types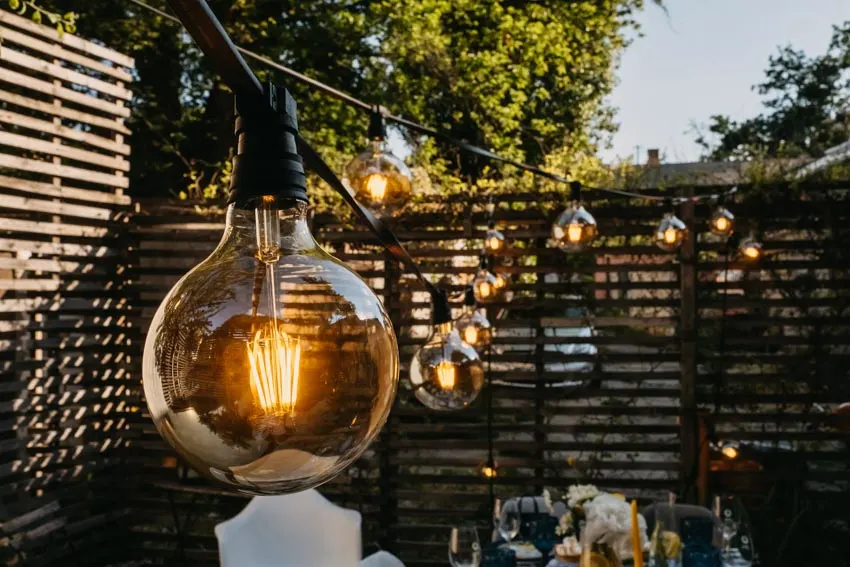 Another vital thing to consider is the light bulbs you want to utilize for your outdoor lighting. LED lights are a popular choice, and although they are more expensive than traditional bulbs, they last far longer.
Compact fluorescent (CFL) and halogen lamps are two more popular alternatives. Although both may become hot, CFLs contain mercury, which can be dangerous if they shatter.
You may also utilize high-intensity discharge (HID) bulbs, best suited for more extensive areas. You may use incandescent bulbs outdoors as long as you will not expose them to the weather (rain, snow, etc.).
Outdoor lighting fixtures come in various shapes and sizes, designed for a specific purpose. There are other variants of each fixture type.
You can use a variety of landscape lighting design software to help plan your home's outdoor lighting. Some of these types of programs can help you determine the materials needed and calculate the cost of fixtures and labor required.

In addition, by collaborating with skilled design specialists you can guarantee that your outdoor areas have adequate lighting coverage at the lowest possible energy cost. LED lighting improvements are among the energy-saving initiatives with the quickest payback time for most circumstances.
What do you prefer for outdoor lighting types? Share you favorite lighting techniques, information, or questions you have below in the comments. See more related content in our article about outdoor kitchen lighting ideas on this page.