Here's our types of landscape lighting guide with different fixtures, what to use for gardens, decks & paths, where to place, and how to plan and layout outdoor lights for landscaping.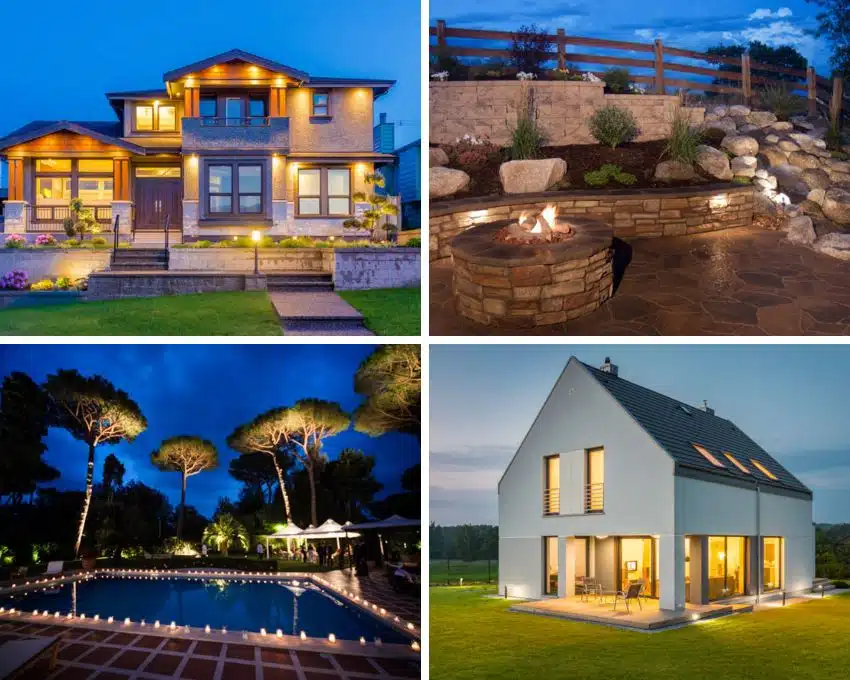 Your property can be transformed with the proper landscape lighting. You can observe how illuminating your pathways, patios, gardens, and other locations can create a pleasant and attractive light sanctuary that enhances the ambiance of your home.
When it comes to choosing, evaluating different types of landscape lighting fixtures may be difficult as there is a myriad of options. The descriptions below can assist you in understanding all the types of landscape lighting fixtures and their uses.
Path & Area Lights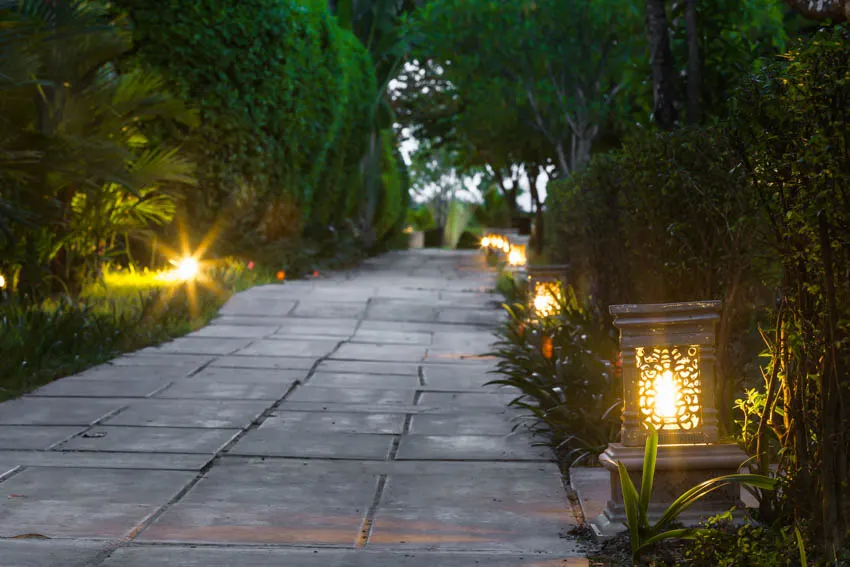 Path and area lighting are fundamental outdoor landscape lighting fixtures that every property should have. They instantly increase aesthetic appeal while also making strolling along pathways safer and more pleasant.
Pathway lights direct light downward and to the side of the lighting fixture, illuminating pathways, and sidewalks. Area lights direct the lights down as well, but they illuminate the whole area around the fixture.
Landscape lighting has three basic objectives: providing safety, security, and aesthetics. – Landscape Architectural Graphic Standards, Leonard J. Hopper
They may be used to illuminate paths, but they can also be utilized to emphasize other aspects of the house, such as a landscape or garden bed. LED path lights are highly recommended since they are low-cost, have minimal power usage, and light cool with color temperature settings.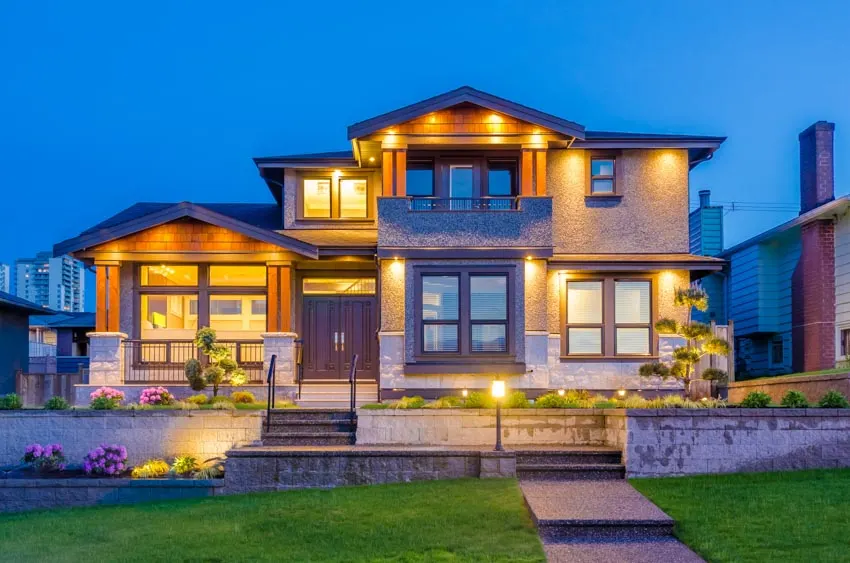 However, you must choose an aesthetically picturesque path light or area light as they will be the most noticeable. Take into account its height as well. Path lights should be put around 14 inches high for bright and balanced illumination.
Path lights must be placed within one foot of the edges of the sidewalk or pathway. Keep track of the diameter of the light surrounding the fixture itself once more, and put your lights outside of these locations to minimize congestion.
Moreover, path lights should be durable and composed of materials that are resistant to corrosion and wear. Powder-coated finishes can withstand inclement weather and other climatic changes for a long time, whereas soda-lime glass can endure virtually any season.
Spotlights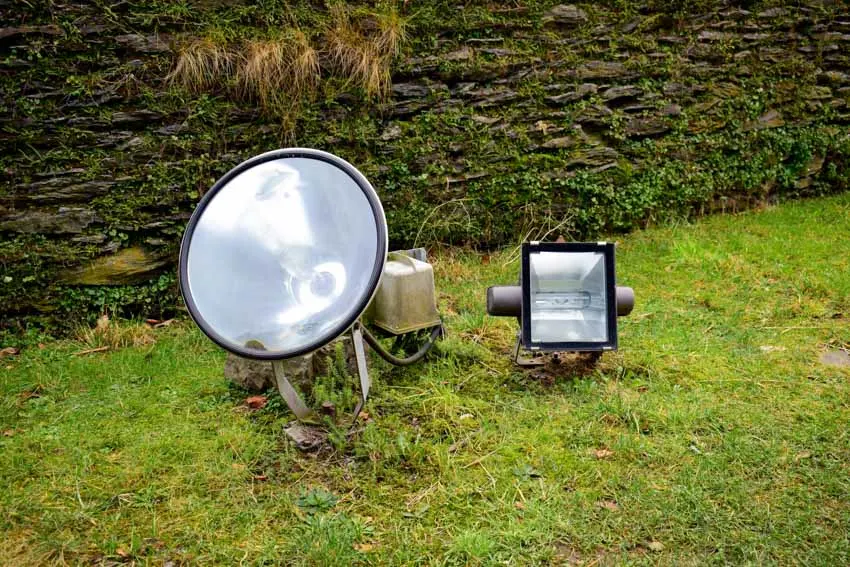 Spotlights are extremely adaptable landscape lighting fixtures since they can accommodate a wide range of bulbs, projection widths, and wattages.
One of the most classic applications for spot light fixtures is to illuminate trees. Emphasizing, silhouetting, shadowing, grazing, moonlighting, and floodlighting are the most prevalent landscape lighting spotlighting practices.
Spotlights emit a focused, slender beam of light that is generally angled at 45 degrees. A spotlight is easy to aim and alter, thus it is the greatest selection for highlighting certain display locations, such as architectural details or landscape aspects.
Flood Lights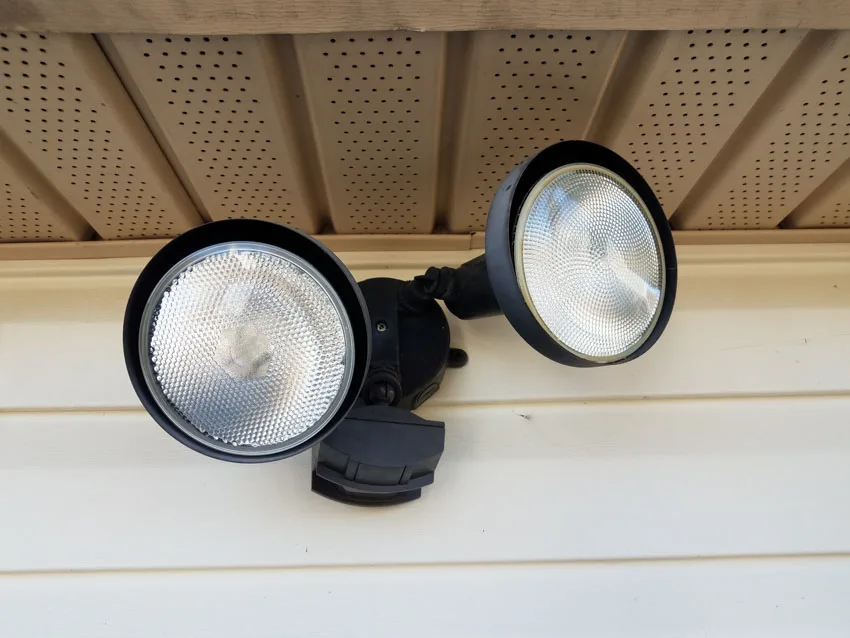 The beam spread is what distinguishes a spotlight from a floodlight. Floodlights offer a broader beam spread, extending to 120 degrees.
You can use a floodlight to throw light over large areas, such as a driveway or parking lot. Floodlights are a great landscape lighting option as they improve overall security and clear visibility.
Installing floodlights is a terrific method to increase safety and illuminate your yard at nighttime. Although spotlights may function as floodlights, they are not designed to do so. Floodlights typically have a larger wattage and a broader projection angle than spotlights.
Up & Downlights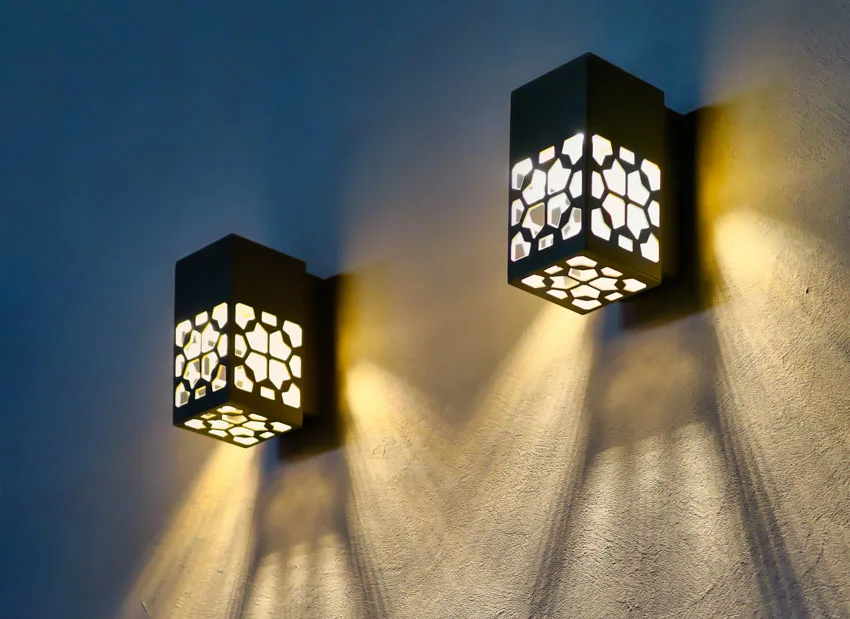 Uplights are light sources that are placed on the ground and light up walls, causing them to illuminate. They may also be placed on trees if your site has an outdoor area, which creates an amazing sight.
Uplighting is a common lighting effect that is achieved by carefully positioning lighting sources on the floor and directing them upward. As a result, the illusion of 'up-lighting' is created. Uplighting is a very effective approach to ramp up the atmosphere of an event area.
Moreover, uplighting may be used to add color to walls, emphasize unique places, or throw an inviting and cheerful glow across your event location. See our gallery of color changing landscape lights here.

It is ideal for weddings, business events, anniversary celebrations, or any other type of party. Uplighting may be used in any size of event location, including a small house.
With a vast array of applications, these spotlights are among the finest in terms of design. Uplighting fixtures can bring figures to life, produce patterns on walls, and enhance the beauty of your yard.
Downlighting, on the other hand, is basically the use of light fixtures that are slanted down, rather than up, to illuminate your garden or any outdoor space.
When lights are placed above an object rather than below it, the effect would be similar to natural light. This is particularly true if the light fixture is hidden behind a tree or behind some hardscaping.
Furthermore, down lighting occurs when the light is positioned above the element to be lighted. However, it is up-lighting when the light is below the center object. Both types of outdoor lighting are used in many houses' landscapes, and they both have their unique advantages.
Wall Wash Lights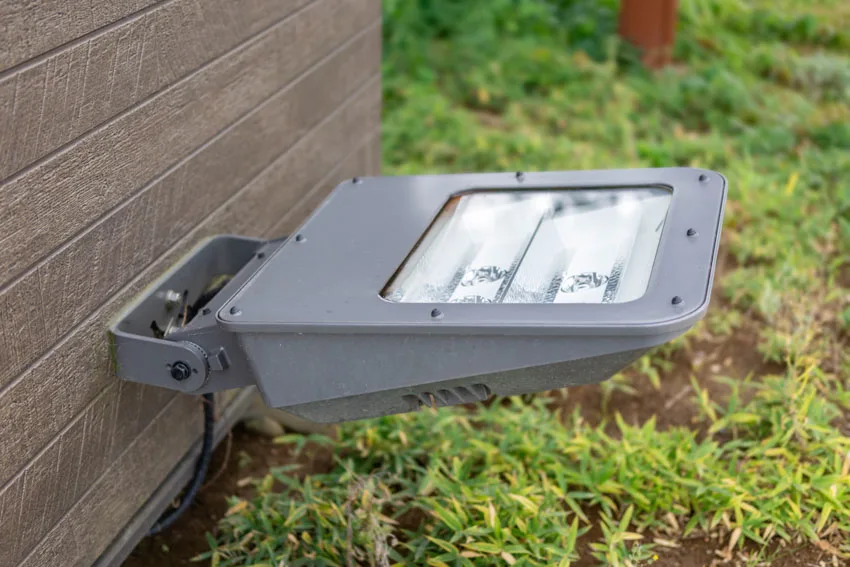 A wall wash is a form of floodlight that is meant to produce moderately adequate lighting all over a large area. They are utilized in any application that requires complete surface lighting instead of oval or wedge-shaped lighting.
A uniformly glowing vertical surface is illuminated by wall-wash lights. This type of landscape lighting brings focus to the wall and can be applied to highlight an entryway or artwork.
The light reflected by matte surface walls could make a space look brighter while also providing a pleasant, diffuse light throughout the space.
Wall-wash lighting may make small places look larger, such as corridors or compact rooms. Applying wall-wash lighting is accomplished by putting fixtures at standard intervals on the ceiling or floor.
If you utilize wall-wash lighting for ambient illumination in a space, you should supply extra lighting for particular purposes when necessary, or find areas that require strong illumination, including reading near the walls. Install the wall-wash light fixtures close to the wall so that individuals sitting nearby do not get excessive glare.
Inground Lights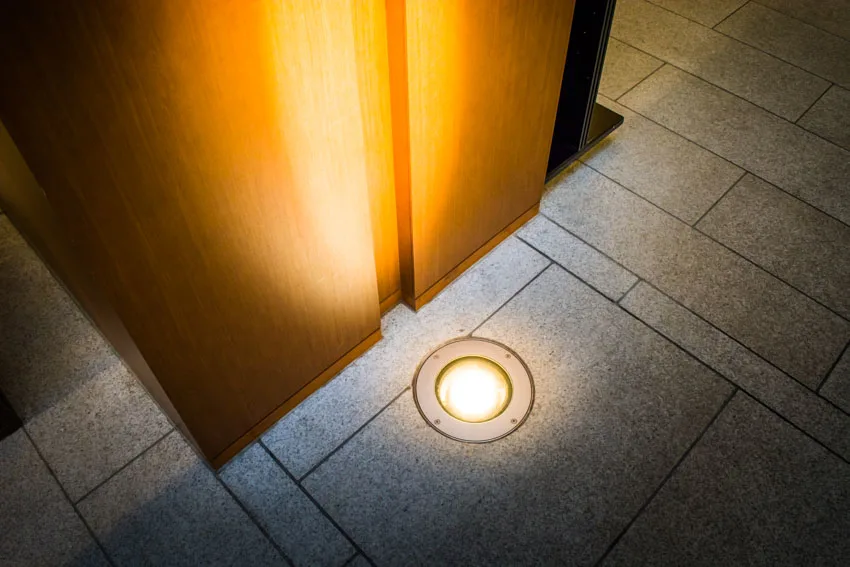 An inground light is a circular landscape lighting fixture that is installed flush into the ground and is commonly used to brighten sidewalks and entrances.
Inground lighting enhances the refinement and visibility of your yard's elements. An uplight effect that lights the entire tree or building contributes to drama and mood.
Furthermore, inground lights also cast shadows on the individuals who stand around the area, something you will not be able to notice on a regular night. They work optimally when combined with spotlights, although an inground light can already be a powerful lighting option on its own.
Because inground lights are concealed in the ground, only the light's presence is visible. You just have to ensure that your inground lighting is leveraged to create a strong impact in your yard. Do not be bothered by garden gnomes or small flower beds; instead, focus on the garden walls and trees.
Inground lights can also be installed to illuminate driveways, making it easier to navigate around gates and property sections. You just have to select the ones that are sturdy and can withstand a greater load.
It is also strongly advised to choose an LED model because they have sharp color temperatures that appear dazzling in the dark and endure for countless hours.
Deck Lights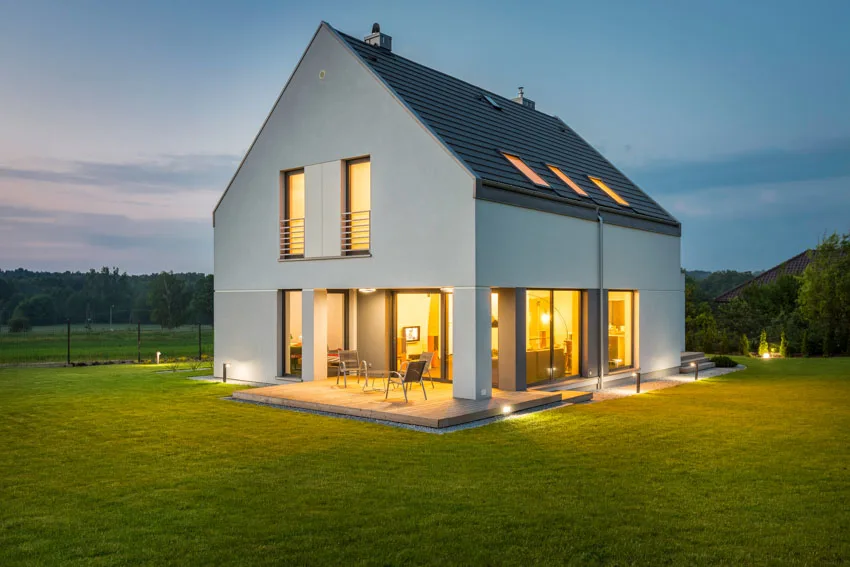 Deck lighting can be functional and intended for safety, to illuminate an outdoor eating zone, to showcase landscape, architectural elements, or a pool, jacuzzi, or fountains.
It can also be applied at varying levels such as stairs and along with handrails. Moreover, it can be used to create a specific mood or ambiance for particular events.
The majority of deck lights are designed to be attached to fence posts because most decks are close to railings.
They can also be mounted on the walls of surrounding structures and stairwells. Deck lighting is an excellent method to highlight the elements of your yard while also ensuring safety for your guests and family as well.
Step Lights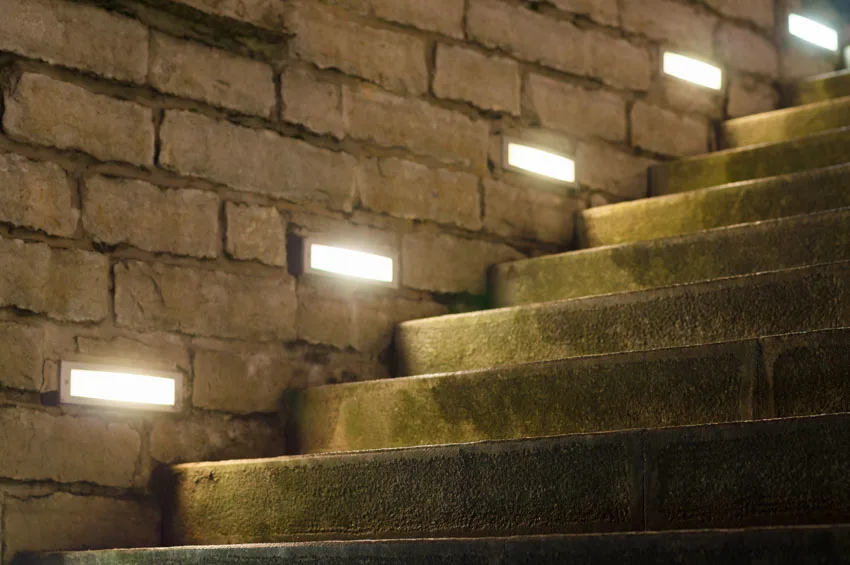 A step light is a form of landscape lighting option that can be used to create bright pathways by installing a series of splashes that differ depending on the size of the location to be lighted.
The primary feature of step lights is to help you find your way in the dark by using beams of light positioned along stairwells and hallways within a home or workplace.
Whatever the setting or the specific spot to be illuminated, lighting with step lights allows for the creation of light diversions with significant visual effects.
Hardscape Lights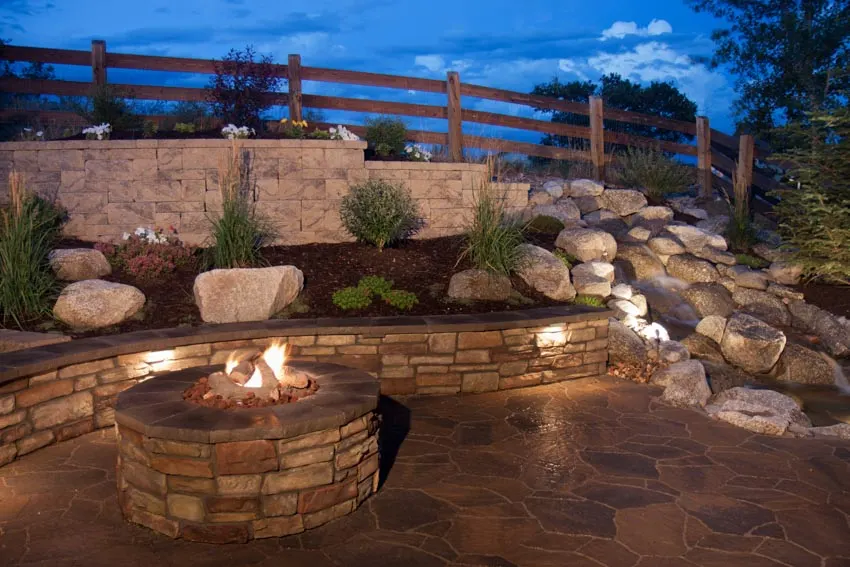 Owing to LED technology, hardscape lights are becoming a modern contribution to landscape lighting. These are little lights with flanges or hooks that attach to or within structures and are employed to bathe and graze the walls with brightness.
With low-profile lighting that provides complexity to narrow locations, hardscape lighting enriches your outdoor living environment. Developing a location that highlights the stunning scenery of the outdoors enhances your nighttime entertainment and relaxation underneath the stars.
Hardscapes are designed for both aesthetic and functionality, and they can be built from both natural and man-made components.
Hardscapes can encompass stone or concrete paths, decks and patios, supporting walls, gardens, and so on. Bricks, wood, stone, steel, and other organic materials can be used to create hardscapes.
Hardscape lighting, however, is mainly used to draw attention to the elegance of the hardscape, throw light on pedestrian areas, or even give an extra level of protection.
String Lights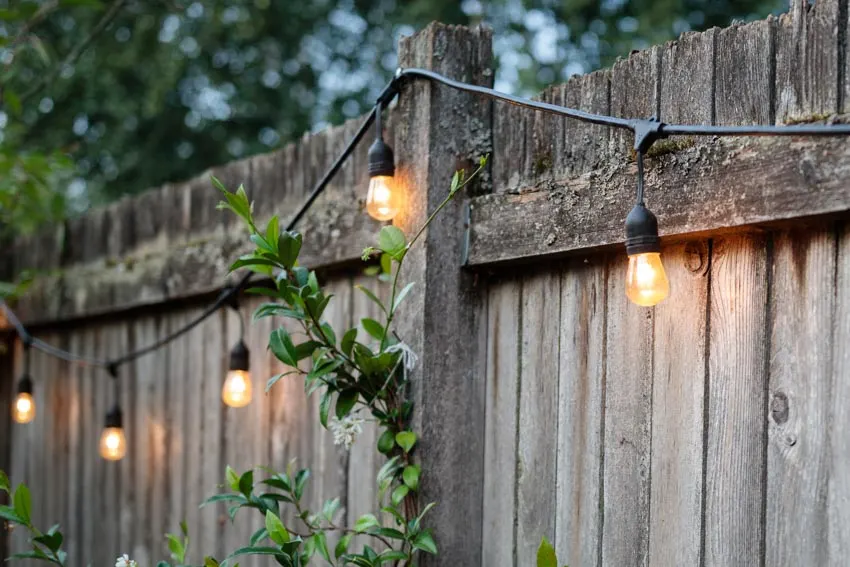 String lights, often known as ornamental lights or fairy lights, are a form of landscape light that is applied for both indoor and outdoor decorations. Originally, string lights were largely employed during festive or holiday occasions, particularly Christmas, which is why they are also known as Christmas lights.
This tradition dates back to when Christmas trees were initially decorated with simple lighting candles, but the utilization of string lights now extends much further than celebrations due to their extremely developed features and usability as a multifunctional ornamental object, yielding a much cozier impact to an atmosphere.
It is a well-known garland incandescent type of light. Large clear lights are uniformly placed apart from a wire. They can also brighten the area beneath them.
You may also make it more beautiful by suspending lanterns or wreaths, or by embellishing the entire arrangement in collaboration with your wedding designer.
In most situations, the light it emits is white and warm, and it is bright enough to light even massive places. It is appropriately utilized and placed; the intensity of the string lights can also be adjusted.
Garden Lights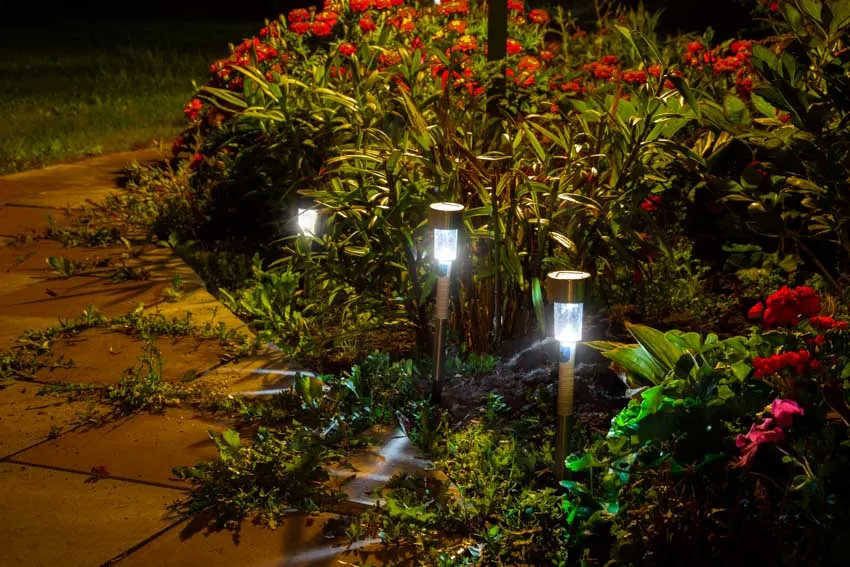 Garden lights come in a variety of shapes and sizes, and specific sections of your garden will benefit the best from certain types of landscape lighting. Garden lighting is primarily used for walkability, evening aesthetics, and of course, safety.
LED garden lights have been heralded as the next great breakthrough in energy-efficient garden lighting. LED lights have properties that make them extremely ideal for outdoor application.
Moreover, LED garden lights can be powered by two major sources: electricity and solar. Solar-powered garden lights are efficiently supplied by solar energy since they use minimal energy.
Depending on the purpose, these lights may be utilized in a grid configuration or straightforwardly linked to a battery-powered or solar panel.
Garden lights are excellent for adding mood and illumination to outdoor locations. It also provides several options for brightening paths in the front yard or hosting a garden party in the yard.
Certain garden light fixtures, including lanterns that swing from tree branches or tree flooring bulbs that look like reeds, readily blend in with nature. Several light fixtures, such as outdoor overhead lights, hanging lights, and table lanterns, are ideal for layering illumination in your garden.
Post & Bollard Lights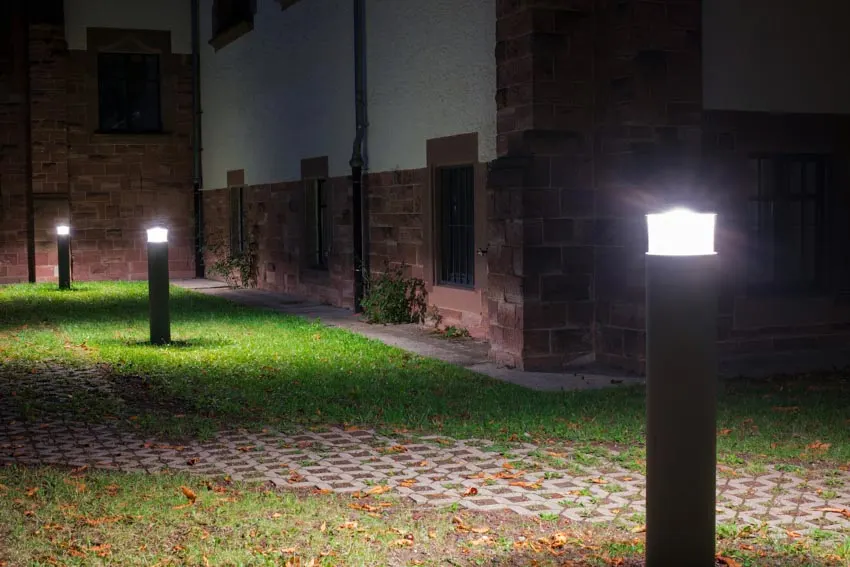 Landscape post lights and bollard lights are a low-key complement to a garden lighting post. They are frequently utilized to define a garden pathway, driveway, deck, or fountain. Garden post lighting is quite inconspicuous, providing a stream of scattered illumination to the surroundings.
Bollard lights may be utilized effectively to highlight any garden area while also offering security and safety to the space. Post and bollard lights come in a variety of shapes and finishes, so you are likely to find something that complements your house and suits your preferences.
A post light is typically placed on gateposts, massive fence posts, lower garden walls, or around elevated garden beds.
Some will distribute light all around, while others might focus light on the ground, rendering them ideal for illuminating paths or garden elements like a pond or showpiece plant. An external post light's electrical wire will usually enter through the bottom of the light fixture.
To guarantee that everything is waterproof and secure, the connection must be fixed before the fitting. Take considerable time arranging ahead of time to ascertain that you obtain the suitable form of fitting in the right spot.
In this way, the electrical lines may be positioned precisely where they need to be before the post and bollard lights are installed. Bollard lights are often higher and stand independently. They are ideal for illuminating a driveway, sidewalk, or outdoor patio area.
Normally, bollard lights will cast a 360° sphere of light, but others may cast a circle of light directly downwards, creating a magnificent circular illumination. Furthermore, the bollard light wires come through the base, necessitating cautious arrangement of the wiring system.
Spike Lights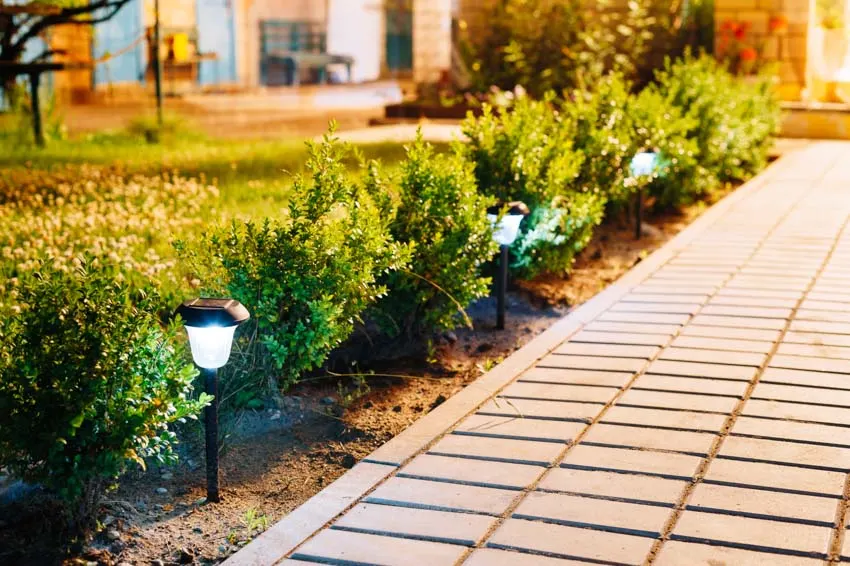 Landscape spike lights are an incredibly versatile type of outdoor lighting because you can rotate and customize each unit to perfectly complement the environment as the weather or your plants shift.
They may be used to delineate walkways, highlight sculptures, flower beds, and tiny trees, enhance rose bushes and aquatic attractions, and cast light over structures in even the tiniest of gardens.
Spike lights are attached to a small spike that is inserted into the ground at the appropriate place. They can be electricity, battery, or solar-powered, giving you the flexibility to pick the optimal solution for your needs.
High-quality solar or battery-powered spike lights offer you maximum flexibility over where they are placed in your landscape. Solar lights are convenient, and energy saving. To ensure they work well the solar panels will need to be cleaned ocasionally of dirt and debris.

Flame Lights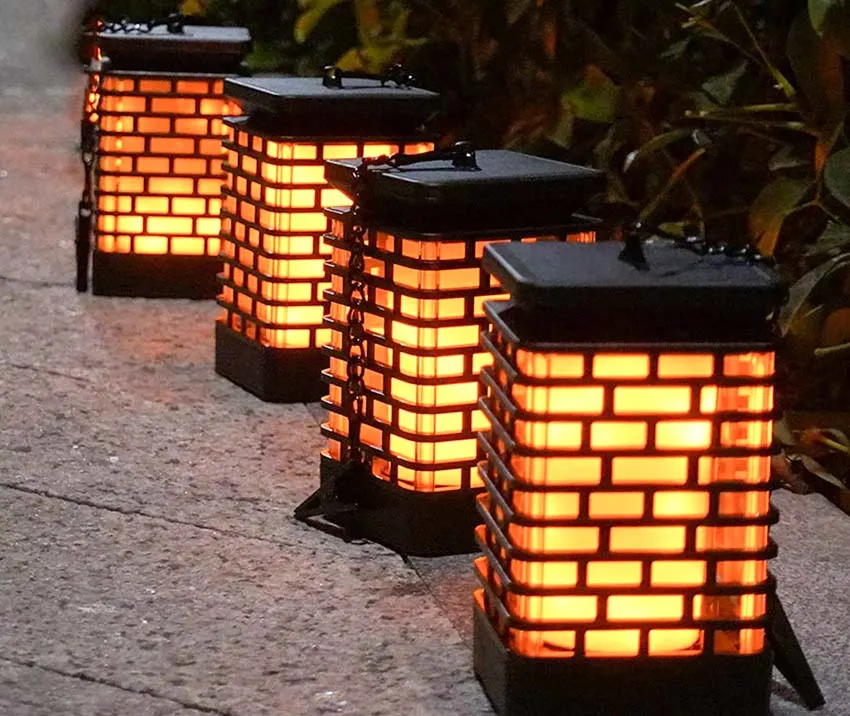 See these flame lighting fixtures at Amazon [sponsored link]
The inviting appearance of flame lighting is one approach to improve a property's curb appeal at nighttime or create the atmosphere for a romantic night after work. LED technology is normally used in flame light bulbs to generate realistic-looking flames.
They are available in model types that fit conventional light fixtures as well as tinier candelabra bulbs. Flashing flame bulbs, as opposed to regular light bulbs, have several light modes for producing distinct effects.
A LED flame light is distinguished by the feature that it does not emit light. This ornamental LED bulb is intended to resemble an authentic flickering flame but does not contain an open flame.
Aside from that, flaming LED light bulbs are more genuine and powerful than standard incandescent lights, which only create a yellow light with a poor color temperature.
With this LED illumination choice, it appears as though you are receiving the genuine thing without the inconvenience of constantly igniting a flame.
Moreover, they can be utilized for both household and industrial lighting in a variety of settings, such as guestrooms, living rooms, restaurants, hotels, bars, cafes, celebrations, houses of worship, etc. Flame light bulbs contribute to the creation of a peaceful or romantic atmosphere.
Well Lights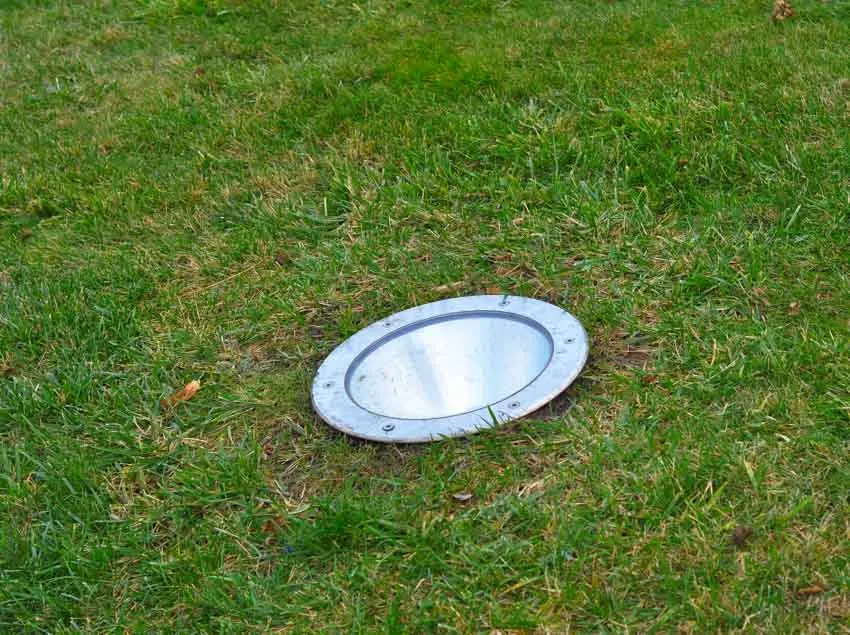 Well lights are often recognized as In-Grade Lights. They are employed in situations where the lighting fixture should be in a grass area (to allow lawnmowers to run across it) or in hardscape settings where human or vehicular activity might cross over the installation.
In addition, well lights may be used to emphasize architectural characteristics of a home as well as landscape components such as trees, flowers, and ponds.
This form of landscape lighting, similar to how recessed ceiling lights operate in interior areas, is a terrific method to incorporate outdoor illumination without ruining your landscape with fixtures. Well lights indeed serve a variety of purposes in an outdoor setting.
How To Light A Yard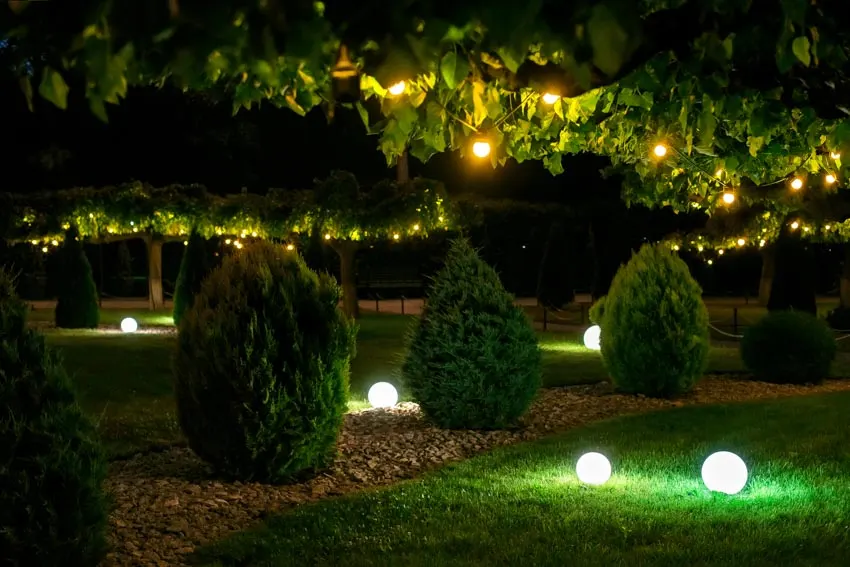 There are many different types of lights and many various locations to place them. One of the smartest ways you can do to plan out your current assignment is to walk out into your yard in the evening with a bright, high-powered flashlight with dimming optics.
Afterward, experiment with the light. Check out what looks good and what might not perform efficiently as well. Here are some landscape lighting techniques you might consider:
Uplighting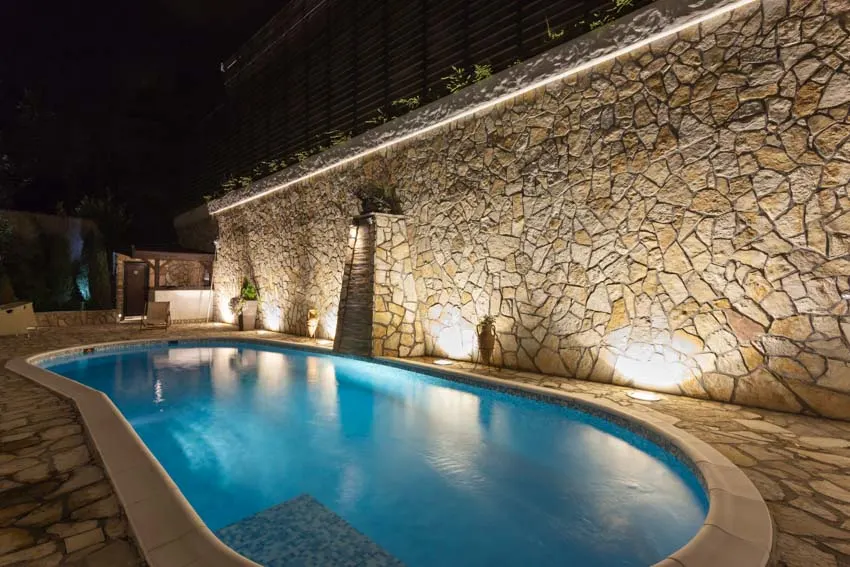 Uplighting is a method that is used to highlight architectural elements and to provide a safe pathway on murky staircases. Deck and step lights are built straight into a yard's hardscape or flooring. Uplighting can also be utilized to pour light down on stone walls and illuminate recreational areas.
Furthermore, uplighting is one of the most fundamental types of landscape lighting. It is indeed designed to add interest to a larger building or tree.
You have the option of emphasizing the base of (usually larger) trees or the bottom of the canopy of bigger or smaller trees.
Silhouetting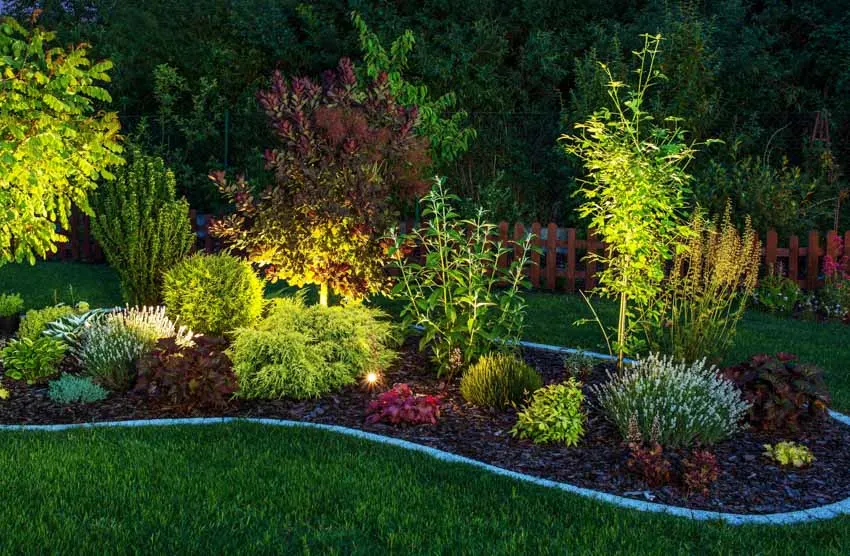 Silhouetting is an excellent technique for accentuating stunning features that can be hidden in regular daylight. You can place the light fixture behind the object and direct the light towards the major focal point, making sure that the light output itself is not visible.
Silhouette lighting in landscapes is also a component of outdoor backyard lighting, and it is also even called uplighting occasionally. It establishes a central focus while conveying a sense of passion and sensuality. Approaches for silhouette lighting perform effectively with trees and shrubs that have intriguing wood and texture.
To achieve the desired effect, you can set up an eye-catching plant, tree, or any garden artifact in front of a wall. The item does not have to be directly beside the wall, but it must be near enough to throw a shadow on it.
Moon Lighting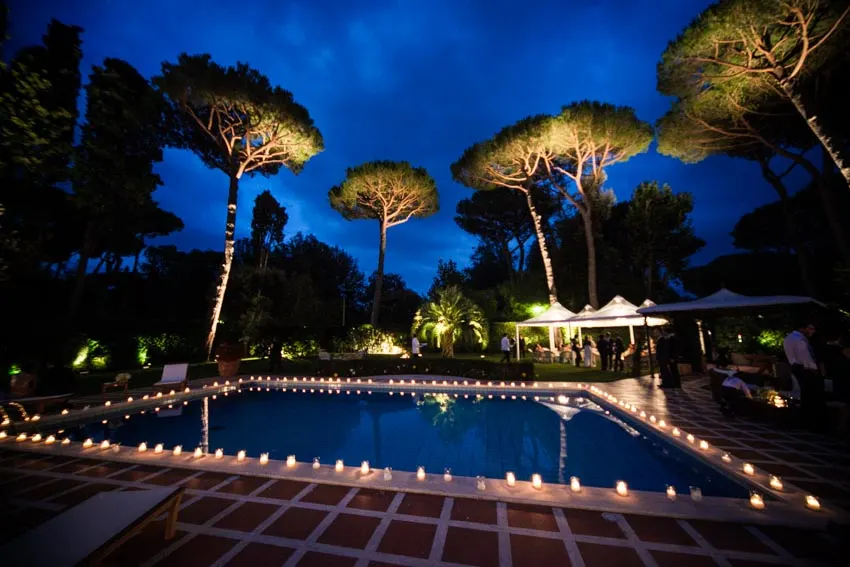 Moonlighting your landscape entails strategically placing soft lights extremely high in trees or structural features around your home to simulate the delicate and shimmering sheen of moonlight.
This approach is less typically employed since it needs more work and talent to do correctly. The effort though would be definitely worth it since homeowners and business property managers fall in love with the effects right away.
When you have bigger trees in your surroundings, this would be an exceptionally great chance to use moonlighting. The light source is focused down from a high point in the tree, bathing the branches and ground below in illumination. When combined with an open-branched tree, it produces a stunning effect.
People who like midnight swimming, late-night gatherings in their outdoor recreation area, or who need lights for safety are extremely keen on the idea of moonlighting.
Shadowing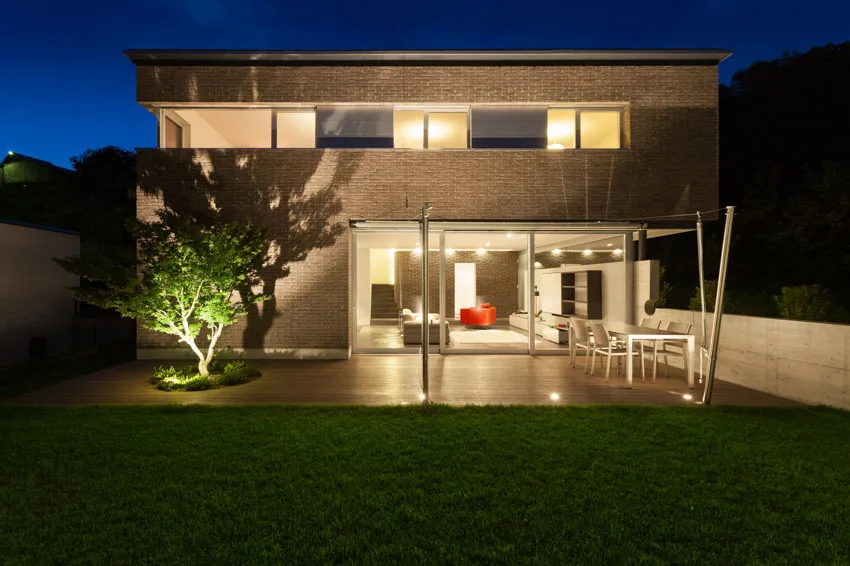 This landscape lighting technique is the opposite of the silhouetting approach. In this way, you are positioning the light between the primary focal point and the thing to be illuminated, with the light source pointing at the object.
This tends to work best when there is a wall or flat surface behind the object being lighted to capture the shadows. However, it might provide a subtler and more melancholic impression.
Since it converts a tiny plant and a huge plain wall into a tremendously dramatic effect that swings with the wind, this lighting approach would be a great choice for fresh landscapes that are normally found in newly constructed houses. Plants with open, delicate leaves are wonderful subjects for shadows.
Lastly, this is a lovely classic aesthetic wherein the shadow of a plant, tree, water from a pond, or sculptural piece is projected on a wall or other surface by the object's intense frontal light.
Since the shadow of the subject is sometimes substantially enlarged, this effect may be much more striking than silhouetting.
Washing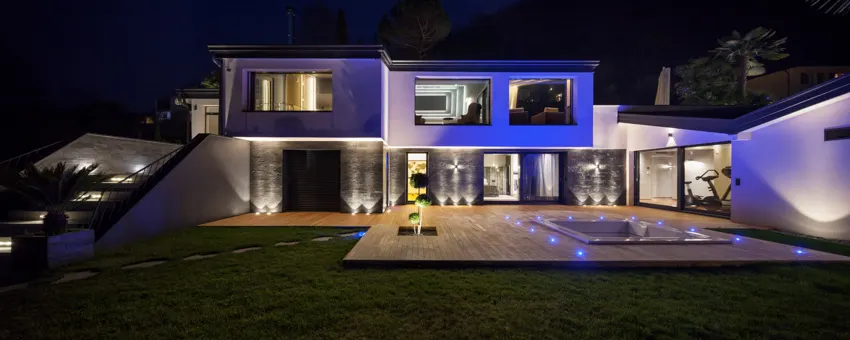 Basically, wall washing is a type of outdoor or indoor lighting technique that is commonly used to illuminate flat walls. Increased ambient lighting is often required in a space.
You can try filling a huge wall or shrubbery in an eye-catching area with light to "wash" the surface with light and produce a well-lit atmosphere.
To throw a uniform, soothing light over the entire area, you can use a widely beamed light set between the central viewing point and the surface.
Anyone who wishes to produce a seamless "wash" look using vertical, indirect lighting positioned at a specific distance and angle from a wall can apply the washing lighting technique.
Yes, washing is normally done on walls. And when it is done correctly, washing may conceal rough blemishes, reduce shadows, and consistently illuminate a wall.
A wall wash lighting method can be used to spread light along an entire wall to highlight an artwork during an event held. A well-lit wall can highlight the best aspects of an artist's work.
Grazing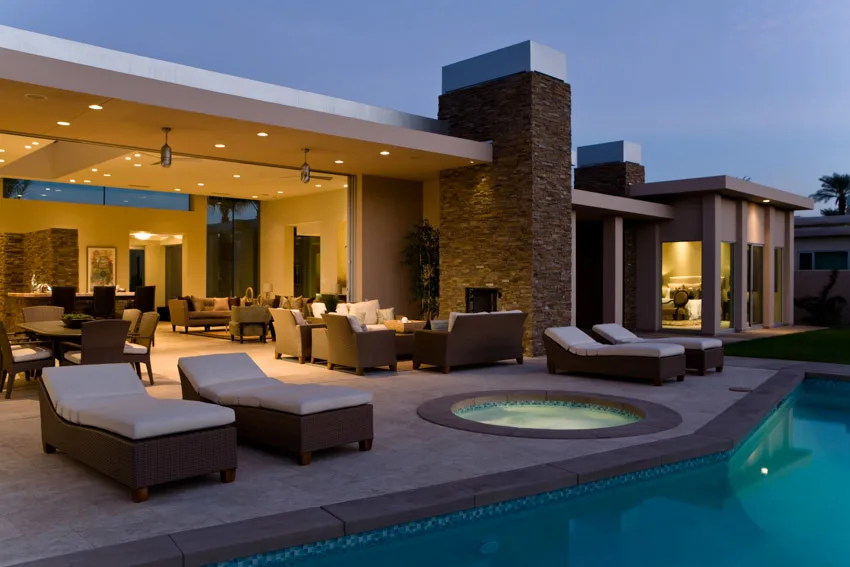 If you have a landscape with a lot of hardscapes, this might be a terrific selection. To generate interesting light and shadow drama, grazing entails positioning the light near the flat surface and focusing straight up or down the surface.
You can graze upwards or downwards, but the objective is to use a texture over a flat surface, hence irregular or uneven patterns work ideally. As shown in restaurant and hotel décor, this may offer an expensive feel.
Since grazing creates a unique spectrum of light, it performs an excellent job in terms of emphasizing various textures and increasing depth and complexity without requiring extensive house improvements. This means you may improve the aesthetic and layout of your house without putting in a lot of effort, time, and money.
Grazing works exceptionally and effectively on natural wood or stone, accentuating the material's distinctive textures and details. Certain textured surfaces, including faux granite and stone veneer, appear wonderful with grazing as well.
The aged surface of the stone lends itself extremely well to this landscape lighting approach, casting little shadows in the rock's inherent indentations and accentuating higher regions. Even plain concrete walls become more fascinating when the uneven surface is accentuated by grazing.
Where To Place Exterior Lighting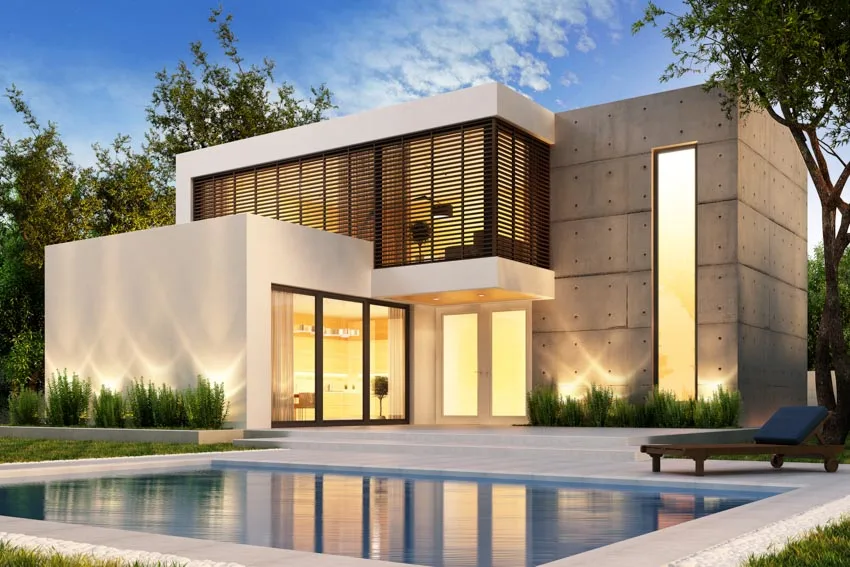 First and Foremost, Concentrate on Lighting your Home: Your house is, without a doubt, the most valuable and expensive portion of your property. Landscape lighting would be meaningless without it.
That is why you must initially focus on illuminating your house with the proper type of exterior lighting systems that light your home while also providing safety and comfort at nighttime.

Lighting fixtures must be placed in spots where they can showcase the house's walls as well as architectural elements. Areas to focus on for adding lights include on the porch, patio, deck, walkways, pool area, outdoor kitchen, barbecue area, garden border and outdoor seating.

Do Not Add Too Many Light Fixtures: Talking about landscape lighting, you should avoid clustering too many lights in one area.
While your intention may be to generate ideal lighting for a specific object or place, you are only calling attention to the lights themselves, not to your primary subject.
Make Use of Multiple Layers: If you wish to truly produce a powerful spotlight, prevent yourself from combining a lot of fixtures, but rather, set multiple spotlights with varied angles toward the subject you want to highlight, such as a garden sculpture or shrubbery. This displays silhouettes and layers, creating a dramatic impression.
Lights Should Not be Placed in a Single Direction: This results in a very plain look, similar to an airport tarmac, instead of a pleasant and welcoming walkway to walk along.
Use Your Imagination When It Comes to Pathway Lighting: Be imaginative! Although you would not want to achieve the look that is overly cluttered or obtrusive, you may alternate the lights or arrange them orderly so that they glow down the walkway in an organized yet luminous manner.
Don't Neglect the Tiny or Unseen Spaces: Whether it is the second story of your house or that gloomy spot on the edge of your backyard, overlooking these frequently overlooked areas might prevent you from fully reaping the benefits of landscape lighting's safety, comfort, and attractiveness.
Landscape Light Fixture Tips
Here are some lighting options and tips to help you create your design.
Size: Divide your arrangement into several wire lines or runs of 100 to 150 watts each. If a location has more than 150 watts, split it into two runs. Lower wattages for LEDs allow you to arrange more fixtures onto one run but take into account that it is still preferable to use one house run cable for each area.
Moreover, you must divide your design into distance zones. Place fixtures 15 to 30 feet away from the transformer on one line, 25 to 40 feet away on another, 30 to 50 feet away on the next, and so forth.
The idea is for all fixtures in a line to be nearly the very same distance from the transformer, resulting in equivalent quantities of voltage drop. Hence, when you compensate for voltage drop by adjusting the voltage for that one line, the lights are not either under or over-voltage.
Furthermore, you should add up the wattages of all the bulbs or integrated fixtures in your setup to get the overall wattage. That would be your wattage used.
Secondly, choose a low voltage transformer with a wattage higher than your used wattage. Then, you have to multiply the wattage of your selected transformer by 80%.
You have to do this because plenty of manufacturers suggests keeping at least a 20% buffer as maximum capacity. You can operate the transformer if you are still inside its capacity. Otherwise, proceed to the next bigger size.
Illumination: The lumen output and intensity for landscape lighting might be subject to interpretation, depending on how intensely you want to illuminate any specific object. Search for lights with adjustable lumen output so that you can manage the brightness.
Aside from that, do not ignore the importance of color temperature. The ideal lighting for your landscape must be in the same color scheme as the elements you are going to light up. Futuristic or commercial landscaping designs benefit from very cold whites (4000K to 5000K).
It is not ideal to discuss landscape lighting without including energy efficiency. Incandescent light bulbs consume a lot of energy and do not last as long as you would want them to be.
Moreover, bulbs ranging from 40 to 75 watts are suitable for outdoor lighting and must be compatible with the fixture you are installing.
Using light bulbs with higher wattages than necessary might result in an unsightly glow, which can disturb your guests and your family as well.
Adding another dimension, even a little accent light may do wonders for the gloomy areas of the yard. Not only will the lighting be more beautiful, but it may also prevent burglars from intruding on your house as they are the ones who always look for gloomy locations to remain undetected.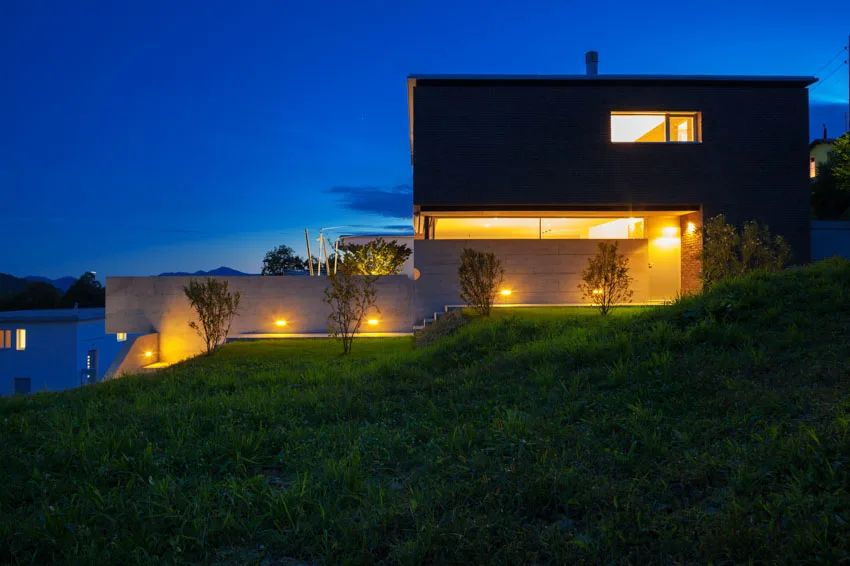 Landscape Light Bulbs: LED light bulbs are the modern default option for landscape lighting as they come with lower operational costs and an unrivaled lifespan. Furthermore, modern LED light bulbs include capabilities that you will want to use, such as adjustable beam distribution.
LED lighting is no longer associated with harsh blue light. If you like a warmer tone, there are several LED alternatives available currently. Furthermore, you will use far less energy than with incandescent light bulbs. Use gentle, downward-focused lighting to eliminate any unnecessary glare.
Materials: Landscape light fixtures are frequently constructed of brass, aluminum, composite, or copper. A few of these materials have been shown to be more resistant to environmental stresses than others.
Selecting the lighting fixtures made of high-grade materials can help you maximize your investment because they tend to survive for years, if not decades. Here are the different landscape lighting materials you might choose:
• Brass Light Fixtures: Brass is a strong metal composed of a combination of zinc and copper that keeps up well in all situations. Brass light fixtures will survive for many years and are frequently covered by prolonged warranties.
When subjected to the outdoors, brass will eventually patina but will not tarnish. Although brass light fixtures can be more costly than other metals, they are the highest-quality, longest-lasting, and most durable.
• Aluminum Light Fixture: Aluminum is a low-cost material that is often of inferior quality. It is not as strong as other materials and may not withstand prolonged exposure to harsh outdoor elements; as a result, it might corrode and the paint will discolor.
Fortunately, powder coating can improve the lifespan of an aluminum light fixture since the paint protects the aluminum. However, they are strongly damaged by UV rays from the sun. After several years, you might anticipate discoloration or, contingent on the quality, cracking and flaking.
• Composite Light Fixture: Composite fixtures, which are constructed of a blend of plastics, can provide greater tensile strength than lighting fixtures offered at hardware and large retail shops. Such fixtures are less expensive than contemporary metal fixtures.
However, they are of lower quality. Under the force of the weather, composite light fixtures might start to deteriorate and degrade in a relatively short amount of time. As a result, the bulb life would be reduced and fixture maintenance would be expensive.
• Copper Light Fixtures: Copper is another excellent high-quality material. For clear reasons, lots of individuals have been using copper for countless generations!
Because of its superior heat conductivity, durability, and resistance to corrosion, it is employed in a wide variety of applications. When subjected to the environment, copper, similar to brass, will patina.
Copper is not as dense as brass, but copper-coated brass light fixtures offer the perfect combination: the durability of brass and the elegance of copper. Increased heat retention can shorten the life of a light bulb.
Copper light fixtures are made of metals that permit heat to travel efficiently. It prevents moisture from entering while allowing heat to pass through the metal core itself.
Can You Mix Halogen And LED Landscape Lights?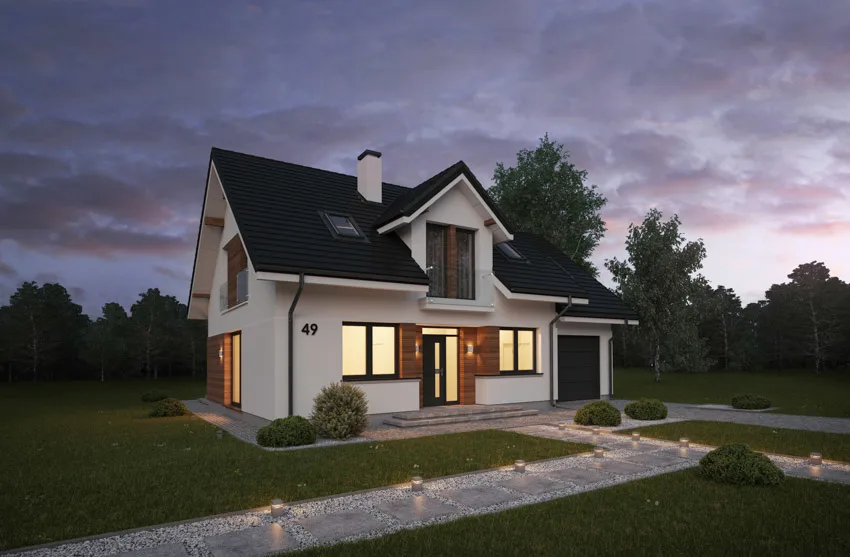 Technically, no. A halogen system's voltage is extremely different from an LED system's voltage. Halogen bulbs operate at a lower voltage than light bulbs. However, when a halogen bulb is taken out, the voltage rises.
Using a combination of halogen and LED bulbs, or transitioning from halogen to LED without altering the voltage level, might cause long-term system damage.
In many areas, halogen and LED lamps are fundamentally contrary. The use of the incorrect bulb in your landscape lighting setup can have a detrimental effect on the overall system and create long-term problems. Nonetheless, it is always essential to seek help from an expert if you are still finding answers to this question.
How Many Watts For Lighting?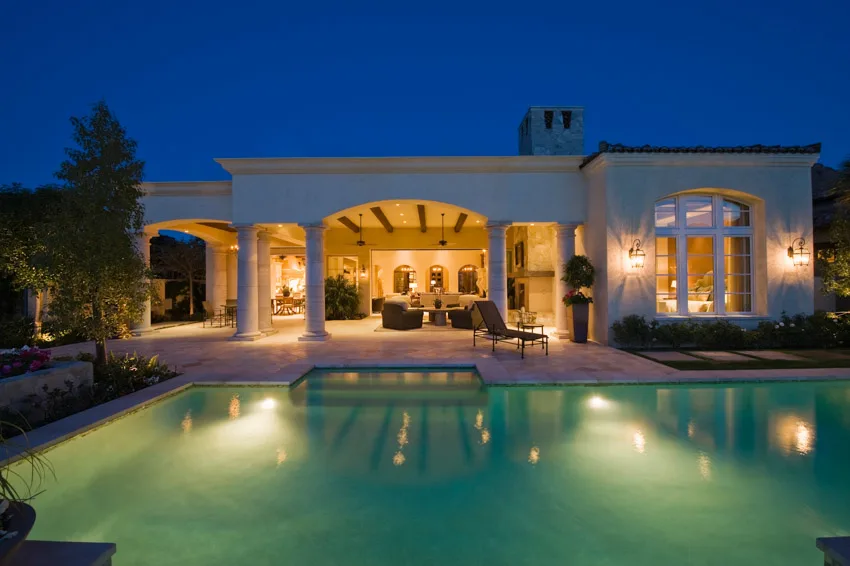 Outdoor lights with wattages of 40 watts or less are acceptable. Lighting sidewalks, garden beds, and other landscape features with up to 40 watts are suitable as well.
Light products ranging from 40 to 80 watts are excellent for illuminating areas such as most types of driveways, narrow yards, and the interior of your house. If you use them outside, it may be advisable to use them occasionally.
A landscape lighting with 80 watts or higher would be too intense for most residential landscapes. This is the range of floodlights. For bigger lawns and driveways, you can operate them as safety lights. If you connect them to some motion sensors, you will be able to startle some intruders.
Indeed, the recommended level of brightness for outdoor spaces at residence is 40 watts. Individuals can see properly without becoming blind, it looks quite nice, and it still highlights the best features of your area.
Dark sky lighting is permitted at 80 watts or less. They do not emit a lot of harmful light glare, which bothers nocturnal creatures. They are ideal for illuminating your yard while also benefiting the environment.
When it comes to choosing the amount of lumens for your light bulbs, it will depend on the landscaping lighting placement. For illuminating garden areas, including paths and walkways you'll want a soft glow of about 50 to 100 lumens. For patios and entertaining areas you may want as much as 500 lumens, according to Astoria lighting.
How To Keep Lights From Tilting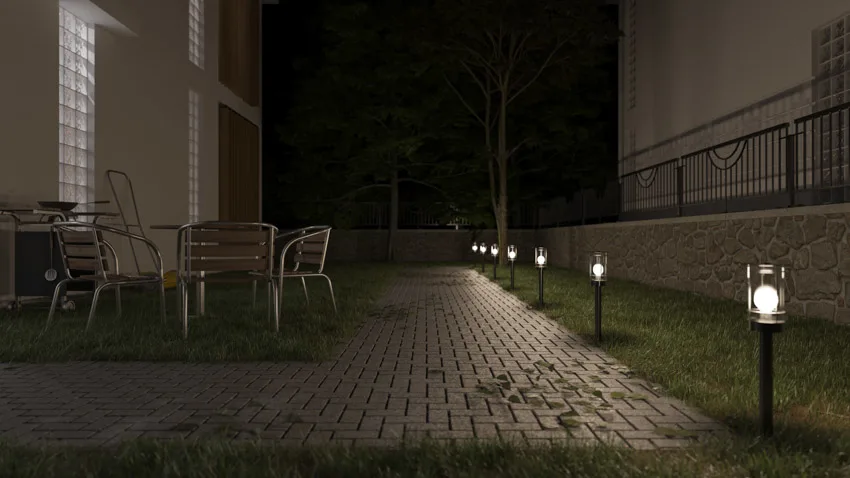 The structure of the fixtures you choose will have a big impact on the stability. Nevertheless, some primary recommendations would be to choose a landscape lighting fixture constructed of durable structural material, ideally pure brass or copper. In that way, tilting can be prevented.
PVC ground stakes are commonly utilized in most yard settings. However, it is strongly advised to choose a solid metal stake for rocky grounds because it will be simpler to place into the hard ground.
A spike-based mount might be great for loose soils or bases with an abundance of roots or environmental detritus. In terms of setup, the best approach would be to ascertain that the ground surface is as level and compressed as possible.
How Far Apart Should Outdoor Lights Be?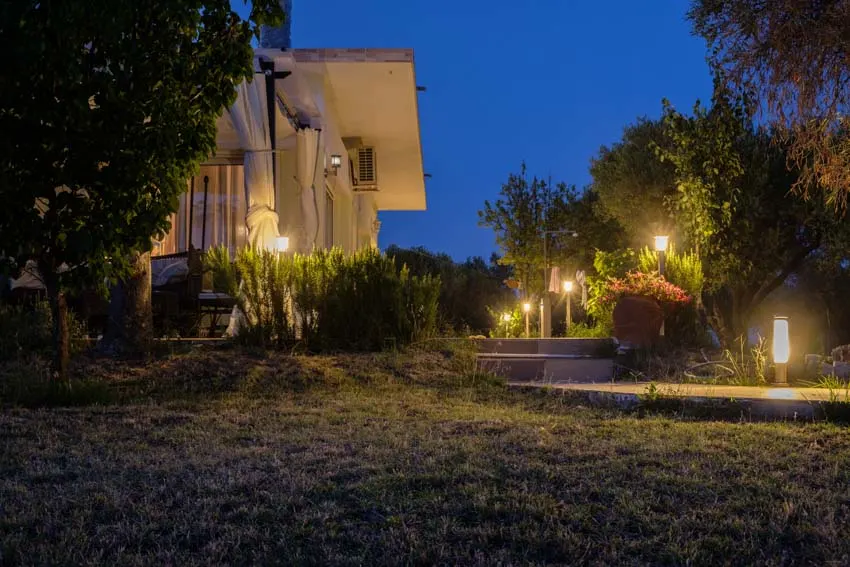 The spacing of landscape lights can be subject to interpretation– most landscape lighting solutions normally come with 6 feet of lead wiring for further modification in the field.
For path and area lights, you can maintain a 10-foot space between each path and area lighting fixture. Take into account that these are intended to direct users along a pathway rather than completely illuminate it.
If you are using spotlights, know that small objects need one to two fixtures. However, giant trees with vast branches and varied viewing directions may necessitate up to four lighting fixtures.
Placing wall-wash lights 1 to 2 feet away from the wall will provide a pleasant, even glow. They should be spaced around 6 to 8 feet apart.
In addition, for hardscape types of lighting fixtures, apply a 3-inch strip for short, cramped spaces and a 6-inch strip to light underneath deck handrails, securing walls or stairs. Increased illumination may necessitate the usage of larger sizes.
Does Lighting Harm Plants?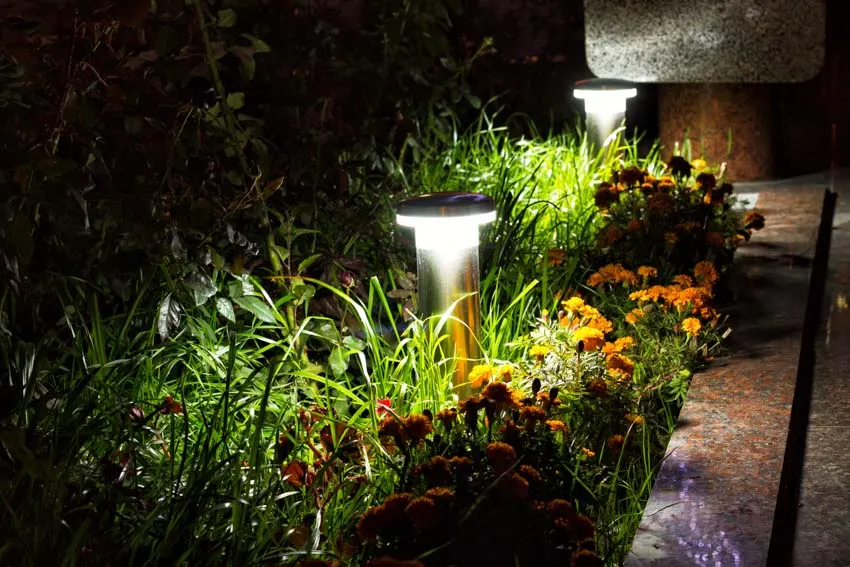 No. In most cases, the light produced by landscape lighting is not harsh enough to harm your plants. However, in some case it could disrupt your plants natural rhythm according to Leafsugreen.
Do be aware of your irrigation as you'll want to ensure that water is not submerging electrical wires. It's recommended to bury your waterproof wires and connectors 6 inches to 12 inches deep to avoid water being absorbed.

How To Layout Outdoor Lighting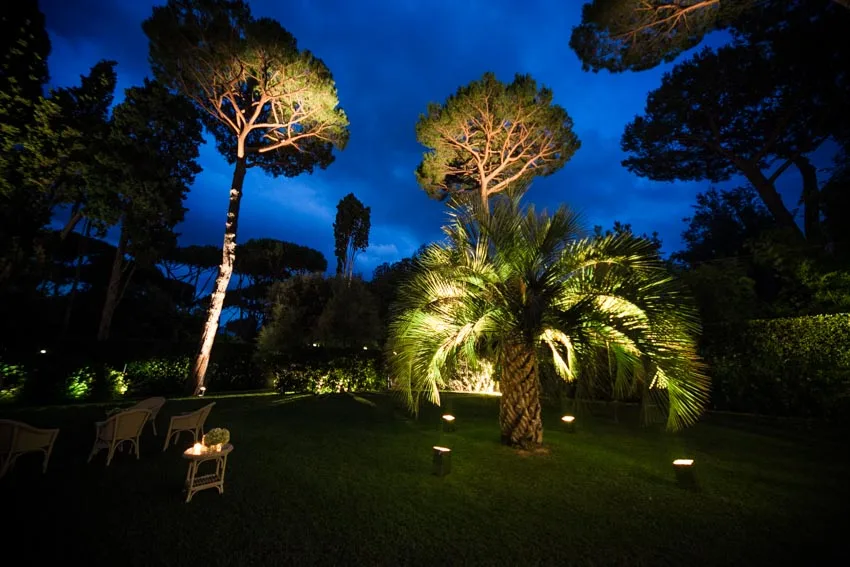 You can prepare the things below to help you how to create a layout of your landscape lighting:
• Low-Voltage Transformer: This is the system's power source. Generally, it should be put on a stand nearby the residence or connected directly to the structure – please bear in mind that the underside of the transformer should be at a minimum of 12 inches from the ground.
Optionally, the transformer could be installed inside the home, typically in the cellar or garage. However, because particular regulations apply, putting the cables through the wall necessitates the assistance of a qualified electrician. For do-it-yourself projects, the outdoor installation would be preferable.
• Landscape Lighting Fixtures: These, obviously, are the sources of light. The transformer provides them with power. Each lighting fixture has a light source, which might be an inbuilt LED or a changeable light bulb.
• Cable: This cable links to the transformer and delivers power to the lighting fixtures.
• Cable Connections: The transformer's wire must be connected to the fixtures' wiring. Such connections can be created in a variety of ways using multiple connector configurations.
Steps on How to Create a Layout:
1. Create a sketch: Generally, landscape lighting planners start with a preliminary sketch of the property, specifying what location each fixture will be positioned.
You can use a separate sheet of paper for each lighting location for larger zones. Make your sketch as precise as possible since you will be relying on it to determine distances for cable connections.
There are also a variety of landscape design software programs available that can help you with planning, styles, and layout. Some of these can even help add up the cost of materials and labor to give you an idea of the projects total cost.
2. Determine the location of the transformer: The low-voltage transformer is generally best placed adjacent to the home in an inconspicuous area. It must be relatively near to the fixture placements as possible.
When the lighting fixtures are spread out across a huge property, it makes perfect logic to use more than a single transformer. If you are using numerous transformers, make a separate layout for each one. Indicate the locations of the transformers on your sketch.
3. Configure the Fixture Locations: Before you place any fixtures on your property, use little flags or markers to denote their respective locations in the landscape.
Mark the locations on your layout and specify which fixture types will be used in each area. Create approximate measurements as you stroll around the property to identify the distances between fixtures and the transformer, as well as the spacing between the fixtures.
4. Identify the Cable Connections: The task at hand now is to figure out how to activate the fixtures. There are numerous wiring ways to choose from.
You do not want to squander wire by running a single wire from each light fixture to the transformer. Normally, this step requires the assistance of a licensed electrician.
However, here are the different wiring methods you can research and try as well:
• Daisy chain
• T-method
• Hub method
• Combination method
Are there any outdoor lighting types we missed? Share your thoughts in the comment section located below. See more related content in our article about the best outdoor deck lighting ideas on this page.