See different fence lighting ideas with the different types, benefits, uses, fencing post & rail designs, best outdoor light features, and how to choose outdoor lights for fences.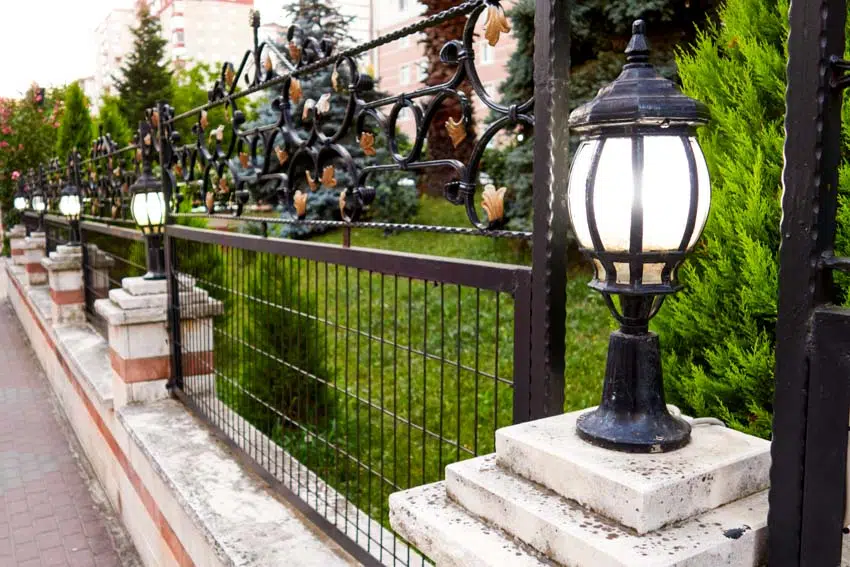 Most fences are focused on security and protection and aesthetics come last. But it doesn't mean that you can't make sure that it looks stunning enough to make an incredible first impression. And one of the ways to do this is through the right lighting choice.
Lighting is a functional, practical, and aesthetic element that plays an essential role in your home. It's important to consider your options thoroughly when considering your indoor lighting but this is also the same way when considering options for your fence lighting.
Types of Fence Lights
Here are some of the reasons why excellent fence lighting can do wonders for your home.
• Helps create a more comfortable and inviting space
• Defines the space of your yard
• Adds an element of security and safety to your property
• Elevates your garden to a lively space for entertainment or relaxation
If you're set on having fence lighting for your home, there are several types and ideas of fence lighting you can consider. Whether you're prioritizing your budget, security, or aesthetics, there will always be something you can choose.
To give you a headstart, here are some of the types of fence lighting you can explore and consider.

Post Lights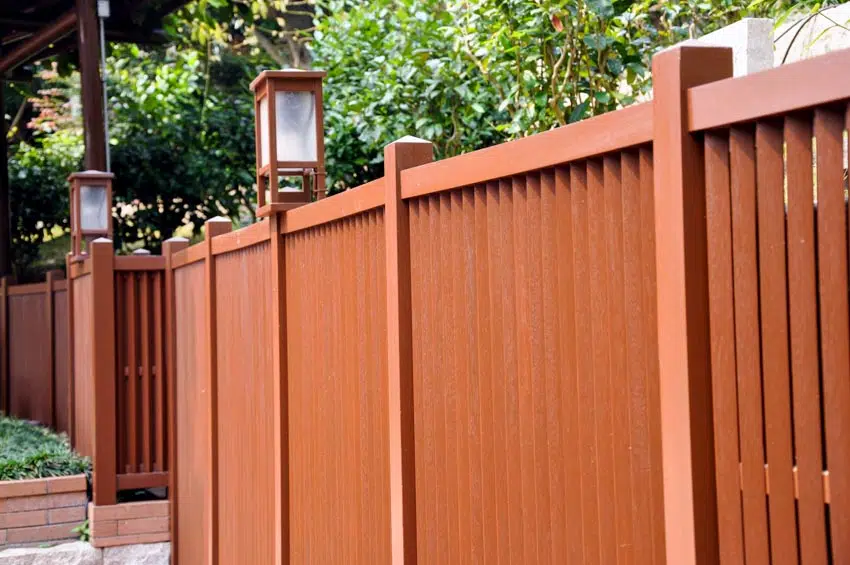 Fence post lights can be considered for your home and they're in fact one of the common options for many homeowners. Can either be solar-powered or hardwired, these lights are an excellent option for both security lighting and landscape lighting.
You may need to place lights on the top of your fence walls (preferably posts). The effect of this placement will result in light being projected outward and upward.
The standard for posts measures around 4-inch by 4-inch and the installation is straightforward and easy. You can also choose between a simple or a decorative post light, depending on your preference.
While post lights are common for wooden fences, you can install them over vinyl, metal, and concrete fences. If you have more stable and durable fencing, you can install a larger, heavier lighting fixture if preferred.
Rail Lights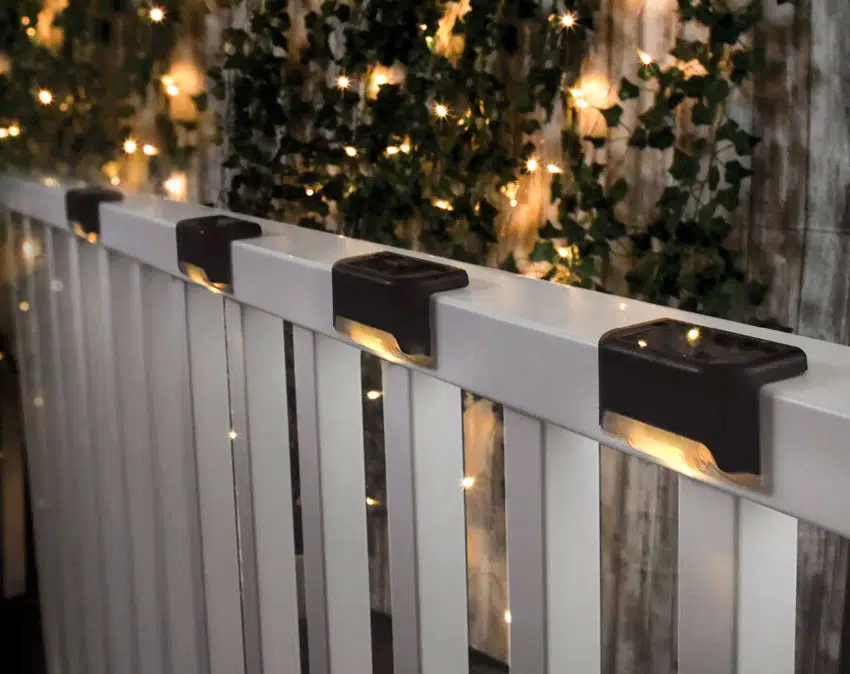 See this fence rail light set at Home Depot [sponsored link]
If you have rails for a fence, post lights won't really work best for you. The best option to consider is fence rail lighting. There are posts even with railing fences but most of them have a bit of distance between them, which means that if you put lighting on top of the posts, it is not as effective as placing them on the rails.
The middle area between the posts will be darker compared to the areas where the posts are. With fence rail lights, a cap may be needed on every fence post in order to secure the light into position.
Fence rail lighting fixtures offer better coverage compared to post lights since more areas are lit. Meanwhile, post lighting is only limited to posts. And with railing fence designs, they are even more limited.
Solar Lights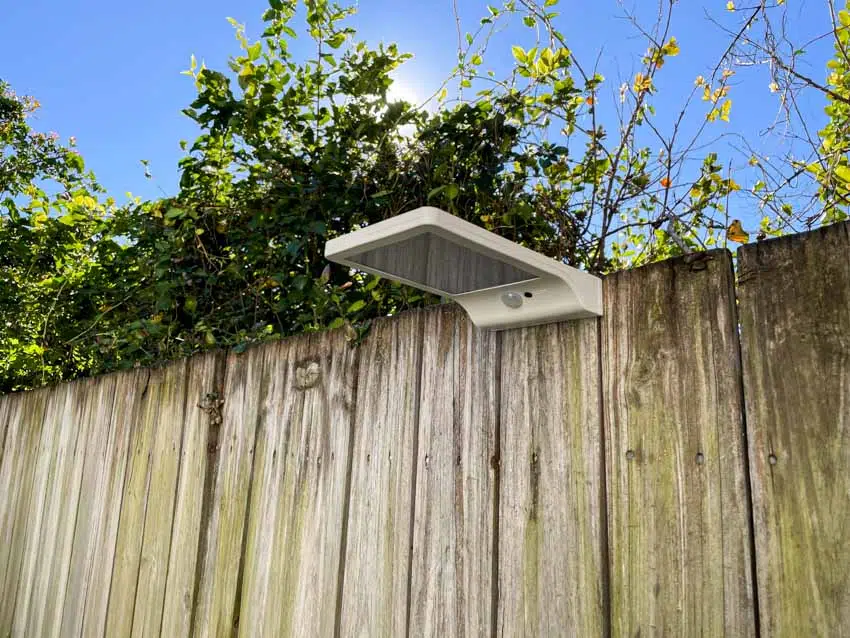 Solar fence lights are also a wonderful option you can go for. Compared to regular fence lights, be they post lighting or rail lighting, solar fence lighting is guaranteed to be more cost-effective. This is, in addition, to actually making your home look livelier and more festive.
Considered to be a smart choice, solar fence lights are safe and easy to install (you can just do this with hooks). You won't have issues raising them or wiring them since they are solar-powered. They are designed to automatically turn on during the night time while in the morning they get fully charged up from sunlight.
Since solar fence lights are small and low-profile, you can easily install them on top of the fence if you have a railing or flat fence. You just have to make sure to position them effectively, where they can maximize solar consumption.
Solar Post Light
See this solar fence post light at Home Depot [sponsored link]
If you're into post lighting but you want to have a smarter and more cost-effective fixture for your fence, a solar fence post light may just be the ideal option for you. Just like how it's named, the solar light will be limited in the posts of your fence.
Compared to the common post lights though, you won't have to worry about the wiring of the solar-powered post lights. Compared to installing solar lights in the fence rails, posts are taller and so have better access to sunlight.
More than just its easy and convenient installation, you can also be sure that you're minimizing your carbon footprint and in some way contributing to the preservation of the environment.
LED Lighting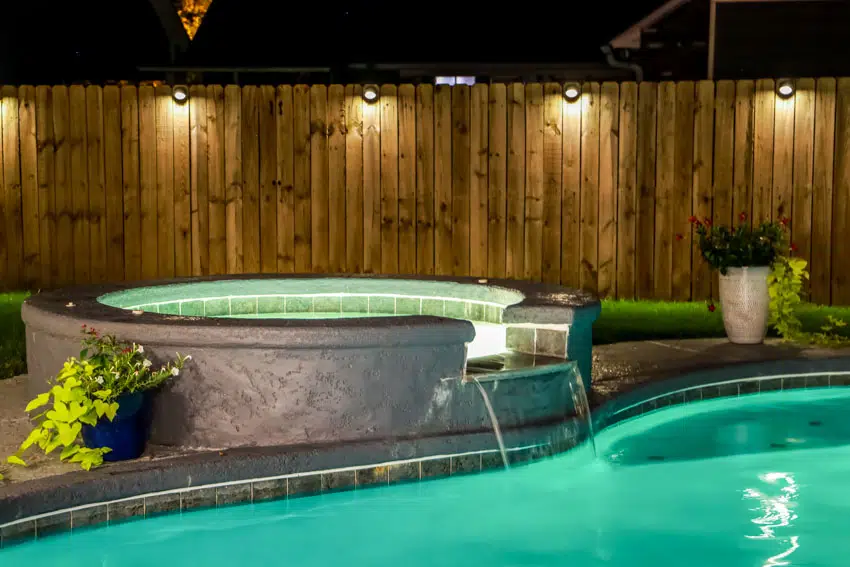 LED (light-emitting diodes) fence lighting involves tiny lighting fixtures that are more durable and break less. Compared to standard lighting, LED lighting remains cool even when in operation, leading to a longer lifespan.
LED fixtures also features a brighter illumination, but you will still need to install a couple of LED lights to be able to illuminate the entire garden area.
There are two ways you can go with your LED fence lighting. You can either go for the hardwired approach or the more cost-effective option, which involves the solar alternative.
The former uses a wiring system connecting the light fixture to a single circuit while the latter has the sun as its power source, making this option more cost-effective.
Low Voltage Lighting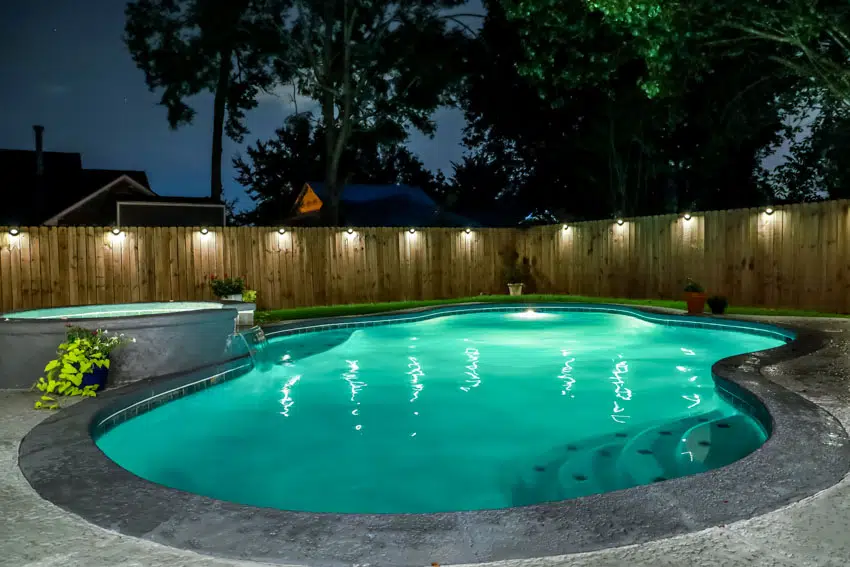 When it comes to outdoor lighting like fence lighting, low voltage is an excellent choice. When it's used, it actually offers more energy than the standard voltage lighting because of a step down in power consumption.
The standard voltage uses 120V while low-voltage lighting uses around 12V to 24V. Besides having cheaper light fixtures and bulbs, the use of low power also takes out the danger of shock.
Like all other types of fence lighting, the number of fixtures you can install and use will be limited by the wattage of the transformer you're using. And the downside is that the bulbs would need to be replaced often since they don't last that long.
Hanging Lights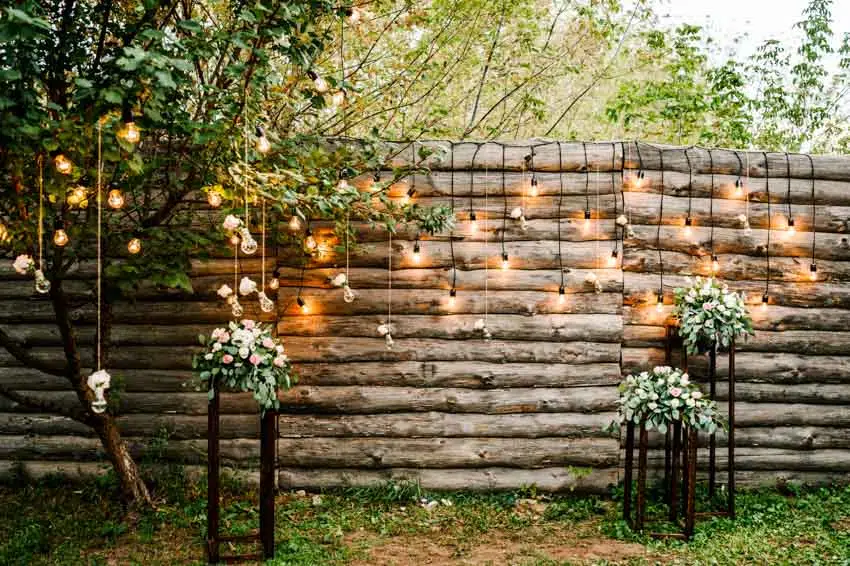 Hanging lights can also be used on your fence and they're even commonly used for aesthetics and decor. Also known as curtain lighting, this versatile style is a decorative choice you can go for your fence.
Hanging lights can easily be strung across your fence and it doesn't even matter what type of fence you have, as long as you position the lights effectively and decoratively. This produces an ethereal glow that will look fantastic in your garden.
You can set the hanging lights like a curtain and drape them on the fence. Most of these lights have already been made like a curtain so you won't have to add any effort into making designs using the lights.
Using multiple strands to create a curtain of lights, you can run them vertically and closer to each other to have denser-looking hanging lights. You even have the option of going for standard white or multi-colored string lights.
String Lights Around Fence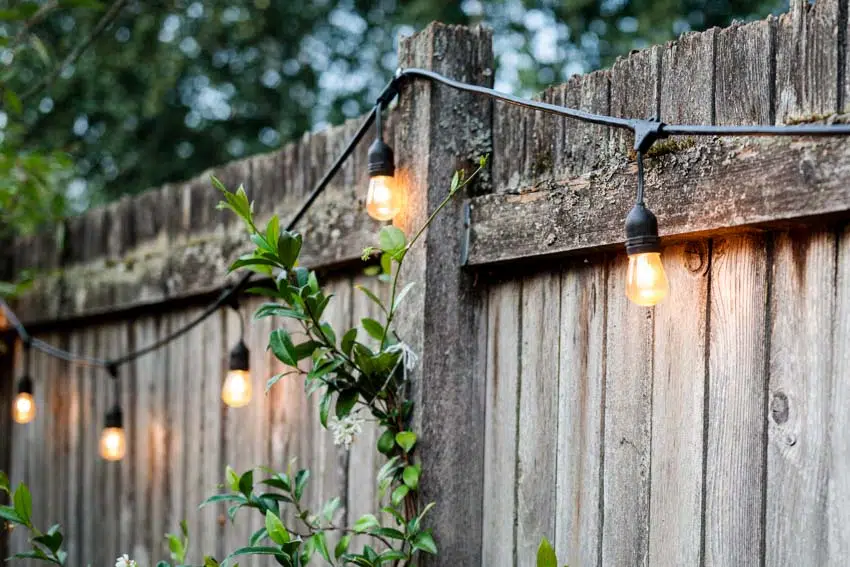 One of the best lighting ideas for your fence are string lights, considering they can also be used as decor in the backyard to create a specific ambiance. Also known as fairy lights, these string lights are powered by either the sun or a battery.
This saves you the trouble of having to turn the switch on and off with every use. In addition to that, you won't even have to ask for a professional's help when setting them up.
While hanging lights are denser, string lights are named as such because the lights come in a string. This means you have more creative freedom in terms of styling the lights in your fence. You also have the option of going for clean and bright white lights or warm color temperature lights for a more relaxing and inviting vibe.
Downlighting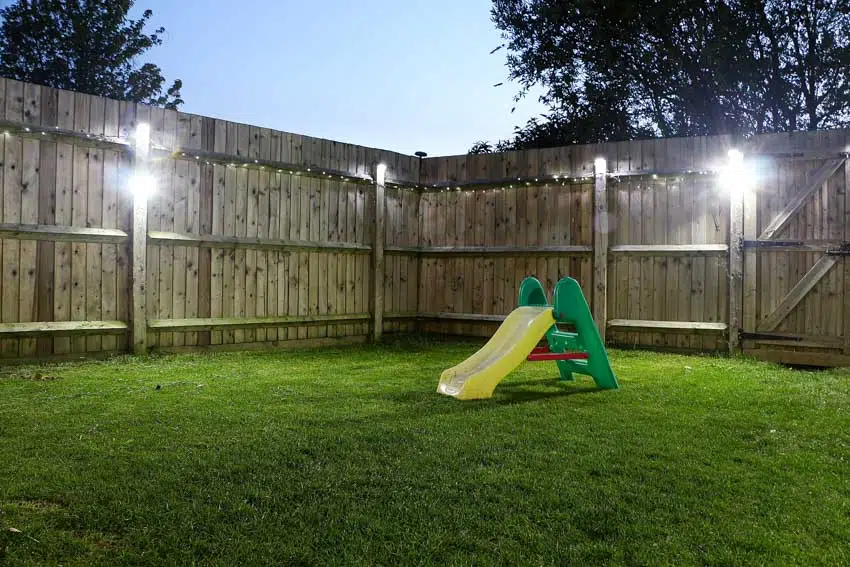 Usually comes flush-mounted on the ceiling, fence downlighting can also be used outdoors at the base of your fence (and yes, even underneath your patios) as uplighters.
This lighting style is able to create an unobtrusive and well-lit entryway for your home. More than just adding to the comfort and security at night, positioning the flood light fixtures at the base of the fence produces a dramatic look that can elevate the landscape of the front yard and back of your home.
Fence downlighting is usually composed of pinpoint and small LED lights installed in specific positions to improve the ambiance and look of the fence and backyard. You can easily spruce up everything, from plants to landscaping.
Hardwired or solar-powered, fence downlighting is not just a stunning addition to your home but can also help to define the borders and boundaries around the property.
Multi Color Lighting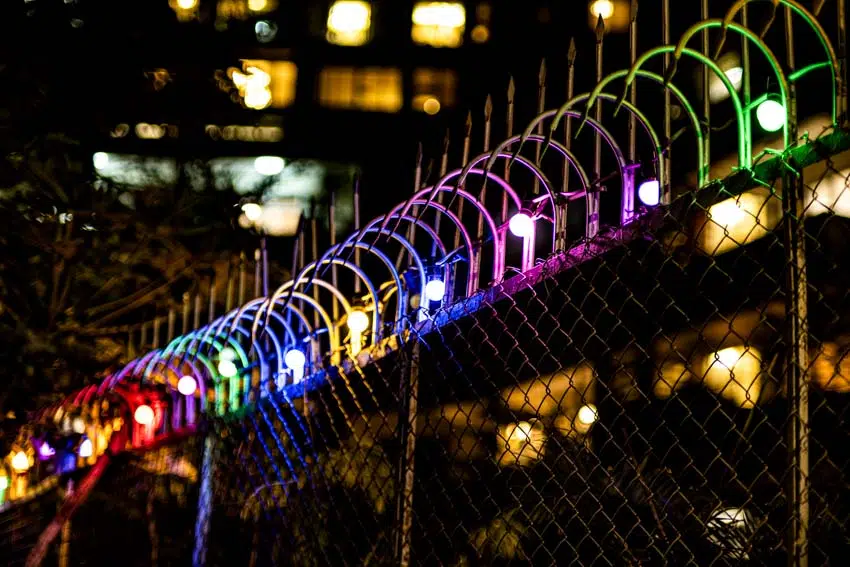 Another option you can do with your fence is to apply multicolor lighting to turn it into a lively space. If you're thinking about Christmas lights, yes that's the same effect that multicolor lighting can produce.
This lighting is fun and adds life to your fence and so your home in general, creating a first impression that is grand and festive. It seems to say that the people who live inside are fun and not boring at all.
Multicolored fence lighting can come in a variety of fixtures, from bulbs in post lighting to hanging lights and string lights. The multicolored string lights are what's popularly known as Christmas lights.
Modern Lights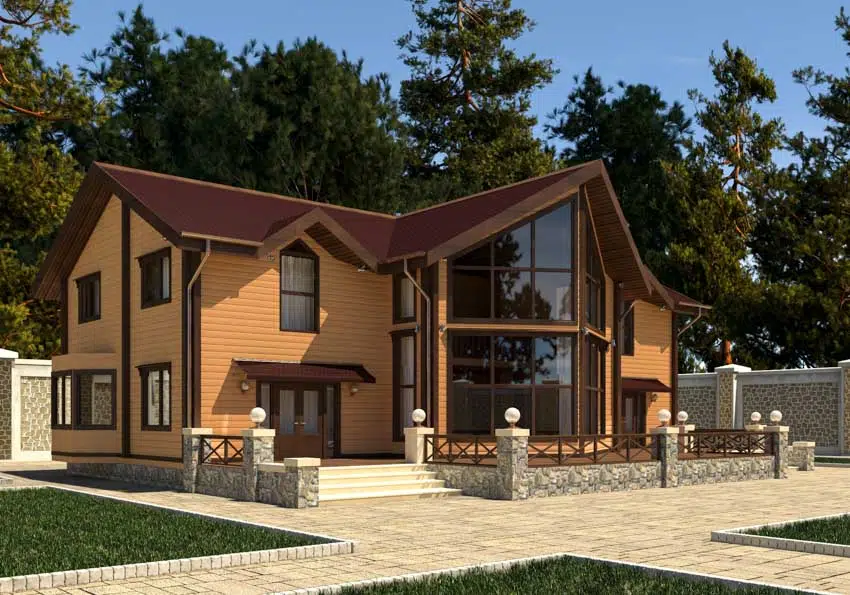 You may also want to consider modern fence lights for your home if you're looking for something trendy and stunning to look at. Many modern fence lights are straight-up LED lighting because of the clean and edgy look that white lights are able to produce.
Modern lighting can be expansive in its aesthetics, from the effects of the decoration to the lighting fixtures used to create this effect.
You can choose to have modern wall fittings in the form of wall lamps and wall lights, and adding something geometric in design to the mix will accomplish this modern look.
Antique Style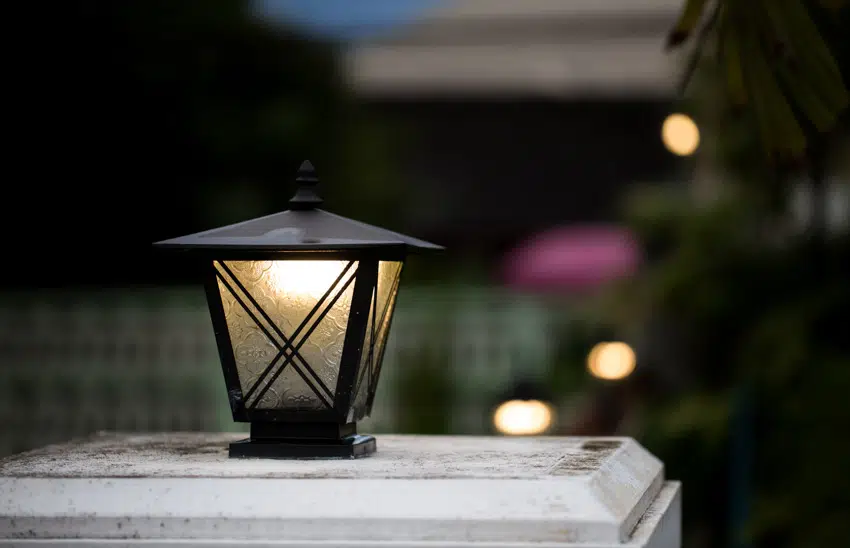 The opposite of modern lighting is antique-style lighting, which can take you back in the past. Regarding antique style, you're dealing with lighting fixtures with artistic and intricate details and elements.
You can install these antique-styled light fixtures on your fence, particularly on your fence posts or railings. Doing so will lead to creating an elegant feel similar to the feel of castles and temples.
Just like most fence lighting, the trick is to space lighting fixtures well in order to have more coverage and so offer more bright space at night. It's also necessary for the intricate designs to be seen even in the dark to be well-appreciated.
Lantern Style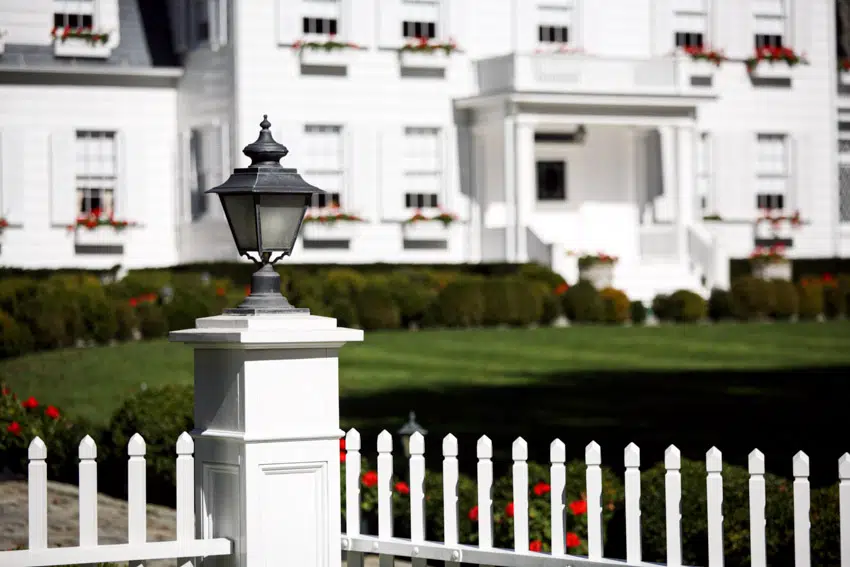 Lanterns are some of the oldest lighting fixtures in your history books. The trick in using lanterns in modern times though is to be artistic and tasteful. Generally, lanterns with real fire are not convenient and safe to use with your fence, especially if you have a wooden fence.
It cannot be denied though that lanterns always have stunning designs even when their sizes and colors vary. And hanging lanterns on your fence would look wonderful.
Rather than using actual fire, you can be relatively modern in your approach of using lanterns. Instead of real candles, you can use battery-operated candles or even fairy lights and stuff a bunch of them into the lanterns. Mason jars have become popular to be used as lanterns and be paired with string lights for a stylish yet rustic feel.
Globe Lights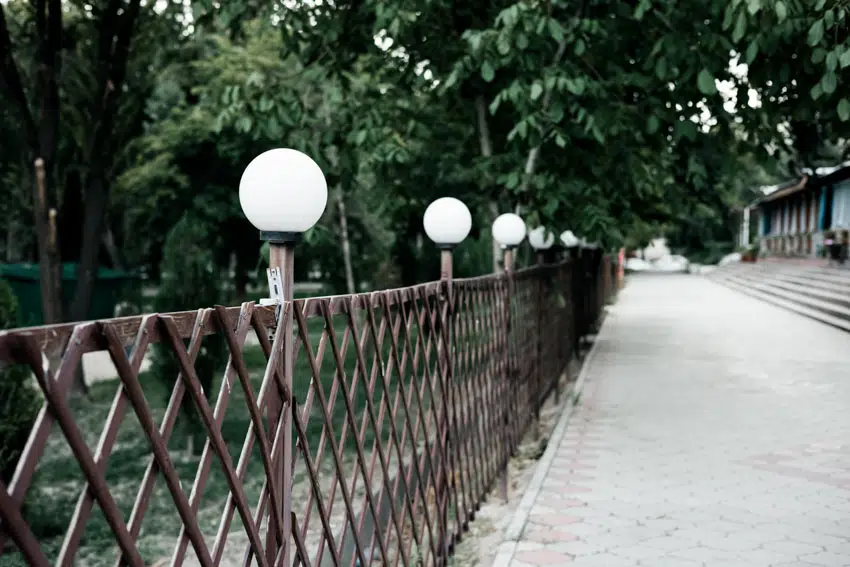 While lanterns are elements of the past, globe lights are definitely the ones that belong in the present modern time. These light fixtures are large and round light bulbs, which is exactly how they got their name.
They are more often used as a decorative element, particularly in restaurants and bars, where aesthetics will also be an important factor to consider.
Globe lights measure twice as big as the standard GLS light bulbs, which means that they can't be used in smaller lamps but they would be a bit small to be used as large ceiling lights.
If you add globe light bulbs to your fence, they're easy to look for in the market due to the large and round shape. And the best thing about them is that they are mostly LED and so are energy-saving.
Sconce Lights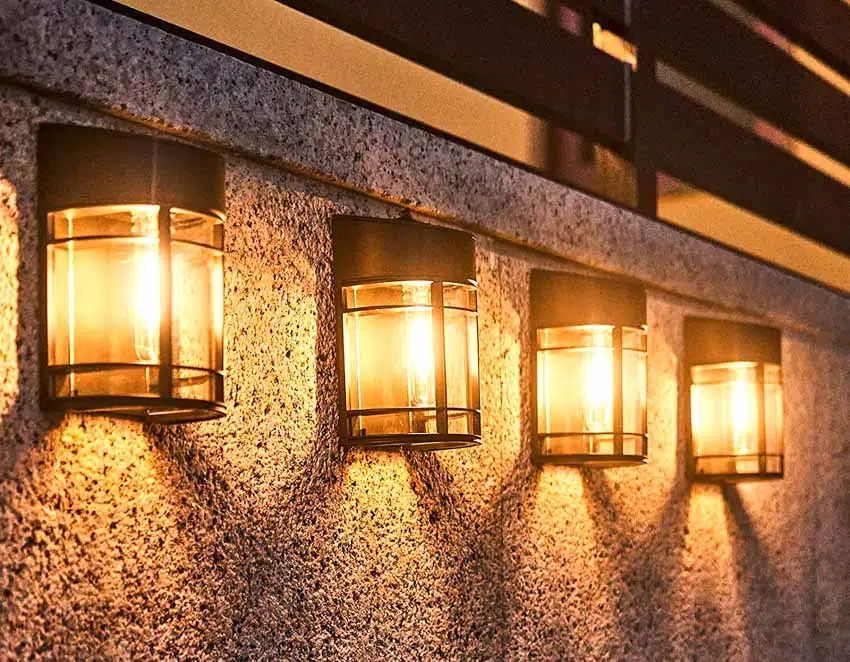 See this sconce light set at Amazon [sponsored link]
Similar to lanterns, sconce lights are elements of the past. In fact, the term "sconce" itself comes from the Old French and late Latin word that means lamp-holder. Sconce lights are usually depicted in movies and TV shows to be lighting fixtures in old structures.
Some examples include castles and basements. Many of the sconces are paired with candlesticks and lanterns but it will be different if you're going to use them today.
Usually fixed to a wall, you can add these sconce lights to your fence. Most of the time, the light is directed outwards and upwards so make sure to consider that in deciding where to install them in the fence and how to position them for maximum function and use.
If you use them as some pathway light, installing them lower to the ground is the better option. Doing so would be better to be able to see where you're going. It may be a good idea to use one of the available landscape design software programs to help plan your layout.

Fence Light Features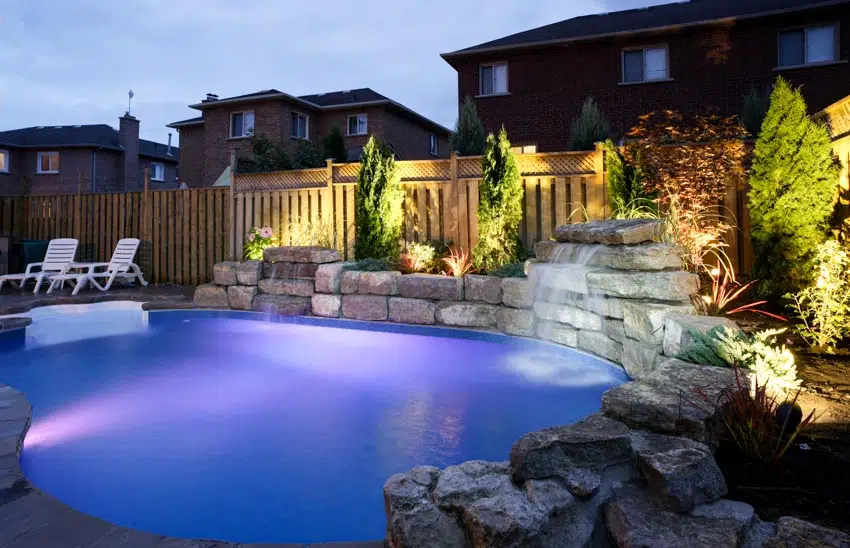 Besides the different designs and styles you can choose for your fence lighting, you will also need to consider the different features you will encounter.
These features will dictate the performance of the fence lighting you've chosen and its compatibility with your prioritized element and factor when choosing the fence light to install at home.
To help you make an easier and more informed decision, here are some features you will need to explore in every fence lighting option you're considering.
Solar Power: When it comes to power sources, solar power is both the present and the future. Either electricity or battery powers many light fixtures, but if they are powered by the sun, this means that you are doing something right.
If you're going to use light fixtures that are solar powered, they would be significantly more expensive but will also be cost-effective in time. Think of this feature as an investment that you will need to put some cash on before enjoying its benefits.
If you choose solar-powered light fixtures, you will also be using solar panels to generate electricity for them. It's actually the panels that cost a lot, and without them, the lighting fixtures won't work in the first place.
When dealing with solar power, you must know that panels only convert about 10% of solar power to electricity and then keep the rest on reserve. An efficient solar panel can help recharge your battery faster.
And the good thing about installing them on your fence is that they are exposed most of the time to the sun, which will help you gather enough solar power to turn your light fixtures on and even have more for storage.
Post Cap: Another feature you must consider with your fence lighting is the post cap. This is more on the side of the fence rather than the lighting component.
Post caps are the elements that secure the covering on the top of the fence post. They are frequently used for lighting for decks and fences.

They can come in various colors and materials so you can always match them with your fence. This is why they are mostly seen as decorative elements of the fence.
When it comes to materials, wood is a terrible choice for post caps because they are prone to splitting, rotting, and pest infestation.
Vinyl fence post caps may be better, but they are not UV-resistant and become brittle after some time. And finally, you can consider plastic resin post caps, which are durable, UV-resistant, and even fade-resistant.
For the colors, black may be the most common post cap and white is the least popular due to matching challenges. But there are also earthy colors to match the outdoors, including brown and green post caps.
Low Profile: Low-profile lighting fixtures are most usually paired with lower ceilings but also for fence lighting that can produce ambient and decorative lighting. With this kind of lighting, fixtures tend to have detailed and intricate patterns that would be stunning to look at.
You also have the option of using incandescent light, recessed lighting, and even fluorescent lighting for low-profile fixtures. You can add this feature to your fence lighting if you want to flush the lighting fixtures in your fence.
Smart Lights: Another contemporary feature you can add to your fence lighting is smart lighting, which is an advanced lighting fixture with software that's connected to a smart home app and assistant.
Smart lights have intelligent features that may or may not include the following:
• Wireless remote-controlled lights
• Multiple lighting modes
• Sound-sensitive controls
• Automatic timers
• Wireless functionality
• Color-changing modes
• Motion sensor modes
Choosing smart lights for your fence lighting take out many hassles from using the lighting fixture. While traditional light bulbs are turned on and off using a physical dimmer switch, smart lights are coded with controls and commands that can be possible even when you're not physically at home.
Many of these smart lights can be controlled wirelessly using your phone, tablet, or smart assistants like Alexa and Google Assistant.
This means that if you're not at home and want to turn the fencing light on to add a layer of protection at home, it will be very convenient to have smart lights at work.
If you are still looking into smart lights and exploring what it means to have smart fencing lighting at home, here are the guaranteed benefits to look forward to:
• Energy-efficiency: Besides the light bulbs lasting longer compared to traditional lighting, smart lights use less heat and energy when in operation.
• Easily controlled: You can control the light, from turning it on and dimming it to turning it on, without needing to move towards a switch.
• Automation: You can automate your smart lights to turn off after a few hours and automatically off after the timer is set off.
• Connectivity: Smart lights are easily connected to devices so more features can be accessed from this connectivity, from cameras to thermostats.
Long Battery Life: And finally, if you're going to install fence lighting and have it powered either by a battery or solar power (through panels), going for an option with a long battery life will be very beneficial to you since you won't have to replace them often.
Long battery life means a higher mAh rating and when it comes to fence lighting, go for at least 400mAh or more to make the most out of this power source. If you want your fence lighting to be much brighter, use lighting fixtures with at least 1200mAh capacity.
Your fence lighting must last for a long time at night, which is important since it serves as added protection for your home at night. You can say that you have a good battery life if your fence lighting can last for continuous operation of at least 8 hours.
How To Choose Outdoor Lights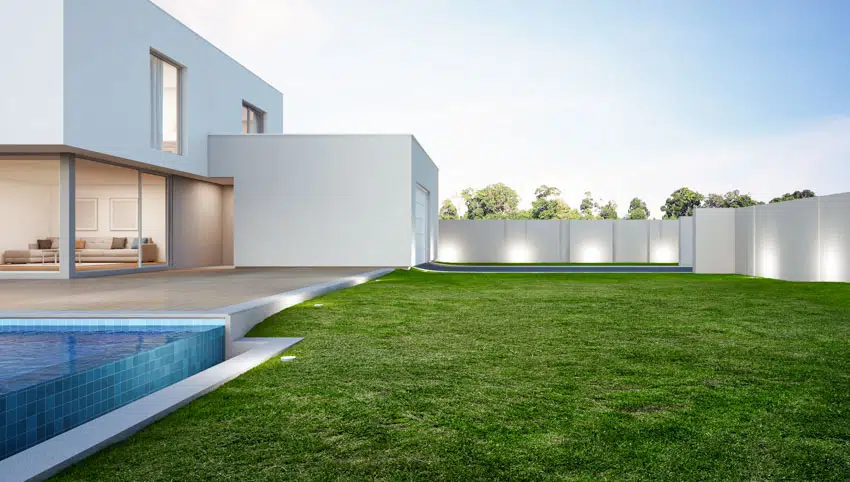 Besides the different incredible features to look for in your fence lighting, are there other factors you need to consider when choosing the ideal outdoor fence lights for you?
If you want a bit of a guide in this choosing process, here are simple steps to follow:
Step 1 – Decide on the budget you are willing to spend: The budget you have for your fence lighting will be one of the most important factors to consider.
This choice can dictate if you can go with more expensive options filled with smart features, or if you'll be limited to cheaper light fixtures for your fence with standard and common features.
Step 2 – Measure your fence and figure out how many light fixtures you need: Whether you have a fence made of posts or railings, measure the area you want to be covered with the light fixtures. If you're going for lanterns, sconces, and bulbs, you need to count each fixture.
It will be much easier though if you're going to use hanging lights and string lights since they have better coverage.
Step 3 – Take into account other important lighting factors when choosing the fixtures: More than just your budget, here are other important factors to consider before you even choose the outdoor fence lights to install at home.
• Brightness: Decide how bright you want your fence lighting to be. More light fixtures will mean brighter and better coverage. And if you want to be more technical, more lumens will mean brighter lights so if you want brighter fence lighting then settle for the fixtures with more lumens.
Every light fixture has around 10 to 100 lumens and if you want to have a soft and ambient glow that fits well for dim and mood lighting, settle for light fixtures with 10 lumens. However, if you want to have brighter fence lighting and focus more on security, get light fixtures with at least 100 lumens.
• Light Temperature: Do you want an ethereal glow with a bit of warmth? If yes, incandescent bulbs would be great to consider. If you want your fence to be brightly lit so that you will be able to clearly see everyone and will feel safer and more secure at home.
When deciding on the light temperature, look at the number measured by Kelvin in K. For more yellowish and warmer lights, look for a lower K rating. And for whiter and bluish light, look for lighting fixtures with a higher K rating. Source: Westinghouse

• Design Style: Choosing the design of your fence lighting all points towards the aesthetics and first impression you want your fence and in general, your home to have.
You can choose lighting fixtures with intricate and detailed designs, like lanterns and sconces. Make sure whatever you choose is rated for outdoor use and is weatherproof.

The direction and orientation also play a part in your landscapes. A difficult corner may require a standalone lamp to get the lighting right. Are there trees, furniture, or other obstructions in the way that block lamp brightness and need to be relocated?
And you can also go for the option that offers better mood lighting like fairy/string lights, hanging lights, and downlighting. Decide on the vibe you want to produce and then match that vibe with the different fence lighting options you can explore.
• Types Of Light Bulbs: Two of the most common bulbs used today are incandescent and LED bulbs, where the former is warmer and yellowish while the latter is more bluish-white.
LED is the way to go if you want a bulb that can last longer than other types of light bulbs. LED light bulbs can last up to 10 years and so you won't need to regularly change these bulbs, saving time, effort, and money in the process.
• Battery Life: When choosing fence lighting for your home that's not powered by electricity, its battery life will play a vital role in your decision. Even if you choose solar-powered lights, they will still have batteries working for them so it's important to choose lights with long battery life.
Choose lights with batteries that last at least 8 hours in continuous operation. For solar-powered light, 6 to 12 hours of battery life is the standard range.
• Solar Recharging Time: Choosing solar-powered lights is an excellent decision not just because of their low impact on the environment but also because of the energy efficiency that translates to savings.
Compared to batteries that you would have to replace and recharge by plugging them in, solar-powered ones recharge through their exposure to direct sunlight.
With fence lighting, solar-powered lights are directly exposed to sunlight, which is better since this means that it will be able to recharge faster. You must recharge the solar-powered lights for at least 8 hours to be fully charged and ready for operation at night.
• Installation: Installing your fence lighting depends on the type of light fixtures you choose to use with your fence. For light fixtures that need to be integrated into the fence, you will need more expertise or the help of a professional to install them properly.
You can style and do it yourself for hanging lights, fairy lights, and other light fixtures that can easily be draped on the fence. This will help save you on costs rather than hire a contractor to do it for you.
How Do You Hang Lights On A Fence Without Nails?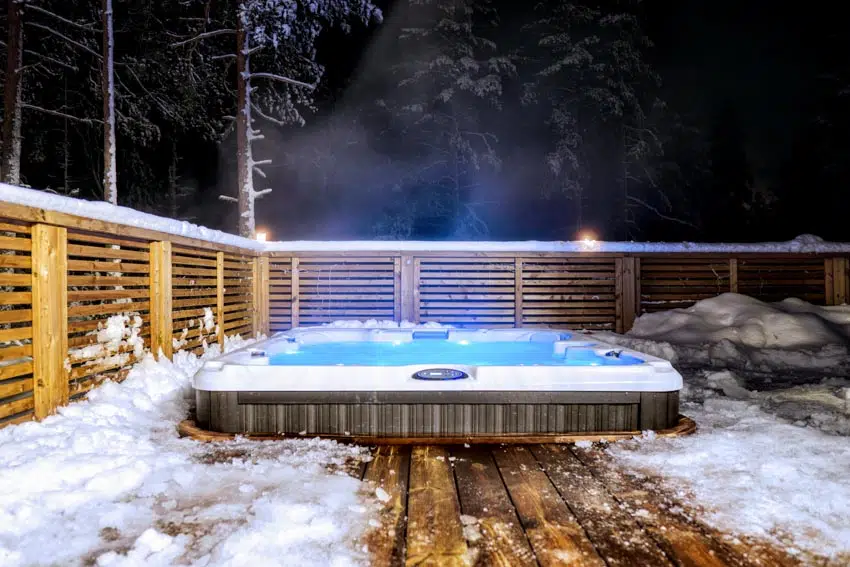 If you're working on fairy lights and hanging lights but you don't want to work with nails, there are some household tools and materials you can use as alternatives. You only have to choose the ones that you feel comfortable working with. Some of these materials include the following:
• Hooks: There are two types of hooks you can consider as alternatives for nails, including gutter hooks and adhesive hooks. The former is an S-shaped hook considered a popular choice in the market. Conversely, the latter is a peel-and-stick hook that you can use on any flat surface.
• Staples: This nail alternative is a good material to use if you want a more stable installation on the fence and you can easily remove them using pliers when needed. The downside though is that you will create two small pinholes on the fence and if you have a concrete or metal fence, this might not work well.
• Glue gun: Another nail alternative to use is a glue gun, which will help you avoid the need to drill holes in your fence and walls. While this option may work well, you won't be able to avoid glue residue in the process.
• Tape: When it comes to sticking something to a surface, tapes work well but you need to choose the right type of tape to use.
While duct tapes are durable and stick well to the surface, it will ruin the aesthetics you're working on your fence. This is why clear tapes may be a better option since they will seem invisible.
• Zip ties: Ideal for hanging lights from one area to the next, zip ties are durable and sturdy to use. These materials are affordable and reusable so you won't have to buy some every now and then.
How Far Apart Should Fence Lights Be?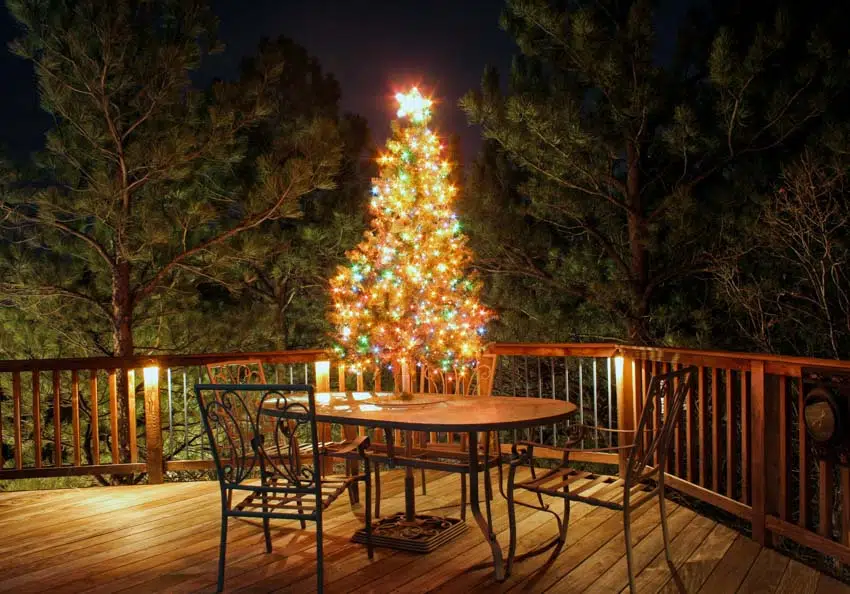 When installing fence lights, their positions on the fence are vital to have better light coverage. You will need to consider the size of your fence and how bright you want the fence to be.
If you have posts on your fence, you can install the light on each post to cover their area. But if you're working on string lights and hanging lights, this won't be an issue much.
The distance of the lights will also be considered if you are working on lighting the pathway from your fence up to your home. In this case, the general rule is to make sure that there's a light fixture every 5 to 8 feet apart.
Lessen the distance if you want a brighter pathway to walk on. You will also want to cover the entire pathway and have balanced lighting.
Are there any fence ideas we left out? Let us know in the comments your favorite fencing solutions or the experience you have had implementing these solutions. See more related content in our article about the different types of garden fences on this page.