Here we share the different types of candle holders including different styles, tips on how to secure candles in candlesticks and candle size ideas for each type of holder.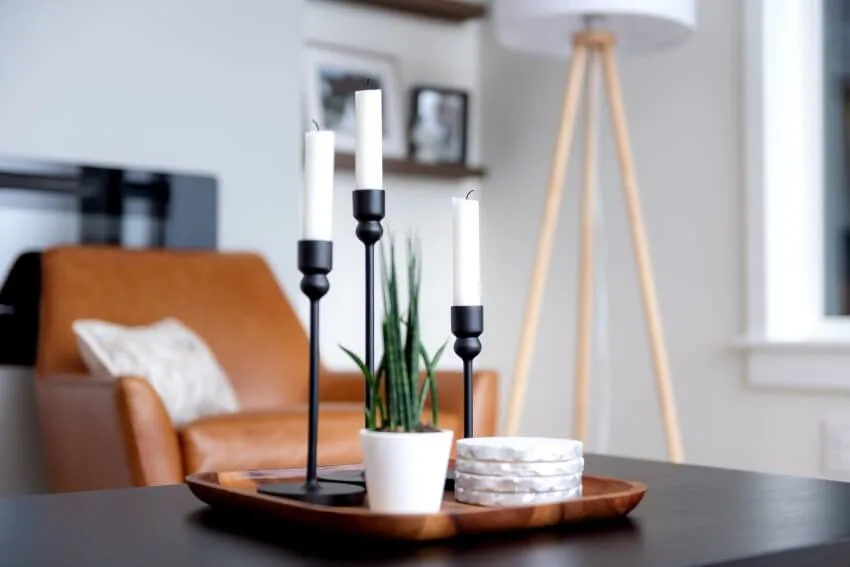 There's something soothing about lighting candles at home, whether you're enveloped by the aroma of a scented candle while drifting off into a book in the living room or setting the mood at the dining table with an enchanting assortment of candlesticks.
Whether you want to enhance the interior or are about to enter the holiday season, finding ways to make your own home feel warmer and joyously decorated (even if it's just you!) feels essential. So, this could be the year to invest in a set or two of taper candles to bring a festive flicker into your space.
Tealight Candle Holders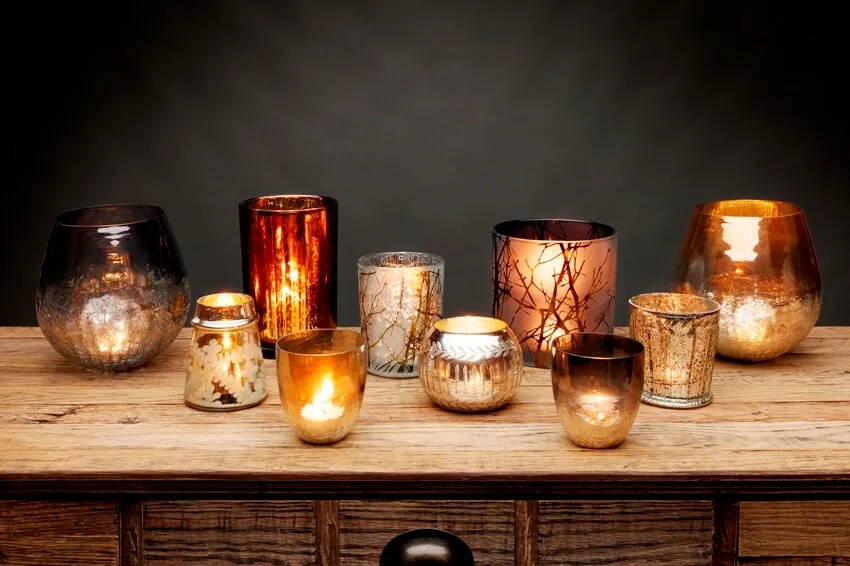 Tealights can look fantastic in any room, and with some creative tealight candle holder ideas, you can really elevate these little gems.
There are several simple and straightforward methods for arranging tealights. However, if you want these lights to be part of your décor, you should do something a little more creative and unique when hanging them.
Mason jars, for example, are a great way to mock tealight holders because it is so much you can do to customize them to fit a specific style. You can always put something on top of the tealights so that they serve as a support for another piece of decor rather than being the centerpiece of the display.
Another positive aspect of tea light candle holders is that they are very inexpensive. This is going to be one of the most affordable types of candle holders that you can purchase while still having things look really nice.
There are a variety of different tea light candle holders to choose from, too. Many of them will look vastly different when compared to one another, but they are fundamentally the same in how they function.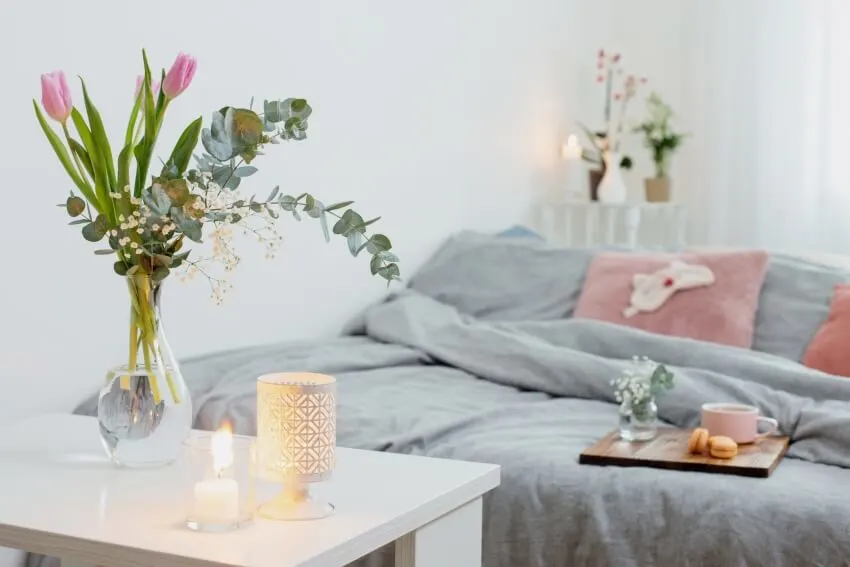 Tea Light Wax Warmer – Warm-up and spread fragrance in your room.
Himalayan Salt Tealight Candle Diffusers – Whiff up some essential oils in the salt to upcharge the day ahead.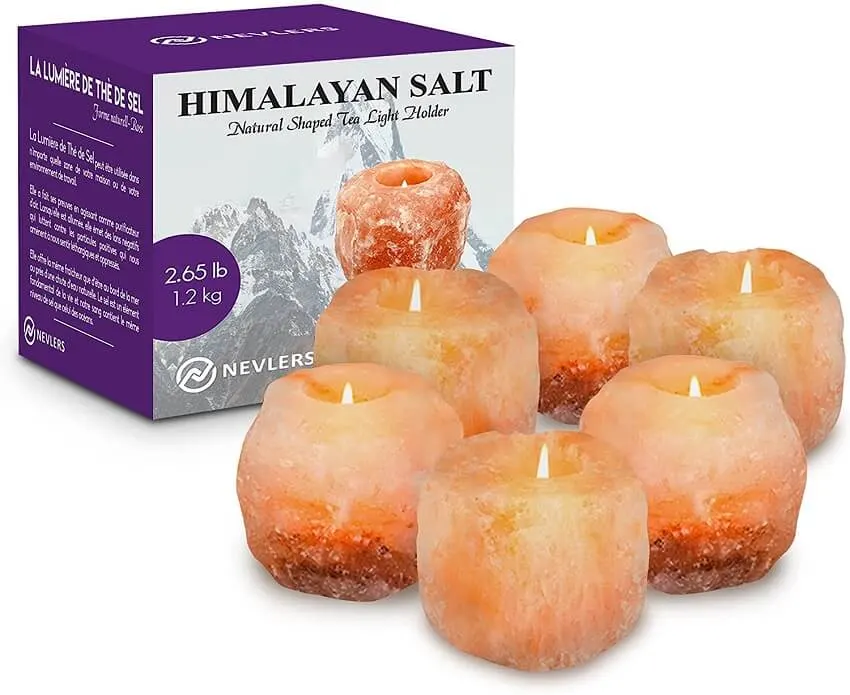 See these natural handcrafted himalayan salt tealight candle holders at Amazon [sponsored link]
Round Glass – The mainstay among the tealight candle holders that's perfect for any occasion. You can buy an inexpensive 24-piece pack from your favorite home improvement stores.
Another positive aspect of tea light candle holders is that they are very inexpensive. This will be one of the most affordable types of candle holders that you can purchase while still having things look nice.
There are a variety of different tea light candle holders to choose from, too. Many of them will look vastly different compared to one another, but they are fundamentally the same in how they function.
Votive Candle Holders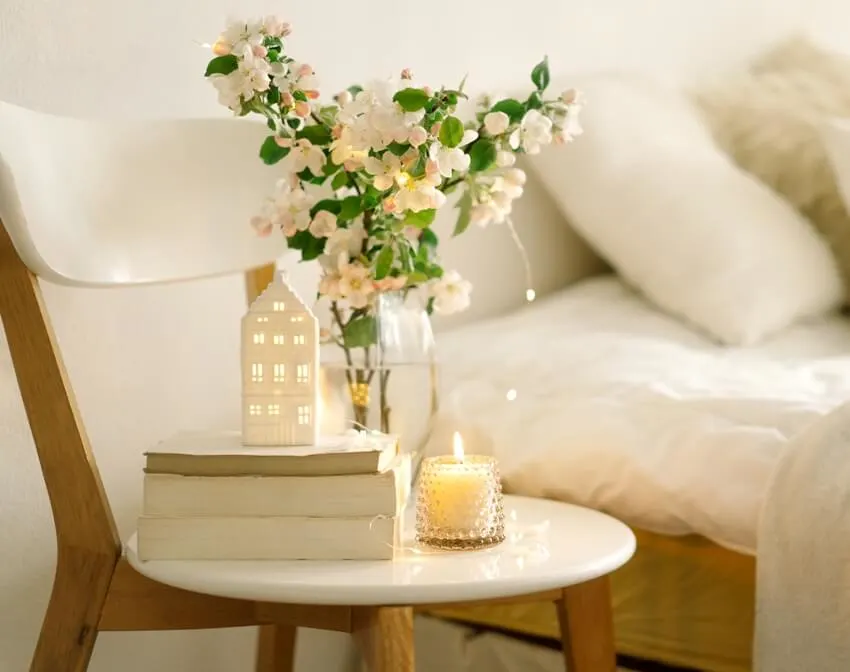 As the name implies, Votive candle holders are made to hold votive candles. Votive candle holders are typically shorter, smaller, and less expensive than the other options mentioned above.
Votive candles must be used in a votive candle holder to get the most out of their burn time. These candleholders aid in pooling wax inside the candle, allowing for a longer burn time.
Votive candles are taller compared to tea light candles and have a unique bell-top design that allows the wax to melt evenly and thoroughly. Their design ensures that the fragrance is distributed evenly and gently. Votive candles liquefy entirely because they don't come in a contained cup.
Stained Glass Votive Candle Holder – For festive light, perfect for a boho-chic vibe.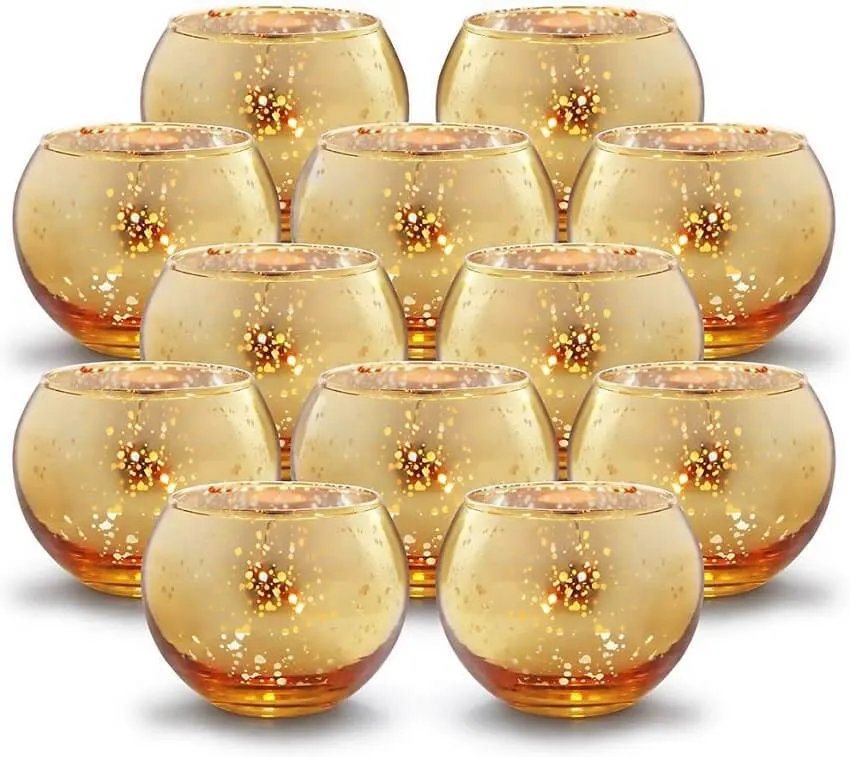 See this volens round gold votive candle holders at Amazon [sponsored link]
Gold Bowl Candle Holders – A luxurious-looking candle holder with a 2ʺ diameter (top) and 2ʺ height that can also be used for your tealight candles.
Concrete Laced Votive Candle Holder – The shapes you can have with concrete laced votive candle holders are endless, but the most popular now are hexagon and square shapes for a contemporary look.
Allowing the wax to solidify, place the holder in the refrigerator for about an hour, and then gently remove the wax with a wick clip is all that is required to replace the candle after it has melted.
Taper Candle Holders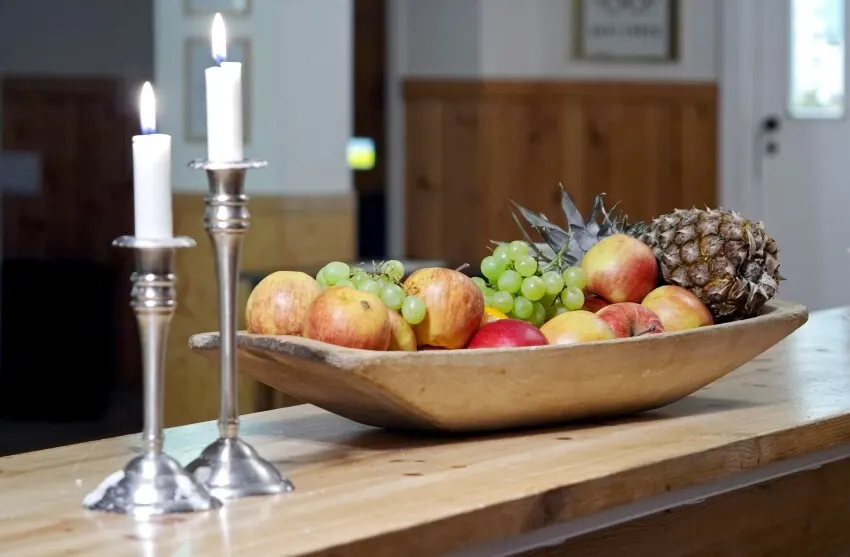 Tapered candles have a long, narrow cylindrical candle that narrows slightly from a broader base to a conical tip, so you'll need a very stable base.
Typically, taper candle holders will have a broad base and a socket (where the candle base is placed) of more or less 1 inch. Modern taper candle holders have square or nugget profiles where the candles are slotted or wedged on the side, which gives them a clean and minimalistic look.
Glass Champagne Candle Holder – From your centerpiece decor during the Holidays to your mantle year-round.
Silver Mercury Candle Holder – Display a set of three mercury candle holders on a side table or dining area to add some sparkle to your home.
Distressed Rustic Gold – Adds a vintage touch to your space and works well with traditional, transitional, gothic, country house, rustic, midcentury, and other interior decor styles and a photo prop.
Candelabras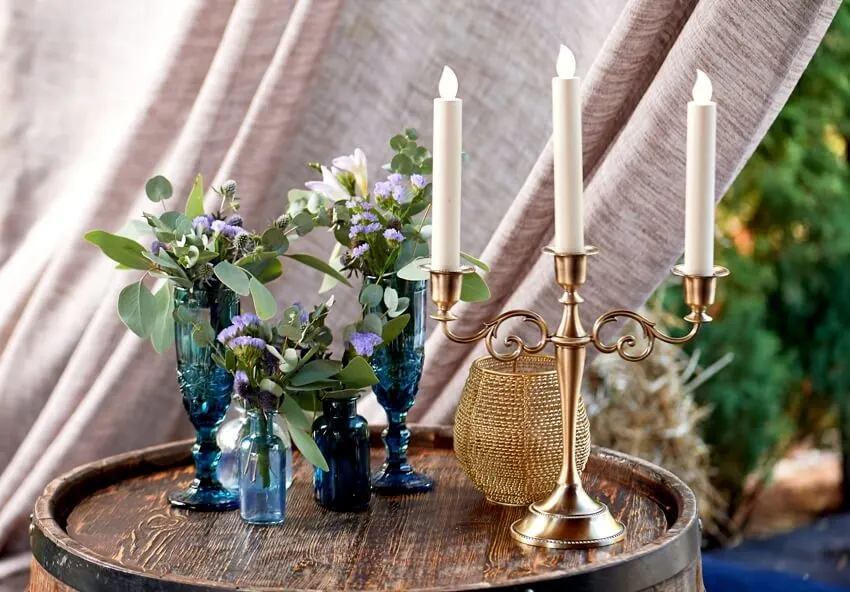 These candleholders, which take their name from the Latin word 'candelabrum,' which means 'candle-tree,' have many branches or arms that spread out in all directions, resembling a tree.
Although candelabras are often seen atop dining tables for decoration, they are often very magnificent and may be difficult to incorporate into your living spaces. Consider placing a candelabra in the center of your dining room table to add some charm and appeal.
Candelabras are perfect for adding a touch of elegance to your holiday or special occasion décor. While entertaining your guests, light the candles for instant mood lighting.
Scandi Wrought Iron Candle Holder – A metal candelabra is a classic option where today's design cover both contemporary and traditional designs.
Ceramic Semicircular Candle Holder – The simple semicircular candelabra usually comes with 2, 3, or 5 arms that have a modern touch adding volume and height to your table setting.
Candelabras with Crystals– Add crystals for a luxurious table setting that also amplifies the light and glitter of your ensemble.
Lanterns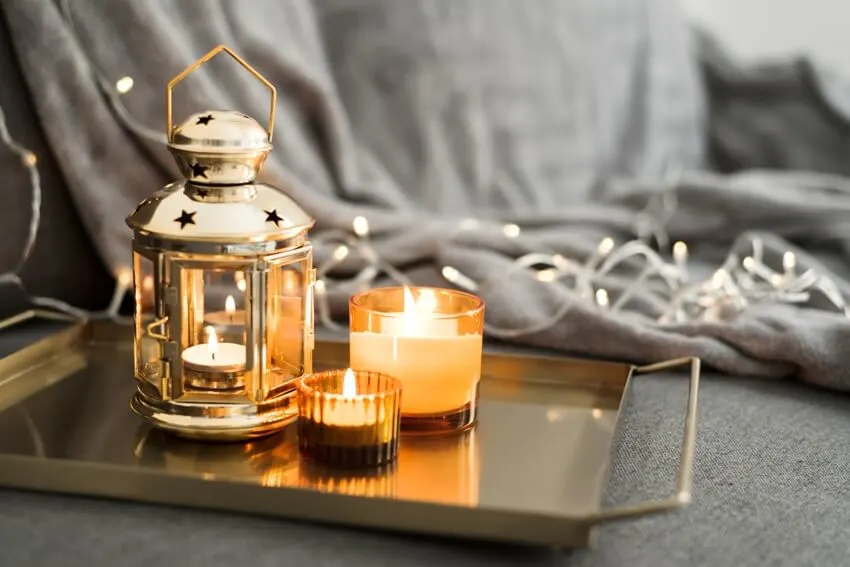 Candle lanterns are available in a variety of styles and can be used both indoors and outdoors. Others are made of metal, such as wrought iron, brass, or nickel, and have a rustic wood design.
You'll want to choose lanterns that complement your furnishings, decorative accessories, and even the room layout, depending on your décor style and the size of your space.
Choose a design that best suits your lifestyle because lanterns burn real candles (though some do use LED candles) and cannot be left unattended while the flame is burning.
Geometric-shaped Lanterns: From simple rectangular to hexagonal prisms, geometric-shaped lanterns are a great way to have the charm of lanterns while at the same time blending in with a modern design.
Wicker Lanterns – An ensemble of wicker lanterns is a perfect chandelier for your al fresco dining.
Moroccan Lanterns – Eye-catching and eclectic the Moroccan lanterns add color and light to any part of your home.
Hurricane Candle Holders
The name derives from the glass shade's ability to shield candle flames from sudden drafts. A hurricane is a tall cylindrical or barrel-shaped glass dome placed around a candlestick to protect the flame from drafts.
Etched Metallic Hurricane Candle Holder – Adds texture and sheen to a table setting.
Glass Hurricane Candle Holders with Wood Base – This candle holder captures the simple Nordic clean, organic, and light elements. Choose a clear glass hurricane with a globe shape to add volume.
Tapered Hurricane Candle Holders – For longer candles, a wide base is best for stability. The tapered look gives a dimensional aspect to the space. You can have conical and prism shapes for your hurricane candle holders.
Candle Wall Sconces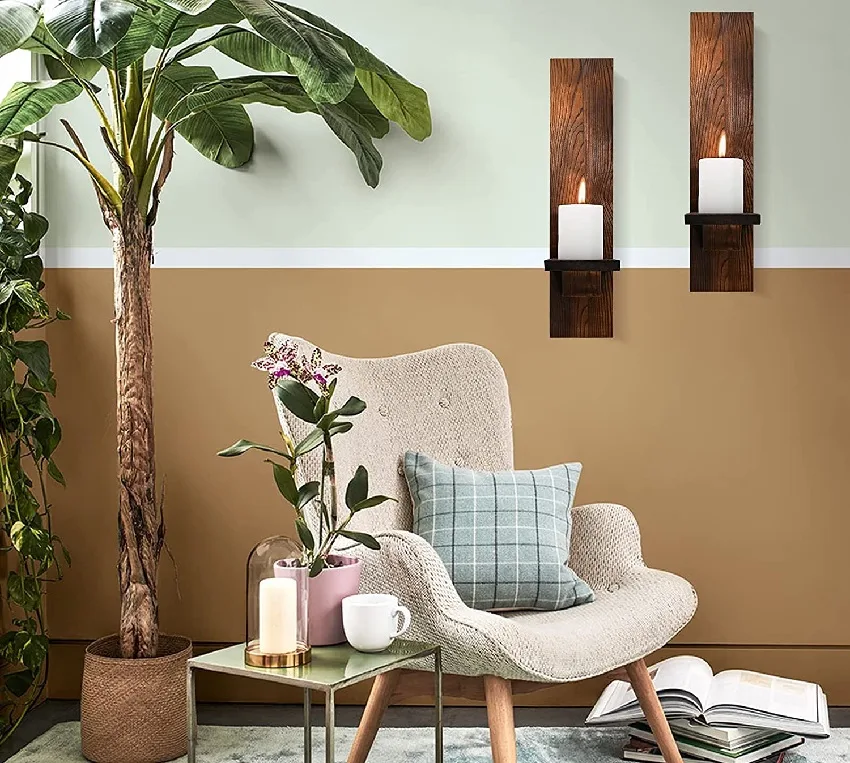 See these wall candle sconces at Amazon [sponsored link]
From bathroom spaces to dining areas, candle wall sconces are versatile candleholders that go for an atmospheric accent light that can be fashioned in different materials. As the term implies, wall sconces are placed on walls, making them perfect for highlighting areas or artwork.
Sconce and Mirror are easy to install and look stunning in an alcove or entryway. The mirror adds depth magnifying the charm of a lighted candle.
Multi-layered Votive Holder – More than an art piece, the votive holder can be an eye-catching wall décor if you need more volume to cover a larger void on your wall.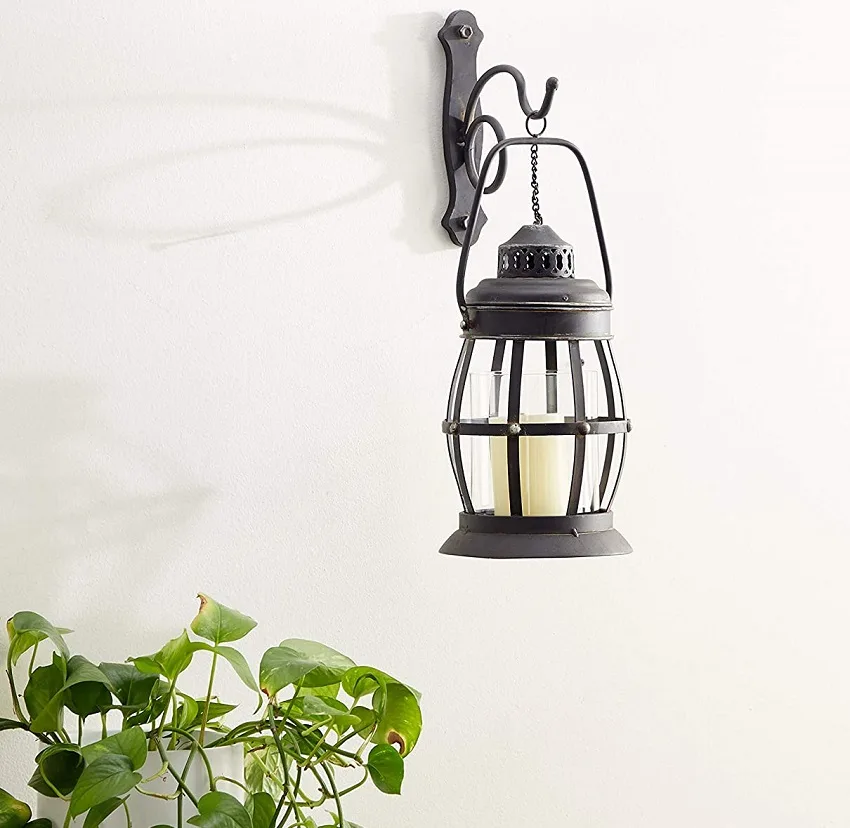 See this rustic metal hanging wall sconce at Amazon [sponsored link]
Hanging Wall Sconce – The style of the hanging wall sconce is similar to that of a lantern. This would be an excellent wall candle sconce to add to your home's entryway, and we like how sturdy it is.
It would look great in both contemporary and traditional homes thanks to its mix of modern and industrial elements. The mix of materials gives this wall candle sconce an interesting look that will complement any home, and all you need is a single tealight to enjoy it.
Candle Chandeliers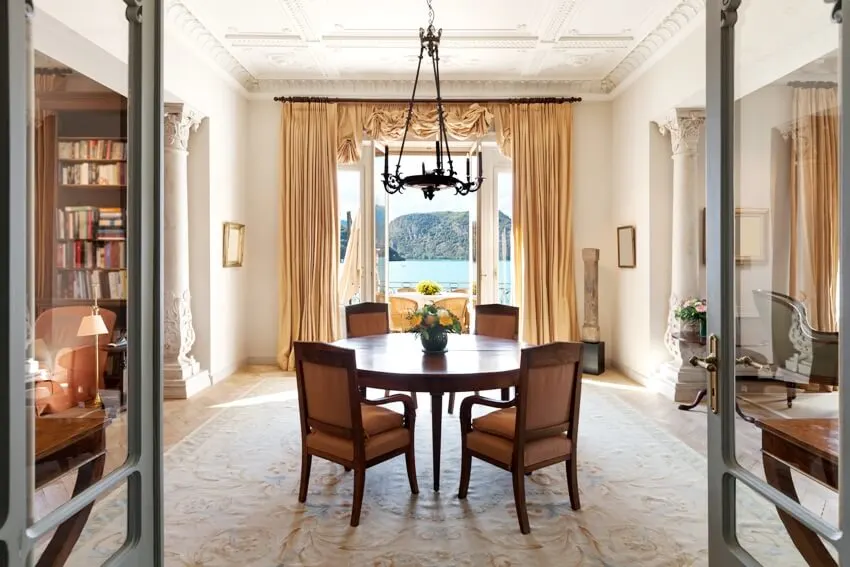 Like the candelabra, candle chandeliers are a statement piece that is often placed in the living room, bedroom, outdoors, and even bathrooms for ambient lighting. The candleholder typically has more than two arms with several tiers.
Wagon Wheel Chandelier – Popular in the Neo-Romanesque and Romanesque periods, the wagon wheel chandelier, as the name suggests, is made from wagon wheels. Modern versions usually simulate the look of a wagon wheel but are more streamlined.
The wagon wheel candle chandelier will have a number of candles evenly spaced on top. The rustic look of the wheel chandelier makes it a favorite centerpiece for farmhouse dining areas and halls.
Brushed Nickel Candle Chandelier – Choose a brushed nickel candle chandelier for a silver finish that's inexpensive and more durable than chrome. Since it's corrosive-resistant, you'll expect to enjoy your centerpiece for many years while it easily matches your other décor pieces.
Glass Candle Chandelier –There's a certain quality of glass chandeliers that is unmatched by any other material. You're sure that it looks luxurious and is incombustible, making it a safe choice for your candle chandelier. See our gallery of gorgeous living room chandelier ideas here.
Chambersticks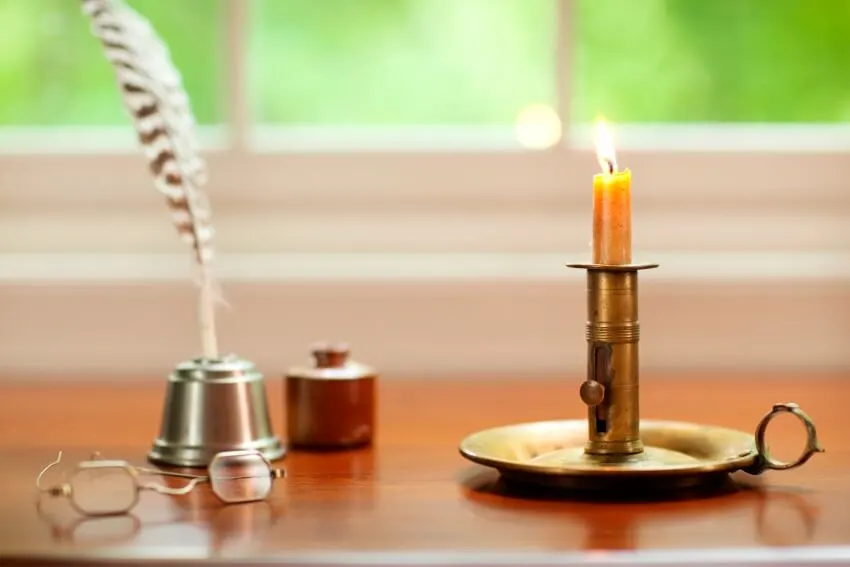 Smaller in size compared to candlesticks, the chambersticks give that quaint appearance that's perfect as a décor piece for a coffee or bedside table.
Since these candle holders were designed to be held and carried over short distances, they have small trays at the base that catch any falling wax, ashes, or even spent matches to prevent you from accidentally burning yourself.
Sculptural Chambersticks – Add an interesting touch to your table setting or décor shelf with an angel sculpture or any other design you choose with the sculptural chamberstick.
Chamberstick with Snuffer – The vintage chamberstick with snuffer is an interesting décor and functional piece that you can display or use in your interior.
Minimalist Chambersticks – This chamberstick has a modern design with a strong visual expression of the minimalistic candlestick. It has a handle, just like the classical chamber candlestick, and its name refers to the chamber candlestick's original function of providing light at night.
For a more modern look, you can choose minimalist chambersticks in various colors, such as blue, pink, or bright green.
Candle Holder Circle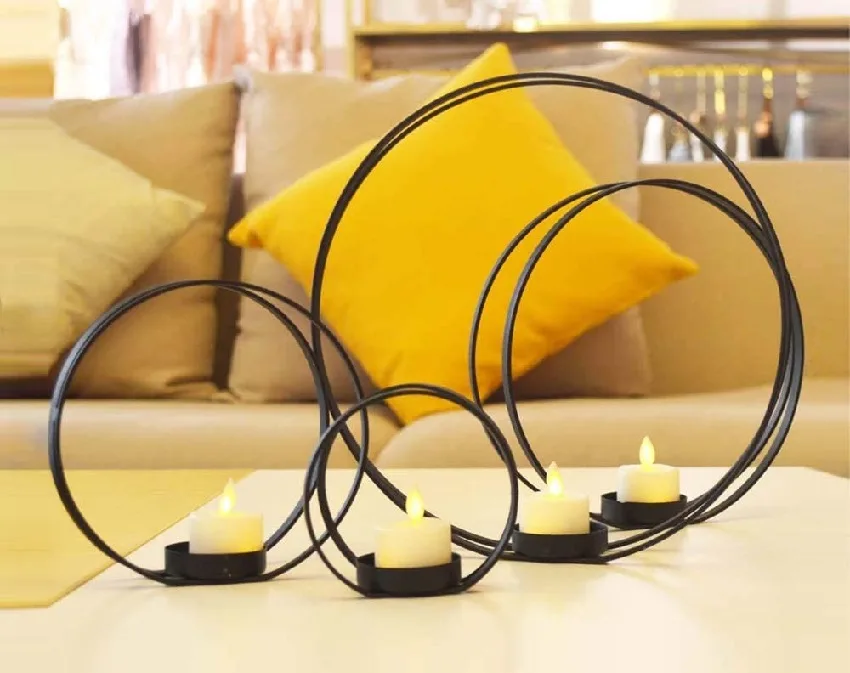 See this metal ring shape candle holder at Amazon [sponsored link]
Designed to accommodate your preferred pillar or tealight candles, the simple geometric frames around the candle holders. The sleek sensibility is perfect for modern, transitional, industrial or mid-century themed homes. There are circular candle holders that are usually made from metal materials such as brass or wrought iron.
Orbital Design –The circular candle holders are arranged at different angles to simulate the curved trajectory of satellites. This space-inspired candle holder is a modern design that breaks away from the traditional candle holders making it a perfect sculptural piece that you can display anywhere in your home.
Layered Circle Candle Holder – Similar to your orbital version, several circular frames are put together to create the design but are placed flushed on the wall creating a 2D effect with various sizes.
Brass Candle Holder Circle – A single brass metal frame and a candle provide a simple wall display, add ferns and pine leaves, and you'll get a modern wreath you can place on your entrance doors.
Electric Candle Warmers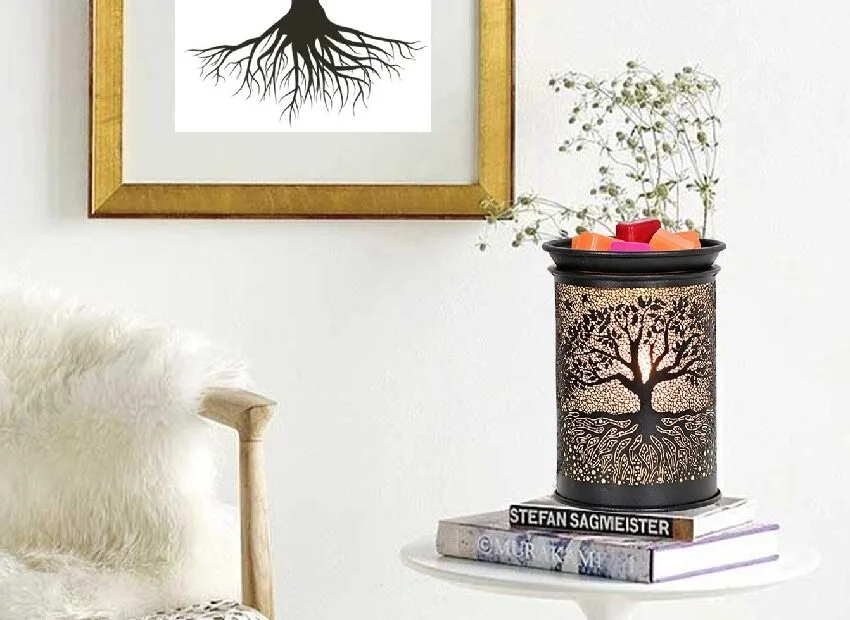 See this electric candle burner at Amazon [sponsored link]
The electric candle warmer is ideal for when you want the warmth of candlelight without the dangers of an open flame or soot. Most electric wax warmers can be left on for up to 10 hours or until the wax has lost its scent.
Some electric candle warmers have an auto shut-off switch, which I strongly recommend checking before purchasing. Check out the different types of scents for candles here.
Candle warmers in the style of lamps and lanterns – These are the most attractive and safest, and most efficient. Some are designed to look like standard desk lamps, while others are designed to resemble various types of lanterns. Depending on the quality, these can cost anywhere from $20 to $100.
3D Electric Candle Warmers – The great thing about 3D-printed candle holders is that you can have any design you want, regardless of how intricate the design may be. There are silhouettes of landscapes or patterns cut to allow light to pass through, this makes it a perfect gift or indulges your child's imagination by having animals, or planetary scenes cut through your electric candle warmer.
Porcelain Electric Candle Warmer – Not only is porcelain durable, but they also give that earthen pottery feels that will fit perfectly with your display or as a functional piece on your bedside table. The porcelain material also makes it a perfect option for outdoor lighting if you need a non-corrosive material to make it last long against the elements.
How Many Candles Are In A Candelabra?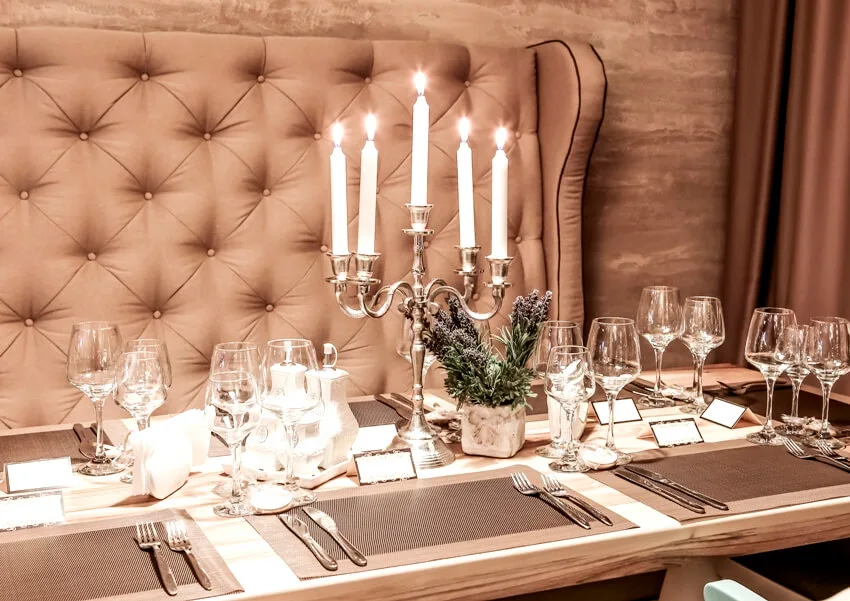 A candelabra can have two or more candle arms. The origins of the number of candles in a candelabra depend on the different religions and traditions.
2 Arm Candelabra – On Friday night, two candles are lit to welcome the beauty of Shabbat.
7 Arm Candelabra – The Star of David replaced the menorah as a symbol in the early modern period, but it was adopted as the Zionist symbol in the nineteenth century. In the twentieth century, the seven-branched candelabra depicted on the Arch of Titus became the official emblem of the state of Israel.
9 Arm Candelabra – The hanukkiah, or menorah, is a candelabra that holds nine candles and is the focal point of the Hanukkah celebration. The Temple lantern burned for eight days, and the ninth candle, the shamash, is a helper candle that helps the others lightly.
How To Secure Candles In Candlesticks?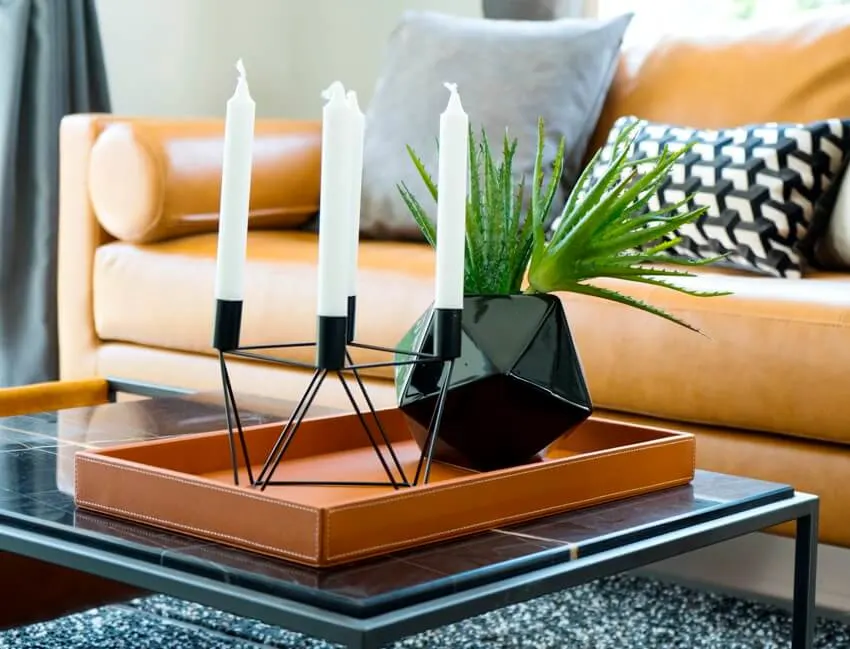 Aside from melting a little was into the bottom of your candle. There are a few ways you can try to keep candles straight in their candlestick, especially for taper or pillar candles.
Wax dots candle adapter. These wax dots candle adapters are especially good for pillar candles and other candles on a flat base or another surface that doesn't grip or hold the candle.
Candle snugger. Candle snuggers are packaged in foam disks. Place the disk over the candlestick's opening and gently press the candle into place. The candle snugger is just the right size to fit inside the candlestick and blend in. The taper candle will then be snug in the candlestick and will not flop or wiggle.
Adhesive tape. To increase the diameter of the candle, wrap an adhesive tape around the base.
What Size Candles For Candle Holders?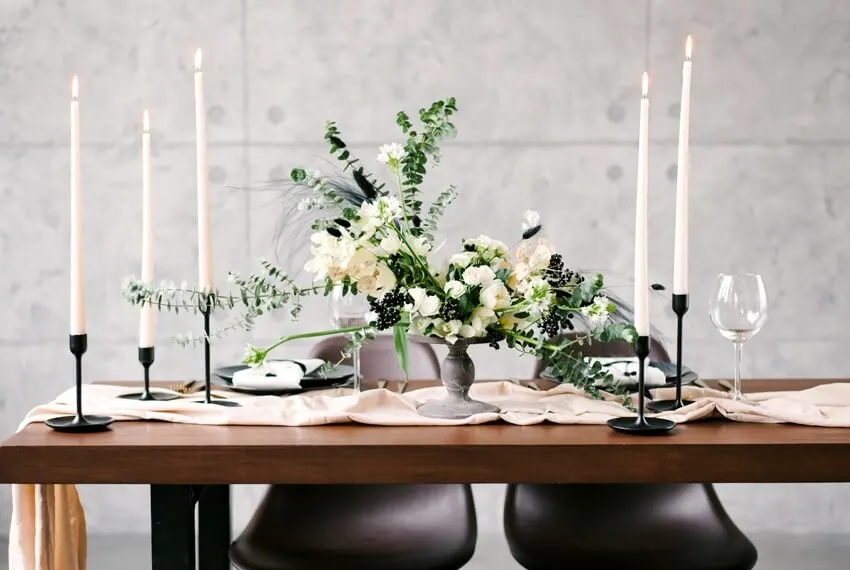 Most candlesticks are designed to hold 7/8-inch diameter taper candles, which have been used to decorate palaces and more humble abodes since 1840.
For decades, this British "imperial measurement" has been the standard. However, the market is being flooded with candles from Europe and China mass-produced on machines that use metric measurements, resulting in candles that are always slightly too big or too small for imperial candlesticks.
Votive – 1-2 inches (Dia.) ; 2-3 inches (Ht.)
Tea Light – 1 ½ inches (Dia) ; ¾ inches (Ht.)
Pillar – 2-4 inches (Dia) ; ¾ inches (Ht.)
Tapered – ½ – 3 inches (Dia); 6-18 inches (Ht.)
Visit our romantic bedroom lighting guide for more related content and inspiration.