In this guide to color changing landscape lights you'll see what they are, different outdoor lighting types, features, best color lights to use, and landscaping ideas.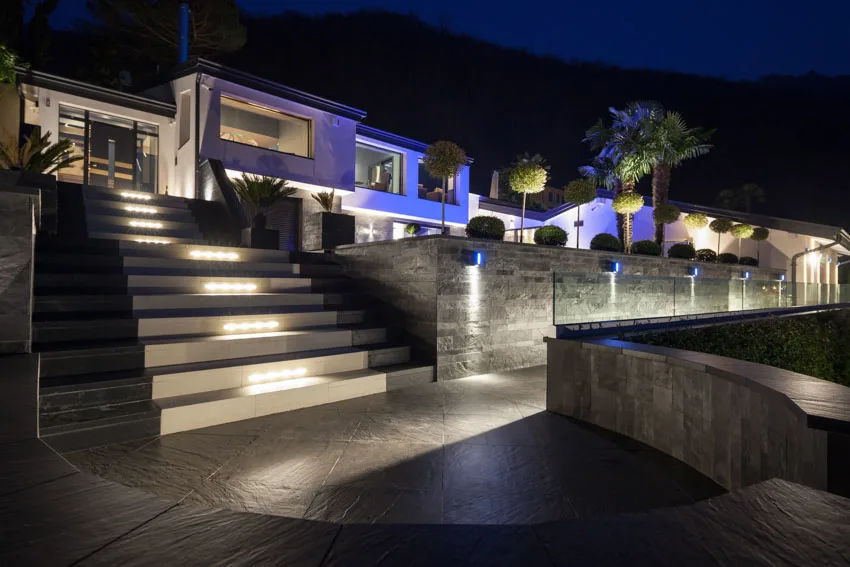 Color changing lights can make a big impact on the look and feel of your home's outdoor spaces. Nowadays, the majority of color-changing landscape lights become long-term features on your property, which you can activate and control.
When programmed for accent lighting, they may cast a warm, attractive light on your home's exterior and landscape. Many of these lighting options are extremely simple to use and cost-effective, allowing a homeowner to produce a professional-looking and vibrant landscape.
Color-changing landscape lights improve your property's evening aesthetic appeal by enabling you to adjust the light colors whenever you want. Let us now get into more detail regarding color-changing landscape lights.
What Are Color Changing Lights?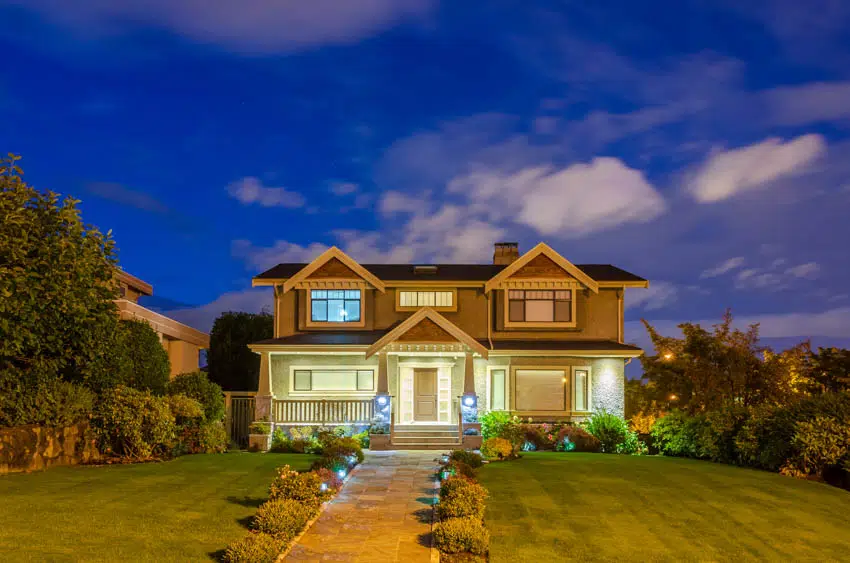 Color-changing landscape lighting is the application of decorative outdoor illumination of residential gardens and commercial landscapes that continually changes colors to augment attraction.
It is typically developed to promote and maximize safety, nighttime aesthetics, ease of access, convenience, recreation, as well as social and gathering applications.
Furthermore, color-changing landscape lighting is an interesting design element. It could transform the appearance of a property from uninteresting to magnificent, a neighborhood from typical to appealing, and an apartment building from dreary to welcoming.
Color-changing landscape types of outdoor lighting can help with everything from emphasizing a building's architectural elements to increasing foot traffic in commercial areas. Even though these colorful landscape lights are designed to brighten up your outdoor space with different colors, they accomplish much more than that.
They are normally available in full-color LED lighting options. They generally operate in full brightness and come with temperature control. You can also find color-changing landscape lights that are made out of durable fixtures such as copper, brass, and metal.
Nowadays, some color-changing landscape lights can be controlled using your smartphone and are often incorporated with smart home automation.
Color-changing landscape lights are not solely designed for homes; they are also wonderful for business and tourist-spot locations.
Warm architectural and landscape lighting welcomes your visitors and customers year-round, and you can make it sparkle even more during the holidays and other special occasions.
Types Of Color Changing Lights for Landscaping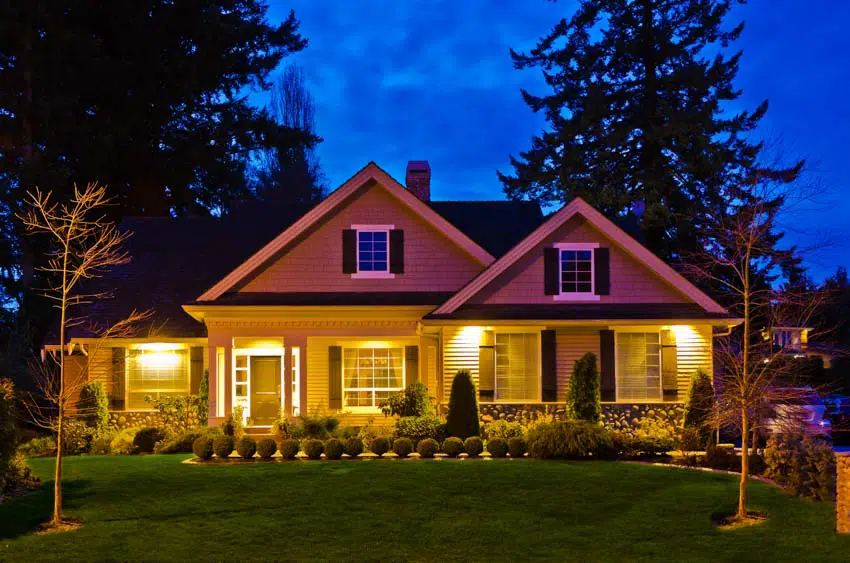 Here we share the different color changing light types for landscaping.
Spotlights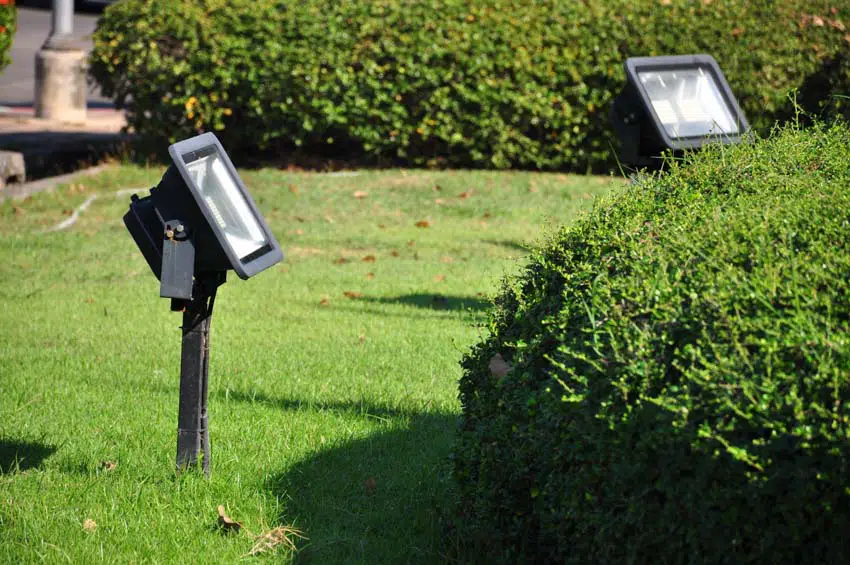 If your garden or backyard has a lot of trees and other architectural details, a color-changing spotlight could be the ideal option for you. These types of lights are not only excellent for accentuating objects, but also a great option to make your whole house eye-pleasing.
This type of color-changing landscape lighting often has 10 to 20 different colors. They are all quite bright and clear.
This spotlight usually comes with a back button, allowing you to smoothly adjust the color, either continuously or statically. It also features a strong color contrast. You can separate the colors and recognize each one.
When employed in a specific way, landscape spotlights change into a specific type of light. For instance, pointing a spotlight upwards at a wall provides an uplight, which creates a wall grazing appearance.
Color-changing spotlights, on the other hand, can vary in brightness and coverage area. They frequently highlight statues, plants, walls, decks, and anything else that can be pointed at.
The good news is that you can use any lighting color you like when directing a color-changing spotlight to a specific object.
Floodlights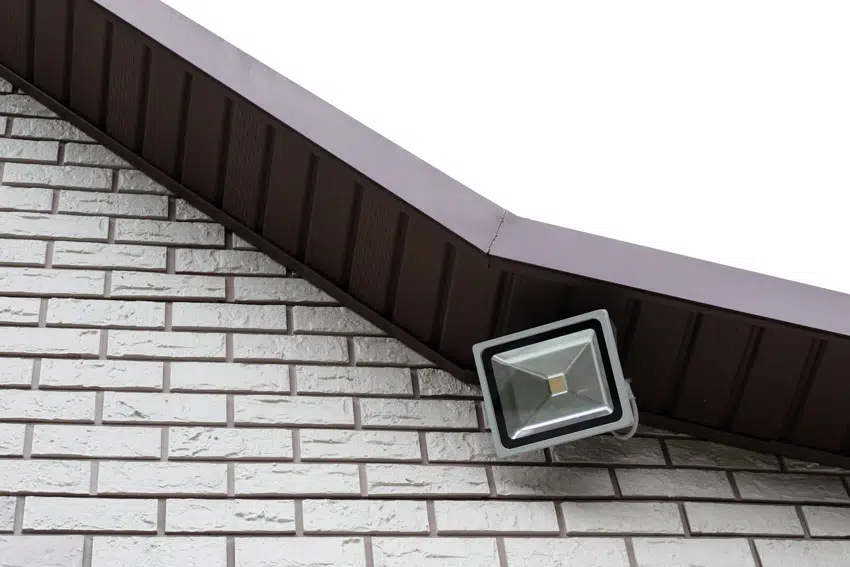 Color-changing floodlights are extremely useful and multifunctional. They can be used for a variety of interior and exterior lighting applications.
As a floodlight, it can distribute colorful lights across a vast area and can be used for a plethora of purposes such as celebrations, Christmas lighting, and other get-togethers.
Moreover, they can be used as stage lighting, strobe lighting, wedding lighting, festival lighting, landscape lighting, and many more. You can place them on your wall as an outdoor floodlight, use them as Christmas and Halloween lights, and so on.
Color-changing flood lights are excellent landscape lighting fixtures that produce a wide and vibrant light beam. Floodlights, as the name implies, are intended to flood a space with illumination. It is the most effective approach to provide a large volume of non-natural color-changing illumination to a space.
LED-type color-changing floodlights are highly recommended since they are very energy-efficient and produce more lumens per watt than any other traditional lighting solution. They can be employed for a myriad of applications and allow for a multitude of lighting methods.
Path Lights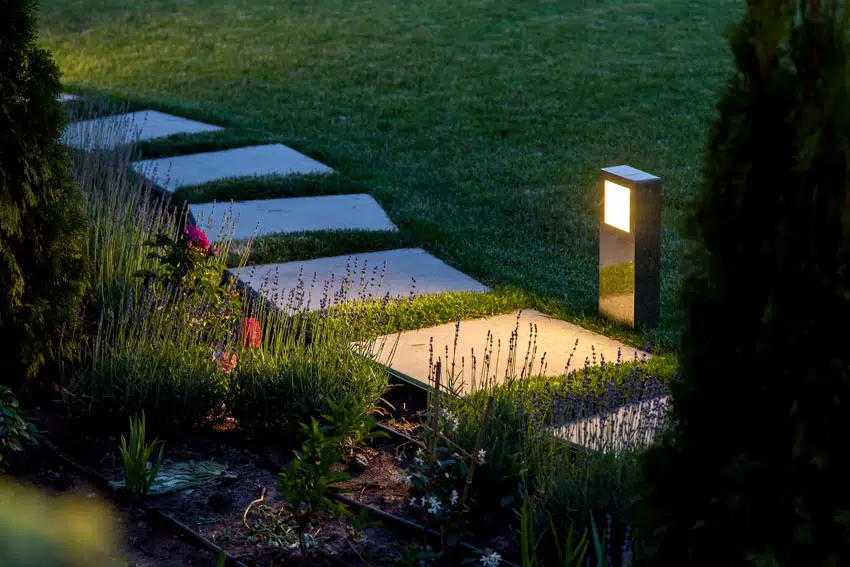 Indeed, you can use color-changing path lights to enhance the visual and colorful splendor of any walkway and outdoor setting such as a backyard, lawn, or most types of driveways, and many more.
To operate it, commonly, you will have to slide the toggle to the right side, and the automatic color-changing mode will be off and the existing color will be set. Normally, if you want to enable the automated color-changing mode, you will slide the toggle to the center.
Such color-changing lights can truly transform your outdoor space into a paradise. The color-changing arrangements are quite lovely, and they add an interesting visual appeal to the pathway.
Because garden paths are on ground level, color-changing path lights should be directed downward. Most path lights have a shade or glare shield to prevent the lighting from glaring directly into the human eye.
Inground Lights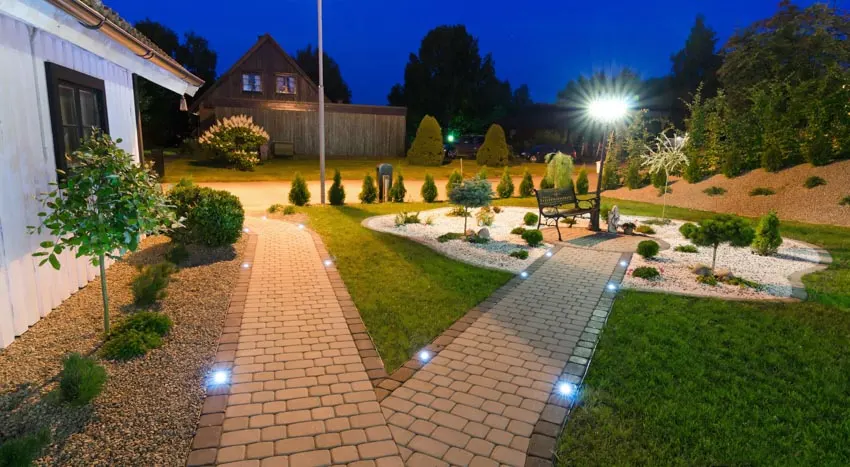 Color-changing inground lighting is widely known among commercial locations because below-ground types of lighting fixtures are less likely to be harmed by activities around the light, such as lawn mowing and foot and vehicular traffic.
Furthermore, inground landscape lights can be hard to steal. Plus, since it is low-profile, the different colors of light it produces can be quite mellow, minimizing eye strain.
Landscape Light Features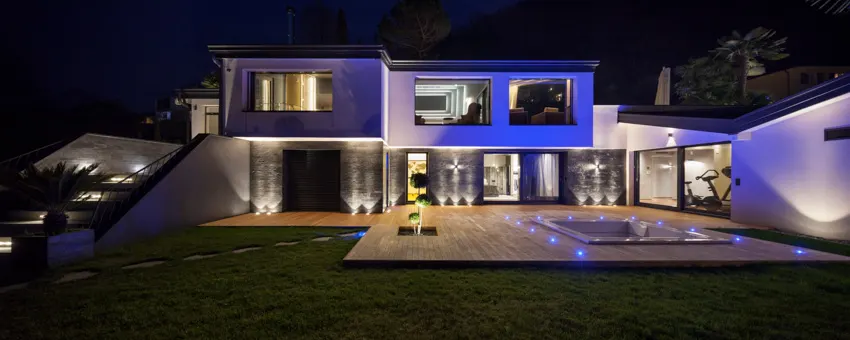 Solar-Powered: Solar cells, which convert sunlight into power, are used in color-changing landscape solar lighting fixtures. To be used at nighttime, the electricity would be stored in their batteries.
If your color-changing spotlight is solar-powered, normally, it should be left under the sun for at least 6 hours to ensure that you can properly use it for 4 to 6 hours. In gloomy weather where the sunlight does not shine, you may only obtain 2 to 3 hours of lighting.
Aside from that, you should make sure that your solar-powered spotlights are installed in sunlight-rich locations so that they can operate properly and functionally display differently colored lights during the nighttime.
Remote-Controlled: There are also landscape lights that allow you to adjust the brightness and change the colors using a remote.
The majority of color-changing landscape lights often come with remote control for you to shift the colors according to your preference. This would be a very practical feature so you can control your landscape lights even if you are far away.
WiFi and Bluetooth: If you dislike having your color-changing landscape lights switched on throughout the day, are anxious about property security, or simply want to improve the appearance of your landscaping project, smart landscape lighting (with WiFI or Bluetooth) can be an excellent all-in-one solution.
Smart landscape lighting enables you to turn lights on and off from practically anywhere using a smartphone application, as well as configure them to function automatically depending on schedules, motion detectors, or prompts you preset in the application.
Smart landscape lights, similar to indoor smart lights, can be integrated into a system to operate with a range of other smart devices, including surveillance cameras, detectors, and burglar alarms.
What Color Light Is Best For Outdoors?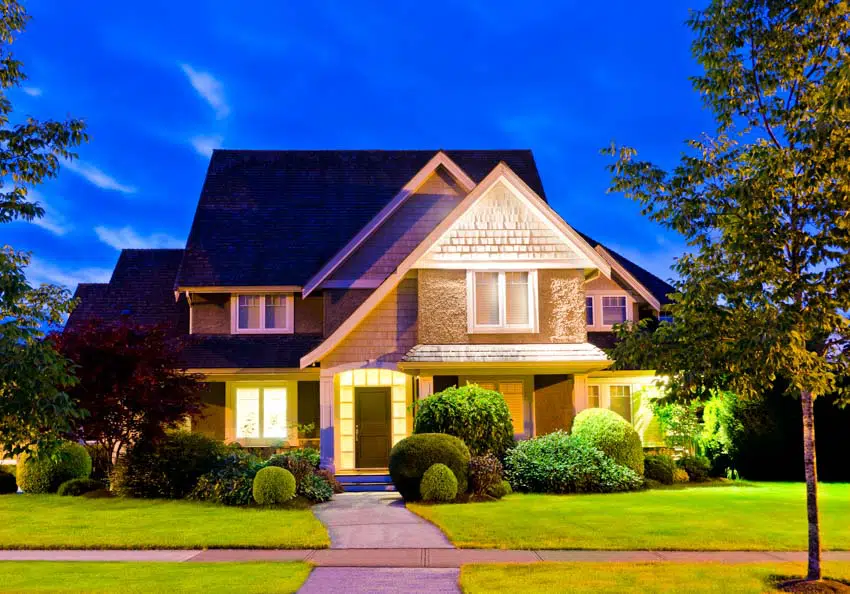 Warm lighting with yellow undertones, or outdoor lights that have color temperatures around 2000K to 3000K, generally perform well for outdoor spaces.
They are not too unpleasant on the eyes but still produce an adequate amount of illumination for everyone to be capable of moving around safely and seeing the things around them conveniently and clearly.
If you are curious about what this light would look like, you can picture yourself seated next to a campfire. That warm illumination is accurately what you are trying to achieve from a warm temperature light with yellow undertones (2000K to 3000K).
Is Warm White Or Cool White Better For Landscaping?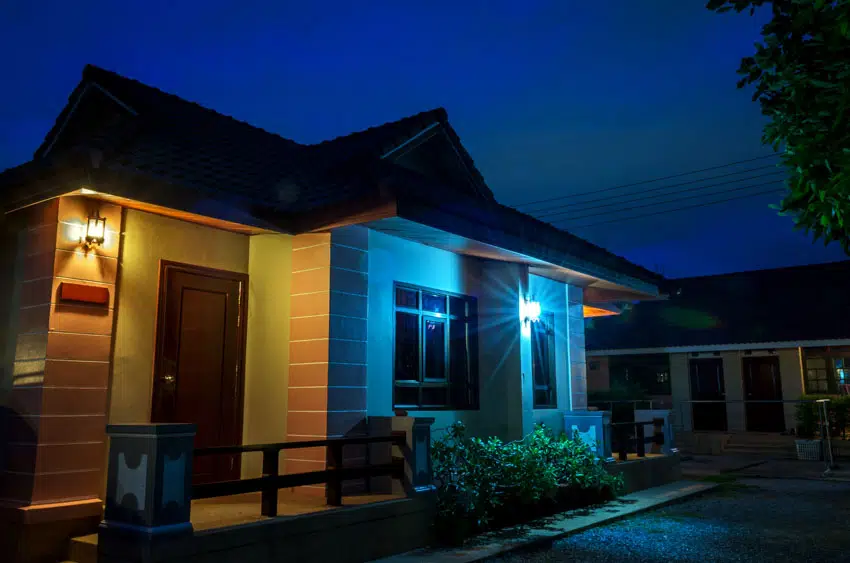 The ideal color temperature for landscape lighting is 2700K. (warm white). The explanation for this is because of the relaxing and inviting whiteness of these colors.
Lights with cooler color temperatures might cause your yard to appear unnatural. Therefore, it is highly recommended to stick to warm and natural whites to appropriately accentuate your landscape.
Are LED Landscape Lights Worth It?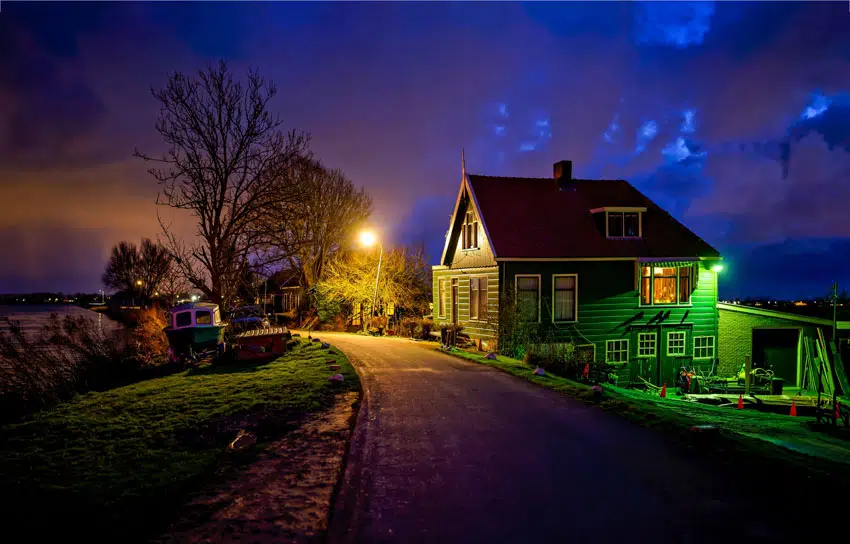 Although LED landscape lighting can be relatively costly, it is indeed worth it. That is because they are exceedingly long-lasting and do not need to be replaced frequently.
They are also incredibly energy-efficient, which means you will save even more money on your electricity bills. Some LED landscape lights are even solar-powered, which implies that they will not charge you electricity costs.
How To Change the Color Of Outdoor Lights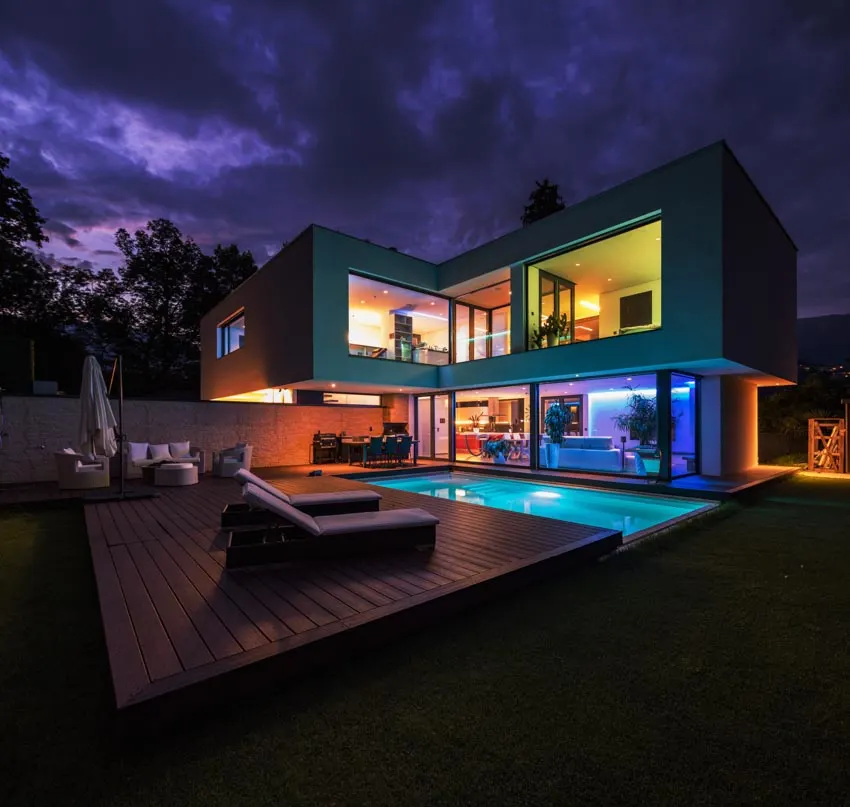 Color-changing landscape lights feature a different color scheme and frequently accompany a remote control for you to adjust the color. If the remote control is missing, the landscape light should have some kind of toggle or switch control so you can change its colors.
Aside from that, you can use dichroic color filters to modify the color of your non-color-changing landscape lights. Such filters are made with coatings that only permit specific colors to flow past them by reflecting certain light colors.
Lastly, as previously mentioned, since we are living in a very modern world right now, some color-changing landscape lights can be controlled using your smartphone.
You will just have to download the compatible app on your phone and you can change the color of your landscape lights wherever you are. Just ensure that you are connected to WiFi, or in some models, via Bluetooth.
See more related content in our article about the best outdoor deck lighting ideas on this page.