Here's our water heater dimensions guide including different electric and gas-powered tank capacities dimensions and tankless water heater sizes.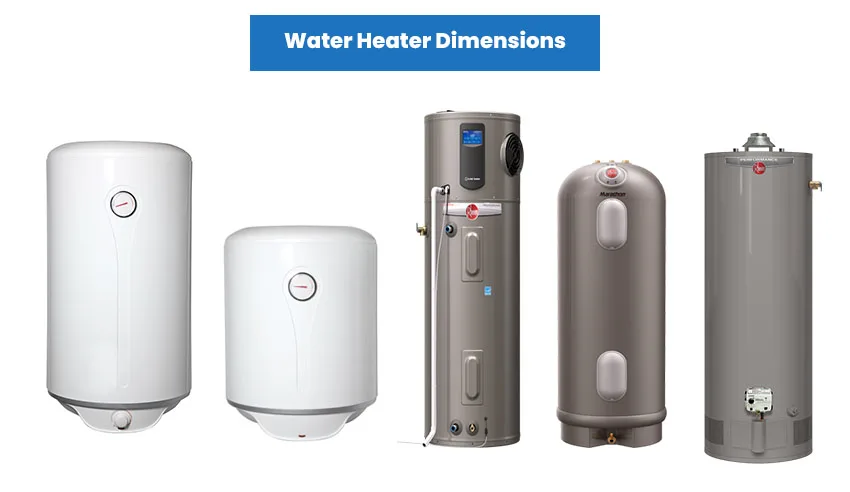 There are two types of water heaters, electric and gas-powered models, and with consideration to space-saving, the electric-powered ones are most efficient.
Knowing the type and size of the water heater you need allows you to understand how much garage or basement space the water heater tank will use.
Standard Water Heater Size
Water heater dimensions are not as crucial if the installation will be done in a basement, the garage, or any open space in a home. However, it would matter if the area is scarce, and choosing a water heater to accommodate the free space is needed.
If the water heater you have chosen is too large for the area, not only will the homeowners have a problem with making space to provide needed maintenance or repairs, but a too-large water heater for a confined space might not meet the requirements on the building codes in a particular state.
A water heater size will vary from one model to another depending on water tank capacity, brand, the types of water heaters used, and whether you will be utilizing a gas or electric-powered one. This can be an issue at first, but the difference in dimensions will actually give you more options and flexibility in terms of what water heater will fit your space.
Some water can have the same water capacity at 50 gallons but can differ in measurement. To illustrate, the Rheem PROE-50 has a depth and width of 20.25 inches or 51.44 centimeters.
On the other hand, another 50-gallon water tank, the A.O Smith GCR-50Lp, has a depth and width of 22 inches or 56 centimeters.
The almost 2 inches or 5 centimeters difference of the PROE-50 will make it more appropriate for a smaller space compared to the GCR-50Lp.
30 Gallon Water Heater Dimensions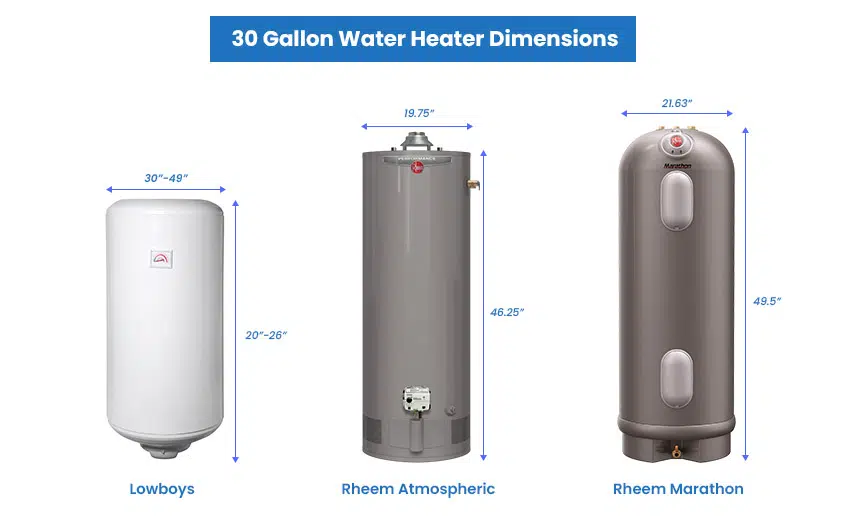 A water heater with a water capacity of 30 gallons is sometimes shorter than the higher capacity water heaters. For the shorter ones, they are also sometimes called lowboys for their shorter and broader structure.
The lowboys can range in height of 30 to 49 inches or 76 to 124 centimeters with a diameter of 20 to 26 inches or 51 to 66 centimeters.
Although for a specific model, there is the Rheem Performance Atmospheric model with a water capacity of 30 gallons. They are 46.25 inches in height or 117.5 centimeters and19.75 inches or 50.2 centimeters in diameter. These water heaters weigh at least 112 pounds or 50.8 kilograms.
Another option is the Rheem Marathon Electric Water Heater that is 49.5 inches in height or 125.7 centimeters and a 21.63 inches 00or 54.9 centimeters in diameter. This water heater weighs 75 pounds or 34 kilograms, leaps and bounds lighter than gas-powered ones.
For smaller water heaters, you need to be mindful of the plumbing connection space before installation. A considerable benefit of lowboys is that they are more energy-efficient than their taller counterparts.
If you have smaller families and even smaller headroom, this is the water heater for you. You can install lowboys on any crawlspace and even under your kitchen cabinets.
40 Gallon Water Heater Dimensions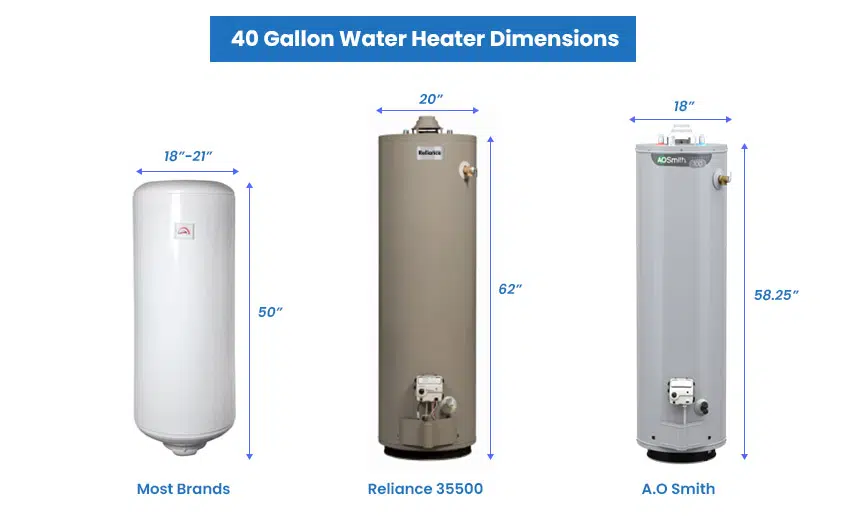 Water heaters are available in many sizes, whether you need 30 gallons one or even up to 100 gallons capacity water heater.
Although if you are shopping for one on the internet or even in the store, you might notice that many water heater brands carry water heaters with a 30-gallon capacity. The 40-gallon capacity is perfect for a household with 2 to 3 persons.
This water heater is also often on the taller water heater heights. Such water heaters can have a height of 50 inches or 127 centimeters, while the diameter will range from 18 to 21 inches or 46 to 53 centimeters.
The Reliance 40 Gallon 35500 Gas Water Heater has a dimension of 20 inches or 51 centimeters for depth and diameter. The height is 62 inches or 157 centimeters.
Another one is the A.O Smith 40 Gallon Gas Water Heater. This water heater comes in dimensions of 18 inches or 46 centimeters for both diameter and depth, with a height of 58.25 inches or 147 centimeters.
50 Gallon Water Heater Dimensions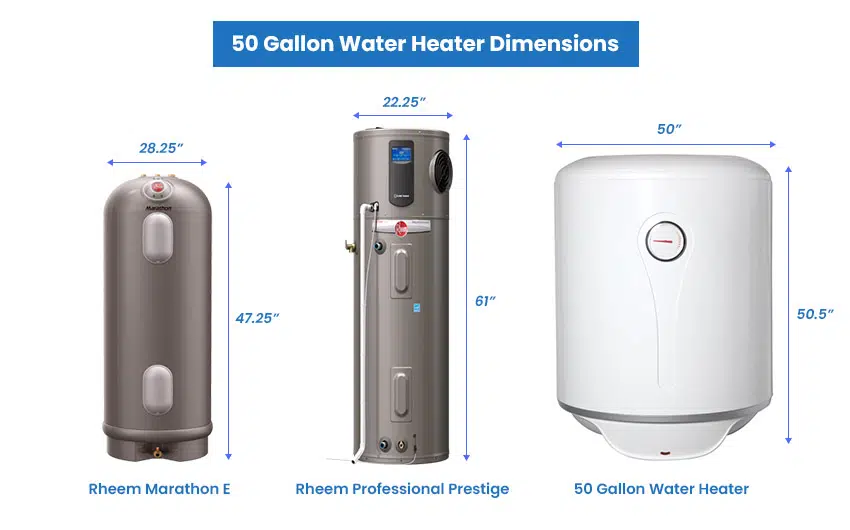 A water heater with a breadth of 50 gallons or 189 liters is perfect for a family with three to four people. Although it could work for a family of five, it's safer to take the capacity up a notch just to be safe.
The first 50-gallon water heater is the Rheem Marathon Electric Water Heater. This water heater has the dimensions of 47.25 inches or 120 centimeters for the height, with a diameter of 28.25 inches or 71.8 centimeters. It weighs 95 pounds or 43.1 kilograms.
There is also the Rheem Professional Prestige, which is narrower than the wider former one. This water heater has a height of 61 inches or 154.9 centimeters with a diameter of 22.25 inches or 56.5 centimeters. It weighs a heavy 218 pounds or 98.9 kilograms.
The last is a 50-gallon water heater capacity with a height of 50.5 inches or 128.3 centimeters, a diameter of 50.5 inches or 128.3 centimeters, and weighing at 160 pounds or 72.6 kilograms.
Tankless Water Heater Dimensions
If you have a smaller space in your home but need a water heater with a higher water capacity, there are the electric-powered ones.
They are generally smaller than their gas-powered counterparts, but if these are still bigger than what your space would allow, then what you might be looking for are tankless water heaters.
Tankless are even mounted on the wall, so there's really no problem if no floor space is available. Aside from that advantage, a tankless water heater also provides unlimited water capacity coupled with being energy-efficient!
For tankless water heaters powered by gas, there is the Rinnai RUR98iN with a depth of 10 inches or 25 centimeters, a width of 18.5 inches or 47 centimeters, and a height of 26 inches or 66 centimeters.
If you want a smaller one, an electric-powered tankless water heater is there not to take up too much of your wall space. Note that these are not as powerful as gas-powered ones but should be enough if the demand is not that high.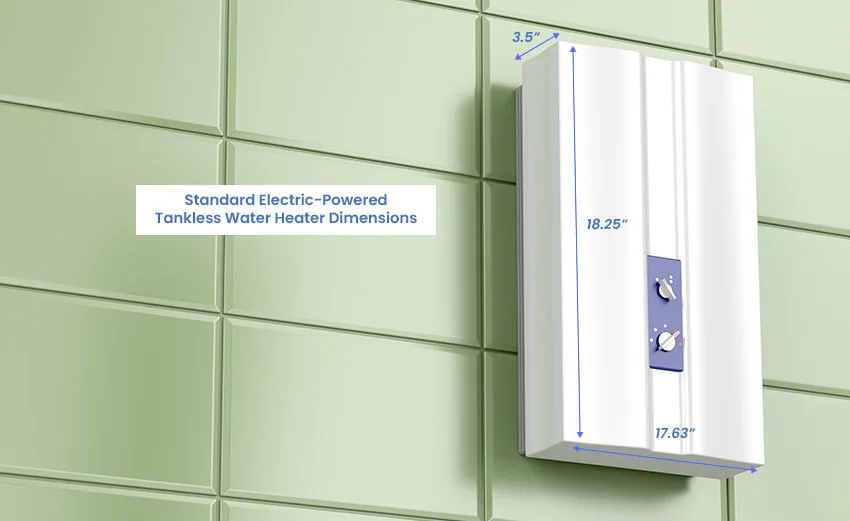 A standard electric-powered tankless water heater has a depth of 3.5 inches or 9 centimeters, a width of 17.63 inches or 45 centimeters, and a height of 18.25 inches or 46 centimeters.
How Much Space Does A Water Heater Need?
A water heater will need space for air circulation, especially if you have a hot water tank that is powered by gasoline.
This clearance space should at least be 12 inches or 30 centimeters on each side if you intend to install a hot water cabinet around the tank. This number will double for the rear and front end of the tank, especially if the tank is gas-powered.
In terms of the area of space needed for an average water heater tank, the diameter of the tank is what would matter to get this number. However, a one-meter space in your garage will be sufficient for a single water heater tank. Go to our water heater closet dimensions guide here.
A tankless water heater, on the other hand, would not even require any floor space. However, most home improvement stores do not usually mention that a tankless water heater installation needs an electric service upgrade.
As an example, when low amperage comes on, it can affect the voltage level. So, if this will be installed without upgrading, any sudden voltage level drop can lead to the blinking of lights.
Visit our guide on tankless water heater pros and cons for more related content.