Here we share our acrylic bathtubs pros and cons including what it is, advantages & disadvantages, lifespan, durability, potential issues, if they stain easily, and the quality of acrylic tubs.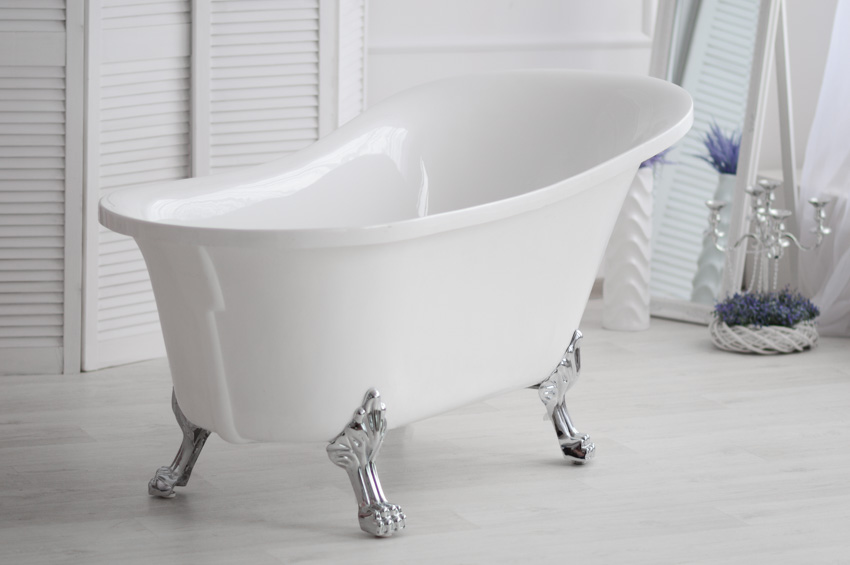 Taking a bath is one of the most relaxing ways for an adult to take a time-out. They also endure brutal use from a large family of kids and the family dog.
Because of the many benefits, acrylic bathtubs are the most commonly used tubs in homes and are the most affordable. The familiar white bathtub is found in apartments, condos, hotels and homes around the country. They outlast many other materials, are lightweight and crack resistant.
When it comes time to replace your bathtub or if you're having a new home built, an acrylic bathtub makes the most straightforward choice and doesn't have to have a plain white finish.
Acrylic tubs come in countless colors and patterns based on which manufacturer you work with. Many manufacturers also carry a variety of configurations for acrylic tubs, such as the shape, rim, location in the bathroom, size, and function.
Corner acrylic bathtubs free up bathroom space, and a freestanding acrylic clawfoot tub give a striking and elegant theme to your bathroom. Acrylic is often used to create the basic bathroom tub and on up to elaborate indoor Jacuzzi tubs.
This informative guide is full of information, such as the materials they are made from, their durability, and their acrylic bathtubs pros and cons. Armed with the information you need makes shopping for an acrylic bathtub much easier.
What Is An Acrylic Tub?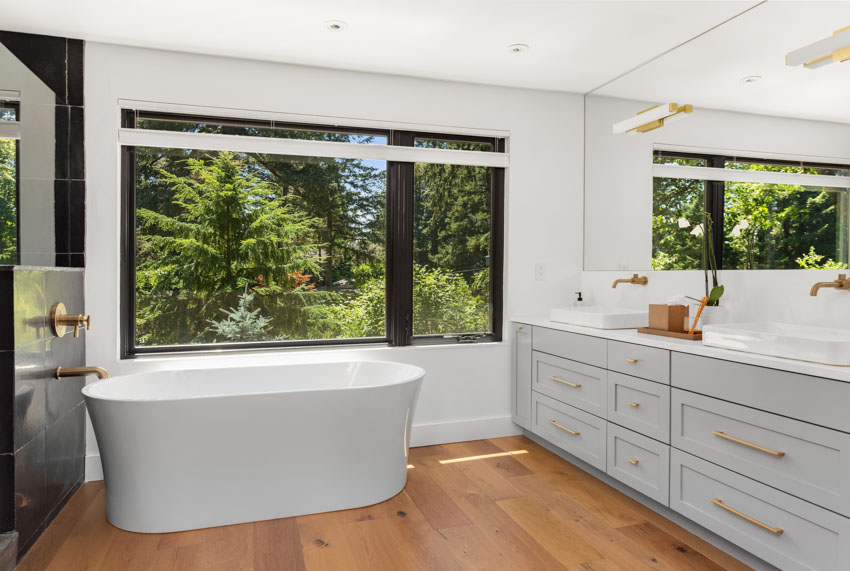 Acrylic tubs are made of acrylic and fiberglass. The vacuum-formed sheets are made from acrylic and lined with fiberglass for reinforcement. This manufacturing process creates a long-lasting combination of fiberglass, which is less durable, and acrylic's protective properties.
Fiberglass is porous and absorbs water, causing warping and degradation. The acrylic sheets create a barrier between the fiberglass and water to form the bathtub. The lightweight materials used mean acrylic bathtubs average 75 pounds or less. Read more about the differences between an acrylic vs fiberglass tub here.

Pros Of Acrylic Bathtubs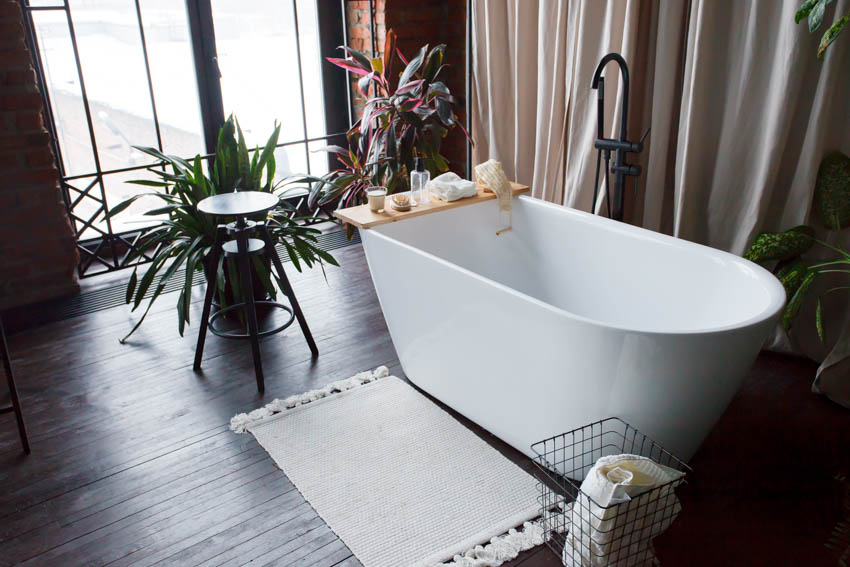 These durable and popular bathtubs come with plenty of pros that make their price even more attractive:
• Easy to Install – Being lightweight makes them easier to install
• Durable – Acrylic bathtubs are much more durable than other bathtub materials
• Resistant to Cracking – The acrylic surface is resistant to cracks and chipping
• Retains Heat – Bathers prefer acrylic bathtubs because acrylic does not conduct temperature well, so laying against the side of the tub does not feel ice cold, however, acrylic does retain heat, keeping the bathwater warm longer
• UV Protection – High-quality acrylic material has UV protection built in so colors are richer looking and won't fade
• Easy to Clean – Acrylic bathtubs clean up easy with a washrag and household cleaner
• Resistant to Scratching – The surface is resistant to scratches
• Non-Toxic Material – Acrylic bathtubs are non-toxic
• Easy to Fix – The surface of acrylic bathtubs is easy to repair
Cons Of Acrylic Bathtubs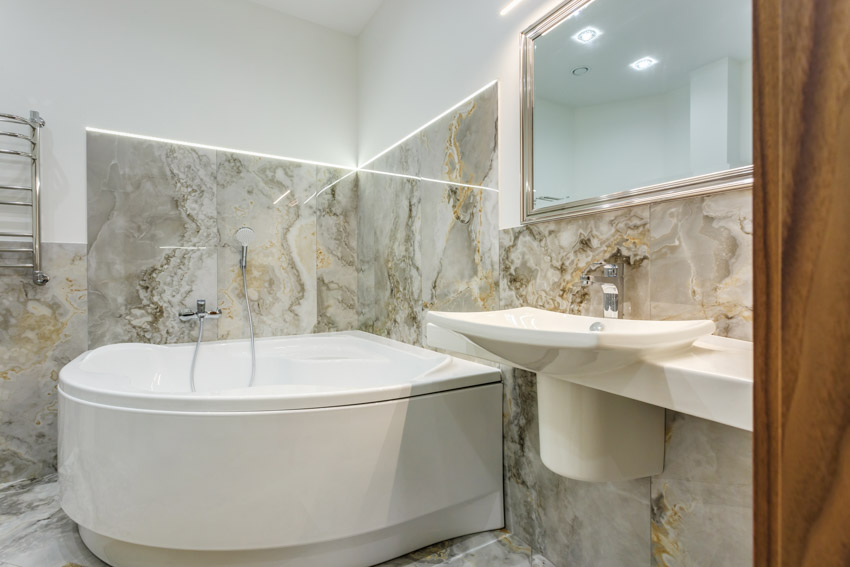 There are very few drawbacks associated with acrylic bathtubs, but none are detrimental to purchasing one.
• Does Not Feel As Sturdy As Some Other Materials – The lightweight construction can feel hollow when bathers step into the tub compared to heavier materials such as cast iron
• Can Fade Over Time – Unlike other luxury bathtubs made of more durable materials, acrylic is prone to fading over time.

• Can Stain – Prone to staining
How Long Do Acrylic Tubs Last?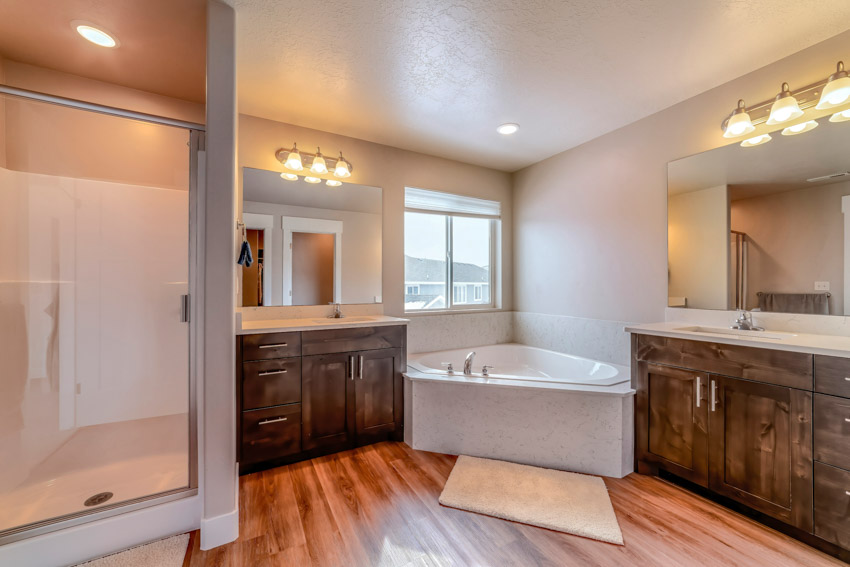 Acrylic bathtubs can last from 10 to 15 years and longer, depending on the amount of use and care. Although other materials may last longer, they do require regular maintenance and repairs, such as a porcelain or copper tub.
The acrylic surface will show wear as these tubs age, including stains, scratches, and dents. Always repair scratches immediately so they do not turn into a crack and cause water leakage.
However, acrylic bathtubs are much less likely to crack versus tubs made of other materials, and typically, the only reason to replace one is for cosmetic reasons.
Problems With Acrylic Bathtubs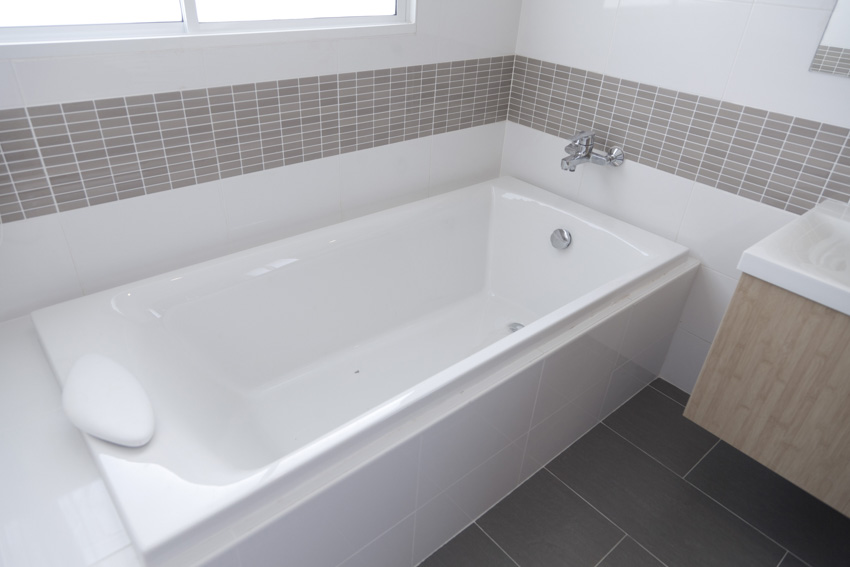 If an acrylic bathtub's surface is scratched either from excessive use of harsh cleaners, water and grime can remain in the grooves of the scratches and turn into mold.
When this happens, the mold must be removed with proper cleansers, and then the surface sanded smooth with very fine sandpaper. Once complete, buffing the repaired area with restore the luster.
Acrylic bathtubs will stain. And stains, even small ones, make the tub look dirty even when it's clean. Acrylic is sensitive to certain cleansers such as products with acetone, paint thinner, and any abrasive materials.
Products with white vinegar, baking soda, or borax powder are safe for the acrylic surface. If the surface becomes dull, thoroughly clean the tub and let it dry. Then, apply auto wax and buff off to restore the showroom sparkle and aid in water resistance and scratching.
Do Acrylic Tubs Stain Easily?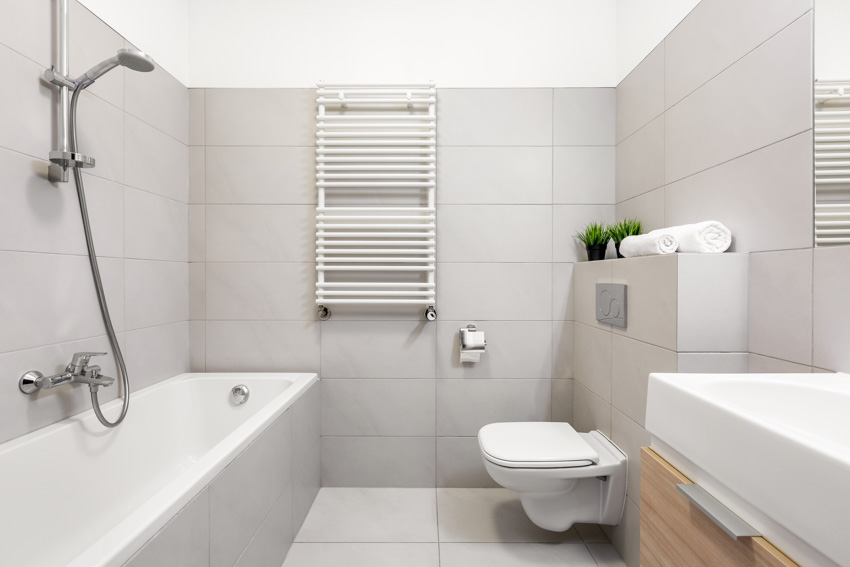 Acrylic tubs do stain easily after 5 to 10 years of use. Signs of rust, dirt, mold, and soap stains may build up, especially without proper cleaning and care. Any residual product left in the tub from shampoos, children's bath crayons or paints, or candle wax should be cleaned immediately.
Toothpaste is an excellent option for acrylic bathtub stains. Buff the stain with toothpaste and allow it to dry. Then wipe clean with a damp cloth. Repeat if necessary to remove the entire stain.
If stains become stubborn, acrylic types of bathtubs can be reglazed or relined, but these are both jobs left to the professionals. Home improvement stores sell do-it-yourself acrylic bathtub refinishing kits, as professional restoration is costly.Read more about reglazing bathtubs here.

And if you want to add or change the color of your tub, it is possible to paint an acrylic bathtub with two-part epoxy paint. This is not an easy job, and all bathroom surfaces must be protected. It's advisable to consult a professional to learn about the process.
Are Acrylic Tubs Good Quality?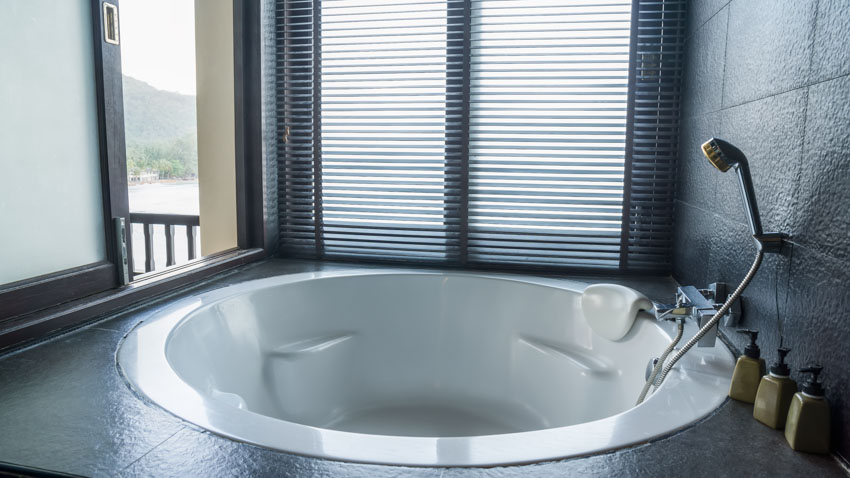 Acrylic bathtubs fulfill the needs of a durable, inexpensive bathtub and offer various sizes, shapes, sizes, colors, and designs. But they are less sturdy than bathtubs made from metals, ceramics, or cast iron.
The fiberglass under the acrylic surface is neither dense nor strong, and if you push up against the side of an acrylic tub, the side will give. Too much pressure may cause the surface to dent.
You will get the quality you pay for when purchasing one, especially after weighing the acrylic bathtubs pros and cons. Though, if you're on a budget and willing to sacrifice quality and life-span, an acrylic bathtub is a good option.
See more related content in our article about how to choose the best bathtub on this page.