Here we share our stone resin shower guide including what it is, pros and cons, how it's used on bathroom floors, walls, and the best DIY shower remodel design tips.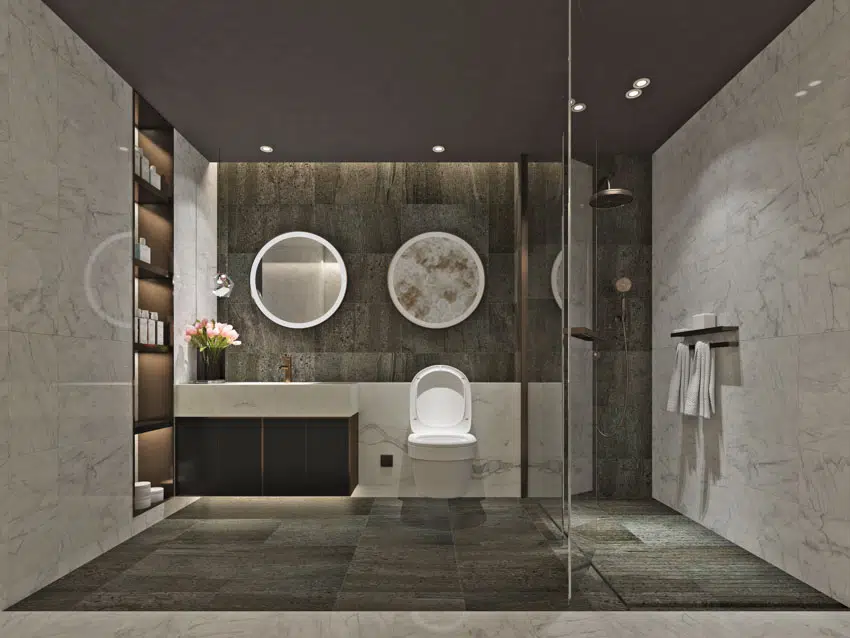 Year after year, an increasing number of consumers opt for a shower over a bathtub when renovating or designing their bathroom. Sometimes, it is due to space restrictions, at times it is to save water, but sometimes, it is also due to a desire for a more modern appearance.
As a result of this phenomenon, manufacturers compete to create innovative technology solutions and unique product layouts. Eventually, they managed to come up with something that is a little distinctive in order to minimize the downsides of acrylic alternatives that have been prevalent for years.
Shower enclosures, trays, walls, bathtubs, and floors are now made using a specialized resin and crushed stone composition. Indeed, stone resin showers are quickly gaining popularity. Let us talk about stone resin showers in this article. [tips]
What Is A Resin Shower?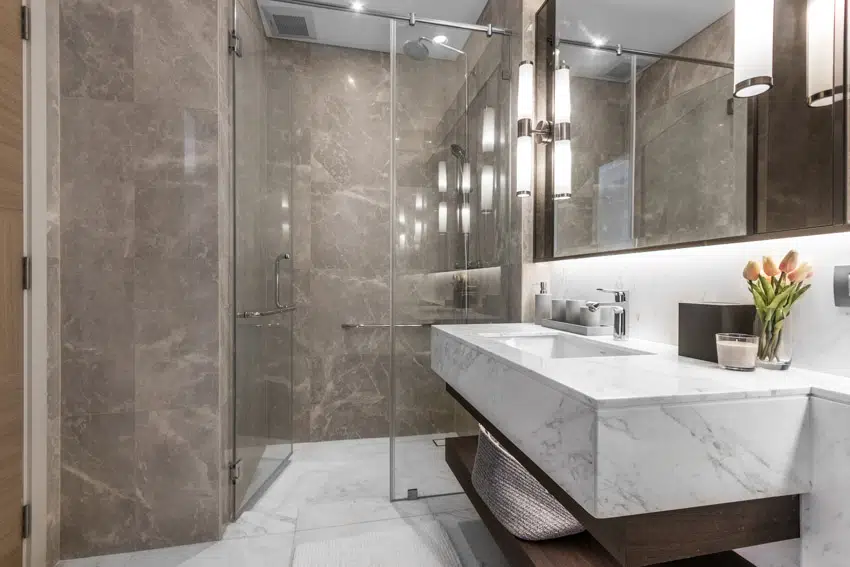 Trays, walls, tubs, and floors that are made out of stone resin use a mixture of natural crushed stone and a resin compound that offer a superb balance between the heavier ceramic, fireclay materials, and the lightweight acrylic options.
Stone resin types of bathroom showers offer a durable structure, incredible longevity, warm-to-the-touch feeling, and they are available in a broad range of finishes.
A stone resin shower tray is both practical and appealing. The crushed stone and resin compound mixture is normally put into a mold and hardened.
The tray is then coated with a layer of gel-based compound to seal it. Their structure also includes non-slip technology.
Resin Showers Pros and Cons

Here we share the advantages and disadvantages of stone resin showers.
Pros Of Stone Resin Shower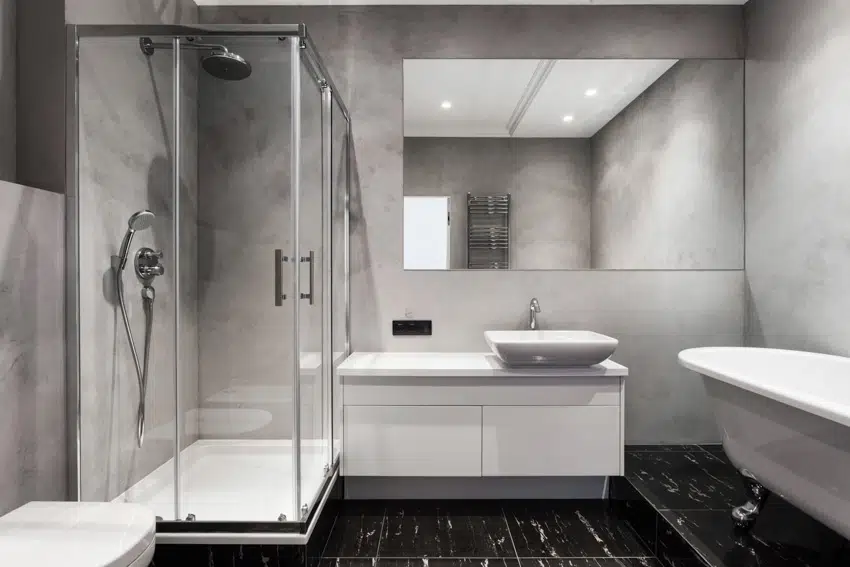 Extreme Durability and Longevity: Nobody wants to redesign their bathroom every several years.
That is why it is valuable to select solutions that will provide you with a trouble-free operation for a much longer duration. When it comes to bathroom supplies, the very first thing to consider is durability.
Although acrylic shower trays, walls, and floors might appear to be a decent selection, stone and resin shower trays, walls, and floors will undoubtedly provide considerably more durability and solidity.
They are tougher, can withstand higher loads, and have a more protective outer layer against scratches and cracks. If you are a dog owner, you will appreciate stone resin shower trays and floors. Bathing a mischievous dog will no longer result in a severely scratched shower base.
Easy and Accurate Installation: A stone resin base is substantially more durable than its competitors due to the materials utilized. This considerably facilitates the installation process as well.
Hence, the base will not flex or distort, allowing for correct alignment.
Both the components and technology utilized in the manufacturing of these shower bases made from stone resin allow for more precision of measurements and shapes, which is critical during installation in your bathroom.
Furthermore, stone resin shower bases are normally lighter than ceramic options and easier to assemble. When it comes to installing the base, there are numerous options.
Incredible Waterproofing Properties: Because of its toughness and tensile strength, it is considerably easier to properly seal your shower bases.
You do not have to be concerned that the gel sealant will begin to strip off and crack after a number of baths owing to severe deformation of the base.
A zero-deflection shower base will also ensure a secure and long-lasting linkage of the siphon trap with the drainage pipe, which is frequently a dilemma with acrylic types of shower pans.
Efficient Soundproofing Capabilities: The mixture of stone and resin, as well as its positioning near the floor, provides far greater soundproofing than lightweight acrylic shower trays, and many other materials.
A significant proportion of bathing sounds will be absorbed by wider and denser stone resin shower base walls.
Modern Finish and Antibacterial Properties: The application of a unique gel coating to complete the top layer has numerous advantages. First and foremost, you are not restricted to the typical white, clear, and shiny shower tray, floor, or wall surface.
You can select a particular coarse finish that resembles genuine stone, 3D wood, or even grass. Aside from the unique appearance, you also get a superb non-slip surface with antibacterial and fungicidal qualities.
Cons Of Stone Resin Shower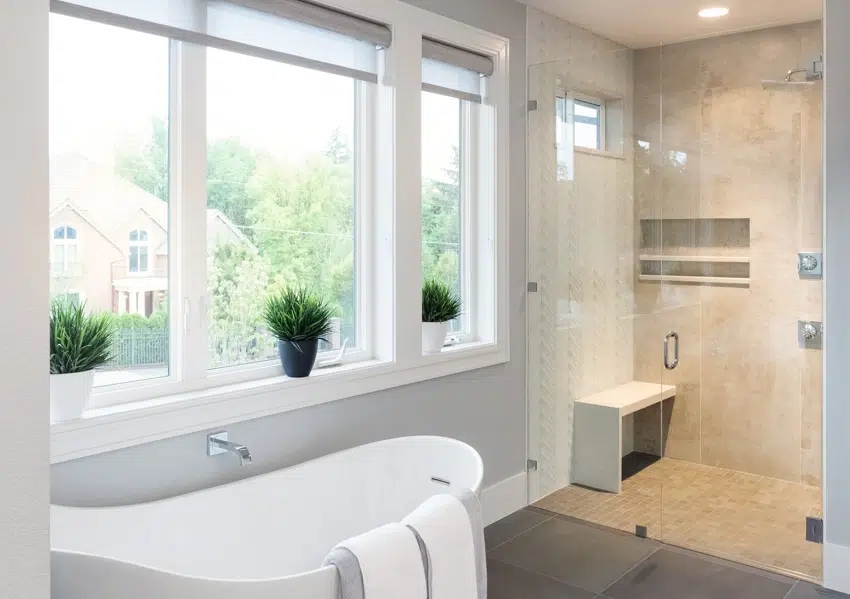 Some Brands are Quite Expensive: Because of the incredible durability and longevity of stone resin bathtubs, shower trays, walls, and floors, you can find some brands that are quite expensive.
However, if you are going to browse thoroughly, you can find some options that are somewhat affordable and offer excellent value.

Resin Walls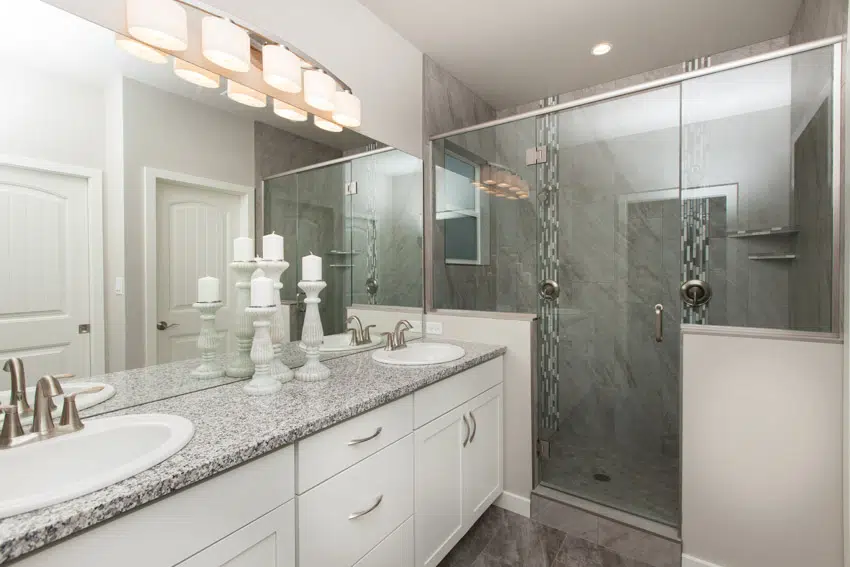 Stone resin walls are entirely seamless, so there is no risk of bacteria growing in any crevices or joints. Resin walls are also extremely long-lasting and can sustain daily use; they are also impervious to gunk and mold.
Stone resin is a suitable option because it is among the economical materials used for low maintenance shower walls.You can use stone resin panels on your bathroom walls or anywhere that you would ordinarily utilize tiling.
They can be used to surround the bath, as backsplashes, wall panels, and, most significantly, in the shower are. You may even utilize the panels to cover sections like the window sill.
Resin Floor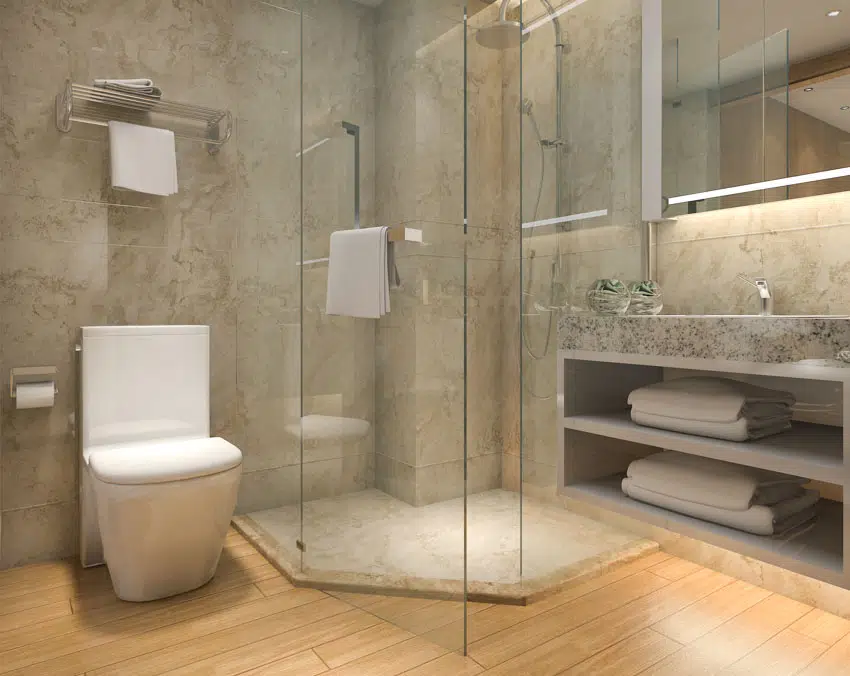 Stone resin can be constructed to generate a lot of basic home components, and it can be among the bathroom floor tile ideas you can consider.
This material, unlike fiberglass and acrylic, will not deform over time, nor will it crack, shatter, or flake as a result of major impacts from unintended spills or falls, as porcelain floor tiles will.
This material is very durable and almost unbreakable like cast iron, but its weight is five times lighter than it! Indeed, stone resin walls are non-porous, which implies they will not contain moisture, unlike fiberglass and acrylic, and hence their structural strength will never deteriorate.
Furthermore, it offers exceptional heat retention comparable to higher-end materials such as enameled steel.
Stone resin floor panels do not require grouting but rather are installed using sanitary-grade silicone. Since there is no grouting needed, no discolorations and trapping dirt will happen.
Stone resin flooring panels come in a wide variety of colors and styles. Natural stone, granite, traditional marble, and various modern sparkling finishes are available.
DIY Solid Surface Walls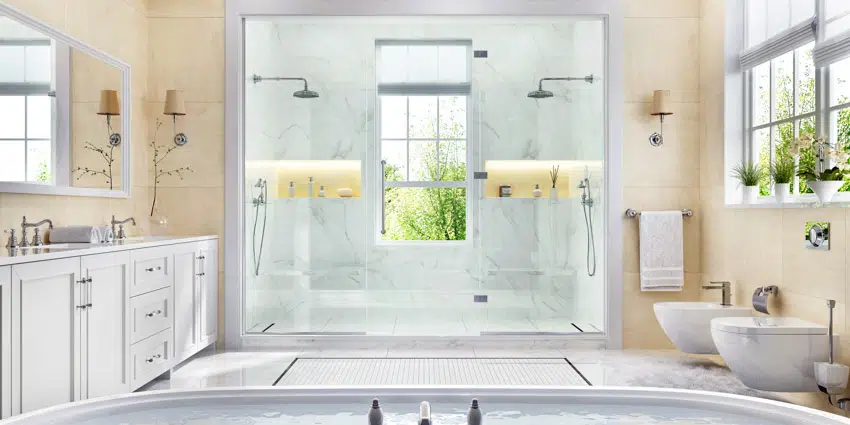 Unlike tiling, which may be a time-consuming procedure to install, stone resin solid surface bathroom wall panels can be pre-ordered and cut on the factory, making installation a breeze.
Simply order the panel sizes you desire and install them. You can also purchase bigger stone resin panels and have them trimmed on-site for a flawless fit.
After getting your stone resin products, you can follow these basic step-by-step guidelines:
1. To begin, measure the area where your wall panels will be installed. Horizontal and vertical measures are included. If necessary, apply the same step for each wall. Read more about shower sizes here.
2. Before you begin installing, it is a good idea to sanitize your panels. Cleaning them with an antibacterial chemical will ensure they are ready to use as soon as they are installed. To accomplish this, lay the panels evenly.
3. Place the panel evenly on supports, facing up, and then draw the trimming lines where you need to trim. If necessary, cover the edges with tape to protect them during cutting.
Gently cut and eliminate the unneeded wall panel using a fine-tooth or electric saw. When using these pieces of equipment, wear safety glasses.
4. Sand the cut edges with sandpaper. Turn the stone resin panel over and use the sandpaper to roughen the surface so your glue can adhere to it much more firmly.
5. Upon fitting your stone resin panel, you must first attach the trim that it will fit into. Use an adhesive sealant for this and screw it into the wall as well.
Apply sealant to the wall and arrange the corner piece. Install tile spacers beneath your panels so that sealant can be applied afterward.
6. Apply adhesive sealant to the interior of the trim that will be attached to the stone resin wall panel, as well as the extreme edge of the wall panel itself.
Lift your panel into place and insert it at an angle into the trim component.
7. After you have all of your stone resin panels in position, you must apply a sealant to the base of each. Some corner, base, and ending trims for your panels will have a finishing cover that locks into place.
See more related information in our article about the pros and cons of onyx showers on this page.