Here we share the pros and cons of onyx showers including what this material is, reasons for and against, cost, and onyx cleaning tips.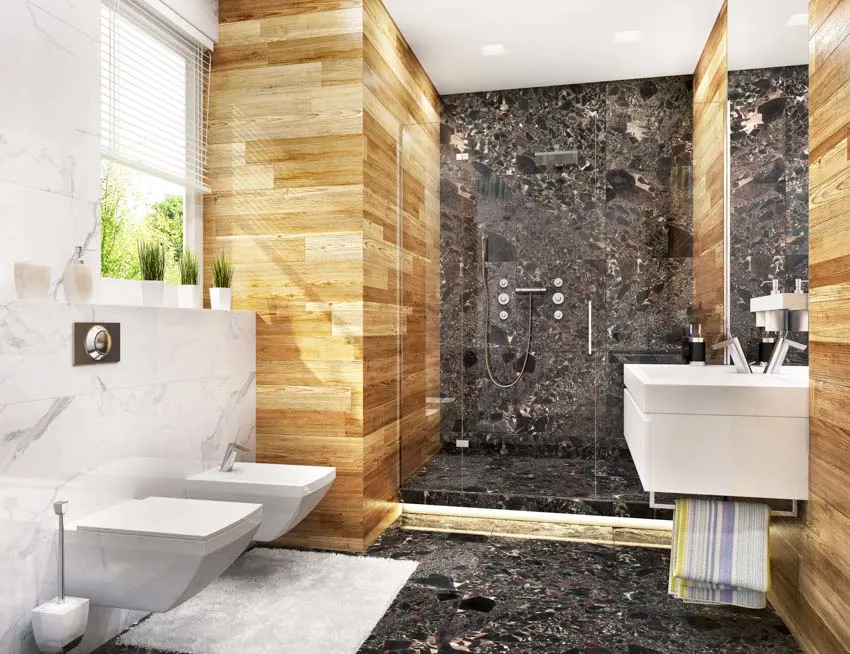 Onyx is one of the most beautiful natural stones you can use for your bathroom. It is a top-of-the-line product with a wide range of options.
Homes with this type of bathroom are in demand in the market. But no matter how beautiful onyx looks, find out if it is really for you.
What Is Onyx Shower Material?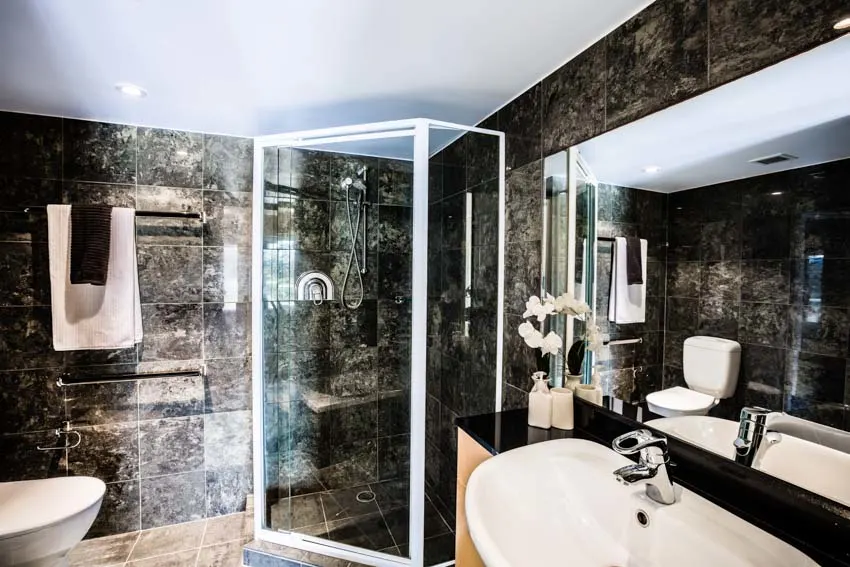 Onyx shower uses onyx, a semi-rare gemstone. It forms from dripstone deposits in limestone caves.
Although onyx is widely known for its deep black color, it has a wide range of hues. Other colors include white, brown, yellow, and white. Aside from the bathroom, many homeowners use this material for onyx kitchen countertops and fireplaces.
In the Mohs Hardness Scale, onyx has a 7 rating, making it scratch-resistant. Thus, it can withstand the usual wear and tear for a very long time.
Below, we will further discuss the pros and cons of onyx showers.
Onyx Shower Pros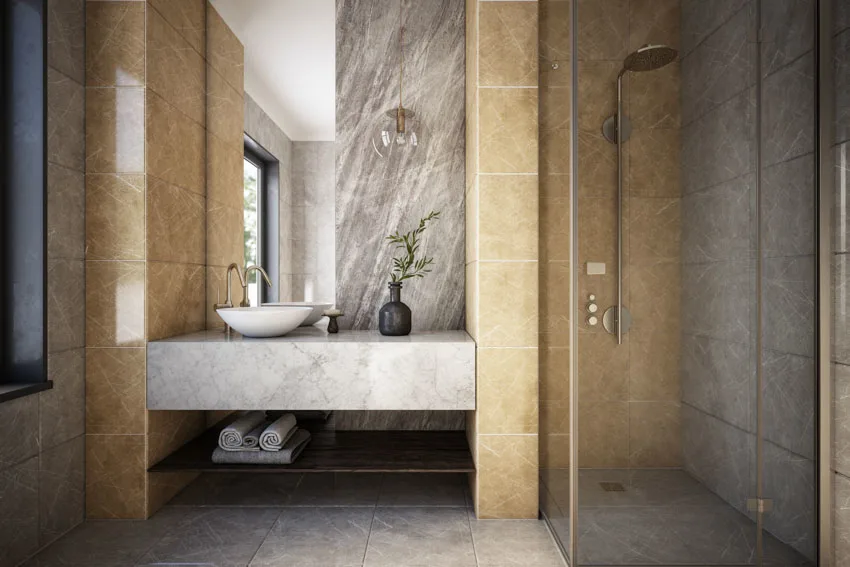 Easy to Install: Onyx shower has prebuilt shower bases; thus, installation is cheaper than other shower systems.
Lasts Long: Onyx is a natural stone, so it can last up to a century if maintained and cared for properly. Some only shower fixtures have a lifetime warranty.
Take note that some onyx showers have a solid surface application. Some examples include epoxy, acrylic, pigments, and polyester resins. These materials affect the longevity of onyx showers.
Wide Range of Colors: Onyx has many color options. It has pastel colors and solid ones, like red, green, and yellow. It also has a variety of natural designs like swirling patterns and colorful veining.
So if you're looking for luxury bathroom remodel ideas, use onyx. It also comes in different finishes, like matte and glossy. These options give you more room to get creative with your design.
Grout-Resistant: Onyx shower comes as a complete unit, so it does not have grout lines. That saves you from cleaning grout buildup. Because it is seamless, you don't need to use lots of caulk during installation.
Easy to Clean: Onyx is non-porous, which means liquid or air cannot pass through it. This characteristic makes onyx easier to clean than ceramic tiles. It also makes onyx bacteria-resistant because it does not collect materials.
Onyx Shower Cons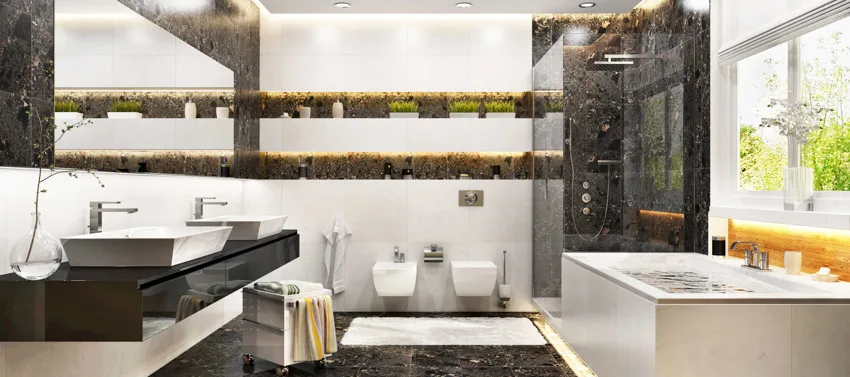 Expensive: Onyx has the word "luxury" attached to it. So it comes as no surprise that it's expensive. Compared to other shower systems, the basic shower system costs around $700 — and that's minus the installation.
Fragile: Panels are a unique feature of an onyx shower. Onyx is not susceptible to scratches, but it will break when cut into panels. Despite that, onyx showers have longer life spans than onyx countertops, especially if they're well-maintained.
Susceptible to Stains: Onyx easily stains when it comes in contact with corrosive products. So be careful of your hair and body products spilling over your onyx bathroom. Products with acid in them will also mar the onyx surface. The best way to avoid this is to clean the shower after every use.
Difficult Repair Work: While installing onyx showers is relatively easy and inexpensive, the same cannot be said with its repair. That's because not many households use an onyx shower, so you can find few repair people who specialize in it. Cutting down onyx panels and finding replacements is also a challenge. Therefore, you will have to pay a premium to have it repaired.
Does Not Heat Up Immediately: Onyx showers do not heat up immediately compared to other shower materials. But it keeps hot water much longer when using it.
In terms of energy efficiency, an onyx shower is good. Water remains hot even after you turn off your heater. But because the heating part takes longer, you waste more water. That also means waiting longer than usual before you can shower.
How Much Does an Onyx Shower Cost?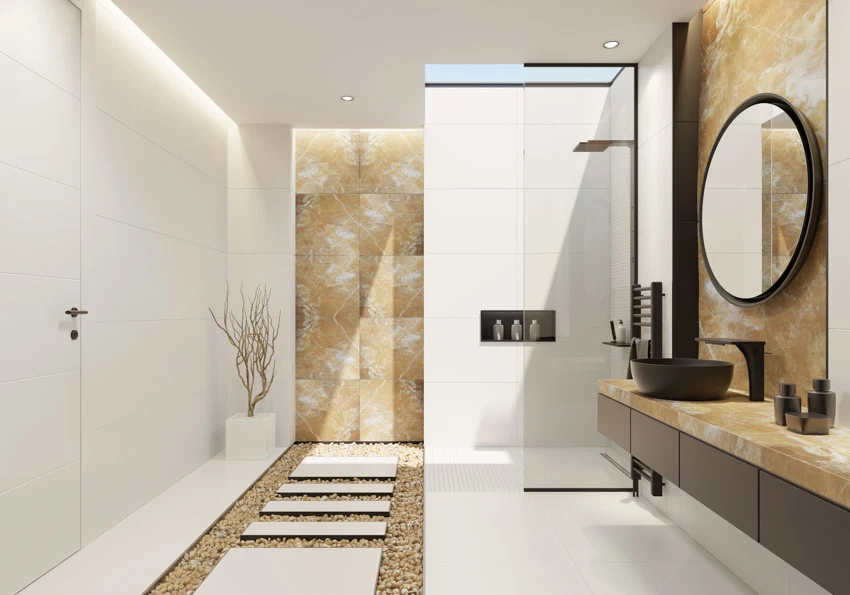 Onyx is an elegant and luxurious material. But there's a downside — it's expensive. For an onyx pan alone, the cheapest you can buy is around $300. If you add a shower door, you will have to add an extra $800 to the cost.
A standard onyx shower kit with the caddy, base, panels, and corner seat ranges between $1000 and $3000. An onyx shower setup costs more between $2000 and $4000. This price does not include the installation fee.
The installation cost follows the total price of your shower materials. If your materials cost around $2000, that's also your installation cost. Therefore, your materials and installation can cost about $4000.
Take note that this is a conservative estimation. The installation fee might increase or decrease depending on the type of setup you want or the shower sizes you're considering.
Most of the time, manufacturers do not include the installation fee when they give you a price quote. Thus, we recommend asking them before you buy.
You also need to consider the location of the company. If you order it online and the store is in another state or country, there's a shipping fee to that.
Then, there are also onyx shower models that need specialized transportation. That can add up to the price, which should be considered along with other pros and cons of onyx showers.
How To Clean Onyx Shower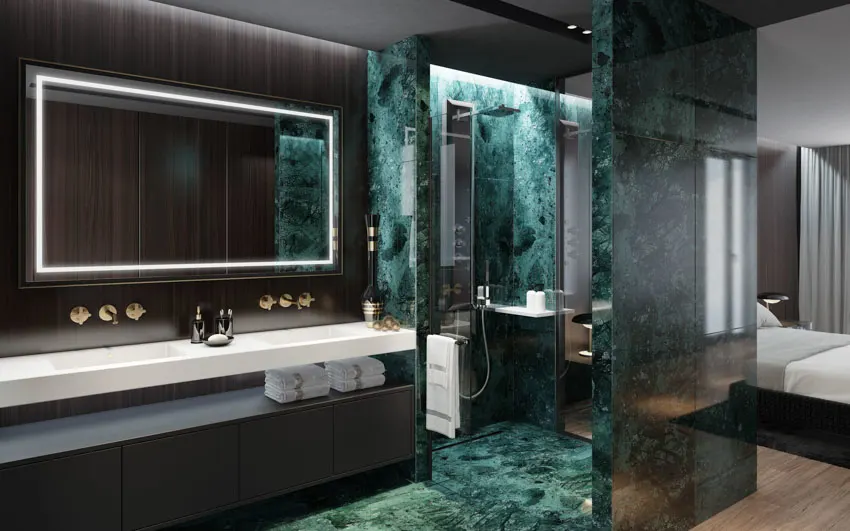 As mentioned above, onyx is susceptible to acidic components. Use a mild cleaning solution with neutral pH. This section contains information on cleaning onyx showers and the recommended cleaning materials to use.
Get the Shower Ready: Remove toiletries, shampoo bottles, and other paraphernalia so you can thoroughly clean the area. Let the hot water run for a couple of minutes. The steam will loosen the stains and grime on the floor and walls.
Clean with a Vinegar and Water Mixture: If you're not sure what type of cleaner to use, mix 50 parts water with 50 parts of white vinegar. Dip a microfiber towel in the solution and wipe it on the onyx wall in circular motions. It will kill mildew and remove soap stains off the wall.
Do this regularly to avoid the buildup to harden, which is more difficult to remove. If you have this problem, spray the vinegar solution on the walls and wait up to 20 minutes before rinsing it with water.
Remove Stains with Epsom Salt and Baking Soda: Mixing baking soda and Epsom salt is another effective homemade solution for cleaning onyx showers. Take a tablespoon of baking soda and Epsom salt. Mix it in a cup of water and stir until it forms into a paste.
After that, use a soft-bristle brush or a microfiber cloth and apply the paste to the stains. Leave it for 15 minutes before rinsing with warm water.
Use Onyx Polish to Maintain the Gloss: Onyx water can get dull over the years if not well-maintained. Polish it regularly with Gel-Gloss to maintain the shine. It will not only keep the shine but protect the walls and the shower.
How Do You Get Stains Out Of Onyx?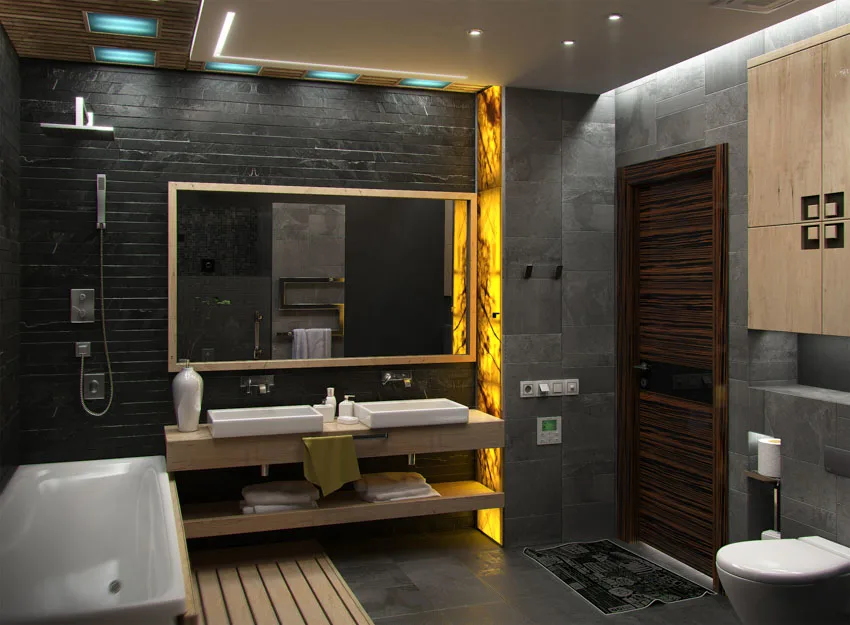 The cleaning solutions mentioned above will get rid of the stains. However, if you're using hard water and you don't clean your shower regularly, you will need more than the cleaning solutions we suggested above.
Make a paste using borax to remove stubborn stains. Spread it on the walls and alternately spray it with the vinegar solution. Leave it for a few hours before rinsing with warm water.
What Is An Onyx Shower System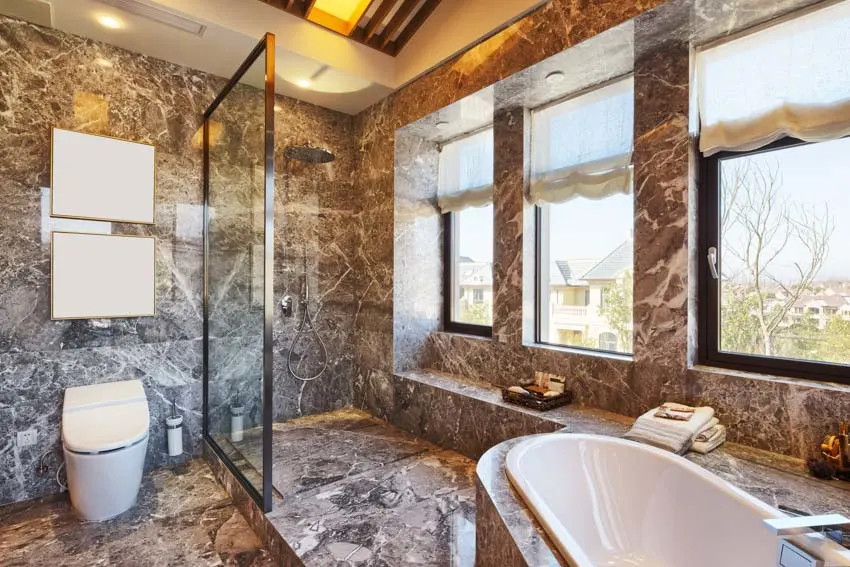 The Onyx Shower System is a line of bathroom products and accessories. Despite the name, the onyx used in these products is not real onyx but a solid surface material made with polyester resin and aluminum trihydrate crystals.
Onyx shower can add value to your house. Look at the pros and cons of onyx showers we presented in this article to help you decide whether it is for you or not.
See more related content in our article about the different double shower ideas on this page.