Here we share our gemstone countertops guide including what they are, the different types, pros and cons, cost, cleaning, and maintenance tips.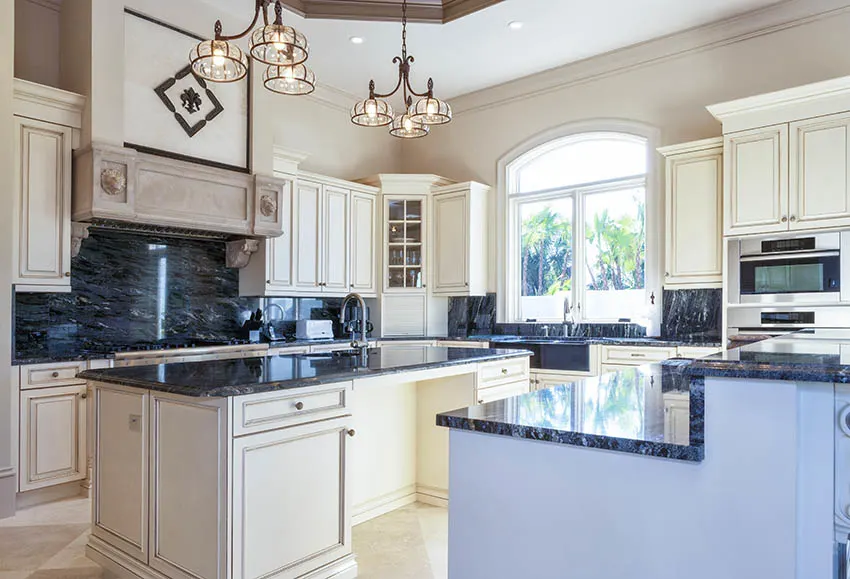 While using neutral and pastel colors is common for most homeowners, patterns are usually a do away as we aim for a more clean and minimalist approach to our spaces.
However, interior design these recent years are shifting to a bolder and more expressive type of design, and what better way to update your kitchen than by adding exciting colors and patterns of a gemstone countertop.
The gemstone countertop is the perfect addition to your kitchen for a standout and mood-boosting space.
Containing various semiprecious stones commonly used in jewelry, you can install LED lights to further highlight your gemstone countertops' gorgeous colors. Let's dive into more on what are gemstone countertops.
What Are Gemstone Countertops?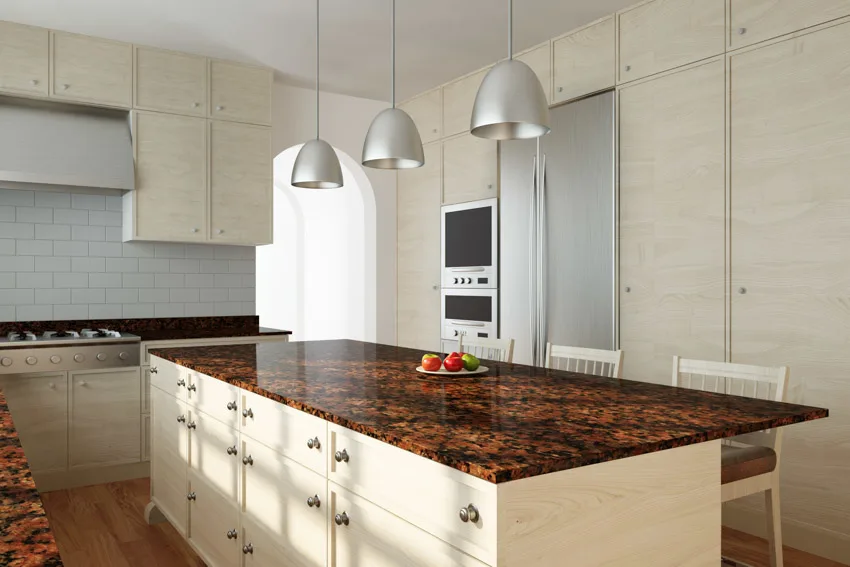 Gemstone countertops are usually used as kitchen worktops or vanity countertops that are made from semiprecious gemstone. The gemstone countertops are similar to engineered quartz in their manufacturing process.
It is infused pieces of gems using resin or epoxy with the difference of having larger pieces of crystals. You can also have a piece of large geodes or petrified wood into the mix of crystals to achieve a certain look.
A gemstone countertop is a stunning addition to any space, especially with a backlit of LED lights. You'll find pretty much any color of the rainbow with gemstone countertops, and the vibrant and unique look helps the unique countertop to grow in popularity.
Types Of Gemstone Kitchen Countertops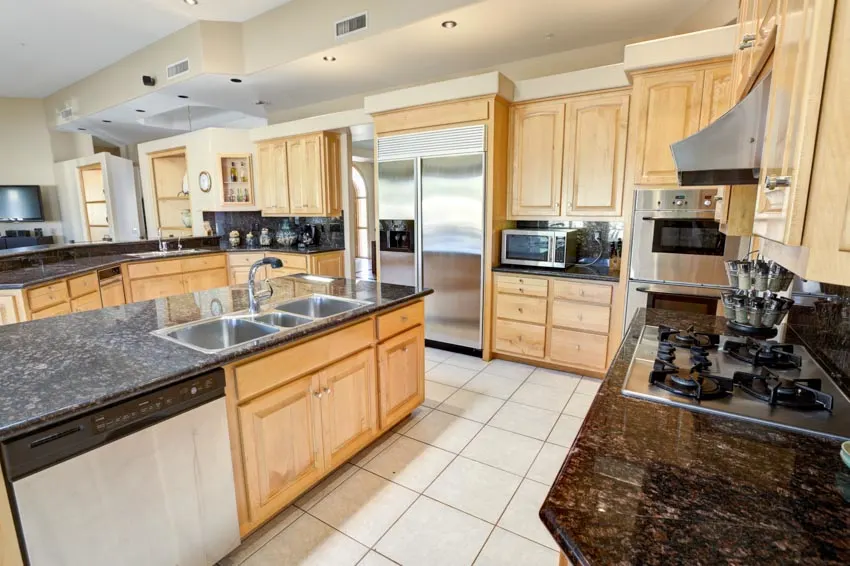 There are many types of kitchen countertops made of gemstone, and the most popular kinds are:
Amethyst: This mineral quartz is characterized by its purple color variation. The violet color and complex crystal owe the irradiation, iron impurities, and other trace elements found in amethyst minerals.
Aside from its distinctive purple color, an amethyst mineral is well-known for its durability, where it is as hard as quartz with a Mohs hardness rate of 7.
Agate: A typical rock formation containing chalcedony and quartz. Agate gemstones have been used in hard carving since ancient times as jewelry and other ornamental pieces. It displays various colors; the most popular are red, yellow, pink, blue, and different natural hues.
These microscopic quartz crystals are formed mainly from volcanic and metamorphic rocks. For an agate gemstone countertop, expect to see a display of varying patterns, color tones, and shapes. The said variations are caused by the different temperatures and pressures during its formation.
Blue Agate: One of the most popular agate countertops is blue agate. Blue agate is stunning countertop material. You can use it to warm up the spaces in your kitchen or bath while also balancing the energy in your entire house.
Blue agate countertops are ideal for backlit countertops and backsplashes due to their translucency. Light wood cabinetry complements blue agate countertops beautifully. See more types of translucent countertops here.

Brown Agate. Brown agate has brown crystals that are the polar opposite of blue agate's bright blue crystals. It's a calming and soothing countertop made of brown agate, which is ideal for bathrooms and kitchens.
The semiprecious stone is thought to improve the homeowner's and family's overall quality of life and the home's prosperity. Various colors, including white and natural wood cabinets, can be paired with brown agate countertops.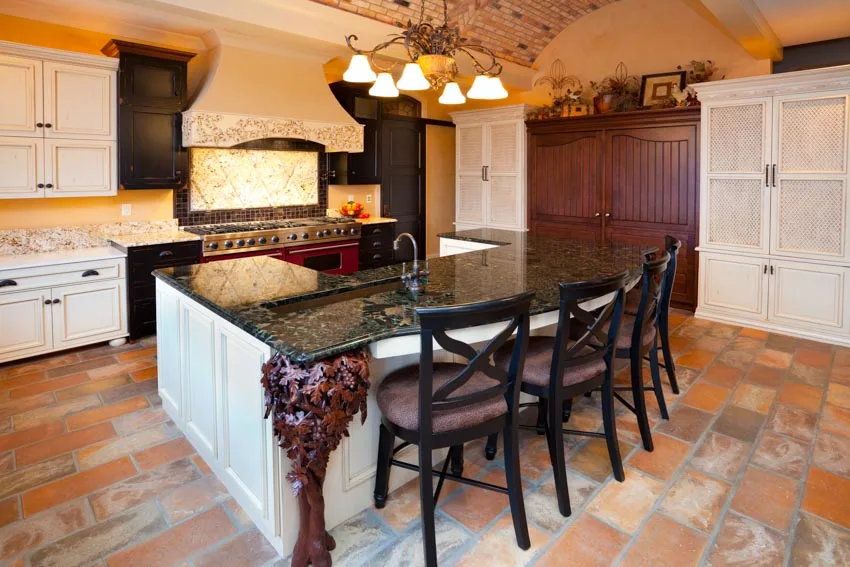 Green Agate. Green agate is a stunning green countertop that will captivate your attention. Green agate countertops can be found in a variety of colors, including yellows, blues, browns, grays, and blacks.
Green agate is thought to improve your overall health and fitness. When paired with black cabinetry, green agate countertops look stunning.
White Crystal Agate: An elegant-looking countertop is made from white crystal agate. The stunning semiprecious gemstone countertop adds a touch of luxury to the kitchen or bathroom and creates a bright and airy atmosphere.
White crystal agate countertops, unlike other agate countertops, have subtle patterns, making them an excellent choice for minimalistic homeowners. Dark wood countertops and painted countertops can be paired with white crystal agate countertops.
Black Obsidian: If you're looking for a black version of your gemstone countertops, the black obsidian is your perfect choice.
As black is the color of class & luxury, it gives a classy appearance to any space it has been applied to. Black obsidian is formed by cooled volcanic lava. It's smooth and reflective and doesn't have a crystalline structure.
Carnelian: Carnelian is a stunning semiprecious gemstone with a reddish-orange hue. Carnelian has a fiery brilliance when backlit, unlike any other gemstone countertop.
It's possible to use this extremely durable stone in high-traffic and damp areas of the house, such as bathrooms and kitchens. Carnelian countertops feature both large and small rocks depending on the chosen slab.
The striking red stone will add interest and become a focal point in your home right away.
Jade: Probably the most recognizable and popular gemstone is the jade mineral. Its green tint characterizes it, but other colors of jade range from white, violet, pink, brown, and white and usually overlap one another in its formation.
Aside from its greenish tint, most jade countertops are known for their transparent to translucent look.
It is scratch, heat, and stain-resistant and its hardness rating is 6 to 6.5 on the Mohs hardness scale. You can choose to have a natural shape or a straight-edged countertop.
Lapis Lazuli: Characterized and prized by its rich deep royal blue tint, the lapis lazuli, or "lapis" for short, is a semiprecious stone.
The cool hue makes the gemstone an ideal countertop material to integrate with contemporary wrap-around countertops or kitchen islands Lapis lazuli has a Mohs hardness scale of 5 to 5.5.
Red Jasper: As the name implies, this gemstone has a striking red tint made thanks to the iron oxide from its formation process.
Aside from the red color, red jasper has distinctive grainy crystals with an opaque quality. Fairly common, red jasper countertops is a perfect material for your kitchen as it has a higher Mohs hardness rating of 6.5 to 7.
Malachite: One of the rarest gemstone countertop materials is the malachite, which is usually found along the surface of underground caves.
Malachite countertops are recognizable by their striking green colors with opaque transparency and usually have patterns on their surface. Malachite slab cuts show a rich variation between the greens, silver, and gold colors.
It is an ideal accent material for your countertop with a Mohs hardness ranging from 3.5 to 4.0. You can strengthen your malachite countertop by adding a layer of resin or was, which also gives an extra layer of protection.
Labradorite: Another unique gemstone is labradorite which is identifiable with its radiant blue color. This gemstone countertop sets it apart from other gemstone materials with a dark base color and multicolor streaks.
In addition, the streaks of fractures found in this gemstone, when lighted, reflect the light away in various wavelengths, creating illuminating colors.
Tiger Eye: A beautiful gemstone countertop is identifiable with the distinct gold and deep browns with gold, black and yellow bands, hence the name tiger eye.
This semiprecious stone consists of dense fibers stained by iron through the process of pseudomorphic, which replaces the crocidolite with quartz.
Rose Quartz: Quartz is a transparent, typically turbid, very medium-grained silica found naturally in pegmatites. Pink to rich-pink rose quartz is prized for its pale to rich color, which could be due to titanium.
It has been carved and faceted since ancient times to produce high-brightness gems. Tiny needle-like rutile inclusions are responsible for the milky appearance, which, when oriented, give the polished stone an asterism or the optical phenomenon of a star-shaped figure that is similar to that of sapphire but not as sharp or intense.
Brazil, Sweden, Namibia, California, and Maine are all home to rose quartz. It has properties that are similar to quartz. If you want a softer and more feminine look in your space, this is the gemstone countertop for you.
Sodalite: When you want a gemstone countertop with a rustic, but in a calming hue, the sodalite gemstone is your perfect material. Usually in polished finish, it displays exquisite blue and white colors with distinct veining across the slab.
With a 5 to 5.6 hardness in the Mohs scale, it is recommended as accent material but you can add a protective layer to improve its durability as a kitchen countertop surface.
Gemstone Countertops Pros And Cons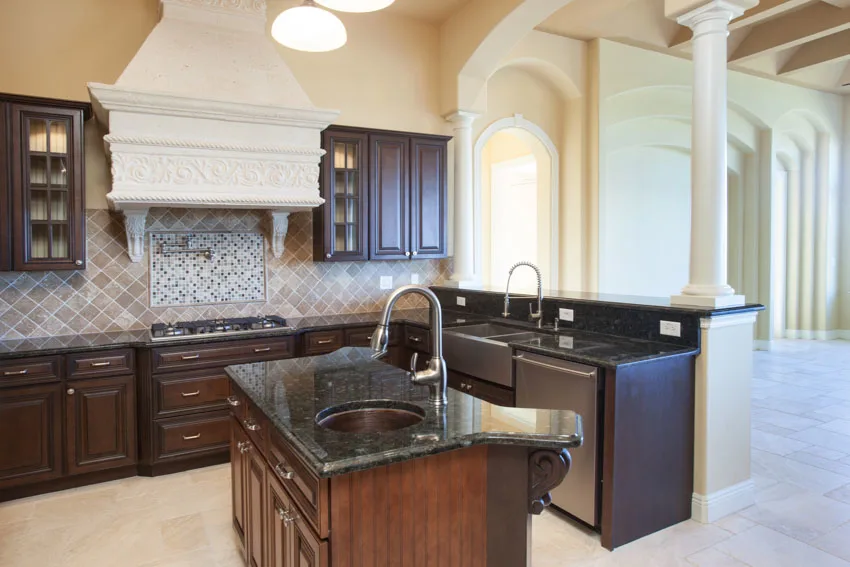 Similar to other countertop materials, gemstone countertops have their fair share of pros and cons that you should know before deciding whether this semiprecious stone is for you.
Pros:
1. Adds Aesthetic Value to your Property: Like expensive art pieces, a gemstone countertop enhances the aesthetics of space while potentially increasing its market value.
With a gemstone countertop, potential buyers or renters are drawn to the beautiful and elegant look of your gemstone countertops.
2. Brings Positive Energy to a Space: While gemstone countertops provide a stunning aesthetic, there is a popular belief that gemstones emit positive energies to a space.
Though, no scientific research has provided factual evidence to gemstones' healing power. Regardless of one's belief, gemstones provide a positive air to a space due to their amazing colors.
Most of these gemstone countertops will react with light in different alluring ways creating illuminated colors in your space.
3. Long-lasting Countertops: Gemstone countertops can be as durable as any natural stone with quality material and installation. Added protection such as a transparent polyethylene film 5 mils thick that has undergone heat and chemical process to strengthen the surface is needed to protect your gemstone countertop.
When the said film is fully cured, you'll have a nonporous surface where bacteria and other staining elements cannot penetrate through the surface. Periodic rebuffing and reapplication may be needed on your gemstone countertop to maintain its longevity.
4. Variety: With many colors, veining, and patterns to choose from, you'll easily find a gemstone countertop that matches your taste and interior design.
And, since gemstone countertops are quite pricey than your typical countertop material, you'll expect to have a unique and luxurious-looking kitchen countertop not seen in most of your Instagram feeds.
5. Reduced Waste: Gemstone countertops are made-to-order and are chiseled and molded directly from quarries according to the buyer's desired dimensions in one slab, thus minimizing material waste.
In addition, gemstone countertops, like any other stone quarried countertops, are long-lasting and timeless architectural material that you can reuse or recycle for other uses.
Cons
1. A Pricey Countertop: The main drawback of semiprecious stone countertops is their price. Homeowners will shell out around $100 or even more per square foot in a project.
In addition to this, the installation costs of semiprecious stone countertops are more than other types of countertops. Another concern is that countertop specialists do not have the experience to install agate or semiprecious stone countertops.
However, the base price of onyx kitchen countertops, which is as well a colorful countertop material, has an average of $200, which makes the gemstone countertop an ideal alternative when you want to add a more vibrant hue to your home interior.
3. Limited Suppliers: Due to a handful of gemstones produced in every state, it can be a challenge in finding a licensed or experienced installer of your gemstone countertop.
How Much Do Gemstone Countertops Cost?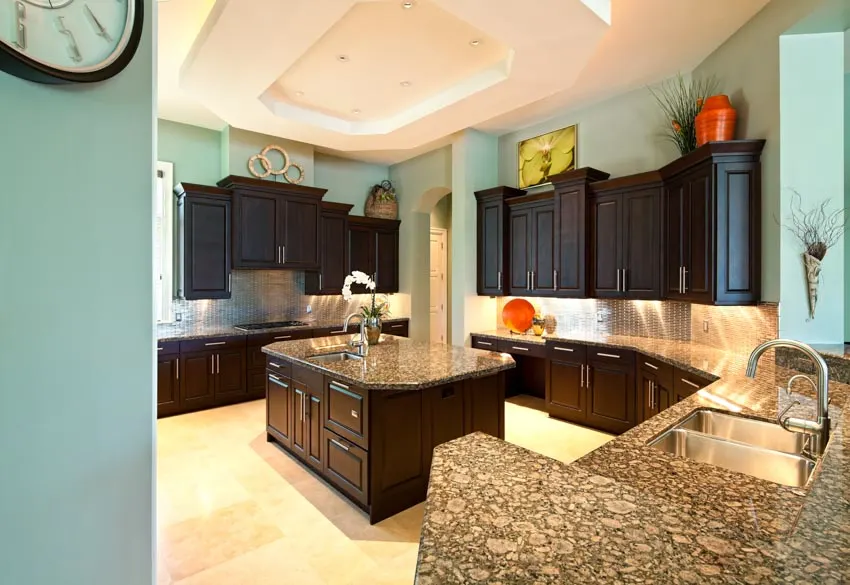 The average cost of gemstone countertops is $100 per square foot and can go up depending on your preferences.
Gemstone countertops are considered home jewelry because of their high price tag, and that expert installer of the semiprecious countertop can be hard to find locally.
The four main factors that keep the gemstone countertop cost up are the rarity of the gemstone, source, craftsmanship, and design.
A 30 square feet moderately sized countertop with an undermount sink and eased edge, excluding most common types of kitchen backsplash, is expected to pay a national average of $4,000. The lowest is $2,000 and a high cost of $6,000 and more.
The cost of your gemstone countertop will vary significantly based on your location, as gemstone countertop suppliers are uncommon. They are made to order, and only a handful of contractors are knowledgeable and licensed to install gemstone countertops.
Gemstone Countertops Cleaning And Maintenance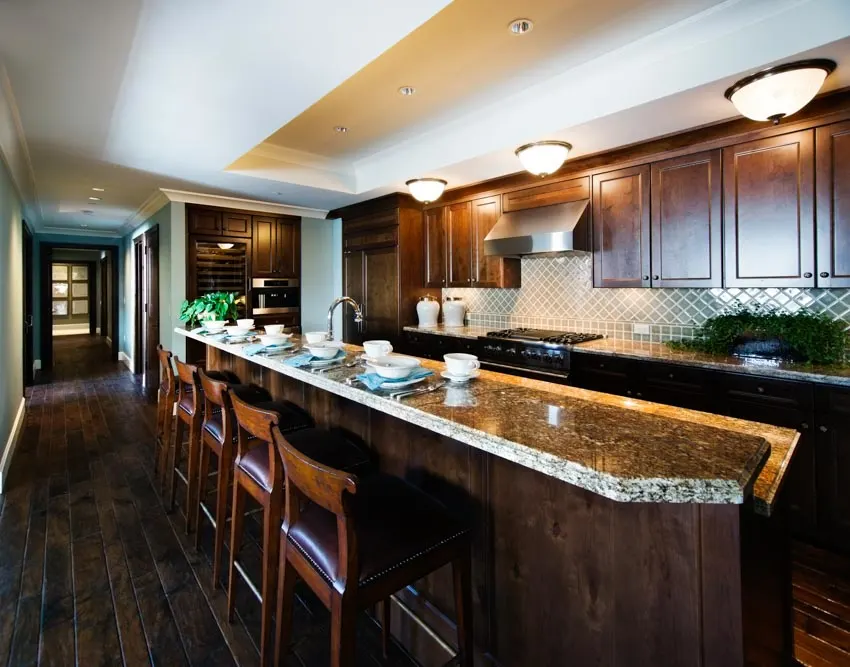 The maintenance and care of gemstone countertops are similar to your engineered quartz countertops.
Simply use non-abrasive, antibacterial microfiber cleaning cloths or pH-neutral cleaners to clean them. Spills should be wiped away as soon as possible to avoid staining. If there are stains, clean them with a soft, absorbent cloth and small amounts of baking soda and water.
After each use, wipe your countertops clean with a damp cloth. The dish detergent should be avoided because it dulls the countertops.
Look for a cleaning agent that is made specifically to dissolve soap and other mineral deposits safely and effectively. The non-acid chemicals in these cleaning agents are made to easily dissolve dirt if your countertop has dingy and unsanitary soap scum or hard water deposits.
You won't have to do any harsh scrubbing, which could damage the surface, making required cleaning an easier task.
See more related content in our article about how to clean granite countertops on this page.