Here we share our kitchen booth ideas, including different design styles and suggestions for built-in, small, and modern dining nooks.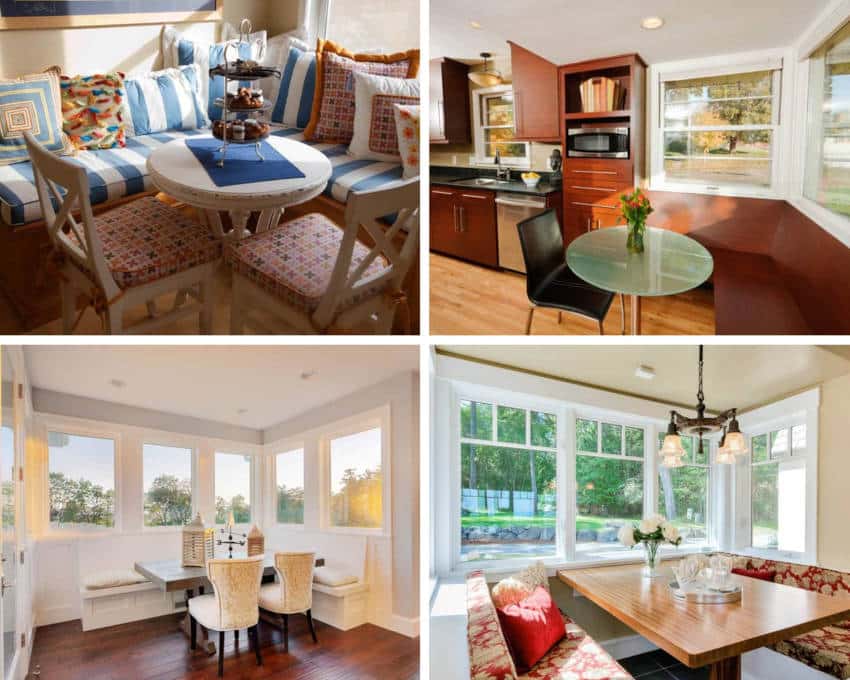 One of the trends that are becoming popular today is the installation of kitchen booths. And yes, not just restaurants and fast foods install these stylish booths.
Apartments and homes are now being installed with these new kitchen booths, and the designs have become more stylish than the ones used in 1950 diners.
Kitchen booths and banquettes (as some are now called) have some nostalgic quality. They became more than just an icon of the 1950s diners today, transforming instead into a stylish element of a modern kitchen.
Quicklist: Tips on How to Add Stylish Kitchen Booths
Maximize Your Extra Space

Mix and Match Bold Prints

Add Colorful Benches

Layout Should Encourage Conversation

Make It Functional

Create a Built-In Booth

Add a Floating Bench

Utilize Space for Storage

Choose Warm Colors

Create a Breakfast Nook

Free Up the Counter to Make Way for a Booth

Consider a Curved Bench Seating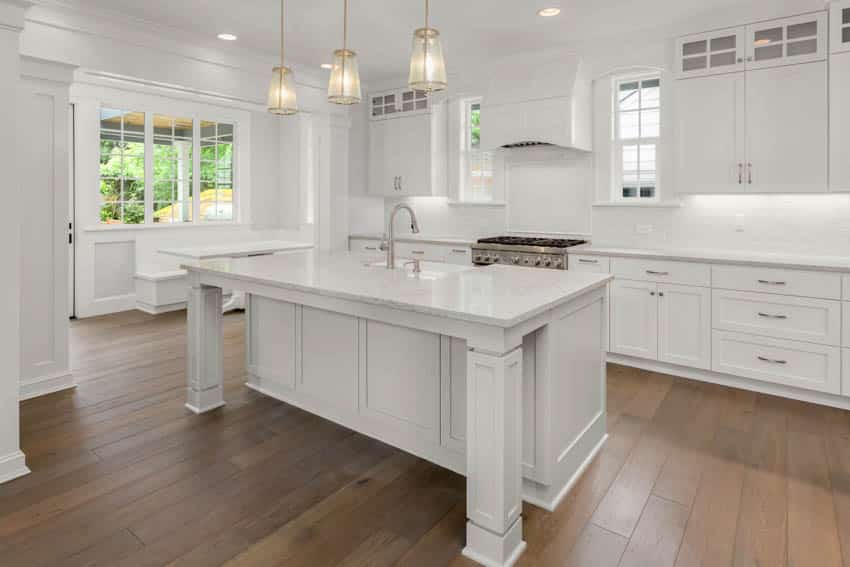 In this modern kitchen, the booth is seamlessly integrated as part of an all-white and wooden floor room. The kitchen is modern and seems to emphasize functionality instead of comfort and a homey ambiance.
The kitchen booth is designed the same way, devoid of pillows and any other decor or element that can at least add a cozy feel to it. If you are planning to design your kitchen booth, there are many ideas you can consider.
Here are some tips for planning how to style your kitchen and kitchen booth.
Maximize Out-Of-The-Way Spaces In Your Kitchen
If your kitchen has this extra out-of-the-way space you seldom use, it might be the perfect spot for your kitchen booth. Instead of letting the dust settle on it, repurpose the space and maximize its use.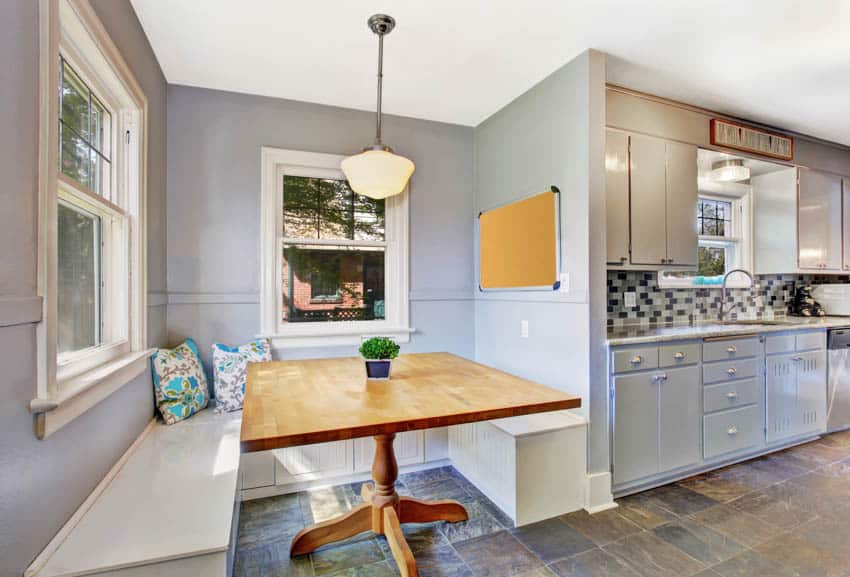 The out-of-the-way space in the little corner of this kitchen is maximized by installing a kitchen booth. It can be turned into a pantry, but a kitchen booth works beautifully.
Following the same style as the kitchen, it solidifies that the booth is an extension of the kitchen, despite its little corner. The addition of the pillows and the potted plant gives it a refreshing look. The natural light from the windows offers additional warmth.
Be Bold and Mix Prints
Most kitchens have this organized and clean look, which is why when you look at their designs, most use light hues and shades. But that doesn't always have to be the case. You can be bold and mix prints, especially with your kitchen booth.
Once you mix prints, ensure that the pattern and color of the bench, pillows, or accessories match the kitchen.
When choosing the fabric of your banquette, consider its durability and performance since you would use the banquette for dinners and other family gatherings. [Source: The New York Times]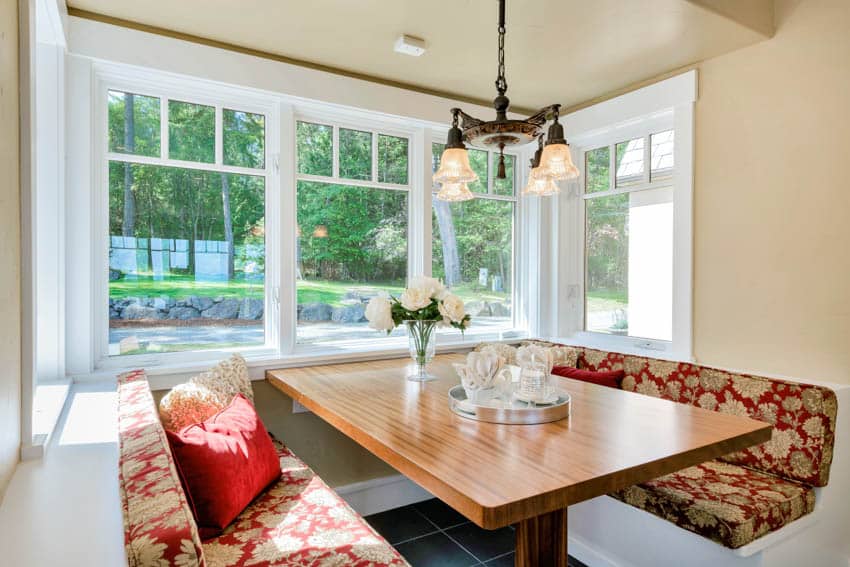 In this kitchen booth, the benches have a cream and red color scheme, complemented by the cream and red pillows. The vintage chandelier offers a vintage accent to the booth, while the flower vase showcases a refreshing look.
You may want to choose fabric-upholstered cushions like the ones in this kitchen booth. They are guaranteed more comfortable and something washable.
Colorful Bench & Decor Ideas
Don't go for a cold and unfeeling kitchen design; integrate a part of your personality into it. This may mean colorful decor, accessories, and benches – whichever works best for you. Make the project worth it to work on, and get as creative as you want to be.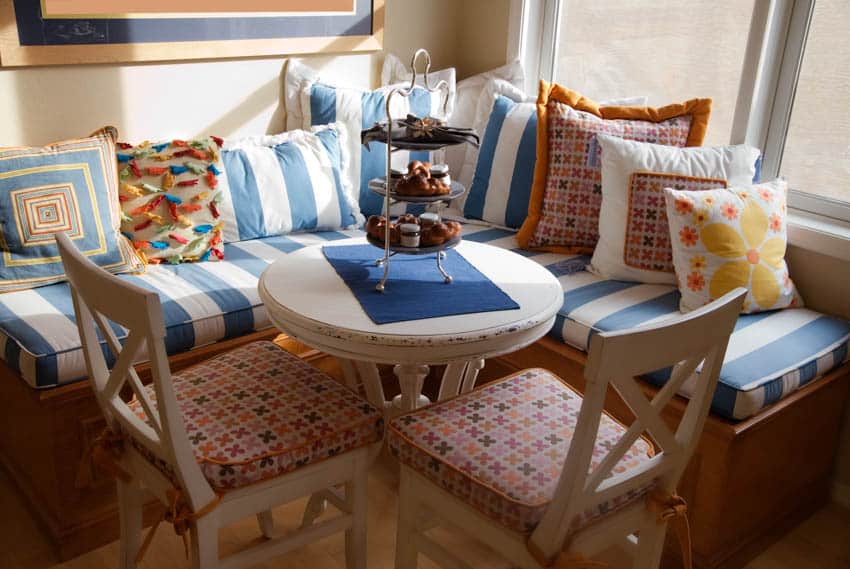 This kitchen booth has a cozy and homey feel to it. And let's not overlook how colorful the bench, chairs, and pillows are. The booth looks comfortable and has a beachy ambiance to it. It is a perfect little corner where you can enjoy your personal time.
Fabric made of vinyl, faux leather or ostrich looks fab and resists spills – ideal for families with young children. – The Editors of Southern Living, SOUTHERN LIVING 101 Decorating Ideas The Ultimate Guide to Southern Style
Perfect for Casual & Intimate Dining Experience
Most kitchen booths and banquettes are small and designed intimately. It can be in the form of a U-shaped bench or an L-shaped bench. The point is that a kitchen booth is designed for conversation and social experience.
The kitchen booth designed this way is ideal for a casual and intimate dining experience. If you want this kind of dining experience for you and your family, you may want to try to build a kitchen booth of your own at home.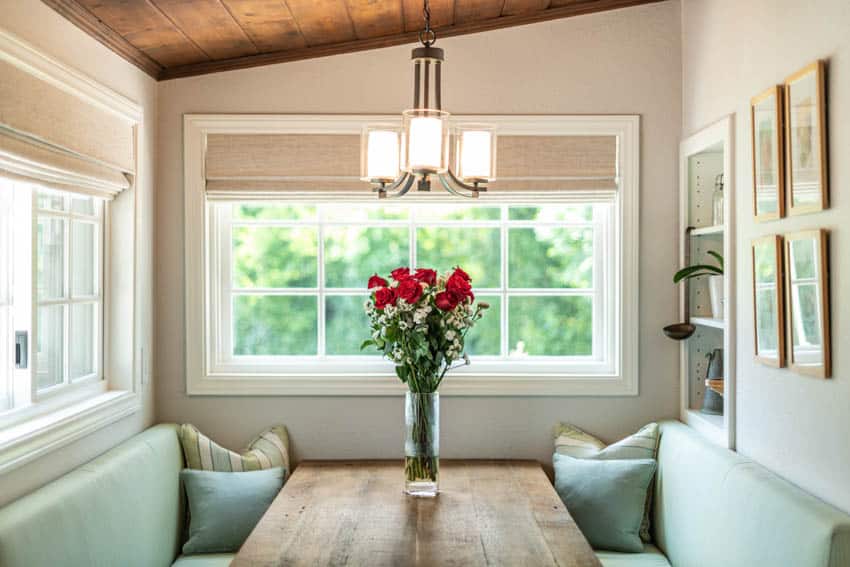 If you are looking for a casual and intimate dining experience, this kitchen booth screams just that. The green shade used for the benches and pillows provides a humble, earthy feel to the area. The hanging light and flower vase add to the intimate ambiance in the kitchen booth.
An Efficient Use of Space in the Kitchen
Whether you have a small or a large kitchen, you will always want to use your space efficiently. From this standpoint, a kitchen booth can be a functional and stylish part of your kitchen.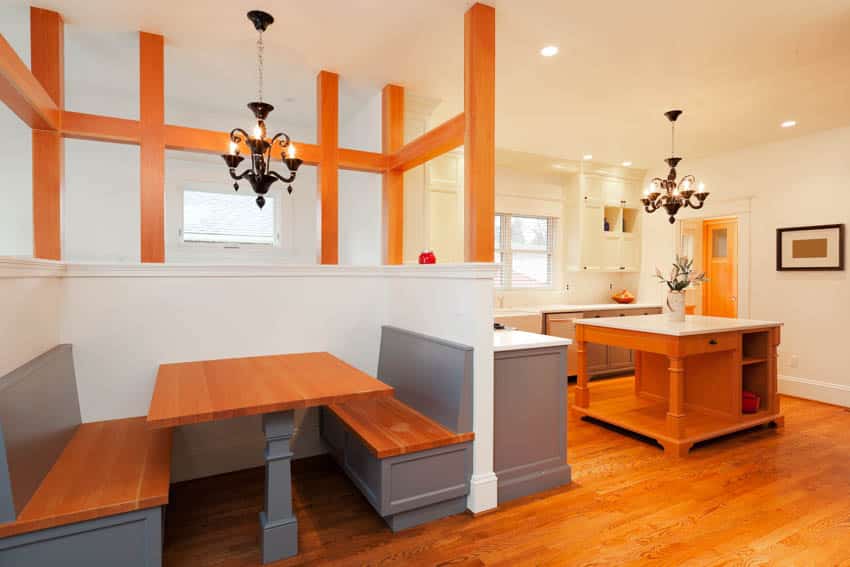 This kitchen booth has this cohesive design together with the kitchen, from the wooden floor, benches, tables, and even the kitchen island. Read more about our guide on the different types of kitchen islands here.
The chandeliers used on the kitchen booth and island are also the same. The kitchen booth used the space provided to it efficiently through its functionality and added aesthetic value.
Built-In Kitchen Booth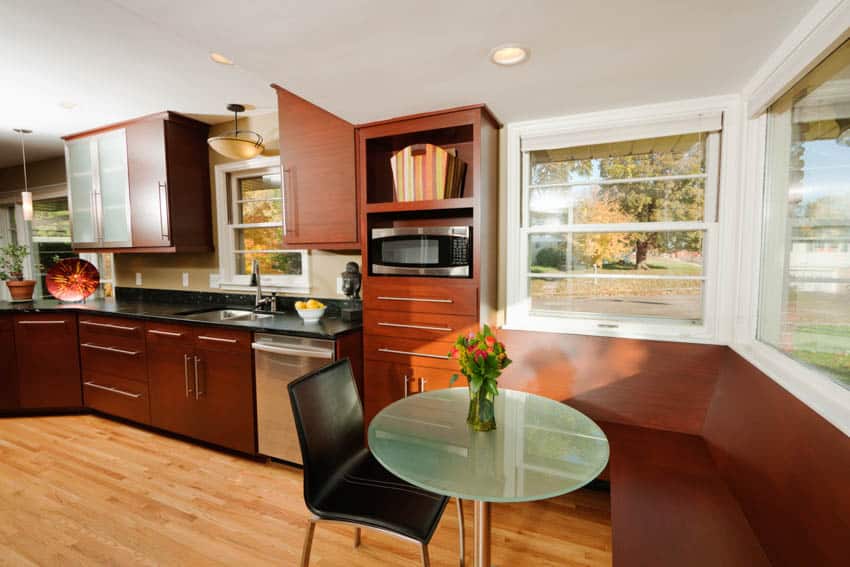 One of the elements you can consider for this project is the built-in kitchen booth. You don't have to buy everything and put them all in the kitchen. Instead, you can choose a built-in kitchen booth that not only saves space but also can also be incredibly stylish.
There are good reasons why diners and restaurants install booths – they're space efficient as they are comfy and casual – Beth Veillette, Kitchen Ideas That Work Creative Design Solutions for Your Home
A built-in kitchen booth helps a kitchen feel more spacious and has enough seating, whether it's for your family or guests. Of course, it will be up to you and how you design your kitchen booth.
You can save and maximize kitchen space or build a section of the kitchen to crowd and clutter the room more. Here are some ideas you can do for your built-in kitchen booth if you don't have a plan yet in store.
Floating Bench For Your Kitchen Booth
A floating bench is a possible part of your kitchen booth that can save space in your kitchen area. A built-in bench, this element of the kitchen booth, is installed in an existing part of the kitchen.
It can look stylish and sleek at the same time, especially considering the smart installation of the bench.
Made to appear without visible support and legs, this modern style bench offers a contemporary value to the kitchen's design. It can easily match any design, too, if you are planning more than just a modern-style kitchen.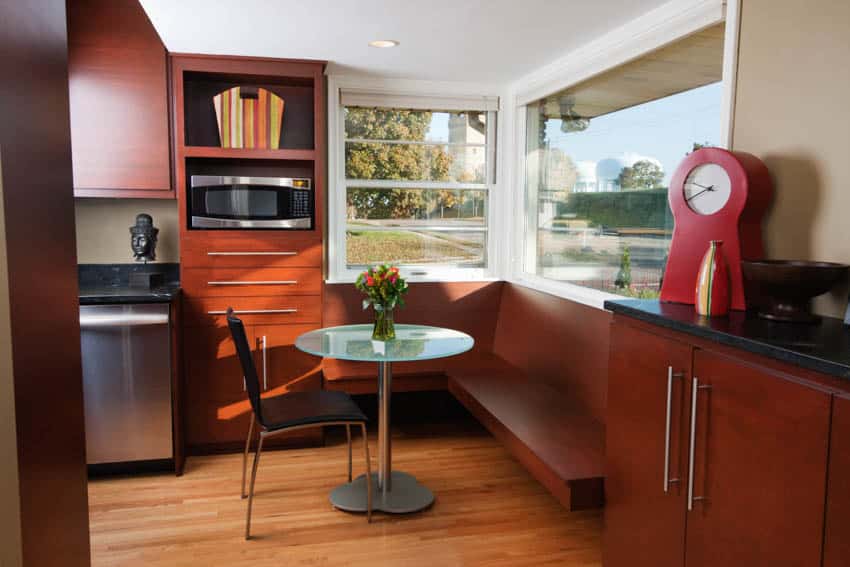 This corner kitchen booth showcases a floating wooden bench. This built-in wooden bench is free from visible support or legs, making it seem "floating." The floating factor also makes it easier to sweep beneath the bench.
Kitchen Benches With Storage
Kitchen benches with storage space are highly functional furniture that you can use for your booth. Your kitchen will seem larger, with the extra storage space hidden in the benches.
You can also be sure that the kitchen will feel less cluttered since you can keep some stuff out of sight in the storage space. You can keep your linens for special occasions in this storage space.
This double-duty bench is also more than just its functionality. You must also be sure that its style and design match your kitchen booth and area.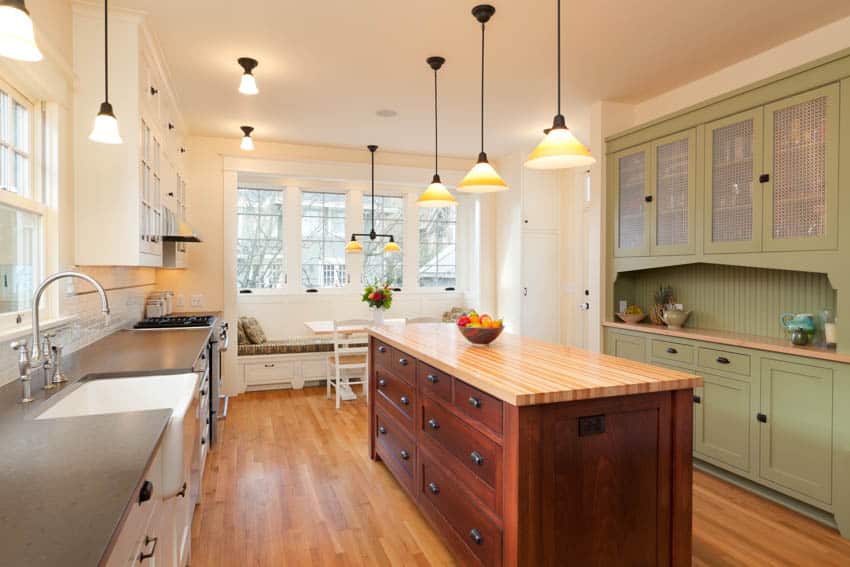 As you can see in this kitchen, the bench near the windows is transformed into a booth. This is possible by installing a table and additional chairs to complete the booth. The storage space in the bench is through the installed drawers on the bench itself.
Shelves as Part of Your Kitchen Booth
Besides the benches having storage spaces, you can also use shelves to be part of your kitchen booth. You can integrate your kitchen booth into an existing shelf in the kitchen area.
Besides not having to add more furniture pieces in your kitchen that can crowd it, you can also have another double-duty piece of furniture to benefit from.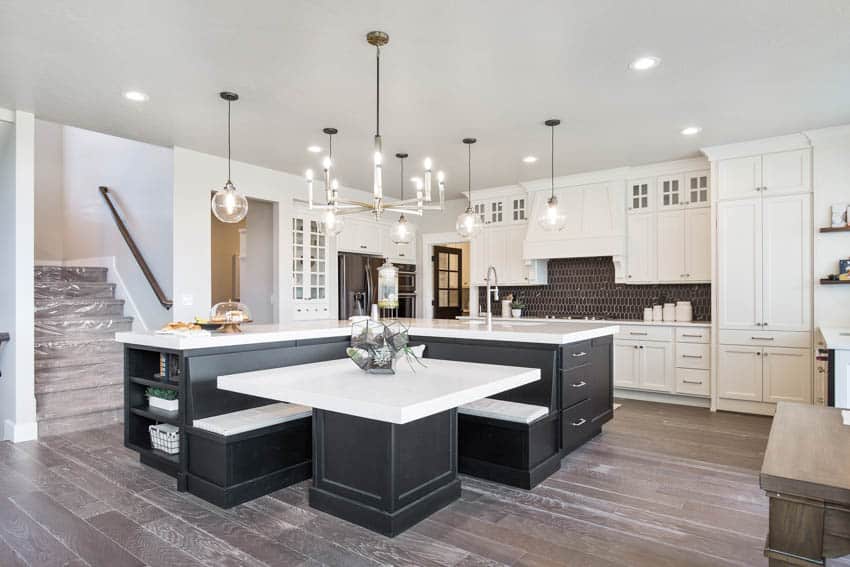 The L-shaped bench used in this kitchen booth is a shelf when you look at the left side of the kitchen. While the right side appears to be a bench with storage space, the left side is a bench with a shelf. The accessories on the shelf, counter, table, and hanging lights add a homey vibe to a rather cold-looking kitchen.
Small Kitchen Booth Ideas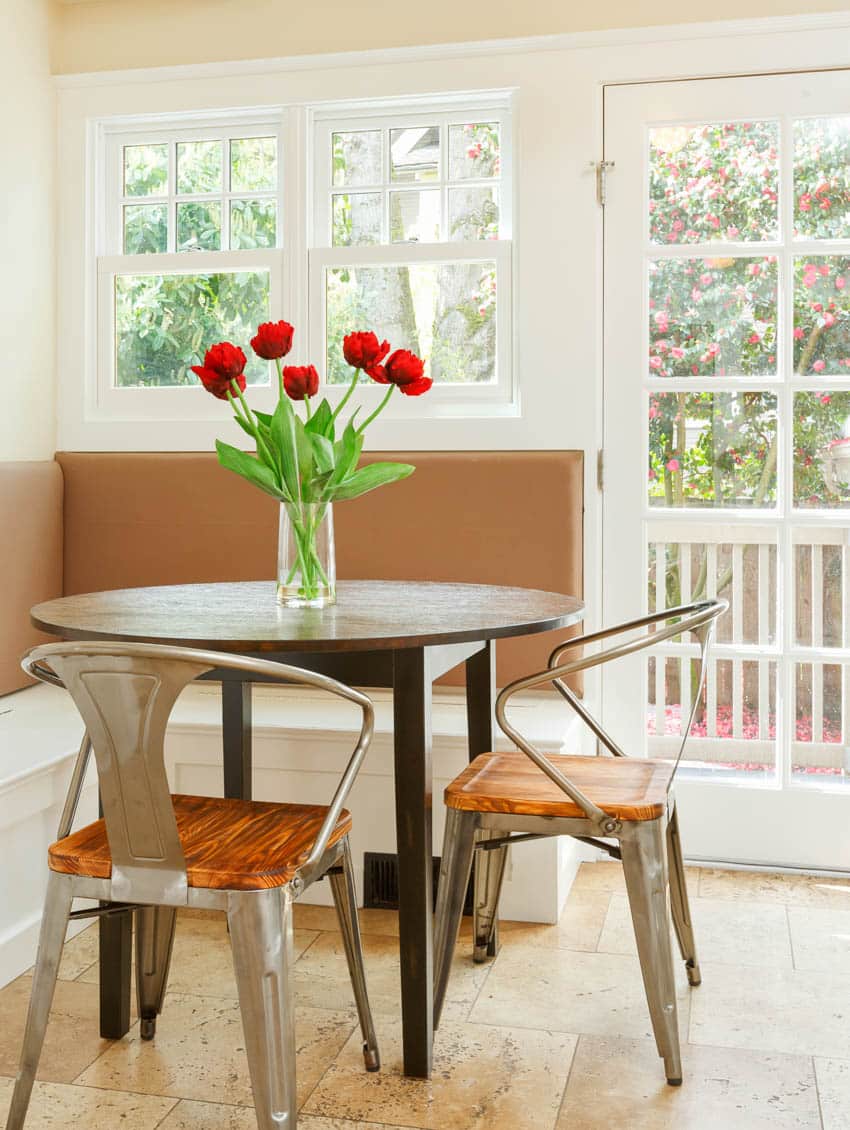 If you want to install a kitchen booth, but your kitchen has a small area, there is something you can do about it. The good thing about kitchen booths is that they add more than just an appeal to the kitchen but also the functionality.
You can save space using a kitchen booth. To help you with your little project, here are ideas you can do for your small kitchen booth.
Choose Warm, Cozy Colors
What do warm colors have to do with a small kitchen booth? When you design your booth, choose warm colors to create a cozy and intimate vibe.
A small kitchen space is perfect for an intimate conversation and dining experience with family and friends. When you use these warm colors, though, it is also important to make sure that they are compatible with the whole vibe of your kitchen.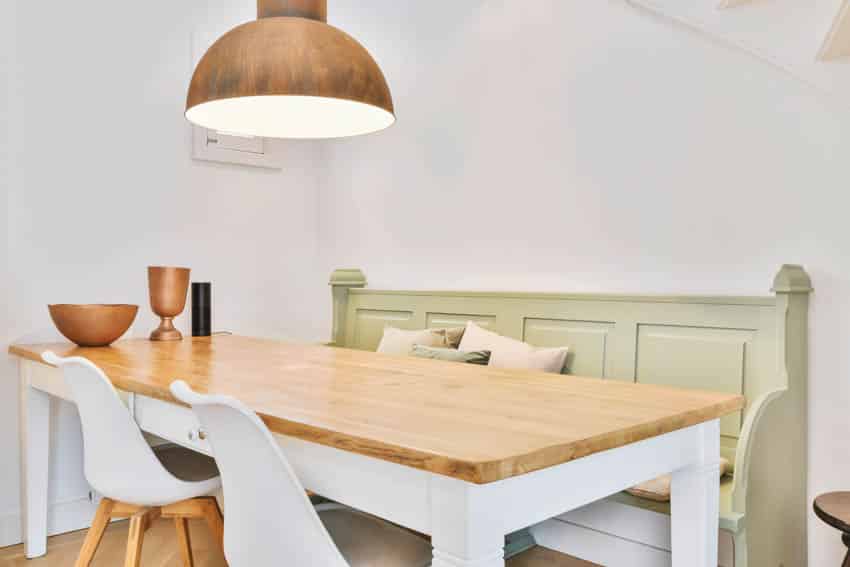 This wooden kitchen booth is the epitome of coziness. The addition of green paint and green pillows adds a certain freshness to the area. And the hanging light provides the warmth that the entire booth lacks. Read more about our guide on wood kitchen ceilings here.
Make Use Of A Corner For Your Kitchen Booth
Rooms have these corner spaces that are left alone and sometimes forgotten. If you have this in your kitchen, it might be the perfect location for your booth.
A corner booth offers the privacy you would want to have when enjoying a cup of coffee or an entire meal with your family.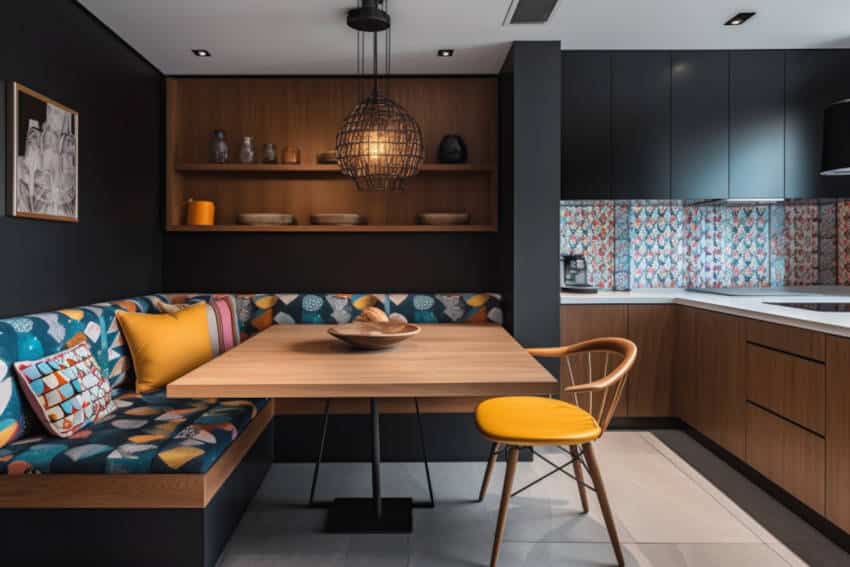 You can make this corner your breakfast nook or your intimate dinner spot. And the best thing about it is that you can design it however you want and add your personality to its style. You can also be sure to maximize the space in the kitchen unused before.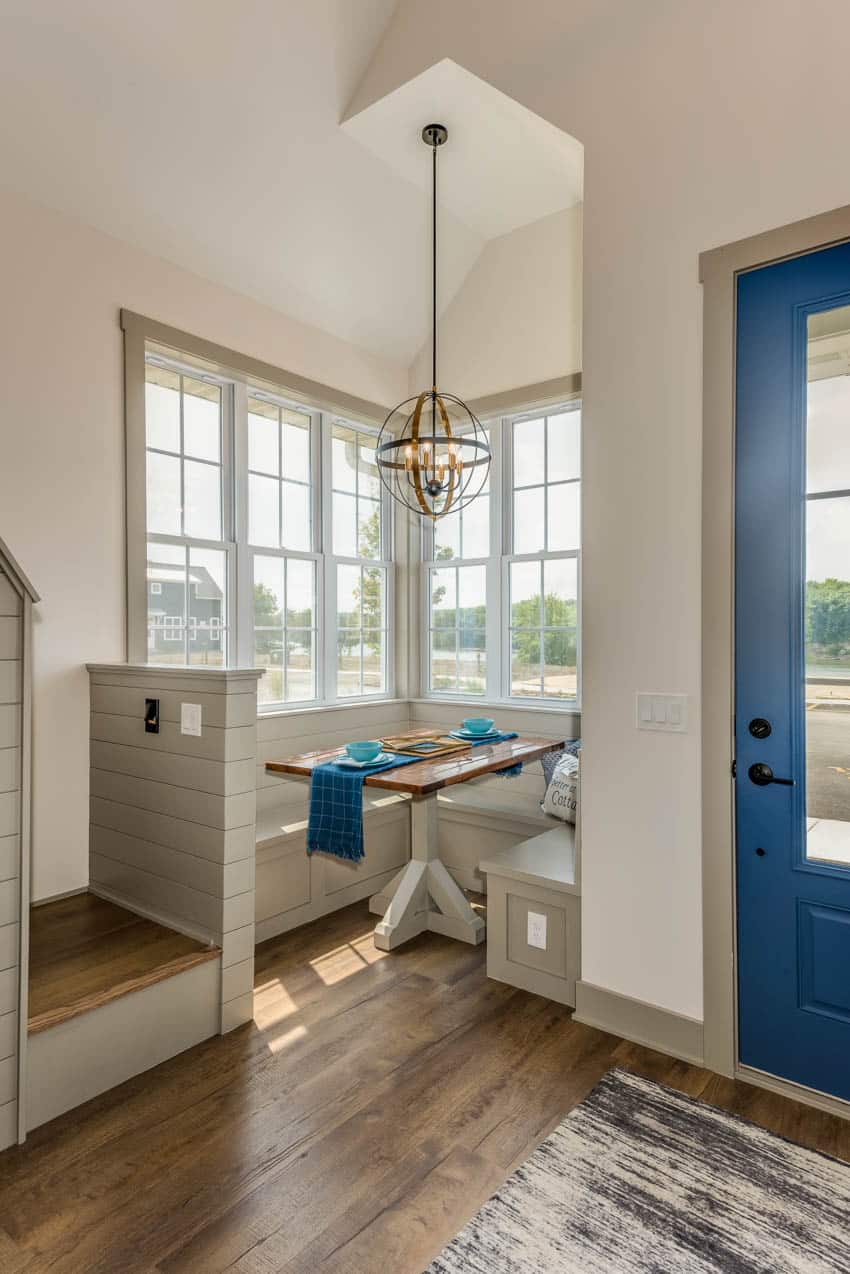 This stylish corner kitchen booth is dominated by wood with brown, white, and blue colors. The U-shaped bench is surrounded by windows, making the kitchen booth appear more inviting.
Besides the natural light it provides, the tall height of the windows contributes to the corner feeling more spacious and airy. The blue color of the dining set matches the color of the door and one of the pillows. And the chandelier adds a rustic feel to this modern kitchen booth.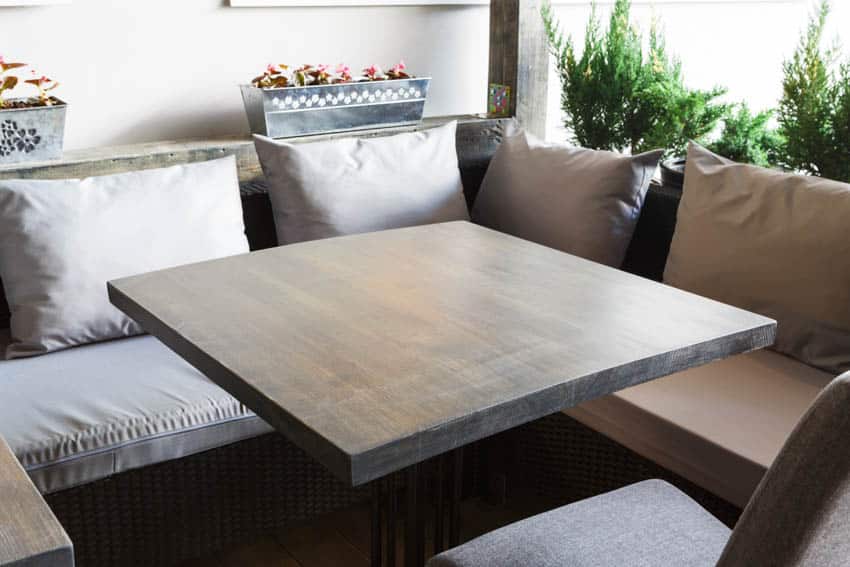 This L-shaped corner kitchen booth has a rustic and earthy feel because of the use of wood and the addition of potted plants surrounding the booth.
Since the bench is in an L-shape, you can add two more chairs to accommodate extra seating. The good thing about this layout is that since the table is more open, you have the prerogative to add the chairs or leave it open.
Cut Off Your Counter to Free A Space for Your Booth
If your kitchen can't accommodate enough space for a booth, you can cut off space from your counter and turn it into one.
Before you even build your kitchen, this should be part of the plan if you want a booth. Plan everything meticulously, especially if you have little space to work with.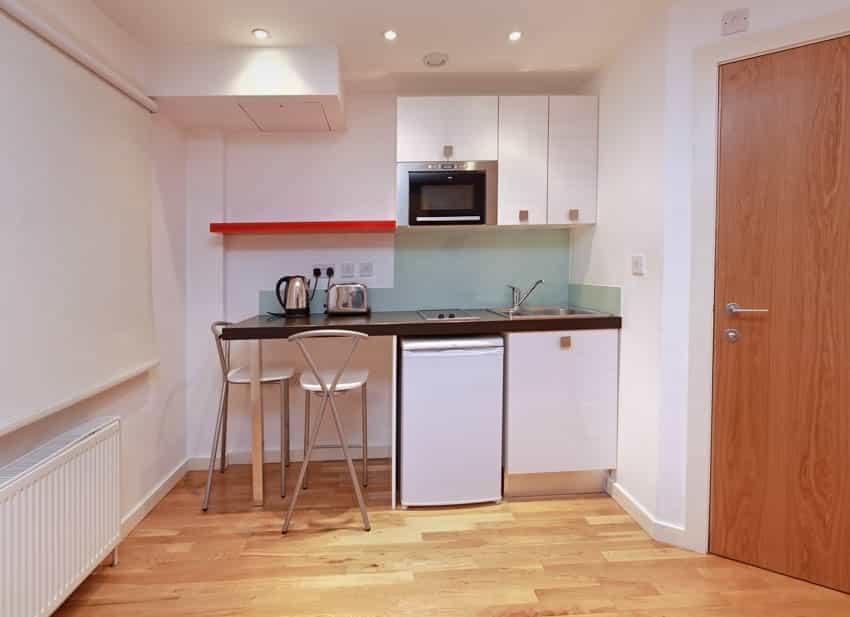 This kitchen booth is improvised, where the counter is cut short to accommodate the dining space.
Since the space is limited, it can only use two chairs for seating. The table is also used as a storage space for the heater and toaster at the same time.
Make A Breakfast Nook Seating
Design a breakfast nook that's comfortable and space-saving for your kitchen. When it comes to small spaces, proportions, and layout are prioritized.
You can't just install a bulky booth if your kitchen area is small. But it doesn't mean that it's not possible to have a booth in a small kitchen space.
If you have a space in your kitchen but it's not enough to install a dining table with several chairs, a kitchen booth may be the best option.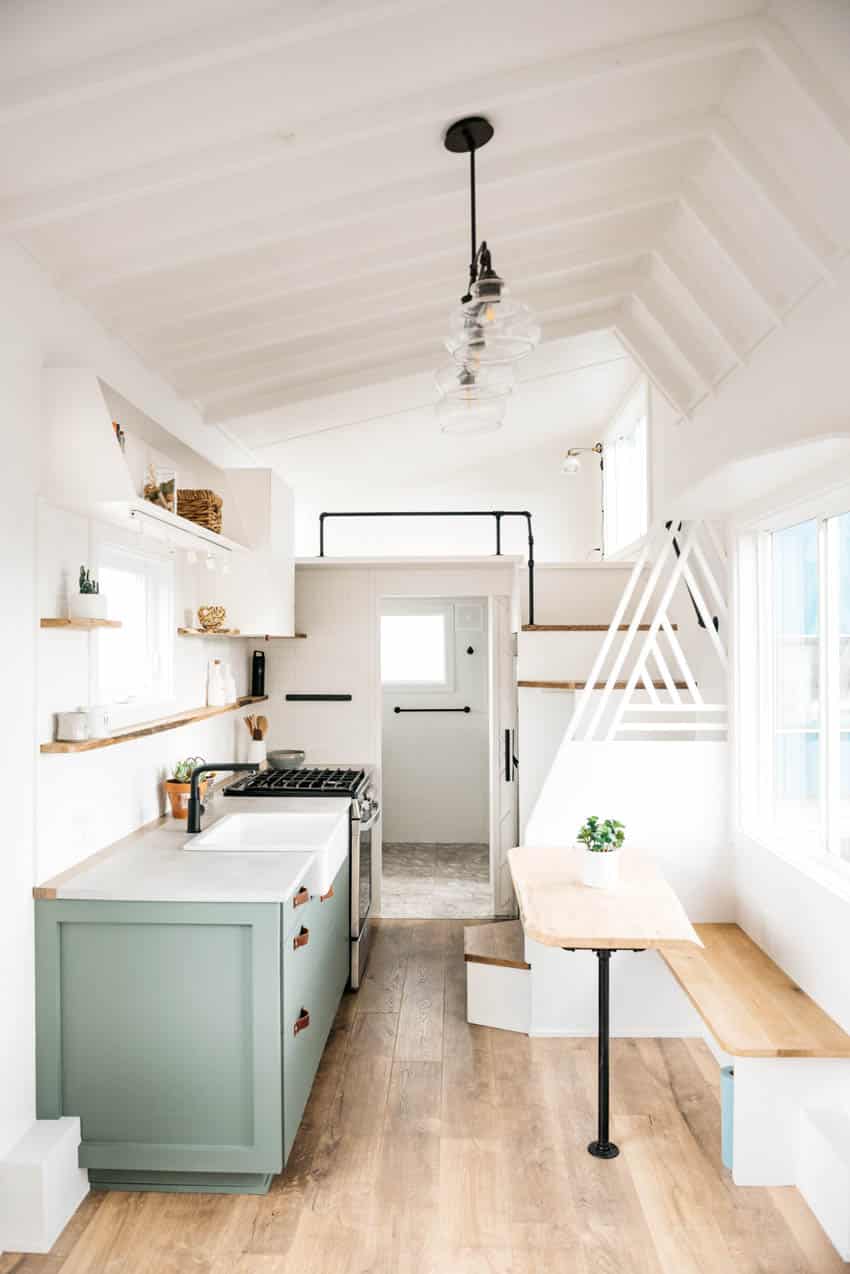 This modern small house showcases a little breakfast nook parallel to the countertop. The windows located near the kitchen booth allow natural light to come in, making it appear bigger than it is.
So it's a good idea to plan your kitchen booth beside your windows. Read more about our guide on the different types of kitchen windows here.
Modern Kitchen Booth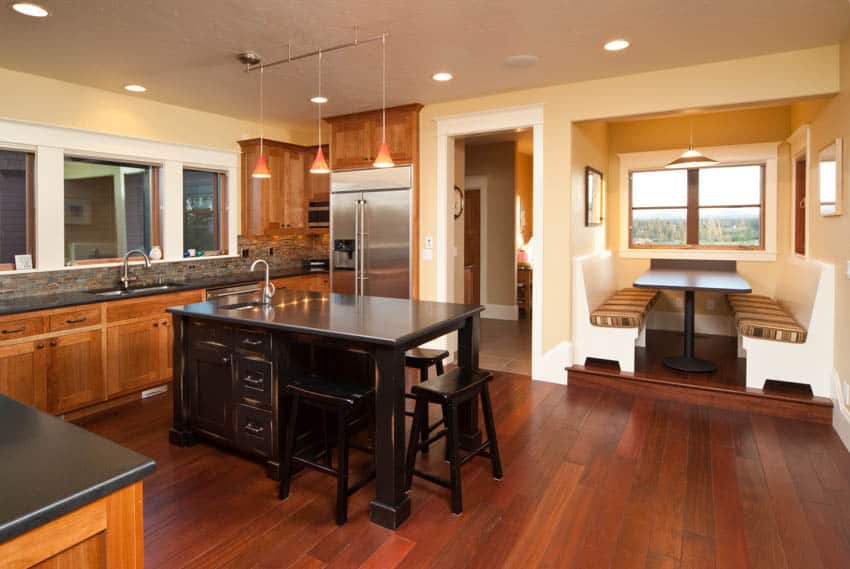 Modern kitchen booths are what's dominating houses today. It's not the hard and sturdy 1950 diner booths installed in kitchens. If you want one, here are modern kitchen booth ideas to consider.
Use Space-Saving Table For Built-in Benches
Space is always a consideration when planning, designing, and building a kitchen. One of the ways to save space is to install a piece of furniture that can do the job for you.
Partner built-in benches with a table that can accommodate the seating you've installed. Whether that's a round or a rectangular table, make the decision based on your design and the benches you use.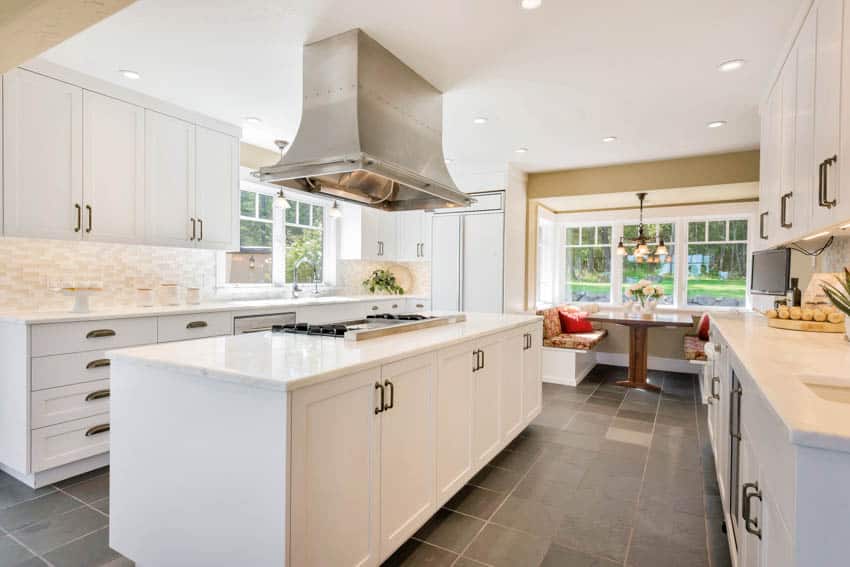 The kitchen booth installed in this kitchen area is in a modern style, following the design of the entire kitchen. Filled with storage spaces in the kitchen area, the kitchen booth gives a homey vibe due to the flower vase and hanging light installed in it.
Get Quirky With A Curved Bench Seating
With many designs and styles, you can always try something different and unique. Try curved bench seating and benefit from the extra spaces that the style provides. The open style of the bench makes it look inviting to sit on.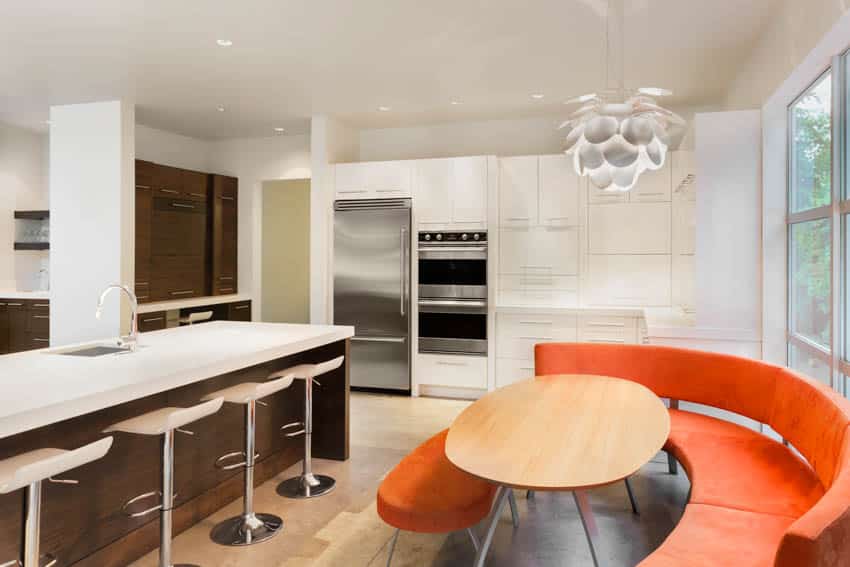 The contrast between the kitchen area and the kitchen booth is evident. The kitchen area seems cold and modern, while the kitchen booth gives the area the cheery personality it requires. The curved bench is quirky, and the orange color pops out of the kitchen.
Check Out Neutral Benches For Your Booth
You can use neutral benches if not up for quirky and popping colors. One way to keep your kitchen booth neutral is by allowing natural light to come in and turn the area into an inviting and warm one.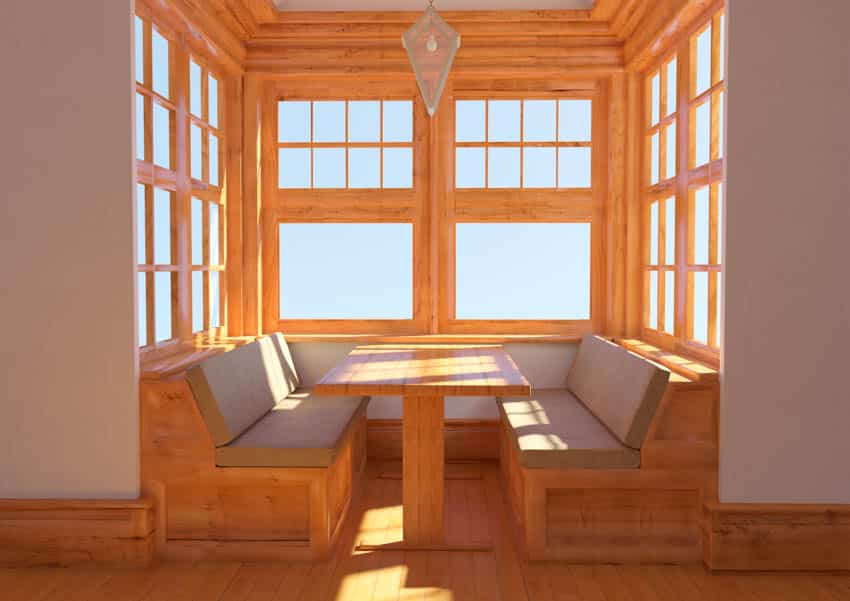 A wooden U-shaped kitchen booth surrounded by windows is an ideal neutral booth. The three windows bordering the booth allow natural light to enter, increasing the cozy and warm vibe of the area. Using wood for the bench and windows also adds a rustic feel to it.
Explore Island Bench Seating For Your Kitchen Booth
Modern kitchens have countertops and islands, making them more edgy and contemporary.
If you want a modern kitchen and at the same time need to save space since your kitchen area is small, one thing you can do is add a bench to your kitchen island. This transforms your kitchen island into a multi-functional table.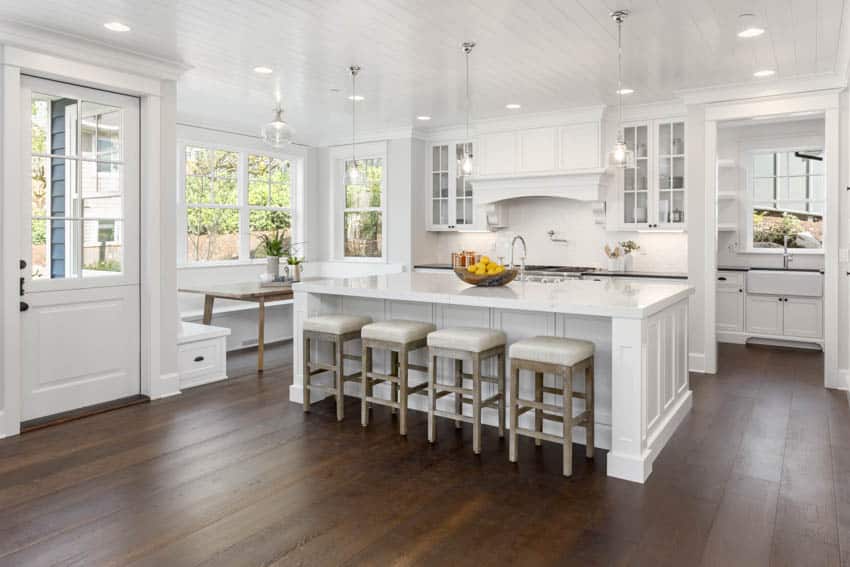 This all-white kitchen uses its center island as a table, too, with the addition of four stools. Besides the U-shaped kitchen booth near the windows, using the island to add seating is a smart and modern thing to do.
Create A Separate Area For Your Kitchen Booth
If you are in the process of renovating your kitchen or just starting to design it, make sure to allot a space for your kitchen booth in the layout.
The best location for a kitchen booth is near the windows. Besides the view you can enjoy when dining, the natural light also helps brighten your booth.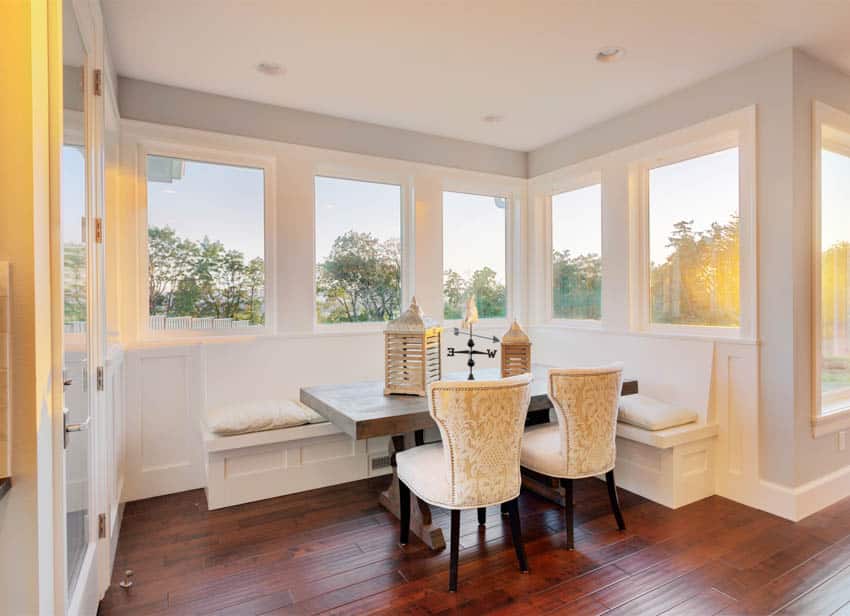 A bright kitchen booth is a refreshing little nook to look at. This white-dominated booth is designed near the windows and door to allow natural light.
You can choose this modern-style L-shaped kitchen booth with an intimate and cozy corner for your dining experience. See more related content in our article about dining room dimensions on this page.