Here we share our agate countertop guide including what it is, the different colors, designs, cost, durability, if it's granite or quartz, and if agate countertops stain easily.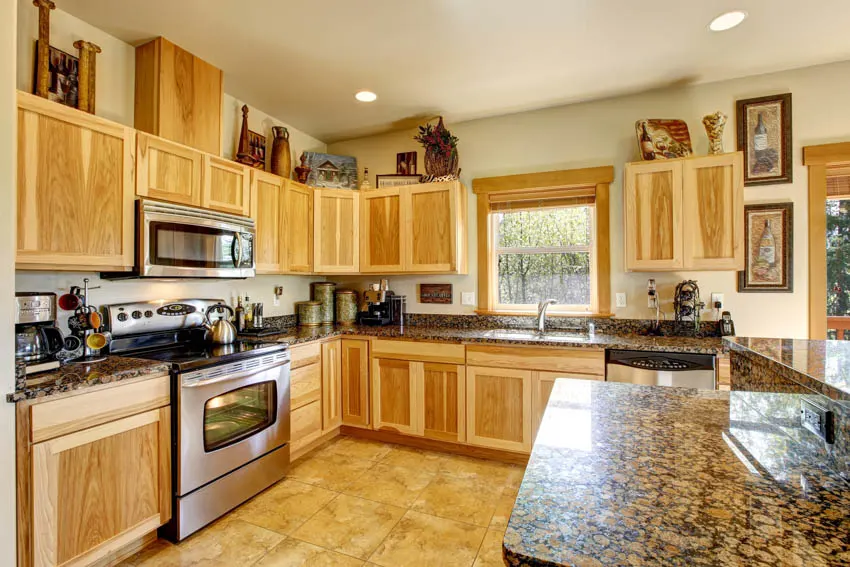 People have heard and read quite a bit about different natural stones from marble, to granite, to porcelain, and so on. But in this article, we're going to talk about a rather rarer natural stone type: agate. What exactly is it? And is it the right choice of material for you to have in your countertops in the kitchen?
Agate is a type of natural stone that's basically a mix of different minerals that even has trace amounts of chalcedony and quartz. This type of stone can usually be found in lava rocks or volcanic rocks.
Agate is a material that's been used by stone carvers way back since the medieval times. It also happens to come in a lot of different colors from green, white, gold, green, black, red, and even soft tan.
Since agate is a combination of so many mineral and because of the way that it's formed, it has natural stripes that come in a lot of different colors. This is known as either striped agate, banded agate, or riband agate.
There are also other types of agate such as moss agate and enhydro agate that have leaf shaped patterns in their design as well as tiny bubble patterns. There are plenty of other types of agate with patterns and designs that make them unique. It's really up to you to explore what your options are.
What Are Agate Stone Countertops

Getting an agate stone countertop for your kitchen would mean that you're getting your hands on a material that is exceptionally hard. It can definitely take a beating and stand up to daily use in the kitchen.
It has a highly polished surface that can resist a lot of stains and other chemicals so if you happen to have the constant messes and spillages in the kitchen, an agate stone countertop can definitely carry its weight and rise to the occasion.
All of these are good qualities, especially the bit wherein the surface is polished and that it's a hard and durable material. It does come with a price though – and a hefty one, at that. If you aren't really all that ready to shell out a huge amount of money for your countertop, other natural stones such as quartz can be alternatives.
However, if you've got your heart set on getting an agate stone countertop but don't have enough money for it, perhaps you can look into getting a smaller piece of agate that will fit into your budget instead.
Another creative way to incorporate agate in your kitchen countertops is to have elements of agate as part of a mosaic with other natural stone pieces. This is an expensive option though.
Also, it might not be the most practical choice because this means that your kitchen countertop will have joints in between the stones. At the end of the day, the best way for you to get an agate stone countertop for your kitchen is to have it in one solid slab.
So how much does it cost? It depends on the type of agate that's being used or showcased in a particular countertop.
It can come in so many variations such as in smaller sizes and mosaics but if we get a ballpark figure of the cost of solid slab agate countertops, a fairly accurate range would be at around $300 to $500 per square foot or a range of $10,000 to $15,000 overall. This cost calculation already includes the installation fee and it also already comes with a warranty.
Agate Countertop Colors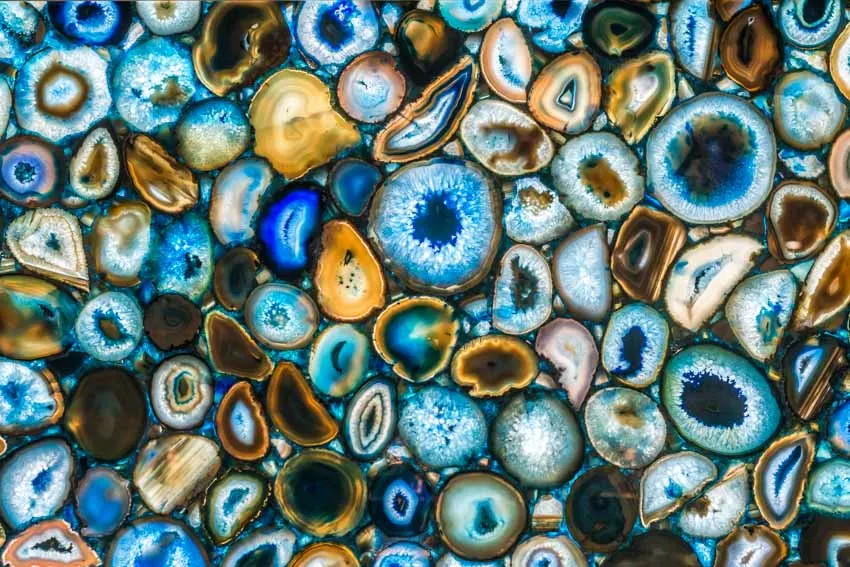 Interestingly, agate can actually come in plenty of shades. They can be in blue, purple, red, black, brown, green, pink, and so much more. They may also come in a variety of styles and patterns on the surfaces.
Here are the different popular agate countertop colors that happen to be the most popular in the market right now and what you can expect out of them in terms of appearance and even in terms of their perceived effects on moods and vibes as agates are also considered as healing stones.
Blue Agate Countertop
Blue lace agate in particular has a pale blue color scheme. It's so pale and light that a countertop slab mimics the look of clouds against the backdrop of a light blue sky. It has been said to clear throat chakras that are blocked and encourages truthfulness and honesty.
Blue agate is at times also a mixture of blue and green, depending on the main composition of the material. You can add some backlighting if you want to add on to its vibrancy as a kitchen countertop.
A blue agate countertop can instantly add the look and feel of luxury in your kitchen layout dimensions and can actually stand alone as a piece of art. Because of its striking appearance and appeal, it can immediately become the focal point of the kitchen space.
This is hands down one of the most popular agate countertops. This is due to the fact that it can be arrestingly beautiful to look at.
It can warm up certain spaces in the kitchen while still balancing energy out to the rest of your home. Its translucency makes it an excellent candidate for countertop backlighting. They pair very well with light kitchen cabinetry.
Green Agate Countertop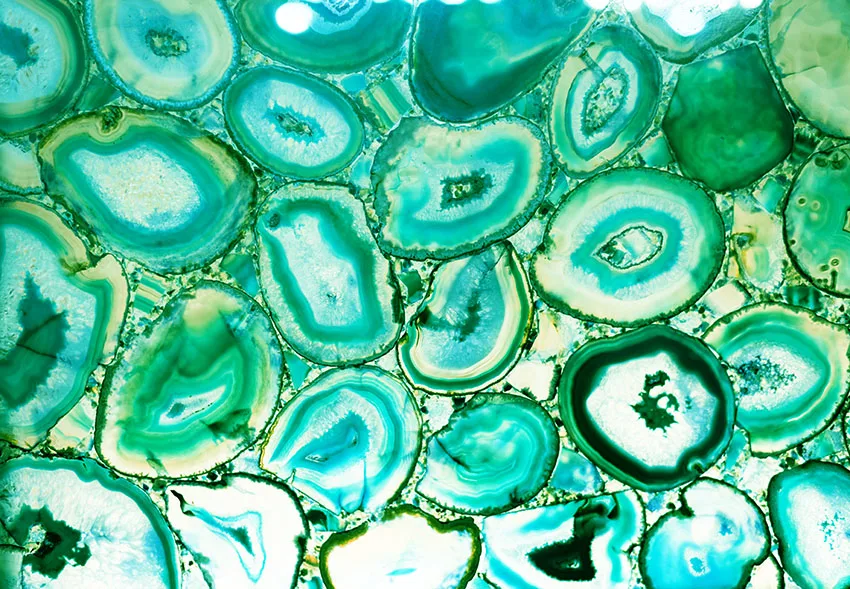 Green agate is a breathtaking material to work into a kitchen countertop. It stands out for its touch value on the surface. It's a countertop material that has a glassy or waxy texture within the stone.
More often than not, manufacturers would sand the material down or break inside it if it happens to be in giant slabs. This will expose the waxy and extremely polished texture of green agate after the manufacturing process.
It comes in a somewhat translucent deep green color and has been rumored to go all the way back to the time of the ancient Egyptians.
Because of how its appearance reminds us of nature because of its mixture of green shades and earth colors, moss or green agate is reminiscent of towering trees and rich brown earth during a sunny day. It is said to be the stone for growers and gardeners and has also been said to heal heart chakras.
It's primarily formed from chalcedony and silicon dioxide, giving the stone its green color. Although the colors of green agate can at times be compared to Jade, it has more complexities to it. A piece of green jade will be uniformly green inside and out.
Green agate, on the other hand, will have bands of layered, concentric, parallel, or even corrugated colors that may have whites, greys, reds, blues, and browns in it on top of the dominant green color.
Grey Agate Countertops
If you're looking for a subtle and neutral color for your agate countertop, then grey agate should be a pretty good contender. It has a calming and soothing effect to the space that it's brought in. it has even been said to have the emotional effects of stabilizing emotions and improving concentration.
Its color is semi-translucent and out of all of the other colored agate types, it has the one with the most amount of microscopic crystals of quartz in its composition. It has been known that grey agates are completely natural and are not produced by dyeing the agate.
The grey color is only enhanced through extra processes of cutting, tumbling, or even polishing. If you're all about getting an all-natural agate stone for your kitchen countertop, then you should seriously look into getting the grey agate variety.
White Agate Countertop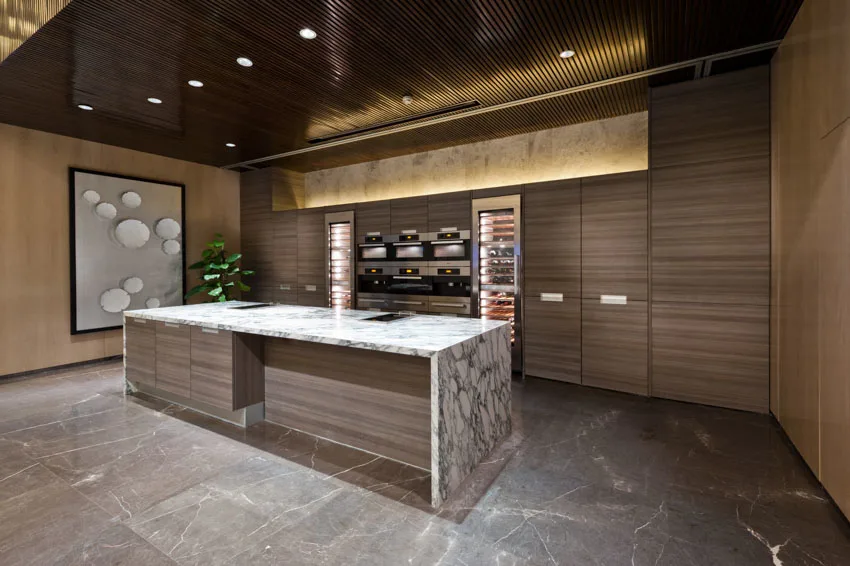 If you want to come up with an elegant-looking material for your agate countertop, then white agate is the variation or color to beat. It has a subtle way of bringing in luxury and can be the perfect element for you to create a kitchen area that looks bright and airy.
It differs from the rest of the other agate countertops out there in such a way wherein its patterns are so subtle that they're barely there.
This can be perfect for you if what you're going for is a look or vibe that's somewhat minimalist and modern. They're perfect if paired with colors that contrast them such as dark wood or other dark painted materials with the countertop body.
Amethyst Agate Countertop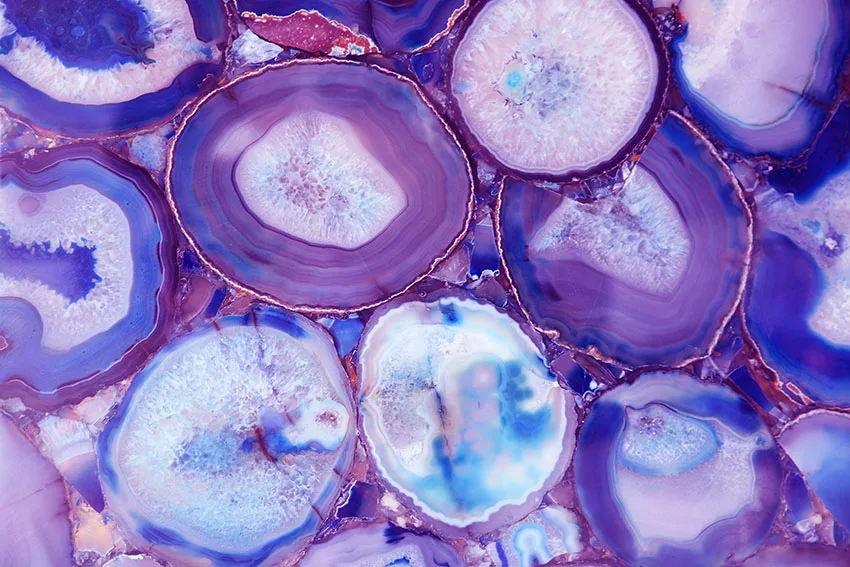 This is a purple-colored agate countertop that has breathtaking colors and texture variations. It has been said that its purple color is perfect for sparking curiosity and creativity while at the same time, serve as protection against poisons and supernatural entities.
Amethyst agate countertops can pair extremely well with polished chrome fixtures in the kitchen. Stark white cabinetry in the kitchen space is also recommended if you happen to be in the market for this particular agate countertop color.
It has a diffused pattern that can subtly draw the eyes to it so they're a great way to add some sense of appeal or interest to otherwise basic or neutral-looking islands or backsplashes.
Agate Tropicalia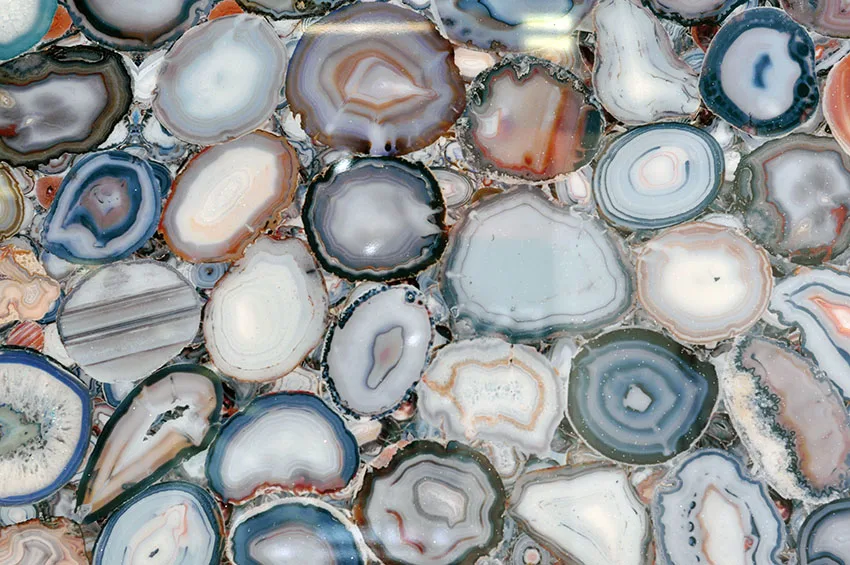 This agate variation comes in different patterns and shades. The colors can range widely from gray to blue to even yellow. Agate tropicalia is particularly notable for its crystallized flakes and its circular patterns.
This type of agate can be paired beautifully with cabinetry that's made out of light wood or those that have light-colored stains. If you would like to bring in some added visual interest and don't want it to look too light or plain, you can backlight this agate. This will effectively add both drama and warmth to the space that you put it in. It's a nice vibe to have in your home's kitchen.
Brown Agate
This agate variation offers brown crystals in the countertop surface. The brown color has a calming and soothing effect and it can be therapeutic to have as a countertop for your kitchen space at home. It's perfect if you're looking for something to kind of warm the space up because of its brown color.
Brown agate has been said to be great for improving the quality of life for everybody residing in the home that it's placed in. It has also been said to increase prosperity in the home. They can be paired with a wide variety of cabinetry colors because of their fairly neutral vibe.
Agate Slabs Countertops
Agate slabs can come in so many different forms and can be used in different ways in the home. They can be made into different types of bathroom showers, tabletops, floors, walls,, and relatively anything and everything that you can possibly think of.
But primarily, they're quite popular as kitchen countertops. This is because agate slabs can turn out to be show-stopping pieces that speak for themselves.
This is something that a lot of homeowners on the high-end market tend to appreciate a lot and this is why agate slab countertops have picked up their popularity over the years.
Backlit Agate Countertop

A decorative natural stone such as agate can be a creative opportunity of unlimited proportions. Backlighting is a simple technology with immense benefits on the aesthetic appeal of these agate
types of kitchen countertops
as well as on your kitchen in its entirety.
It's a nice little add-on if you really want to make the most out of being able to showcase a high-end countertop material such as agate.
Take note though that you should tread with caution as it doesn't come cheap. The basic rule of thumb when it comes to installations like this is that it is bound to cost you just as much as what the agate slab cost you, given the high service fees and installation costs.
It depends on the area that you're located in but when you factor in the end cost of a backlighting job for an agate countertop, it can range at $70 or more per square foot.
This is a bit of a hefty price tag to have to take on but for as long as you can afford it, the end result can be quite well worth it as it's the kind of look that you won't be able to replicate anywhere else.
Moreover, backlighting can really bring out the minerals and other colors flecked within the agate slab and highlight them accordingly.

Agate Countertop Cost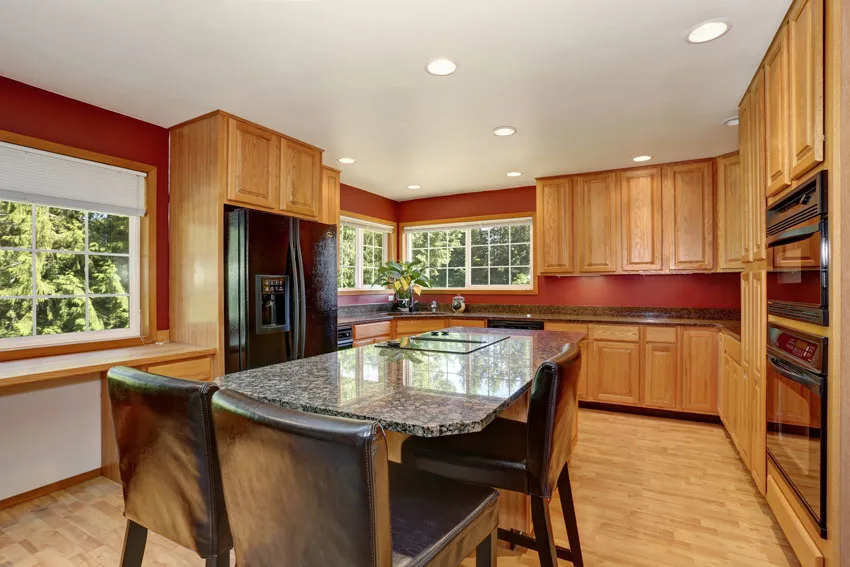 After all has been said and done, it's fair to say that your agate countertop options are limited only by your imagination as well as by your budget.
On average, agate countertops can cost anywhere from $10,000 to $15,000. If you break it down in square footage, the range is at $300 to $500 inclusive of installation.
The reason why the price is so steep is because of the fact that these countertop materials are only available in solid and full slabs. They don't usually come as composites alongside other natural stones and gems and this can account to their rarity as well as import value.
Backlighting is great because it can provide uniformity in your countertop's brightness. Some minerals can actually glow under UV light.
These trace minerals such as apatite, quartz, muscovite, and feldspar are at times found in the agate slabs installed as countertops so you can definitely maximize their beauty that way. See more translucent countertop ideas here.

How Hard Is Agate
As we've mentioned at the beginning of this article, agate is actually pretty hard and durable. It has a Mohs hardness rating of 6.5 to 7. With a hardness rating like this, it means that agate is not the type of natural stone to break easily.
As a matter of fact, it is so hard that it isn't surprising to see agate being used in jewelry. It comes with very little fear of getting its surface scratched because of how hard it is. It isn't as hard as a diamond, of course, but it's still a pretty good candidate.
Is Agate A Type Of Granite Or Quartz?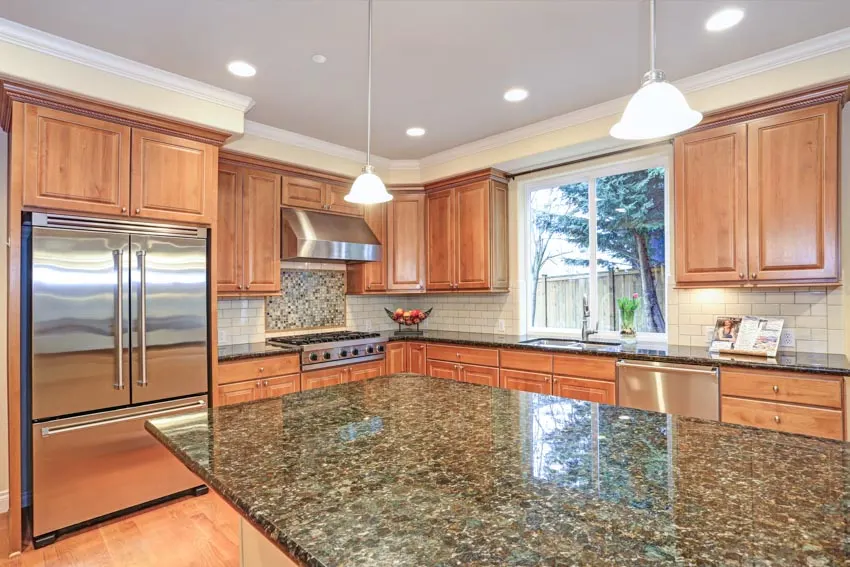 Essentially speaking, if we break it down to the basics, agate is technically quartz. It has all of the physical properties that are fairly similar to it, anyway.
Most of the agates found in the market today can be procured from the cavities of volcanic rocks or ancient lavas but they don't have the base building blocks of granite.
They have banded and successive structural layers that are more or less parallel to the sides of the cavity that they formed around.
Does Agate Stain Easily?
Agates don't stain easily. This can be attributed to its high density, low level of porosity, as well as to its highly glossy and reflective surface. This is why agates make very sensible countertops if you don't mind footing the high price tag that comes along with it.
Maintenance is also fairly easy. More often than not, it only requires a basic wipe-down with some water, a little bit of soap, and a soft cloth and you're pretty much good to go.
This also technically guarantees that should you decide to go ahead and invest in an agate countertop, it will last you for years and years to come.
With the right kind of care, and very minimal maintenance, agate kitchen countertops can last for decades or even for an entire lifetime. It's definitely worth its price.
See more related content in our article about the gemstone countertops on this page.