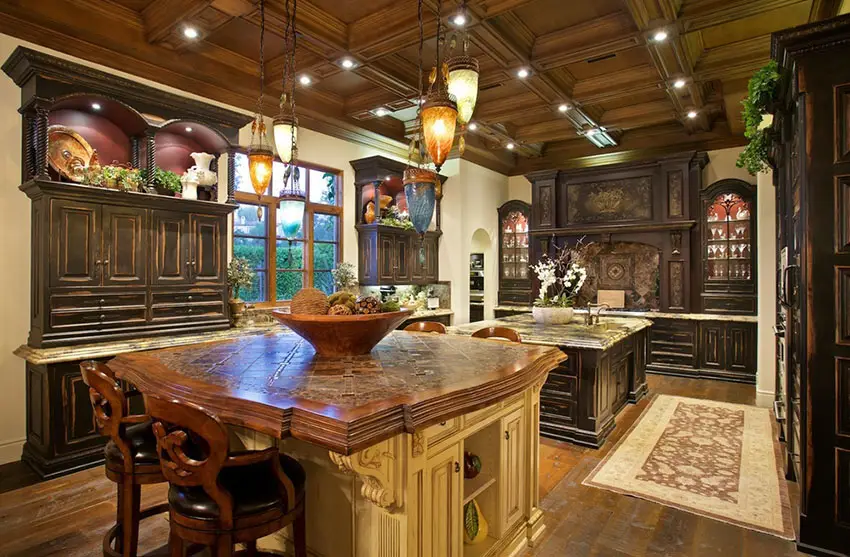 This gallery showcases elegant Tuscan kitchen ideas including a variety of cabinet styles, flooring, islands and decor. A Tuscan style kitchen brings rich warm tones, Italian architecture and rustic cabinetry together to create a gorgeous space for cooking and dining. Many million dollar homes are equipped with luxury Tuscan kitchens to increase the value and appeal of their home.
The beautiful Tuscan kitchen shown in the picture above is both spacious and luxurious. It's detailed coffer ceiling already sets the classic/traditional vibe of this kitchen as it boasts of moldings and details typical of classic interiors.
Rustic mahogany floors and off-white walls set a warm background to the space, allowing the weather wengue finished of the kitchen cabinets to stand out. In this design, you will see that storage space is given priority, especially on the wall kitchen cabinets and counters.
Much of the space is dedicated to cabinet storage and displays, while counter space remains mainly on the large kitchen island. The matte wengue finish has a weathered look, and has classic Italian motifs like turned spindles, decorative corbels with acanthus leaf carvings and wooden panels with stenciled flower paintings.
This kitchen also has a separate kitchen island counter which is higher than the standard counter high, and uses a countertop made from solid Mahogany frame with ceramic tiles in its center. The bae cabinet is white instead of wengue, making it look like a separate piece from the rest of the kitchen.
Tuscan Style Kitchen
For people who enjoy the luxurious appeal of Italian kitchens, yet prefer a more relaxed, casual feel, Tuscany kitchens is a great style option. As its color scheme leans towards warm, earthy tones, it has a more welcoming ambiance, and the finishes used on Tuscan kitchens also give a more homey feel as it looks more like a well-used kitchen rather than a showroom/showcase kitchen for display.
This kitchen style is perfect for those who love the detail and classic appeal of Italian kitchens, yet prefer a more laid-back country villa feel. In order to achieve this kitchen style, one must take note of the following important features typical on Tuscan kitchens.
Colors – Tuscan kitchens typically use warm colors reminiscent of the colors found naturally in Tuscany, such as orange, ochre or terracotta.
Cabinetry – matte, rustic finishes are typically preferred in Tuscan kitchens to give that worn-out/well-used look, and can either be painted or kept in their natural color.
You will also notice the use of open displays or glass-door cabinets which allows you to showcase Italian ceramics and other precious items. There is also a tendency of mismatching cabinetry in Tuscan style kitchens, making them look like movable furniture pieces.
Stone – for countertops, matte natural stones are still preferred over glossy materials, but the backsplash would sometimes have a few glossy tiles or stones for a little more contrast.
Flooring – flooring material used in Tuscan kitchens also naturally use a warmer color palette. Some of the common materials used are terracotta tiles, marble, ceramic tiles, mosaic tiles, hand-painted tiles for accent, and sometimes, hardwood is used as well.
Motifs – vines, grapes, olives, lemons , urn with flowers are just some of the common motifs you will find on Tuscan kitchens, typically applied as cabinetry carvings, stenciled on cabinet doors or table tops, hand-painted on ceramic tiles or inlaid on stone/tiles.
Lighting – Tuscan kitchens are also abundant in natural lighting, and is often a place for gathering and a center of family activities, and therefore has a sense of openness to it, allowing conversation and dining in the kitchen.
You will also notice that Tuscan kitchens has an area dedicated for baking, which may or may not look different from the rest of the kitchen.
As with any design style, one must remember to keep elements balanced to create a good kitchen design. For Tuscan kitchens, dark/natural wood cabinets are usually paired with lighter wall finishes, while cabinets painted in white are usually paired with warm wall colors for contrast.
Accessorizing is also an important aspect of Tuscan kitchens as you would often glass jars with pickles or preserves, or decorative ceramics on display.
Tuscany Kitchen Designs
Below are some excellent pictures of Tuscan kitchen ideas you can use to bring this beautiful style to your home: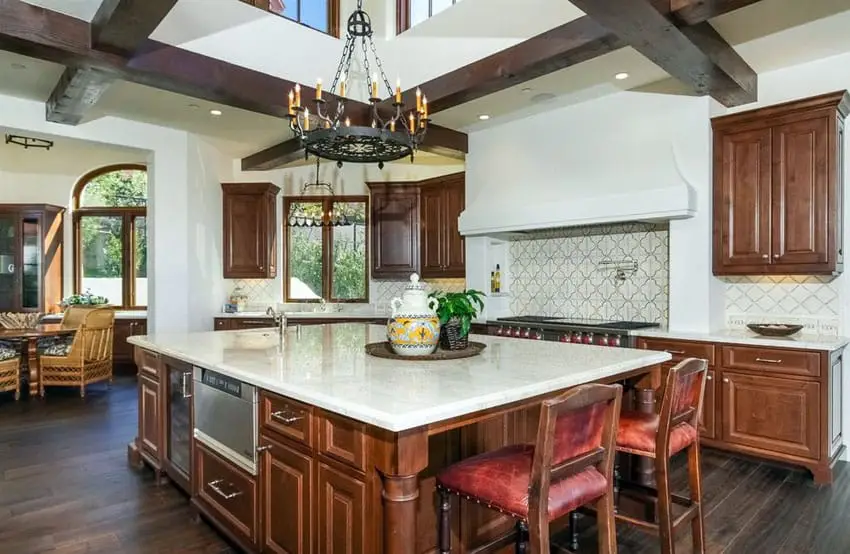 This kitchen is a good example of a modern adaptation of a Tuscan style kitchen. It boasts details such as a dark oak wood flooring and matching oak wood exposed ceiling trusses to give that classic antique feel, while the kitchen cabinets are made of solid walnut with a strong red undertone.
Marble counters are a rarity in the kitchen because of their expense . If you're fortunate enough to own marble counters , wall tiles , or flooring , take steps to avoid stains that could mar the exceptionally luxurious appearance. – Kitchen Ideas You Can Use, Updated Edition, Chris Peterson
This modern version uses a glossy white marble countertop instead of a matte finish more typical of classic Tuscan designs, but the use of cast iron chandeliers and hand-painted mosaic tiles for its backsplash makes up for the glossy finish of the counters.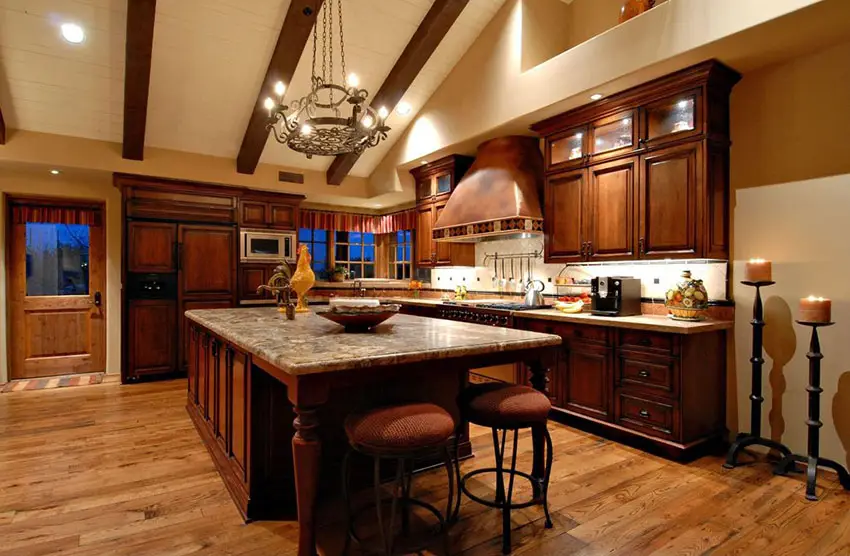 This is another excellent modern adaptation of Tuscan style kitchen design which features rustic maple flooring, exposed mahogany ceiling trusses, beige-painted walls and solid walnut cabinetry.
It uses matte granite stone for its countertop and mosaic ceramic tiles of the backsplash, adding a few hand-painted pieces at the rim of the range hood cover.
The look is completed by adding cast-iron bar stools and chandelier, as well as glass jars with preserved fruits as accessories.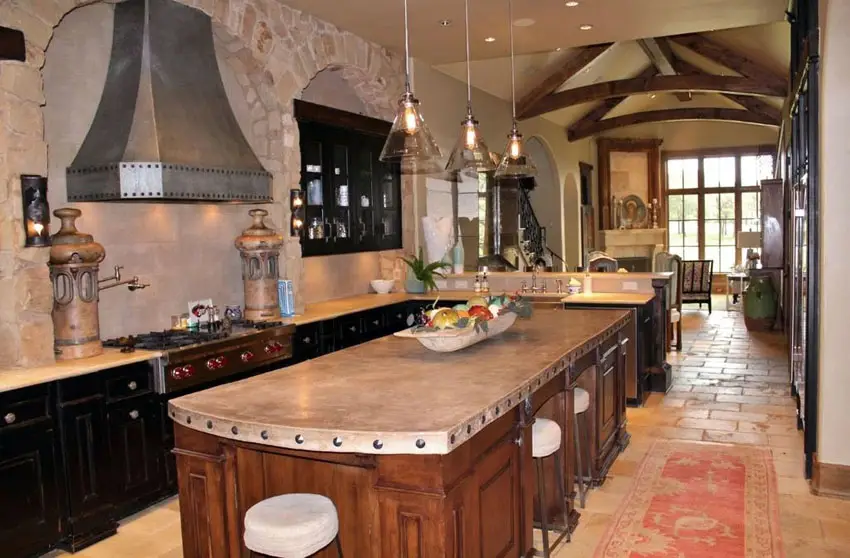 Fusing industrial details with classic Tuscan kitchen details results in a very interesting look. The base of the space is perfect for Tuscan-inspired interiors, as it uses matte stone flooring and real limestone masonry on the walls.
The light-colored natural stones provide an excellent background for the weathered wengue base cabinets of the kitchen counters, as well as the Mahogany base of the kitchen island.
It also adds interesting details such as faux nailheads on the edge of the kitchen island countertop to match the hammered iron range hood.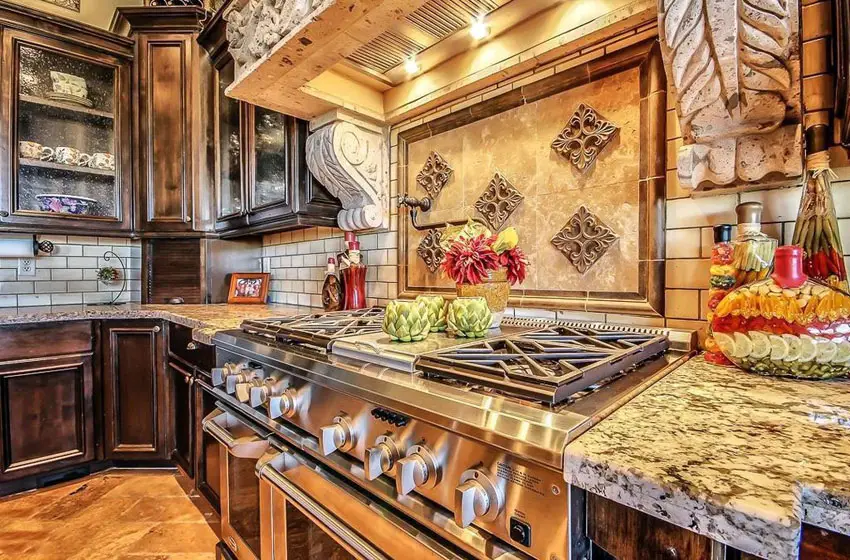 This small corner of this kitchen already boasts of many details typically found on Tuscan kitchens. The room features matte granite countertop paired with rustic cabinets, natural stone flooring with a warm orange color tile flooring
Other standouts include overhead cabinets with glass doors to display ceramic wares and other items inside, classic Italian motifs, corbels and even glass bottles and jars with fruit preserves as accessories.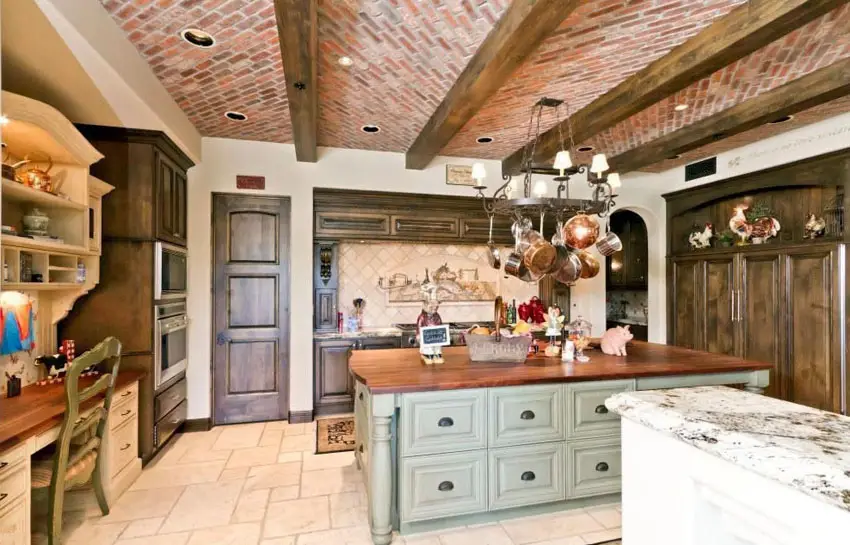 For those who prefer kitchens which has more bright and casual appeal, then this variation of Tuscan style kitchen is a great option. Using light basic finishes such as white walls and natural granite tiles for flooring, the space is able to create a light backdrop for the rustic fruitwood finish of the kitchen cabinets.
The space also has a large window, which helps provide natural light into the space, illuminating the whole kitchen adequately throughout the day and highlighting details such as the brick-clad ceiling with wooden trusses and the rustic finish of the cabinets.
At the center of the kitchen is a large island counter with mint-painted base cabinet, a Mahogany countertop and a cast iron pot rack hanging right above it. The cool min tone of the kitchen island gives a refreshing feel to the space, and matches with the desk as the desk and green ladderback chair at the side of the kitchen.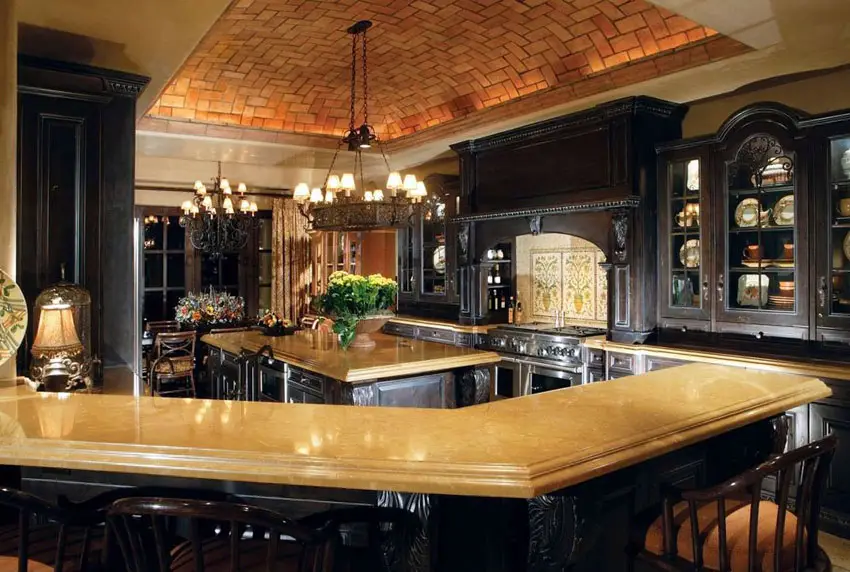 While most Tuscan kitchens have a more casual feel, this design looks a little more formal and intimidating because of its darker ambiance and finishes. The kitchen uses dark oak finish for all the kitchen cabinets and counters, as well as yellow granite for the countertop.
The dark wood paired with the glossy counter top create a sense of luxury and elegance to the space, breaking away from the casual feel of traditional Tuscan kitchens. Despite these variations, however, you will still see essential elements in Tuscan kitchens such as the importance placed upon storage space, glass door cabinets displaying valuable ceramics, and mosaic tiles depicting flowers and other Tuscan motifs.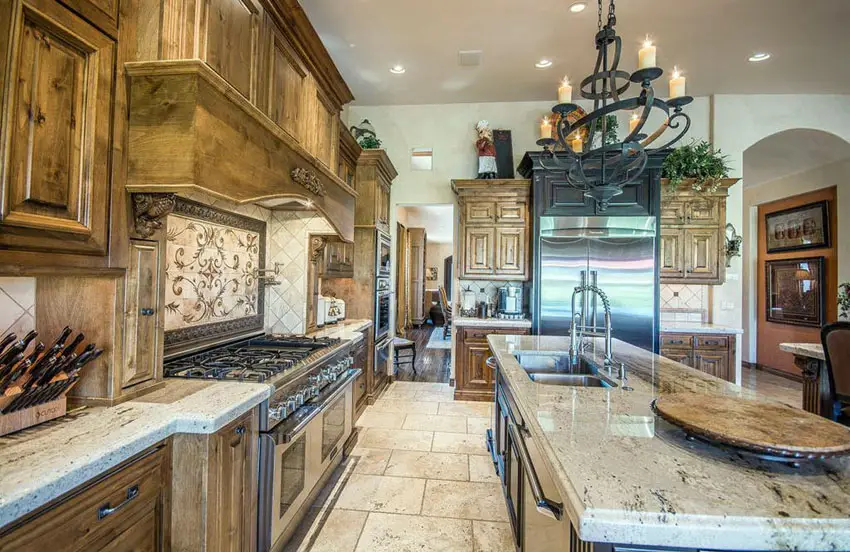 Matte granite floor tiles and warm light-yellow textured paint finish already gives this kitchen a nice rustic ambiance. The kitchen cabinets maintains the light natural warm-toned color scheme by using Natural Hickory wood for all of its cabinets, except for the fridge casing which was painted in a dark wengue wood stain finish.
The natural stone countertop used on the main counters has a nice matte finish in contrast to the glossy stone used on the kitchen island.
The backsplash of the kitchen uses marbled finish ceramic tiles and has accent tiles which were hand painted to create fleur patterns, and is framed with relief carved metal.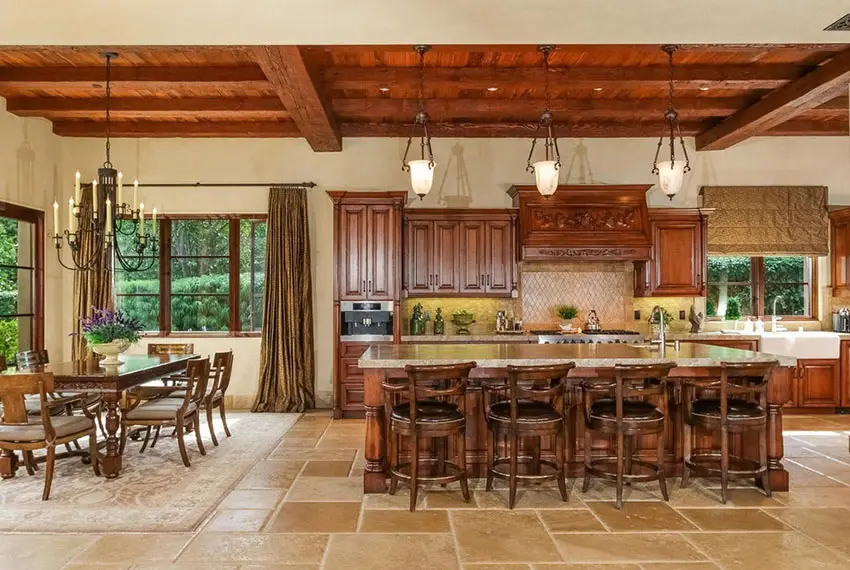 This gorgeous kitchen has a simple open design, making it a great venue for entertaining guests and family over food. The open space uses natural granite tiles with a yellow color and uses a variety of sizes to create a random geometric pattern on the floor surface, walls are off white, and the ceiling boasts of exposed natural teak wood beams and planks.
The kitchen itself is flanked by windows, providing adequate lighting into the space, helping illuminate the gorgeous Sequoia cherry cabinets with carved grape vines for accent. The kitchen also has a large kitchen island used mainly as additional preparation space and a casual dining area, allowing space for 4 cherry wood bar stools.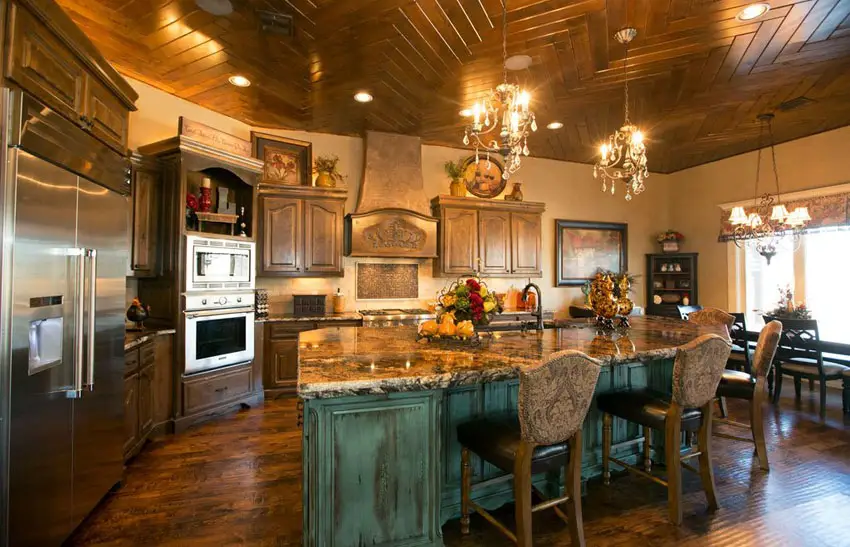 Dark cherry wood flooring, light beige walls and cherry wood flanks in chevron layout on the ceiling create a perfect backdrop for this rustic Tuscan kitchen design. It uses warm white lights to create a warm & romantic ambiance, as well as a combination of different wood finishes for that laid-back feel.
The main kitchen cabinets uses rustic walnut finish, and dedicates the corner of the kitchen for the oven tower, while the large L-shape kitchen island uses a weathered painting technique for its base cabinet, using a unique teal color for a pop of color. You will also see antique bar stools with fruitwood framing, matte mosaic backsplash tiles, as well as accessories typical of Tuscan kitchens such as plates, fruit baskets and plant vases.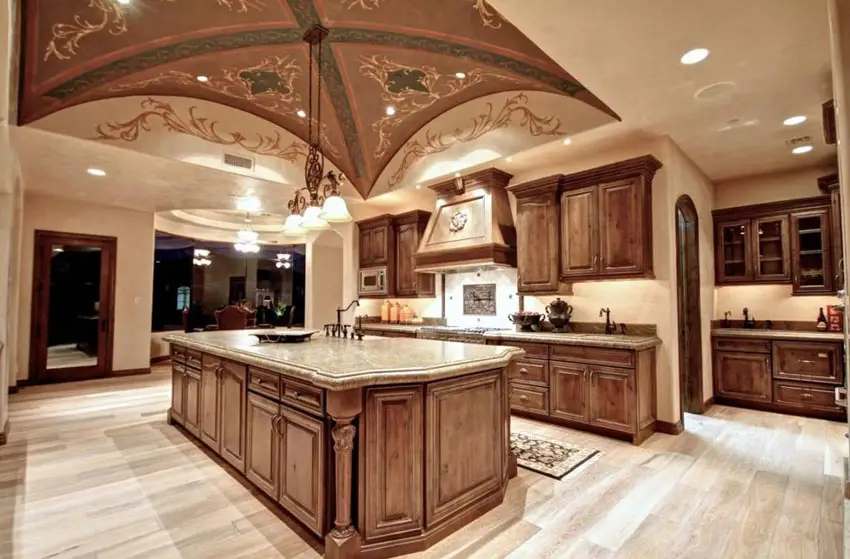 Wittily blending in some Moroccan details into the design, this eclectic Tuscan kitchen combines elements of Moroccan and Tuscan design styles to create a light yet casual kitchen design. The most notable Moroccan detail would be the vaulted ceiling of the kitchen which was painted on with Moroccan motifs and colors like green and orange, which is also associated with Tuscan design. The ceiling itself already creates a statement to the space, and helps emphasize the kitchen area.
Flooring uses pale maple wood, while walls are light oatmeal with a stucco finish. The kitchen cabinets all use Antique teak, combined with cream yellow granite countertop. The central part of the kitchen is dedicated for cooking, while the right wall is mainly for baking and for storing other food items.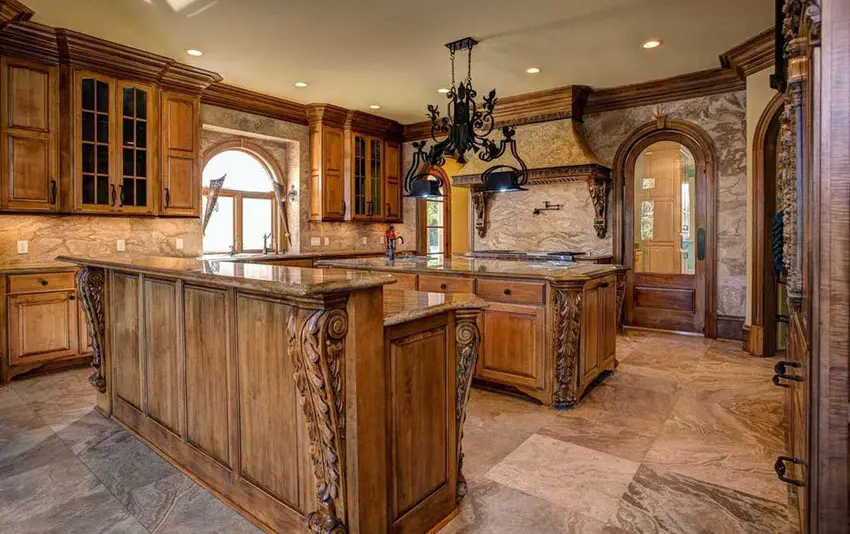 This kitchen has a very interesting look, as the whole floors and walls were clad in matte marble tiles, creating a natural pattern to the surface, and which also makes it quite challenging to design because of the natural patterns of the stone.
The design, however, still fearlessly used solid chestnut cabinetry, with exaggerated corbels and other carved motifs. Because the walls and floors already look quite busy, the kitchen compensates by using the same wood finish all throughout the kitchen, and using the same beige granite counters all throughout as well.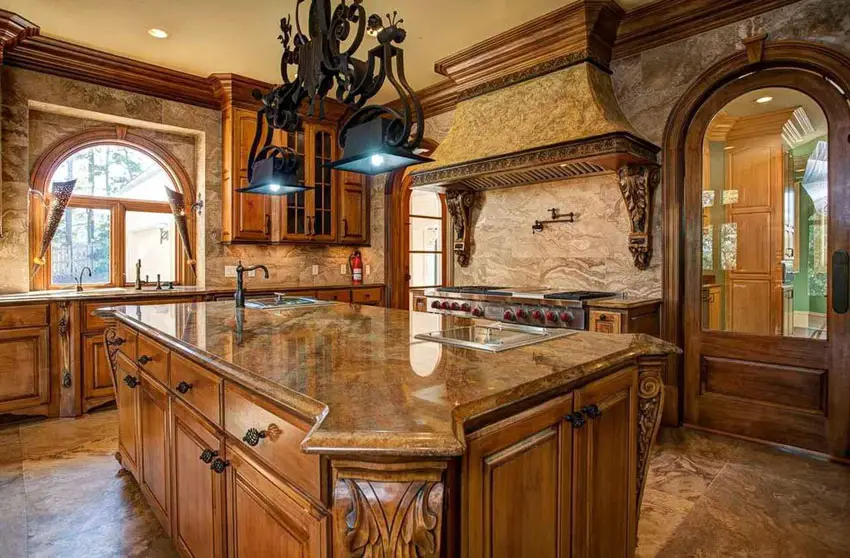 From this angle of the kitchen you get a close up perspective of the luxurious beige marble countertops and custom cabinetry of the wood island. Custom wood molding and finishes are evident throughout the space giving it a very alluring design. The Italian style is also prominent in the arched windows, marble flooring and backsplash.
This Tuscan kitchen looks large and spacious thanks to the high ceiling space. The area has an open floor plan, which makes the dining area directly accessible from the kitchen, making it a perfect central spot for entertaining. Cherry wood flooring was paired with white-washed orange stucco paint finish for the walls and antique brick tiles on the ceiling and the arch opening, to complete the provincial rustic look.
The kitchen cabinets uses natural Hickory cabinets topped with black & red granite counters, and a kitchen island which was painted in black and has latticework molding details, reflecting the diamond-patterned mosaic tiles used on the kitchen backsplash.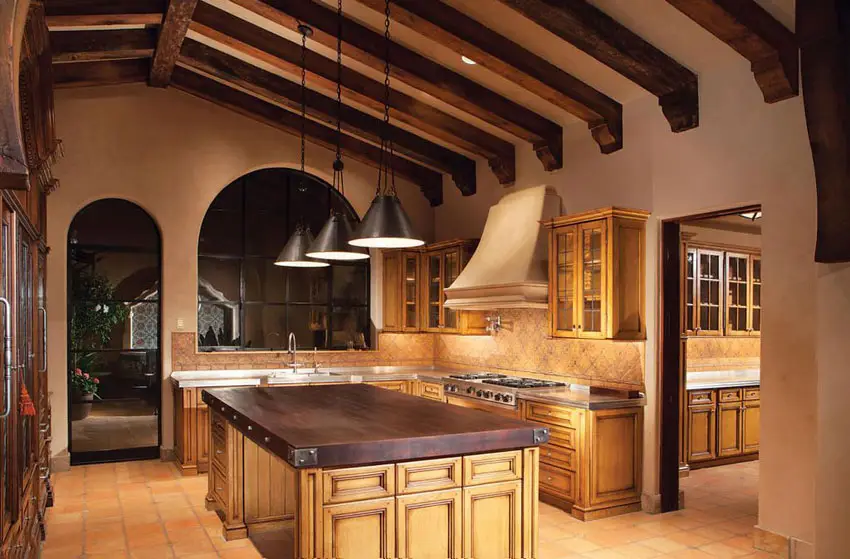 Arch windows, wooden beams and terracotta floor tiles already set an authentic classic provincial vibe to the space, and is further completed with the paneled kitchen cabinets made from solid natural oak. The backsplash was tiled with diagonally-oriented orange ceramic tiles, while the kitchen island uses a thick slab of solid cherry wood with metal corner brackets for its countertop. There is a large cabinet dedicated for displaying items in the kitchen, but all overhead cabinets still use glass door cabinets.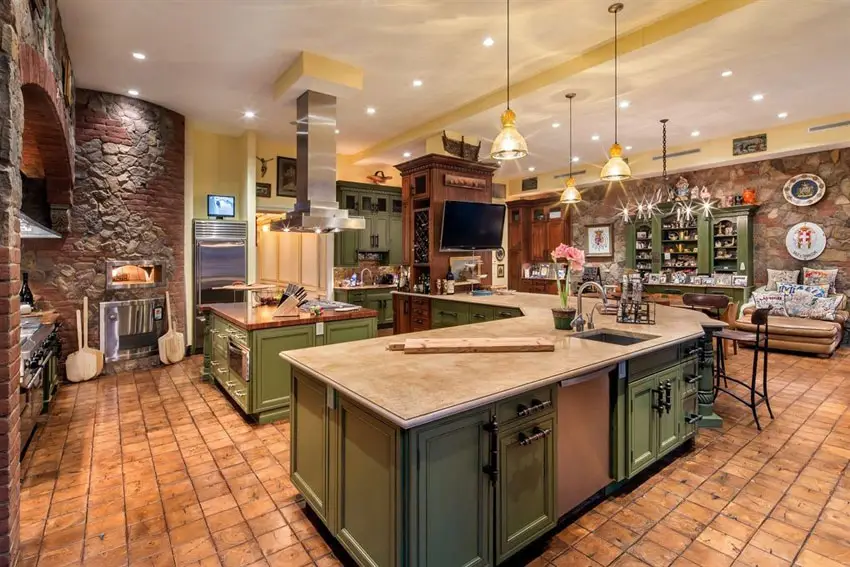 Italian style kitchens typically has an elegant, old-world / vintage feel, while Tuscan kitchens tends to be a bit more "country" or even shabby chic in its over-all feel. This large kitchen is a good example of such, as it combines a variety of natural finishes, as well as rustic finishing techniques to achieve this look.
Definitely a functional kitchen, this design has spacious walk-ways in and around the kitchen area, allowing multiple users to freely move around and work efficiently. Large kitchen islands provide much needed work space, allowing one whole wall dedicated for range cookers and ovens.
The space is dominated by rough, rustic finishes, such as the ochre stone flooring, the stone masonry wall and the brick oven wall. Since most of the general surfaces already warm-toned, the cabinets were painted in a cool sage green rustic finish, to give it that well-used appeal and was topped with matte natural limestone to complete the look.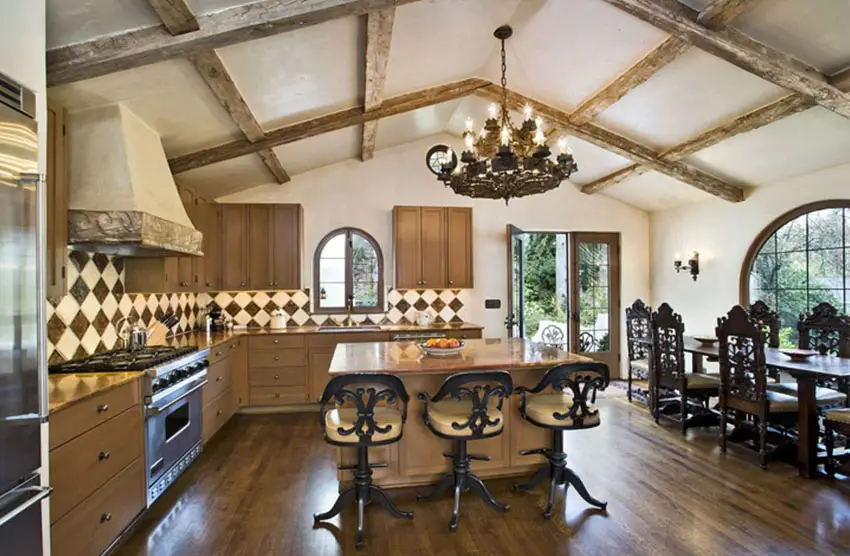 Going for a softer, more neutral look, this rustic Tuscan kitchen goes for simple cabinet silhouettes and uses natural hickory in a matte finish to set a soft warm ambiance to the space which complements the solid walnut flooring.
Walls are simply painted in a matte off-white paint, while the door & window frames also use natural Hickory wood to match the exposed wooden trusses on the ceiling.
To add a bit of variety to the otherwise, simple design, ceramic tiles in a diagonal checkerboard pattern were used on the backsplash wall, but uses cream and mocha brown instead of black & white to maintain the rustic look.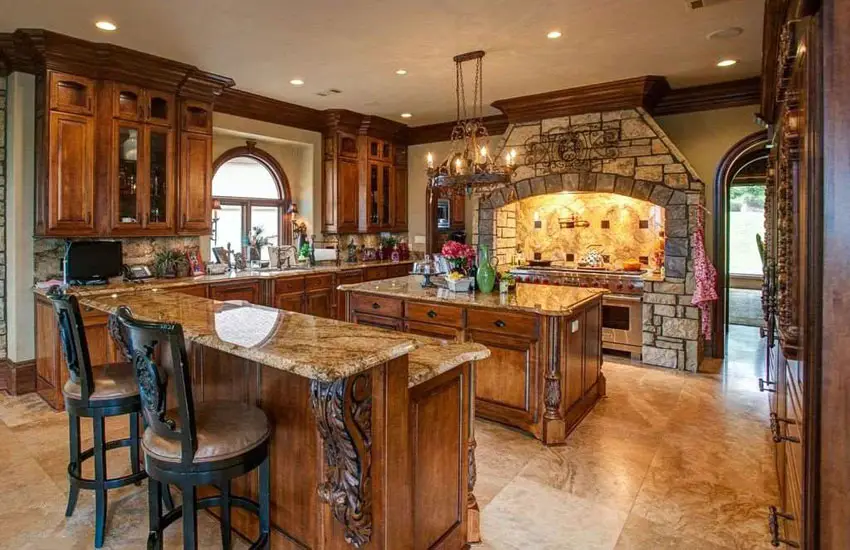 Tuscan kitchen ideas with breakfast bars are inviting and a useful way to bring families together. This kitchen offers dark solid wood cabinetry with intricate scroll work and a large custom island.
Rustic rough cut stone surrounds the large gas stove. Touches such as the wrought iron chandelier, dark bar stools and glass door cabinets give this kitchen an old world design that is elegant and full of personality.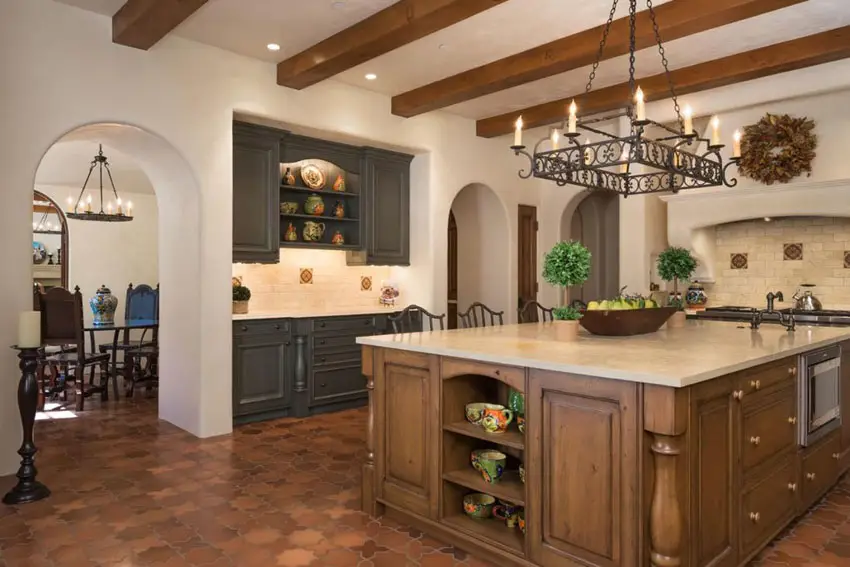 This soft rustic Tuscan kitchen design has a light and soft color palette that would match both modern and period style designs.
Starting with the background, the space uses plain white matte paint finish with added plaster texture, giving the interiors a Mediterranean look, and further extends the same finish to the high ceiling, which then adds ornamental wood beams to give it more dimension.
The flooring of the area definitely sets the authentic vintage look of the kitchen, as it uses Moroccan star-shaped terracotta tiles, creating a gorgeous & elegant pattern to its surface.
For the kitchen cabinets, you will see that the large space allows to create separate "areas" in the layout, separating storage, cooking, baking, etc areas from each other, through wall niches in which the kitchen cabinets perfectly fits.
The paneled cabinets were painted in a steel blue color in a weathered finish, while the large kitchen island keeps the natural color of the oak, enhancin the rustic feel of the space.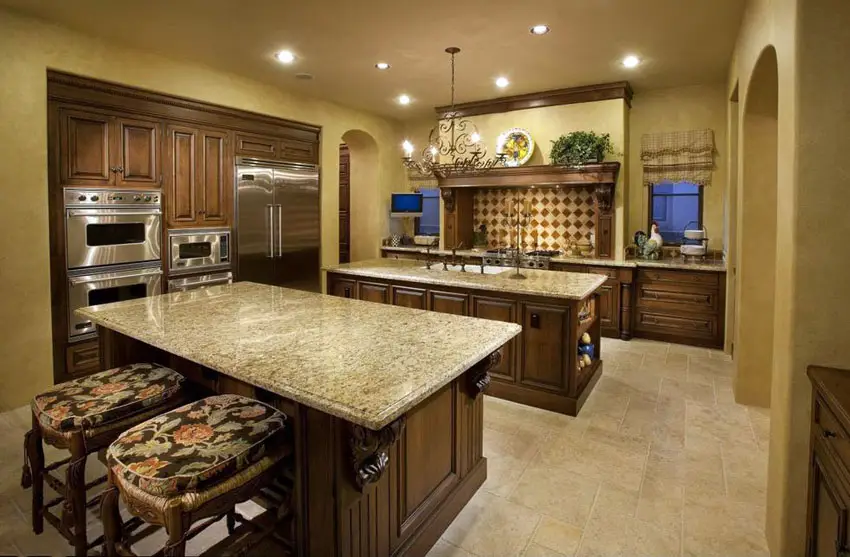 Some people prefer a more polished finish when it comes to their cabinetry, and if you want to achieve the casual Tuscan kitchen feel, this is a great example to take notes from.
Mahogany kitchen cabinets were given a light sheen using a satin top coat, while the the countertops use a yellow-toned polished granite stone. The balance out the smooth finishes of the cabinetry, the floors wall and even the ceiling were given more textured finishes.
Flooring is natural limestone in a light yellow color, while the walls are of stucco finish in a golden yellow color, creating a warm & romantic ambiance to the space.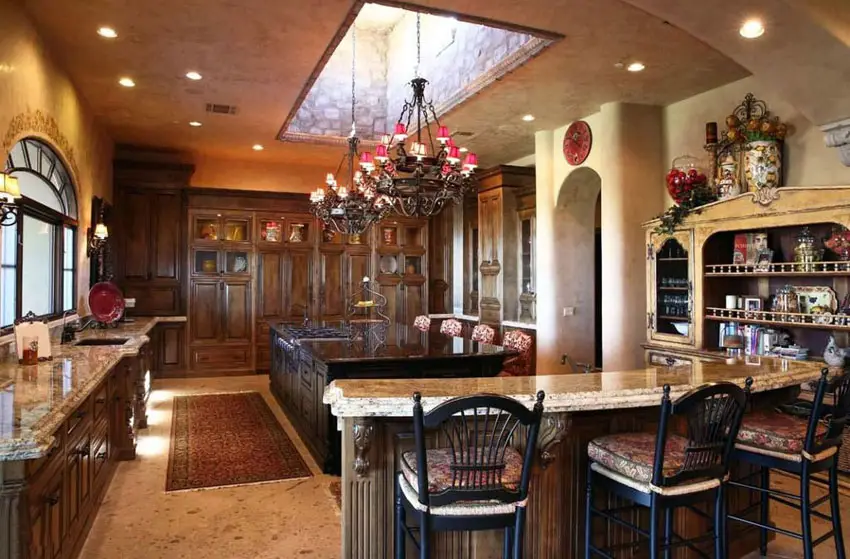 Elegant yet playful, this luxurious Tuscan kitchen boasts classic Italian style cabinetry, paired with other upscale materials and finishes. A full wall was dedicated for storage, using paneled amber cherry wood cabinets with small glass cabinets on its upper portion & cabinet lights to display precious items.
There are 2 kitchen islands in the space – the one at the center has a dark wengue base and a red polished granite counter, while the other one is more of a bar kitchen island which uses light chestnut wood with neoclassic details.
Unlike most Tuscan kitchens, you will not see the baking area in this space, but on the other hand, you will see a large display cabinet on the side with open shelves for displasying various items, which is a very notable element in a Tuscan kitchen.
Walls were given an off-white stucco finish to add to the rustic feel of the space, while a skylight and a large window helps illuminate the area.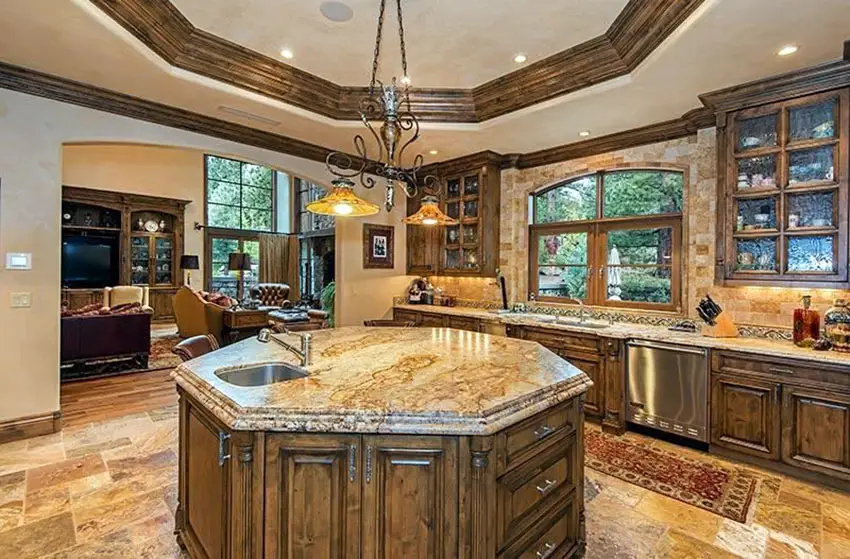 "Coordinate" is the key-word for this gorgeous Tuscan kitchen number, as it uses a uniform color scheme and wood finish all throughout the interior spaces. You will notice that all wood elements uses the same Hickory wood color and finish, creating a very coordinated look.
The hickory wood will be see on door & window frames, baseboards, cornices and other moldings and furniture pieces. This also sets a warm yellow undertone in the whole interiors, especially as the kitchen uses natural sandstone flooring which also has a yellow-orange undertone.
This kitchen has a unique octagonal kitchen island in the center, which reflects the shape of the recessed ceiling design.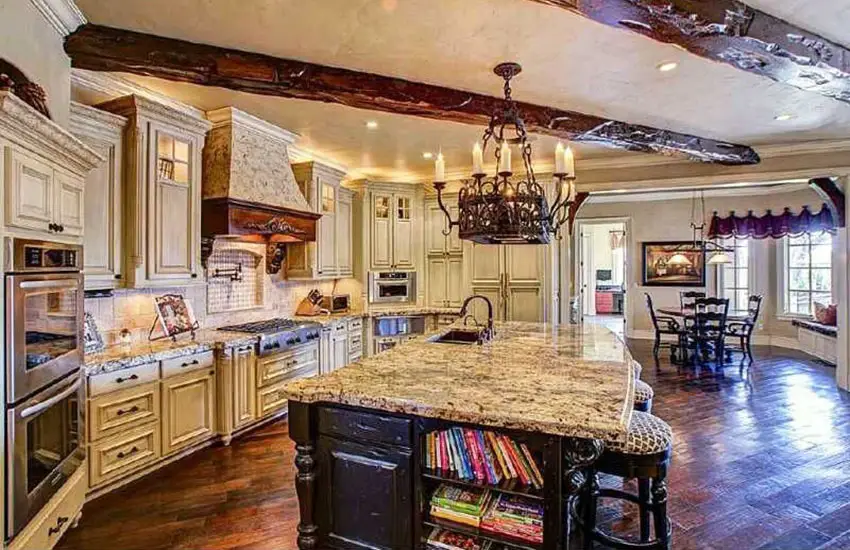 Light cream/yellow weathered paint finish on the kitchen cabinets gives this kitchen a very vintage/aged appearance which boasts lots of personality and a lovely, soft texture. This kitchen was placed in the middle of the house, allowing a converging traffic, making it a great place for family gatherings.
The cream colored cabinets easily complements the dark red undertones of the Cherry wood flooring, while the wengue kitchen island attempts to match itself with the other Italian furniture pieces in the interiors, such as the ladder-back armchair in the casual dining area.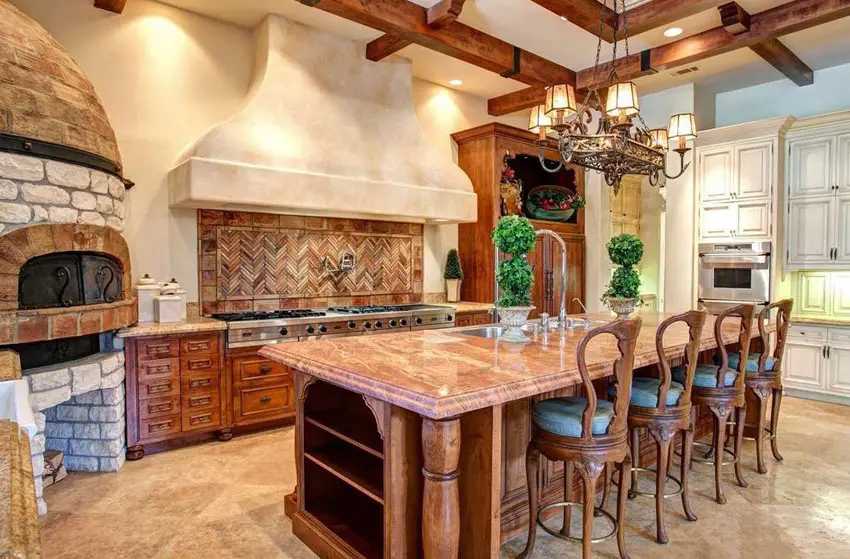 This lovely design came about by fusing Tuscan kitchen elements with other period style designs, as well as modern aesthetics.
Light beige natural granite floors and stucco finished walls set a legitimate Tuscan style background for the kitchen, while the bright artificial and natural light combination gives the interiors a lighter, cleaner feel as often associated with modern designs.
The furniture finishes used in the kitchen is varied, making them look like individual movable furniture pieces instead of kitchen cabinets. You will see the use of teak wood, cherry, as well as matte white paint, combined with cream and red polished granite.
The cooking area has a built-in commercial-grade cook top/range hob, and is accentuated by antique ceramic tiles placed on its adjacent wall, which forms a lovely textured chevron pattern.
You will also notice the use of Queen Anne style bar stools, as well as a very Tuscan kitchen element – a brick oven right at the corner of the space.
People tend to shy away from darker finishes and color combinations when it comes to design Tuscan kitchens as darker palettes evoke a more polished/intimidating feel. This design, however, demonstrates how you can use dark wood finishes, yet still achieve that casual and welcoming feel that people love about Tuscan kitchens.
The design starts of with a warm, textured base of natural limestone flooring, and light yellow stucco wall paint for a Mediterranean feel. Both natural and artificial lights adequately illuminate the space, therefore making it easier to use the dark American cherry wood for all its cabinets.
Yellow sandstone was used for the countertop, and its rough-cut upper edges were kept to give it a more rustic look despite its polished surface.
Completing the whole look would be the massive solid American cherry wood beams on the ceiling, and the black cast iron pot racks and pendant lamps used as accessories.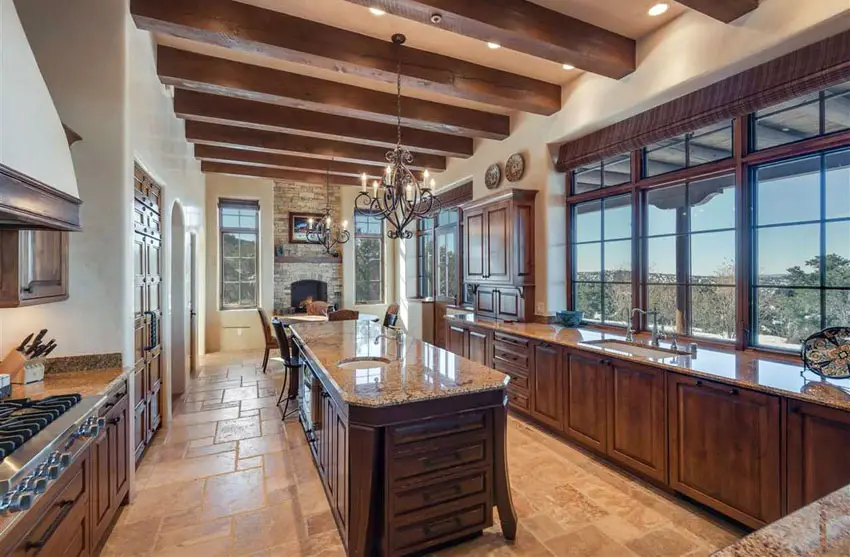 This kitchen space is a little more narrow than the other examples, but the abundance of windows makes the space look larger.
Kitchen cabinets are all of the same material and finish, using sequoia cherry in satin finish, topped with brown and white polished granite counters with a beveled nosing.
The cherry wood cabinet is the same material used on the doors & windows of the space, so it looks well-coordinated as well. Flooring material is natural limestone for added texture and a subtle warm reflection, while the walls are painted in a combination of light yellow and plastered white.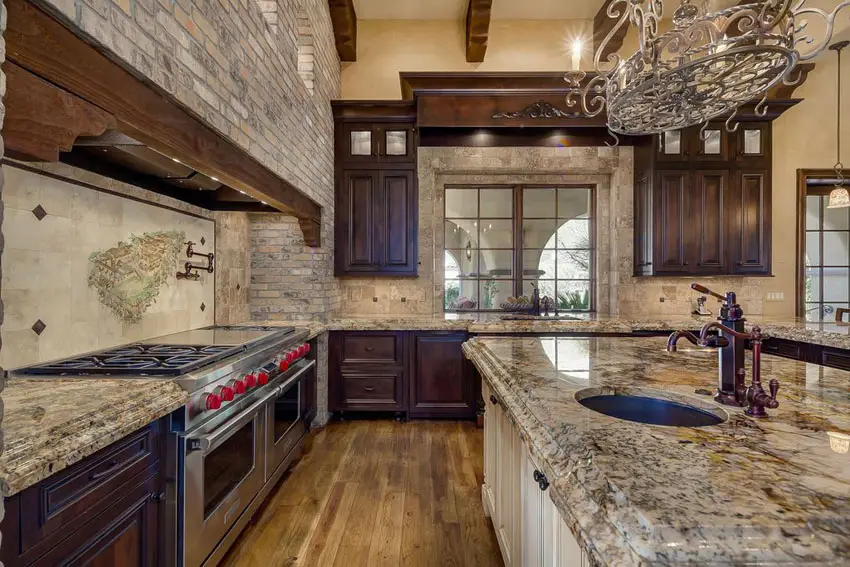 A variety of textures and finishes were combined in this eclectic Tuscan kitchen, showcasing elegance and craftsmanship of Italian designs, and at the same time, showcasing the warm and casual attitude of Tuscany.
Rustic oak wood flooring gave the kitchen a nice textured base, while the light cream stucco wall paint finish further adds a subtle texture to the surface.
Kitchen cabinets uses a combination of Mahogany in satin finish and white-painted base, creating a great balance, and both of which look great with the the gray & gold marble countertop.
If you look closely, you will also notice the use of light cream slate tiles, as well as blue-tone brick tiles on the columns and backsplash walls, further adding color and texture to its surfaces.
The cooking area is given more emphasis through the use of white marble tiles which were hand painted to depict an illustration of an old city.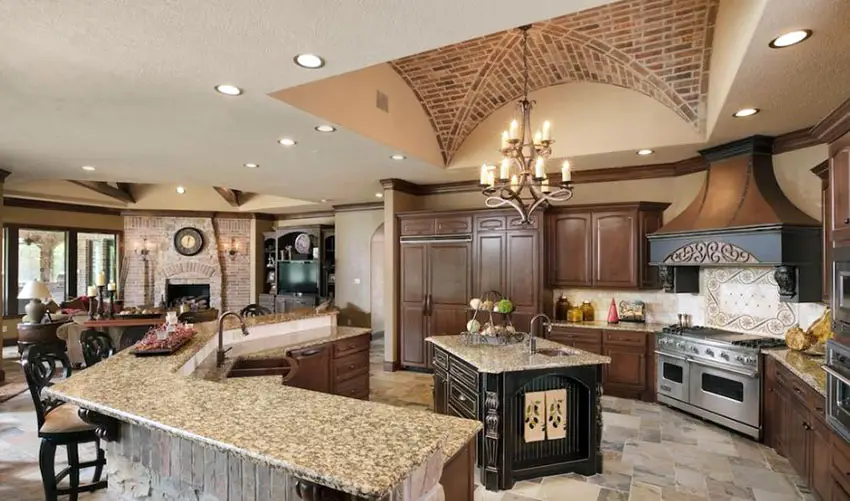 This unique Tuscan kitchen is definitely the star of the house, as it is placed at the center of the open floor area and was given lots of space, allowing access from both the living and the dining areas.
The kitchen area is accentuated by a small vaulted ceiling, made from antique bricks, making you focus at the center of the space. The kitchen has a uniquely-shaped floor plan, allowing creative use of space and shapes to achieve the optimal layout.
Satin finished teak wood cabinets flakes the walls, while a small antiqued black kitchen island is placed at the center, right below the vaulted ceiling to give it more emphasis.
The bar counter is the mirror-image of the main kitchen cabinets, giving it a trapezoid-like shape. Its from was clad with natural masonry stone, and is topped with salt & pepper granite. Many Tuscan kitchen ideas originate from warm earth tones and natural materials to create an inviting rustic appeal.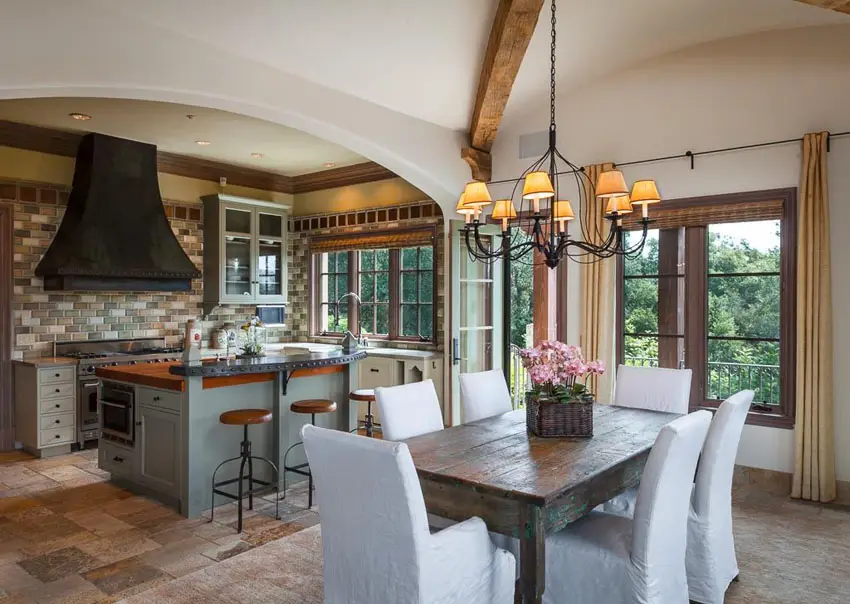 This is a gorgeous modern application of Tuscan kitchen design. Wood-framed doors & windows matches with the ornamental wood trusses on the ceiling, while the floors also keep a rough, matte appearance, by using rustic ceramic tiles.
The kitchen is quite small, but it does apply important Italian kitchen elements such as a matte finish in a combination of off-white and sage green, and a unique backsplash wall, which in this case, uses rustic ceramic tiles in a combination of greens, whites and browns.
An old barn table was used for the dining table, while the dining chairs uses white linen slip covers, to complete the rustic Tuscan kitchen look.
Related Kitchen Design Galleries You May Like:
Country Kitchen Designs – Craftsman Kitchens – Rustic Kitchen Designs – Kitchens with Dark Cabinets – Mediterranean Kitchens