Our gallery of contemporary kitchen cabinets showcases a variety of designs, materials, colors and finishes.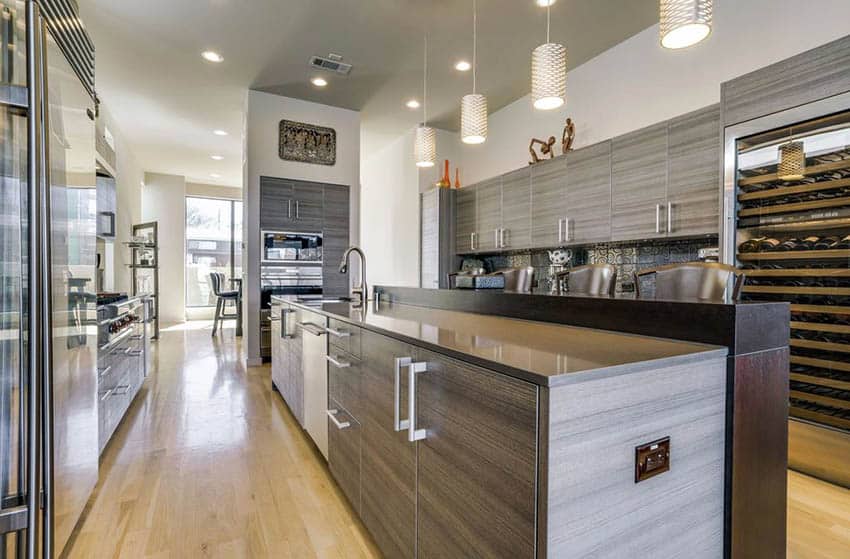 The word "contemporary" is actually a broad term in the home design scene. It may pertain to either the latest fad, a current trend or a style that is "in" right now. It can also encompass any design theme that emerged in Europe, particularly in Italy, Germany and Scandinavia from the 1940's to the present.
The contemporary style is also often confused with the modern style. Although the former takes inspiration from the latter, the two are completely different decorating themes. Modern kitchen design often refers to Mid Century modern while the contemporary style refers to what is current. The contemporary style is more dynamic as it continually evolves, reflecting the different trends and advances in the kitchen design industry today. In short, the contemporary style may also mean "in the now" or what is present.
As mentioned, the contemporary kitchen style borrows its key facets from the modern design. These two styles are often used interchangeably because of their great similarity. However, a good way to tell these two design themes apart is that contemporary design offers a more refined and formal look, while the modern design is mostly bold and playful.
The contemporary kitchen style also emphasizes high functionality and streamlined surfaces – both of which are derived from the modernist design movement, but its style often incorporates traditional ideas as well for a livable and genuine homelike feel but a sleek, stylish appeal.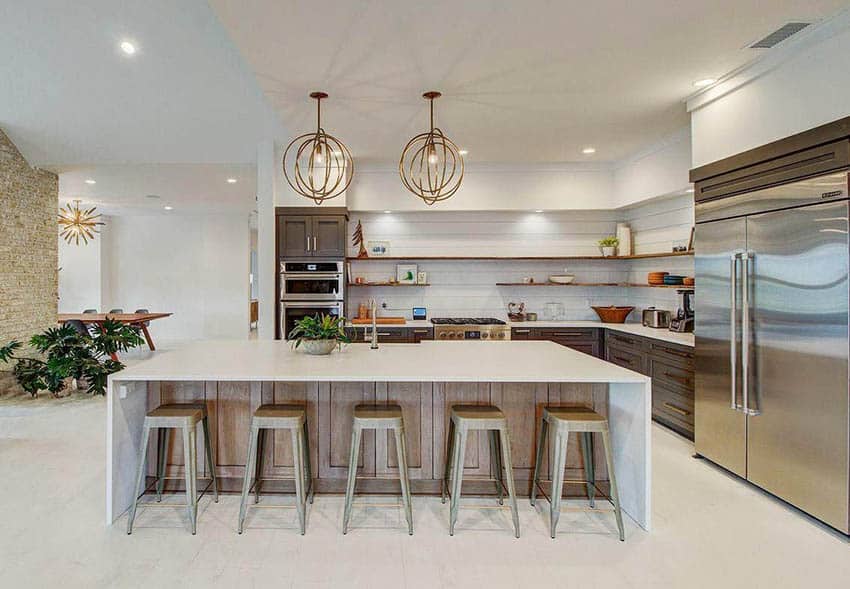 A contemporary kitchen design also works as an umbrella for different design approaches. Depending on its origin and source of inspiration, the contemporary kitchen style may either be classified as Urban Contemporary, Casual Contemporary or European Contemporary. The urban contemporary style focuses on an "urban setting" and incorporates modern man made materials like a mix of metals, glass and concrete to prove a sleek and stark kitchen design.
Casual contemporary is a more laid back version, focusing on softer elements but retaining a streamlined and minimalist design. Wood is often incorporated as part of this kitchen design style, unlike the urban contemporary which sacrifices the warmth of traditional wood. European contemporary is more bold, sharp and polished among the three types.
Regardless of the subcategory, the main feature for contemporary kitchen designs is the kitchen cabinetry. Typically featured as a full wall of sleek, storage units, contemporary kitchen cabinets do not only conform to modern design esthetics, but are also utilitarian in nature.
Below we explore some of the key design elements of contemporary kitchen cabinets to help you decide whether their refined, minimalist aesthetics is the right fit for your home. (Visit this gallery to see our complete list of kitchen cabinet styles)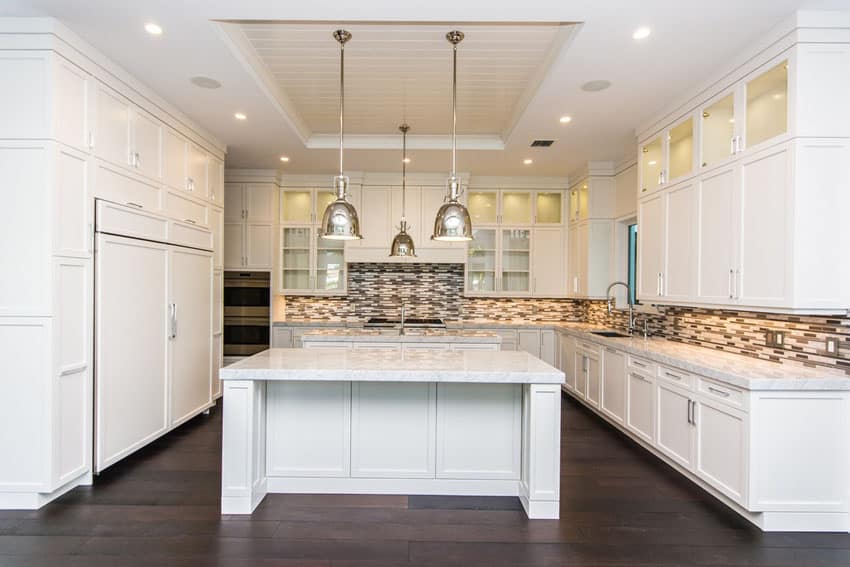 Aside from the popular gunmetal gray finish, white is also commonly used for this simplified cabinet style, giving it a fresh & clean look while maintaining a romantic country farmhouse appeal.
Characteristics of Contemporary Kitchen Cabinets
Contemporary kitchen cabinets are well known for their simplicity, stylish aesthetics, clean lines and minimalist details. Their general characteristics include asymmetry, geometry, horizontal lines and the lack of ornamentation. In addition, contemporary kitchen cabinets are also known for their functionality. Here are some other general characteristics of contemporary kitchen cabinets: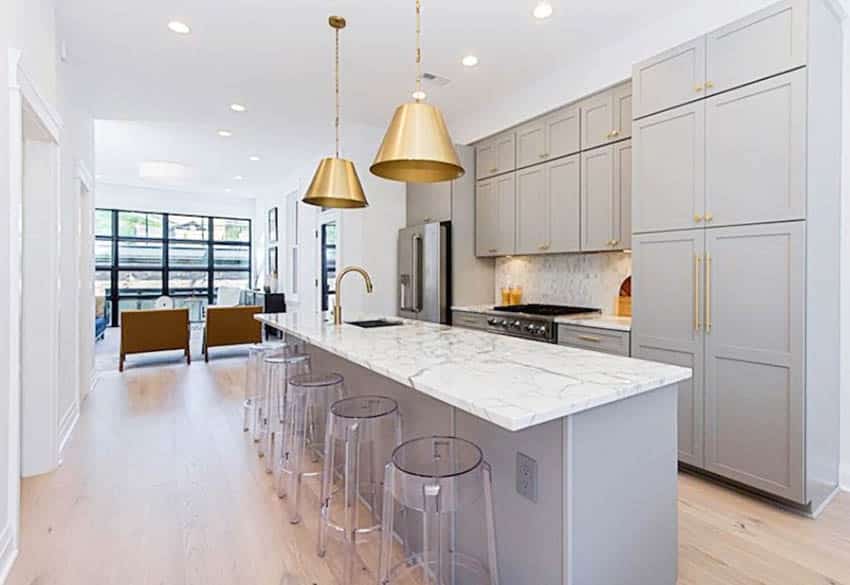 Clean lines and sleek design – The design for contemporary kitchen cabinets resemble the modern style in such a way that the forms are clean, well defined and streamlined. In general, its overall appearance is sleek and luxurious.
Emphasis on horizontal lines – The design of contemporary kitchen cabinets focuses on linear harmony. Horizontal lines are given emphasis through the layout of the kitchen cabinets, the orientation of the kitchen cabinet hardware, the backsplash and tile accents and the graining pattern of the finishing material for the kitchen cabinetry.
Geometric elements – Contemporary kitchen cabinets also have prominent geometric forms and angular shapes. Cabinet door styles typically incorporate geometric shapes such as straight lines, squares, rectangles and circles. While the surrounding elements in the space such as the lighting fixtures, counters and accessories often reflect curves, diamonds, globes, boxes, etc.
Little to no ornamentation – The contemporary kitchen design, in general, puts emphasis on function and minimalism rather than ornamentation. With such in mind, contemporary kitchen cabinets typically do not have any form of decorative detailing such as moldings, trims, carvings and other embellishments. This kitchen cabinet style often features simple cabinet door styles like the slab style door and the flat panel door.
Simple, streamlined hardware – Contemporary kitchen cabinets make use of sleek and bold kitchen cabinet hardware. Cabinet pulls, knobs and handles usually have simple and striking lines which complement the streamlined form of contemporary kitchen cabinet design. Bar shaped hardware are the classic hardware choice for this kitchen cabinet style. While the finishes vary from stainless steel, brushed nickel and chrome.
Mixed materials – Contemporary kitchen cabinets employ a mix of natural and synthetic materials such as wood with metal or glass, medium density fiberboard, laminates and real wood veneers.
Polished and smooth surfaces – Unlike traditional cabinets styles that have a raw, unfinished textures, contemporary kitchen cabinets are smooth and refined. Kitchen cabinet doors and drawers do not only have a clean polished look, but its materials are also often smooth to the touch rather than being highly textured.
Neutral colors with bold accents – Striking neutral tones such as shades of brown, white and gray are popular colors for contemporary kitchen cabinets. Warm woods in dark colors are a classic choice and are often matched with a striking accent color which is used sparingly in the design. Contrasting kitchen islands are also popular features for this kitchen cabinetry style.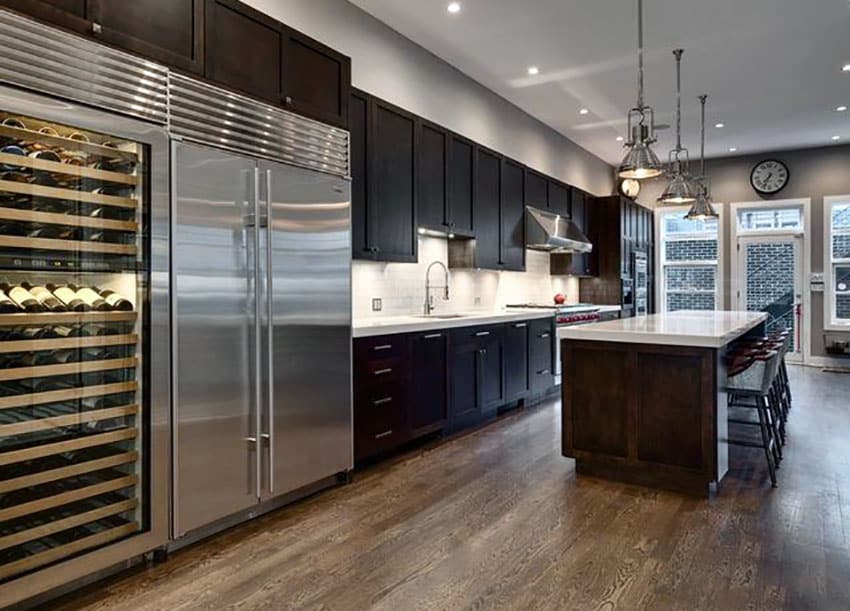 The dark wengue finish used on these contemporary kitchen cabinets gives it an elegant & sophisticated appeal, while its very simple profile helps maintain a modern look to the cabinets. Pared with white solid surface, a good color contrast is made, helping balance out dark & light finishes. A very uniform finish and cabinet proportions were used in order to create modular cabinets.
Materials Used for Contemporary Kitchen Cabinets

The materials for contemporary kitchens, in general, are typically mixed, combining both natural and man made options. It mixes both traditional and modern alternatives in order to create a practical, functional and long lasting design that is equally beautiful.
For contemporary kitchen cabinets, materials are often man made rather than natural. The main cabinet carcase or box itself is typically made up of plywood, engineered wood, particle board or medium density fiberboard. While the finishing materials often include laminates, frosted glass inserts, linoleum, lacquer, thermo foil, paint, polyester or acrylic.
Some other synthetic materials that can be found in contemporary kitchens include stainless steel, plastics, vinyl, chrome and concrete. Metals such as aluminum and stainless steel are also popularly used for the cabinet hardware and the appliances and accents.
The countertop materials may be natural stone like granite, or engineered stone like quartz. While the backsplashes may either be tiles, natural stone or glass. Natural materials such as aluminum, leather and stone are also common accents for the contemporary kitchen design style.
In order to create a less "sterile" looking environment and to add visual interest, contemporary kitchen designs also typically add a touch of natural finish to different elements of the space. Combining natural materials with man made materials also add more warmth and produce a more inviting atmosphere.
Popular mixed material combinations are wood veneers over MDF cabinetry or natural stone countertops paired with laminated wood kitchen cabinets. Another way to incorporate natural materials in contemporary kitchen cabinet design is to use modern glass cabinet inserts.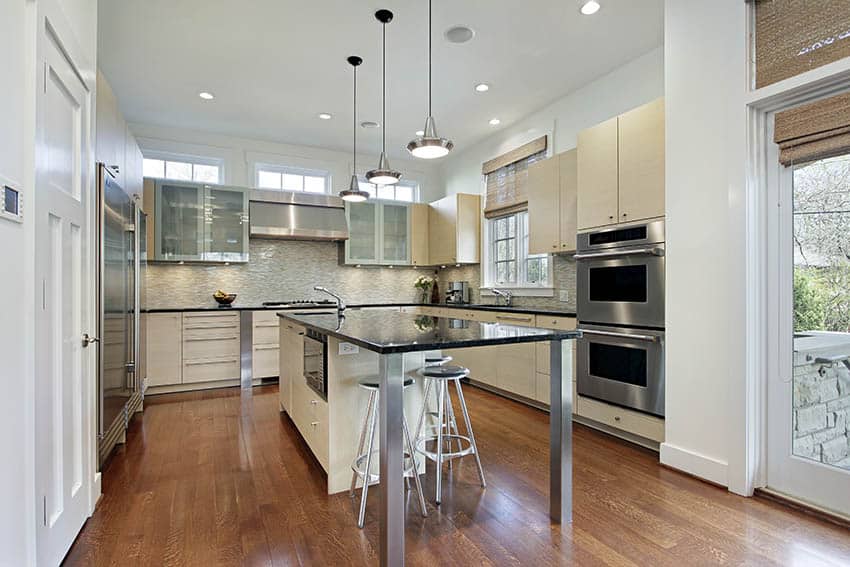 With the use of metal, laminates & glass, this design clearly demonstrates the typical look of contemporary kitchen cabinets. Creamy yellow laminates adds a touch of warmth to the design, and contrasts well with the cold cool of the aluminum-framed glass cabinet doors. You can also see the use of tubular metal legs as replacement to turned wooden legs.
Finishes for Contemporary Kitchen Cabinets
Rather than allowing the natural beauty of wood to stand out through the use of wood stains and varnishes, the contemporary kitchen cabinet design style typically make use of modern alternatives to create seamless and sleek looks. Wood is a popular finish, but instead of using solid woods in dark colors, the cabinet materials are often treated with materials that capture and mimic the beauty of real wood, such as veneers or laminates.
Here are some popular finishes used in contemporary kitchen cabinet designs:
Paint finish – Paint is considered to be the simplest, standard finish for kitchen cabinetry. It is affordable, easy to apply and widely available in the market. In addition, paint offers a limitless number of shades, allowing homeowners to customize their own kitchen cabinetry in any color that suits their personal preference and style.
There are several painting techniques which are used for finishing kitchen cabinetry and some of it work best for the contemporary kitchen cabinet style such as the duco paint finish and polyurethane finish. These painting techniques produce a smooth, sleek finish that conforms to the minimalist aesthetics of the contemporary design style.
The duco paint finish is more commonly used for furniture manufacturing, however it is also used for creating an evenly colored and smoothly finished kitchen cabinetry surface. The duco paint finish is an opaque finish that hides the natural graining of wood and it is typically used to achieve a high gloss, semi-gloss, satin or flat finish.
It is applied by spraying the paint onto the material using a compressor. The overall resulting product of the duco paint finish is a smooth surface and a clean look which renders an expensive and luxurious feel to kitchens. This finishing technique works well for contemporary kitchen cabinets especially if you want to stick to paint but would like to mimic the appearance of high gloss laminated kitchen cabinetry.
As for the types of paint for contemporary kitchen cabinets, some of the popular options include acrylic enamel paint, water based paints or alkyd paints. Acrylic or water based paints are a type of paint which contains less fumes and can easily be cleaned off with water.
Alkyd paints, on the other hand, are oil based, typically have a strong odor and uses mineral spirits for clean-up. Both of these types are available in endless shades of colors which gives homeowners plenty of choices for finishing contemporary kitchen cabinets.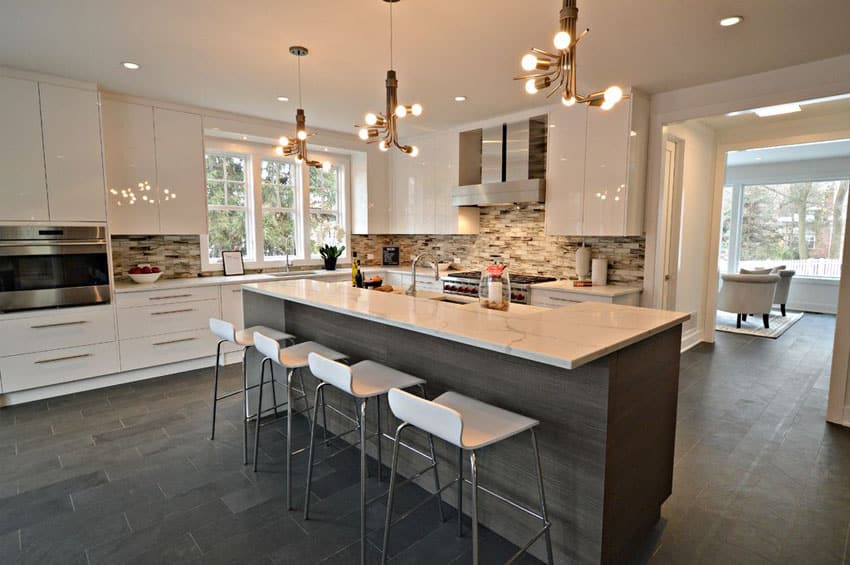 This contemporary kitchen combines textures and finishes to create more movement and dimension to its design. With gorgeous black slate tiles as a base, the mirror-finish white laminated cabinets definitely stands-out as it contrasts with the color and texture of the flooring. The kitchen island, on the other hand, uses a mocha toned wood veneer instead of white, adding a subtle texture to it that complements the flooring & contrasts with the white solid surface countertop.
Laminated finish – Laminates are more commonly used in modern and contemporary kitchen cabinet designs, rather than in traditional designs. By definition, laminates are a type of synthetic material that is composed of several layers that are sandwiched together.
These material layers include the (1) top layer, which is mainly made up of a protective coating of melamine resin, the (2) second layer, which is also known as the decorative layer containing the design, pattern, texture and color of the laminate, the (3) core layer, which is composed of a resin reinforced Kraft paper and lastly, the (4) wear layer, which is a mixture of different materials like aluminum oxides, paper and melamine resins.
Laminates by nature are thin sheets of materials, but their unique material composition gives them a long lasting quality and extreme durability.
As for any kitchen cabinetry, laminates are typically applied on top of a substrate material, like marine plywood. Heat, adhesives and pressure are typically used to adhere laminates into the substrate material, ensuring that it does not peel off easily.
High pressure laminate, otherwise known as HPL, is a variant of laminate used in most contemporary kitchen cabinets and European kitchen cabinets. High pressure laminates are more durable and resistant to damage, and in fact their strength is comparable to a sturdy countertop. The most popular brand and distributor of high pressure laminates is Formica.
The main benefit of the laminated finish is its high durability. Unlike wood which expands, laminates resists warping, fading and can stand up to heavy use. The wide variety of colors, patterns and textures that laminates offer make design possibilities endless, allowing homeowners to use it in any kitchen design style. The most common variant of laminates is the wood finish, which mimics the appearance of real, natural wood.
For contemporary kitchen cabinets, plain solid colors and dark woods are popular choices. The laminated finish works well for this kitchen cabinet style because it creates an evenly smooth surface and a seamless design. And since it is applied in sheets, the colors are more likely to be uniformed compared to other finishes which require brush application. The overall result of laminated contemporary kitchen cabinets is an elegant, flawless and ultra-stylish aesthetic.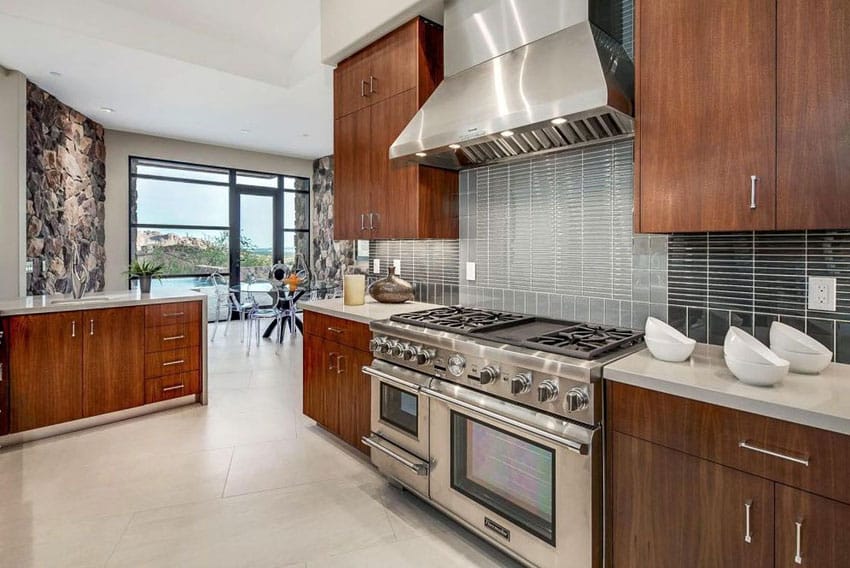 For a more luxe feel, this kitchen used cabinetry which were finished with walnut wood veneers, giving it a more natural look, despite its simple flat profile. You can observe how the overhead cabinets uses as much ceiling height as it can get to help maximize storage.
Veneers – Veneers or real wood veneers are thin slices of wood that are applied over a material to give them the look of genuine solid woods. These finishing material is adhered to a core panel or kitchen cabinetry substrate like wood, particleboard or medium density fiberboard. Veneer is produced by slicing a large piece of wood block through its growth rings – this technique captures the graining pattern and figure of the wood.
Typically, veneers are less than 3 millimeters thick and are available in standard wood species such as maple, oak and cherry to name a few. It comes in different variants and may either be raw, paper backed, phenolic backed, laid up, reconstituted or "wood on wood".
Real wood veneers are often used for their stability. Unlike solid wood which is prone to splitting or warping, veneer stands up to these risks more readily because of its thinness. In addition, the glue that is used to combine thin layers of wood gives veneers reinforced strength. However, compared to other materials, real wood veneers are more expensive.
Veneers are often used for contemporary kitchen cabinets because they project the real beauty of wood, but reduces the potential damages that may come with it. It also works well in creating a sleek look because the graining patterns are more consistent. It also works best for flat surfaces and for slab style kitchen cabinet designs.
The common wood veneers colors that are used for contemporary kitchen cabinet designs belong to the "dark woods" family. Veneers with horizontal graining patterns are also more favored. In general, veneer contemporary kitchen cabinets produces an elegant design which project warmth and natural coziness.
Foil finish or thermofoil – Thermofoil is another type of synthetic material that is composed of flexible vinyl or plastic coating. The vinyl is applied over a medium density fiberboard or engineered wood through heating, resulting to an extremely durable material and an evenly smooth surface that is resistant to chipping.
There are a lot of advantages to thermofoil, but one of the primary reasons as to why homeowners get attracted to it is that they require low maintenance. Unlike other finishing materials, thermofoil does not require any protective coating. Caring is easy as it only needs occasional wiping and a mild all-purpose cleaner to clean off residues. Thermofoil kitchen cabinets are also prized for their supreme moisture resistant quality.
Thermofoil is available in a wide range of color and pattern options. It works best for flat kitchen cabinet designs but is also flexible enough to be molded into curved forms. Its colors range from neutrals like white to vibrant hues like reds, while the textures may either be matte or glossy.
Thermofoil kitchen cabinets are commonly used in modern kitchen cabinet designs, but they also work well for contemporary styles because of their smooth texture and sleek appearance. This kitchen cabinet finish is best used for solid color designs and for slab style kitchen cabinet doors.
The overall result of thermofoil contemporary kitchen cabinets is also more uniform and seamless because the color is evenly applied throughout the cabinet's surface.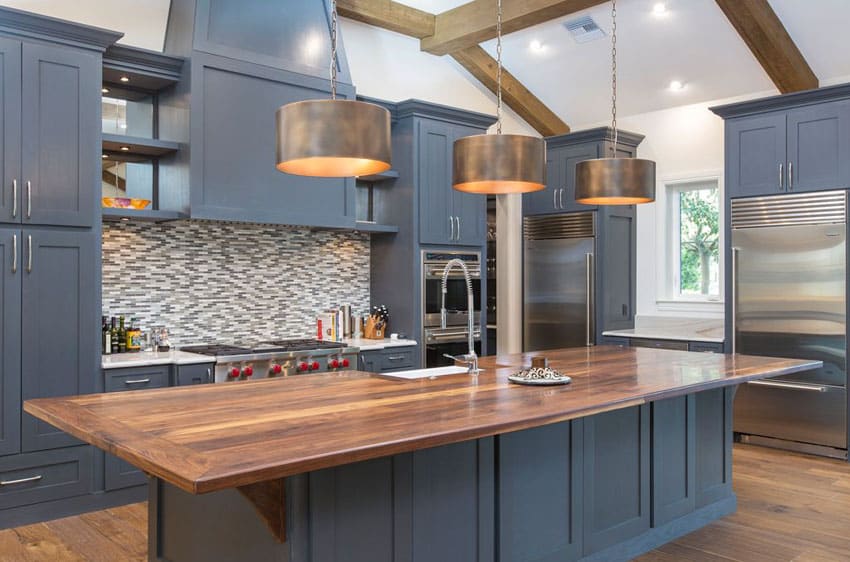 Another trendy look emerging on contemporary kitchens is this kind of transitional style kitchen, where very simple box-paneled cabinets are used and is finished with modern matte colors to achieve the look.
This example uses matte gunmetal gray kitchen cabinets, then pairs it with perfectly polished solid walnut for its countertop, helping add warmth to the otherwise cool & dark colors scheme. Despite the use of some moldings, this design is still able to maximize both space and function of the kitchen for maximum efficiency.
Colors for Contemporary Kitchen Cabinets
As for colors, contemporary kitchens can both be very bold and experimental, as well as simple and sleek. The color scheme for contemporary kitchens typically feature a minimal use of colors which are dominated by neutrals like shades of brown, whites, grays and taupe.
A pop of accent color in a bold hue may be added to make the space more lively and appealing. Examples of this accent colors are hot red, sunny yellow, lime green, or vibrant orange.
Typically, a contemporary kitchen design will use a single dominating color, balance it with whites and highlight it with a striking accent color to create a refined yet exciting look. The dominating color is often pulled from the kitchen cabinetry and its wood paneled fronts, the balancing color from the walls, and the accent from the decor or accessories in the space.
The dominating color may be repeated throughout the color scheme to produce a cohesive design. While the accent color may be introduced in the streamlined backsplash tiles, the area rug and other furnishings to create rhythmic palette in the space.
For example, a contemporary kitchen design that has dark colored wooden cabinetry can use the rich dark brown color as the main color element in the space. This will be repeated through the kitchen island, breakfast nook or will be toned down in the splashboard material. It can then be mixed with whites to create a more balanced look that is less heavy and then it can be paired with stainless steel appliances to create a striking palette.
As mentioned, the dominating color in a contemporary kitchen comes from its kitchen cabinetry.
And since the general color scheme of contemporary kitchens are geared towards the neutrals, the most common kitchen cabinet color for this style are mostly shades of brown – which is reflected through the use of dark woods, whites, shades of gray and taupe.
The most popular kitchen cabinet colors being dark brown and white. Medium colored woods can also be considered as an option for those who want a more subtle wood finish.
Unlike modern kitchen designs which incorporate vibrant colors in their cabinetry, the contemporary kitchen design only makes use of bold hues as accents in the space and they are typically used sparingly throughout the scheme. The overall color palette for contemporary kitchen cabinets is more refined and formal as compared to quirky and lively energy of modern kitchen cabinets.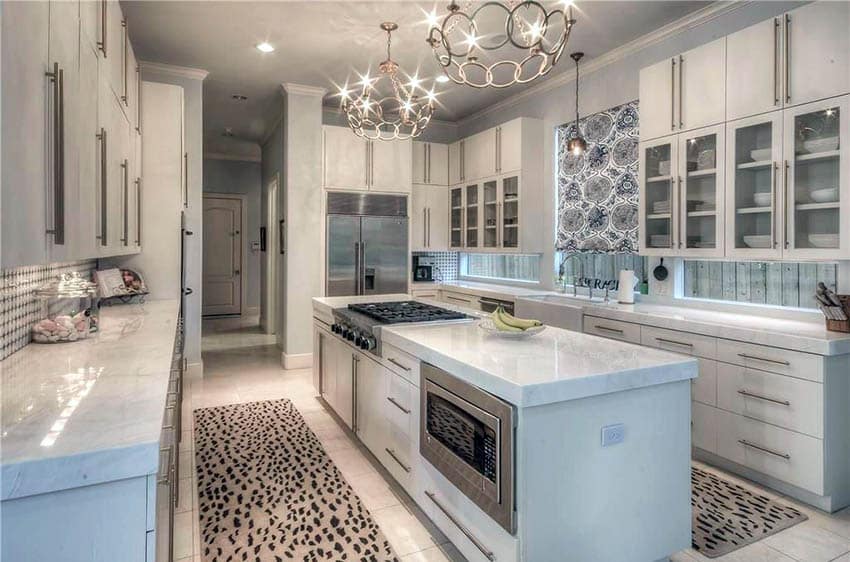 This all-white contemporary kitchen uses glossy laminates for all its cabinets and uniform stainless steel pulls to create a very well-coordinated modern look. The overhead cabinets are divided into two, the lower cabinets using wood-framed clear glass to display the cabinet contents, and the upper cabinets using plain laminates only.
Synthetic marble was used for the countertop for a seamless working surface and mosaic tiles were used for the backsplash to add a bit more pattern to the space.
White Contemporary Kitchen Cabinets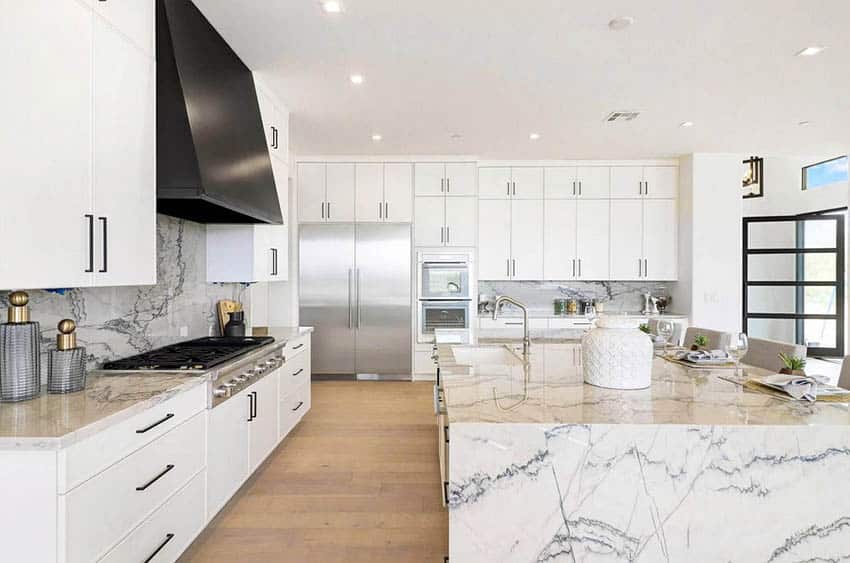 White has always been a staple in different kitchen cabinet design styles. In general, the color white is considered to be a fail proof choice in design, as it offers versatility, flexibility and timeliness. White kitchen cabinets are considered to be a classic element in kitchen designs, whether it may be traditional, transitional, country, modern or even contemporary.
The contemporary kitchen style conforms to a neutral color palette which is mostly dominated by brown woods in smooth finishes and silvery sleek metals which are often accompanied by shades of white, taupe or gray. The simplicity and minimalist aesthetics of the contemporary kitchen style make white kitchen cabinets a top fitting choice for its trademark design.
White contemporary kitchen cabinets have always been known for their timeless beauty and sophistication. The color white alone is considered to be very classy, what more if combined with a sleek kitchen cabinetry design, the result is just stunning and captivating. A primary benefit that white kitchen cabinets contribute is that they are proven to stand against the test of time, so matter how many years or decades may pass, you are guaranteed with a kitchen cabinet color that will never go out of style.
Using white kitchen cabinets in a contemporary kitchen setting also creates a very clean look and a light atmosphere. It stimulates positive aura to a space, which makes guests or homeowners feel more energized. Compared to dark kitchen cabinetry, white contemporary kitchen cabinets are also easier on the eyes. It brings a brighter and more airy ambiance as they can enhance the lighting conditions in a space by bouncing off light better.
Consequently, white contemporary kitchen cabinets are also more recommended for use in small kitchens as it can create an illusion of a bigger space. In addition, if you want to promote a clean, uncluttered kitchen environment, white cabinets can also help you do the trick as they embody hygiene and sanitation.
In terms of design, white contemporary kitchen cabinets give the most versatility and flexibility. The neutrality of its color works like a blank canvas which provide endless diverse options in mixing and matching other elements in the kitchen. White contemporary kitchen cabinets can be complemented with any color of decor, any appliance finish and practically any material of choice for the flooring, wall and backsplash. It also provides the perfect opportunity to introduce a splash of accent color into the space.
A full wall of white contemporary kitchen cabinets paired with white walls can also blend seamlessly into a kitchen design. Contrary to the belief that white kitchen cabinets can sometimes be too plain or boring, white contemporary kitchen cabinets do the opposite as they contribute visual interest, which in turn results to a very stylish space.
White contemporary kitchen cabinets can also be easily manipulated to create contrast or add in layers of textures for depth and dimension. It can be paired with an interesting backsplash material, or a light or dark colored wall or floor.
Alternatively, a contrasting kitchen island may also be used to break the monotony of white contemporary kitchen cabinets. In summary, white contemporary kitchen cabinets provide a vast opportunity of styling options when it comes to creating a well-balanced or a striking overall kitchen design.
Using white contemporary kitchen cabinets also come with a practical benefit. Dirt and dust can be easily seen on white cabinet surfaces, thus it is much easier to spot and clean. However, this also becomes its greatest drawback – as dirt becomes more noticeable, frequent cleaning and wiping is more necessary to maintain a flawless look, as compared with dark colored contemporary kitchen cabinets. Despite its hygienic appearance, scratches, smudges and splashes are more easily revealed.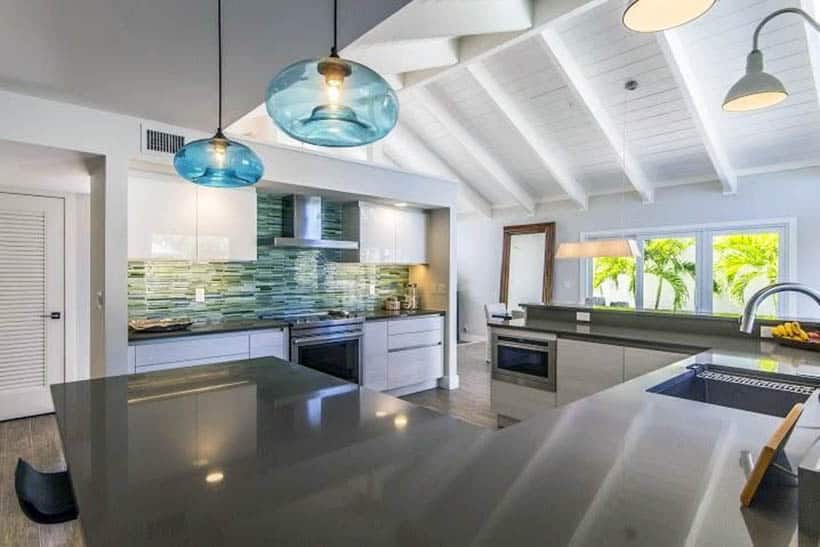 Classic interior architectural details also matches well with minimalist kitchen designs such as this example. By using an all white color scheme with a touch of blue accents, these glossy white laminated cabinets perfectly compliments the existing structure, the blues adding a more contemporary & youthful vibe into the space.
Contemporary European Kitchen Cabinets

The European kitchen cabinet design is best known for its very sleek appearance and distinct high gloss finish. Popularly featured in modern kitchen settings, European kitchen cabinets are also the right fit for contemporary style homes because of their stunning straightforward design and remarkable simplicity.
European kitchen cabinets are greatly influenced by the American style, but is set apart for its ultra-sleek character. With the real intent of building a compact size kitchen which will cater to the small residential spaces, flats and apartments in Europe, this kitchen cabinet design style mainly focused on functionality and efficiency rather than ornamentation. Everything was functional yet the beauty was not compromised.
European kitchen cabinets also built up its reputation as a high quality form of modular kitchen cabinetry. Promoting customization and personalization, modular European kitchen cabinet systems allowed homeowners to freely design their own kitchen cabinetry based on their personal needs and specific requirements in the space.
The frameless kitchen cabinet design and construction technique is one of the key facets of European style kitchen cabinets. Relying on a thick box construction for stability, the frameless kitchen cabinet construction method eliminated the need for a kitchen cabinet frame, which in turn resulted to a more seamless, integrated kitchen cabinet design and a more smooth transition between each storage unit.
This design ideology also promoted maximum access and provided optimum storage capacity. With frameless European kitchen cabinets, there is "full access" since no cabinet frames may hinder operation and use.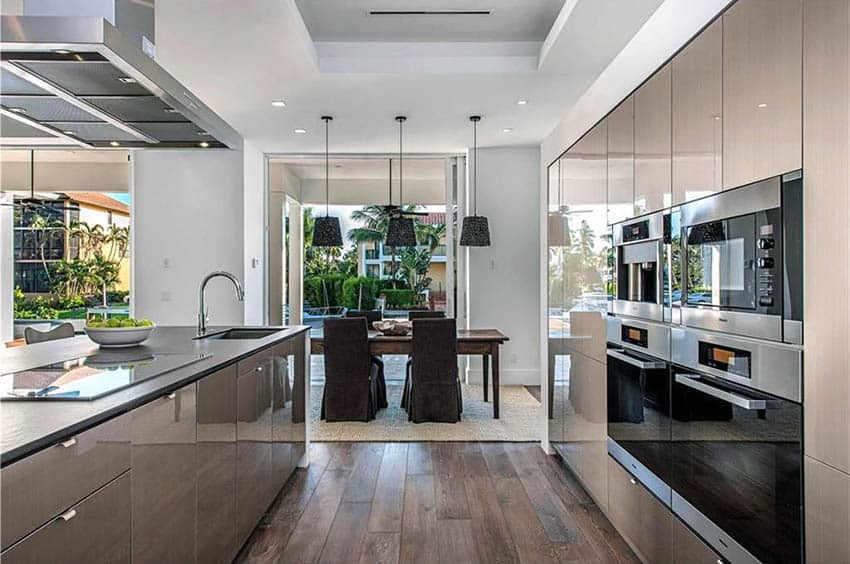 High gloss finishes almost instantly make any space look more modern & futuristic. The reflections on these finishes also help create an illusion of more space, as it somehow acts as a mirror when hit with light at certain angles. This is why glossy laminates were used in this kitchen. The available space is quite small, so using full height cabinets with glossy finish and minimalist pulls definitely help enhance the space.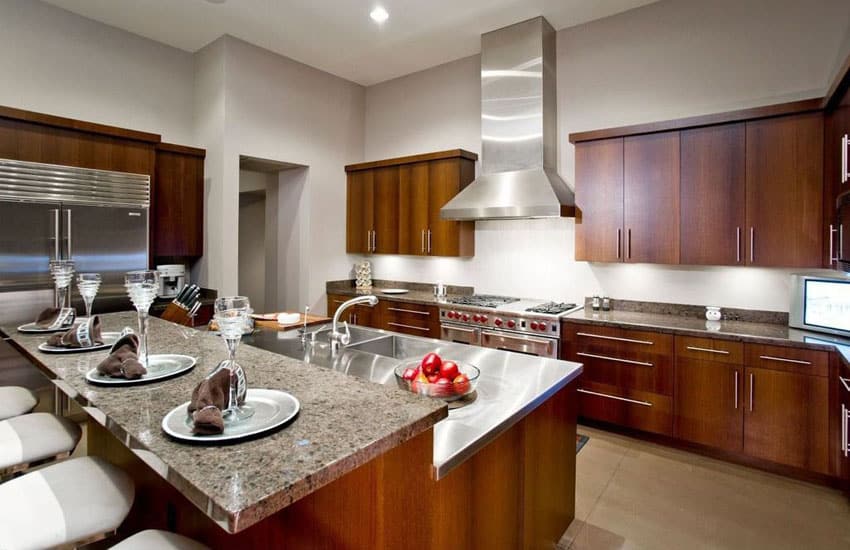 Contemporary European kitchen cabinets typically have flat surfaces and plain designs, with no presence of horizontal rails or vertical stiles. The only type of ornamentation which can be found in its design is the kitchen cabinet hardware, which are usually made up of metal and has simple, streamlined designs and sharp lines.
The materials for Contemporary European cabinets vary and range from natural materials like wood to modern alternatives like MDF or particle boards. The cabinet surfaces are usually finished with laminates or veneers to give them a very clean and sleek appearance.
European style kitchen cabinets are also best known for their signature high gloss finish. High gloss European style kitchen cabinets have an ultra-smooth, mirror like surface that is almost similar to an automotive finish. Their production involves a labor intensive process through different techniques such as rolling or brushing on coats of high gloss paint, spray painting through the use of a compressor, application of polyurethane and lacquering.
To give European kitchen cabinets a more reflective and polished surface, the cabinet material is coated with multiple layers of the finishing material then subjected to buffing – a finishing technique that is commonly used in automobile manufacturing.
As an alternative to the paint finish, high pressure laminates are also employed to create more diverse designs. Laminates are available in a broad spectrum of colors, which includes vibrant hues and neutrals which are more fitting for the color palette of Contemporary kitchen cabinets. Another popular color or finish for laminated contemporary European kitchen cabinets are "wood like" finishes which closely resemble the appearance of real wood.
These laminates have different graining patterns which contribute interest to the design of the kitchen cabinetry, white at the same time, rendering the same warmth and coziness that natural solid wood has.
Between the two finishes, Contemporary European kitchen cabinets are more geared towards a wood like look, as compared to ultra-high gloss cabinetry which is tantamount to the modern kitchen style. Laminates with horizontal graining patterns are a classic favorite for this kitchen cabinet style. Alternatively, plain solid colors are also used and these options include whites, off white, grays, shades of brown and taupe.
On top of the stunning aesthetics and distinct beauty that Contemporary European kitchen cabinets have, comes an added bonus which make it a cost effective investment for the home. Another notable quality that Contemporary European kitchen cabinets possess is their high durability, which is mainly brought about by the materials used in construction and the meticulous process that is involved in its production.
It takes several steps to reinforce the kitchen cabinet materials' strength and durability, and since the finishing is comprised of several layers of the materials, the colors of Contemporary European kitchen cabinets do not easily wear off as compared to regular paint.
Contemporary Dark Wood Kitchen Cabinets
As mentioned, the contemporary kitchen design may sometimes take inspiration from traditional designs and transform it into something more up to date and new. Instead of focusing solely on modern alternatives and synthetic materials, contemporary kitchen designs may feature traditional materials in a more sleek finish.
An example would be using wood veneers or wood like laminates as a substitute to real, natural wood in order to incorporate the look, color, warmth and distinct beauty of solid woods into the design. Instead of going with a traditional finish like wood stains, a contemporary kitchen cabinet would go for a more up to date finish like laminating. And in lieu of the natural ruggedness of wood, contemporary kitchen cabinets would opt for a more refined and polished look.
Dark wood kitchen cabinets are popular features in contemporary kitchen designs. The warmth that they bring into the space promotes a cozy and inviting ambiance that makes people drawn to it more.
Dark wood kitchens cabinets render sophistication and is also used to create a classic look in a contemporary kitchen setting. It adds formality, depth and richness to a kitchen. In addition, contemporary dark wood kitchen cabinets can also anchor the design and provide a strong foundation to a space.
When paired with light walls and floors, stainless steel appliances or metal hardware, contemporary dark wood kitchen cabinets provide contrast to a space, which makes it more visually appealing. And just like white cabinets, dark wood kitchen cabinets also have a versatile look which provide neutrality and offers endless options for home decor.
Almost any color of wall, flooring, backsplash, appliance and accessories can easily contrast with contemporary dark wood kitchen cabinets. Unlike light colored kitchen cabinets which some homeowners may find bland, dark wood kitchen cabinets are easily noticeable in a space and they can be used to create a statement that brings the attention of the people to the kitchen design.
With the use of effective lighting, a contemporary kitchen with dark wooden kitchen cabinets can look more inviting and cozy. Also, complementing design elements and lighter backdrops such as a white wall of paint, or a cream colored countertop and backsplash material can help it pop more in a space. Brushed steel appliances and cabinet pulls or hardware, on the other hand, can help offset its rich dark color.
Contemporary dark wood kitchen cabinets are best used in large kitchens as they can make a small, poorly lit space feel more cramped, heavy and closed. It can also be toned down, by introducing a balancing element in the space.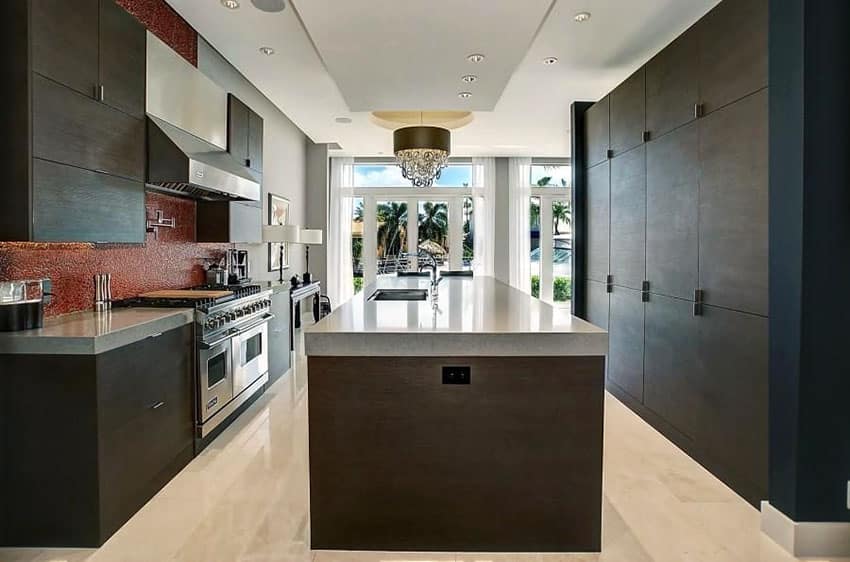 What makes this kitchen unique is the way that its cabinets were designed. Dark walnut veneered were used on marine plywood substrate for these modular cabinets. To create a unique and contemporary look, the sizes of the cabinet and drawer doors were made as big and blocky as possible, creating a uniform look.
The use of small, minimalist metal handgrabs also helps exaggerate the size of the cabinets as well, and helping you focus your attention to the gorgeous finish of the veneered cabinetry.
Contemporary Kitchen Cabinets Doors
The designs for contemporary kitchen cabinet doors have great similarity to modern kitchen cabinets. Both have minimalist designs which focus on streamlined forms, angular lines, smooth surfaces and the absence of ornamentation.
Simplicity is considered to be one of the key characteristics of contemporary kitchen cabinets. Unlike traditional designs which typically feature heavy mouldings and ornate details like trims, carvings and beveled contours, the contemporary kitchen cabinet door design focuses on creating a well-defined angular form.
There are several types of kitchen cabinet door styles which work best for the contemporary kitchen design namely the slab style, flat panel style and Shaker style. All of which produce equally beautiful kitchen cabinet looks.
Here is an overview of kitchen cabinet door designs which are commonly used for contemporary kitchen cabinets:
Slab style door – Popularly used in modern and contemporary kitchen cabinet designs, the slab style door is known for its simplicity and frameless appearance. Slab style doors, as their name suggests, are characterized by a single, unornamented piece or "slab" or flat wood. Its design is basically plain – with no visible embellishments, decorative moldings, edgings or trims. The slab style door gives contemporary kitchen cabinets a smooth, sleek and minimalist overall look.
Flat panel door- Flat panel doors are characterized by a center panel that is flat rather than being contoured, recessed or raised. This kitchen cabinet door design is also another trademark of contemporary kitchens because of its clean and sleek appearance. Its design typically involves as single line of plain decorative trim which forms a rectangular shape and runs at the middle part of the flat center panel. Flat panel doors come in several styles but one of its most popular design is the Shaker style door.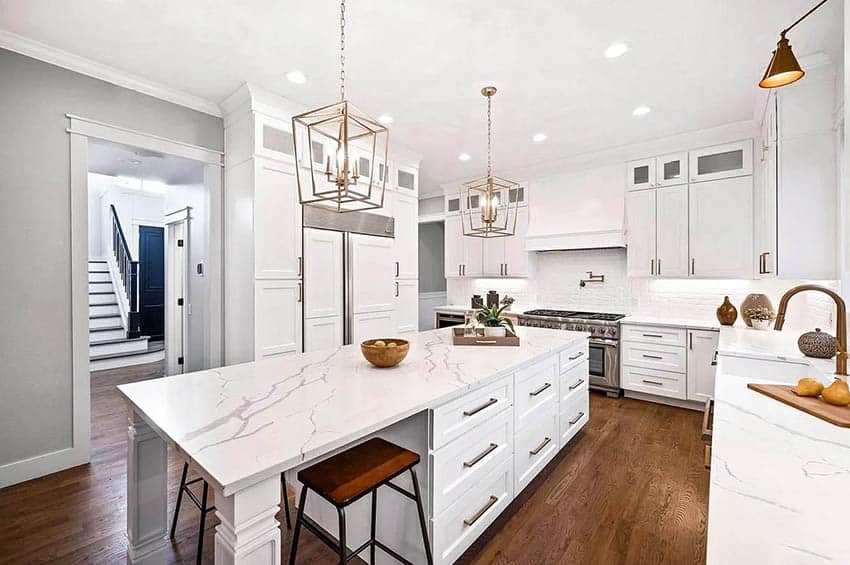 Kitchen with Calacatta quartz countertops and Shaker style cabinets.
Shaker style door – Shaker style doors are known for their iconic and classic design that is characterized by simple and functional aesthetics. Shaker style doors focus on a utilitarian nature rather than putting emphasis on ornamentation.
By definition, a shaker style kitchen cabinet design is composed of a five piece door with rail frames that surround the center panel. Contemporary shaker style kitchen cabinet doors are typically made up of wood and some popular colors for this kitchen cabinet door design include white, grays and natural wood stains.
Frosted glass cabinet doors – In some cases, glass is added for contemporary kitchen cabinetry in order to create variation and diversity in texture. Glass panel inserts for contemporary kitchen cabinets are typically plain and do not have vertical stiles or horizontal rails.
Instead of being used for the whole wall or a full span of overhead cabinets, glass paneled doors are usually used as an accent to break the materials used in the space. Glass paneled doors for contemporary kitchen cabinet designs are typically used for pull up cabinetry and usually come in a frosted finish. In terms of functionality and practicality, glass paneled doors provide added visibility and eliminates the need to go over the contents of the storage unit when looking for something.
In terms of construction, contemporary kitchen cabinet doors usually follow a full overlay or frameless type of construction. In a frameless type of kitchen cabinet construction, the fully overlaps the cabinet box or carcase. This results into a sleeker and more seamless look. And since the frameless kitchen cabinet door construction do not show any type of framing between the kitchen cabinet doors, a smooth transition and equal minimal spacing in between the doors is ensured.
Contemporary Kitchen Cabinet Hardware
Kitchen cabinet hardware may either break or make the overall look of kitchen cabinets. Better known as the "jewelry of the kitchen", knobs, pulls and handles are not only functional additions but also significantly increases the aesthetic appeal of kitchen cabinetry.
These handy design elements may either be used as a complementing piece of accessory, may either blend seamlessly into the cabinetry design or may completely stand out in contrast with the colors and textures in the space.
There are endless amount of options to choose from when it comes to contemporary kitchen cabinet hardware. There are different variants which are made of metal, plastic, wood, ceramic, while other suppliers incorporate an interest mix of this materials to provide a more decorative look.
Aside from presenting a wide array of material choices, contemporary kitchen cabinet hardware are also available in several styles, different types of colors, finishes and sizes which can match specific types of door designs.
Contemporary kitchen cabinet hardware generally have a sleek yet bold look. Its design is simple, yet it features striking lines and a well-defined profile. Almost any modern kitchen cabinet hardware works well with contemporary kitchen cabinet design as both put emphasis on simplicity, minimalism and less ornamentation.
When choosing the right kitchen cabinet hardware to complement contemporary kitchen cabinet designs, keep both aesthetics and functionality in mind as the users constantly come in contact with them every day. Contemporary kitchen cabinet hardware must not only conform to minimalist aesthetics but have to provide ease and accessibility in opening and closing cabinet doors.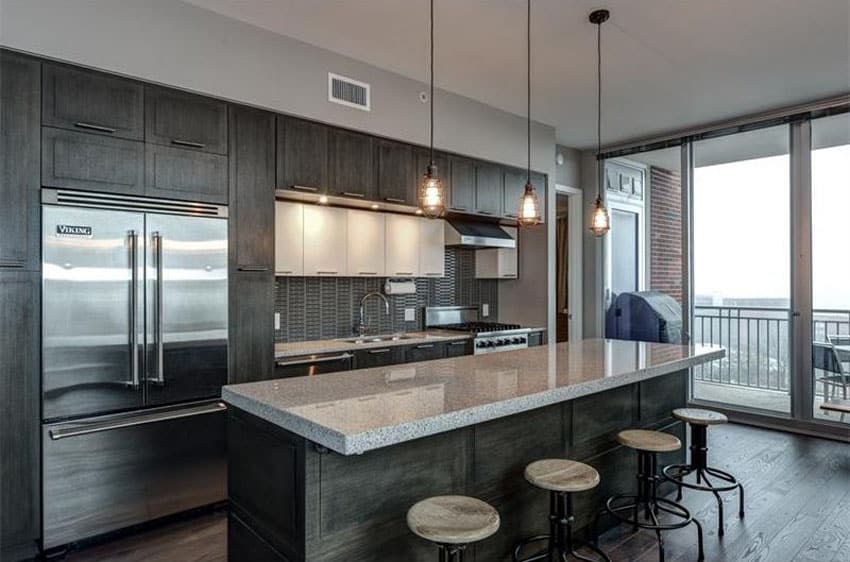 The cabinets for this kitchen design integrates a very simple paneled design, but still keeps that straight, sleek lines typical of contemporary kitchens. It has used oak veneers over the cabinets to add a touch of texture and warmth to the surface, and gives it a matte finish for a more contemporary look. The dark stain used on the veneers combined with with the barstool and pendant lamps help add an industrial feel to the space while still keeping a clean and modern look.
Contemporary kitchen cabinet pulls
The existing market presents a wide range of kitchen cabinet hardware choices which range from round and square knobs, slim pulls, long handles or magnetic mechanisms. However, there are specific types which work best for the contemporary kitchen cabinet style.
Here are some ideal types of kitchen cabinet hardware which are well suited for the streamlined design of contemporary kitchen cabinets:
Tab pull – A tab pull is a type of kitchen cabinet hardware that is mounted to the edge of a cabinet. Tab pulls have an L" shape profile and is usually attached to the top most part of the door for base cabinets and at the bottom part for overhead wall cabinets. It can either be small or can run the full length of the cabinet door or drawer for a more highlighted appearance. This type of kitchen cabinet hardware is commonly used for slab style or flat panel doors and works best as a complementing decor for high gloss and wood veneer cabinets.
This type of hardware also work like design accents which give character to the overall look of a kitchen. Whether stainless steel or metal, tab pulls provides a bold contrast when used with the minimalist aesthetics of contemporary kitchen cabinetry. Aside from providing decor to contemporary kitchen cabinets, tab pulls are also very functional as they are easy to grip and access.
Hidden or edge pull – A hidden pull is somewhat similar to a tab pull. Hidden or edge pulls, as the name suggests, are kitchen cabinet hardware that are attached to the top edge of the kitchen cabinet door. Its design is typically a small piece of metal that extends out of the flush portion of the kitchen cabinet – appearing like a subtle piece of hardware concealed by the kitchen countertop above. The hidden or edge pull works best for the contemporary kitchen cabinet design because it provides a clean look that does not veer away from the material and aesthetics of the kitchen cabinetry. Aside from the minimalist aesthetics that hidden or edge pulls possess, they also contribute easy access to below counter drawers and base kitchen cabinets.
Integrated handles – Integrated handles are another form of kitchen cabinet hardware which gives an ultra-sleek and seamless look to kitchen cabinets. Integrated handles are built in kitchen cabinet hardware that have an inwardly beveled edge profile. This type of kitchen cabinet hardware is operated with the beveled part or the recessed gap catching the fingertips. Typically, integrated handles are made up of metal or wood, while its color may be modified depending on the look you want to achieve for your kitchen cabinets. For example, pairing chrome integrated handles to go with glossy white kitchen cabinets works like a metallic accent that creates stark contrast in the space. On the other hand, matching integrated handles with the color of contemporary kitchen cabinets will instantly create a seamless appearance and smooth transition between the cabinetry designs.
There are two common types of integrated handles namely the C channel and the J channel metal rail pulls. J or C channel metal rail pulls are characterized by their "C" and "J" shaped profile, which is entirely flushed into the cabinet door or drawer face. The J and C metal rail pulls both produce a very sleek look and create an integrated cabinetry design as the pulls do not stick out of the surface of the cabinet doors and the drawer faces. Typically, J or C channel metal rail pulls run the full expanse of each cabinet door and drawer unit, thus putting emphasis on the linear design of the cabinetry. It is also installed at the top part of the cabinet door, creating a sort of band of contrasting material and texture. This cabinet hardware design is well suited for flat panel doors and looks good on both wood grained kitchen cabinets and high gloss cabinetry.
However, there is one drawback to using this type of cabinet hardware. Integrated pulls, in general, can easily collect dirt and dust inside the channels or between recessed gap.
Recessed pulls – A recessed pull is a type of kitchen cabinet hardware that is flushed entirely to the cabinet door or drawer face, rather than sticking out. Traditionally, recessed pulls can be found in office storage systems. Recessed pulls are built into the cabinet door and may be produced in the same material to create a cohesive look, or alternatively, it may crafted in another material to create a bold contrasting statement. Recessed pull are also your best option if you want to maintain a flat surface for your cabinetry. These are typically used for drawers, bypass doors or slab style doors, and look best on wood stained cabinets compared to high gloss cabinets.
Being utilitarian in nature, recessed pulls are designed with maximum functionality and accessibility as they do not get in the way of the users. It is also best used in high traffic kitchens because they do not protrude from the doors and lessen the risk of users bumping into the hardware or handles catching on to clothing.
Bar pulls, flat bar pull, and cut out bar pulls – Bar pulls, cut out bar pulls and flat bar pulls all works as statement making pieces ,and rather than blending seamlessly into the kitchen cabinetry design, these three types of hardware are typically designed to stand out.
Bar pulls are one of the most popular kitchen cabinet hardware designs used in the industry. Originating from Spain and Italy, the classic design of bar pulls are proven to stand against the test of time and still continues to be one of the most versatile and timeless in the kitchen design scene. A bar pull is a type of straight edges cabinet hardware, that is usually rectangular in shape with the ends sticking out – or the ends longer than the part that is screwed to the kitchen cabinet face. A bar pull has a sleek appearance that is well suited for flat panel doors and slab style doors. When using bar pulls for contemporary kitchen cabinets, make sure to go with designs that are made up of stainless steel in brushed satin finish or chrome finish.
A flat bar bull is a type of cabinet handles that has square edges and a very prominent angular profile. This type of kitchen cabinet hardware works well with contemporary kitchen cabinets since it helps accentuate the design and brings in a strong linear look to the space. Flat bar pulls are best paired with flat panel cabinets, horizontal drawers or contemporary kitchen cabinetry with a horizontal graining pattern.
Cut out bar pulls, on the other hand, are a variation of the flat bar bull. It is also characterized by an angular profile and a straight edged design, but instead of having a plain surface, they have a small cut out at the center. The cut outs are usually geometric in form, such as square or rectangle. Cut out bar pulls can be used if you want to add a subtle accent or an extra punch to contemporary kitchen cabinets. Cut out bar pulls are best paired with flat panel kitchen cabinets and look more noticeable on a plain surface or over a high gloss finish as compared to a wood grained cabinet design.
These three types of hardware are typically made up of metal and come in different colors and finishes. They are also available in different lengths, with some variants designed to be as long as a four finger grip. Bar pulls, flat bar pulls and cut out bar pulls are best paired with horizontal grained contemporary kitchen cabinets or long drawers.
Wire pulls – Compared to flat bar pulls, wire pulls have a thinner profile. One of the most common designs of the wire pull is a thin elongated "C" profile with more rounded edges. Considered to be a classic design for kitchen cabinet hardware, wire pulls are simple, subtle and work best if you are looking for a hardware that does not compete with the rest of your cabinetry. Although smaller in size, wire pulls are easy to grip and access. Wire pulls work well with any type of contemporary kitchen cabinets. Whether high gloss or wood veneer and it is also the perfect complement to stainless steel kitchen appliances.
Push latch – The push latch is one of the most well used kitchen cabinet hardware in modern and contemporary kitchen cabinet designs because it provides a very clean look. Push latches are mechanical or magnetic devices that are installed inside, rather than outside of the kitchen cabinet door. With push latches, there is no actual piece of metal hardware that is visible on the kitchen cabinet door or drawer face, but instead the mechanism is installed at the back or interior of the cabinet door. Push latches provide maximum ease in terms of operation as they work with a gentle touch or push in order to open a door. A push latch operated kitchen cabinet door also provides a slow motion effect or a "soft close" movement as the door closes, leaving a completely flushed kitchen cabinet door and a seamless design in the space.
Contemporary kitchen cabinet knobs
In general, kitchen cabinet knobs are considered to be the simplest type of kitchen cabinet hardware because they are the easiest to install. Knobs are typically installed to kitchen cabinet doors or drawer faces using only a single piece of screw. Cabinet knobs are commonly round in shape, but also come in other forms such as oval, square or rectangle. It is also available in novelty designs and more unique shapes such as the "mushroom". Common materials for kitchen cabinet knobs are metals like brass, zinc, die cast, stainless steel and bronze, but some suppliers also manufacture designs in glass, crystal, stone, wood, plastic and ceramic.
Just like the pulls and handles for contemporary kitchen cabinet design, contemporary kitchen cabinet knobs have simple shapes, a sleek look and a smooth surface. Unlike traditional designs which usually have a form of ornamentation like detailing, etching, contours and motifs, contemporary kitchen cabinet knobs are often embellished and plain. The shapes are well defined, typically straight edges and geared towards a square and rectangular shape rather than circular. Round knobs are also sometimes used and often have simple, plain designs but have a strong look. There are also more modern takes on the regular round kitchen cabinet knob, wherein the shapes are more cylindrical, may include a small notch or sometimes ring shaped.
Contemporary kitchen cabinet knobs are the best choice if you want a type of hardware that won't compete with the design of your kitchen cabinetry. Despite their small size, kitchen cabinet knobs provide maximum functionality because they are easy to grip.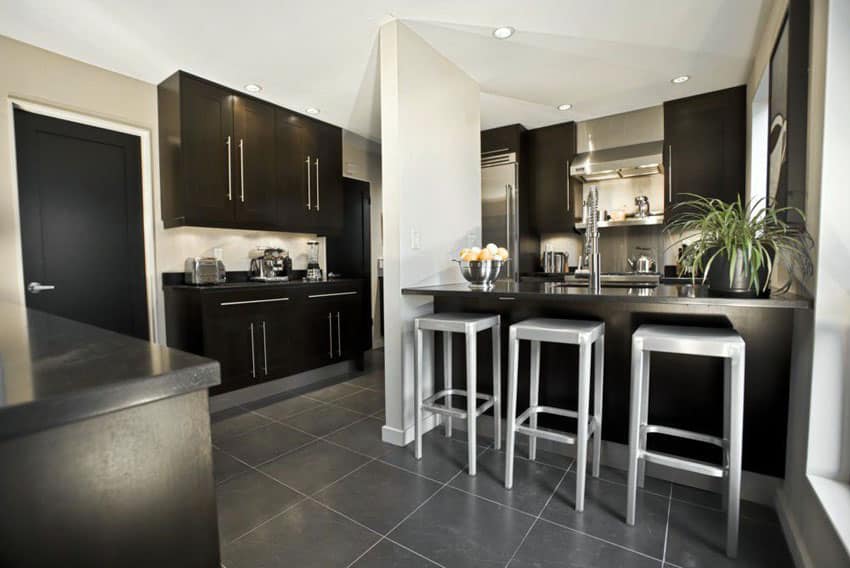 Because of the very limited space available, you can see how the cabinets of this kitchen maximizes the available ceiling height for it to be used as overhead storage. The dark wengue cabinetry, combined with black granite & stainless steel create a contemporary look with a touch of classic elegance.
Hardware Finishes for Contemporary Kitchen Cabinets
The best kitchen cabinet hardware finish for contemporary kitchen cabinets are those that have a clean aesthetic quality and sharp color. Contemporary kitchen cabinet hardware are also often in silver color, usually in a polished or shiny finish. But alternatively, matte finishes like the brushed and satin finishes can also be used.
To give a short overview of these three general kitchen cabinet hardware finishes, the polished finish is characterized by a highly shiny surface. The brushed finish, on the other hand, has a dull polish, which is brought about by subjecting the metal into a polishing process that involves a fine bristle brush that moves repeatedly in the same direction. Although the metal loses its reflective surface, brushed finish hardware have a soft touch of luster to them and has very fine lines which indicate the direction of brushing that the material was subjected to.
Satin finish hardware, has great similarity to the brushed finish, and is characterized by a translucent and frosted "milky" look. Just like the brushed finish, satin finish subjects metal into brushing with long strokes, but is sandblasted afterwards to remove any visible pattern and to create a randomized look.
Here are some types of kitchen cabinet hardware color and finishes that pairs best with contemporary kitchen cabinets:
Polished chrome – Polished chrome kitchen cabinet hardware is characterized by a bright silver color. Its shiny appearance is best known for contributing a lustrous appeal to kitchen cabinetry. Polished chrome kitchen cabinet hardware is best paired with contemporary kitchen cabinets that are dark colored as it provides contrast to the space. In some cases, polished chrome is combined with matching kitchen appliances for a stronger and more cohesively tied overall look.
Polished nickel – Nickel, in general, is considered to be one of the most durable types of metals because it does not weather or rust. Compared to other materials, nickel kitchen cabinet hardware last long and do not need much touch up. Polished nickel hardware is known to be the chameleon of cabinet hardware finishes because of its versatility and ability to blend well in any kitchen setting. In terms of appearance, polished nickel kitchen cabinet hardware have a glossy shine and an understated or subtle color. It is the best choice if you want handles or pulls which will blend with kitchen cabinetry rather than stand out. Polished nickel hardware also offers a good way to offset any dark colored contemporary kitchen cabinets.
Nickel Chrome – Nickel chrome has a muted appearance, a matte surface and a darker color than polished nickel. It pairs best with contemporary kitchen cabinets that are finished with stain or those that have soft colors. When placed against light colored contemporary kitchen cabinets, nickel chrome hardware stands out.
Silver satin – Compared to polished finishes, satin finish hardware have a softer look and a more subtle color. Silver stain kitchen cabinet hardware is characterized by a matte, brushed like surface. This type of kitchen cabinet hardware finish is typically used as a matching decor to stainless steel appliance. Silver satin finish works for both light and dark colored contemporary kitchen cabinetry. It provides a mellow complementing color to white kitchen cabinets, while works as a good way to offset dark brown and black kitchen cabinets. An added bonus to using silver satin kitchen cabinet hardware is that it is easier to maintain compared to its polished countertops because fingerprints do not easily mark on its surface.
Brushed nickel – Compared to polished nickel, brushed nickel has a more subtle look and is characterized by a soft sheen. Brushed nickel hardware is typically used if you want your pulls and handles to blend rather that stand out in the cabinet design. Brushed nickel hardware is the perfect fit to dark colored contemporary kitchen cabinets.
Stainless steel – Stainless steel kitchen cabinet hardware is best known for its resilience and high durability, but what makes it really stand out is its distinct lustrous silver color. The sharp aesthetics, clean look and shiny texture of stainless steel kitchen cabinet hardware make it a fitting choice for contemporary kitchen cabinets. Stainless steel kitchen cabinet hardware also offers versatility in terms of design as it can be paired with both light and dark contemporary kitchen cabinets. In addition, it is also the perfect complement to kitchen cabinets with a touch of sheen or high gloss finish.
Stainless steel cabinet hardware is known for its resilience and high durability. This type of cabinet hardware finish has a very sharp color, which offers a clean look and shiny texture. It is best paired with both light and dark colored modern kitchen cabinets and is the perfect complement to the smooth, sleek surface of high gloss kitchen cabinet finish.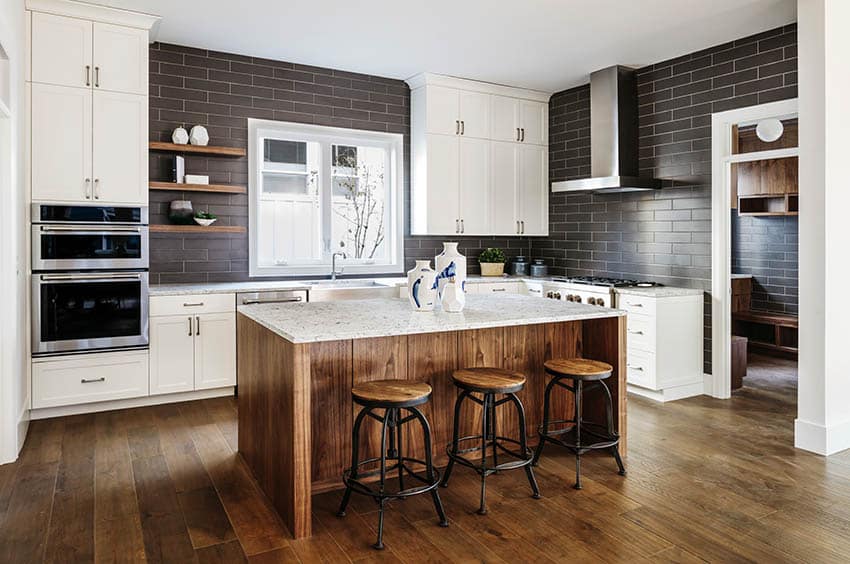 If you're still unsure about industrial style kitchens because of its rather rough look, this kitchen design achieves the perfect balance between sleek & clean, and the edginess of industrial style designs. The main kitchen cabinets are simple plain white laminated & maximizes the ceiling height for storage. The dark gray tiles on the walls help make thr white cabinets stand out and look extra crisp, while the kitchen island uses natural wood to ads a bit more texture & warmth into the design.
Contemporary kitchen with no hardware
Some contemporary kitchens utilize no hardware pulls or knobs for their cabinetry creating a stylish design. Featuring cabinets that open with a push and showcasing the beauty of the cabinets without the need for hardware this is style is rising in popularity. There are also companies that provide a technology that can lift cabinet doors up and away with a touch creating a luxurious and sleek feel.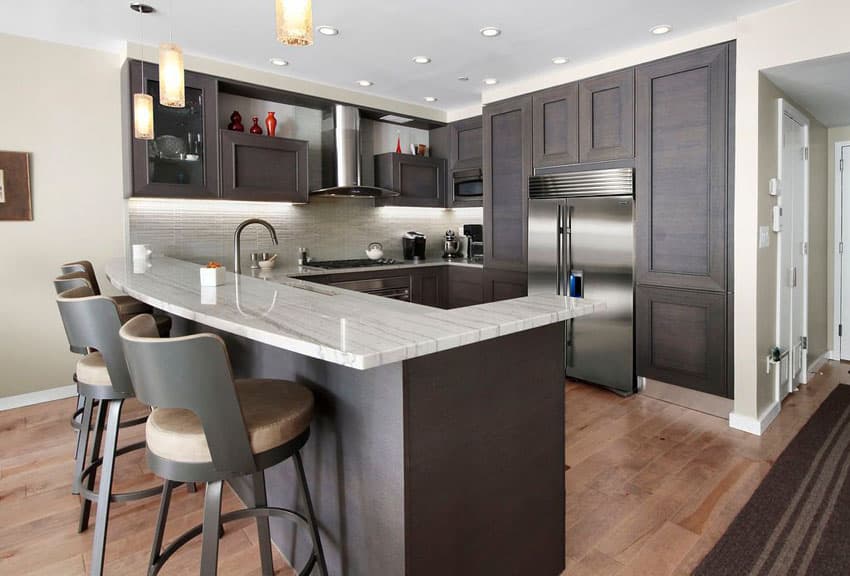 This small kitchen corner attempts to maximize storage space available in the small space, while still maintaining an efficient working triangle on its layout. The paneled cabinets were veneered to give it a classic & elegant feel, while it does away with cabinet pulls or handles in favor of push to open mechanisms to give it a more minimalist feel.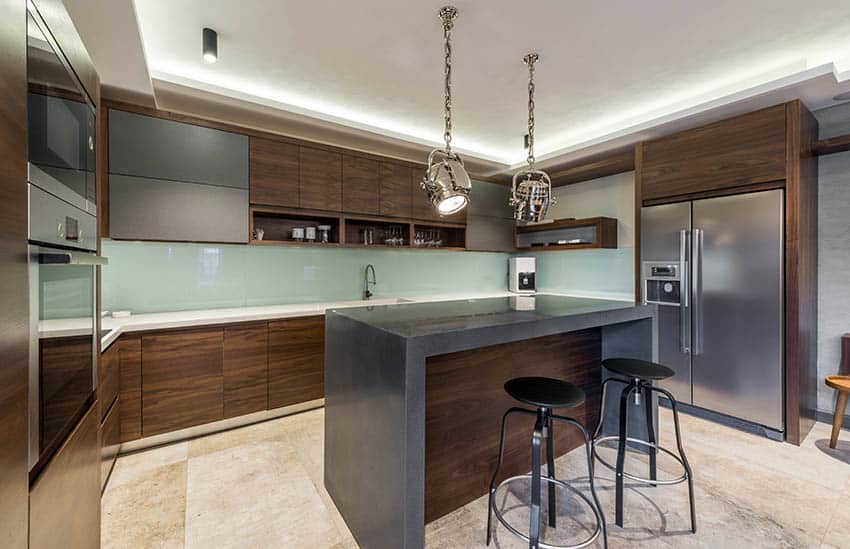 This another great example of a contemporary wood kitchen design. It combines walnut veneered cabinets with gray & emerald back-painted glass to achieve a very modern look while still maintaining a warm & inviting appearance. The kitchen cabinets doesn't have pulls or knobs, but instead makes use of push to open mechanisms. The result is an clean finish that emphasizes the gorgeous wood grains of the veneers.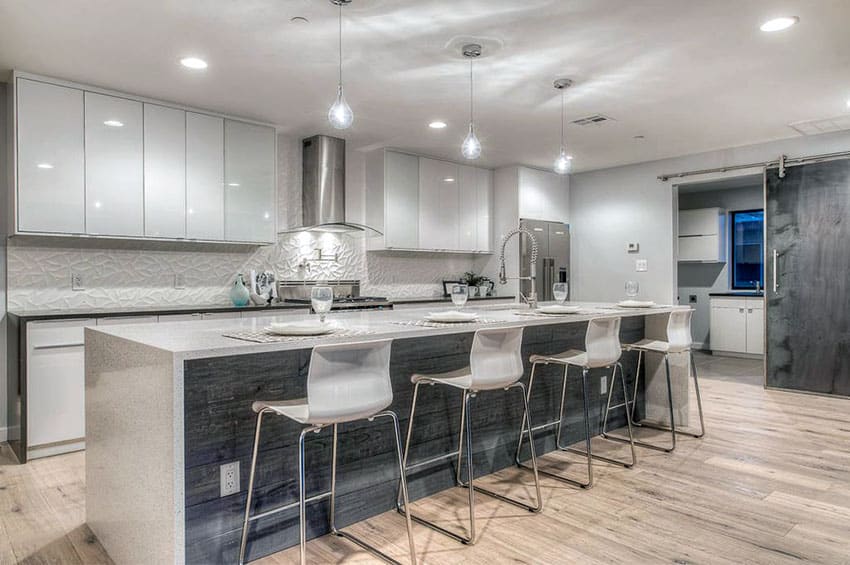 Even if space isn't limited, contemporary kitchen cabinets are often favored because the materials used are often easy to maintain, and the designs easy to mix and match with existing pieces. A simple white & gray scheme like this creates an elegant & timeless appeal, without looking dated.
Related Kitchen Cabinet Design Galleries You May Like:
Contemporary Kitchen Designs – Kitchen Remodel Cost – Kitchen Design Guide