Here we share our gallery featuring corrugated metal in kitchens including island, backsplash, walls and ceiling designs.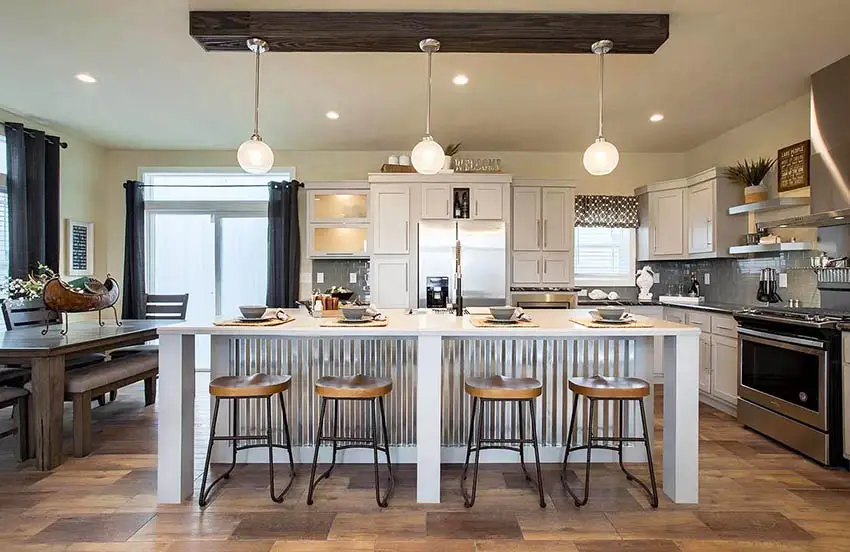 Metallics in the kitchen can certainly look fantastic; throwback to our recent article on copper kitchen countertops, or think about the rose gold trends which recently took the world by storm. However, corrugated galvanized steel seems to take our love of metallics to the next level.
Often found sitting on top of a roof, corrugated galvanized steel is not the most obvious material to incorporate into your kitchen. Due to its composition it can be noisy to move and soft enough to dent, not to mention its very raw metallic quality. Whilst this material certainly doesn't scream 'instant' glamour, there's definitely more to this metal than meets our judging eye.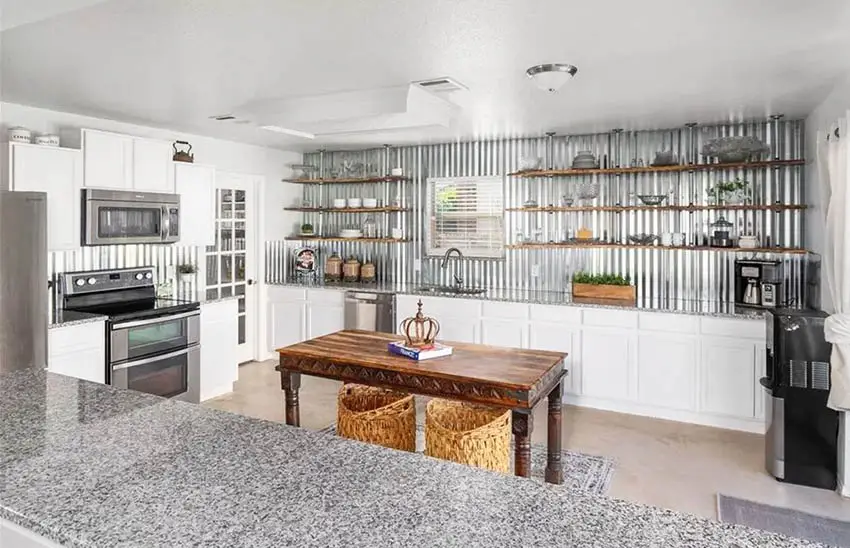 Corrugated galvanized steel has a lot going for it. It's lightweight, recyclable and durable. Due to the corrugated composition of the material, it's also strong and it's also resistant to rust. All of these are rather impressive qualities when it comes to its role within your kitchen interior. Putting aside its practical benefits, it's also bang on trend with the transitional theme we're seeing pop up today.
This interior design style is all about creating a cohesive scheme that combines the classic with contemporary. Picture a rustic country kitchen sporting its characteristic warm wood tones, enveloping a striking kitchen island that boasts a show of corrugated galvanized steel across its base. It's a huge statement, and given the unique character of this material, both in terms of metal type and texture, is something that other materials simply fail to achieve.
Corrugated Metal Kitchen Island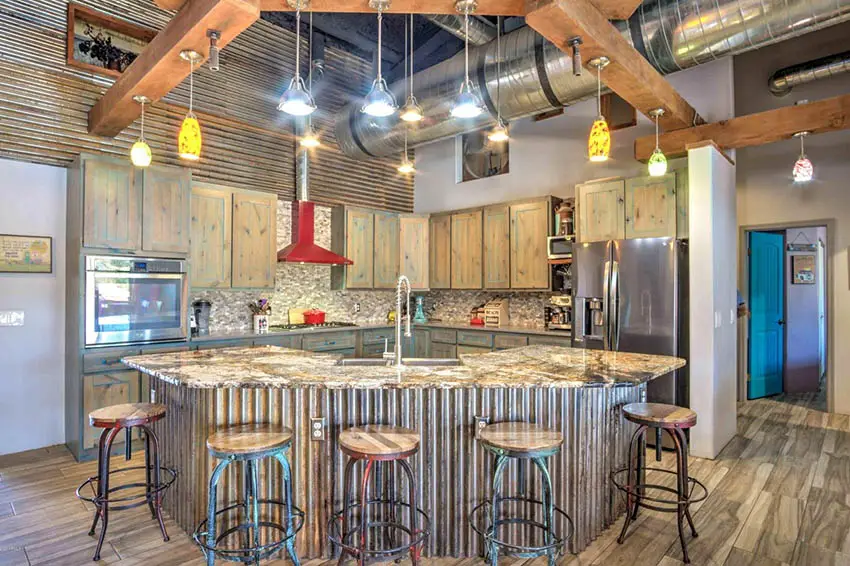 Incorporating corrugated galvanized steel onto the base of your kitchen island is a popular and effective way of bringing this metal into your scheme. Your kitchen island is already center stage, yet likely lacks real depth, texture and life – qualities inherent to corrugated galvanized steel. If you're looking for a statement piece in your kitchen, you've found it.
However, you do also need to bear in mind the practicalities of this choice. If you plan on arranging stools around the island for people to sit and chat, there's a high chance that your guests could kick the metal, or dent it as they get on/off the stools. Don't forget the resultant noise this would cause.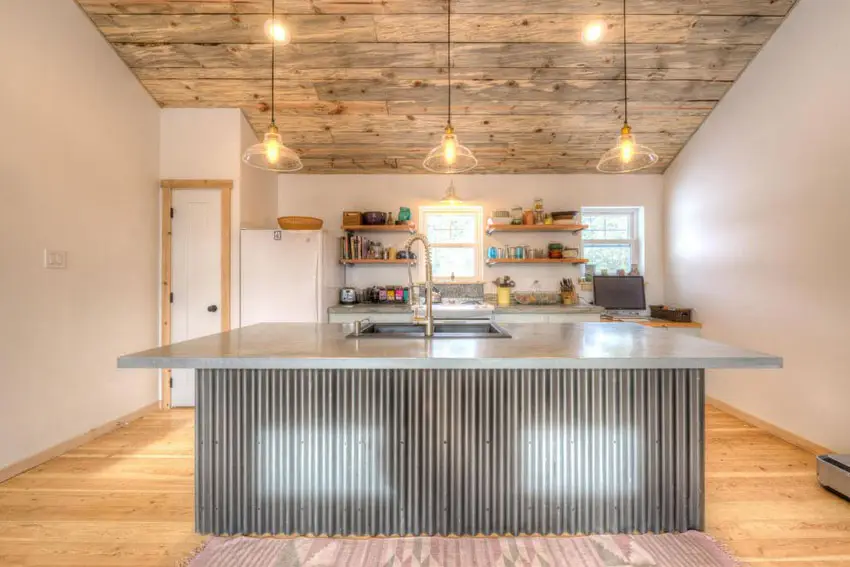 If you have alternative seating arrangements in the kitchen meaning the island won't need to be a place to congregate, then corrugated galvanized steel could work as a feature piece. You could alternatively bring in any bar stools along the sides where the island base is hidden, and then choose a different material for these panels.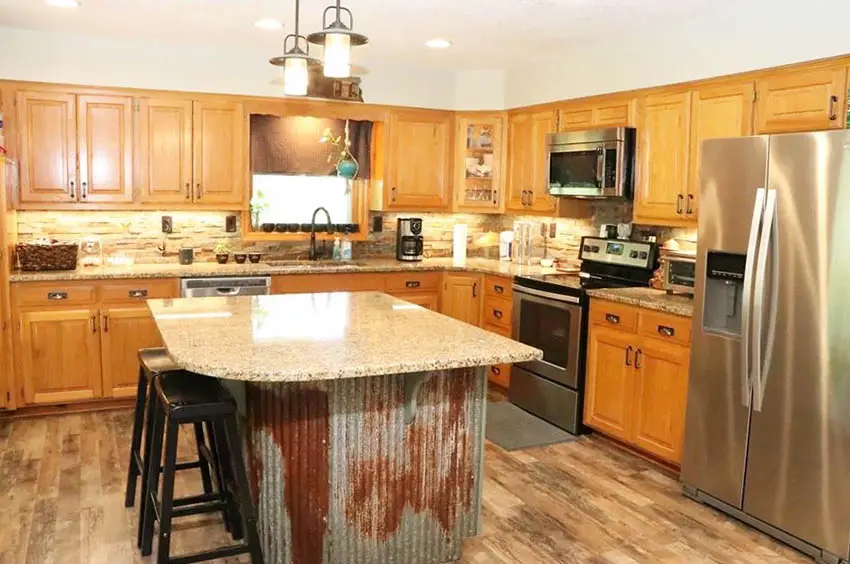 For more kitchen island ideas visit this gallery page.
Kitchen with Corrugated Galvanized Steel Peninsula
This style could also be used for a kitchen peninsula. It can be used effectively to bring a rustic element in to a contemporary, traditional or modern style, as well as help create a farmhouse design.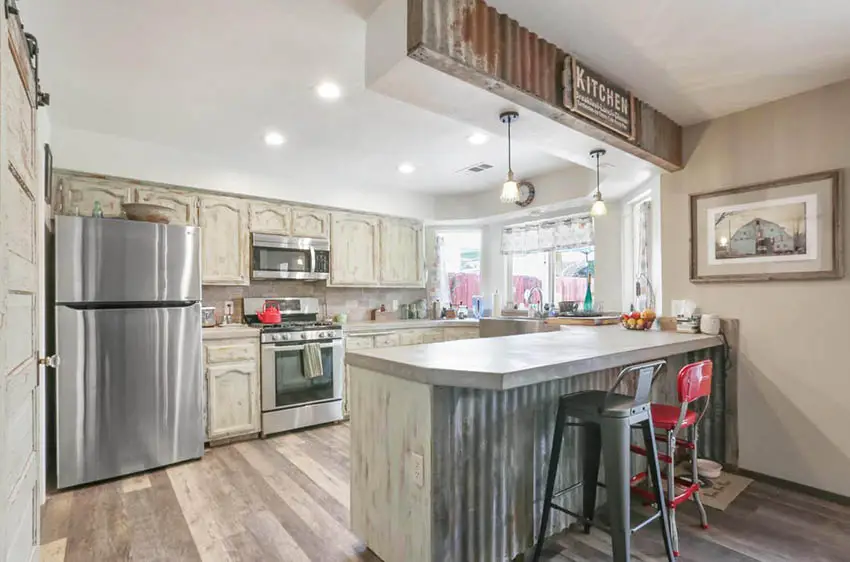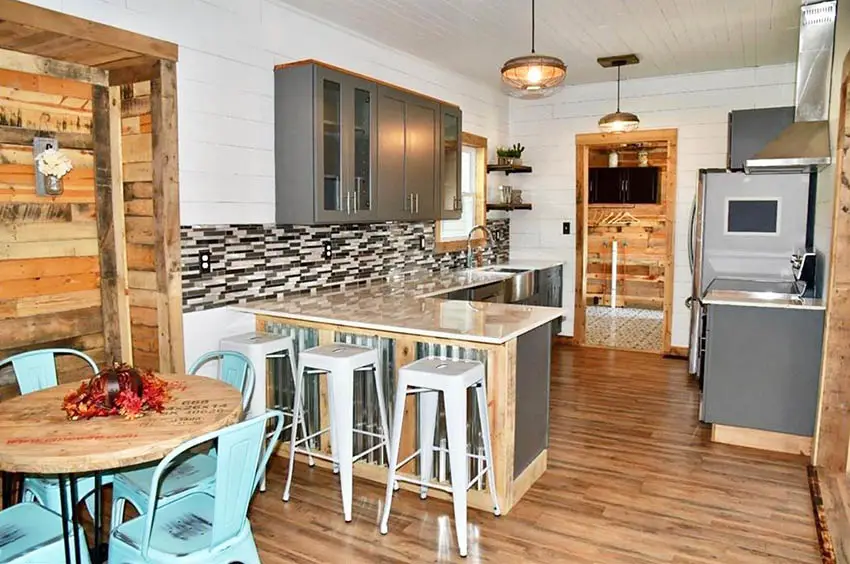 Corrugated metal in kitchens with wood elements can be used to tie in the rooms finishes together for a cohesive look.
Kitchen with Corrugated Galvanized Steel Ceiling
How about including the metal as part of your ceiling? This option allows you to keep a more traditional interior design within your kitchen living area, yet provides a unique, endearing contrast as soon as your guests look up! There's a few different ideas you could experiment with. Your kitchen island doesn't need to be the only place you incorporate this metal.
Think about scale, and how the material would sit within the rest of your room. Perhaps a couple of metal wash tubs with a panel of corrugated galvanized steel (a DIY project?) could be all that's required to add a unique twist to your kitchen.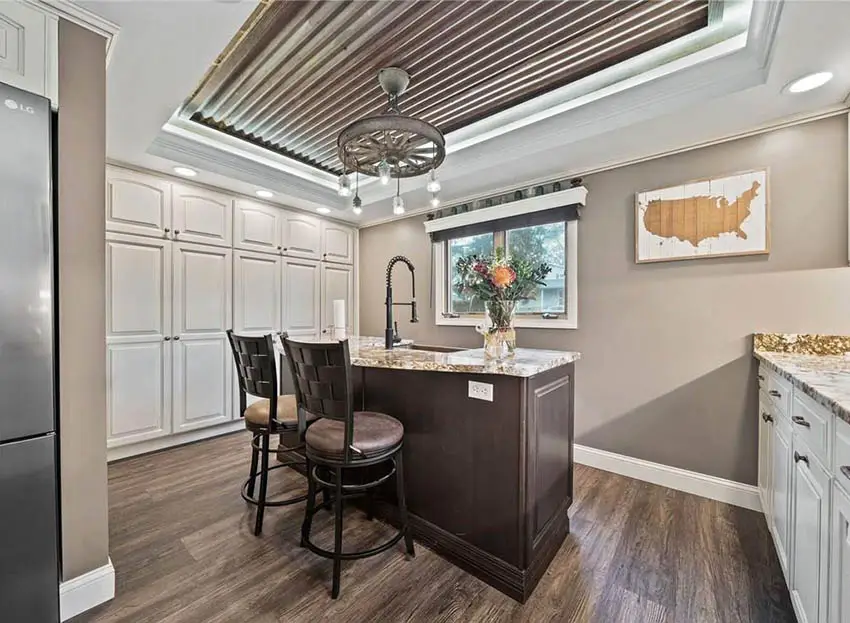 This kitchen with corrugated tray ceiling design creates an interesting design element that gives uniqueness to the space.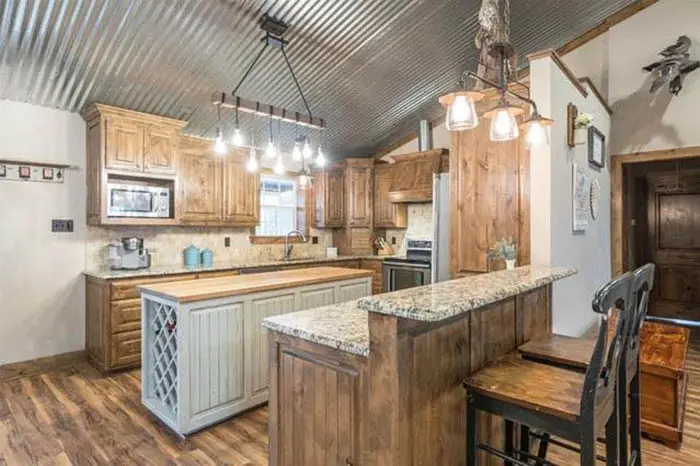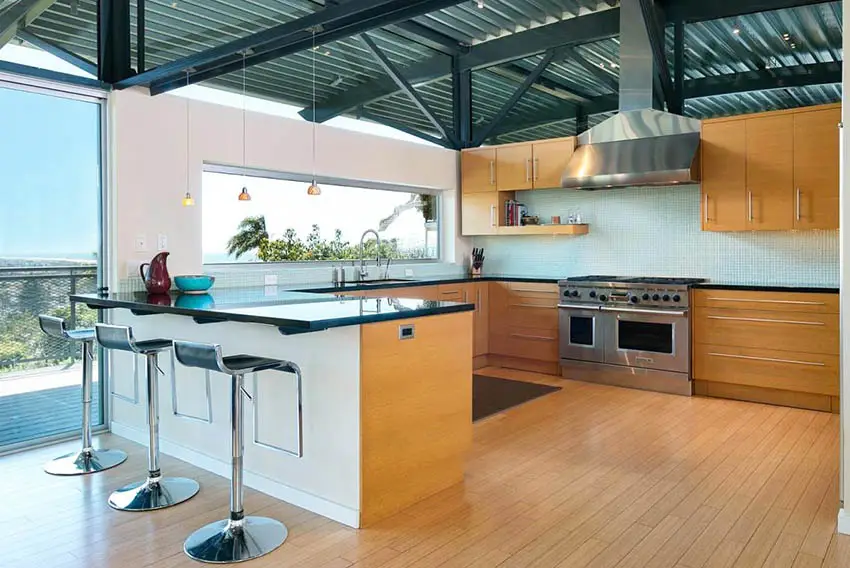 Corrugated Metal Kitchen Backsplash
Another use for corrugated metal in kitchens is using them as the backsplash. This type of backsplash can add a lot of character to a design and are inexpensive to buy and relatively easy as a DIY project to install.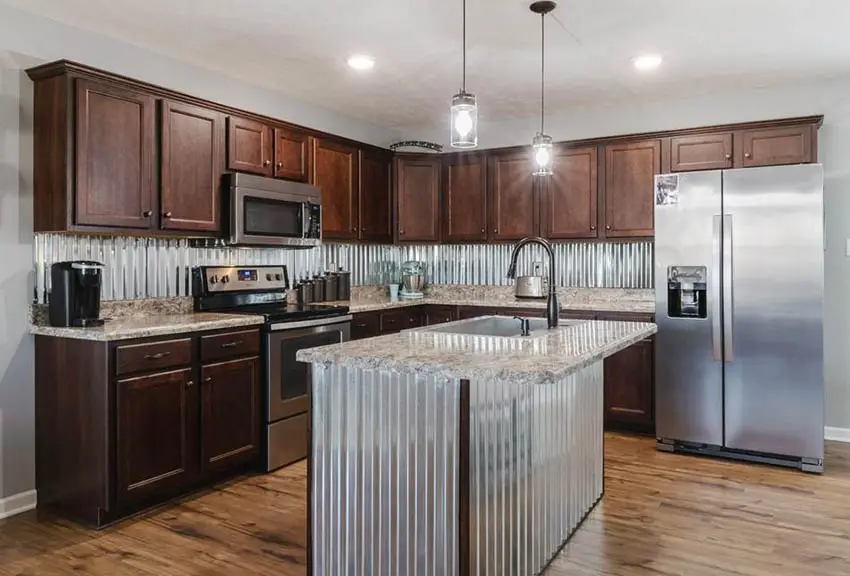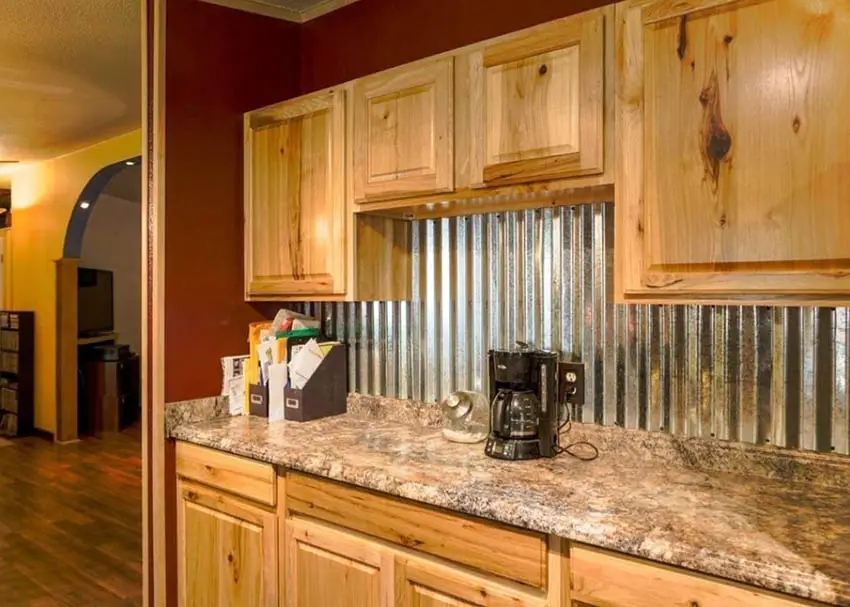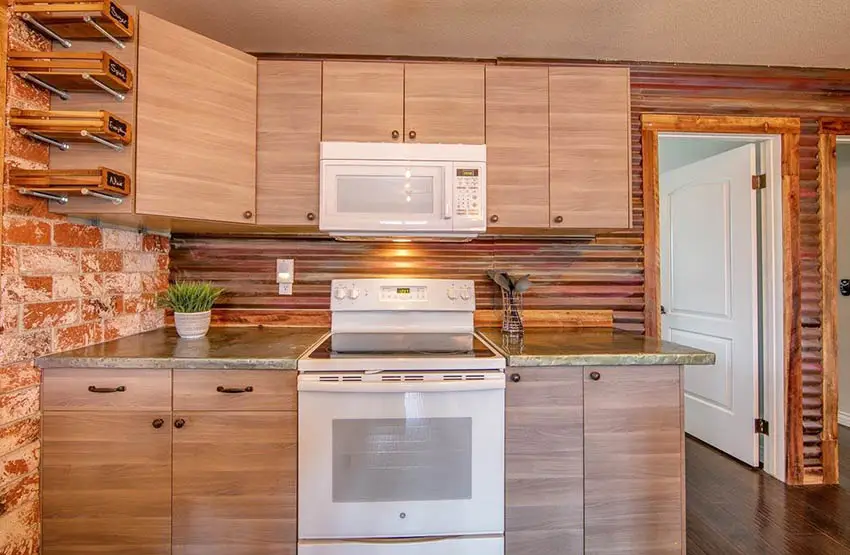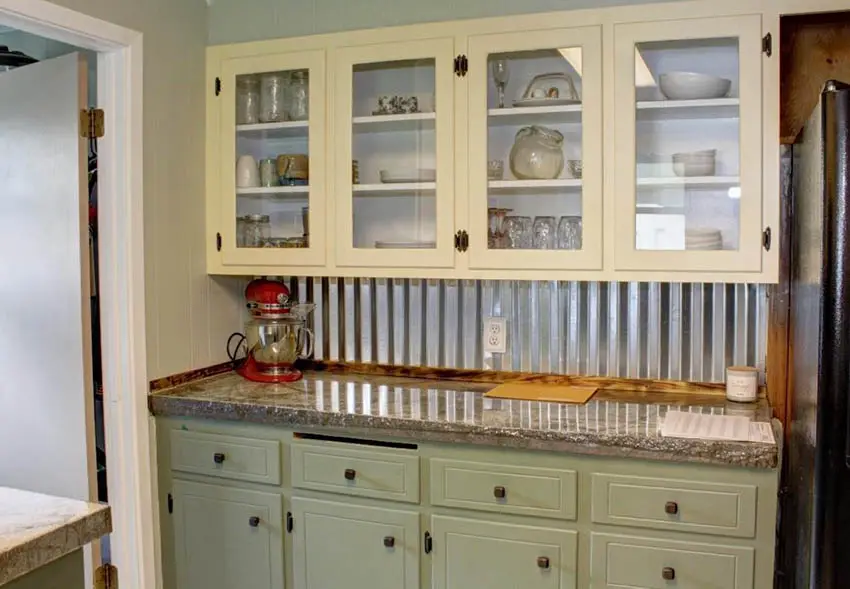 Kitchen backsplash designs with galvanized steel are durable and can match a variety of different styles.