Here's our guide to the types of toasters including the different models, their features, design elements, uses, sizes, and the various toaster appliances available.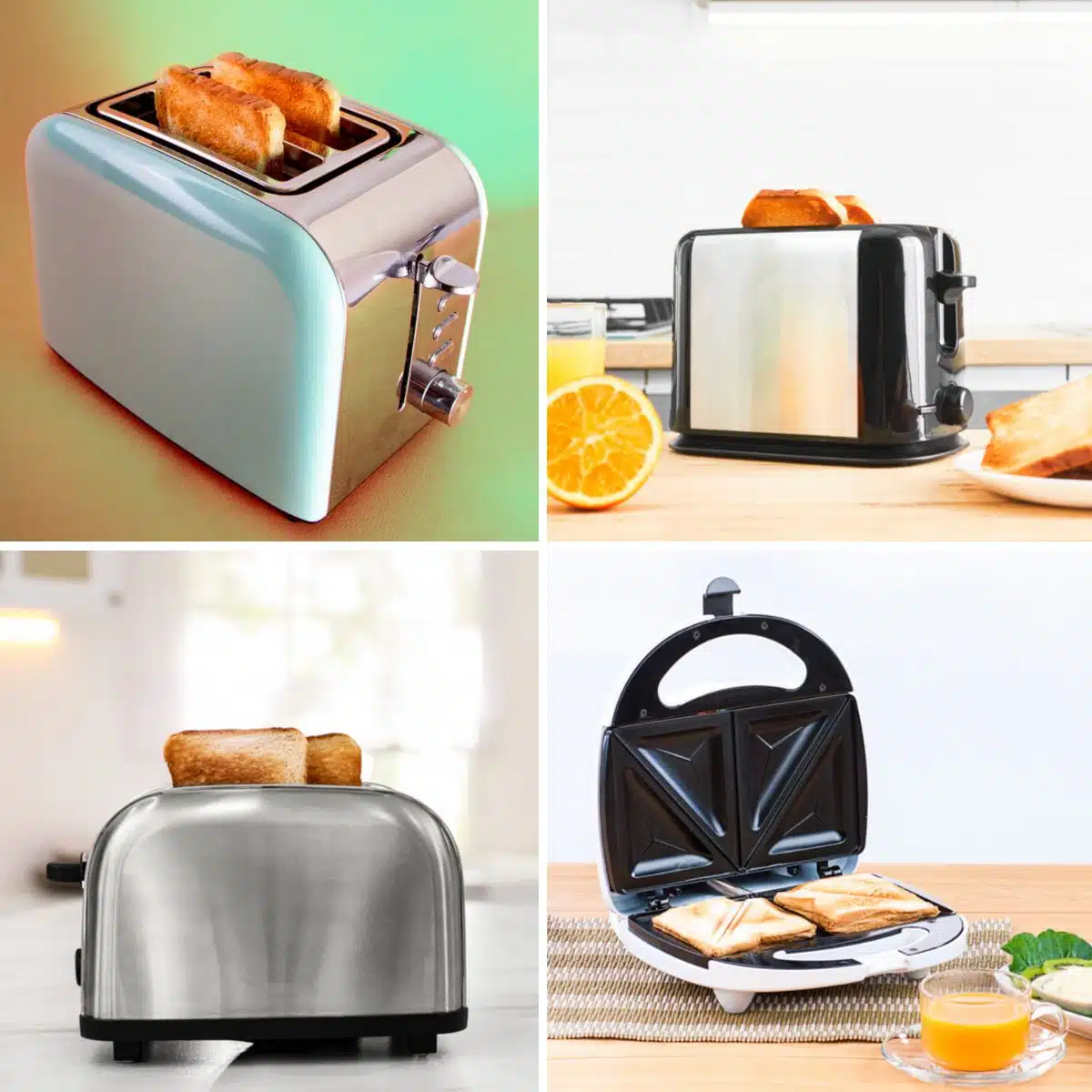 We all believe that breakfast is the most essential meal of the day. Although the category of breakfast dishes is extensive, toasted bread with eggs and coffee is among the most common and popular breakfast options.
A toaster is fundamental since it plays a significant role in the preparation of our food, particularly our breakfast. They come in a wide range of shapes and sizes, with prices varying greatly between models.
Since this appliance is quite essential, exploring the vast market of toaster ovens can be challenging. Considering factors like features, kitchen usage, installation requirements, and sizes of each toaster type can help you decide which one to buy.
Whether it is time to change an old toaster you have owned for ages or you have decided to take the plunge into the world of toaster ownership for the very first time, we are sure that this article will help you select the most ideal toaster for your kitchen.
Standard Toaster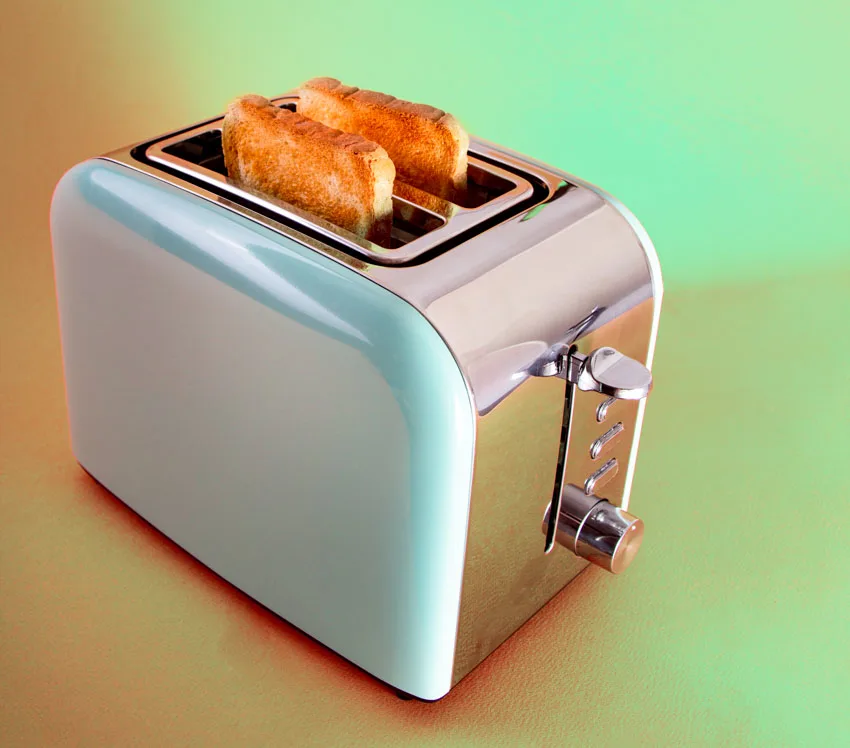 The standard toaster oven operates similarly to a basic oven, which works by circulating heat on the interior through natural currents. The settings on a standard toaster are entirely dependent on the model of the toaster oven you possess.
Design: Choosing the type of toaster design we truly need is the initial process that the majority of us go through. Furthermore, most of the time, we base our options on two factors – the amount of space we have in our kitchen and the number of spots we need.
These two factors differ depending on the individual and their preferences. However, deciding between a two-slot toaster and a four-slot toaster is simple. What ultimately matters, nevertheless, is the cooking space since some of us live in apartments with small kitchens.
Moreover, incorporating new types of appliances into the kitchen can be difficult. Thus, before you purchase a toaster, have a glance around your kitchen to check if you have enough space for one.
Some standard toaster ovens include chord wrapping on the bottom, making it much easier to store your cord securely. Meanwhile, the displays typically show the shade option or the time left until the toast is done.
They are more prevalent on standard toaster ovens and ensure that you are in the right setting, making it simpler not to burn the food you are preparing. Certain toaster brands include crumb trays, although not all have. They can, nevertheless, make cleaning your toaster much easier and faster.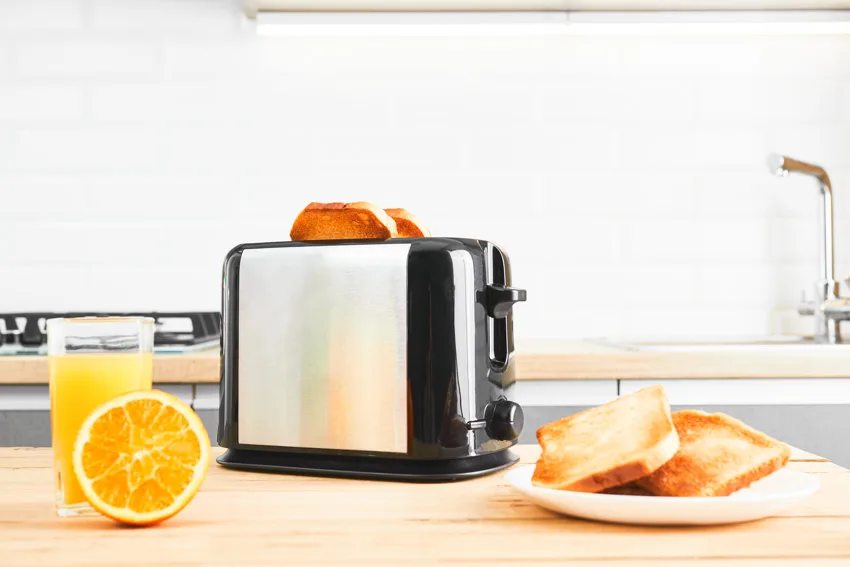 Materials: Toasters are typically composed of stainless steel, but they can be enclosed in either stainless steel or a solid plastic housing material.
Due to the particular heat that the toaster is subjected to, the material of construction is critical as it is required for the toaster to function effectively.
Moreover, as a rule of thumb, standard toaster ovens are made of either plastic or stainless steel, which significantly impacts the heat of the toaster.
If you have youngsters in your house, It is highly suggested that you select a toaster with an exterior composed of either plastic or cool-reach steel. These are less prone to retain heat and hence stay cooler than those made of standard steel or metal.
Uses: A standard toaster normally serves a handful of uses and features, which include:
• Reheating: This is one of the most typical applications for a standard toaster. This one allows you to reheat bread without having to re-toast it.
• Defrosting: This is an extremely useful function if you freeze your bread; the toaster brands with this configuration will defrost as well as toast your bread for you in one straightforward process, rendering it very uncomplicated on your part.
• Bread Shading: This setting is available on practically all toaster products; it enables you to toast your bread as light or dark as you choose, and you may adjust it at any time.
• Toasting Bagels: This is a function that is particularly important for bagel addicts, but it is also useful for toasting only one side of a slice of bread; with this option, the exposed side of the bagel must be facing inward to heat and toast the appropriate side.
• Heating Other Types of Food: Most standard toaster ovens contain slots for toasting or heating up hotdogs and hotdog buns, and many other types of food, enabling you to prepare a whole meal in a breeze.
Sizes: Standard toasters are available in a multitude of sizes, with toasting slots measuring at least 1.5 inches in width and larger when meant to toast bagels. The wattage typically ranges from 750 to 1250 watts, and the sizes differ not only in total dimensions but also in functionalities, which can have a direct impact on the entire toaster body.
This is why taking the measurements of the space on your countertop before selecting a toaster is critical, specifically if you have limited room and necessitate particular factors from the toaster you end up choosing.
Smart Toasters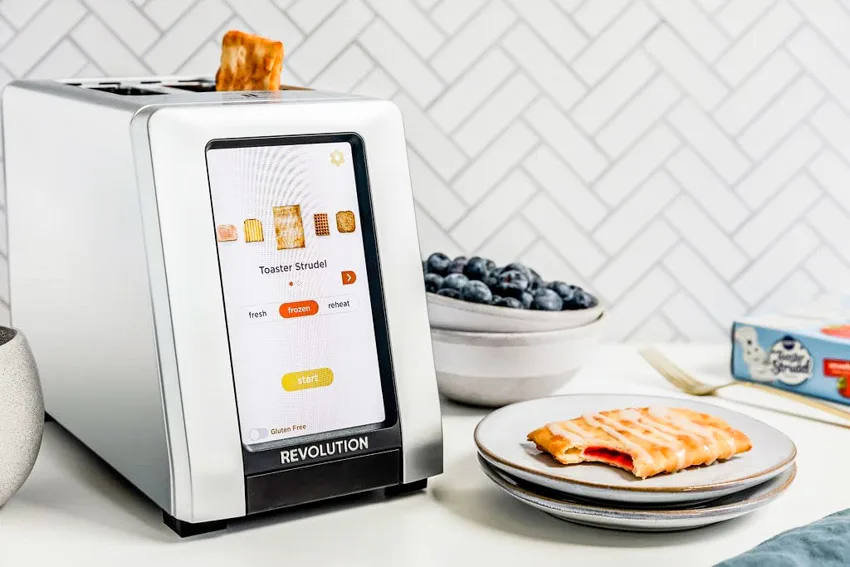 See this smart toaster at Amazon [sponsored link]
A smart toaster is a type of advanced toaster that contains multiple enhancements, such as being able to access the internet or being operated by a mobile application.
You can use this to wirelessly start your toaster, track how long it has been running, and set multiple toast settings for different types of bread. Smart toaster ovens may also include built-in timers and temperature sensors, ensuring that your toast is always cooked to perfection.
Design: A smart toaster looks like a standard toaster, except for the distinction that it has a touchscreen monitor, which is the cornerstone of its capabilities.
You can begin by adjusting the brightness of the screen, the level of the speaker, the size of your bread, as well as the clock options that appear when your toaster is inactive.
Rather than simply popping up your bread or bagels when they are finished heating, the speaker will notify you when they are done toasting, and an alert will sound when your bread crumb tray on the underside is full and needs to be cleared.
The smart toaster includes an automatic smooth dropping and elevating mechanism. While your meal toasts, a countdown appears on the screen so you can see when it will reappear. There is no need to wonder if you will ever see your toast again after putting it in your old toaster.
Materials: When it comes to the materials utilized to enclose a smart toaster, stainless steel is generally employed. The touchscreen monitor is plainly made of glass.
However, because toasters are subjected to heat, a smart toaster can sometimes be composed of other types of rust-proof metal or a hard plastic housing component. Thus, it is preferable to invest in a long-lasting smart toaster material.
Uses: Here are the different uses of smart toasters.
• Different Types of Toasting Features: When you initially place bread, bagels, muffins, toaster waffles, or other pastries into the smart toaster, there are a few primary settings that you can adjust, including selecting what kind of bread or food you are toasting. You can then choose whether your food was frozen, fresh, or simply reheated.
• Perfectly Browning the Toast: You can choose around 7 to 10 different browning degrees, ranging from barely toasted to deeply burnt. When you press the start button, your bread will automatically descend into the toaster and toast to precision each time.
• Accurate Timing and Controls: The touchscreen smart toaster has a heating mechanism with precise timing and temperature settings that heats and toasts your bread speedier than traditional toaster ovens. It also provides consistent toasting while consuming less electricity.
Sizes: When it comes to size, these smart ovens come in a variety of sizes. Nonetheless, most toasting slots are 1.5 to 2 inches wide, and if a smart toaster is built for toasting bagels, they are larger. In addition, the wattage ranges from 1000 to 1800.
Furthermore, size does not simply matter in terms of dimensions. However, it is also dependent on the smart features provided. Hence, before you buy a toaster, ensure to measure the available kitchen space.
Convection Toaster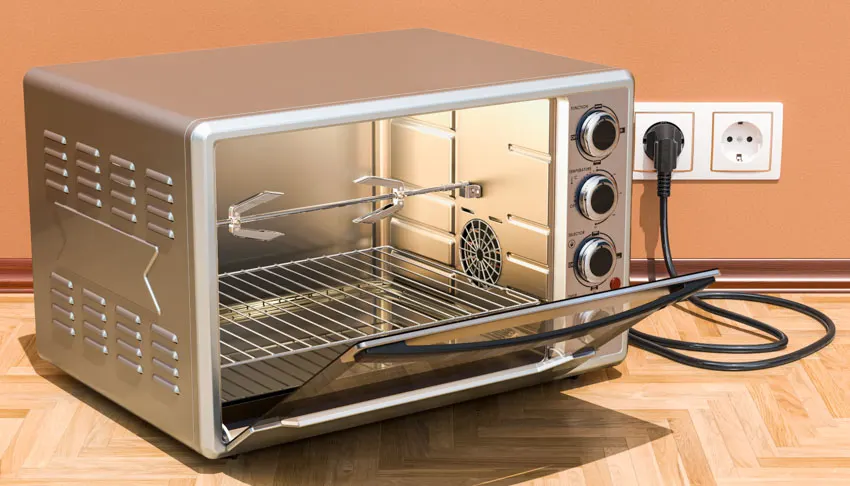 A convection toaster oven is comparable in concept to a toaster oven, but it uses a convection type of burning. This type of toaster burns bread and other food by heating and circulating air around the bread, allowing it to burn more equally.
These ovens are similar to countertop convection ovens, but smaller—about the size of a conventional toaster oven—and with a fan that gives them the ability to work as a convection oven. – The Complete Convection Oven Cookbook, Robin Donovan
Convection toasters are typically more pricey than toaster types, but they offer superior results. They are also slightly larger. A convection toaster would be a great choice if you want the finest toast available. Nevertheless, if you are on a tight budget, a standard toaster would suffice.
Design: Convection toaster ovens are usually used by business operations, although they also make household convection toaster ovens. The key difference between a conventional or toaster oven and one with a convection technology is the built-in fan, which helps to provide more equal heat, enabling you to burn your food more effectively, quickly, and easily.
Numerous individuals who use them ask why they did not utilize them sooner. This is due to the ovens' use of a high-powered fan that circulates air throughout the interior of the oven, making the heat sources employed far more powerful.
Materials: Convection ovens are composed of heavy-duty materials and high-quality fans designed exclusively for these items, and even the more affordable convection ovens are solid, trustworthy, and built to last, thus you can expect yours to last for several years or even decades.
Uses: Here are the different uses of convection toasters.
• Uses 3 Heat Sources: Heated air, radiated heat, and conductivity from the cooking pan are all used in convection ovens. They have a high-tech blower that compels air to flow within the oven. Because convection ovens also remove cold and hot areas, there is no need to flip your food constantly just to prevent it from burning or getting overcooked.
• Burns Food More Evenly: The primary mechanism raises the temperature of the oven while maintaining accuracy and consistency. Convection ovens cook food faster and more evenly than standard ovens. They reduce moisture, which promotes browning, and are ideal for roasting meats as well as vegetables.
• Actually Cooks Different Types of Food: You can cook two different types of dishes at the same time without losing efficiency, which is extremely beneficial when baking treats. Since the cooking is so regular and even, you do not need to cook your dishes at extreme temperatures or for as long as you would with a standard toaster oven, which saves you both time and effort.
Sizes: Convection toaster ovens are typically slightly larger than ordinary toaster ovens, but not that much. So if you are used to dealing with a commonly sized oven, switching to a convection oven should not be too difficult.
If you manage a small business and are worried about countertop space, online companies selling convection toaster ovens will provide you with precise dimensions of each oven they sell, rendering it simple for you to decide which one to buy.
The countertop convection ovens are normally 15 inches in width, with the largest being 19 inches in width. Full-size wall convection ovens range in width from 24 to 36 inches and have a conventional baking depth of 16 inches. Full-size stand-alone convection ovens range in width from 30 to 36 inches and have a regular baking depth of 16 inches.
Toaster Oven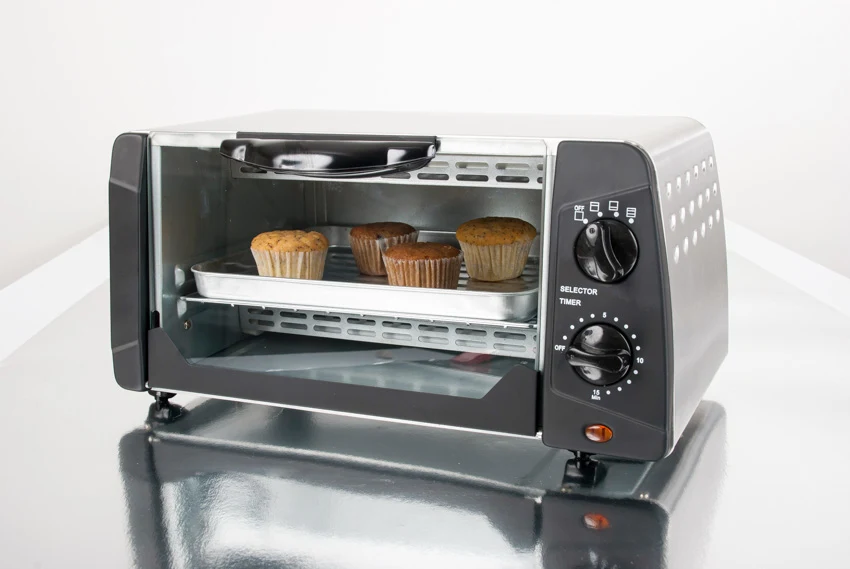 A kitchen appliance that merges the operations of an oven and a toaster is known as an oven toaster. In addition to toasting, a toaster with an oven component can bake, grill, or roast. It includes a baking pan as well as a broiling plate for cooking meals like an oven, and it also features slots on the top for toasting bread, bagels, muffins, and other foods.
Some versions also include a defrost feature, which enables you to thaw frozen foods without having to cook them. An oven toaster is a small, compact piece of equipment that can help you conserve kitchen space. It comes in both gas and electric-powered versions.
Design: Toaster types of ovens are useful since they can heat, toast, and even cook a range of dishes, and they are available in so many different styles and varieties that it is nearly difficult not to discover the one that is best for you.
Toaster ovens are often thought of as a second oven because they may be employed to broil, heat, bake, thaw, reheat, as well as toast, to name a few functions. Their multi-functionality makes them the ideal device for any kitchen, and after using yours a few times, you will certainly find some more ways how you can use them to prepare food.
Materials: The majority of toaster ovens are built of heavy-duty stainless steel, although often feature non-stick racks and trays for faster food disposal.
Because they are often designed by well-known, respected manufacturers, all of the parts within and outside of the oven are of excellent quality. These high-quality materials make sure that the oven will be durable and will survive for many years, allowing you to use it for a long time.
Uses: Here are the different uses of a toaster oven.
• Defrosting and Cooking: This setting, which is specifically made to thaw and cook food to perfection every time, is ideal if you frequently cook meals from a frozen start. Even though not all foods may be prepared in a toaster oven, many can.
• Shading and Reheating Bread: Toaster ovens, like standard toasters, generally include settings that allow you to toast your bread to the desired setting, enabling you to enjoy it just how you like it once you are finished.
Furthermore, reheating is one of the most useful options on a toaster oven since it can reheat food without making it mushy or overcooking it, which is useful for most dishes you want to reheat.
• Has Interior Light: The interior lights serve two functions: they allow users to glance inside the toaster oven to monitor the state of the food and they avoid unintended burning when attempting to reach inside to remove a piece of toast or another food.
Sizes: Toaster ovens are larger than conventional toasters but significantly smaller than standard ovens. Sizes are typically 11 inches tall, 18 inches wide, and 16 inches deep. They weigh roughly 22 pounds and typically have 0.8 cubic feet of interior space.
A standard toaster oven can accommodate 6 slices of toast or a 13-inch pizza. In other terms, a toaster oven is huge enough to do what you got it for, so you can count on it to work correctly for a long period.
There are also small toaster ovens, which are more compact and ideal for individuals who live alone, don not have a lot of kitchen appliance storage, or do not use their ovens frequently.
Sandwich Toasters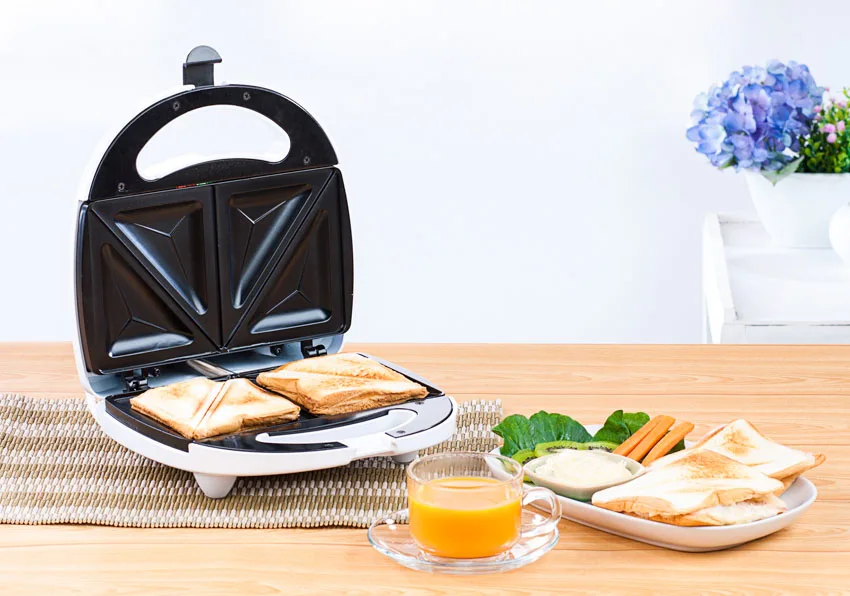 A sandwich toaster, sometimes known informally as a toastie maker, is an appliance designed to toast a sandwich. It is typically made of two metal plates that are linked together. As the sandwich heats, it can be pressed together.
Traditionally, a sandwich toaster did not use electricity to heat up. A similar gadget known as a jaffle iron has been a vital technique to prepare a variety of food products over a campfire for generations.
Nowadays, this bread-making equipment can be heated using electricity or a different heat source. Other than grilled cheese, a sandwich toaster can make a variety of other types of sandwiches.
Design: A sandwich toaster is usually made up of two huge metal plates that are commonly linked by a hinge. This enables the plates to close over the sandwich while it cooks, squeezing it. This is comparable to a waffle maker; however, it lacks the protruding square blocks.
Each plate may have a border around the borders and diagonally across it, splitting it in half. The borders help to squeeze the sandwich's edges and middle, preventing the filling from leaking out.
Some sandwich toasters can also burn bread using an alternative heating element. A sandwich toaster placed over a stove or a campfire is a great example of this. Rather than employing electric coils, the metal plates are heated by the heat from the burner or fire.
Materials: A sandwich toaster is often made up of two hinged concave, square, or round cast iron or aluminum plates with long handles. The outer material is often composed of hard plastic or stainless steel.
Metal plates on a contemporary sandwich toaster often have a non-stick surface. This normally prevents sandwiches from adhering to the plates' surface. This will not only render the sandwich more appealing, but it will also end up making cleaning the appliance a tad simpler.
Uses: Here is the best use of a sandwich toaster.
• Primarily Designed for Preparing Sandwiches: Numerous sandwich toaster supporters claim that using this superior sandwich-making appliance, the sandwich choices are limitless.
One of the most common sandwiches that may be created in one of these is a grilled cheese sandwich, but there are countless options you can try. Some people like to add meat to their sandwich fillings, such as ham or turkey, and it can be achieved with this appliance.
Sizes: Sandwich toasters do not follow the one-size-fits-all rule. Different sandwich toasters have different slots for inserting slices of bread. Some can prepare up to 4 sandwiches at once.
Depending on the size of your household, you should choose a sandwich toaster with 2 or 4 slices. If you have a medium-sized household, a sandwich toaster featuring 4 slots might be ideal.
Commercial Toaster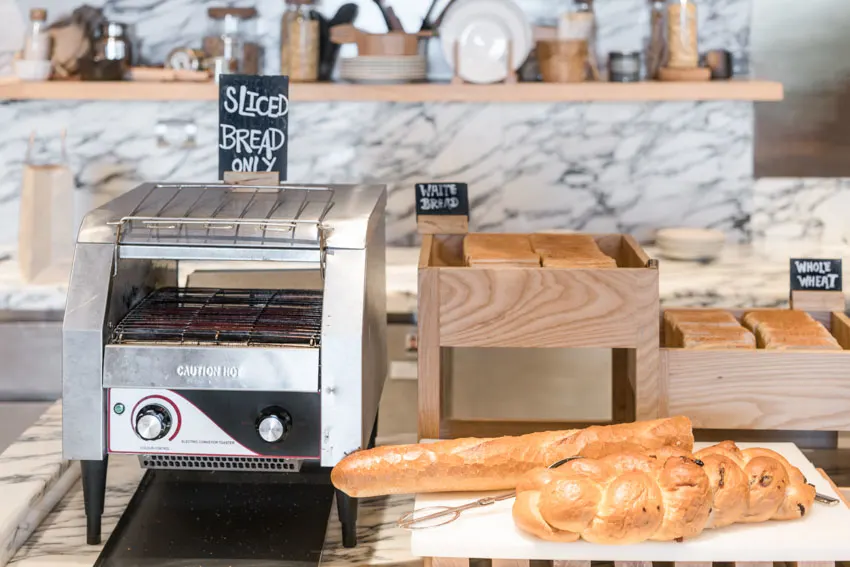 A commercial toaster is a large toaster that is used in business settings like cafés and restaurants. It is designed to withstand the requirements of a bustling kitchen.
Commercial toasters are often taller and more sturdy than household toaster models, and they can toast more bread in one go. They frequently include numerous toasting slots, and certain models incorporate features such as timers and automatic shut-offs.
Commercial ones can be costly, hence it is critical to select one that is right for your needs and preferences.
Conveyor Toasters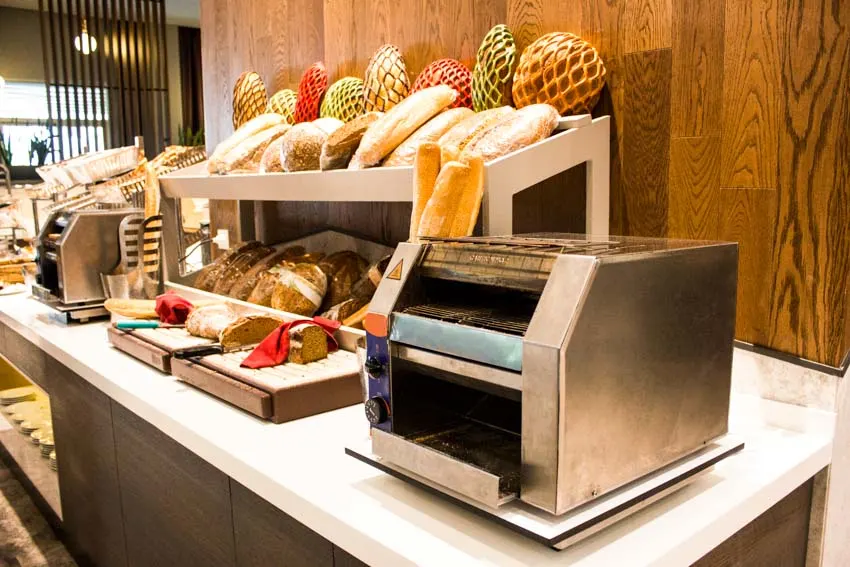 A kitchen appliance called a conveyor toaster is used to toast tortillas, bagels, and other bread-like products. The conveyor belt moves the bread so it does not burn whereas the heaters in the conveyor toaster provide heat on the upper end and lower end of the bread.
Normally, the bread enters a feeder area after dropping down a slot at the rear end of the conveyor toaster when it approaches the limit of the conveyor belt. At that point, the toast can be taken and eaten. Consumer types of conveyor toasters can be quite affordable while commercial-grade models can be very pricey.
In many home models, multiple pieces of bread can be toasted simultaneously for 90 seconds or less. As pieces of bread fall into the feeder zone, more bread can also be put on the conveyor belt.
Design: Commercial toasters are made especially for use in businesses; hence many of them differ slightly from those intended for individual or household usage.
Given the fact that they receive far greater use than personal appliances, their designs frequently feature larger components to accommodate the capacity to cook huge volumes of food at once. Even the elements themselves may be built to be slightly more durable and robust than those for household usage.
Admittedly, industrial kitchens and restaurants require high-quality appliances that can consistently prepare huge quantities of food, which is why their commercial toaster ovens and toasters differ slightly from standard models.
Materials: All commercial ovens use durable, cutting-edge components and materials since their lifespan between repairs and maintenance must be quite considerable. Fortunately, the majority of businesses who offer this appliance also perform simple fixes when required, so your equipment should endure for a very long time.
Uses: Here is the best use of commercial toasters.
• Can Prepare Multiple Slices of Bread at Once: Commercial ovens can prepare a broad variety of consumables at the same time. Commercial toaster units have more sophisticated features.
Low-quality items are not acceptable in commercial kitchens and restaurants. Hence, these commercial ovens are quite powerful, top-quality, heavy-duty, and can heat multiple types of bread uniformly in one go.
Sizes: Sizes of industrial toasters and toaster ovens might vary widely based on the manufacturer and model, but online shops, in general, do an excellent job of setting out the dimensions of their products in exact detail.
This especially applies to counter space and product size in regards to your business, deciding which commercial toaster to buy should be very easy. The dimensions for the amount of countertop space required by each type of toaster are stated in the following:
• Pop-up toasters must be less than 13 inches wide and 14 inches deep.
• Conveyor toasters can be up to 24 inches wide and 26 inches deep.
• For bun-grilling toasters, the width and depth can be up to 25 inches and 18 inches, respectively, but consider the fact that they can be as tall as 31 inches.
There are many models that necessitate varying power needs for all three types, but most of them necessitate either 120V, 208V, or 240V, which is vital to remember when examining them.
Conveyor toaster models can accommodate thicker foods like bagels and specialized loaves of bread, whereas pop-up commercial toaster units can accommodate thinner slices of bread like normal bread pieces and English muffins.
Toaster Options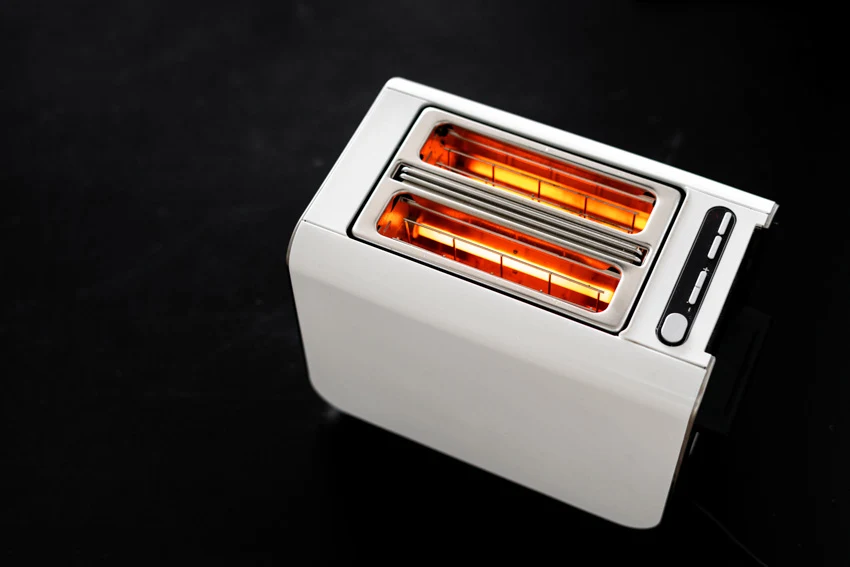 Defrost Setting: Some toasters offer to defrost options that allow you to thaw food before cooking it. This is an essential feature if you always have frozen goods that need to be thawed.
Shade Setting: When preparing toast, you can adjust the shade to achieve the desired level of brownness using the shade setting,
Reheat Setting: This setting reheats your bread without excessively toasting or darkening it, making the process incredibly convenient. The reheat setting on a toaster works flawlessly and consistently yields a delightful slice of toasted bread, unlike the reheat mode on microwave ovens, which typically results in sloppy or hardened bread or food that can either be overly soft or hard.
Fast Cooking Speed: This setting helps you prepare bread faster than usual. You can find fast-cooking speed settings mostly in convection models.
Convection: Convection settings on toasters can cook food more quickly and consistently. Convection toaster ovens have a special cooking method that enables you to use lining paper or aluminum foil with no worries about the quality, texture, or duration of the food being prepared inside. This makes it simple for you to clean your oven after usage.
Bagel Settings: With this setting, the open surface of the bagel must be pointing inward to get the appropriate side browned. This feature is very crucial for bagel fans, but it is also useful for toasting only one side of a slice of bread.
Extra Slots: The quantity and thickness of the food you heat in the toaster can also be affected by the bread slots' size and number. In certain toasters, there are specialized slots for foods besides bread. In addition to toasting or heating bread, they also contain slots for other items like hamburger buns or hotdog buns, enabling you to create a whole meal in a single sitting.
Preset Cooking Controls: Preset cooking controls can assist you in toasting your bread to perfection, similar to a bagel setting. Because toaster ovens can accomplish so much more, they naturally have a wider variety of settings. Your cooking process might be greatly simplified with one that has many preset cooking controls.
Smart Connectivity: You may use your smartphone to modify configurations or controls on a toaster with smart connectivity. Nowadays, lots of homeowners claim that toaster models with smart connectivity can provide more precision in terms of browning and heating bread.
Colored Toasters: There are some pretty good colored toasters available that are not only a fun way to spice up your kitchen but also really useful. Buying a colorful oner is, in fact, one of the easiest ways to add color to your kitchen without creating too much complexity.
Removable Crumb Tray: Although not all toaster models have a removable crumb tray, having one can make cleaning your toaster much quicker and easier. Maintaining the quality of your toaster is made simple with the aid of this removable crumb tray that pulls out to effortlessly discard bread crumbs.
Display Settings: Display settings typically display the shade setting or the amount of time till the toast is completed. They are more popular on toaster ovens and ensure that you are in the proper setting, making it simpler not to burn the food you are intending to prepare.
Auto Lift: This feature is popular in toasters and lifts the toast automatically once it is ready. Several models, nevertheless, include an auto lift function that raises the toasted bread with the press of a button.
Auto Centering: This setting helps in centering your bread. The primary benefit of this one-of-a-kind toaster feature is that it ensures that your bread toasts evenly.
Hidden Cord Feature: Some models have a hidden cord feature on the bottom, making it very easy to keep and organize your toaster cord properly and neatly.
Cancel Function: The cancel function makes it possible for you to stop toasting at any time if you are concerned that your toast might get burnt. Even though not found on all toaster units, this is a very useful function for practical purposes.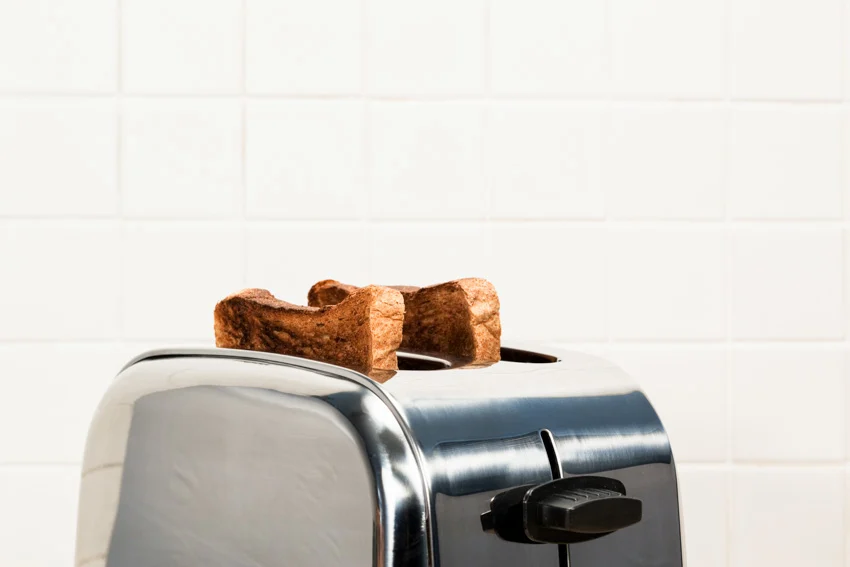 Long Slots: Certain types of toasters with two particularly long slots can toast huge types of bread like bagels or multiple pieces of bread simultaneously.
Small Toaster: There are small models available on the market, which are very compact and are ideal for individuals who live solo or do not prepare food that much using their toaster ovens.
Retro Style: Some toaster models have a retro design, which means they have the nostalgic appearance of an ancient kitchen appliance. For example, a toaster with an aquatic blue color, white and silver accents, as well as a red logo gives it a very retro feel. Retro-style toasters are indeed a timeless addition to any kitchen.
Bun Slots: Other than bread, some toaster units offer specialized bun slots. These contain slots for toasting or heating hotdog buns or hotdogs themselves, allowing you to easily prepare a whole meal.
Toaster Sizes
2 Slice Toaster Ovens: Smaller toasters can only accommodate two slices of bread at once. If you only have 1 to 2 individuals in your household, a two-slice toaster may be enough as it can be considered among the essential small kitchen appliances.
4 Slice Toaster Ovens: If your household consists of 3 to 4 individuals, a four-slice toaster may be ideal. Although these toaster ovens can accommodate more bread, they are often larger and occupy more counter space.
Toaster Materials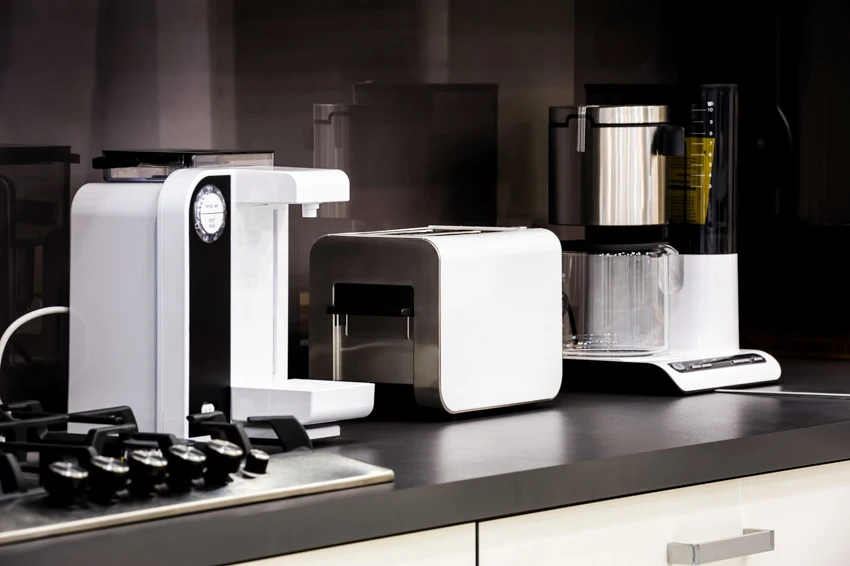 Toasters and toaster ovens are often made up of a plethora of complex parts such as the heat source, springs, bread racks, heat detector, trip plate, leveling, timing device, electromagnetic surface, catch, and browning regulator.
The numerous parts are built on-site from various metals and molded polymers. The parts are held securely using screws, nuts, washers, and bolts.
Aluminum and stainless steel are common metals used for toaster housing. Flame and smoke retardants are applied to petroleum and coal derivatives of hard plastic to manufacture heat-resistant toaster housings.
How Long Do Toasters Last?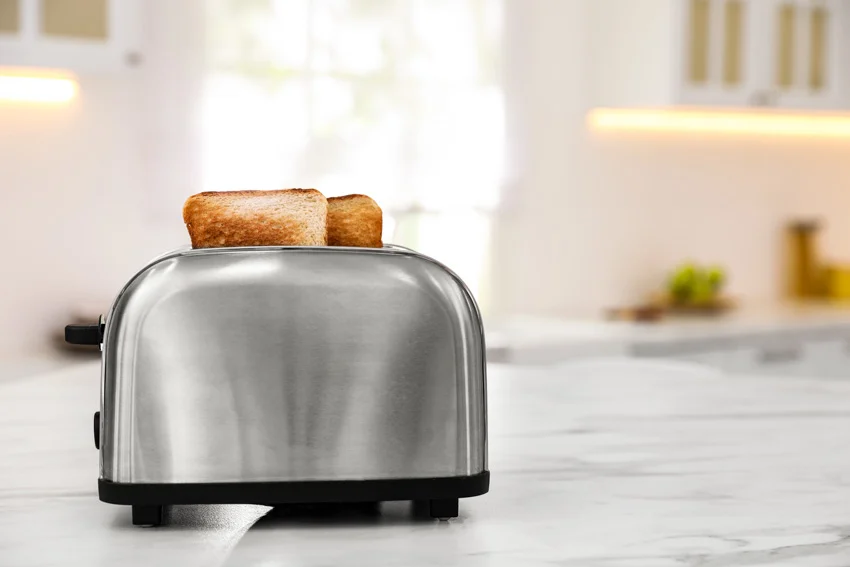 Although these ovens vary in cost and features, the majority of toaster models have 6 to 8 years of lifespan. You may, nevertheless, increase the lifespan of this appliance by cleaning it promptly to remove leftover breadcrumbs and other food particles. With extremely proper maintenance, some can even last more than a decade.
Best Toaster Brands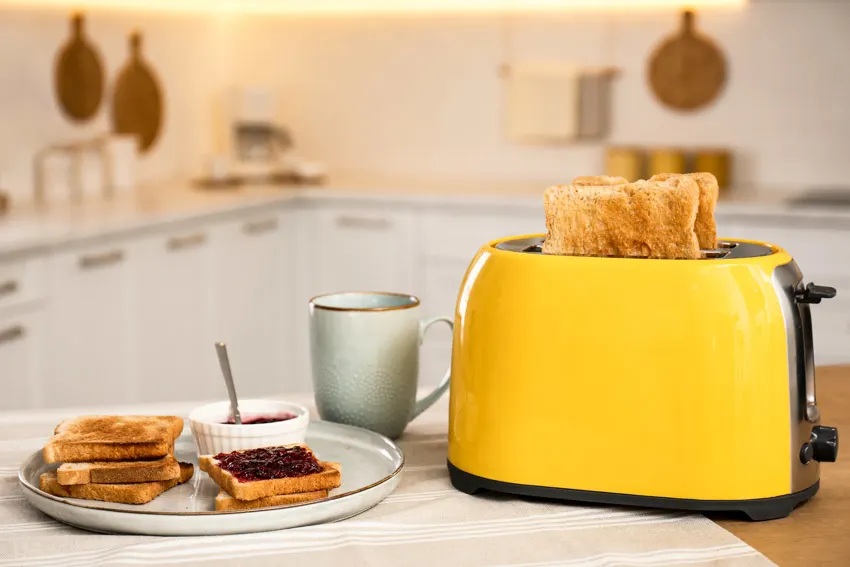 Here are the best toaster brands available nowadays:
• Cuisinart: Cuisinart currently manufactures countertop toaster ovens and pop-up toasters. Their toaster units receive a lot of positive feedback in numerous stores.
• Black + Decker: Black & Decker produces several toaster models, including 2 and 4-slice pop-up toasters as well as counter toaster ovens. Their ratings are generally positive across the board.
• Breville: Breville manufactures high-end toaster units, including toaster ovens that receive largely excellent consumer feedback. Their toaster ovens score high marks for classiness – they look excellent, have great LED displays, and offer a variety of practical functionalities.
• KitchenAid: KitchenAid provides toasters and a countertop toaster oven at the higher side of the toaster pricing spectrum. Their pop-up toaster units receive significantly more positive feedback than their countertop ovens.
• Hamilton Beach: Hamilton Beach is yet another manufacturer of toasters of many varieties. Their products have all received great feedback. Customers say they are a decent buy, look nice, and work well. They are an excellent alternative for a low-cost, dependable toaster.
Made In The USA Toasters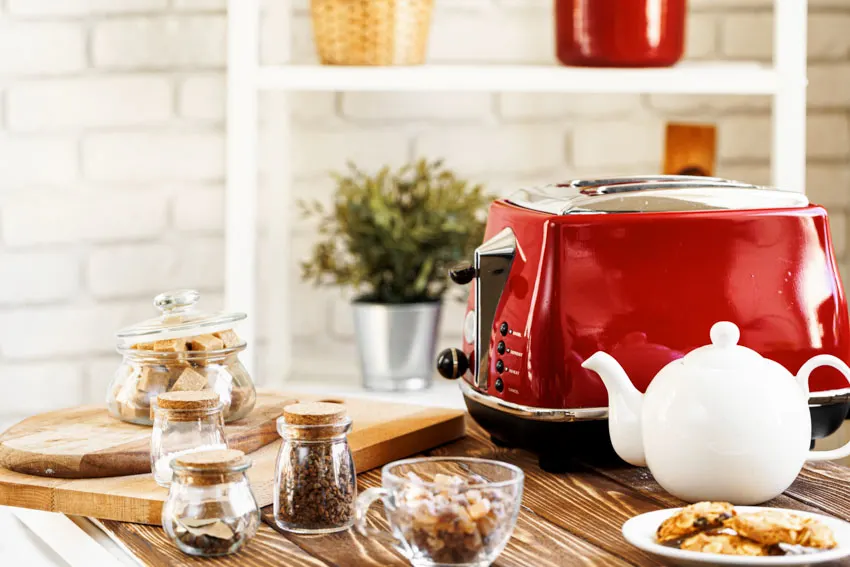 KRUPS Toaster: KRUPS offers some of the top toasters created in the United States, with the most features that can be accomplished. With various capabilities such as canceling, toasting, defrosting, reheating, and bagel functions, KRUPS toasters will certainly meet all of your kitchen's demands.
Star Manufacturing Toaster: Star Manufacturing is the world's largest maker of food appliances. If you are looking for a USA-made toaster for a business kitchen, this manufacturer offers a wide range of conveyor toasters as well as standard toasters.
Moreover, Star Manufacturing makes commercial two and four-slice pop-up toasters under the Toastmaster brand. Toastmaster commercial kitchen toaster units made in the United States are ideal for mom-and-pop establishments.
Lodge Toaster: Lodge's Cast Iron Reversible Griddle is ideal for making bread over a campfire or on a stovetop. Using this USA-made toaster is the finest method to make an English muffin or bagel that is super crunchy on the outside yet tender on the inside.
Ways to Use a Toaster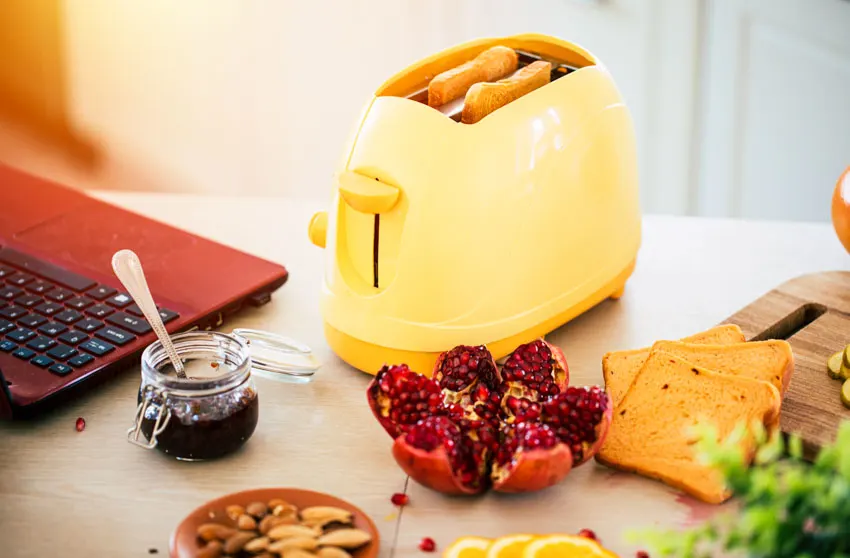 A toaster can help you:
• Prepare Vegetable Burgers
• Cook Garlic Bread
• Toast and Make your Tortilla Chips Extra Crispy
• Reheat the Pizza
• Re-Crisp your Beloved French Fries and Onion Rings
• Create Your Original Taco Shells
• Toast your Sweet Potatoes
• Grill a Steak
• Press Delectable Paninis
• Defrost Frozen Ingredients
• Toast the Nuts
• Heat Up Plates
• Roast Chicken and Other Meat
• Bake some Potatoes
• Bake Several Desserts
• Make your Bacon Super Crispy
Do All Toasters Have a Crumb Tray?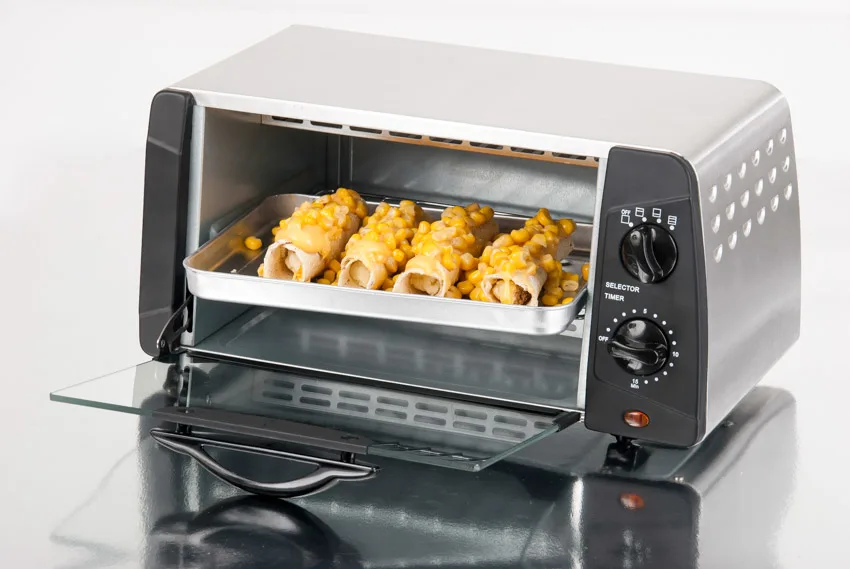 The majority of toaster models include a removable crumb tray at the bottom that collects excess crumbs. The removal of these trays is quite beneficial to the cleaning procedure.
Not all toasters have crumb trays. If your toaster lacks one, you can still use the old-school way of turning it upside down and carefully shaking it.
See more related content in our article about convection vs conventional oven pros and cons on this page.