See what color cabinets go with black stainless steel appliances including different designs, ideal shades, paint combinations and other kitchen cabinet matching tips.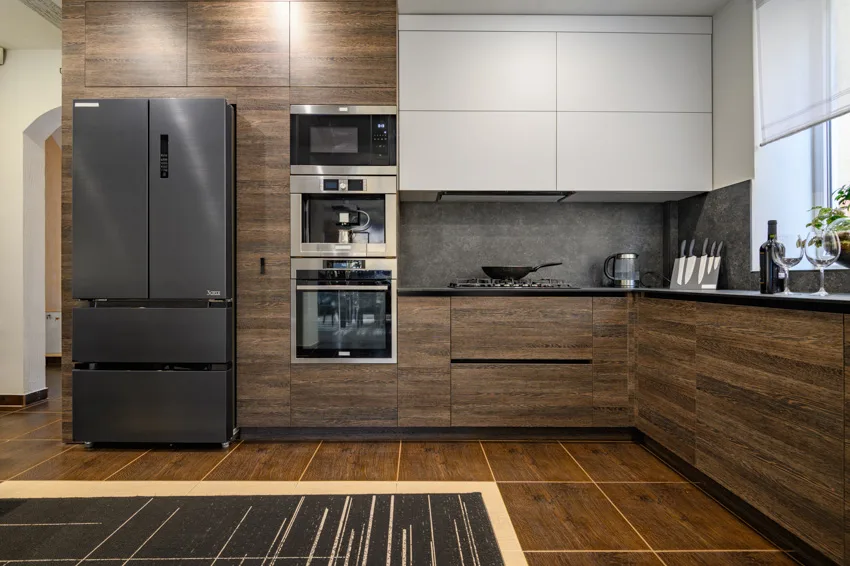 Black stainless steel appliances are a big trend in kitchen designs today. And in all honesty, we don't see why not! They elevate the look of a room and instantly add a feeling of class and sophistication.
You probably have a black stainless steel fridge, dishwasher, stove, and other equipment ready. What you need to do next is work around your sleek set of appliances to find the best matching cabinetry.
Thankfully, matching cabinets with kitchen appliances is actually quite easy. Black stainless steel appliances are currently a trend because they look sleek and solid. They can easily turn an otherwise dull kitchen into a space filled with modern elements.
If you have them and you're stumped on how to design around them, we've researched the best ways for you to match your kitchen cabinets with them.
In this article, we'll go through a variety of hues, color complements, and attractive color schemes that go well with your black stainless steel appliances.
Kitchen Color Schemes With Black Stainless Steel Appliances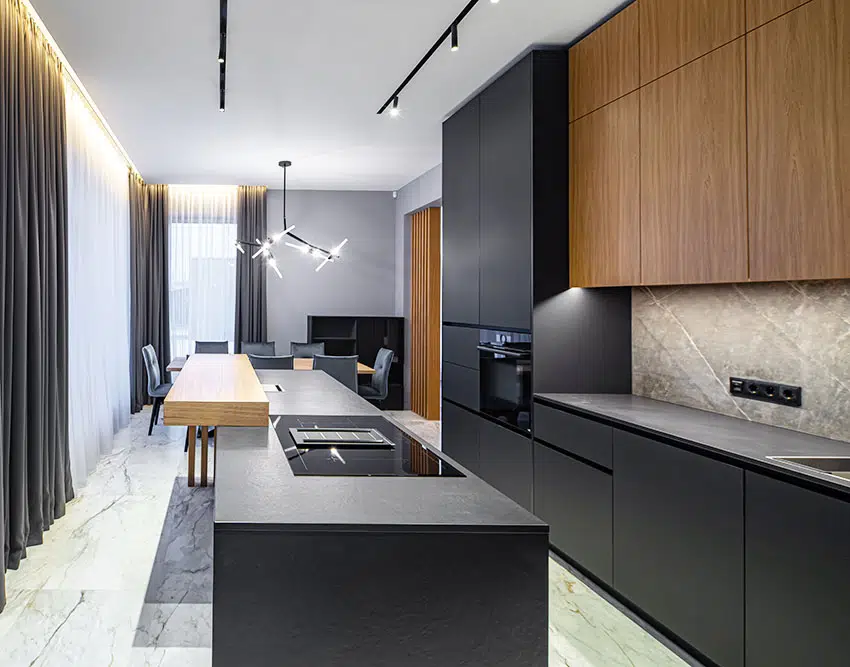 Black stainless steel is a versatile color and material combined. If you do an image search, you'll find it paired with every color and finish imaginable. That's because it really just blends that well with anything.
Nonetheless, you can still choose a combination that best reflects your personal preference for your kitchen.
Here are a few color scheme ideas:
Dark and Elegant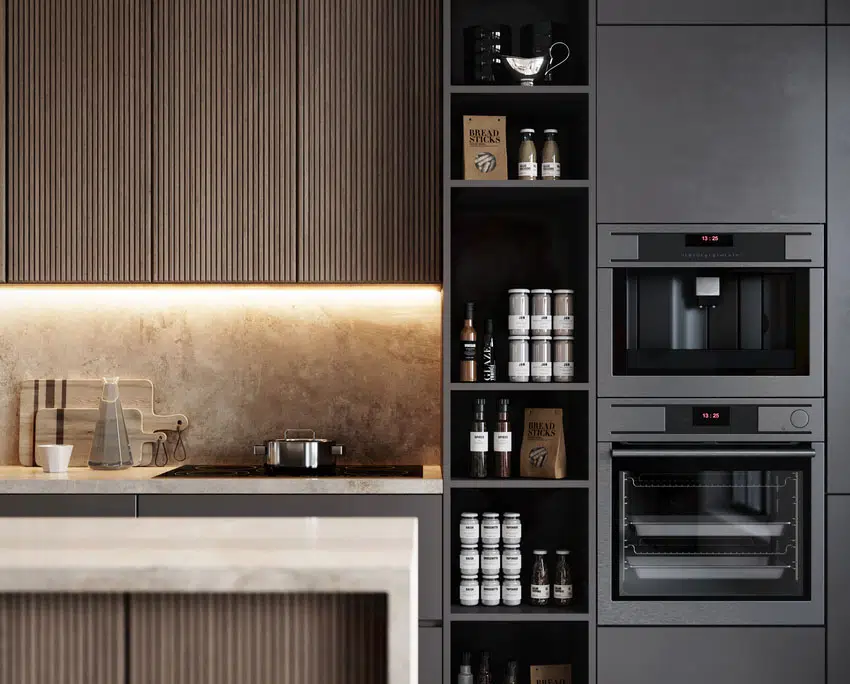 One of the reasons to choose black appliances is their resistance to fingerprints and ease of maintenance. So it makes sense if you want the rest of the kitchen to be that as well.
Espresso brown, dark walnut, and dark cherry stains are shades not easily soiled. You can also go with a monochromatic look by using black again or varieties of gray.
Moreover, matching your dark appliances with dark-painted cabinets creates a cohesive and modernistic atmosphere in your kitchen.
All Natural With Wood
If an all-dark kitchen seems too overpowering for you, you can try a lighter and more natural color scheme. Matte black appliances paired with pale-colored wood stains make a balanced kitchen.
Try lighter (or natural) stains of pine and white oak. This way, you'll have your modern appliances without losing a homey feeling in your kitchen.
Medium to darker-toned wood paired with black stainless steel is popular for industrial chic design themes, especially if you add pop colors as accents. Look into exposed brick and raw textures in warm colors like yellow and orange.
Interesting Contrasts
A high-contrast room looks more invigorating, especially if you want to make a statement with your kitchen. You can try pairing your black stainless appliances with ruby red cabinetry and neutral-toned accessories.
If you're introducing your contemporary appliances to a farmhouse kitchen, you can easily tame the contrast with soft turquoise and wood accents.
Mixing In Other Metals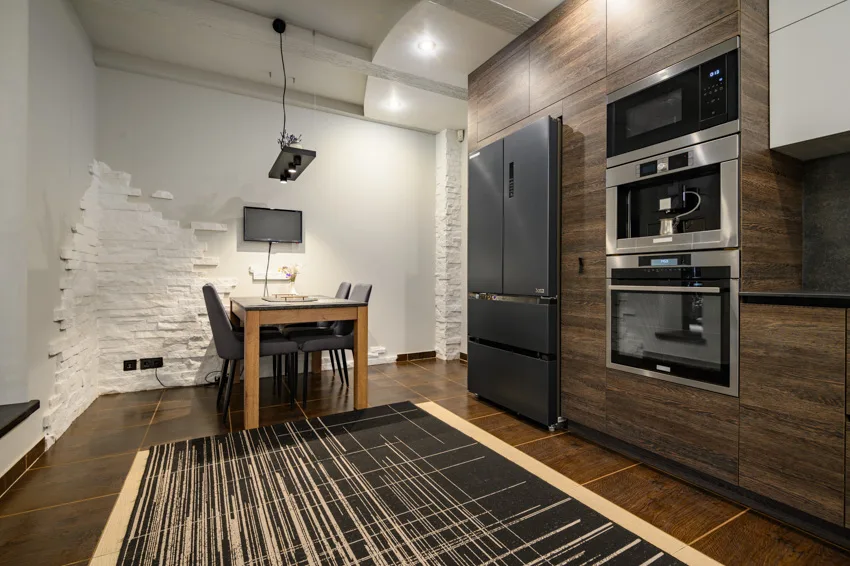 If you're going to mix other metals to your color scheme, between two and three is a good number – and that already includes your stainless steel appliances.
Mixing matte black with brushed nickel has been trending for a decade. Brass, copper, and rose gold are good options, too.
What Are the Best Color Cabinets for Black Stainless Steel Appliances?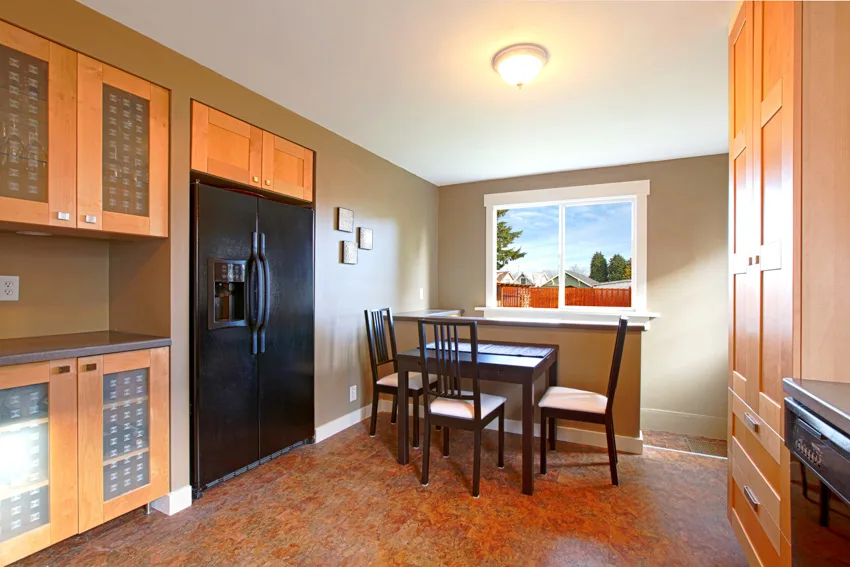 Black stainless steel cabinets are expected to pair well with a variety of kitchen cabinet colors. However, cabinets are the other dominant part of the kitchen aside from your appliances, so choosing the best color is something to consider greatly.
Some factors that can help you choose are your personal taste or style, the color of your kitchen walls, the color of your floor, windows and lighting, other furniture in the room, or the size of your space.
In most cases, two or more of these factors will hint at an appropriate cabinet color.
Having said that, there are still colors that stand out enough to either be a long-time design trend or many people's favorite. Hopefully, these shades will give you an idea of what to go for.
Natural Wood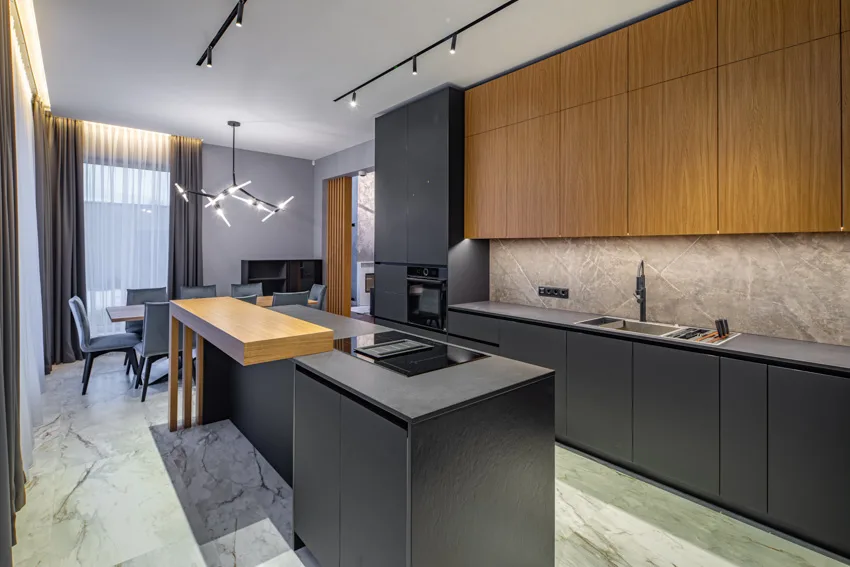 Natural wood cabinets normally have lighter shades in terms of color. These types of cabinets are easy to work with as they can work with virtually any style of appliance out there.
They go well when paired with black stainless steel appliances in particular because natural wood doesn't typically make the overall look of the kitchen come off as overwhelming or overpowering.
Natural wood cabinets are great for letting the black stainless steel appliances in your kitchen really stand out as the black color stands out and its reflective attributes are highlighted even more.
The light color of the natural wood sets a pretty good contrast or balance with the starkness of the black stainless steel elements in your kitchen design.
Light Wood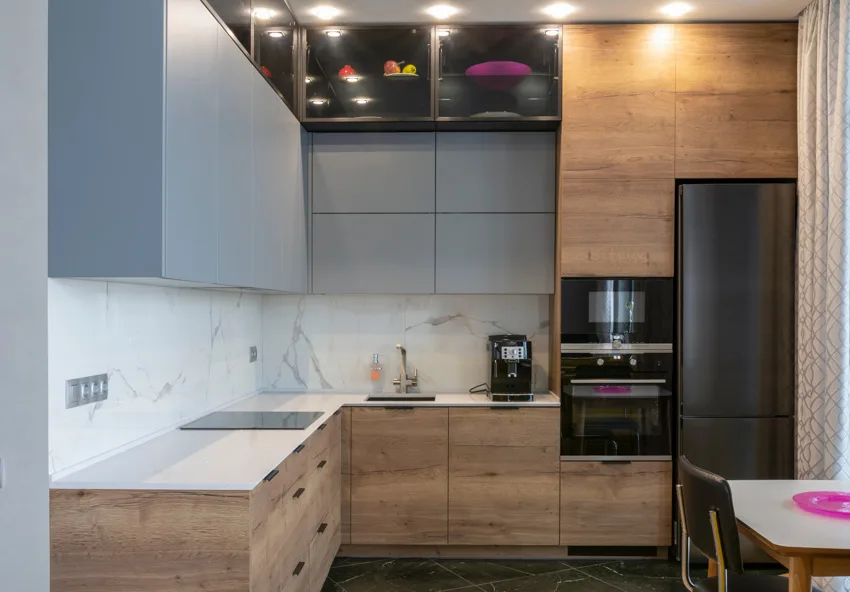 It's sometimes tricky to blend natural wood finish with stainless steel. Ordinary stainless steel with dark cabinetry does not look so appealing.
However, the reverse is quite the opposite. When it's light wood cabinets to black steel appliances, the kitchen appears more balanced.
Dark Oak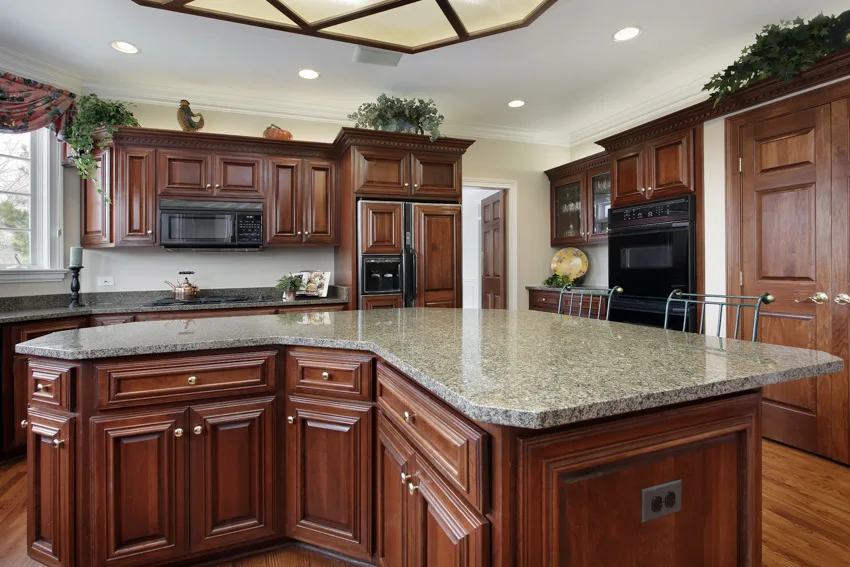 Dark shaded wood types such as dark oak also look great with black stainless steel appliances.
Even if the cabinets are darker compared to the typical lighter or natural colored woods, the appliances still strike an impressive contrast; making your kitchen look modern and sleek. If you currently have light-colored oak, you can easily stain them with a darker one to update them.
If you want a cozier kitchen amid your sleek equipment, you may opt for darker hues of brown.
Dark oak cabinets match the deep tones of black and bring out the sheen of your appliances without overdoing it. It has a natural warmth that somehow softens the modernistic quality of steel appliances.
An extra thing to mention is that if you're staining your oak cabinets to a darker shade, be sure to update the hardware to dark color ones as well so as not to clash with the overall color scheme of your kitchen area. This will further bring the depth out of the dark shades of your dark oak.
Black

Black kitchen cabinets with black appliances are the ultimate contemporary kitchen. With similar tones throughout, your kitchen will look seamless and almost dramatic, that it will get you compliments every time.
If you want a little contrast, you can vary your countertops and backsplash with a pop color.
Gray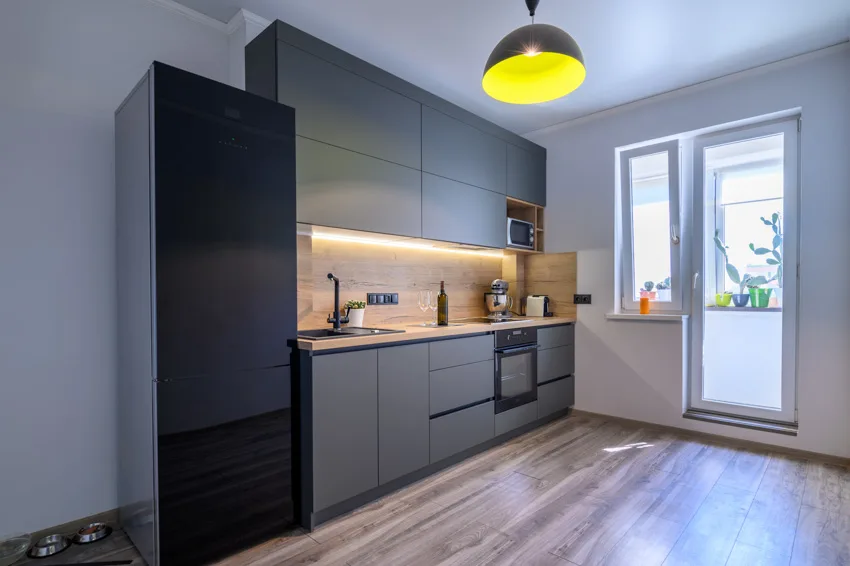 Gray is never a dated color. As the ultimate neutral, gray is a perfect middle ground if you find an all-black kitchen too much but don't want to commit to the maintenance of white kitchens either.
It offers the same contemporary quality and can incorporate a variety of textures and colors for accents, too. If you find solid gray too plain, you can look into gray wood laminates that simulate natural wood grains.
Blue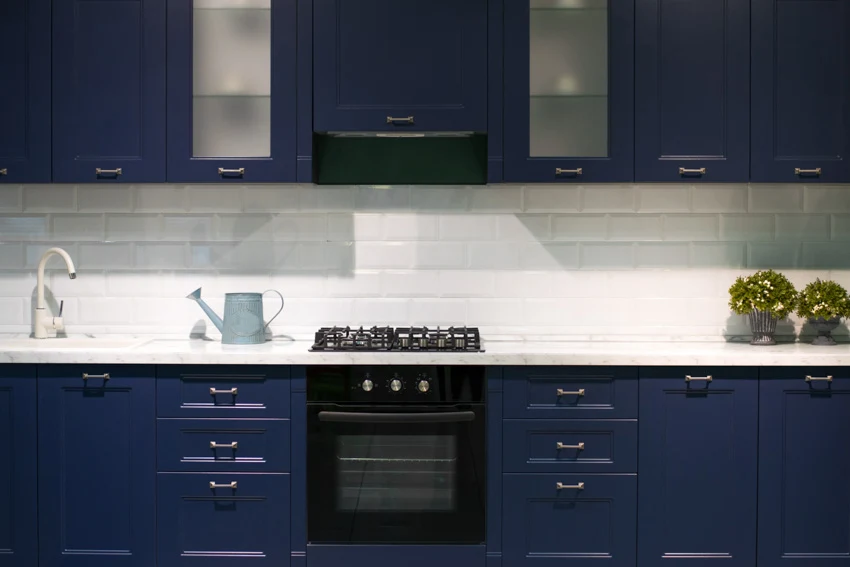 If you're looking for a fun solid color, shades of blue go perfectly well with a black stainless steel finish. More specifically, you can choose from cornflower, spruce, indigo, teal, blue-green, or cobalt blue.
Specify white marble countertops and an off-white wall, and you'll create a modish yet laid-back vibe for your kitchen.
Deep Red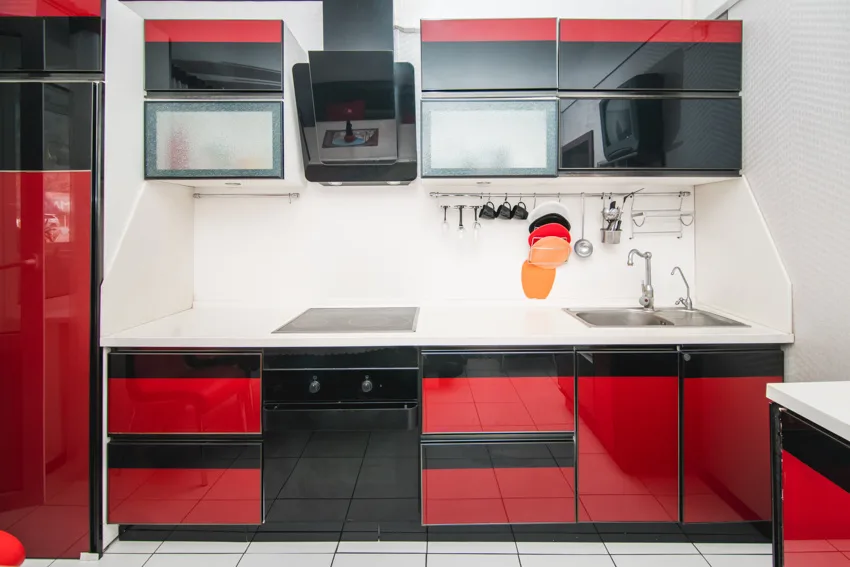 If you want a kitchen that could really stand out and make a statement, having deep red cabinets paired with black stainless steel appliances is a stylish option to consider.
If you want to go the extra mile, you can even update your kitchen countertops and have black ones installed as well.
There are a lot of looks and styles that you can play up with deep red cabinets. You can put a rustic spin on it by distressing the wood a bit, making the cabinets look a little weathered, and adding a little bit of personality and farmhouse vibe to it.
However, if you aren't really that much into the rustic look, you can opt to keep it clean and smooth to make the kitchen look more modern. Whatever your preferences may be, your black stainless steel appliances will look good with them either way.
Yellow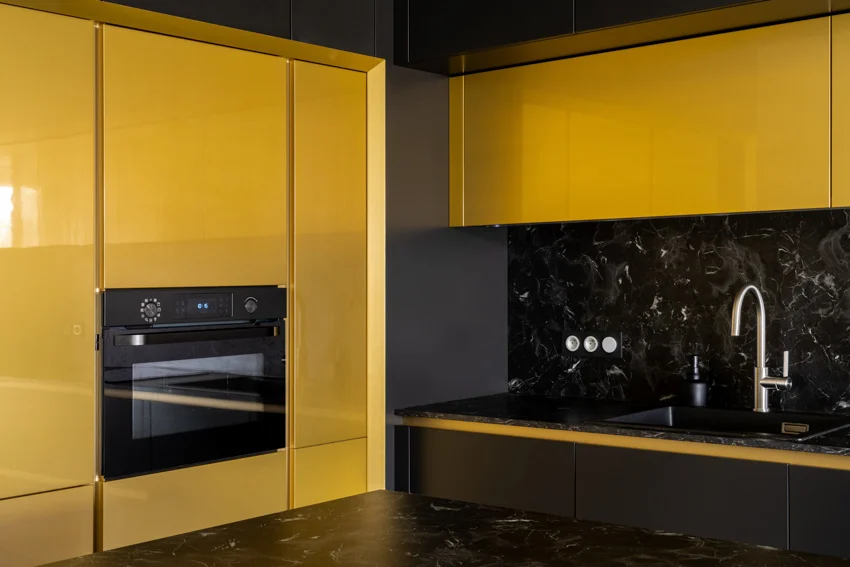 Black and yellow are also great colors to have together. Yellow cabinets can make your kitchen look sunny and basked in light while the black stainless steel cabinets balance them off and mute the brightness a little bit.
If you want a somewhat rustic look, go for a muted or pale yellow color for your cabinets. But if you would like to go for a modern or contemporary kitchen, go with a darker shade of yellow, or even something that resembles mustard.
This pairing can really bring out the best in your black stainless steel appliances, making them the focal points of the kitchen.
White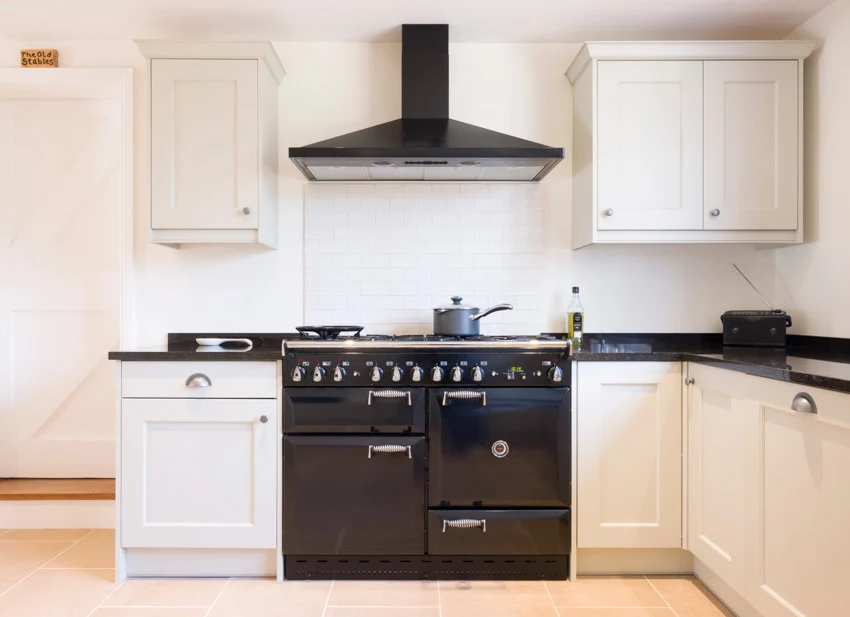 There's just no way around it. Black and white are a match made in heaven. White is a clean and neutral color that also brings in some degree of luminescence that can really make your black stainless steel appliances shine and stand out.
If you want to make the design cohesive and have a more vintage and bygone era design, you can even update your flooring to black and white colors as well.
Kitchen With White Cabinets and Black Stainless Steel Appliances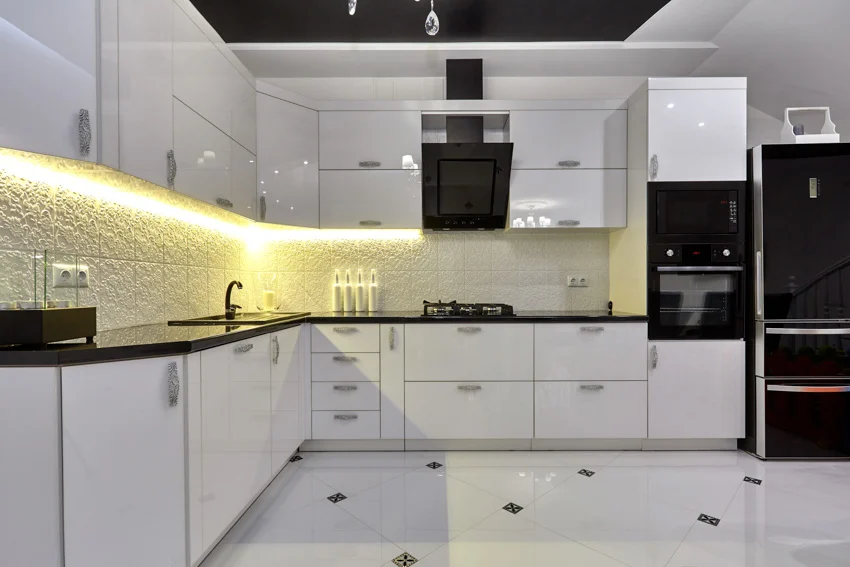 It is a well-known fact in the design industry that black goes well with any other color. But even non-designers know that one of the best color combinations is black and white.
Black appliances with white cabinets are just another showcase of this classic monochromatic color scheme. White and off-whites pair naturally with black stainless steel because the contrasting colors bring out the best in each other.
Both colors pop out, and the whole space feels more lively.
According to Architectural Digest, the black and white kitchen style became popular in New York City, where designers had to work on smaller flats.
These spaces often have open floor plans to maximize the area, leaving kitchens exposed. Thus, kitchens became one of the key focal points in homes.
The black and white kitchen style is the perfect solution to this design dilemma. It looks clean, spacious, more balanced, and even becomes a highlight on a small space.
Black Stainless Steel Appliances With Dark Cabinets
Technically speaking, black stainless steel appliances can fit into just about any style.
But when you consider pairing it with dark cabinets, it can really fit in well with it as the black appliances stand in contrast with the dark wood of the cabinets.
The combination easily ends up with the look of an impressive and elegantly styled kitchen.
Black Cabinets With Black Stainless Steel Appliances
Black on black isn't necessarily a bad thing. On the contrary, it can make for really interesting aesthetics. If you're worried about how it would make your kitchen look monochromatic and dull, one way to avoid that would be to have a play on textures.
Black stainless steel appliances are shiny. Pairing them with black cabinets can work if you ensure that the texture of the black cabinets is either distressed or a little matte.
An extra word of caution though, this is not recommended if you're working with a small kitchen space as black on black could make the area look congested and claustrophobic.
If you have a kitchen with ample enough space though, it could really cozy up the area and can work extremely well.
Does Black Stainless Steel Go With Oak Cabinets?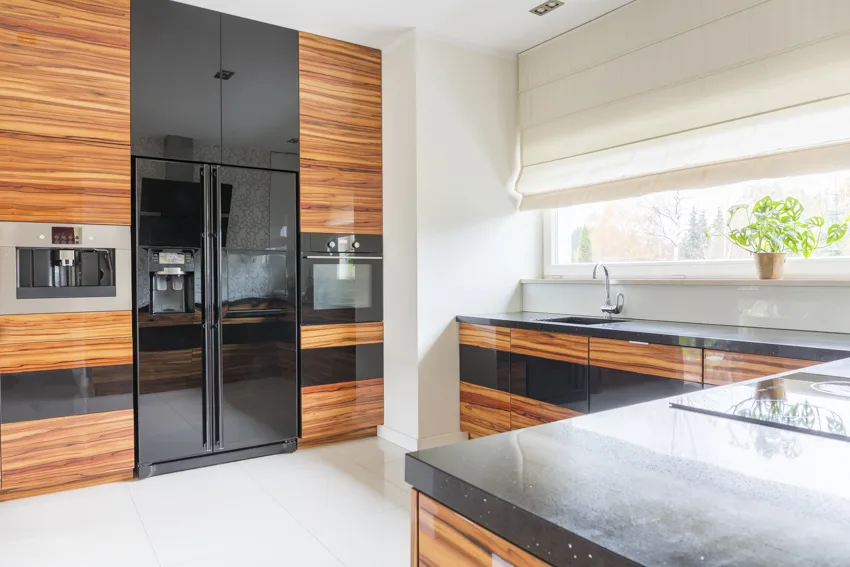 Absolutely yes. Black stainless steel appliances pair extremely well with oak cabinets because they're usually natural color woods and they provide a contrast that can make the space look interesting and add a degree of dimensionality to it.
Can You Mix Black And Stainless Steel Appliances?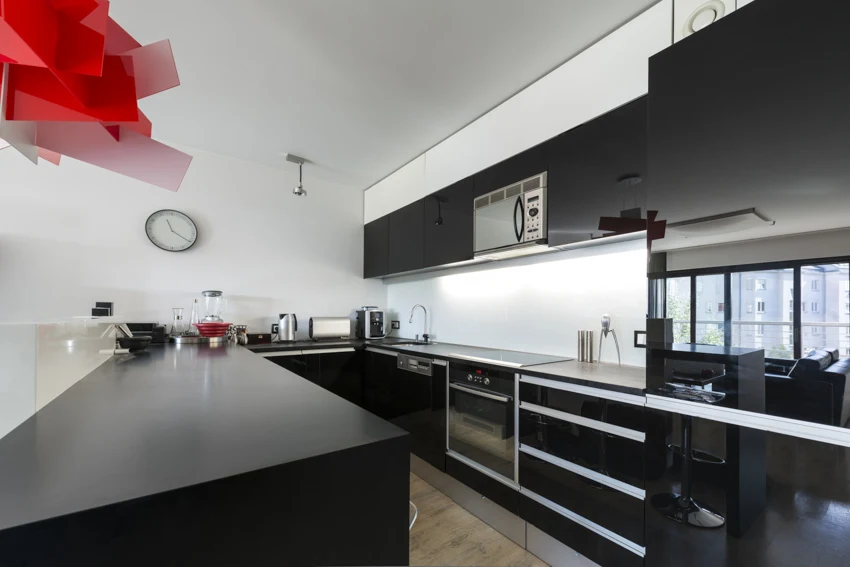 There's no absolute rule going around about the requirement of having perfectly matched appliances so the answer to this is yes.
It is perfectly acceptable to mix and match your appliances especially if you're currently in the process of transitioning or if replacing everything that doesn't match would strain your budget.
A cost-friendly way to make them more cohesive would be to perhaps update the handles and the other accents of your stainless steel kitchenware and appliances to black.
The kitchen is oftentimes considered as the most used and busiest space in the home because it gets a lot of foot traffic and is central to storing and producing food for the family and the rest of the household to share.
This is why a lot of homeowners go out of their way to show off their kitchens in the best ways possible.
Coordinating the color of the kitchen cabinets with the color of the kitchen appliances is a great way to update the kitchen space and create an attractive atmosphere. See more related content in our article about the different ways to update kitchen cabinets on this page.