In this gallery of coastal kitchen backsplash ideas, we share what this design is, style elements, tips, and the different tile options to consider.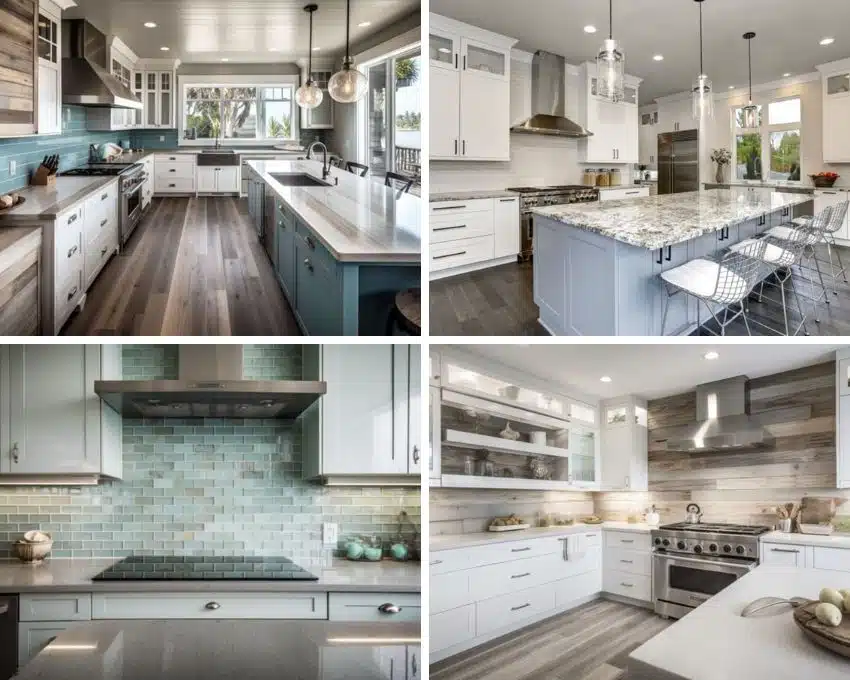 The calming seaside and a relaxing gateway to a beach house are tantamount to the laidback aesthetic of the coastal interior design style. Whether you're remodeling your home or updating your kitchen, the coastal design style can bring a breath of fresh air to a space that needs to be revived.
Several design elements can help you achieve a coastal-inspired kitchen — from the color scheme to the finishes and down to the smallest décor of the space. And sometimes, integrating them effectively into a space can be daunting.
Worry not because we are here to help. Below, we give you our very own guide to coastal design, along with some coastal kitchen backsplash ideas which you can try out for your home.
Quicklook: Different Coastal Kitchen Backsplash Materials and Designs
• Tile
• Glass Slab
• Sea Glass
• Peel and Stick
• Behind The Stove Inlay
• Marble & Quartz
• Weathered Wood
• Shiplap
• Horizontal Planks
What Is A Coastal Style Kitchen Design?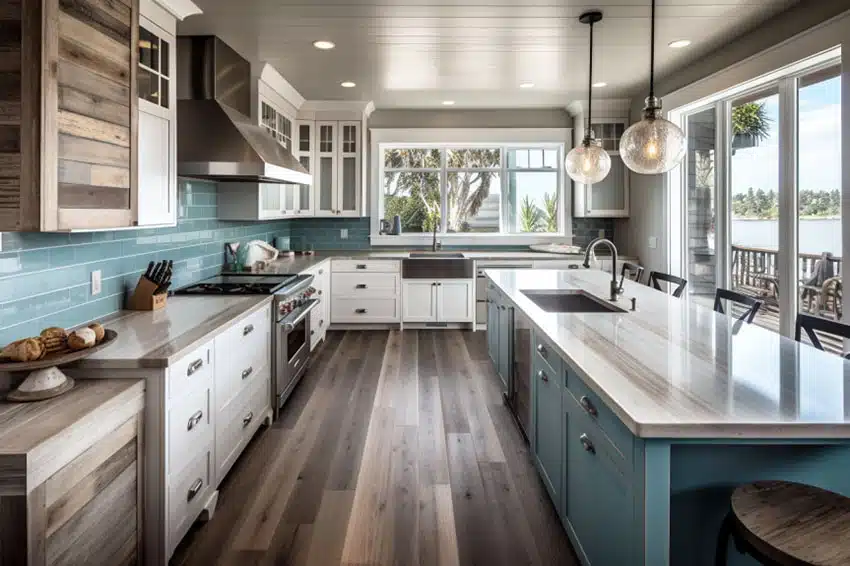 Beach houses and the ocean inspire the design of coastal kitchens. This interior style promotes coastal living by including a light color palette and elements reminiscent of the beach and seaside.
You can find details like organic materials like wood and stone accents, natural colors, and rustic nautical finishes. Decor pieces are often related to the beach with marine-inspired art, seashells, and driftwood to lend a welcoming feel.
Here is a more detailed look at the style elements of coastal kitchens from a variety of interior designers:
Style Elements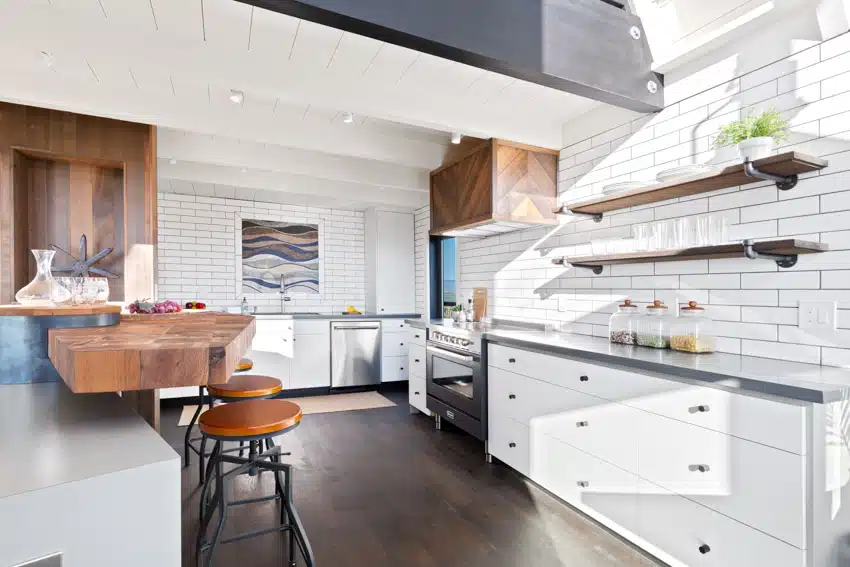 To transform your kitchen into a modern coastal-themed design, focus on natural materials and an open layout. When choosing colors, opt for light, neutral hues like white or soft pastel blues to create an open and tranquil vibe.
Utilize wood, stone, or glass materials that can add textures that reflect and convey the feel of a beach environment.
Regarding furniture pieces for a coastal style look toward using organic materials like wood, rattan, and wicker. Bring in a nautical theme with decor by adding some accents of a ship's bell, ropes, or seashells for flair.
Ensure you have a light source in your kitchen that projects bright light when needed for function. – Decorating Your Lifespace With Inner Vision, Willa Roberson-Mitchell
A coastal kitchen design isn't complete without discussing the lighting, which should emphasize bringing natural light and pendants and fixtures that reflect the same natural organic materials and colors of the other accent pieces.
When designing a coastal kitchen, there are several vital elements that you should consider to achieve the desired style.
Open concept layout: Firstly, an open and airy layout is essential, taking inspiration from mid-century houses with clean lines and simple design elements for a relaxed vibe.
Light and bright color scheme: Natural colors like white, light blue, turquoise, and earth tones reflect the beach environment and create a tranquil atmosphere without overpowering hues like red or black.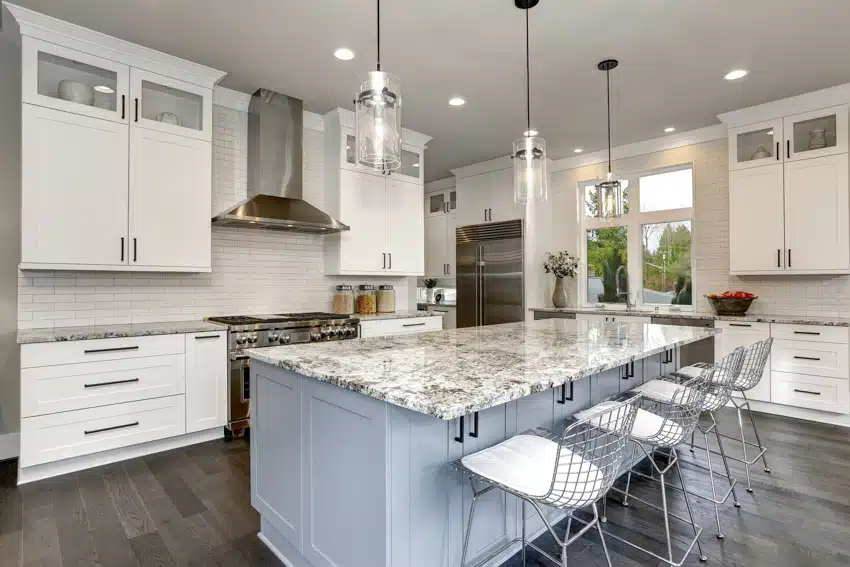 Organic and natural materials: Using natural materials such as wood, wicker, or rattan for furniture pieces and finishes on walls, floors, and ceilings add texture to the space while rustic tables, chairs, or stools bring in a coastal charm.
Use of reflective materials: Maximizing natural light through reflective surfaces like glass countertops or stainless steel appliances is also important.
Use color to enhance the design: To add personality and bright accents to your kitchen, consider adding colorful accessories such as towels, plates, or paintings.
Focus on natural and ocean-related décor pieces: Bringing in plants and flowers can also emphasize the natural elements of a coastal interior design style. Coastal-inspired fixtures like shell chandeliers or sea glass pendant lights can be added for unique touches.
Lastly, incorporating calming decor pieces such as a clean glass vase with white flowers or sand-filled wooden boxes with seashells can invoke relaxation in your coastal kitchen. With these design elements in mind, you can easily create a beautiful coastal-themed space that reflects the tranquility of beach living.
Coastal Backsplash For Kitchen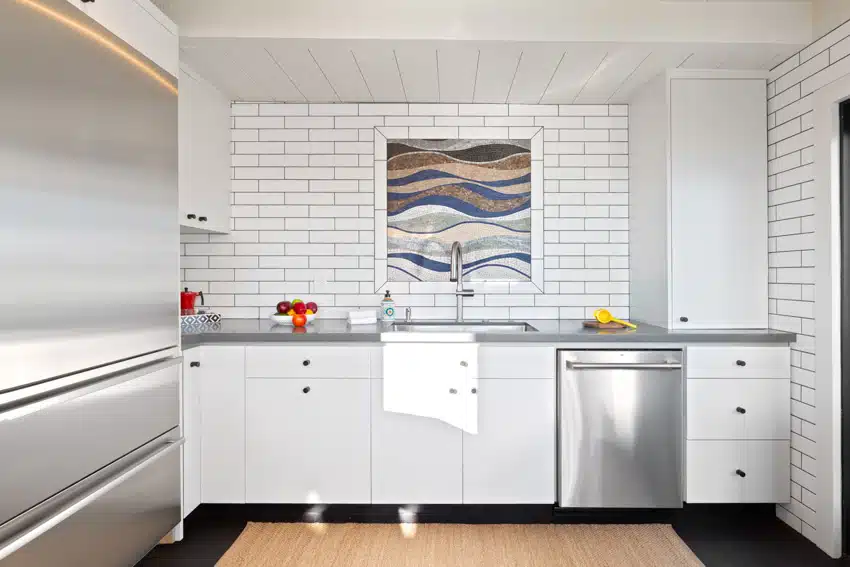 There are several design guidelines you need to consider when choosing the right backsplash for a coastal-style kitchen.
Aside from the right material, you also need to decide on the perfect color and design to make sure that it matches the overall relaxed look of the space. Here are some design tips when choosing the right backsplash for a coastal kitchen:
• Choose colors that invoke feelings of calmness and bring a light and airy vibe to a space. Backsplash colors for coastal kitchens must include lots of blues, shades of gray, tan, beige, and white.
• Opt for patterns and designs that pay tribute to nature. Examples are sea-inspired mosaics, seashell-patterned tiles, and pearl-like designs.
Backsplash Tile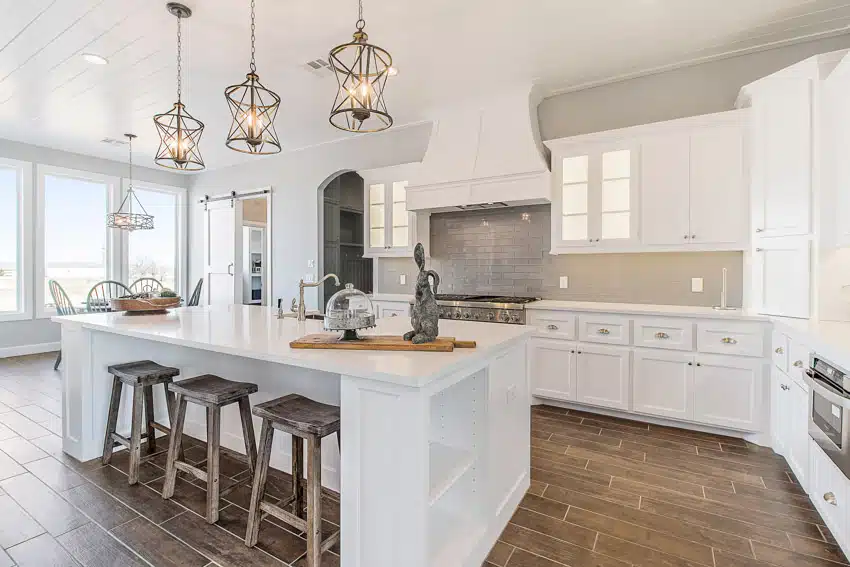 The coastal kitchen backsplash is an appealing design option not only in homes near the coast but is also favored well with homes in any location due to its welcoming and relaxing quality.
The cool tones and incorporation of natural materials reminiscent of the coastal life give that homely feel, a desired atmosphere for the heart of the home.
According to Dream Nest Homes, long gone are the days of seashells and starfish covering the walls of a coastal kitchen. Today's homeowners want to elevate their beach homes with neutral tones, natural elements, and soft accent colors.
When designing a coastal kitchen we gravitate towards backsplashes that feel light and bright. Many of our designs feature handmade backsplash tiles that have subtle color variations yet go with almost any accent color.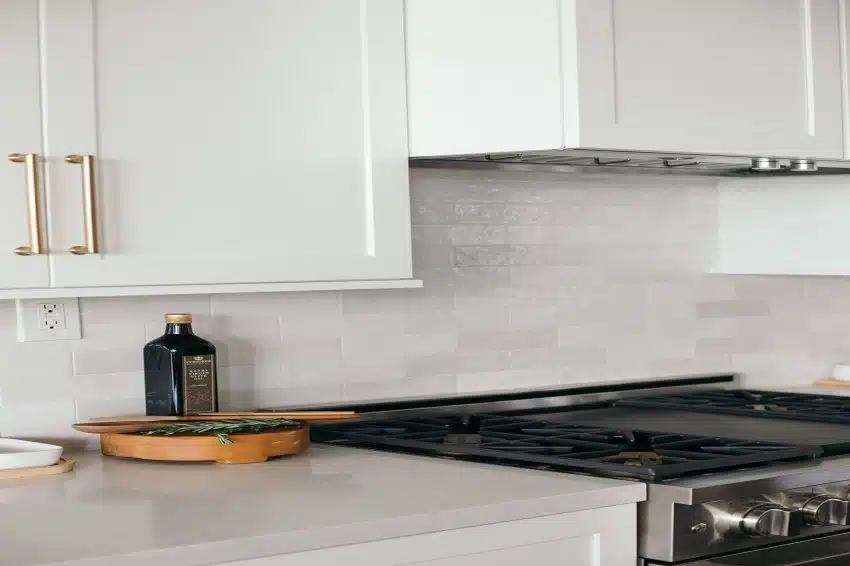 Credit: Dream Nest Homes
Zellige tile is currently one of our favorite types of tile to work with and its handcrafted beauty comes in lots of color tones from simple whites and grays to more colorful blues and greens.
A simple subway pattern, square tile, or herringbone pattern are all great options when choosing how to lay the backsplash tile on the wall. Another option some of our beach homes feature is using the slab countertop material as the backsplash.
Whether this is a durable quartz product or a marble or quartzite, this look is timeless and is easy to wipe clean, and maintain. Coastal kitchen backsplashes are almost always a more sophisticated look and enhance the overall laid-back feel of a beach home.
The following are the different types of coastal kitchen backsplash ideas to inspire that next kitchen upgrade or build.
Mosaic Tiles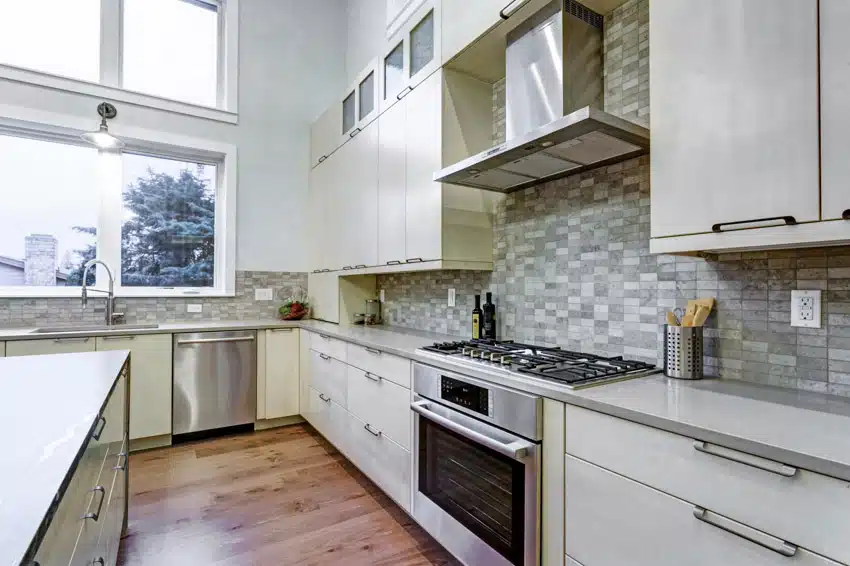 A mosaic tile kitchen backsplash is ideal for use as an accent tile or border in both residential and commercial spaces. Mosaic tile comes in a variety of colors, shapes, sizes, and materials and can be used on floors, walls, and backsplashes. They are also used to create murals, accent walls, or any other unique design in a room.
Mosaic tiles are one of the best materials you can use to create a unique coastal-inspired tile backsplash in your kitchen. It is available in a wide variety of colors and styles and comes in different sizes and shapes, including squares, rectangles, triangles, and more.

Mosaic tile is easy to install because it is usually already cut to size and comes in sheet form and mesh backing. You can find mosaic tile in many different types of materials, including ceramic, porcelain, glass, stone, metal, and more.
You can find mosaic tiles in different thicknesses and weights, so you can use mosaic tiles for other purposes. It can be set randomly or in a pattern.

When making a coastal kitchen backsplash, stick with natural mosaic tile colors that are reminiscent of the beach like shades of blue, beige, white, and tan.
You can also use mosaic patterns tied to the coastal theme, like fish scales, to give your kitchen a modern and unique look.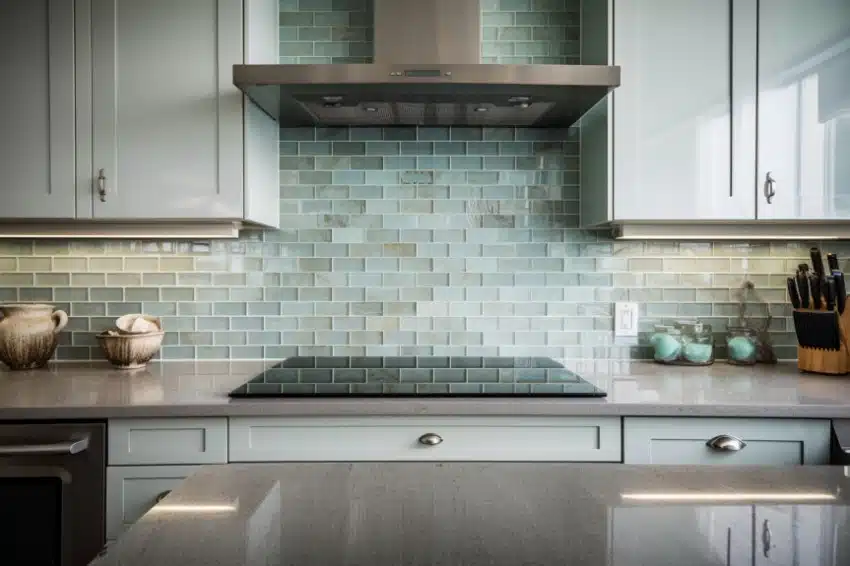 When choosing the shapes of mosaic tiles, you can opt for the conventional running bond pattern. But if you want more texture and visual interest, try experimenting with a pebble rock mosaic pattern.
Irregularly sized round glass mosaics can look like pebble rocks when pieced together. Opt for shades of blue and white grout to fit the refreshing color palette of a coastal kitchen.
With so many varieties of materials, shapes, and colors, mosaic tiles are helpful in creating underwater scenery for a coastal kitchen backsplash. Try creating an interesting blue backsplash of a seashore scene complete with a starfish, sea shells, and sand setting.
Mosaic Tile Variations:
Aside from the artistic approach to mosaic tiles, commercial mosaic tiles are small tiles (usually square) that combine various colors, materials, colors, and even shapes assembled into a sheet backing to create a pattern.
Standard individual sizes for square and rectangular-shaped mosaics come in 1" x 1", 1" x 2", 1" x 3", 2" x 3", 2" x 4", 2" x 5", 2" x 6" and 2" x 8". For a coastal kitchen mirror and porcelain tile are popular options, but natural stone, and metal is also available with mosaic tiles.
The advantage of mosaic tiles for a coastal kitchen backsplash is that they can fit in any backsplash shape or size where it can fill in odd corners. These are excellent for creating a tile mural or inlay backsplash.

Small Subway Tile
The subway tile is a white, rectangular ceramic tile with a high-gloss coating named for the New York subway stations built in the early 1900s. Nowadays, subway tiles are one of the most popular finishes for kitchen backsplashes and bathroom walls.
A subway tile kitchen backsplash comes in different types such as porcelain, glass, marble, and natural stone. Traditionally, it is produced in 3×6 inches size but you can also find it in 2×4 inches, 4×8 inches, and 6×12 inches.

The timeless appearance of subway tile is unmatched and its high gloss, light reflective surface can instantly make a room feel more open and look airy, making it one of the best choices for coastal kitchens. A white subway tile backsplash would also go well with any cabinet and counter combination.

Aside from the clean look subway tiles can provide to coastal kitchens, their glossy finish also makes them very easy to clean. Because of this, it works well for surfaces that are prone to staining like kitchen backsplashes.
Glass Slab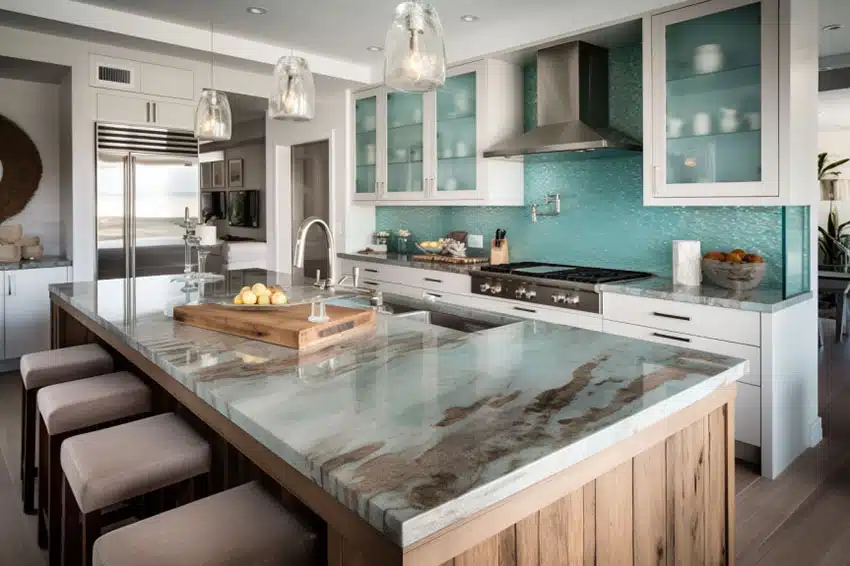 Glass slab backsplash is a fantastic choice for creating a modern, airy look and bright atmosphere in coastal kitchen designs. Not only does it reflect light, but it also gives the illusion of more space – making your kitchen feel larger and more open.
When it comes to choosing the perfect glass slab color for your coastal kitchen design, there are several options to consider. Light blue, gray, and brown glass slabs can add a touch of coastal charm while still maintaining a modern look. These colors work well with white or blue cabinetry, giving your kitchen that classic seaside feel.
But if you prefer something more neutral, beige glass slabs are also an excellent option. They offer a subtle yet sophisticated touch to any coastal kitchen design and pair beautifully with wood cabinetry.
The beauty of glass slabs is that they can be customized to fit any size or shape of kitchen. This makes them ideal for achieving the perfect coastal look regardless of your kitchen's layout.
So whether you have small galley kitchens or a spacious open-concept one, glass slab backsplashes are versatile enough to suit any design.
Geometric Tile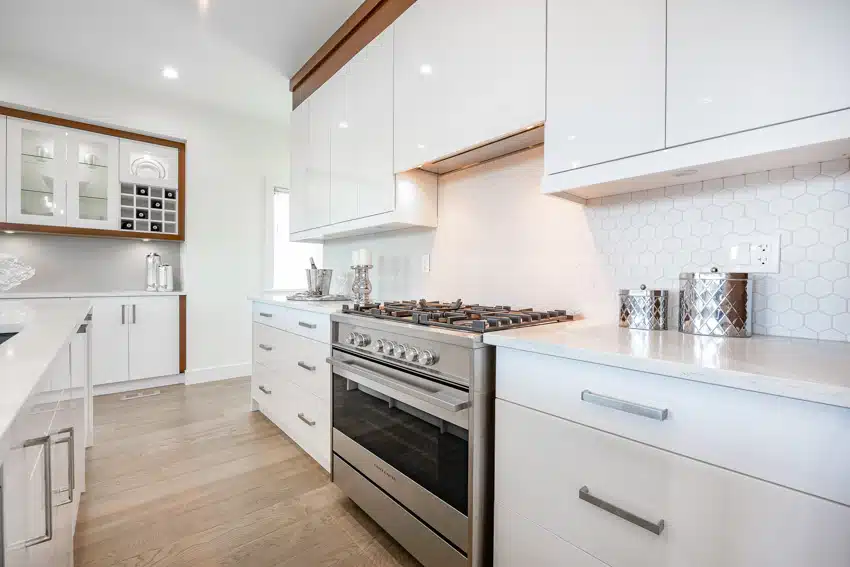 Geometric tiles are specifically designed with geometric shapes and patterns, adding visual interest to any space. They can be made from various materials, including ceramic, porcelain, stone, glass, and metal.
For a cost-effective option that is both durable and stylish for coastal kitchen backsplashes, consider ceramic or porcelain geometric tiles. Their unique patterns and cuts can bring in a lot of visual interest while still maintaining a relaxed vibe – perfect for any coastal-inspired kitchen.
When choosing the right geometric tile for your backsplash, opt for hexagons or mermaid scales to fit the beach theme perfectly. To maintain that natural palette that's so essential to coastal design, stick with shades of blue, white, gray, and sand.
Doing so will create the perfect balance between modern style and relaxed coastal charm in your kitchen design.
3D Tile Backsplash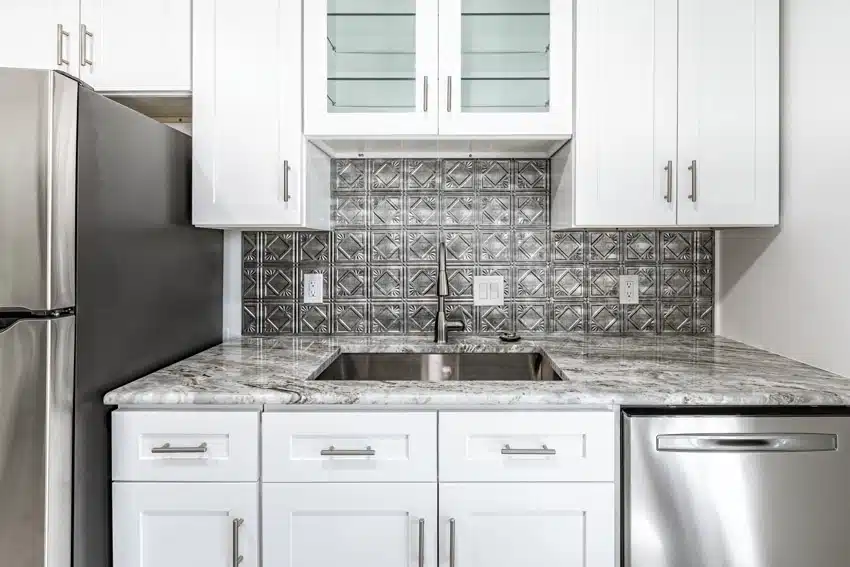 For a coastal kitchen style, a 3D tile backsplash is an excellent way to add texture, color, and depth to your space. This modern trend has been growing in popularity in recent years for good reason – it adds that extra touch of unique style to any plain wall.
When choosing the perfect 3D tile material for your coastal kitchen backsplash, glass tiles are the most popular option. They provide a glossy look and can be customized with a variety of colors, patterns, and textures.
The lightness, texture, and reflectiveness of glass make it ideal for achieving that clean and airy aesthetic that's so essential to coastal design.
For the perfect coastal look with 3D tile backsplash patterns, opt for geometric shapes or round shapes that resemble pebbles. Arabesque tiles are also a hit but stick with a natural color palette to maintain that relaxed vibe.
This will help to create an eye-catching yet soothing focal point in your coastal kitchen design that will impress.
Sea Glass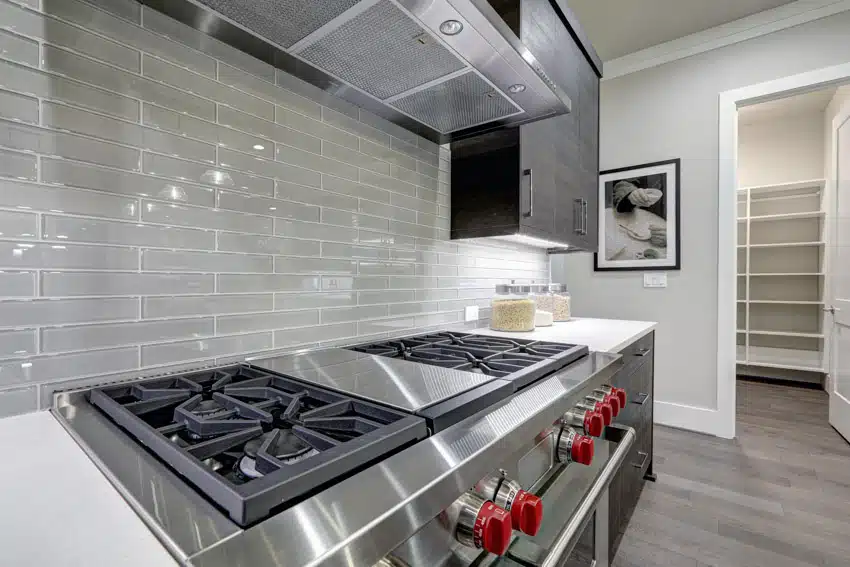 Sea glass backsplashes fit the coastal design theme and can make the perfect backdrop for your kitchen design. Natural sea glass is a type of glass that has been tumbled and smoothed by the ocean's movement and sand.
While a sea glass backsplash may not have the same distinction, it provides much of the same allure and is gaining popularity as a unique finish for a coastal style.
The organic look of sea glass adds character to any coastal kitchen design. It comes in various colors and sizes, so you can easily find something to match your desired aesthetic.
Incorporating sea glass into your kitchen backsplash can be done in different ways – creating an accent wall with a mosaic of the glass pieces or laying individual tiles in a pattern.
You can mix it with other materials such as tiles, stones, or metals for a larger backsplash or create one from individual pieces arranged randomly or in a specific mosaic design.
While the cost of sea glass tiles may be higher than other materials, the overall effect fits the style and can add the splash of color you're looking for.
In addition, it's relatively easy to install and maintain, making it an ideal option for DIYers who want to avoid the contractors and add that extra touch of natural beauty to their coastal kitchen style.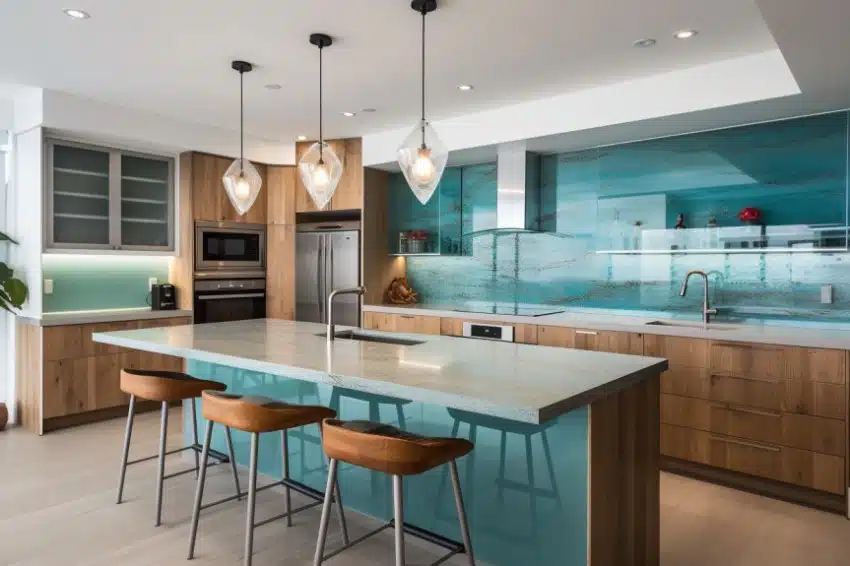 The sea glass subway tile introduces relaxing seascape hues with a range of blues, greens, and whites that can be easily matched with neutral and light-toned kitchens. The most common colors of sea glass tiles are aqua and mint.
With its frosted and semi-translucent quality, sea glass subway tiles can catch and magnify light into the kitchen area, making the space look upbeat and brighter. Aside from the glossy finish, owners can also opt for the popular matte finish.
Sea Glass Variations

Sea glass subway tiles are either made from recycled or natural sea glass and will usually have the classic subway tile dimensions of 3 x 6. Sizes such as 2 x 4, 4 x 8, and 6 x 12 variations are also available.
The rectangular shape of subway tiles makes it easier to incorporate in modern kitchens with less cutting and easier fit into walls. Frosted and tumbled edges are other variations of the sea glass tile.
The subway tiles have been a favorite contemporary backdrop in the kitchen for years but the introduction of organic materials and colors is now becoming a favored addition to interiors. Another benefit of using sea glass subway tiles is they are environmentally friendly raw materials.
Genuine sea glass tiles are formed from pieces of discarded glass that were smoothed down with the constant tumbling and grounding caused by the sea current and waves. The rounded edges of the glass create that stone-like appearance.
Like any type of glass tile, the sea glass subway tile is easy to maintain as the nonporous surface does not absorb accumulated dirt or soap grime. With warm water or dish washing soap simply wipe off or brush the surface with a damp cloth.
Beach Style Peel And Stick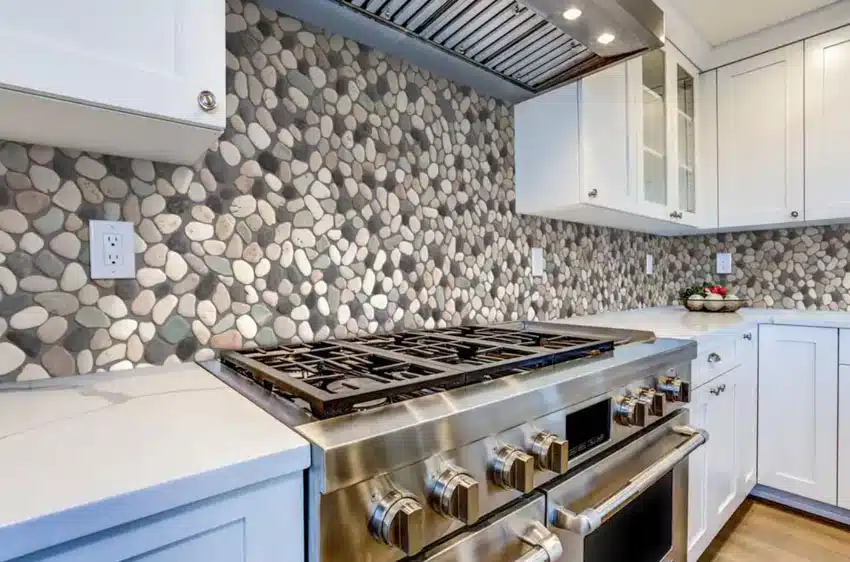 See this peel and stick pebble backsplash at Home Depot [sponsored link]
A beach-style peel and stick backsplash is a type of removable backsplash that features materials, patterns, and colors that arouse a coastal aesthetic.
Some popular options for beach-style peel and stick backsplash include natural materials like seashells, beach pebbles, and driftwood. Others may feature modern patterns with bright blues and greens or more muted neutral tones.
When choosing a beach-style peel-and-stick backsplash, you have many options to consider. You can choose from different textures such as smooth or rough surfaces to give it a unique look.
You can also select from various sizes depending on the size of your kitchen wall. In addition, you can opt for either individual tiles or mosaic sheets depending on the area of coverage you need.
Overall, these types of peel-and-stick backsplashes are an excellent way to add a touch of coastal charm to your kitchen without breaking the bank. They go well with modern products and have a charming look available at a fraction of the real material cost.
Behind The Stove Inlay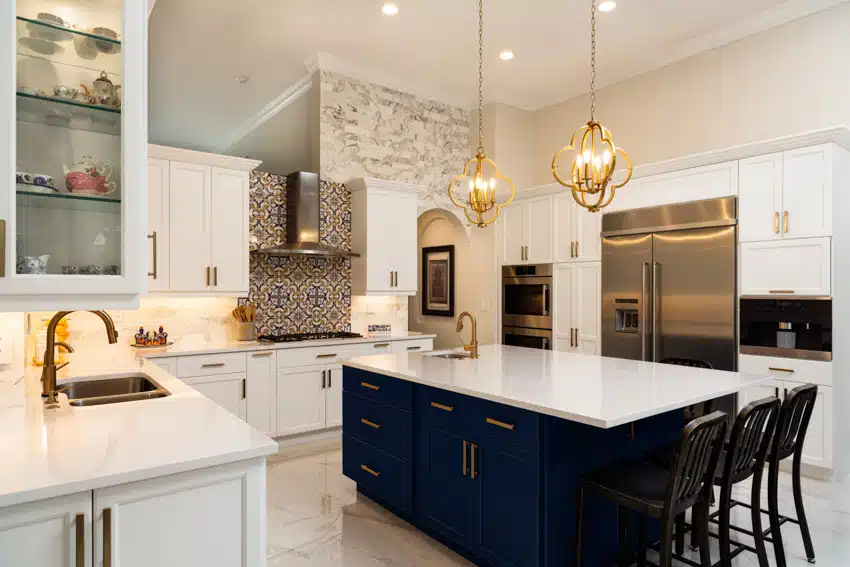 A stove inlay is usually a decorative tile element that's added to the backsplash behind the stove top that, offers a unique and custom feel. Stove inlays are typically made from stone, metal, ceramic, or glass and are placed behind the stove to create an ornate accent wall.
Not only do these inlays add aesthetic value, but they also serve practical purposes by protecting your wall from heat and food splatters during cooking.
In coastal kitchens, popular choices for stove inlays include marine-inspired designs such as shells, starfish, and other ocean-themed motifs. These designs can be crafted from various materials like ceramic, glass, or even stone, providing a unique texture and focal point for your kitchen.
Scalloped Tiles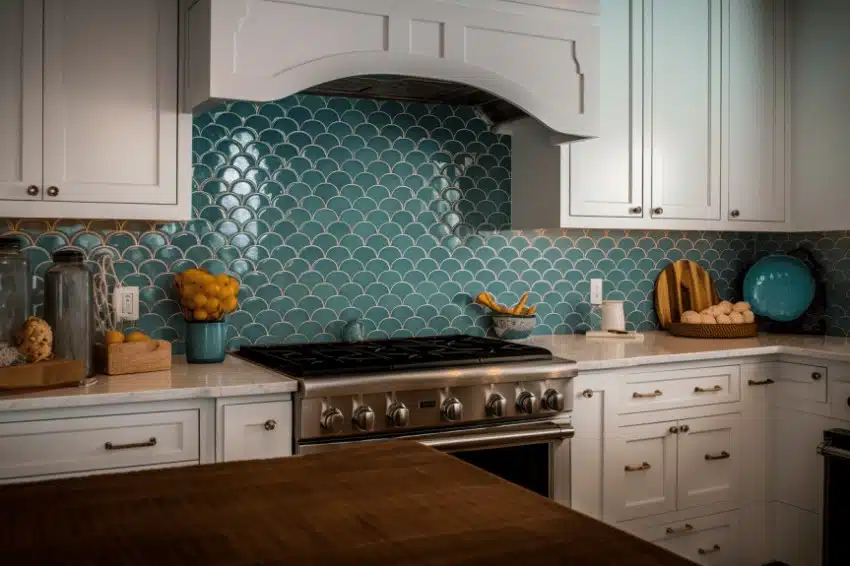 The scalloped tile backsplash is the design to break away from the conventional straight-edged geometry of contemporary design while still infusing an edgy and eye-catching element.
Scalloped Tile Variations
Scalloped tiles are perfect for the coastal kitchen backsplash as it reminisces fish scales or the ocean waves. Choose colors that range from mint to teal shades to recreate the cool atmosphere of the coastal setting.
Metallic-colored grouting such as gold or silver are a great way to add a luxurious quality to the backdrop or choose a clean white trim to go with a white countertop creating a smooth transition through the color. Like your standard stone or glass tile the scallop tiles can be finished with a glossy or matte surface to fit any style.
For faster installation, most scalloped tiles come in sheets or the typical standard square tiling where a number of scallop tiles are in place by a mesh backing.
The common tile sheet sizes are 11 ½" x 11 ½" and 11 1/5" x 11 1/5" with a nominal thickness of ¾". Standard sizes for individual scallops include ½" x ½", 3/4" X ¾", 1" X 1", 1" X 1 ¾", 2" X 2", 6" X 7" and 9" x 13".
Aside from your typical ceramic or glass tiles, scalloped tiles can also be made from wood, plastic, and recycled materials.
Scallop tiles are typically laid out with the fan or the upward curve at the top creating a series of a wave-like patterns. But scallop tiles can also be arranged with an upward curve than a succeeding tile that is flipped vertically. The result is an alternating up-and-down curve with an uninterrupted grout lining.
Pebble Tiles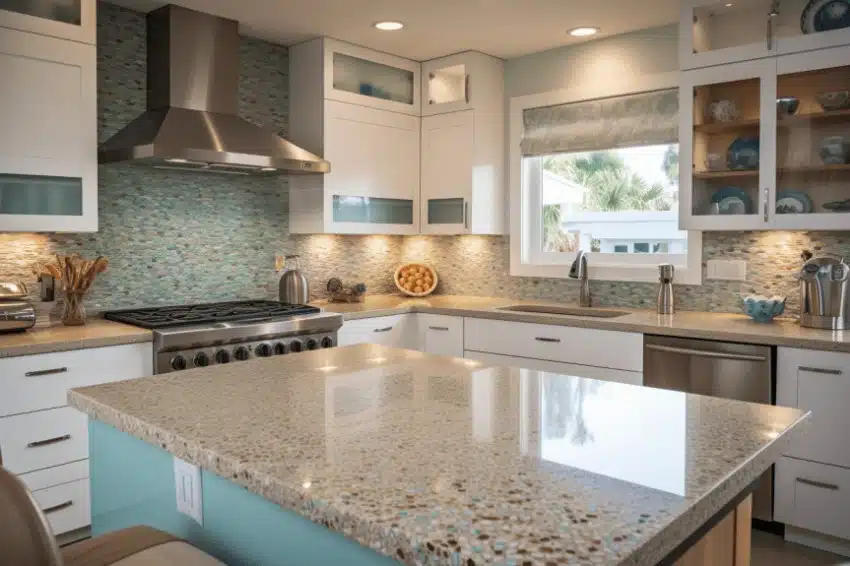 It's quite uncommon to find natural stone materials in modern kitchens and the pebble tiles are just the perfect backsplash finish to layer with sleek finishes.
Like taking in an element of the coast, the pebble tile backsplash is a display of small natural or synthetic stones. The organic backdrop work with a coastal kitchen with light wood accents and white-colored counters.
Pebble Tile Variations
A popular option for pebble tiles is the iridescent variation where one can choose teal, sky blue, or mint mixed with occasional true blue or blue-green pebble stones.
The iridescent tiles create luminous colors that change when seen from different angles. Pebble tiles can also come with a polished or matte finish with either honed or chipped edges.
Hand Painted Ceramic Tile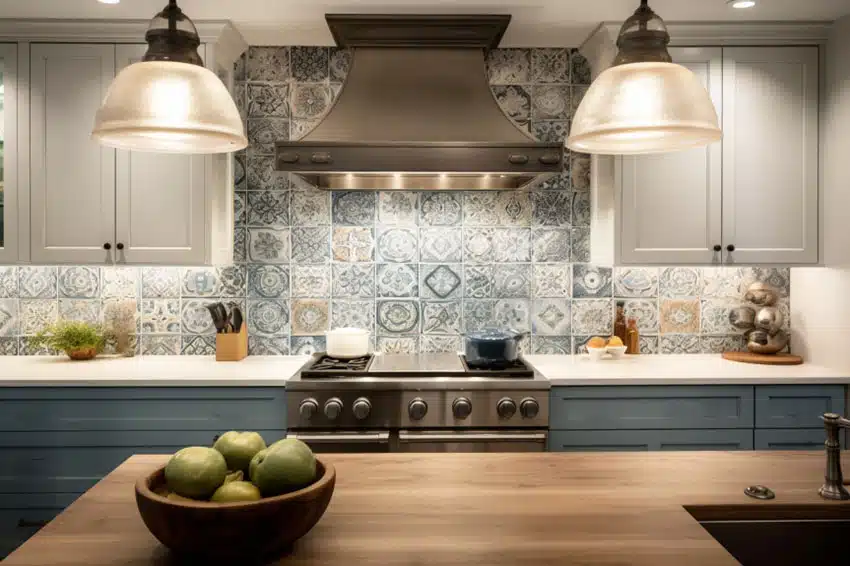 A durable and artistic backsplash, the hand-painted ceramic tile gives a more personalized feel to a coastal kitchen backsplash. Usually, with intricate designs and vibrant colors, they can feature walls in the kitchen interior suitable for any backsplash size.
Even with a smaller backsplash, the intricate patterns and colors are easily noticeable, which makes it a great way to add décor without overwhelming a tight counter.
Hand-painted ceramic coastal tiles will usually employ shea shells, starfish, or wave-like patterns making it a great way to showcase the owner's personality.
Ceramic Hand Painted Tile Variations
Ceramic hand-painted tiles are made using special glazes that are fired on the surface allowing the glazes to infuse with the ceramic material.
Other types of hand-painted tiles can be made of porcelain and natural stone. Sizes vary and will have the typical square tile sizing of 4" x 4" to 16" x 16".
Marble & Quartz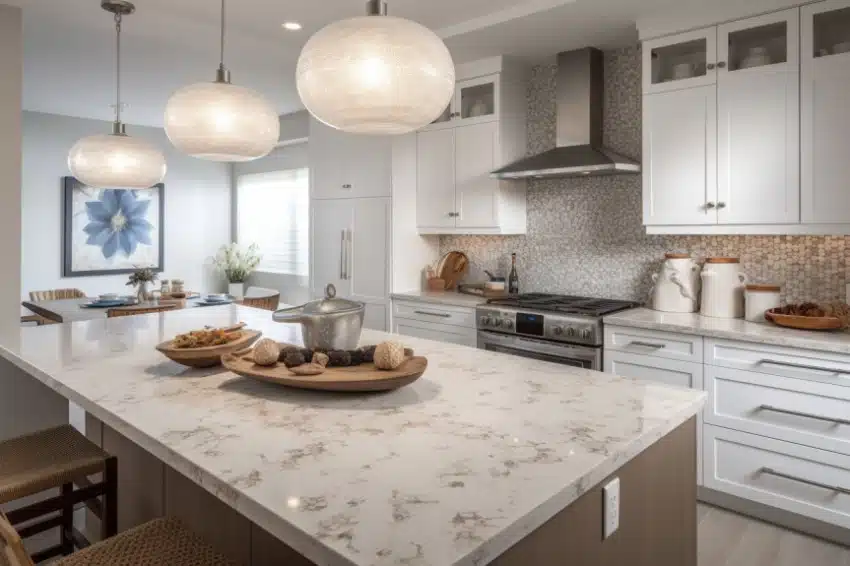 Stone backsplash fits any themed interior and the marble and quartz are classic materials that can complete the look of a coastal kitchen effortlessly providing a calming effect.
Choose a marble backsplash with bluish-green veinings with a white surround to match with similar color accents. White marble with gold veinings can also look luxurious against the coastal tones pairing it with wood and other natural materials.
Marble is timeless resembling the waves and sandy beaches with a wispy and smokey quality. A marble coastal kitchen backsplash can come with a modern touch using a continuous and uninterrupted slab backdrop or choose marble tiles to create varying shades and patterns.
Engineered stone quartz can be said to be the closest counterpart to marble which also showcases the variation of veining and shades creating a simulated look of natural stone.
If a coastal kitchen is located near the sea, quartz is a better option than marble as the backsplash is exposed to salt and sand which can etch and cause pits on marble.
Weathered Wood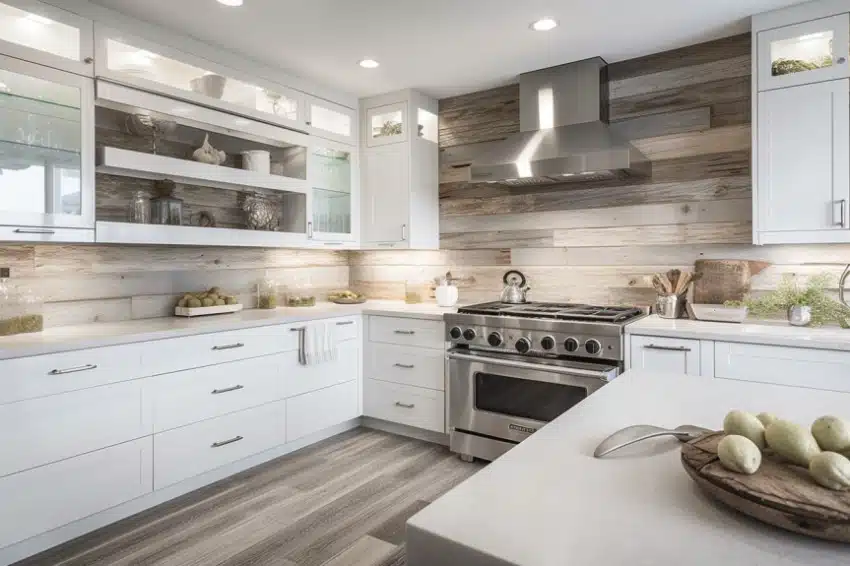 Reminiscent of wood washed offshore, a weathered wood backsplash adds a rustic and relaxed quality to a coastal kitchen. Coastal and rustic themes have always been a perfect match as both introduce natural and organic materials.
The natural patina and natural grooves of wood is also a practical feature that does not easily show stains and imperfections.
When selecting a weathered wood backsplash, be sure to choose a material that is durable and can withstand constant exposure to moisture and water.
Cedar, cypress, and redwood are wood species that contain natural oils that can resist decay and insect infestations. It also helps to apply sealants to protect the organic material further.
A popular coastal material is reclaimed or salvaged wood which is not only cost-saving but has been exposed to the elements creating a naturally weathered surface.
Shiplap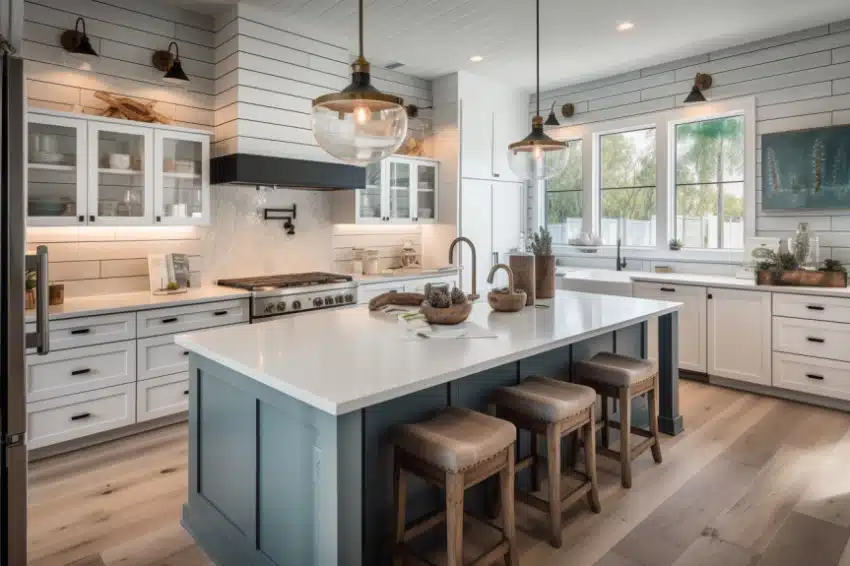 Like the old ships made of wood and with a similar shiplap pattern, a shiplap backsplash creates that rustic and relaxed feel of a coastal home.
The popular wall cladding has always been a favorite feature in coastal and beach house kitchens which showcases the natural wood grain with a light finish to emphasize the texture.
Also adding dimension and depth to the kitchen backdrop it works well with both the streamlined theme or the more traditional styled kitchens.
Horizontal Planks
When aiming for a cleaner and simpler wood installation, the horizontal plank is a perfect option as it doesn't require complicated support and layout.
In addition, horizontal planks can come with a variety of widths that can visually expand or scale down a coastal kitchen's counter area.
Similar to your shiplap, you can add wall decals for a more personalized and casual look to your coastal kitchen.
Though continuous planks for a wide coastal kitchen backsplash might be hard to come by when finding reclaimed wood. The usual dimensions of horizontal planks are 4" x 24", 6" x 24", 8" x 32", 12"x 24", and 12" x 48".
Coastal Farmhouse Kitchen Backsplash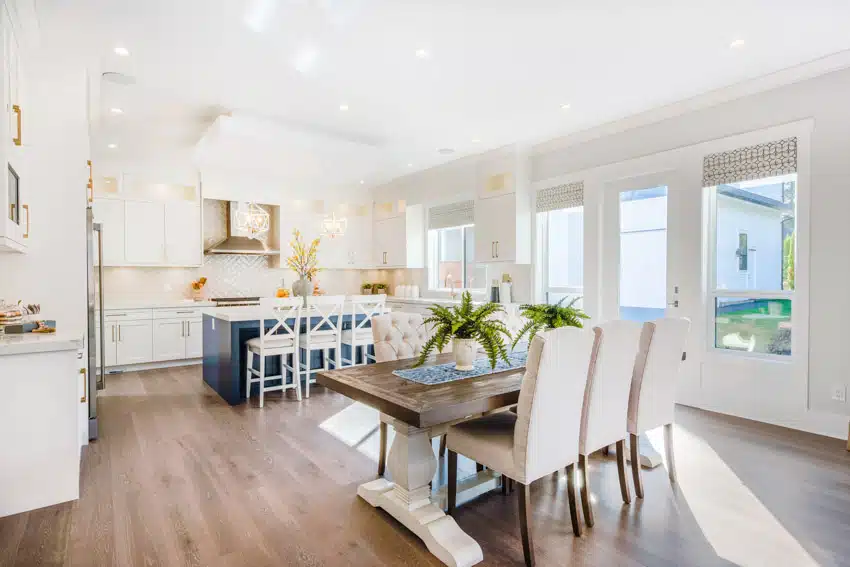 Regarding the core design elements, farmhouse, and coastal styles are not that different from each other. In general, farmhouse design is a style of home design characterized by its cozy and inviting atmosphere, rustic charm, and use of natural materials.
This style of home often combines elements of traditional and modern design and often features an open floor plan, wood or stone accents, and neutral colors. Farmhouse design often evokes feelings of warmth, comfort, and a connection to nature.
Popular farmhouse design elements include white cabinetry, exposed beams, shiplap walls, distressed furniture, and farmhouse-style accents such as vintage-style lighting fixtures and mason jars.
When combined with beach home design-inspired elements and an emphasis to bring the outdoors in, the resulting style is known as coastal farmhouse. This style is both contemporary and classic.
A coastal farmhouse kitchen backsplash is a great way to add a unique and rustic touch to your kitchen. You can incorporate natural elements of the ocean and the beach like rustic wood, stone, pebbles, and a calming color palette.

There are many materials that can be used for a coastal farmhouse kitchen backsplash, including tile, glass, stone, and even wood. One of the most popular options used for farmhouse coastal kitchen backsplashes is stone.
The natural look of stone fits the rustic aesthetic of this style and its texture can heighten the visual interest of the space. Stone can come in a tile form and is a bit more expensive than other materials, but it is well worth the investment because it is super durable.
Modern Backsplash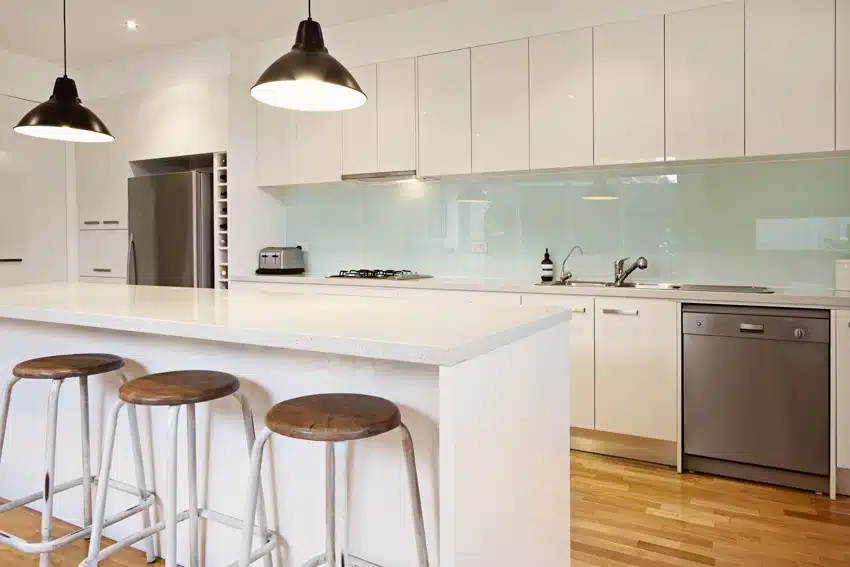 Another variation of the coastal style is the modern coastal design. Modern coastal design combines the beachy feel of coastal design with sleek minimalism. It is a more simplified, updated take on traditional coastal style. The result is typically a room with simple shapes, seaside hues, and subdued beachy references.

In the modern coastal design style the "beach" references are fewer and less obvious, which means it veers away from decors like seashell motifs and ocean-inspired patterns. The interpretation is less literal and more subtle, thus creating a simple and fresh look.

The key to choosing the perfect backsplash for a modern coastal kitchen is to keep it simple. Stick with clean lines, avoid busy patterns, and choose a simple color palette. Lean towards a more minimalist approach by choosing materials that have a sleeker appearance like subway tiles, a neutral-colored glass slab, or white bricks.
Furniture & Home Décor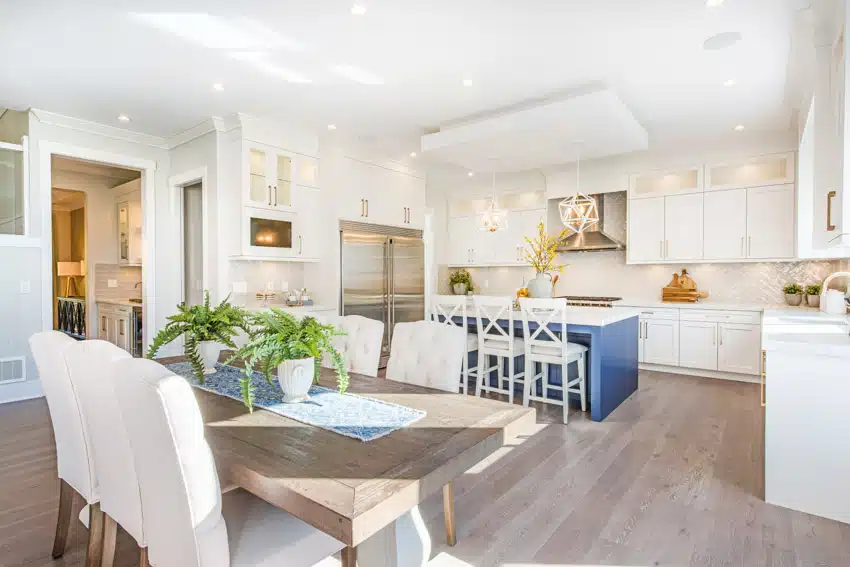 Keep it simple, and stay true to the beach cottage theme. Simple and sturdy pieces are best suited to generate a coastal farmhouse atmosphere.
Staying true to the beach house theme, wood is the best way to go. Wooden cabinets painted white or blue creates a simple and rustic feeling in your coastal kitchen.
To add a bit of character, it is also an option to coat the kitchen cabinets in a natural stain to give it that lovely "unfinished" farmhouse feel. Wicker chairs also add a rustic vibe to your kitchen. Using natural materials as much as possible will add to the seaside style perfectly.
If all-wooden furniture is not your thing, one can add upholstering the seats with a beautiful, yet simple, fabric. Not only does it add a more sophisticated look to your kitchen, but it provides more comfortable seating for your guests.
Make sure also to incorporate some glass elements as it reflects light and adds to the open atmosphere. For example, you could include some kitchen cabinets with glass doors.
For Eli Pasternak, an interior designer and the founder of Liberty House Buying Group, a coastal kitchen is all about the ocean, and the largely white surfaces make sure that the sky and water occupy center stage.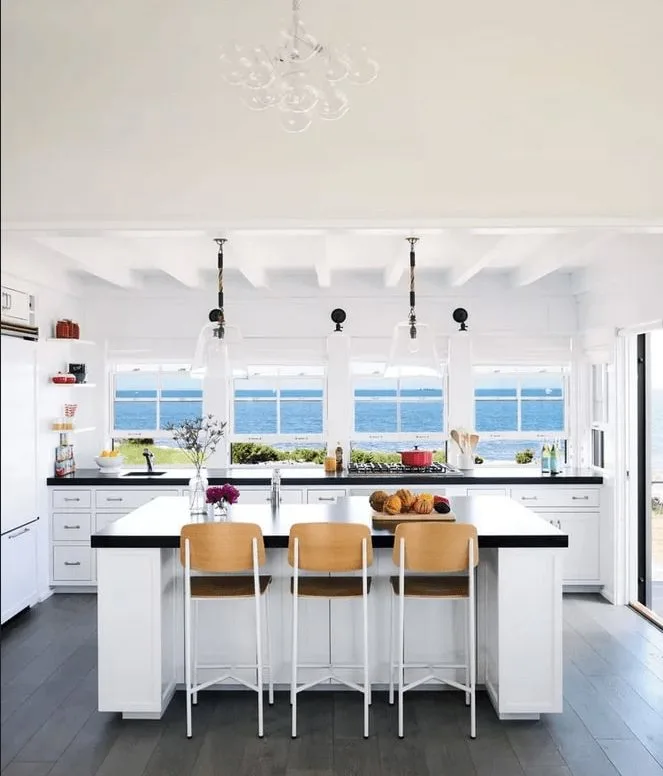 Credit: Photo: Annie Schlechter; Stylist: Sasha Emerson
Even the lighting, which consists of sizable, transparent glass chandeliers, was selected with the view in mind. Cleaning up is simple thanks to the two sinks, one of which looks out over the lake and the other of which faces the bar stools.
Another coastal kitchen style is by using a cheery pastel color scheme to give your kitchen an appearance that is as delicious as your favorite dessert.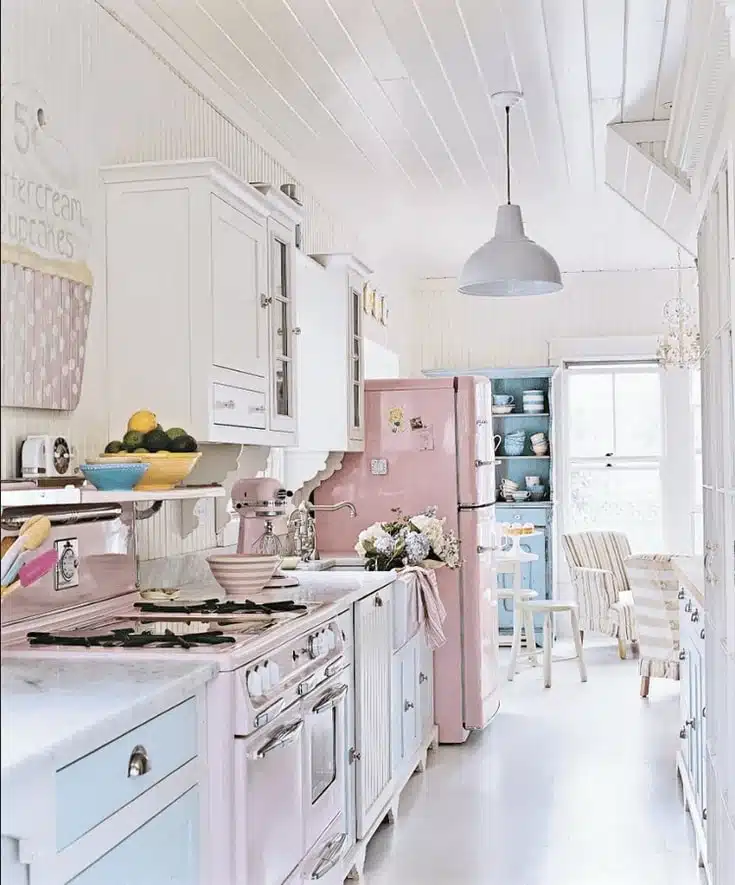 Credit: Photo: Deborah Whitlaw Llewellyn
Colors that are more muted make a statement without taking over the room. Custom-painted cupboard faces contrast with a glossy white floor, while colorful appliances can make your kitchen a striking focal point.
Another stylistic innovation is provided by the two-tone woodwork. Light blue paint highlighted the bottom cabinet doors and drawers while leaving the rest of the furniture white.
Lighting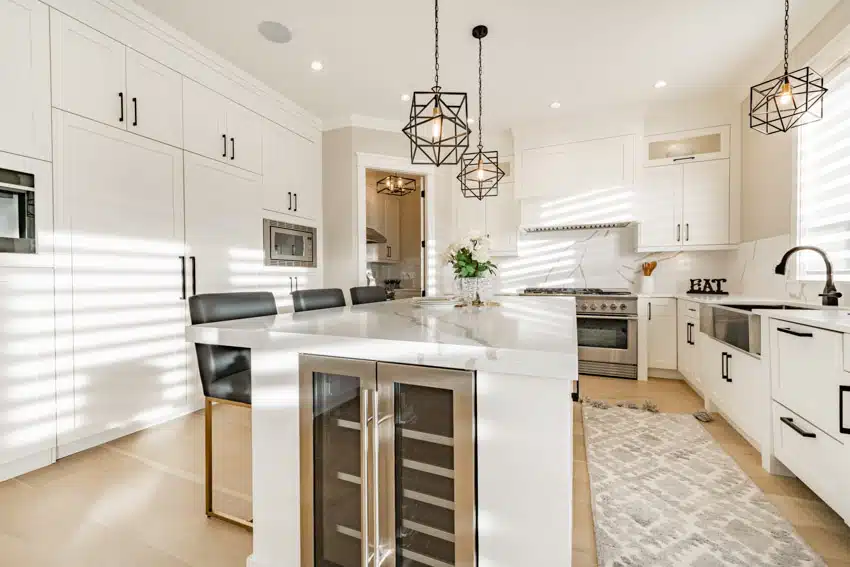 During the day, the best light is natural light. So, large windows that let the light flood into your kitchen are ideal. At night, soft LED lighting will bounce off the white walls and make the space feel bright and open.
Make sure that you keep key areas well-lit. This includes the kitchen island and your cooking space. Dimmers can be used to create a softer, more romantic mood as it suits the occasion.
Hanging pendant lights above the kitchen islands also add decorative value. Choose a lampshade that suits the beach house farmhouse theme. Wicker lampshades are a great option here!
Décor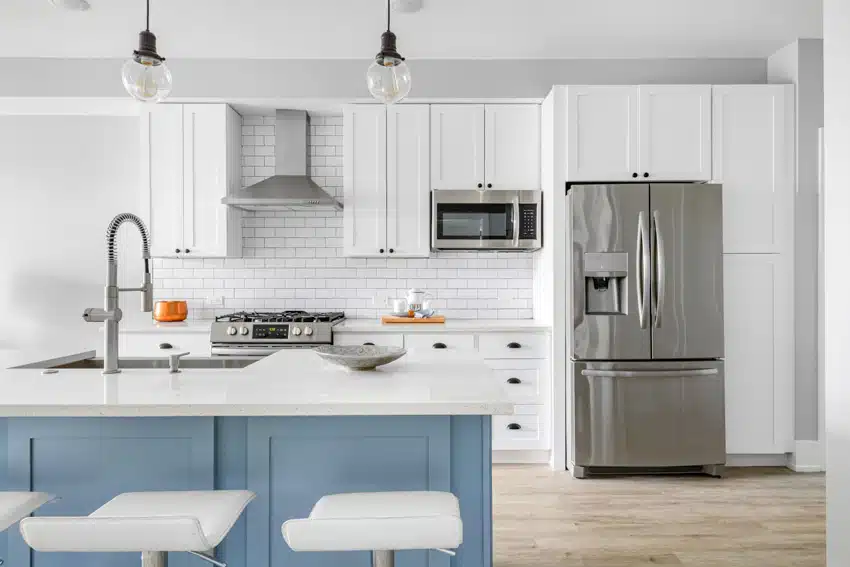 Once you have the foundation for your new kitchen's design, it's time for decorating! The kitchen interior should feel like the beachy outdoors intermingles with your home interior.
When it comes to kitchen décor, stick to soft colors. Fabric or wicker placemats will beautifully accent your home. Bring in kitchen decor such as wood cutting boards, patterned tea towels, runner rugs, accent chairs, or wallpaper inside the cabinets to enhance the theme.

Consider the hardware on your kitchen cabinets. There are rope pulls that can give off a distinctive nautical theme or decorative ring pulls to reinforce a beach inspired kitchen design. Changing the hardware can drastically change the look without a lot of cost or effort.
Don't be afraid to find materials with some kind of beach themed print. Think of seashells and fish. Have a bit of fun with it!
Here are some coastal living themes to consider: dolphins, whales, seahorses, and coral all come to mind.
If your summer home is situated along the coast, take a stroll on the beach and find some driftwood, sea glass, or seashells. These can be made into gorgeous centerpieces. This is especially practical if you are doing home décor on a budget!
There are many ways to style your coastal kitchen which leaves you with a lot of freedom to make it your own. Stick to these key elements during your kitchen renovation and your modern- or farmhouse-inspired coastal kitchen will materialize before your very eyes.
See more related content in our article about the best farmhouse kitchen ideas on this page.