In this gallery of kitchen backsplash ideas with white cabinets we share popular options for using natural stone, glass, and ceramic tiles.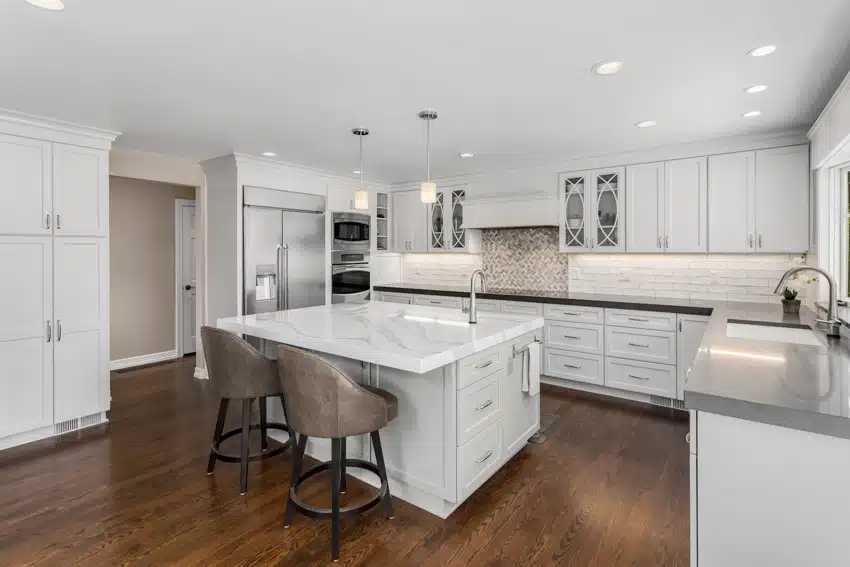 White kitchen cabinets are a classic whether in more classical/traditional style kitchens or in modern-contemporary kitchens. No matter what time period or style, white kitchens can never go wrong.
It has a timeless appeal and is pretty easy to match with other colors and textures. If you're renovating or refreshing your kitchen, going for white kitchen cabinets will never go wrong, as it will never go out of style.
Because white cabinets are versatile, it is also pretty easy to match with a backsplash material. Anything will basically work with it, just take into consideration other colors and textures used in the kitchen such as your wall color, tiles, countertop, and other materials.
Kitchen Backsplash Materials For White Cabinets
There are countless options for kitchen backsplash materials that you can choose from, depending on your budget. Here are some of the most popular backsplash materials to pair with white cabinetry.
1. Natural Stone: Materials such as marble, granite, quartz, and other natural stones are popular for backsplash. They come in slabs, tiles, and even mosaic tiles.
2. Glass: A more contemporary material, glass, especially back painted glass is a beautiful material as a backsplash; mirrors and tinted mirrors have also seen increased popularity in modern kitchens.
3. Ceramic tiles: This is the best option for those on a budget. Ceramic tiles come in many colors, shapes, and sizes. They even come in styles that mimic natural materials like stone and wood! They're easy to find, and you always have a mountain of options to choose from.
3. Wood: This is a bit rare to find for backsplash, especially in wet areas, but this can still be used on drier parts of the kitchen. Just use it with caution and proper waterproofing to prevent rot.

Natural Stone Kitchen Backsplash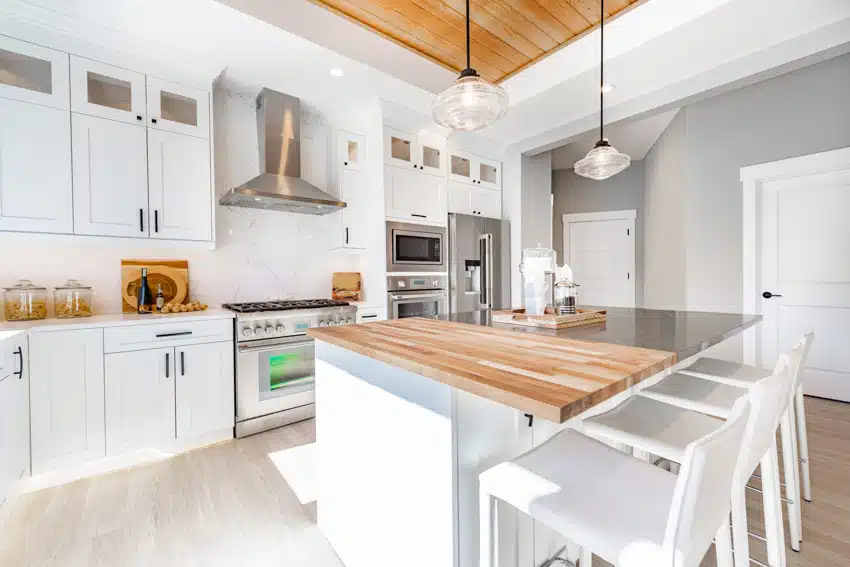 All white cabinets combined with a gorgeous slab of white Carrara marble backsplash would definitely bring out the elegance of any kitchen space. The touch of wood accents in the space also adds extra warmth and color to the space, making it one of the best kitchen backsplash ideas with white cabinets.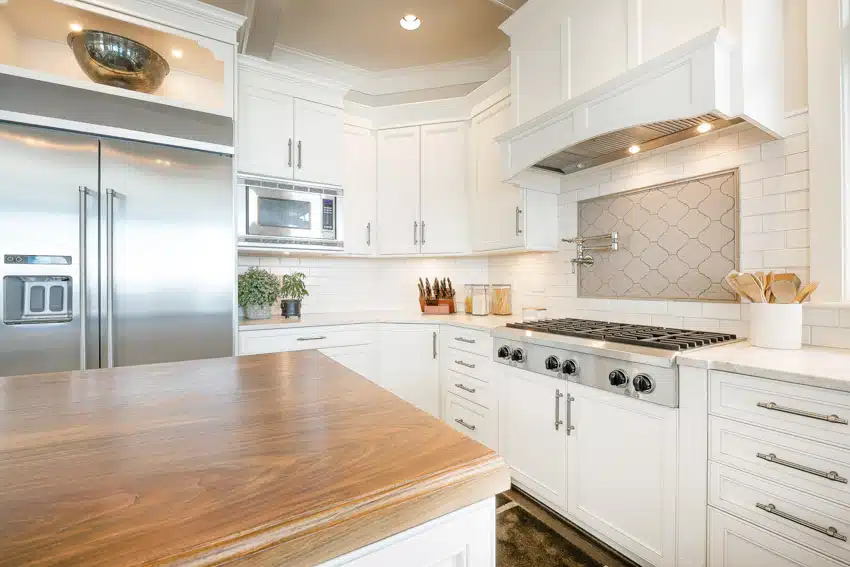 For a more classic look, how about using arabesque tiles as an accent? For this kitchen, gray arabesque tiles were applied in the center where the cooktop is, making it the focal point of the space. Surrounding it are white subway tiles so that it stands out in this all-white kitchen.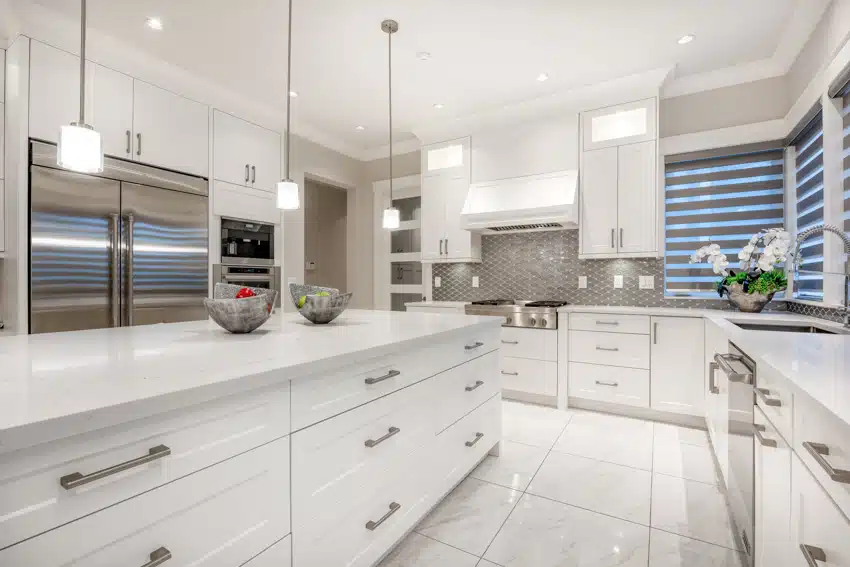 If you like the look of arabesque tiles but want a more modern feel, fret not. There are glass arabesque mosaic tiles available on the market.
In this all-white modern kitchen, gray glass arabesque mosaic tiles were used as the backsplash material. The gray and white combination is a modern design staple and gives it a clean, stylish, and elegant vibe.
Glass Kitchen Backsplash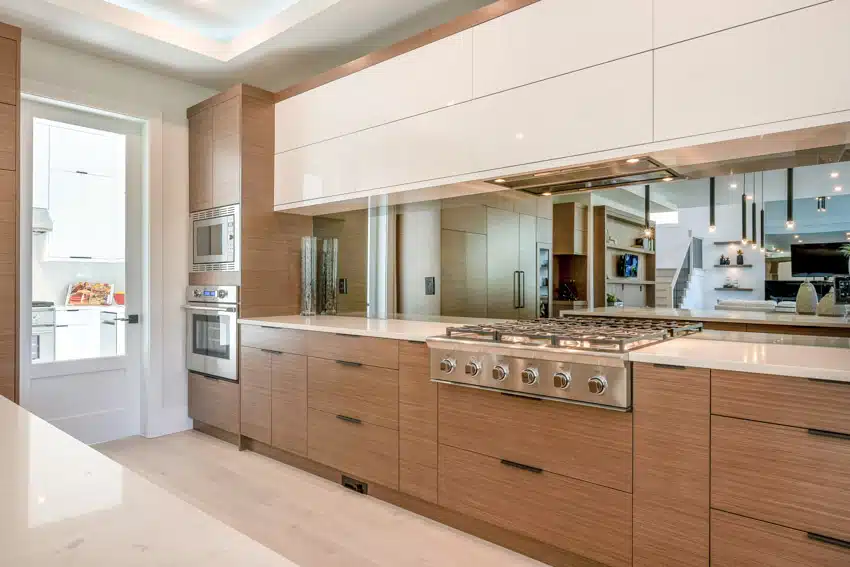 Do you have a smaller kitchen? If you want to give an illusion of a bigger space, explore using tinted mirrors as the backsplash material. This kitchen uses a large mirror slab with a bronze tint that complements its white and wood kitchen cabinets.
Mirrors not only give an illusion of more space, but also helps make the space brighter and give a really modern look. Just remember that glass is prone to watermarks, so make sure you wipe them down regularly to keep them from looking flawless.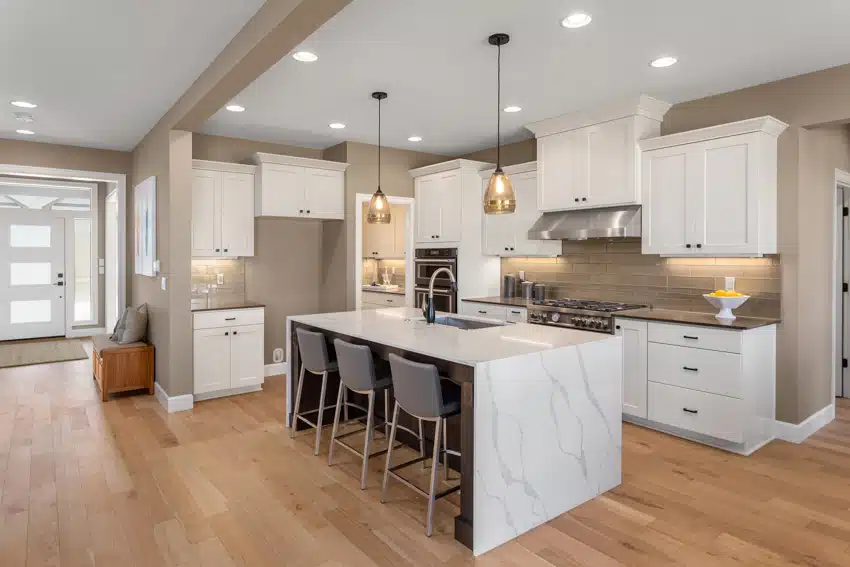 Glass tiles are fun because they come in a wide variety of colors, shapes, and sizes. Depending on where you source them, you can even customize your own color based on your requirements.
For this kitchen, the glass tiles were matched to a color close to the taupe-painted walls, making it color look uniform/cohesive yet at the same time, adding a different texture to the surface. Because glass reflects light in a different way, it also adds a unique effect to the undercabinet lights.
Ceramic Tile Kitchen Backsplash
Hexagonal ceramic tiles have been popular recently. It's a nice and easy way to add a little pattern and texture to your backsplash without drawing too much attention to itself. The subtle pattern of a hexagon backsplash is a nice way to add an accent to any kitchen space.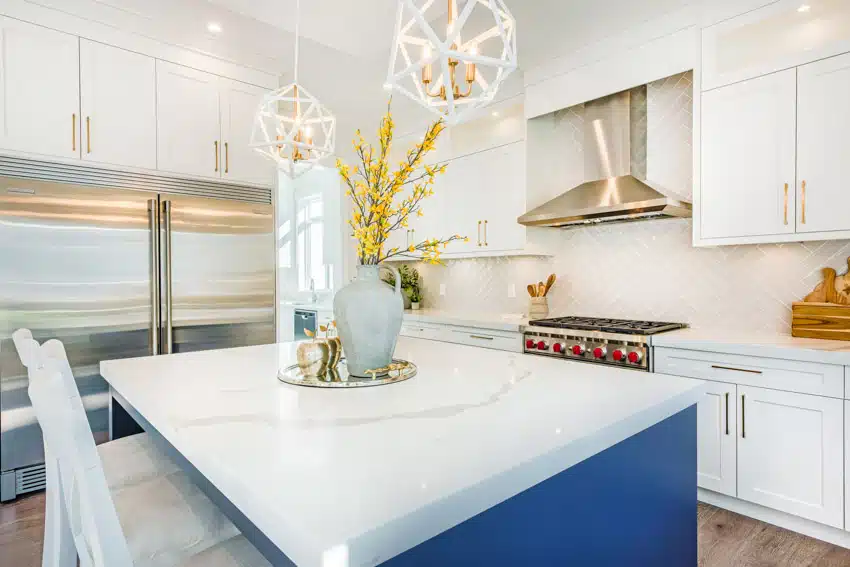 Herringbone pattern tiles are a classic, but if you use cream-colored glass tiles, it gives it a different appeal. The use of cream tiles in this modern kitchen space gives it a subtle warmth that complements the bright white cabinets and the bold blue kitchen island.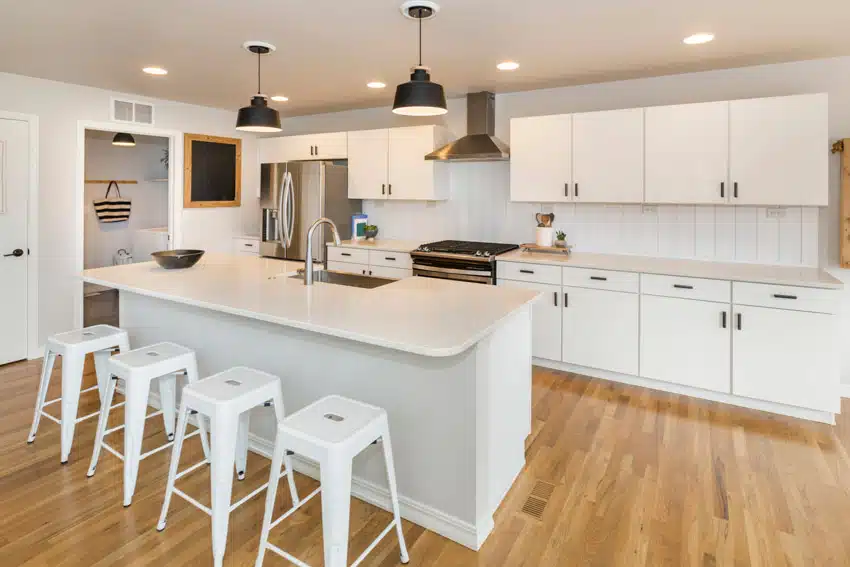 It used to be called outdated, but a square tile backsplash is coming back in style, especially for the fans of that "retro" look it gives. Use white tiles paired with white cabinets, and you get a really clean look that is reminiscent of the '80s to 2000s style kitchens.
Other Backsplash Ideas For Kitchens With White Cabinets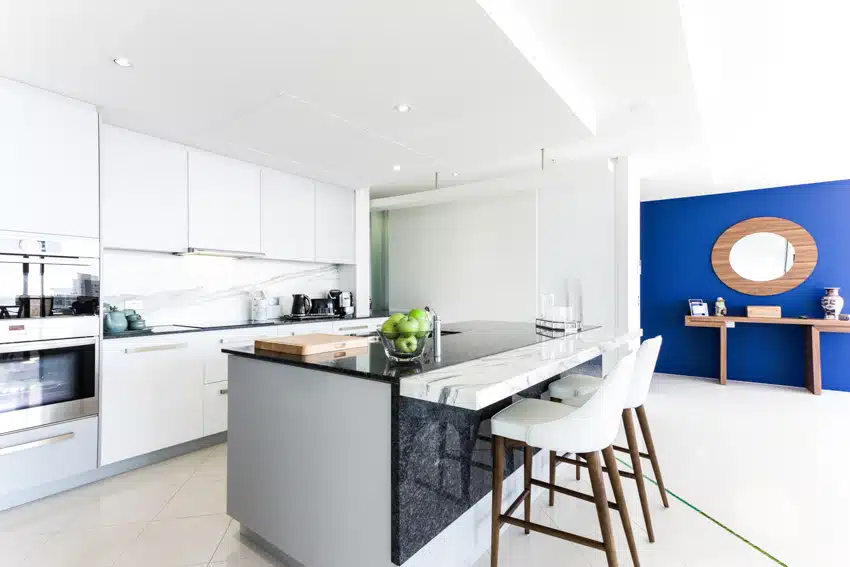 The gorgeous slab of white marble used in this modern kitchen adds a nice contrast to the black granite cladding used all over the kitchen island counter. It helps balance out the dark color and adds brightness to the space, making it one of the outstanding kitchen backsplash ideas with white cabinets.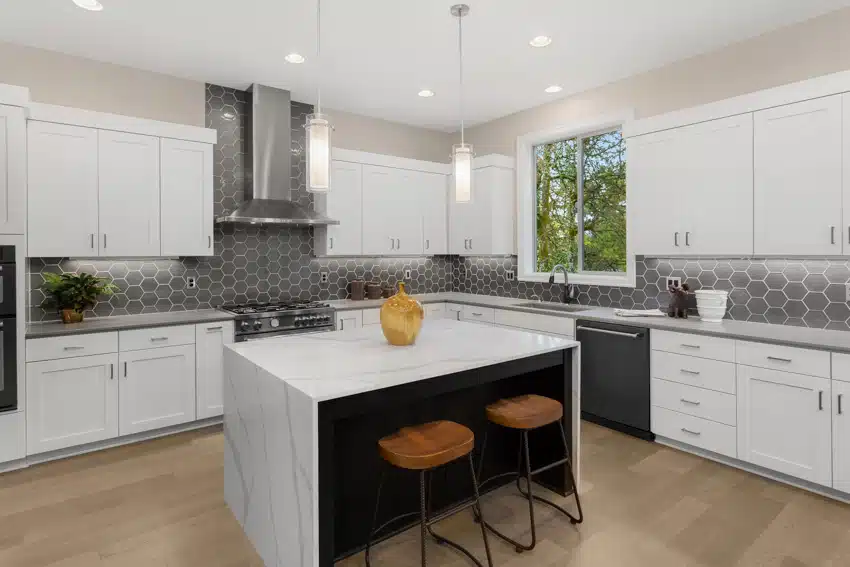 Hexagonal tiles in gray are also a great option for modern kitchens. The contrast it adds to an all-white color scheme gives it a very modern look. Gray and white give a very casual vibe, and imbue it with a very youthful look.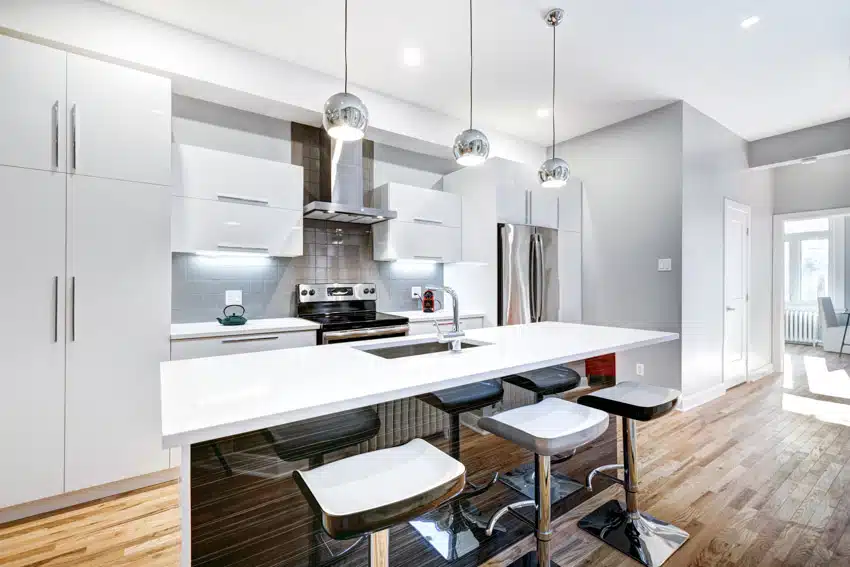 The resurgence of square tiles for the backsplash meets its modern twist in this modern kitchen. For this design white kitchen cabinets were paired with semi-matte square ceramic tiles for the backsplash. The gray tone used is a very metallic gray color, matching the modern vibe of the space. Additionally, the grout was also matched with the tile color for a very clean look.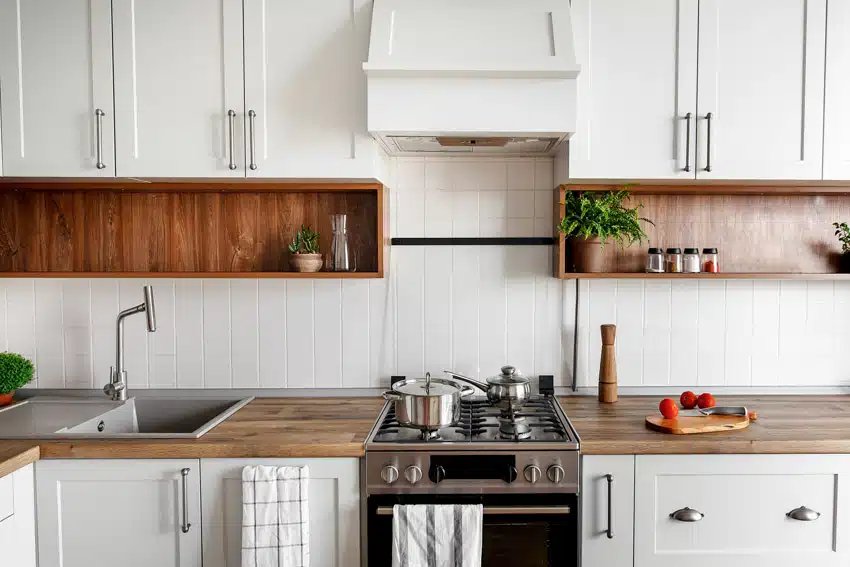 Of course, if you have white cabinets, you can never go wrong with plain white tiles for your backsplash. Use square tiles like this kitchen, and when combined with the wood tones, it gives a very nice cottage home vibe.
White tiles are very homey, relaxed, and have a lot of personality. Choose a matte texture like in this kitchen to give it a more contemporary feel. You can add contrasting countertops, accents, hardware finishes and decor to bring in some color variation and add visual interest.

See more related content in our article about white kitchen cabinets with dark floors on this page.