See matte backsplash tile designs and discover what it is, its materials, finish, different matte tile kitchen ideas, their benefits, and comparison to glossy tiles.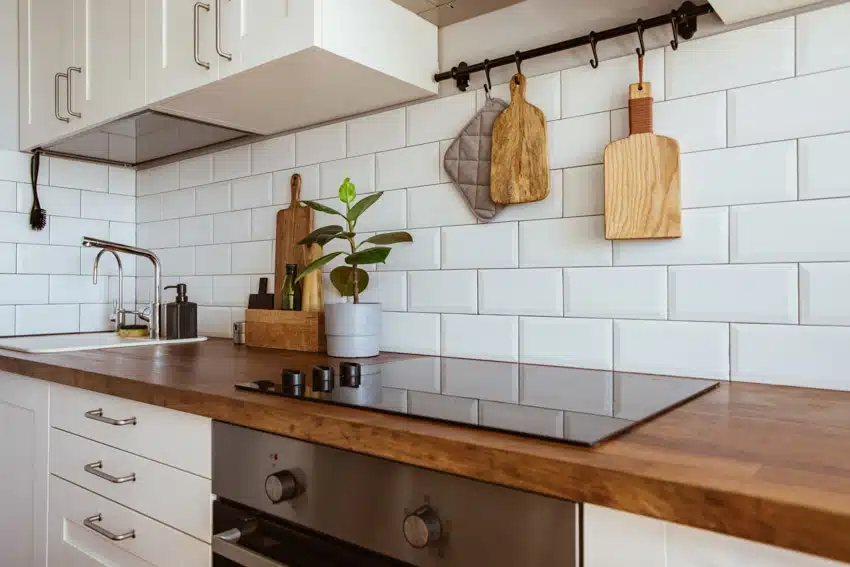 One of the toughest working surfaces in our homes is frequently our kitchen backsplash tiles. However, one dilemma that many homeowners face is whether to select a matte or glossy backsplash.
Although both are created in the same way, each of these features a distinct level of sheen and smoothness, which can provide your kitchen with a massive kitchen design effect.
Matte backsplash tiles, in fact, can impart a softer and more relaxed appearance. A matte finish is frequently utilized in modern kitchen settings to contrast with highly glossy kitchen cabinets. They are also slip-resistant. Due to their popularity, matte backsplash tiles play a major role in the home and offer various advantages.
What Is Matte Backsplash Tile?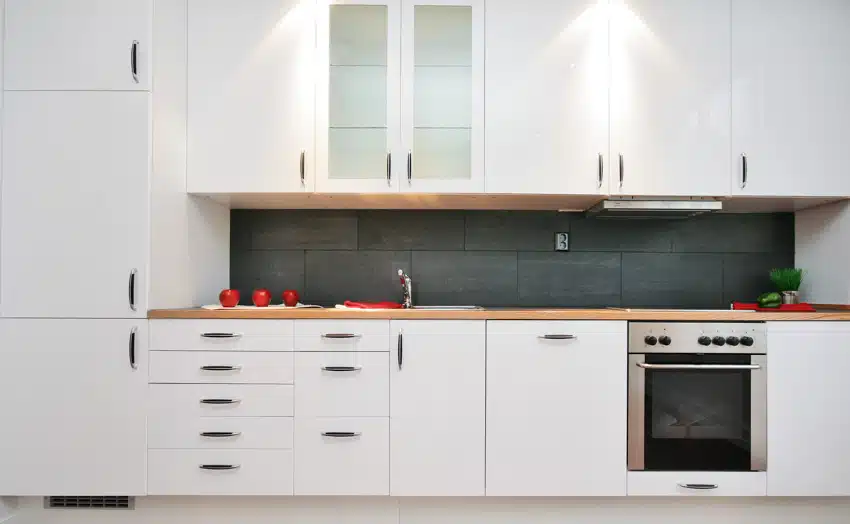 A matte backsplash tile is a type of kitchen backsplash that has a flat surface. A special coating is applied to the topmost layer of matte backsplash tiles to provide a non-shiny and unobtrusive appearance.
The matte tiles' most notable attribute is their anti-slippery composition, which helps make them perfect for kitchen backsplashes.
Since matte backsplash tiles are not glossy or reflective, they are effective at obscuring blemishes and spills. Moreover, smudges will be less visible on a matte tile, making your area look neater and more polished.
Furthermore, the moderately textured surface of a matte backsplash tile can add friction, making matte backsplash tiles ideal for heavy moisture areas such as near the kitchen sink area.
Also, matte backsplash tiles are totally great in the kitchen, but you have to be aware that you will need a bit more effort to remove stains from the backsplash. The coarse texture of matte tiles can easily retain dirt, making them more difficult to clean.
Matte Finish Backsplash Tiles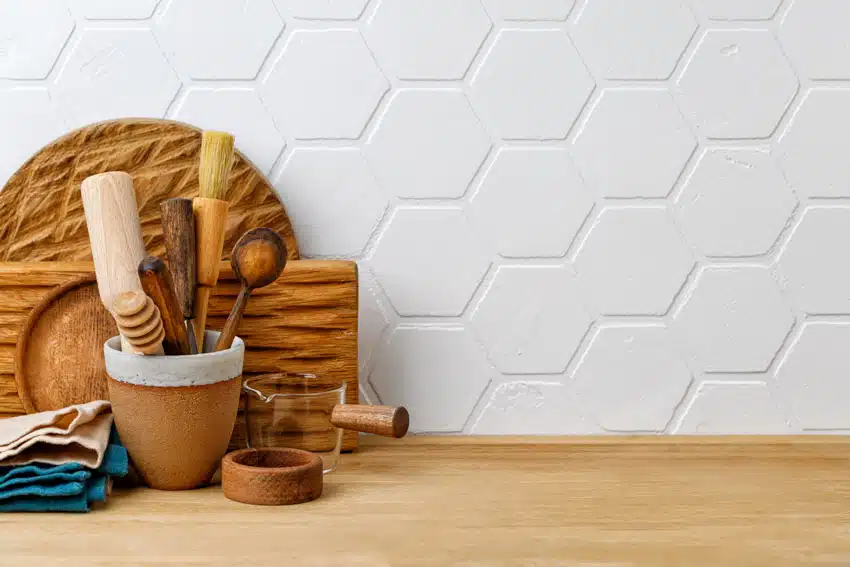 The surface of a matte finish backsplash tile is considerably flat. The surface could either be cloudy or drab. This finish is obtained using a specific finishing procedure that adds a small texture to the exterior of the backsplash tile. Matte finish backsplash tiles are less reflective and have somewhat rougher surfaces.
Matte finish backsplash tiles can be accentuated for a more refined appearance or toned down for a more relaxed effect. For a timeless and warm atmosphere, a matte finish backsplash tile can be combined with a customized kitchen design.
Even though matte finish backsplash tiles cover up water marks and dust better than glossy surfaces, they may require a bit more cleaning to eliminate grease or oil marks.
Matte Ceramic Tile Backsplash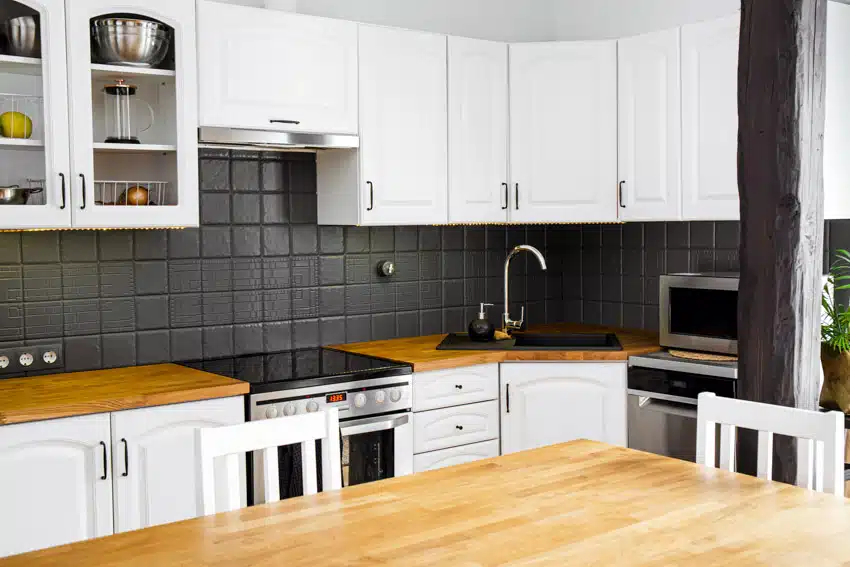 Matte ceramic tile backsplashes are the finest option if you want a sophisticated and opulent kitchen environment but hate shiny spaces. Matte ceramic tile backsplash has a very minimal light reflection coefficient. When utilized for decoration, it does not emit light and does not irritate people's eyes.
Moreover, matte ceramic tile backsplashes help to disguise grime and have a greater stain resistance. However, even in matte ceramic tile backsplashes, the glossier they are, the more clearly dirt is visible.
Plus, this may prompt you to consider the usage of dark matte ceramics, which would also darken your living area. Thus, the strategy to solve this issue is to use colors that have an average hue and vibrancy.
Generally speaking, if the area where you will install your matte ceramic tile backsplash is large, you may manage the open kitchen space by using dark hues. If your kitchen space is small, the only way to define it effectively is to utilize vibrant colors.
Matte Subway Tile Backsplash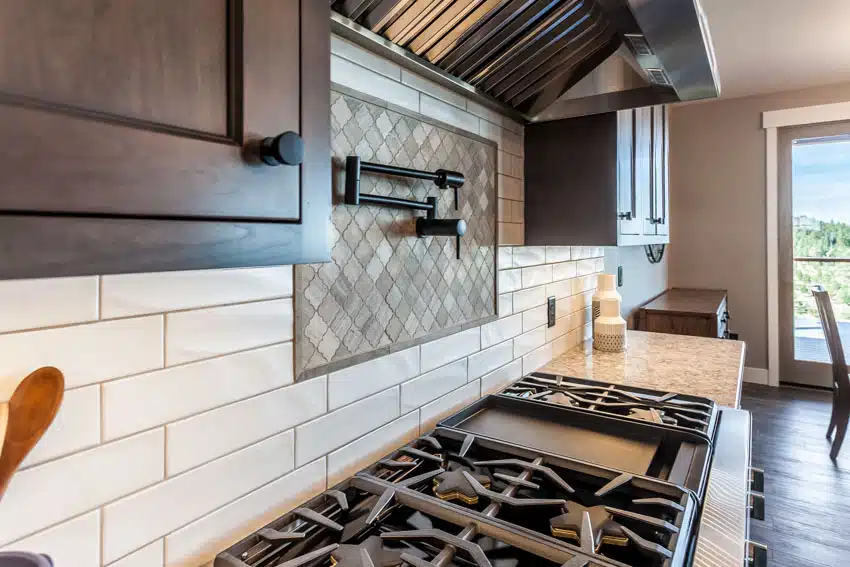 Matte subway tiles are compact, rectangular-shaped tiles that could be applied all throughout the house. Such small matte tiles are simple to deal with and can fit almost anywhere. Because of their narrow profile, they are especially effective in backsplash uses.
Aside from that, matte subway tile backsplashes are one-of-a-kind, simple tiles that add an exquisite and sophisticated aesthetic to any kitchen layout. They can modify the ambiance of space with their tiny and simplistic form, according to the owner's specific needs.
These matte subway tiles are available in a variety of styles, sizes, textures, and colors, and can be used to create a complementing look or to balance the area.
Indeed, a subway tile kitchen backsplash can be both traditional and contemporary tiles with a matte appearance. The matte finish lends a sophisticated impression to the overall design while remaining discreet and simplistic.
Plus, matte subway tile backsplashes are intended to complement larger kitchens with abundant natural light and to beautifully contribute to a simple and neutral atmosphere.
Furthermore, they work particularly well in kitchens with avant-garde and unconventional designs to provide harmony. Because these particular tiles are non-shiny, they are likewise non-slippery.
With their minimalistic style, such matte subway tiles will give your kitchen an earthy and vintage look. The matte finish's smoothness and soft undertones offer a warm and calming feel to any kitchen environment.
Matte Black Subway Tile Backsplash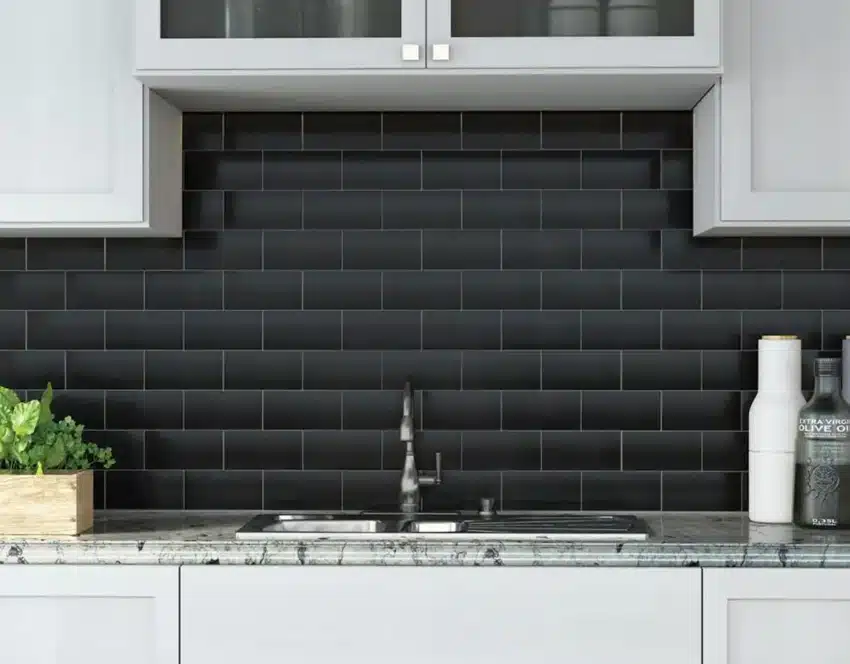 See this matte black subway tile backsplash at Home Depot [sponsored link]
Homeowners and interior designers have lately given their unique spin on the trend by laying black subway tile backsplashes in their kitchens. The matte black subway backsplash tile adds a dramatic touch to a kitchen, either as a background for decorations or neutralizing an otherwise bland color scheme.
Moreover, a matte black subway tile backsplash is an excellent choice for numerous kitchens, particularly those with storage units that contain both utilitarian kitchen necessities and prized belongings. Black subway tile with white grout also creates an eye-catching backdrop alongside kitchen cabinets.
In addition, matte black subway backsplash tile blends nicely with almost any kitchen design and complements a broad range of metals, coatings, and colors. Nevertheless, the metal that stands out the most against black tile would be brass.
If your primary kitchen walls are white subway tiles, then adding matte black subway backsplash tiles would be a great addition. Some homeowners have come up with creative methods to blend the two tile colors, such as making complex patterns on their types of kitchen wall panels or contrasting them.
Matte White Subway Tile Backsplash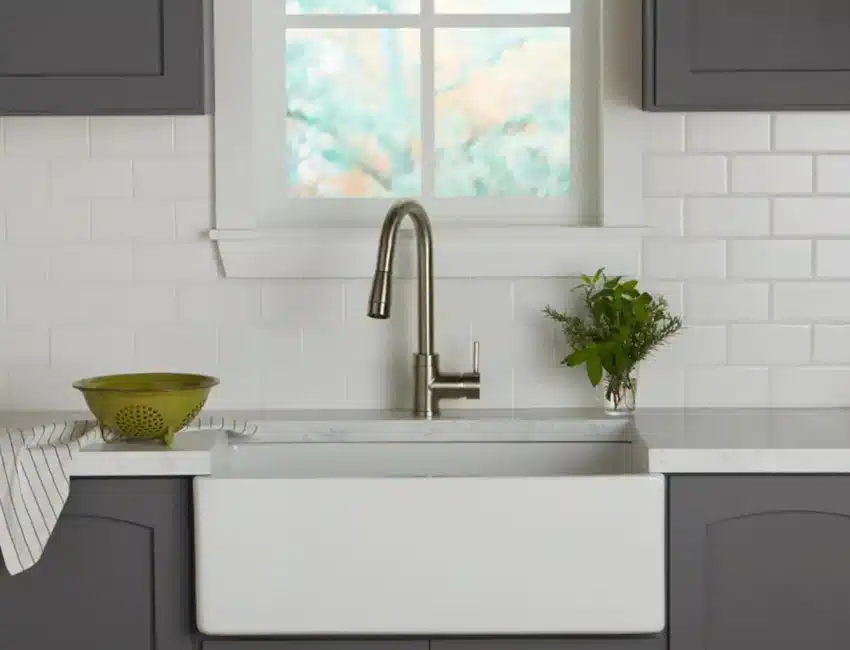 See this white matte subway tile backsplash at Home Depot [sponsored link]
A matte white subway tile is an awesome solution for interior purposes, including a subway tile backsplash in a classic kitchen arrangement. You may use white matte subway backsplash tiles in any type of kitchen decor.
A matte surface can work whether you want to complement a multicolored countertop with dramatic black fittings for modern kitchen architecture, or pair it with kitchen cabinets and floors for a pure and cheerful white kitchen layout.
Additionally, a matte white subway backsplash tile is typically exceedingly flat in order to neutralize a beautiful kitchen environment. The extremely white color complements a wide range of architectural textures and elements, rendering it an ideal selection for both modern and more traditional settings.
In actuality, installing matte subway tile backsplashes is very much suitable for kitchens that have walls painted in black or dark gray. This will create a very interesting and eye-catching complement that will undoubtedly catch your guests' attention.
Matte Glass Tile Backsplash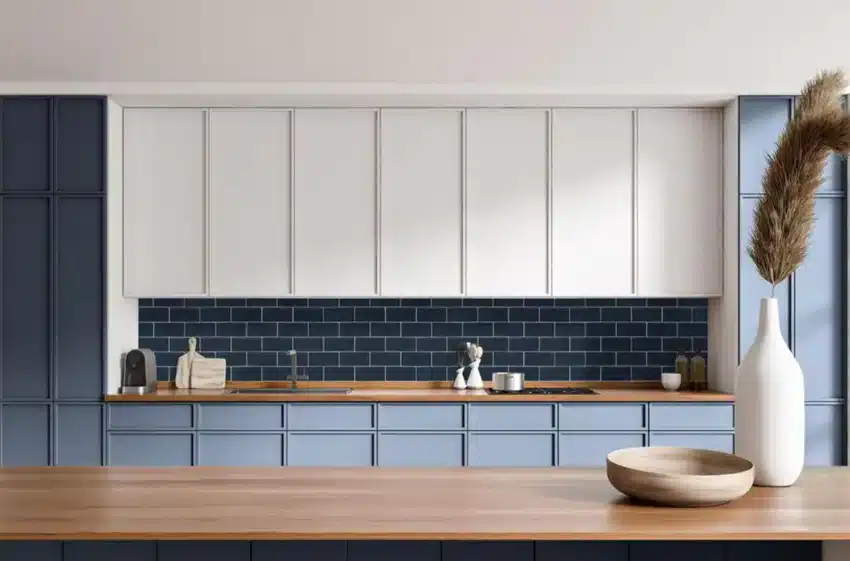 See this matte glass backsplash at Home Depot [sponsored link]
Matte glass backsplash tiles are minimalistic and functional kitchen backsplash options. This is primarily a panel of glass tile that can be tinted in any color you like and then assembled and fixed above your kitchen countertop near the sink or stovetop.
This type of glass backsplash is completely configurable, allowing you to achieve any appearance, color scheme, or pattern you like. You can coordinate it with anything you are dealing with whenever you are remodeling the entire appearance and feel of your kitchen. You may also complement whatever you have currently if you need it to match your pre-existing kitchen decor.
Matte glass backsplash tiles are usually offered in mosaic and subway tile designs. Its smooth and less-reflecting coating allows the color to shine through. Homeowners as well as interior decorators who want to produce a beach-themed kitchen or a peace-giving kitchen backsplash choose these premium matte-finished tiles.
A matte glass tile backsplash in the kitchen is not only changeable, but it may also be incredibly practical. It is simple to maintain and keep clean as well. Plus, it is a more affordable, lightweight, and sometimes even more appealing substitute to stone backsplashes that are normally used on kitchen walls.
Kitchen Matte Black Tile Backsplash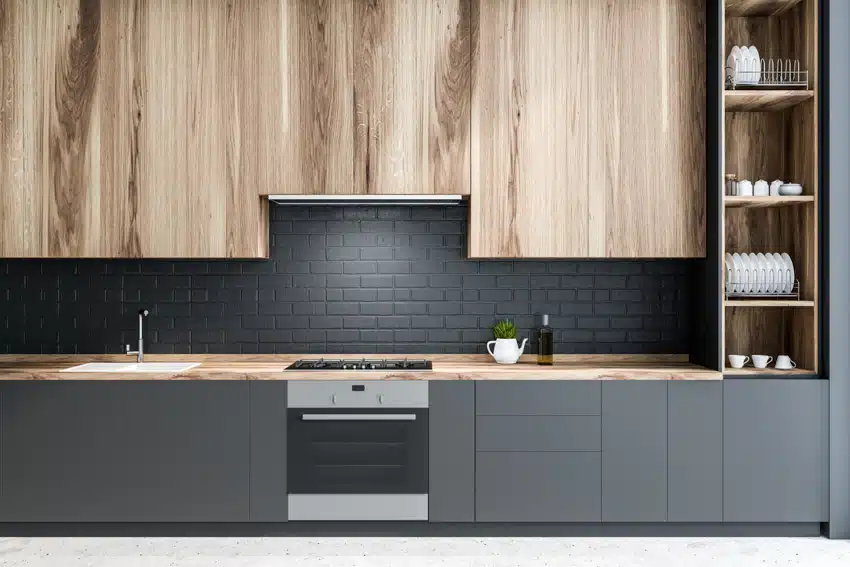 Matte black tile backsplashes are the perfect choice for your new kitchen. They add dimension and depth to a well-designed kitchen. The glazing in matte black tile backsplashes is coated equally to create a dramatic matte surface with eye-catching attractiveness. Matte black tile backsplashes add dimension and depth to a well-designed kitchen.
Because of their flat finish, they are also very durable and non-staining. Matte black tiles are very common in commercial kitchens because of their durability, aesthetic appeal, and ease of maintenance.
You can choose from many different tile patterns when designing your kitchen; however, one thing is certain – these tiles will add a classy touch that's sure to impress all your guests.
Matte Vs Glossy Tile Backsplash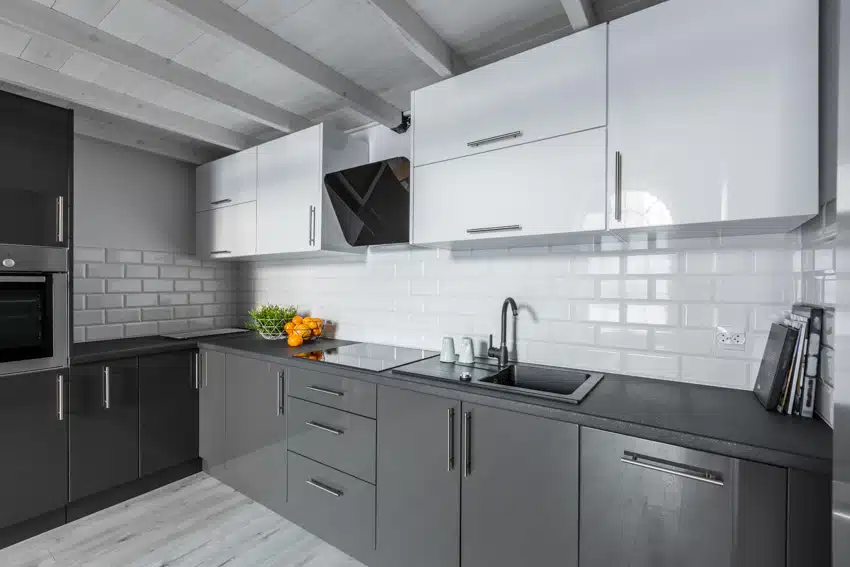 Matte backsplash tiles add dimension to the kitchen, make it look more informal, and have anti-staining features. Glossy finish tile backsplashes are easy to clean and add a touch of elegance to your kitchen, but they also reveal stains and smudges quickly.
Glossy subway tiles are ideal for kitchens, whilst matte subway tiles are ideal for high-moisture spaces such as shower stalls. However, both can be used as kitchen backsplashes with great results.
A kitchen is a place where matte tile backsplashes are undoubtedly appropriate and advantageous. They are ideal for covering spills and stains since they are not very shiny and reflective.
Furthermore, a matte tile will make smudges less noticeable, providing your kitchen with a cleaner and more polished appearance. Additionally, a matte backsplash tile's slightly rough surface can create some friction, making matte tiles ideal for areas with a lot of dampness such as the kitchen sink area.
In addition, matte backsplash tiles can have some drawbacks, though. Since matte tiles are less formal and polished, a lot of homeowners and designers do not favor them for their kitchens. The colors sometimes exhibit a very informal appearance and seem duller. Even in well-known home improvement stores, matte backsplash finishes can be difficult to find.
Utilizing matte tiles as a kitchen backsplash is very acceptable, but you should plan on having to work a bit harder to get stains off the backsplash. Matte tiles are a little trickier to clean because of the rough texture that can accumulate tiny food particles and dirt.
On the other hand, glossy backsplash tiles are also a fantastic complement to any kitchen, and countless consumers adore the way they look. Heavily reflective glossy tiles can provide brightness to a place such as a kitchen backsplash.
The majority of glossy tiles may readily be wiped off with warm water due to their seamless texture, which makes them incredibly simple to keep clean. Glossy backsplash tiles also give off a more formal, polished appearance, which can help tie together your kitchen's design.
Unfortunately, not everyone prefers shiny backsplash tiles. The heavily reflective tile is disliked by many individuals as it can reveal every blemish, stain, and smear. But again, applying a high gloss tile in the kitchen would be a compelling option, to put it positively. The smooth surface of glossy backsplash tiles makes them very shiny.
As a result, the shiny coating helps bounce more light into the kitchen, which enhances illumination, and can facilitate simpler cleanup since the dirt will just slide on the surface and go off.
When To Use Matte Tile Backsplash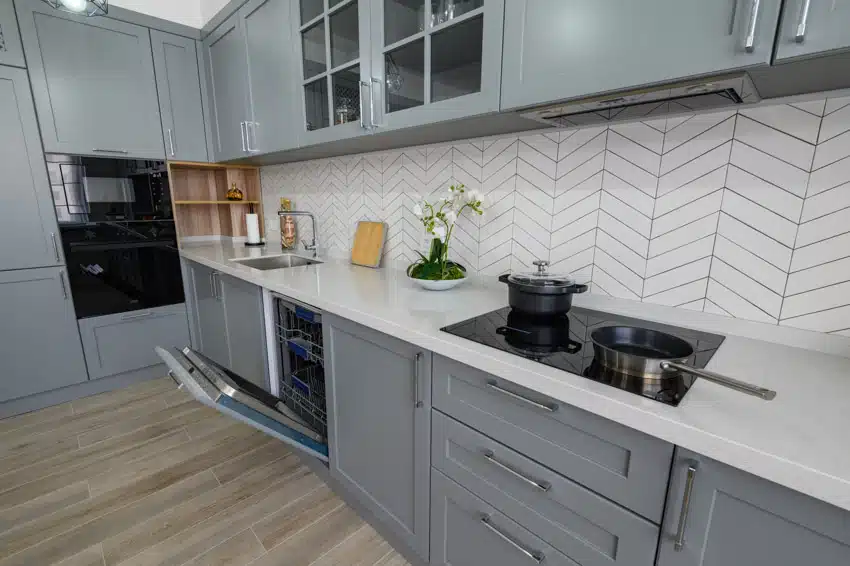 If your kitchen is fully packed with vibrant colors, various decorative elements, and other accessories, it might be a good idea to use matte tile backsplashes. The vast majority of the matte tile backsplashes have a drab appearance, which can help neutralize a fully decorated and colored kitchen decor.
Plus, matte tile backsplashes are ideal for kitchen spaces with an abundance of natural lighting as well as significant humidity conditions. In darker kitchens, you must stay away from using matte backsplash tiles because they lack any reflective qualities.
It also pays to be mindful using matte backsplash tile behind the stove or sink as while they may not show smudges, and water spots as easily as glossy tiles, they are often harder to clean.
Matte tiles are frequently thinner and narrower, making them perfect for backsplashes around the house. To match the general design of the space, they can be created into a variety of designs and arrangements.
See more related content in our article about glazed porcelain tile on this page.