Welcome to our guide to the best tile for shower walls including ceramic, porcelain, quartz, marble, granite and glass.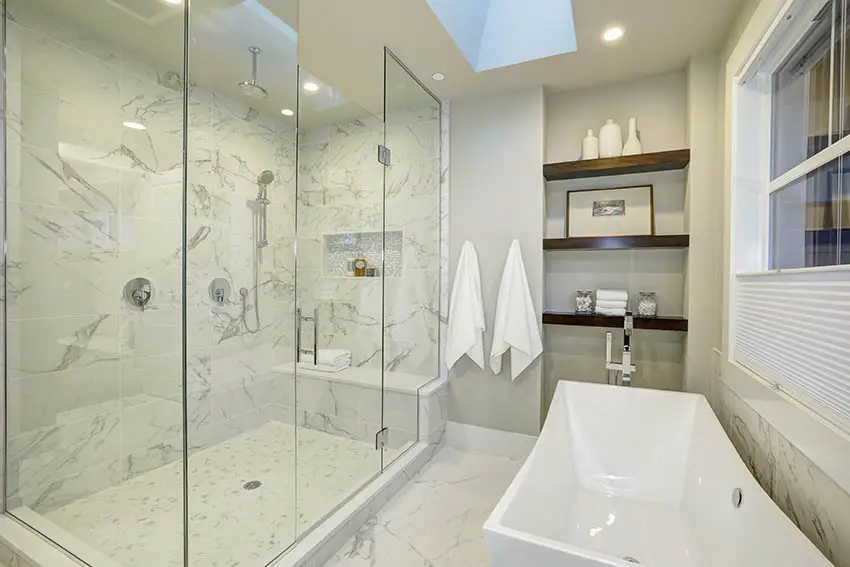 Remodeling a bathroom comes with a lot of choices but the most tried and true option for bathrooms and showers is the use of tile. This is because tile is a reliable and durable choice that performs well in moist environments. Plus, it's relatively easy to maintain, making it a time-saving choice as well.
However, there isn't just a one-size-fits-all answer to the type of tile that's best for your bathroom shower. That's why in this guide, we'll go over everything you need to know about your options to make sure the tile you choose has everything that you need.
What Are the Best Shower Wall Tiles?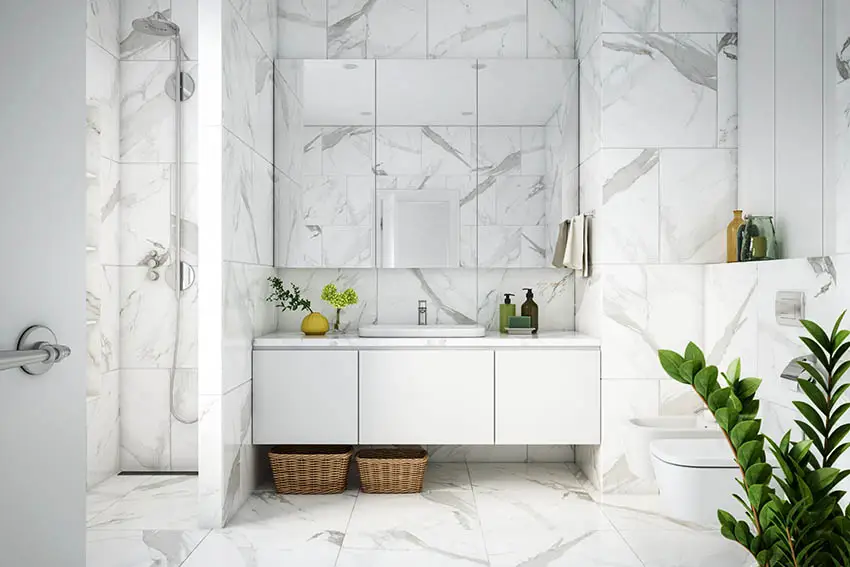 When it comes to tiling your bathroom or shower walls, you have multiple options to find what suits your needs and tastes best. Naturally, the first step to finding what you're looking for is to take a deeper look at the options you have and knowing the pros and cons of each one.
The best types of tiles for your shower walls include those with impervious surfaces and that can withstand well under constant humidity and moisture.
Natural stone, porcelain, and ceramic tiles are among the most reliable shower tiles you can find today. And with added surface protection, these stone tiles make an excellent surface material that you can enjoy for decades.
These are some of the most popular and commonly used tile options in bathrooms.
Porcelain & Ceramic
You may have heard people use the terms "ceramic" and "porcelain" almost interchangeably. While the two materials are similar, they aren't exactly the same. For one, porcelain is fired for longer and at higher temperatures. As a result, it's more durable and much denser than its ceramic counterpart.
In appearance, ceramic also typically features its pattern on the top layer of the material. Conversely, porcelain usually has a thorough design. This means that if you chipped each one, the pattern would remain, although indented, on porcelain while the same effect could disrupt the pattern on a ceramic tile.
The major advantage that ceramic has over porcelain, mostly thanks to the density difference mentioned before, is that it comes at a lower cost. The advantages that porcelain offers come at a higher cost.
To be more specific, porcelain typically costs $3 to $10 per square foot while ceramic only costs $.50 to $7 per square foot. Comparatively, though, both of these tile options are relatively inexpensive when it comes to other materials often used in a renovation.
Glazed Ceramic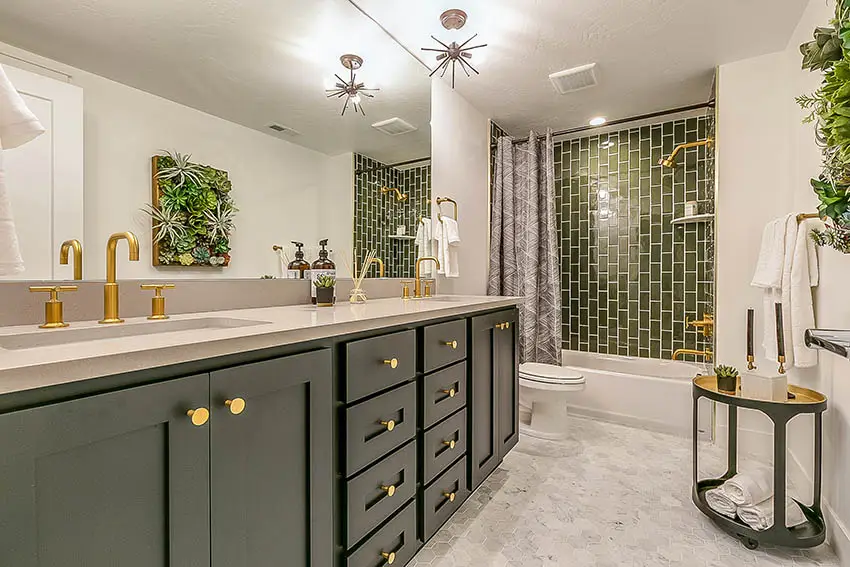 When looking for a practical wall tile to surround your bathroom shower, this type of ceramic tile is a perfect choice as it offers aesthetic appeal and affordability. With a wide array of colors, sizes, and patterns, the design possibilities for your shower backsplash are endless.
Aside from their visual impact, glazed shower tiles resist staining and are non-porous because of their liquid glass top coat. Unlike ordinary ceramic tiles, the glazed coating prevents mold and mildew growth as moisture and water can't easily get through the impervious surface.
The gorgeous luster of the ceramic tile also offers a smooth surface that is easy to clean and maintain, leaving your shower walls always pristine and clean to look at.
If you want an easy-to-install and budget-friendly go-to material for your shower walls, glazed ceramic tile is a practical choice.
Glazed Porcelain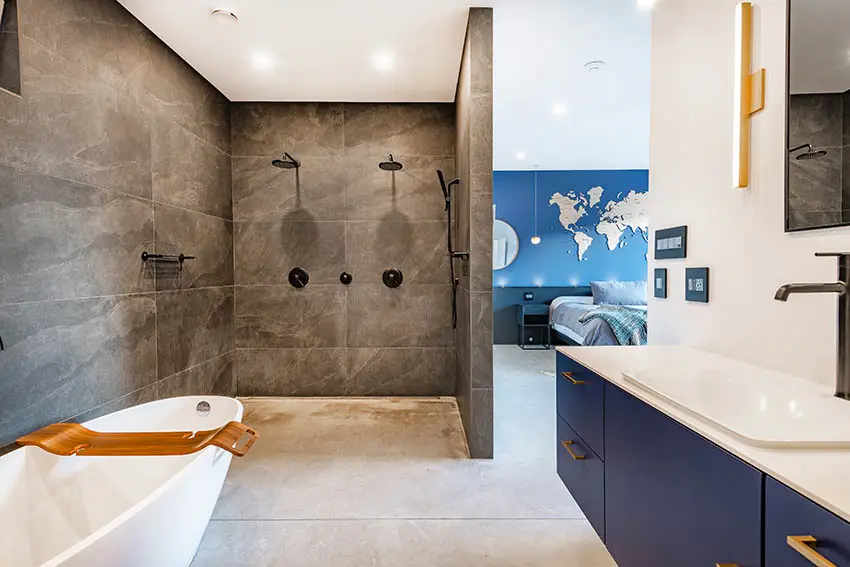 One of the concerns of shower areas is its constant exposure to humidity, and as we know, water exposure is the number one cause of material damage.
Glazed porcelain comes with excellent resistance to moisture absorption with a rating of 0.5 percent or less. This is according to the Tile Council of North America. This low absorption rate means it should not harbor mold and mildew through the tile, making it last longer and create a healthier bathroom interior.
Porcelain is dense and non-porous. With a glazed coating, it adds a layer of protection against water seepage. Aside from being virtually water-proof, glazed porcelain tiles come with diverse designs to match your style preference.
Much like ceramic tiles, it can withstand chipping and dents because of the top coating. Unlike ceramic, porcelain tile is more durable. The denser glazed porcelain tile makes installing and handling easier as it should not easily chip or dent.
Another upside of having a dense material is that it holds heat, making it an excellent material in saunas and during steam baths.
Quartz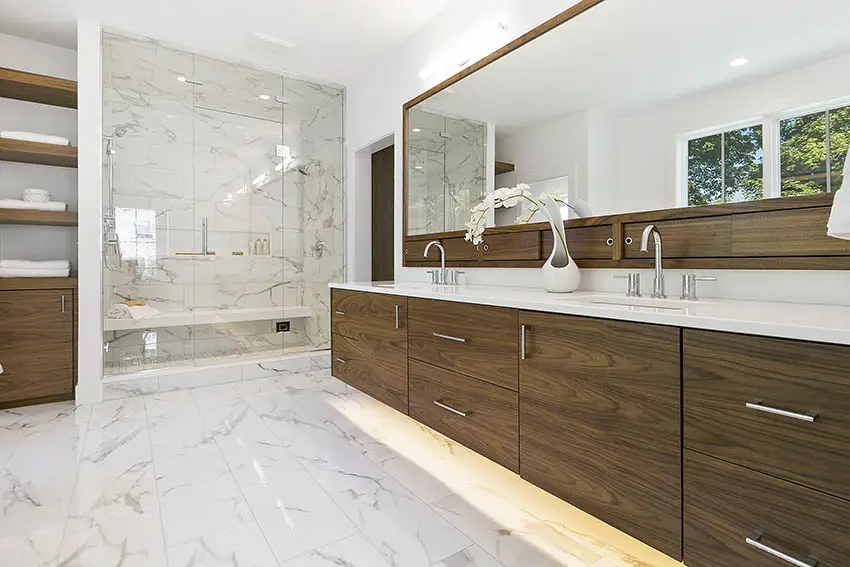 If you want something with lower maintenance, quartz is an attractive option for your bathroom. This is largely thanks to the fact that quartz isn't porous like marble is, so you don't have to worry about it absorbing water when exposed to a splash or humidity.
You can also choose from a range of colors and patterns with quartz tiles to give your bathroom a unique look. This is, once again, an advantage of choosing a stone tile option with a range of natural formations. On the other hand, if you want something neutral, there are more muted design options as well. Quartz also benefits from reliable durability.
The only major downside to quartz actually comes from the same non-porous texture that makes it easy to maintain. Since it won't absorb the water, it can become slick. This is really only a big problem if you decide to use it on your floor as well as the walls of your bathroom or shower. Read more about quartz shower walls here.
Marble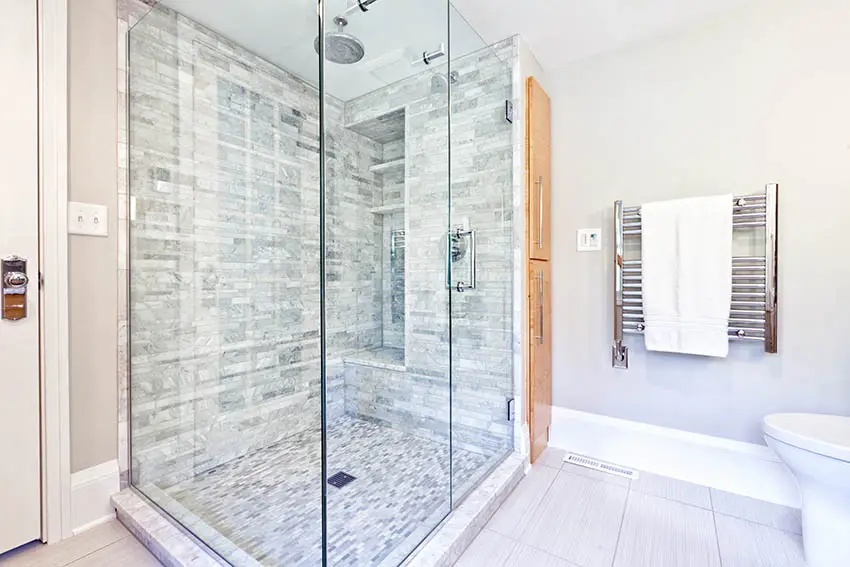 Marble is known for its luxurious and unique appearance. As a natural stone, real marble naturally varies in its veining and color which can really give your bathroom or shower a one-of-a-kind appearance.
To make the most out of it in a bathroom, you'll need to seal the stone since it's porous. Otherwise, you risk the humid and wet environment of the bathroom damaging the tile. You'll also want to be careful of stains, scratches, and keep up-to-date on your regular maintenance of the tile.
One more thing to be aware of with a marble tile shower is that, since it's stone, it can get quite slick. In a use like tiling shower walls, though, this wouldn't cause as much of a problem.
Among the most long-lasting positive effects of marble tiles is that marble can increase a home's property value. In other words, while marble tiles cost an average of $10 to $20 per square foot, you'd see returns on that investment were you to sell your home.
Granite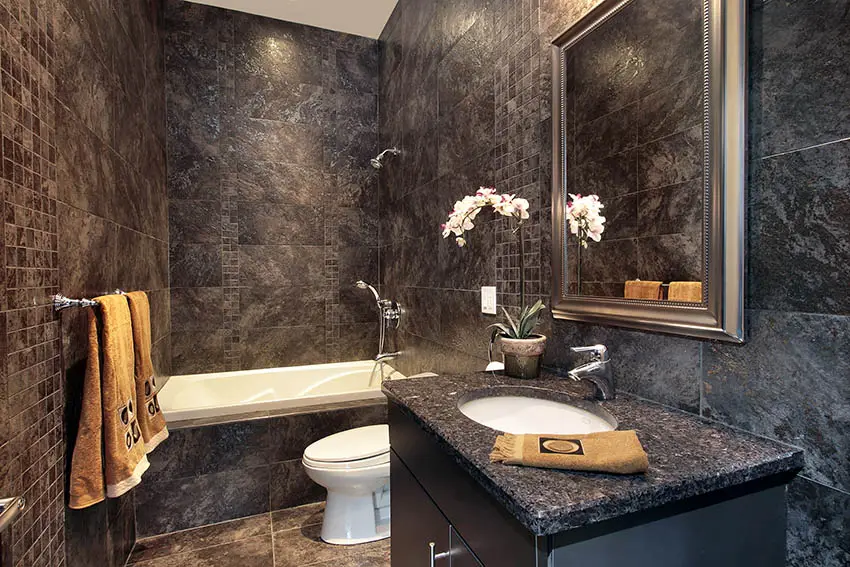 Granite is another material that many rely on when they renovate their shower walls. They come with a lot of benefits for you to take advantage of as well.
For one, this is another option that gives you a lot of options on design while still staying with a granite tile option, although the colors are slightly more limited compared to other stone tiles. You can even choose between the shapes of the tile too.
Homeowners usually choose from squares, rectangles, diamonds, or without grout lines at all. Plus, you can rely on granite's durability to last you quite a while and it's an easy material to maintain.
Still, you'll have to seal granite to make the most of it. The price of granite is also often listed as a pricey choice when it comes to bathroom tiles. You can expect granite tile to cost an average of $6 to $20 per square foot.
Glass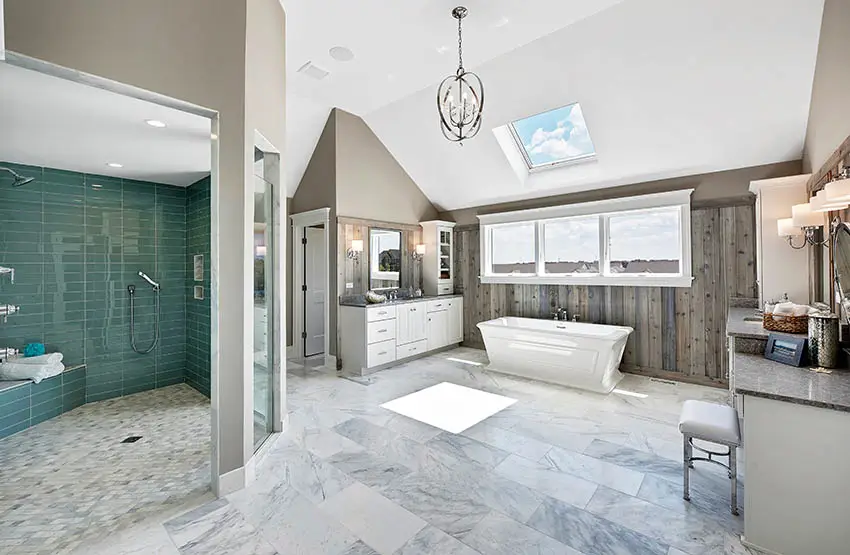 Glass tiles can look luxurious and modern in a bathroom but, like any other material, comes with their pros and cons. The good news is that glass tiles are relatively inexpensive and will only cost an average of $5 to $15 per square foot.
On top of that, glass tiles can be surprisingly durable once they're installed and should last quite a while. Still, you'll want to be careful with them before they're installed.
The biggest con to glass tiles is that it's easy for them to keep smudge marks and water spots. This can make it hard to make them look as good as they did the day they were installed, especially when installed into a shower. Yet, you can limit this effect by using smaller tiles that are more broken up by grout lines.
Linoleum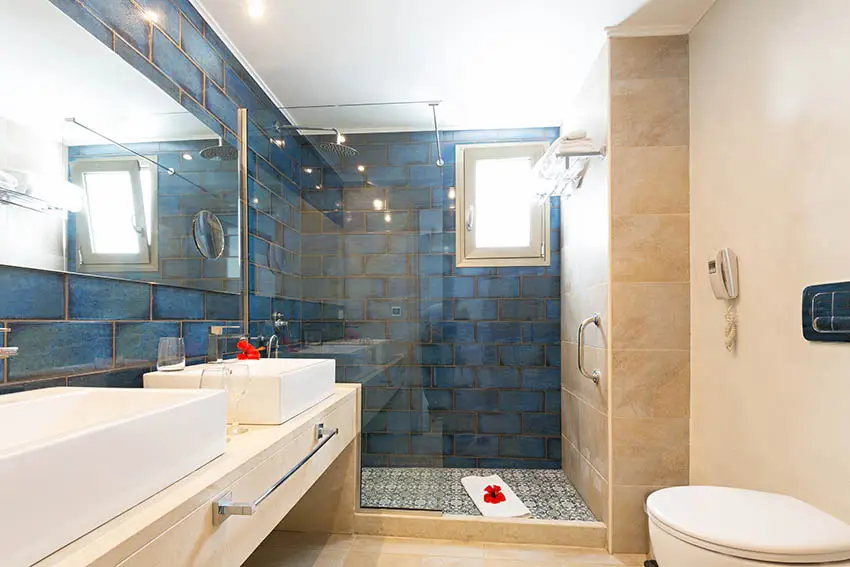 Linoleum is a common choice, especially in commercial buildings, because it's very affordable. With an average price of $5 to $7 per square foot for linoleum sheets, this is a great choice when you're worried about your budget.
Even better, it's incredibly easy not only to install but to maintain, making it a great choice if you want a low-maintenance DIY option for your bathroom renovation.
Unfortunately, it doesn't come with as many aesthetic options as the other materials we've looked at here. You can expect probably less than a dozen choices when you head to a home improvement store.
On top of that, it isn't the most durable option either. While it isn't likely to break outright, it's easy to damage – including with heat – that counts against it.
Best Tile Size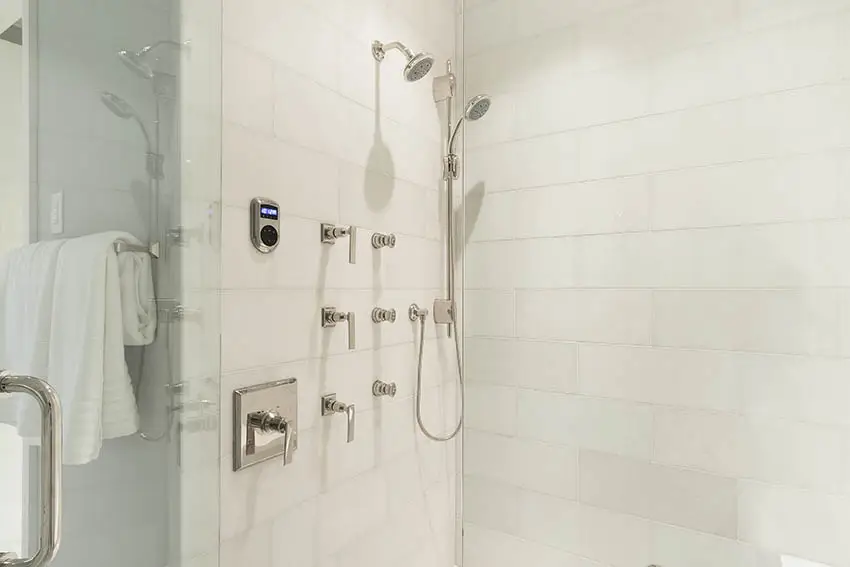 Determining the size of your shower walls depends on three main factors namely, the shower size, budget, and preference.
There are no fixed rules in sizing tiles, but there are guidelines that homeowners can follow to help in choosing the best tile size where scale and proportion affect the visual perception of a space.
While large tiles can make a room look larger, small areas such as a bathroom and the shower area will look overwhelmed with large-sized tiles.
For instance, a moderately sized 8 x 8 inches on a 48 x 32 inches shower area can make it even smaller, and so does small tiles on a large shower area of 60 x 60 inches.
As a guide, common shower areas of 48 x 32 inches look great with a 4 x 4, and tile size increases as you go with a larger shower area.
It does not mean that you should never consider smaller tiles. Mosaic and subway tiles have always been a popular option as backsplashes, you can choose to have a 3 x 6 inches subway laid out horizontally to add visual depth to a small shower area.
Diagonal tiles are also attractive options that add depth and movement and are perfect for medium to large-sized shower spaces, larger than the typical 48 x 32 inches shower area.
Take note that the more tiles you have, the more grout and labor are needed to install your small tiles. Smaller tiles can create a busy space as well as a challenge to clean with all the grouting. On the upside, smaller tiles have a better grip on your shower backsplash.
Trends are also great inspirations for your tile sizing and design. When working with your contractor or designer, you can ask for a three-dimensional simulation to see how your tile works on paper before actually purchasing and installing your backsplash shower tiles.
Tile Durability Ratings
The PEI rating developed by Porcelain Enamel Institute is an excellent determining factor for your tile durability as not all tiles are made equal. The PEI rating tells the hardness of your tile with values from 1 to 5, where five is the strongest and most durable.
Each rating has an equivalent recommended use and location. So, for instance, the PEI 1 tile can be used for shower surrounds and never be used underfoot. This means PEI of rating 1 is a recommended minimum rating for your shower walls, but you can go higher depending on your preference.
Another rating system to consider in choosing tiles shower for your walls is the color variance rating developed by Ceramic Tile Distributors Association. The rating helps to determine the variability in color and shade in both porcelain and ceramic tiles.
The rating uses V1, V2, V3, and V4 levels, where the lowest has the least amount of variability V1 and the highest variation V4 rating. Stone tiles do not have a V-rating as they are variable by nature.
Choosing Grout for the Walls
Do not forget your grout. As we are preoccupied with choosing the best tile for your shower walls, grout tile usually becomes an afterthought.
Grout quality is as important as the features of your tile since the grouting is the only possible surface where water and moisture are possible to seep through.
The grout lines are also where staining and dirt can accumulate over time, so you should also consider having a stain-resistant and impervious grout product.
When it comes to grout line sizes, you can use common spaces of 1/16, 1/8, and 3/16. The finer the grout lines, the more modern-looking your shower wall. For the color, choose according to the overall look you are aiming for.
The seamless look will have fine grout lines with a similar color tone to your tile. If you want to emphasize your tiles, such as patterned or mosaic tiles, contrasting hues with thicker lines is a sensible approach. Take note that grouts larger than 3/16 can look unappealing.
Which Is Better for Walls in the Shower: Ceramic or Porcelain?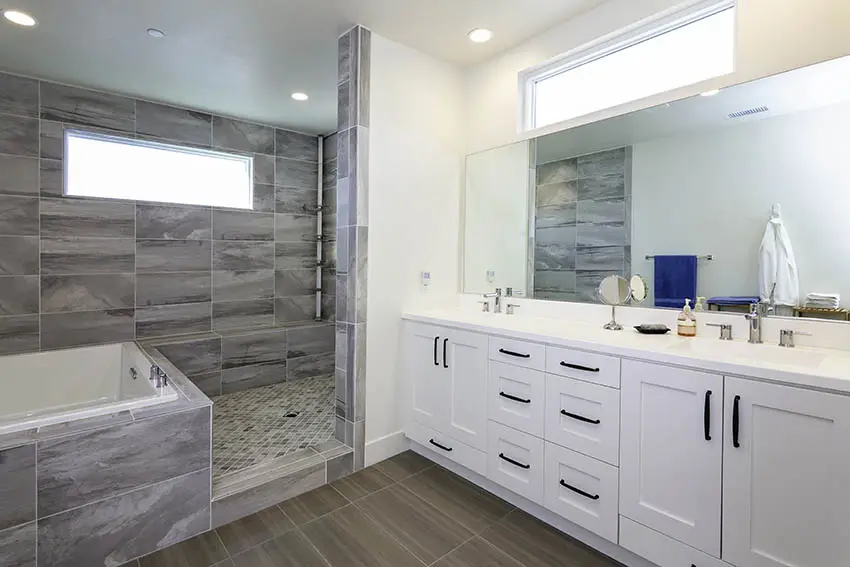 When it comes down to it, ceramic and porcelain are two of the most common materials used on shower walls. Yet, as we mentioned earlier, these terms aren't just synonyms for each other, even though they're often mentioned interchangeably. So, at the end of the day, is ceramic or porcelain the best choice?
Neither porcelain nor ceramic is inherently better than the other for bathrooms and showers. Check the tile's recommended applications to see if they will work for your intended use.
If you prefer your toes toasty warm, either ceramic or porcelain are great options because both are rated for in-floor heating. For more information on your specific product, please check with a sales associate or a spec sheet online.
Both ceramic or porcelain tiles are great options for shower walls, but both ceramic and porcelain each have their own pros and cons to consider.
Compared to other tiles, ceramic and porcelain, especially with top glazed finish, have great advantages over stone tiles as they remain waterproof.
Reglazing every ten years (on average) is needed, but this is more economical than they need for resealing your stone tiles annually, depending on the damage.
When it comes to price, ceramic and porcelain have a wide range of pricing depending on the quality, size, and other factors. The great thing is that ceramic and porcelain have a good range of pricing where ceramic is generally the cheapest.
Since shower walls don't receive much traffic, you can choose a fairly durable tileset that will save you on costs.
All in all, porcelain offers quite a few advantages over ceramic. For example, it's more durable, so you won't have to worry as much about damage. In addition, since the pattern is designed through a porcelain tile, you won't lose it if the tile is chipped.
Overall, even though it comes at a higher cost, porcelain offers more value in how long it lasts and how reliably it performs.
Stone Shower Tile Care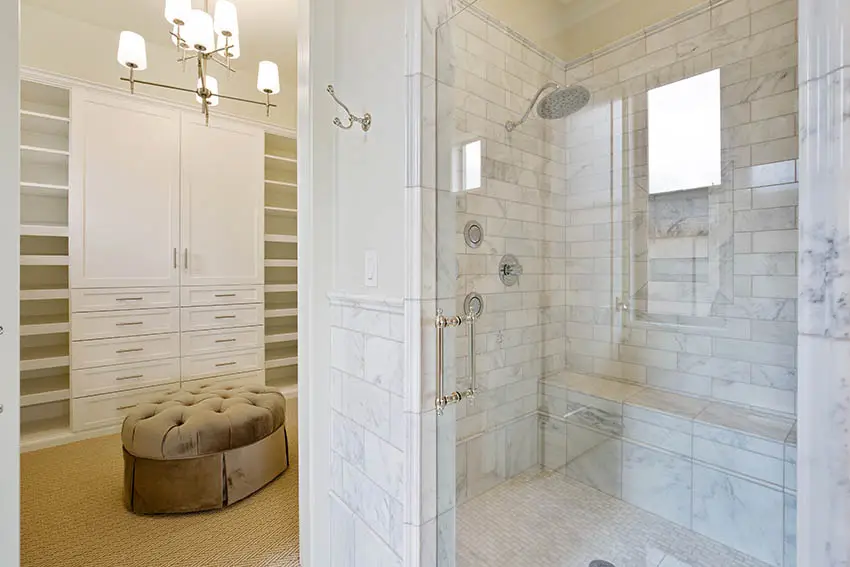 Nothing compares to the aesthetic value of natural stone tile, and despite being more porous than porcelain and ceramic, stone tiles remain a popular choice for homeowners. And when it comes to your shower surround, stone tile adds a certain warmth to the organic look.
To address its porosity, stone tiles such as granite, marble, and most especially travertine tiles will need sealing to prevent moisture and water from seeping. The added care and maintenance in stone tiles as shower walls more.
Natural stone tile: The unique beauty of natural stone makes it a sought-after tile material, and it can look great on the walls in a shower space.
Stone is durable, but it is typically much more porous than the glazed surface of porcelain and ceramic tiles, requiring a bit more maintenance and care. This can be especially true for some lighter-colored stones, although that isn't a hard and fast rule.
Even with all those caveats, stone tile is one of the most high-end tile choices people like to see in a home.
Some natural stones work better than others in a bathroom shower, so keep that in mind when weighing advantages and disadvantages in terms of materials.
For wet locations, the Natural Stone Institute points out that materials such as granite and marble should be treated with a sealer to address the fact that they are more porous than glazed ceramic tile and porcelain.
Travertine is another type of natural stone used for shower walls. It must be sealed to protect against moisture. See examples of travertine showers here.
For regular stone tile maintenance spray a natural stone tile cleaner product on the surface and let sit for the required amount of tile and thoroughly rinse.
Another alternative is to mix together a mild detergent such as dish soap with water. Apply the solution to the tiles using a soft rag and wipe them down completely. Rinse with water frequently as you apply the soap mixture to clean.
Avoid using any cleaning products that containing acid like lemon juice on stone tiles. Also avoid using vinegar and any abrasive cleaners that may damage the tile.
Is Matte Or Glossy Tile Better for a Shower?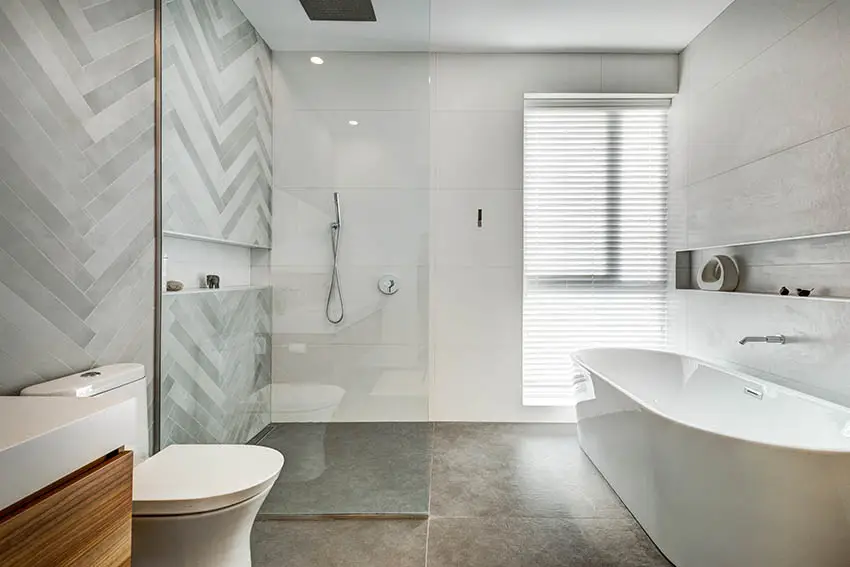 Just like the specific type of tile you use takes a lot of decision but you won't want to omit your decision about a matte or glossy finish on the tile either. These options come with their own pros and cons as well.
The answer is it depends on your needs and preferences. Glossy tiles will be the better choice on the onset because of the smooth surface that's easier to clean than a matte surface. Glossy tiles can show more dirt and water droplets than a matte finish.
Matte tiles are less likely to get slippery and they don't get messy quite as easily. While it comes down to it, preference matters a lot here.
On the other hand, glossy tiles complement a bathroom or shower to give it an enlarged appearance with a brighter look.
Glossy tiles with darker hues tend to show more dirt and water droplets than lighter to white tiles. Matte shower tiles can look warm and cozy with the earthy tone but can look dull under poor lighting and have other darker color combinations with your shower backsplash.
Therefore, glossy tiles can make a small bathroom look livelier and brighter because of the reflective surface of your shower tiles but can also look too busy and overwhelming, especially with a patterned design.
The most convenient way to determine whether a matte tile or glossy tile work for you is to order samples from your supplier. See how it goes with your existing shower wall and to the whole bathroom look.
When working with an interior designer or contractor, you can make a mood board, to have a good idea of what possible colors and textures will work on your shower design.
What Is The Easiest Tile to Keep Clean in a Shower?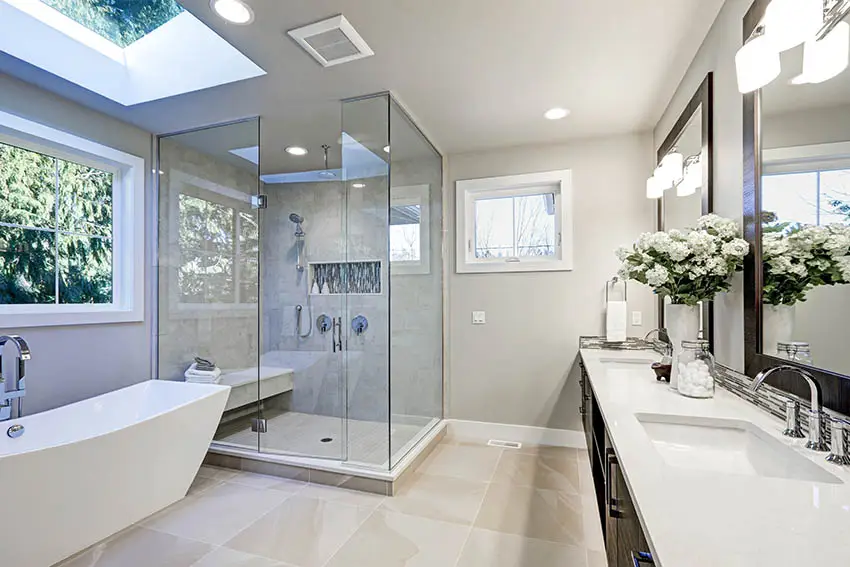 The shower area is the most intimate space in your home, and a comfortable and visually pleasing shower backsplash is something that most homeowners long for. But along with its functionality, another challenge is maintaining your wall tiles and the need for a moisture-resistant surface.
If you want a shower tile that's easy to clean, you still have an array of options. Porcelain and glass tile remains at the top when it comes to low-maintenance shower tiles as they have impervious surfaces where water cannot seep through.
For an even easier cleaning routine, use larger tiles with fewer grout lines to maintain. Groutless tiles are also new options for homeowners that eliminates the need in cleaning in between the tiles, although there are still limited materials and design to choose from.
Like porcelain and glass tiles, glazed tiles are extremely easy to clean, and a sealed-off or water-resistant grout further prevents mold from growing between your tiles.
The type of tile that's valued for being both beautiful and easy to clean, is a natural stone like granite with porcelain coming in just slightly ahead. For natural stone tiles, sealants are applied to prevent water and moisture to seep through the porous surface.
What is your best tile for shower walls? Let us know which type of tile you feel is the best for a shower in the comments below. For more ideas see more walk-in shower designs on this page.