Here's our picks for the 7 best home bar appliances including some tips on why they make sense for an efficient and stylish home bar design.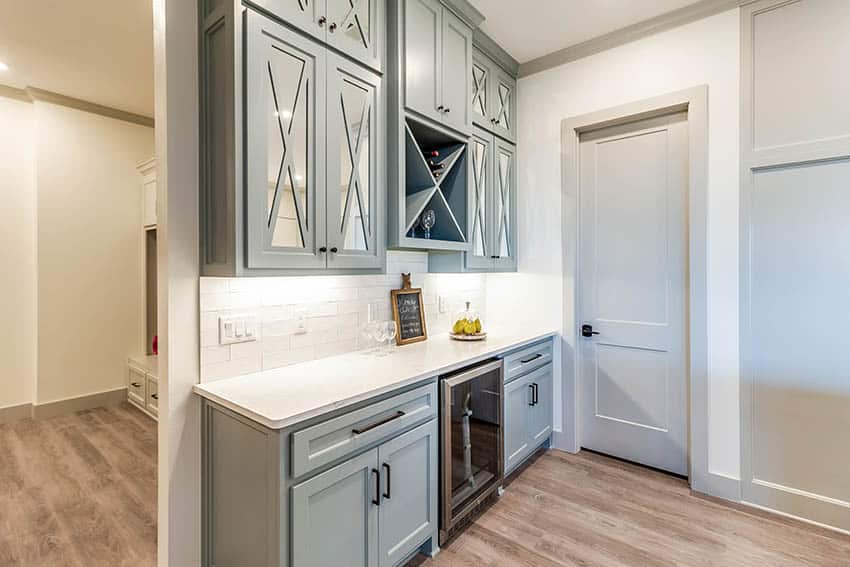 A home bar can be a stylish addition to the home. It's a place where you will relax and entertain guests. To make it complete, its important to have a well equipped bar area that's both convenient and functional. To do that you'll need glassware, mixers, shakers, a well stock supply of alcohol and some small appliances to create an efficient home bar design.
Wine Cooler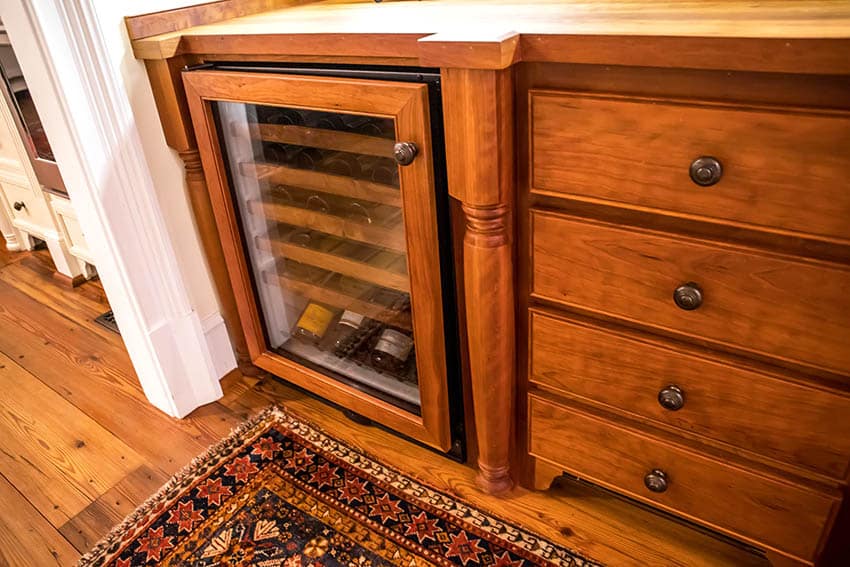 Whether you're a beer drinker or you love wine, keeping your beverages cool is a must for every home bar. Some homeowner's with a larger budget may opt to get both a wine cooler and a beverage fridge. However, for those who drink more beer or more wine it's popular to choose the one you'll use the most.
There are some subtle differences between a wine cooler and a beverage fridge. While they both have glass doors to see inside their shelving is different. A wine cooler has racks to accommodate the proper storing of wine on its side, while a beverage fridge has shelving to accept cans or bottles in neat rows.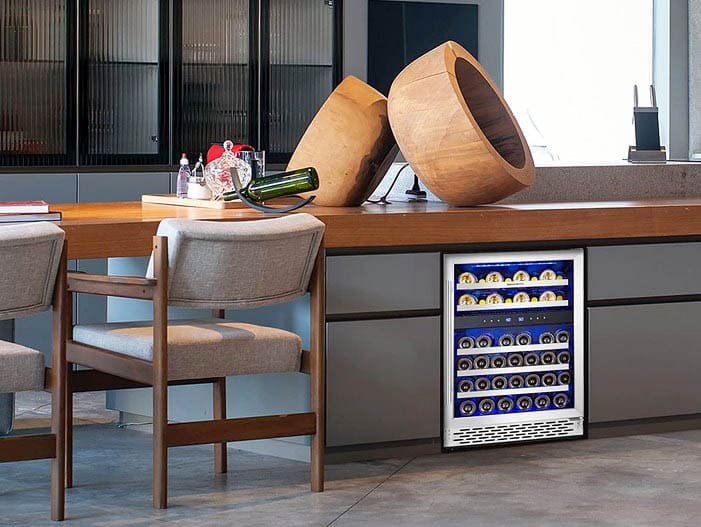 See this dual zone wine cooler at Amazon [sponsored link]
A wine fridge is also different from a beverage cooler in how it handles it humidity levels. It creates a stable humidity level environment and gradually lowers temperatures when needed. A regular fridge that is opened and closed frequently can have temperature fluctuations that can be harmful to wine.
There are many different models of wine cooler to fit practically any size budget. You can find models that accommodate a dozen bottles of wine that can easily fit under your bar's countertop.See some of our home bar ideas on a budget here.
The temperature will also be set a little higher with a wine cooler than with a beverage fridge. Wine is kept stored on average at about 55F but it can range from 46F to 65F based on your personal taste. A beverage fridge on the other hand typically is set between 40F to 45F degrees.
Red wine is generally stored in a wine cooler at a temperature of between 50F and 65F. White wine is stored in a wine cooler at a temperature between 45F and 50F.
Beverage Fridge
A beverage fridge is similar to a regular fridge. One difference is that a beverage fridge has a glass window to let you see inside easily. It also has special shelving to accept the maximum amount of cans or bottles possible. Their compartments are set up to avoid cans rolling around or bottles falling over.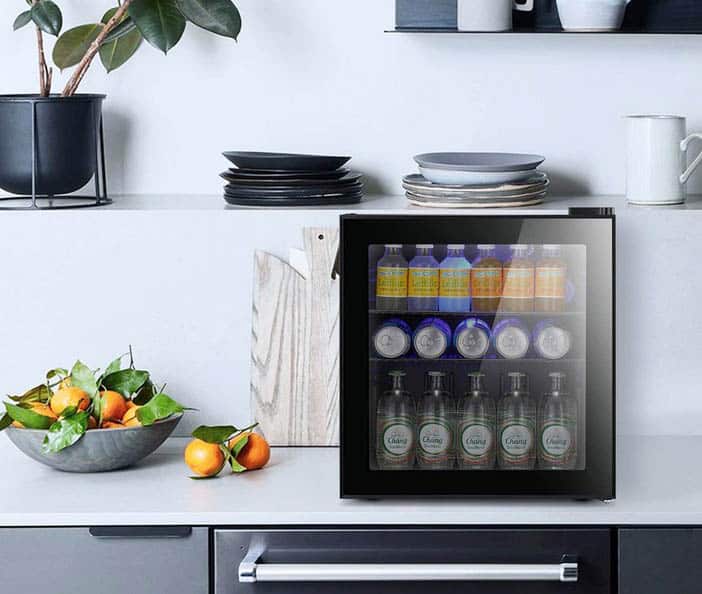 See this mini beverage fridge with black glass at Amazon [sponsored link]
Some beverage fridges offer dual cooling zones which as helpful for those who like really cold beer and want a designated section for their wine. This may be a solution for those who only want one of these appliances.
Another useful feature of some beverage features is a locking door which can act as a storage cabinet when not in use. This is useful for keeping your drinks secure until you are ready to serve.
One of the biggest reasons to opt for a beverage fridge is to keep a dedicated space for beer or soft drinks away from food for ease of use during gatherings.
Kegerators
Another small appliance for beer lovers is a kegerator. These are self-contained miniature refrigerators that have a CO2 canister built in to create a beer on tap. This way you can have the excellent taste of draft beer with the genuine bar feel.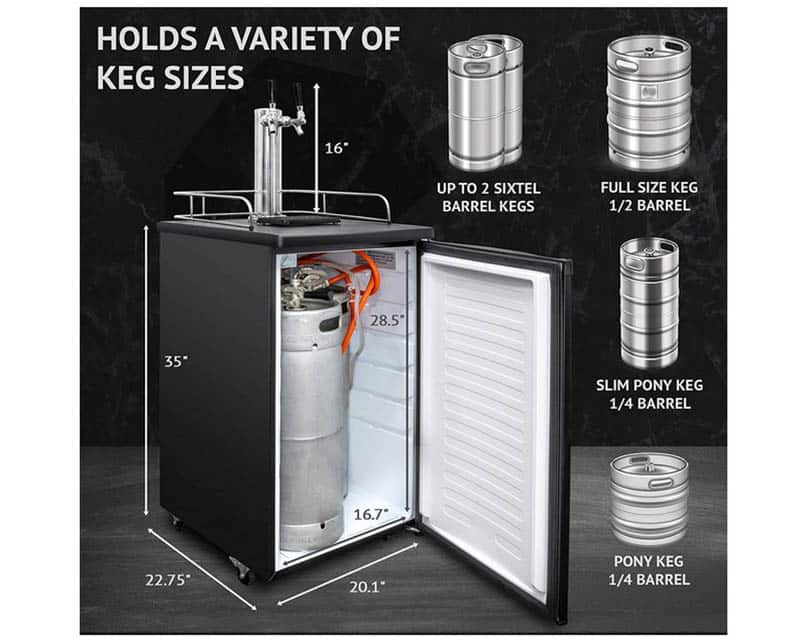 See this dual tap kegerator at Amazon [sponsored link]
Some models of kegerators offer two or three different beer tabs giving party-goers a selection to choose from. After a keg is opened and stored in a kegerator it typically will last from 6-8 weeks before losing its fresh taste.
CO2 canisters can be refilled when necessary. However, since they use carbon dioxide canisters some care must be maintained to ensure that they are properly stored and cared for.
Compact Ice Maker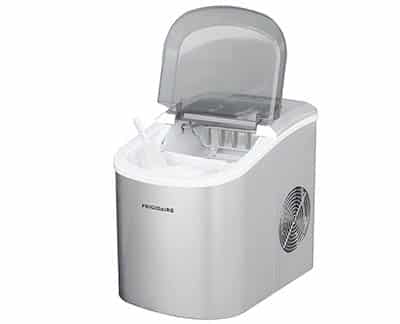 For the true home bar experience while serving mixed drinks many recipes call for ice. A compact ice maker is perfect when mixing cocktails so you never run out.
Ice stored in a freezer that can begin to harbor bacteria after a relatively short time. For that reason alone its a good idea to create fresh ice for your drinks whenever possible.
Self-contained ice makers are placed under countertops and are self-contained units with a bin to catch ice. There are also countertop ice makers which are compact units that don't take up too much space.
Both of these types can start making ice in as little as 7 minutes. Some portable ice makers will create different types of ice depending on your needs.
See this compact ice maker at Amazon [sponsored link]
Blender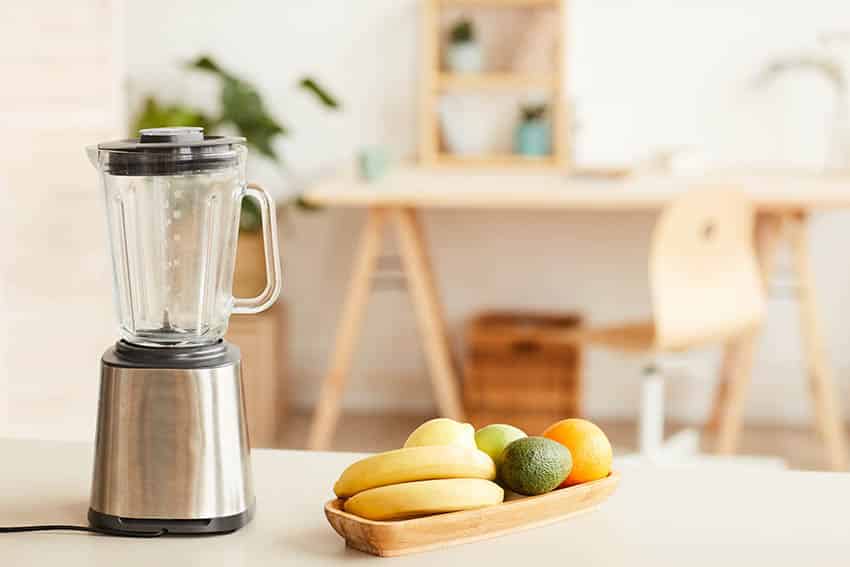 A blender definitely deserves a spot in any best home bar appliances list. A blender can be used for making crushed ice or creating fresh fruit juice for your cocktails or frozen drinks. All three options can come in handy for those making a lot of home made cocktails.
When purchasing a blender for a home bar its a good idea to get one that has the power to crush ice. The power of a blender is measure in watts.
Generally blenders offer about 500 watts of power which should be sufficient for crushing ice, but may struggle with thicker ice cubes. It's important to read the specification when purchasing to ensure your blender can do the job you need.
Another feature that's really handy is the amount of speeds. If you're using your blender for different functions such as blending fruit for drinks or chopping ice you'll want several different settings to make things easier.
Frozen Margarita Machine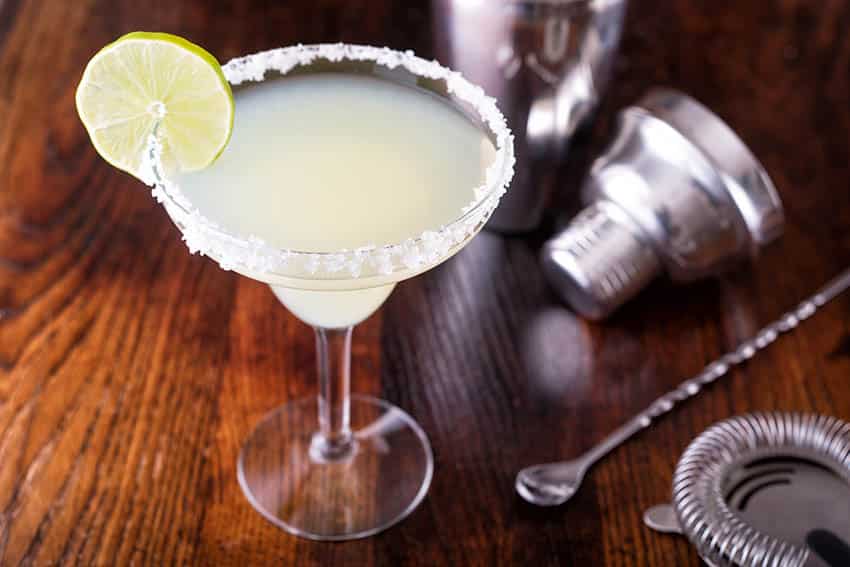 For those with a love of margaritas this is just what you need. Instead of using a regular blender that blends everything in the pitcher at once, a margarita machine perfects the texture so your drink comes out velvety smooth.
Margarita makers will shave the ice before blending the remainder of the ingredients giving it its amazing taste. The results are big difference from regular blender margaritas that leave pieces of unchopped ice throughout your drink.
Margarita makers are also easy to setup and use. Making them ideal for those who want to allow guests to serve themselves or don't want a lot of hassle while entertaining.
Many models allow you to produce the exact desired amount of drinks you want. Not to mention a margarita machine is a cool conversation piece that is a lot of fun to have at parties.
Microwave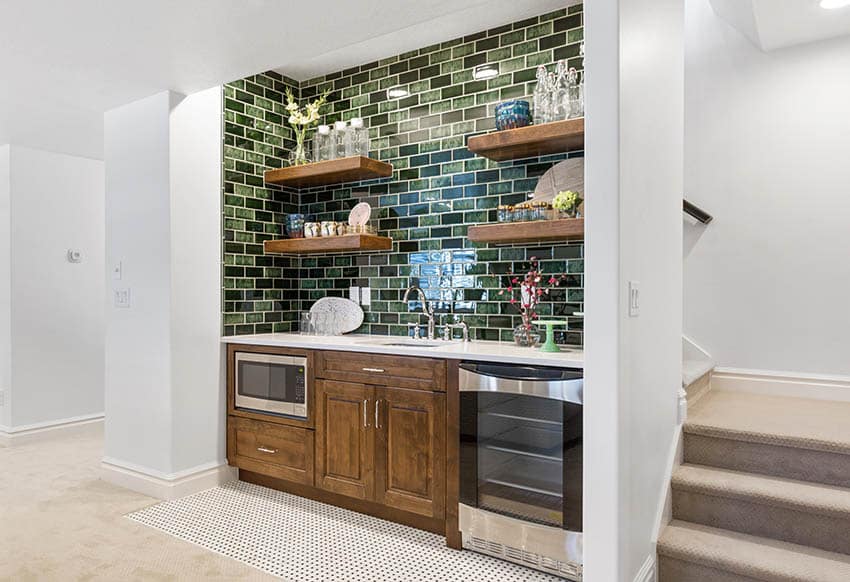 Custom home bar with built-in microwave and beverage fridge.
While maybe not the sexiest on the list a microwave is useful for rooms home bars with game movie rooms for popping popcorn or heating up ready made meals. This is especially useful if your home bar is equipped with a fridge and freezer for easy access to the food items you need.
You can opt for a standard over the countertop microwave oven. However, if you want to save space its best to install in under the countertops or above attached to the wall to free up space.
Coffee Maker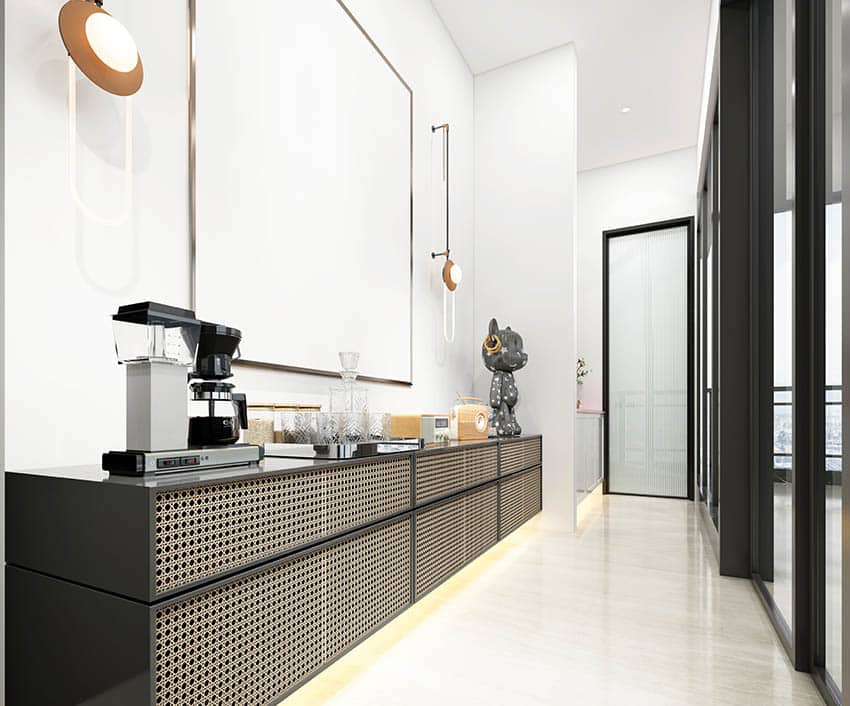 A coffee maker can definitely complement a home bar design. Often an alcoholic beverage may not be appropriate for the setting or event. In that case offering coffee could be a good choice.
Depending on your wants and needs it can be as simple as a Mr. Coffee or you could opt for something with more glamour such as an espresso machine. Before purchasing you'll want to consider how many cups of coffee you'll need at any given time. Single serve coffee makers that use prepared pod are the easiest to use, but you will sacrifice in taste.
Drip coffee makers are better for a crowd of guests. These can accept pre-ground coffee beans onto a paper filter which can brew up 8 to 12 cups of coffee in just a few minutes.
Espresso machines will require more maintenance and clean-up than a regular coffee machine. These types of machines generally produce one cup of coffee at a time and as such may not be ideal for large groups.
What do you think about this list of the best home bar appliances, did we leave anything out? If so let us know, or just share your favorite home-bar appliance must-haves in the comments below. For more related home bar ideas visit this page.