Get ideas for kegerator dimensions including the standard sizes, the average height, depth, and how much space it actually needs.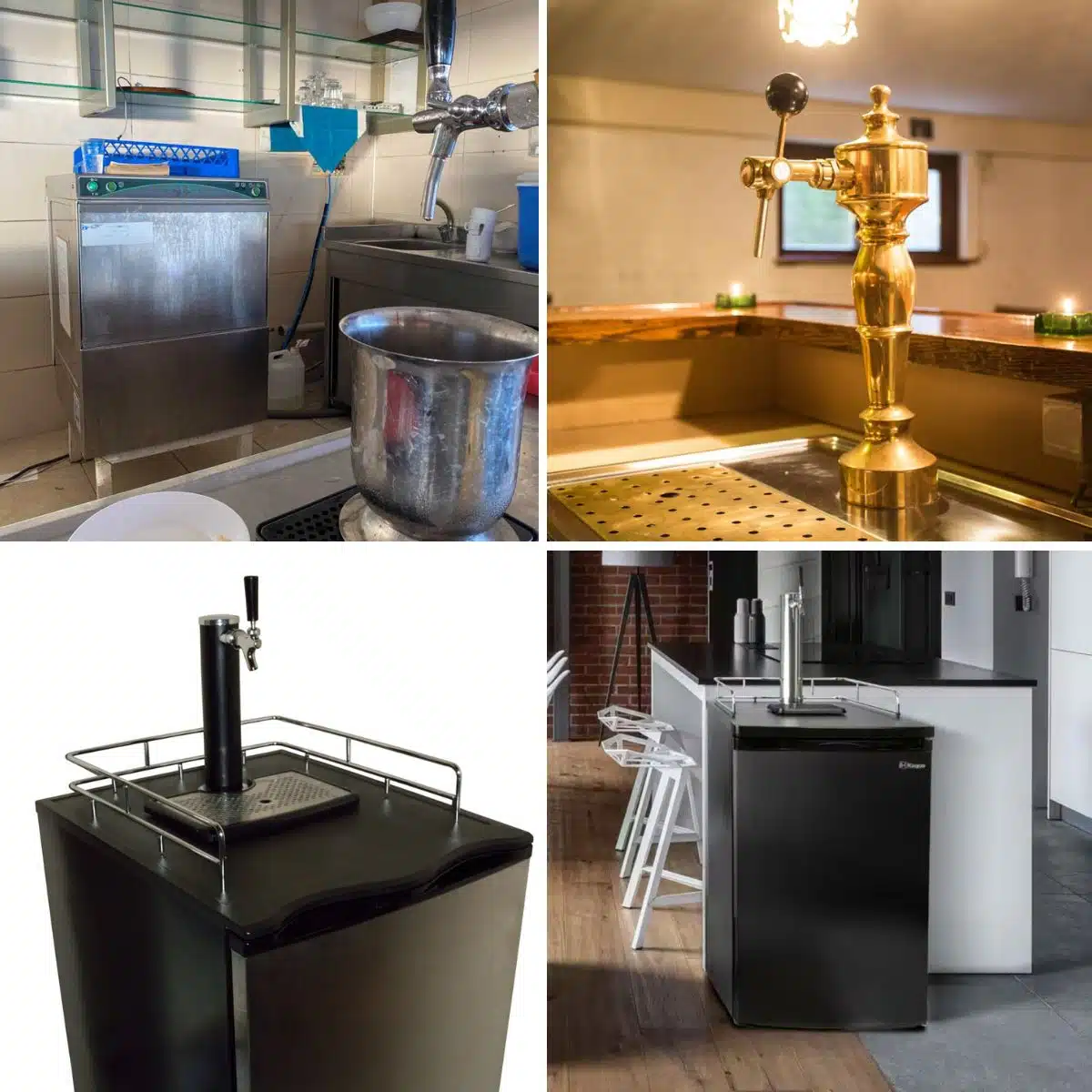 Nothing beats a cold glass of craft beer to make social gatherings, even small ones, more fun and "spirited." And although kegerators are a mainstay at pubs, beer gardens, and other "adult" entertainment venues, some families have small draft beer direct draw systems in their homes.
When it comes to different kegerator dimensions, there's a vast range of products available, with various height, length, and width options. All one needs to do is figure out the most convenient size that fits the intended space, be it next to the fridge or in an outdoor kitchen beside a pool.
These technologies allow households to enjoy a delicious golden mug with its iconic frothy top from an extra faucet tap in the home barr area. Kegerator dimensions are a crucial consideration for creating a bar layout. Proper information and planning are vital to fit this appliance seamlessly within the confines of your home.
Standard Kegerator Sizes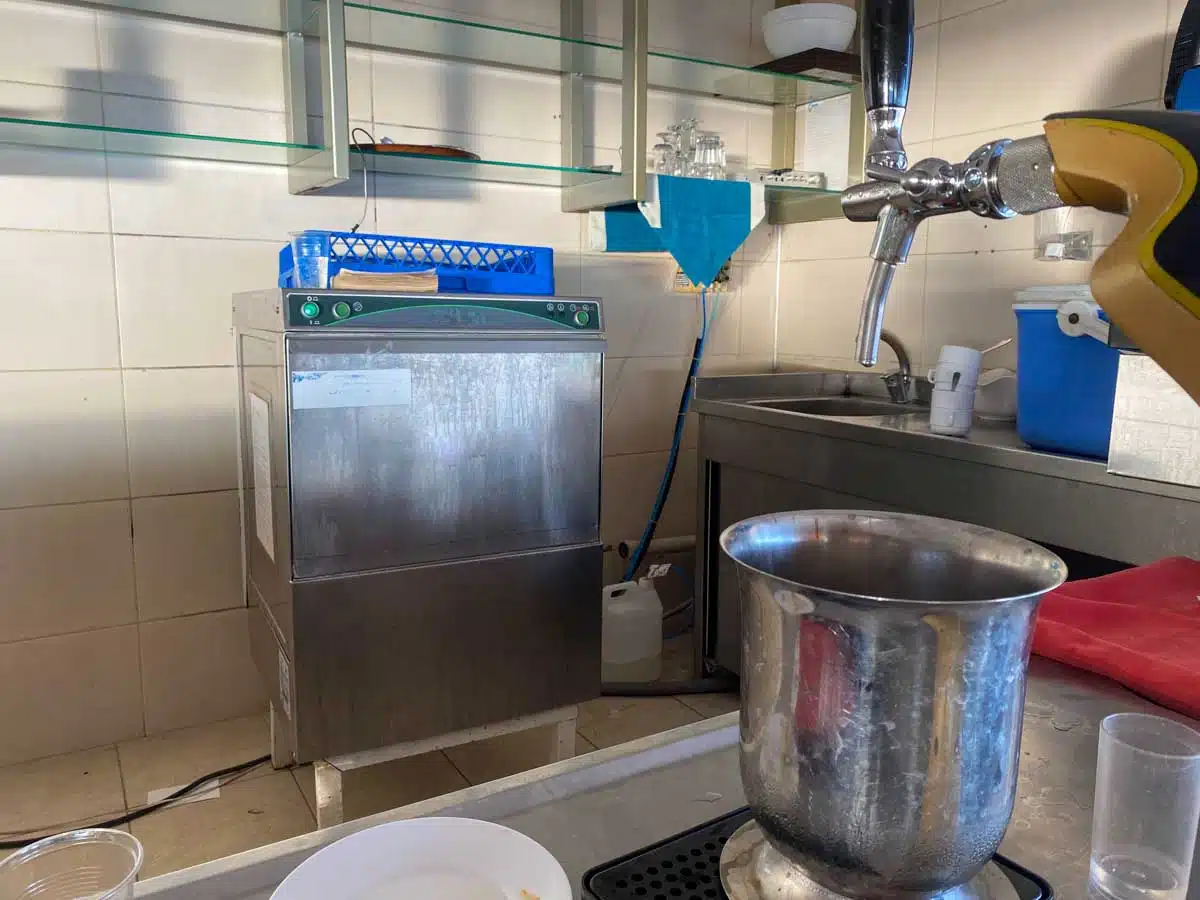 Will the appliance fit next to your fridge or under your kitchen counter? Kegerators are an indispensable appliance for beer lovers who prefer enjoying a drink without heading to the pub or beer garden. While most "cooling" appliances, like refrigerators, have distinct sizes (i.e., 10 cubic feet or 8 cubic feet), kegerators are more varied.
Manufacturers classify their kegerator products according to the type and number of beer kegs they can accommodate.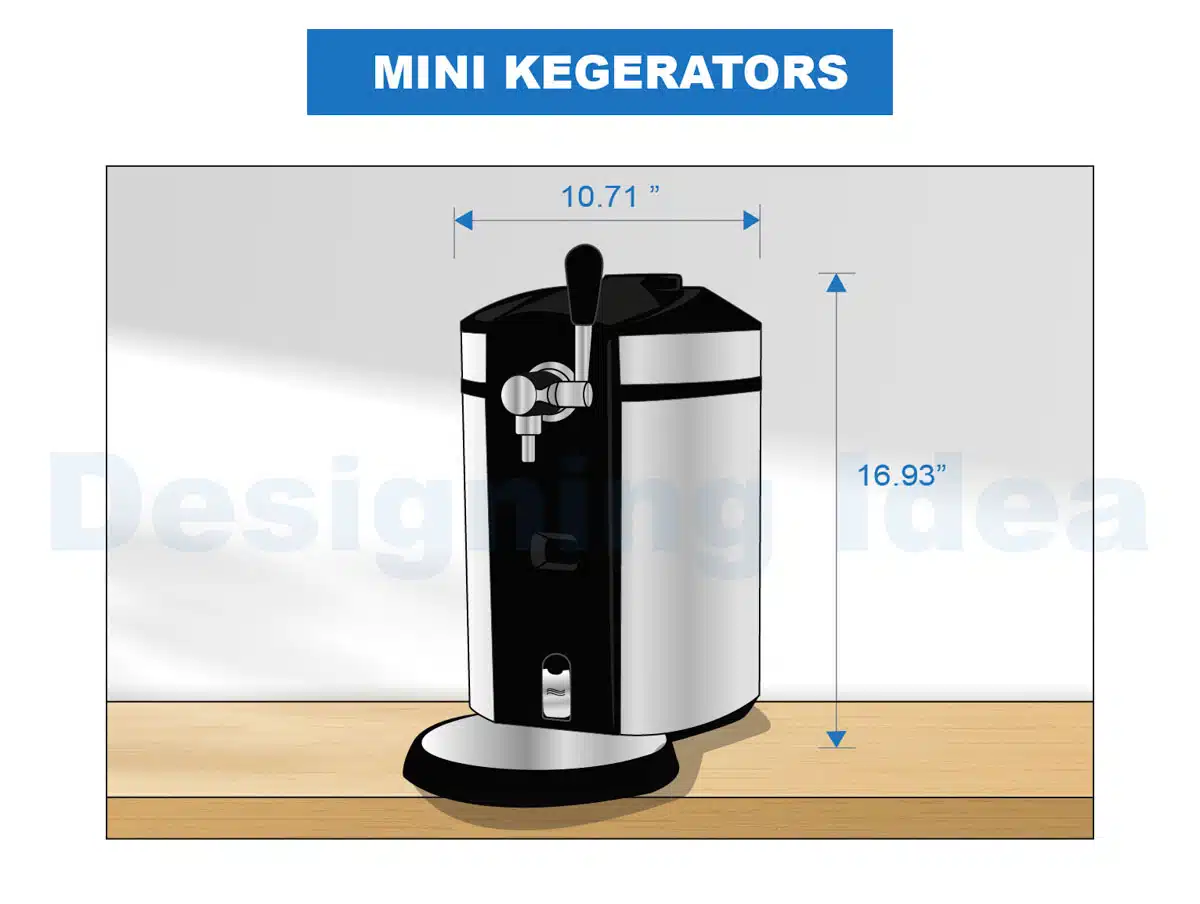 • Mini Kegerators : For holding, cooling, and dispensing mini kegs, mini kegerators are ideal for beer-loving homeowners unready to invest in a sizeable unit. Families and individuals fretting about space will not have issues with this kegerator.
These appliances can house beer 10-pint (5-liter) kegs for one or two beer drinkers. The portable design of these mini kegerators further allows you to move them around based on your party plans.
Kegerator uses special carbonator technology to dispense beer from pressurized 5-liter kegs but can tap any mini keg (non-pressurized included) with the optional accessory kit. – MotorBoating, January 2011
For example, the SPT BD-0538 has a side-to-side span of 10.71 inches or 27.2 centimeters and a front-to-back section of 16.3 inches or 41.4 centimeters. It is only 16.93 inches (43 centimeters) tall, making it ideal for beer lovers' vertical space limitations. This mini kegerator can accommodate a single Heineken 5L beer keg and other brands.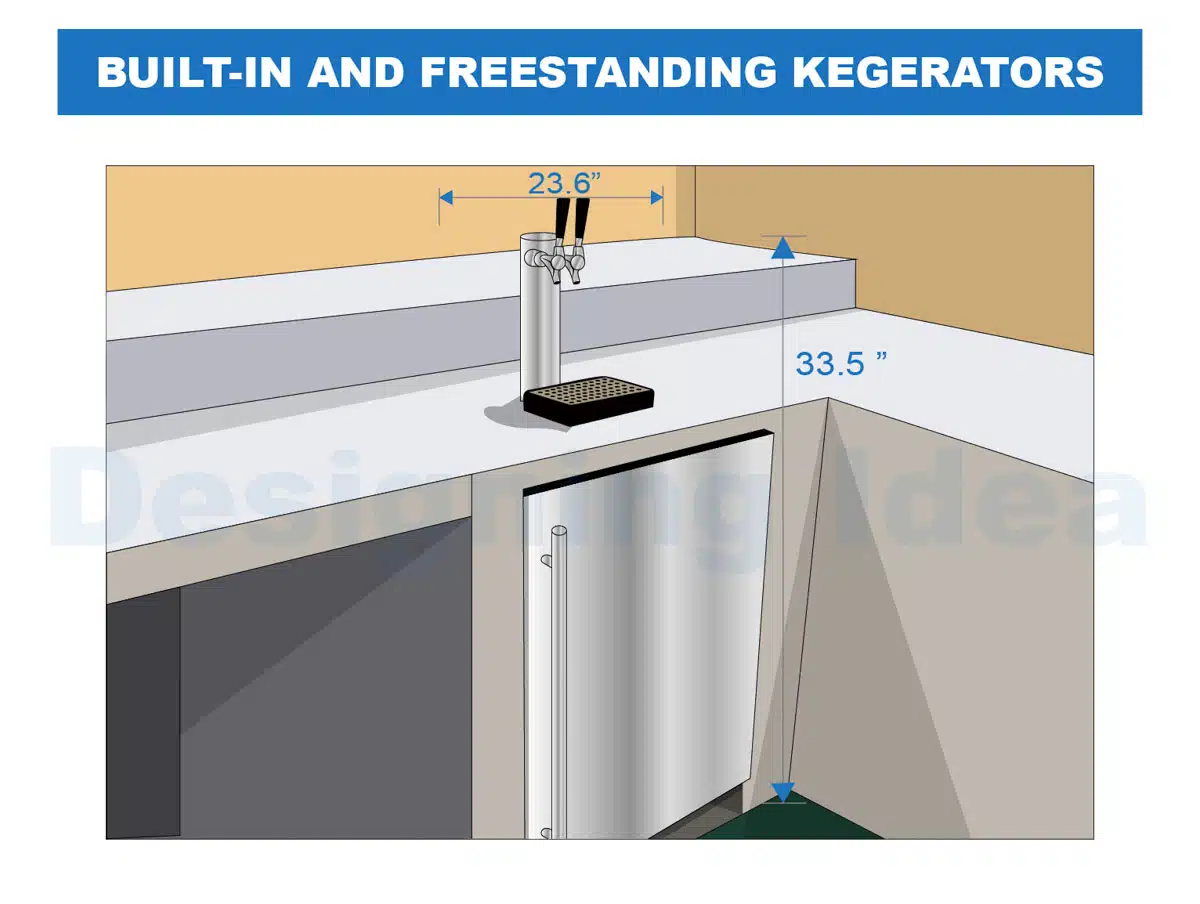 • Built-in and Freestanding Kegerators: Most homes with ample space to use opt for a built-in or freestanding kegerator instead of a mini version. They only differ in their placement. For instance, a freestanding kegerator allows homeowners to "wheel" the appliance anywhere in the house or to an outside pool party or event.
Meanwhile, a built-in version is perfect for families that require a kegerator that seamlessly blends with the home's aesthetics. Built-in and freestanding kegerators can accommodate various beer keg sizes, including the Cornelius keg, Sixth barrel, half barrel, quarter barrel, beveled barrel, and rubber barrel.
Unfortunately, built-in and freestanding kegerator sizes vary across brands and models. Hence, homeowners must consider their living spaces when choosing this kegerator type.
The Kegerator Series X is an excellent example of a freestanding kegerator. This draft beer cooler and dispenser leaves a footprint measuring 23.6 inches (60 centimeters) across and 26.4 inches (67 centimeters) deep. The Series X stands 33.5 inches (85 centimeters) from the tap handle to the caster wheels.
Most residential built-in models and freestanding kegerators can accommodate a single draft beer keg, translating to hundreds of 12-ounce servings. For instance, slipping a half barrel inside the product can quench the beer-thirst of 165 individuals, provided each only gets a 12-ounce serving. For beer guzzlers, that's about 124 pints.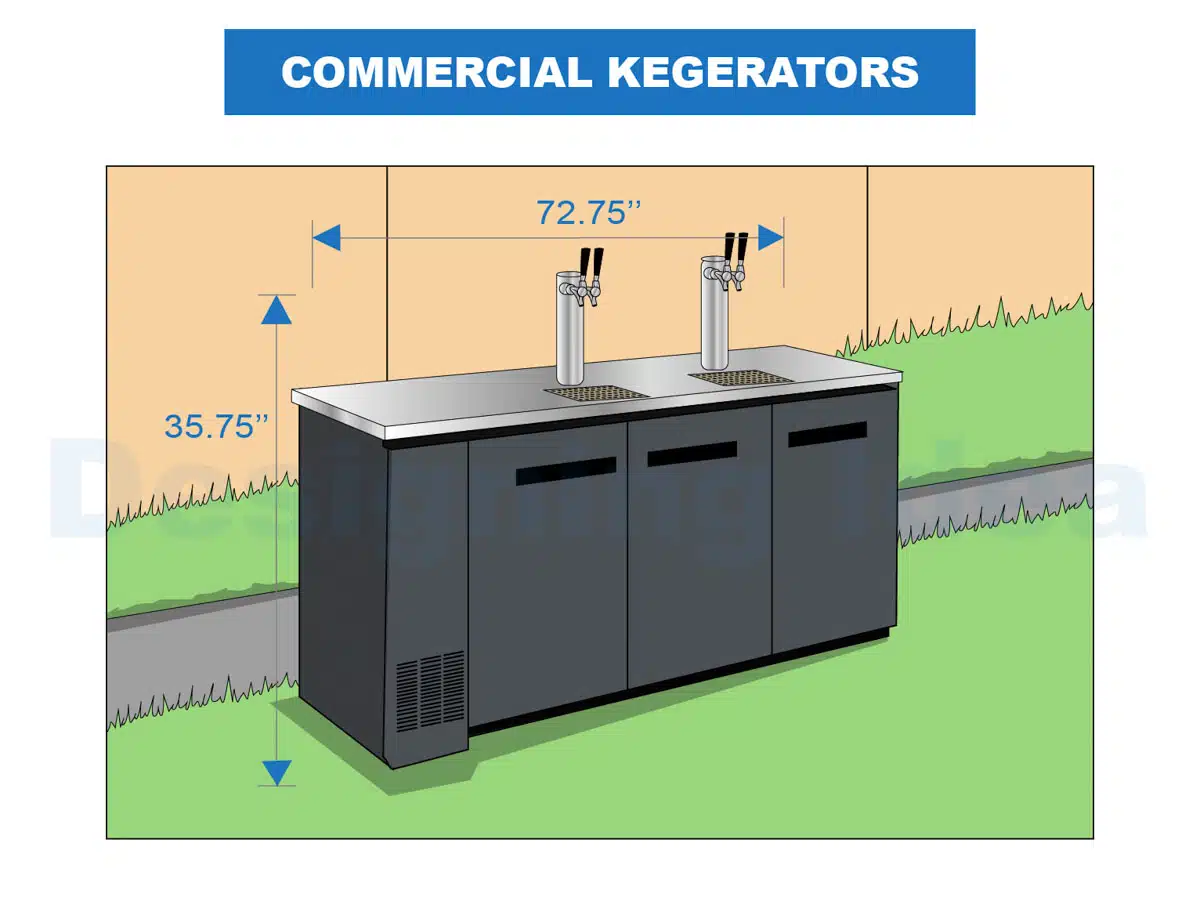 • Commercial Kegerators: These kegerators are a mainstay in beer gardens, pubs, bars, clubs, and other nighttime entertainment venues. They can handle at least two kegs at a time, allowing patrons and guests overflowing booze to their hearts' content.
For example, a 2-keg commercial kegerator can serve 220 beer lovers with about 330 12-ounce glasses. Add another keg, and the system can satisfy an extra 110 beer drinkers or about 495 12-ounce mugs.
Beer gardens serving hundreds of patrons nightly often feature a 5-keg system, allowing them to dispense up to 825 12-ounce glasses of sparklingly golden beer. About 440 people will quench their beer-thirst with this kegerator size.
An excellent example of a heavy-duty commercial kegerator is the Kegco XCK-2472B-F. This 72.75-inch (184.8-centimeter) by 24.5-inch (62.2-centimeter) kegerator can accommodate 3 full-size draft beer kegs. Its 35.75-inch (90.8-centimeter) height should not pose any issue with pubs, beer gardens, and other night spots.
What is the Average Height of a Kegerator?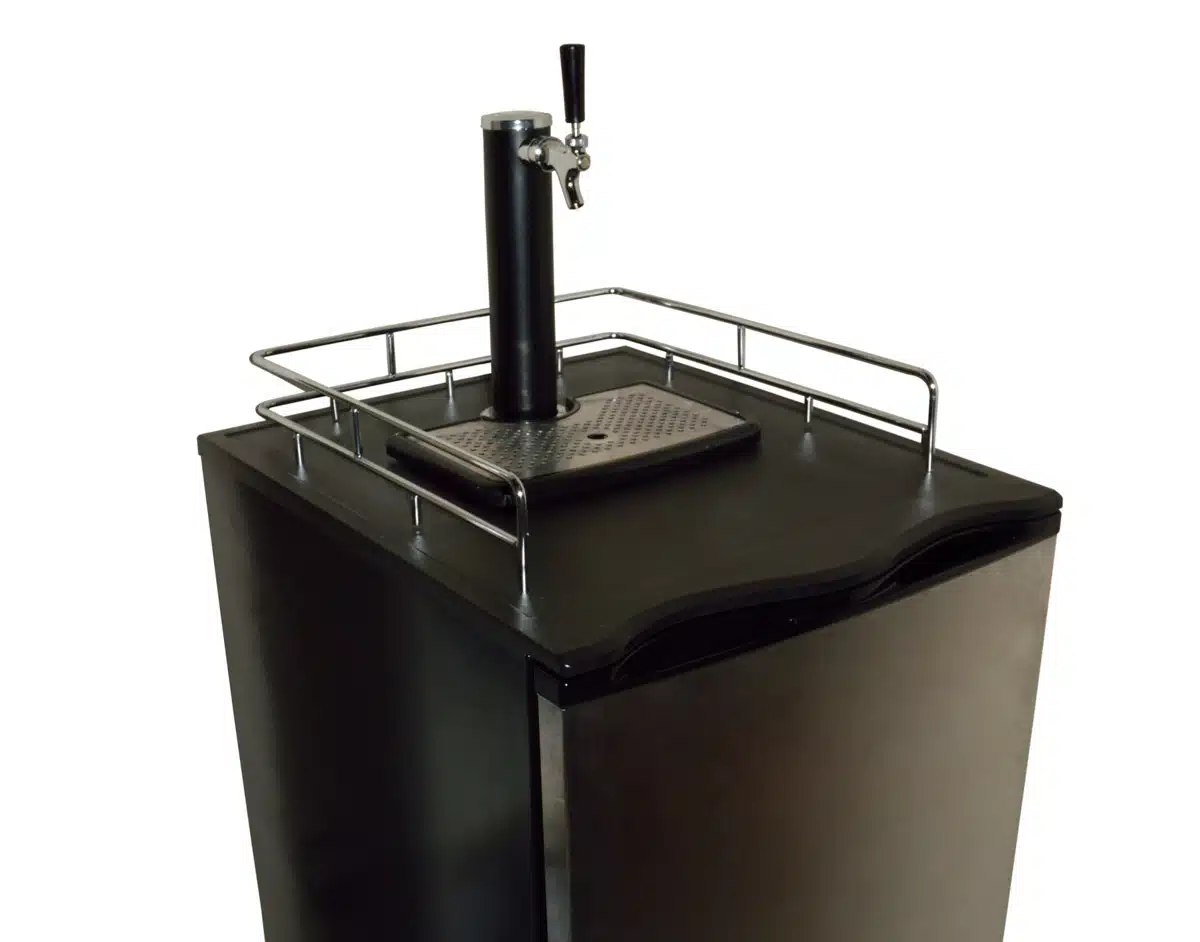 Choosing a kegerator for the home or commercial establishment requires knowledge of available space, including height. Most kegerators are as tall as standard types of kitchen countertops (about 36 inches or 91.44 centimeters), allowing servers to draw cold beer from the system without straining.
However, some manufacturers might have proprietary designs, making their kegerators taller or shorter than 36 inches. For example, the Kegerator Series X stands 33.5 inches (85 centimeters), while Kegco's HK48BSA-1 is an inch shorter (32.5 inches or 82.6 centimeters).
What is the Average Depth of a Kegerator?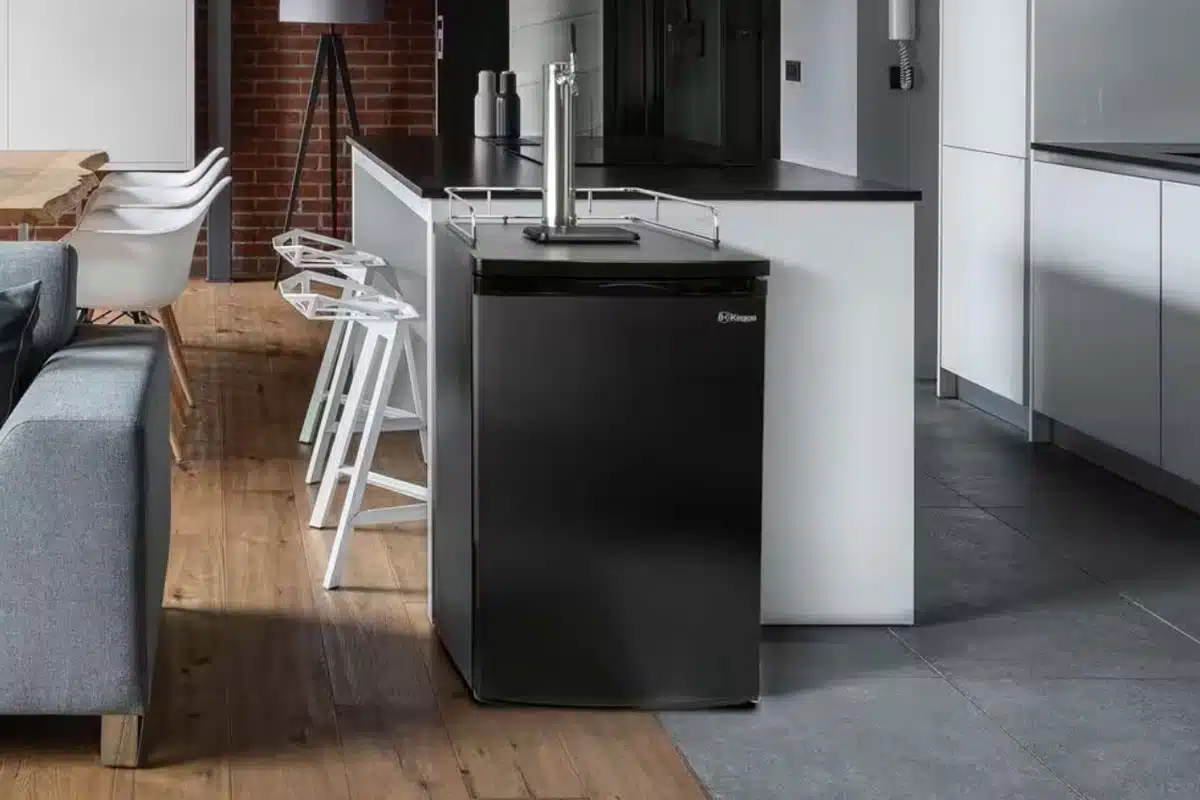 See this black kegerator at Home Depot [sponsored link]
Another kegerator parameter worth considering is its depth. Unfortunately, no "standard" kegerator depth exists because everything depends on the manufacturer's design philosophy. Although the average depth is 26 inches or 66 centimeters, some like to go "big," while others prefer a smaller "footprint."
For instance, the Kegerator Series X has two "depths," depending on whether the unit has an integrated carbon dioxide (CO2) tank holder. With this element, the Series X extends 31.5 inches or 80 centimeters from front to back, while models without the CO2 canister holder are only 26.38 inches or 67 centimeters deep.
Meanwhile, Kegco's HK48BSA-1 is only 23.625 inches or 60 centimeters from front to back. This measurement makes the Kegco a more suitable kegerator for homes with limited space.
How Much Space Does a Kegerator Need?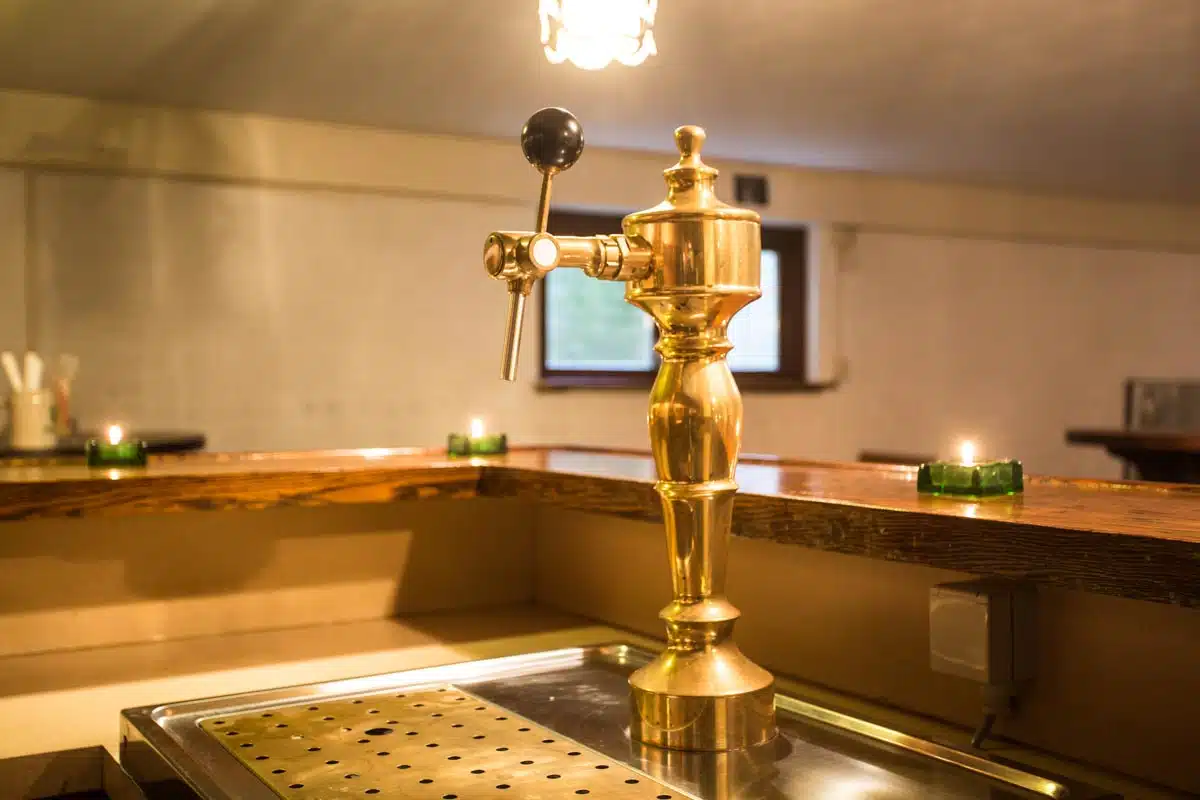 Space requirements depend on the kegerator type. For instance, a mini kegerator (i.e., SPT BD-0538) requires about 174.6 square inches or 1.2 square feet (1,169.6 square centimeters or 0.117 square meters).
On the other hand, the Kegerator X Series needs 623.04 square inches of floor space or about 4.33 square feet (about 0.402 square meters). The Kegco HK48BSA-1 requires 767.8 square inches or 5.33 square feet (about 0.5 square meters).
Although the Kegco HK48BSA-1 is "shallower" than the Kegerator X Series, the latter is "narrower," requiring a significantly smaller floor space than Kegco. Homeowners must plan where they intend to place the kegerator and measure the floor area. This step is crucial to determining the correct kegerator size unless they want to build a DIY unit.
You will also need home bar space for items and accessories like a cleaning kit, sanitizer, CO2 tank, replacement parts (o-rings, gaskets and washers) and interchangeable tap handles for the collector.
Kegerator Weight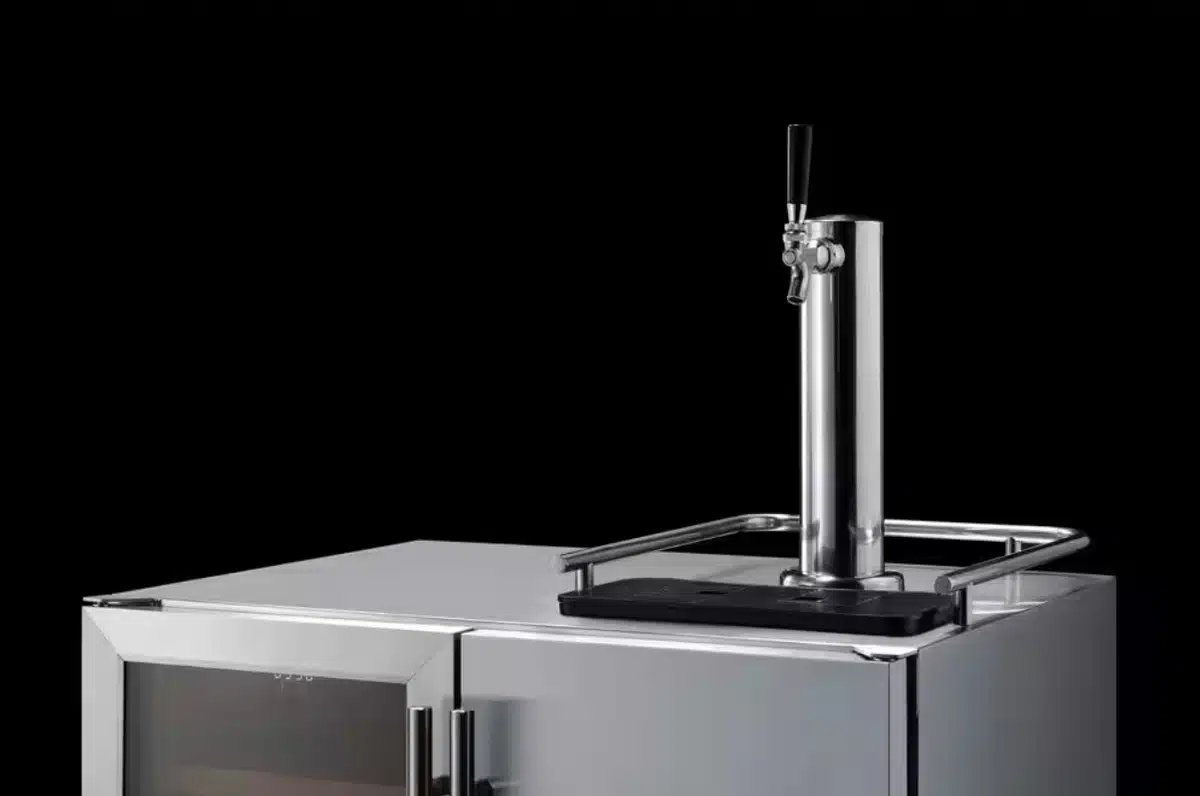 See this silver kegerator at Home Depot [sponsored link]
Like most types of appliances, a kegerator varies in weight depending on size and other factors, including materials, insulation, cooling system, and extra features.
For instance, kegerators featuring mostly stainless steel components are heavier than units with aluminum and plastic composition. Meanwhile, thermoelectric kegerators are lighter than beer cooler-dispensers with integrated compressors.
Most mini kegerators tip the scale from 40 to 70 pounds (about 18.1 to 31.75 kilograms) without the key components (i.e., CO2 cylinder and draft beer keg).
Meanwhile, most residential freestanding and built-in units weigh 70 pounds (31.75 kilograms) to 100 pounds (45.36 kilograms), although some brands and models might be outside these measurements. Commercial-grade kegerators can weigh up to 200 pounds (about 90.7 kilograms), maybe more.
What Size Keg Does a Kegerator Hold?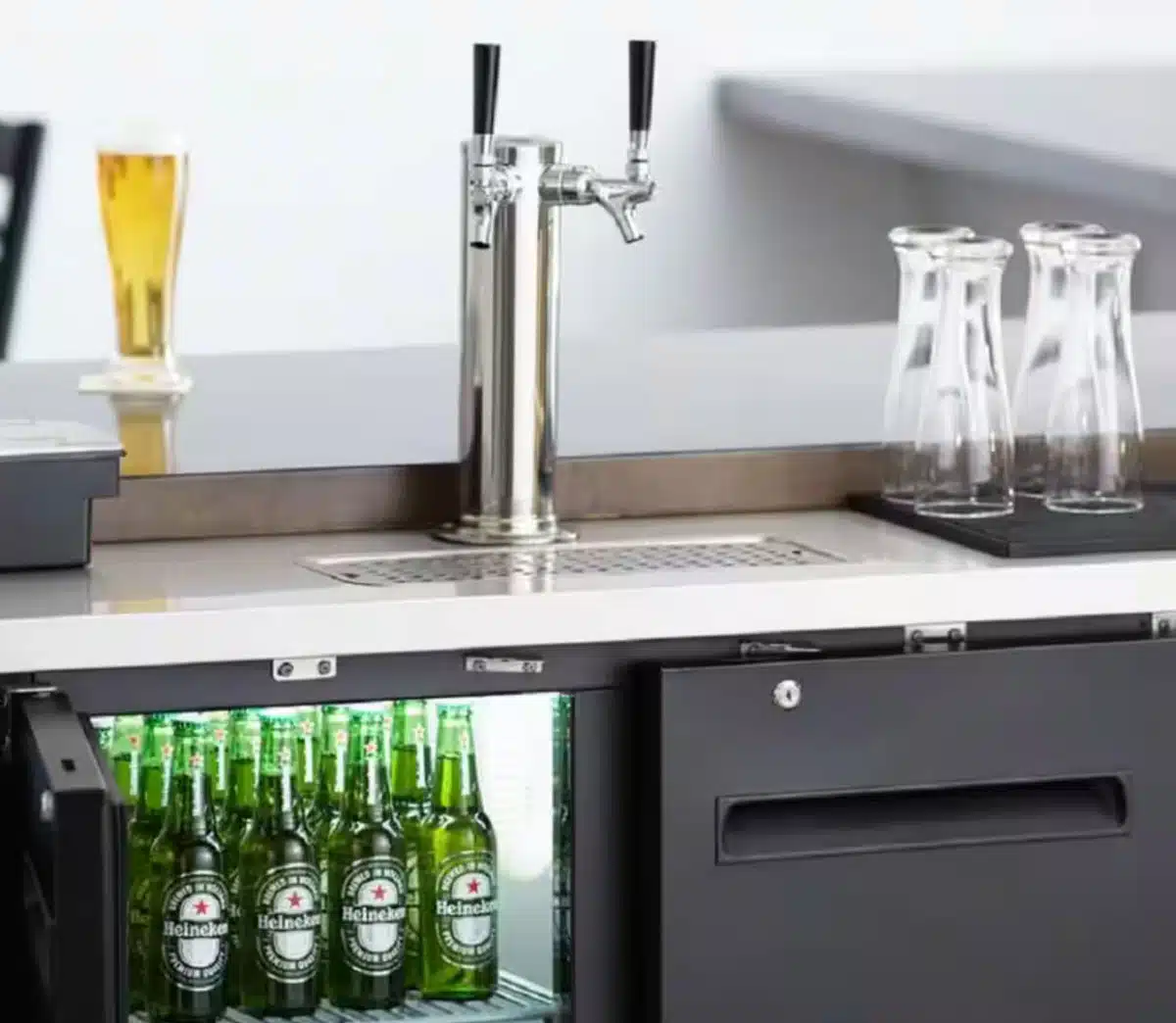 See this kegeator with tap at Home Depot [sponsored link]
A kegerator's capacity (keg-holding ability) depends on its size. For example, a mini kegerator can only accommodate a 5-liter (10.6-pint) mini keg. However, everything depends on the kegerator's design if it can accommodate a 13.875-inch-tall 16.125-inch-diameter quarter barrel.
Most freestanding and built-in kegerators can hold different keg sizes unless the manufacturer advises against some types. Hence, homeowners must read the kegerator's specifications to determine if the beer keg size will fit into the kegerator.
How Long Will a 5lbs CO2 Tank Last in Kegerator?
Most residential kegerators use a 5-pound CO2 cylinder to "carbonize" draft beer and give it its characteristic refreshing foamy beverage sensation. This tank size is sufficient to dispense 15 to 22 5-gallon home brew or Corny kegs, 14 to 21 5.23-gallon sixth-barrel kegs, and 10 to 14 75-gallon quarter barrels.
The CO2 tank size is also enough to deliver delicious beer from 5 to 7 15.5-gallon half-barrel kegs before requiring a refill. That is an impressive 825 to 1,155 servings of refreshingly cool 12-ounce beer for you and your friends.
See more related content in our article about the best built-in bar ideas on this page. You will find information on choosing the perfect location for your home bar based on your beverage preferences, and the number of friends you usually host in your hangout or man cave.